Affordable Steak Singapore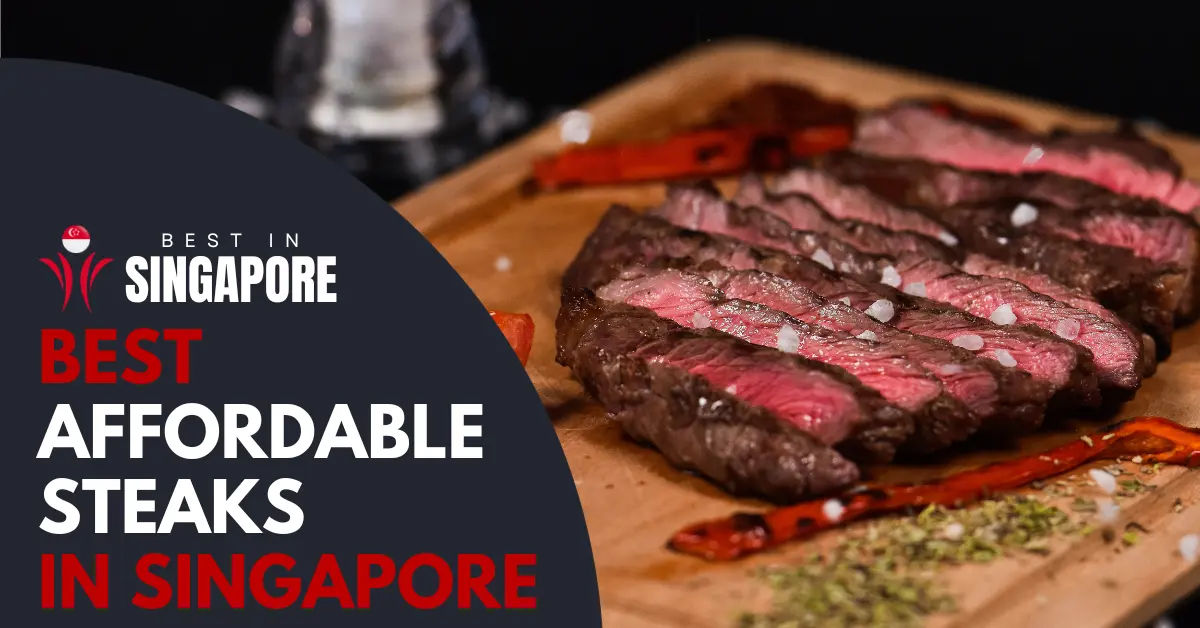 Singapore, a cosmopolitan city known for its vibrant food scene, presents an array of culinary delights that cater to both the high-end epicure and the budget-conscious diner.
The best restaurants for affordable steaks in Singapore are Steakville, MediumRare by Saveur, Meet 4 Meat, and Stirling Steaks.
When selecting a restaurant, it is important to consider factors such as the location, customer reviews, steak options, ambiance, and pricing.
Experience the culinary delight of steaks in Singapore. With a wide range of cuts and preparation techniques, there's something to satisfy every palate.
This guide is perfect for those looking to indulge their carnivorous cravings without breaking the bank.
Quick Summary
Best restaurants for affordable steaks in Singapore are Steakville, MediumRare by Saveur, Meet 4 Meat, and Stirling Steaks.
When choosing a restaurant, make sure to check out the location, customer reviews, type of steak available, ambience, and pricing.
Steaks in Singapore are a culinary delight, with a variety of cuts and preparation techniques that cater to every palate, ensuring an unforgettable dining experience even for the most budget-conscious steak enthusiasts.
Best Affordable Steak Singapore
1) Smokin' Joe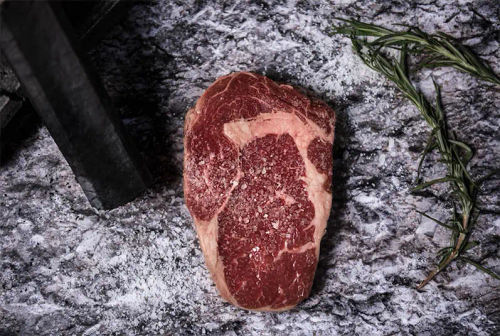 Smokin' Joe is a lively hawker center that caters to juicy affordable steak and flame-grilled meat enthusiasts, offering a delightful escape.
Their commitment is evident as they expertly prepare succulent cuts on an impressive Josper oven, a Spanish restaurant-grade equipment valued at S$10k. Notably, they have earned a coveted spot among Makansutra's esteemed hawkers and secured a place in the highly anticipated Urban Hawker food hall in New York.
Treat yourself to the exquisite selection of Smokin' Joe's signature steaks, including the mouthwatering AU Ribeye 200g and the delightful AU Tenderloin 180g, priced at an incredible S$19 and S$26 respectively.
Where else can you find such perfectly seared steak, kissed by the flames of a charcoal grill, at such unbeatable prices? Get ready for a truly satisfying culinary journey!
2) Steakville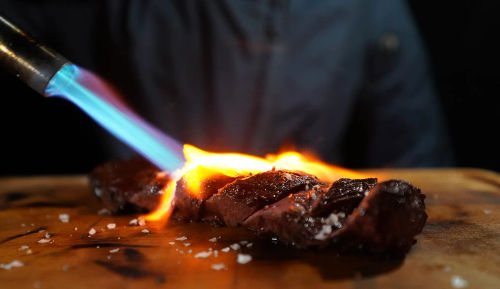 | | |
| --- | --- |
| Key Service | Cozy and laid-back steakhouse |
| Address | 91 Bencoolen Street, #01-56, Singapore 189652 |
| Website | https://steakville.sg/ |
| Phone | +65 92335142 |
| Operating Hours | Daily 12pm 3pm 5.30pm 10pm |
Sunshine Plaza might not be the first place that comes to mind for steak, but tucked away inside is a hidden gem called Steakville.
This charming and relaxed steakhouse takes great pride in offering carefully chosen cuts from around the world. One dish that truly stands out is their famous 200g Hanger Steak. Each bite is a delightful explosion of rich and succulent flavors that will leave you wanting more.
Treat yourself to an affordable yet highly sought-after dining experience at Steakville, where tantalizing steaks are ready to please your taste buds.
3) Buddy Hoagies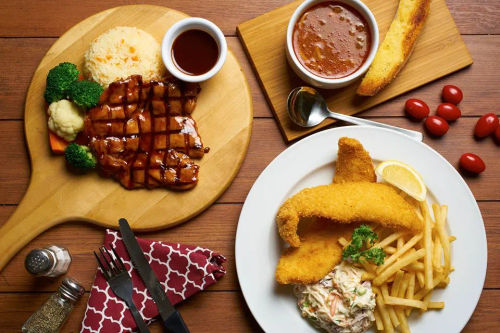 If you're looking for delicious and affordable Western cuisine that satisfies your cravings, look no further than the renowned Buddy Hoagies Café & Grill!
This beloved and relaxed chain has been delighting meat enthusiasts since 2004. Treat yourself to their irresistible signature Sirloin or juicy Ribeye Steak, accompanied by two delightful side dishes of your choice.
Prepare for a dining experience that will leave you craving for more!
4) Hamburg Steak Keisuke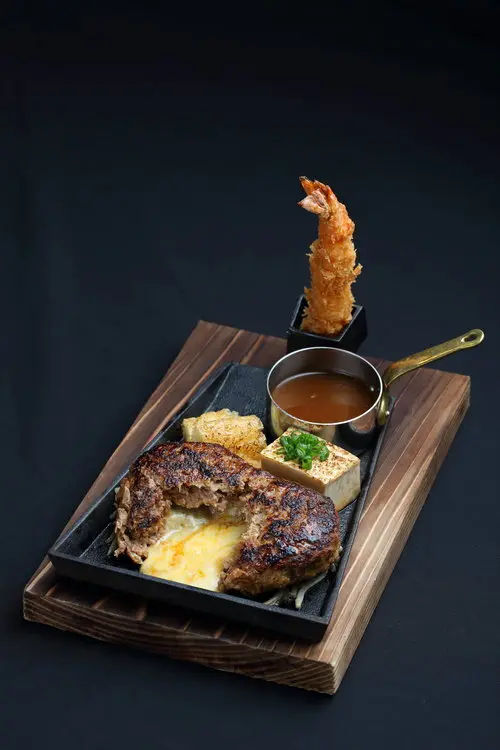 What's even better than a reasonably priced steak? It's a steak that not only fits your budget but also comes with a wide array of dishes at the buffet. That's right, this steak comes with a complimentary buffet that includes not only a salad bar but also unlimited eggs.
And we're not just talking about ordinary soft-boiled eggs; we're talking about a variety of eggs, from creamy scrambled eggs to fluffy tamagoyaki.
However, the highlight of the experience is undoubtedly their Prime Beef Hamburg Steak Set (S$20.90). Cooked to perfection, it boasts a tender texture and a perfectly charred exterior.
5) UNO Beef House
Looking for one of the best deals in town? Look no further than UNO Beef House in Singapore! Indulge in a mouthwatering Ribeye steak for just S$17 that will leave you wanting more. This hidden gem, now at a new location, is a hit as evidenced by the long queues in Toa Payoh.
A visit to UNO Beef House is incomplete without savoring their legendary Black Pepper Ribeye Steak. Each bite is a burst of flavor, thanks to the perfectly balanced beef jus sauce infused with black pepper, elevating the steak's natural essence.
Trust us, it's an unrivaled steak experience!
6) Meet 4 Meat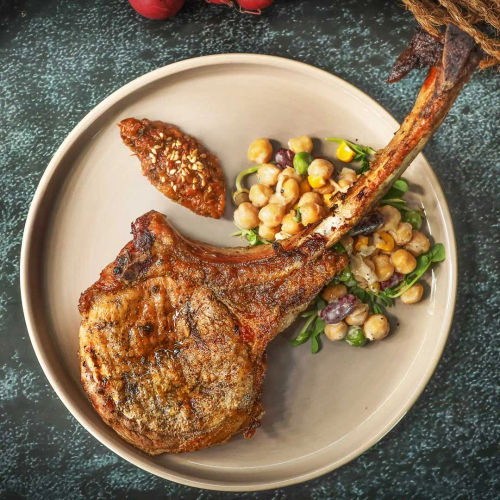 Key Service
Gourmet meats
Address
228 East Coast Road, Singapore 428925
Website
https://meet4meat.sg/
Phone
+65 8290 3605
Email
enquiry@m4m.sg
Operating Hours
Tue – Thu: 12:00 PM – 02:30 PM & 05:30 PM – 09:00 PM
Fri – Sat: 12:00 PM – 02:30 PM & 05:30 PM – 09:45 PM
Sun: 12:00 PM – 02:30 PM & 05:30 PM – 09:00 PM
Experience the alluring ambiance of Meet 4 Meat's relaxed coffeeshop, where a skilled chef from Wooloomooloo Steakhouse works their culinary magic. Get ready to be amazed by the tempting selection of affordable, top-notch meats.
While their Beef Wellington is unquestionably outstanding, don't overlook the irresistible allure of their grass-fed Argentina Ribeye and juicy Australian Tenderloin.
Let your taste buds embark on an unforgettable culinary journey!
7) Stirling Steaks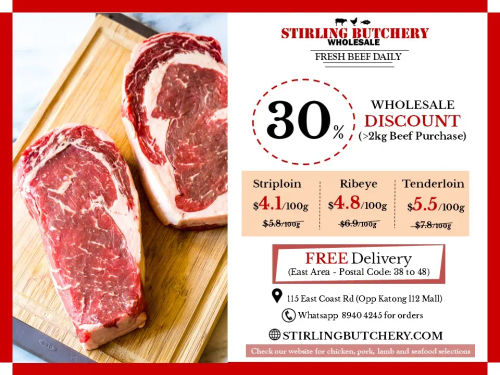 Prepare to be amazed by Stirling Steaks when it comes to steaks. Treat yourself to a delectable 150g Hanger Steak for just S$9.90 and if you're in the mood for something fancier, add Paprika Fries for only S$1.50 more. But it gets even better.
These prices will put even mall franchises to shame. And if you're craving something more premium, opt for the succulent 250g Striploin.
For the true steak enthusiasts, get ready for the mighty 500g Angus T-Bone. Oh, and did we mention that everything is grilled to perfection over charcoal and topped with creamy avocado butter? Your taste buds will be delighted!
8) Bizen Okayama Wagyu Steakhouse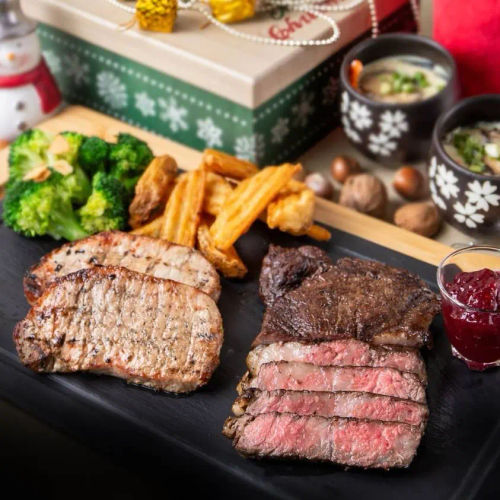 Wagyu, the latest trend, is renowned for its premium steak quality. However, not all Wagyu is equal, particularly when it comes to pricing.
Enter Bizen, a unique concept by the team behind Aston's, a beloved budget steakhouse in Singapore. Picture Aston's, but with a touch of Japanese Wagyu. Discover the most succulent and affordable spots in Singapore to savor Wagyu steaks at Bizen. From the flavorful chuck roll to the premium ribeye, Bizen's menu offers a range of cuts to satisfy the cravings of every steak enthusiast.
And the best part? You can indulge in a petite 150g portion, with prices starting at just S$20.50 for a Round steak. Don't forget to pair it with two delectable sides. Get ready for an unparalleled Wagyu experience at Bizen.
9) Picanhas'

Key Service
Picanha steaks from Brazil
Address
90 Club Street, Singapore 069458
Website
https://picanhassg.com/
Phone
+65 9754 1909
Operating Hours
Tues to Sun
12:00 PM – 3:00 PM
5:30 PM – 10:00 PM
Picanhas, a halal steakhouse, prides itself on its dedication to serving customers with the motto "Steaks For The People".
With a specialization in the renowned Brazilian rump cap, also known as picanha, this restaurant offers two exceptional steak options: the Picanha Don, which combines Brazilian and Japanese flavors, and the Queen of Steak.
Each steak is meticulously dry-brined, slow-cooked, and finished on the stove with binchotan butter, resulting in a delightfully flavorful and tender dining experience.
10) MediumRare by Saveur

| | |
| --- | --- |
| Key Service | Australian steaks |
| Address | 2 Tampines Central 5 #01-35 Century Square, Singapore 529509 |
| Website | https://mediumrare.sg/ |
| Phone | 6789 1121 |
| Email | mediumrare@saveur.sg |
| Operating Hours | ON-SUN 12:00 – 14:30 | 17:00 – 22:00 |
Saveur Restaurant Group has made a name for itself as a culinary force in Singapore, renowned for its innovative dining concepts since 2011.
One of their standout creations is MediumRare, a departure from traditional French dining that offers a lively and relaxed steakhouse experience. Embracing a casual dining concept, they treat guests to a range of affordable options, including the irresistible S$16++ Lunch Set.
Treat yourself to a mouthwatering 200g New York Strip loin Steak, aka New York Steak or Ribeye, and embark on an unforgettable gastronomic adventure.
11) The Feather Blade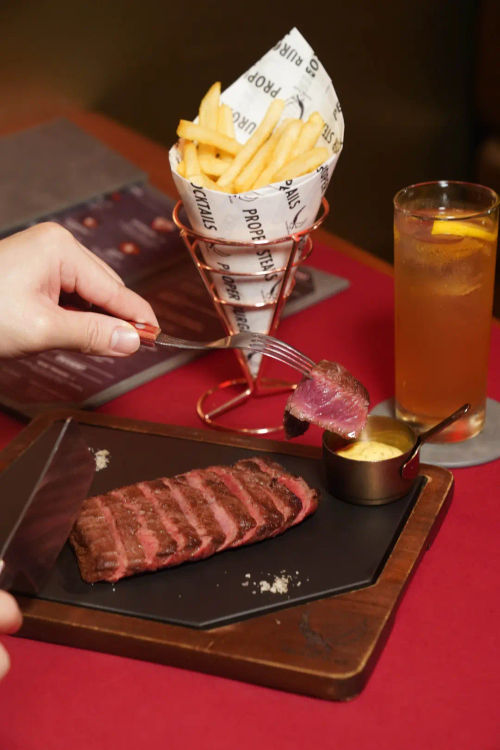 Flat Iron Steak, a renowned steakhouse in London, has gained popularity for its affordable and delectable steak. The founder of The Feather Blade Steak, a Singaporean restaurant, previously worked at Flat Iron and aimed to bring high-quality steaks to the city.
At The Feather Blade, they serve a unique and less common cut known as the "flat iron steak" shoulder, which is tender and perfectly charred.
For an extra S$2, you can savor special sauces like Sichuan Peppercorn and Wasabi Cream.
12) Braseiro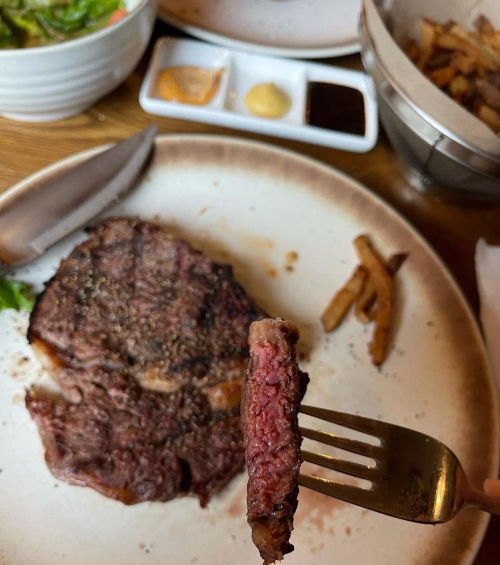 Braseiro introduces an enticing concept, centered around offering authentic French steak frites at affordable prices.
Indulge in a mouthwatering 200g ribeye or choose a larger portion of 300g or 400g, priced at only S$28.90 and S$33.90 respectively. Imagine a delicious slab of beef, accompanied by endless fries, truffle mustard, and a refreshing house salad, all for under S$25.
Unlike other steakhouses that charge extra for unlimited fries, Braseiro is a hidden gem that will make a lasting impression.
13) iSTEAKS Diner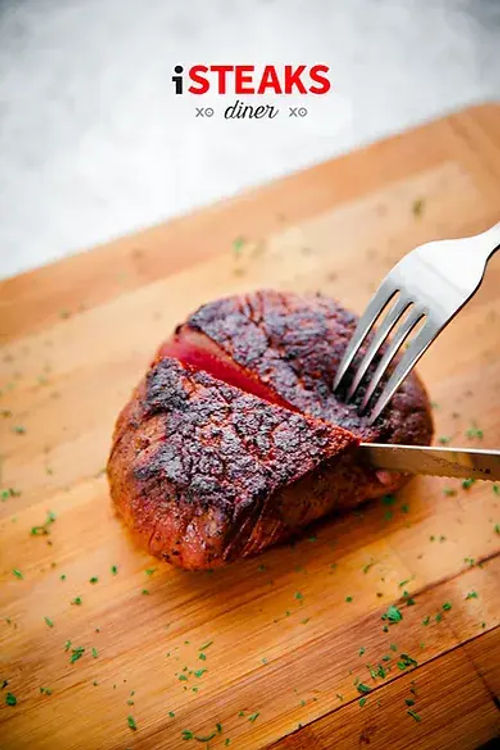 Attention all meat enthusiasts! Let us introduce you to the esteemed iSTEAKS Diner, where your steak fantasies become a reality at unbeatable prices. What started as a modest hawker stall has now blossomed into a well-established brand with multiple branches.
Gone are the days of struggling to find a great steakhouse. iSTEAKS has always been the ultimate destination for exceptional steaks. Imagine this: a mouthwatering 200g NZ Striploin steak for just S$22.50.
But wait, there's more! Treat yourself to their premium selections like the char-grilled New Zealand Silver Fern Ribeye and the 100-day grain-fed Australian Ribeye. And that's not all – each steak is accompanied by two complimentary sides from their extensive menu.
Now that's what we call a truly gratifying and value-for-money dining experience!
14) Armoury Craft Beer and Steak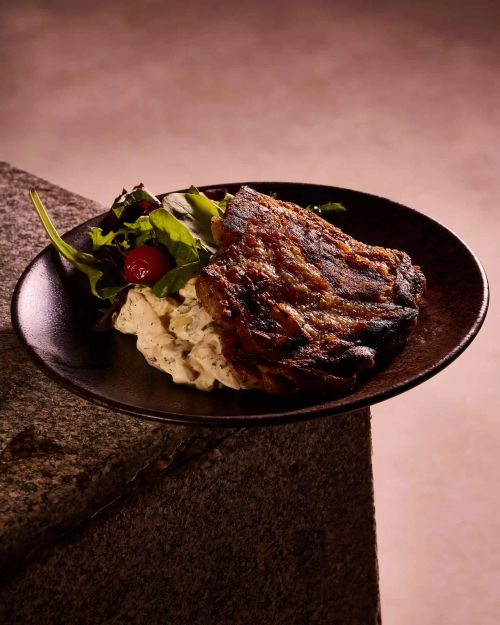 Armoury Craft Beer Bar and Steak is a no-frills steakhouse that prioritizes serving top-notch meat and an extensive selection of craft beers, rather than focusing on fancy wine pairings.
If you're hankering for an affordable wagyu steak, swing by for lunch and give Armoury's 220g Wagyu Striploin or Wagyu Ribeye a try.
On weekends, you can even request breakfast sides like fried eggs and tater tots. However, the highlight of Armoury's menu is undoubtedly their 90-minute Steak Buffet, which offers unlimited servings of Australian grass-fed steaks, Grilled Pork Belly, and Grilled Shabu Beef.
To make the most of your dining experience, don't miss out on their daily lunch promotion, where you can indulge in the buffet for just S$60 for 2 people.
Affordable Steak Singapore
Whether you're a steak connoisseur with a discerning palate or a casual diner looking for a hearty meal, Singapore's culinary scene caters to all.
These affordable steakhouses have successfully combined top-quality meats with wallet-friendly prices, making it possible for everyone to enjoy a sumptuous steak meal without breaking the bank. From the diverse range of cuts and cooking styles to the exciting side dishes and sauces, each of these restaurants offers a unique gastronomic adventure.
So, the next time you're craving a succulent steak, look no further than these gems in the Lion City.
Frequently Asked Questions
If you have any questions about affordable steaks in Singapore, you can refer to the frequently asked questions (FAQ) about the affordable steaks in Singapore below:
What are the best restaurants for affordable steak in Singapore?
The best restaurants for budget-friendly steaks in SG are MediumRare by Saveur, Steakville, BIZEN Okayama Wagyu Steakhouse, and Meet 4 Meat.
How much is a steak in Singapore?
The price of steak can vary based on the restaurant and the type of cut. You can find affordable options starting at around S$15, while premium beef cuts can go up to S$40. Additionally, there are hawker stalls that offer steaks at lower prices.s, starting from as low as S$9.90.
What is the cheapest steak to buy?
If you're on the hunt for an cheap steak option in Singapore, hanger steak is the way to go. Prices at different restaurants typically range from S$9.90 to S$20.
What is a budget steak?
A budget steak refers to a type of steak that is priced at S$20 or less, offering an affordable option. Although there are various cuts and types of meat that can result in tasty and juicy budget steaks, they generally serve as a more cost-effective substitute for premium cuts. Hanger, Black Angus Steak cut, Sirloin, and Ribeye Steak are some of the commonly preferred selections for budget-friendly steaks.
What are top 5 steaks?
Introducing the top 5 steaks: Hanger Steak, renowned for its robust and succulent flavors; Sirloin Steak, a timeless choice that delivers a delightful balance of tenderness and flavor; Ribeye Steak, a perfectly cooked, well-marbled cut that offers both juiciness and flavor; Tenderloin Steak, a highly prized beef cut known for its exceptional tenderness; and T-Bone Steak, an impeccable combination of tenderloin and sirloin, ideal for those who can't decide between the two options.
Where can I find the best steaks in Ang Mo Kio?
For all the meat lovers residing in Ang Mo Kio, here are some of the best restaurants to satisfy your cravings for a delicious and budget-friendly steak: Outback Steakhouse, Astons Specialties, The Ranch Steakhouse by Astons, Fatboys, and Wheeler's Yard.
Where can I find the best steak restaurants in Singapore?
If you're a meat lover on the hunt for juicy and affordable steaks, Singapore has a variety of restaurants that fit the bill. Read on to discover some of the best places to get steak dinners.
Do these restaurants offer a variety of cuts of beef?
Yes, these restaurants in Singapore understand the importance of offering a diverse selection of cuts of beef. From tender filet mignon to succulent rib eye steaks, you'll find a range of options to satisfy your craving for a hearty steak dinner.
Can you recommend a specific place to get a juicy and affordable black pepper sirloin steak?
Absolutely! If you're looking for a mouthwatering black pepper sirloin steak that won't break the bank, there are several restaurants in Singapore that offer this delicious option, particularly Le Steak by Chef Amri. These steaks are known for their robust flavors and satisfying tenderness.
Are baked beans and beetroot puree common side dishes at these restaurants?
Yes, many of these restaurants complement their steaks with delectable sides like baked beans and beetroot puree. These tasty accompaniments enhance the overall dining experience, adding flavor and variety to your steak dinner.
Are there any signature dishes or specialties offered by these affordable steak restaurants?
Definitely! These restaurants often have their own signature dishes or specialties that set them apart. You might come across unique creations like the signature hanger steak or sizzling steaks with special sauces that add an extra touch of flavor to your meal.
Can you recommend a place to go for steak lovers seeking a juicy and affordable picanha steak?
Absolutely! Picanha is a crowd-pleaser for steak lovers, and there are restaurants in Singapore that specialize in serving this succulent cut of beef. You can indulge in a juicy and flavorful picanha without breaking the bank.
Additional Useful Articles
If you are looking for other useful guides and articles about affordable steaks in Singapore, check them out below: