Hourly Hotel Singapore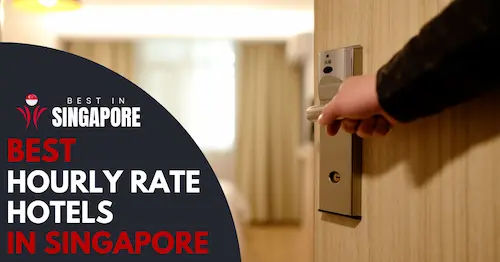 It won't be simple to get a room in Singapore, but you can make things simpler for yourself by looking at the Best Hourly Rate Hotels in Singapore!
The best hourly hotels in Singapore include Pod Capsule Hotel, Grand Mercure Singapore Roxy, YotelAir Singapore Changi Hotel, Hotel G Singapore, and Hotel Royal.
When choosing a hotel in Singapore for a few hours, consider different factors such as its location, amenities, pricing, reviews, cleanliness, and customer service.
Travelers in Singapore can enjoy the convenience and comfort of affordable and flexible hourly hotels, providing accommodation options without the requirement of a full-night stay.
There is something for everyone, whether you're searching for the top hourly rate hotels in Singapore or simply want to get a fantastic deal on a fantastic luxury hotel!
Key Consideration Factors
Location: There are several hourly rate hotels available depending on where you wish to stay in Singapore. Finding a hotel with an hourly cost close to Orchard Road or Bugis Street will put you in the center of the city. However, there are other options close to Changi Airport if you prefer to be closer to the airport.
Amenities: The many hourly rate hotels in Singapore offer a wide variety of amenities. While some may only provide the bare minimum, like Wi-Fi and breakfast, others may go above and above to give you access to a pool, gym, and even a spa!
Price: Obviously, the cost should be taken into account while selecting an hourly rate hotel. Generally speaking, hotels cost more the closer they are to the city center. If you know where to look, there are still lots of inexpensive hotels offering fantastic rates.
Reviews: Examining the hotel's reviews is a crucial step. Even while it is usually advisable to read reviews before booking any hotel, hourly rate motels are highly advised. This is due to the fact that you want to confirm that the hotel you select has a solid reputation for being tidy, cozy, and practical.
Now that you know what to look for, here are the Best Hourly Rate Hotels in Singapore!
Best Hourly Hotel Singapore
1. Pod Capsule Hotel
The rooms at the Pod Capsule Hotel come in different sizes to accommodate diverse demands and whole families! You may enjoy contemporary and simple living thanks to its welcoming amenities and readily available services. The hotel is an excellent starting place for touring historic and artistic neighborhoods like the cultural village, chic shops, and eateries. They are among the best hourly rate hotels in Singapore for the following reasons.
Key Differentiators:
Great deals and offerings
Quality and accessible services
Exquisite experience
Client Testimonial:
"Lovely staff and nice service, cheaper than hotel nearby in the area, will visit here again."

Duy Tran
2. Grand Mercure Singapore Roxy
The historic East Coast district of Singapore may hold the key to the ideal city vacation. A short stroll will take you to the East Coast Park beach, two major malls, a variety of nearby eateries, and popular tourist attractions like Orchard Road, Marina Bay, the Singapore Expo Centre, and Suntec City. In the heart of the city, there are a variety of retail options. You can walk to two supermarkets. Whenever you want to work up a sweat or unwind by the outdoor pool, the 24-hour fitness center is accessible.
Key Differentiators:
Wonderful features
Outstanding attractions
A range of retail alternatives
Client Testimonial:
"It was a really good service and very much loyal staff working great hygiene and well maintain everything. I must say please do visit this place you won't feel Home sick amazing and very much comfortable rooms are their. Breakfast area is so much great and large menu they are providing with a great large swimming pool. I just love the ambience and staff."

Aishwarya Mhatre
3. YotelAir Singapore Changi Hotel
Foreign travelers will find the YotelAir Singapore Changi Hotel to be a great choice because of its handy Changi Airport location in Singapore. You'll get a chance to experience the airport's charm and beauty up close as well as breath-taking natural scenery. Because of this, Changi Airport is becoming a well-liked tourism destination. They provide hourly reservations with a four-hour maximum stay, which is incredibly convenient and economical, making them one of the best short-term, inexpensive hotels in Singapore.
Key Differentiators:
Affordable stay
Breathtaking views
Practical and cost-effective experience
Client Testimonial:
"Great place to stay in Boston! Place was clean, rooms were quiet & the beds are wicked comfortable."

Brittany LaChapelle
4. Hotel G Singapore
The ultimate lifestyle hotel is Hotel G, which was designed to reflect Singapore's vibrant and cosmopolitan rhythms. It is a vibrant, multiethnic city with a thriving nightlife, an expanding art scene, delectable cuisine, and beautiful beaches at its core. It's a true melting pot with a variety of options for vacationers and business travelers, and Hotel G is right in the center of it all.
Key Differentiators:
Outstanding cuisine
Beautiful experience
Excellent offers and discounts
Client Testimonial:
"Overall very good experience. I have been here for a work trip. Room spotless, nice breakfast. The customer service was very polite at the reception, I can't say the same for the service at the bar. However I strongly recommend this place also for its central location."

Martina Cappetti
5. Hotel Royal
The hotel is within 5 minutes' walk from the Novena MRT Station, which is situated above the station. There are several nearby shopping centers, including Velocity, Square 2, and Novena Square (all about a 10-minute walk). Buses leave from the bus stop in front of the hotel for Orchard Road, Newton Food Center, Clarke Quay, Suntec Convention Center, The Esplanade, Singapore Museum, Chinatown, and VivoCity (HarbourFront to Sentosa). Near the hotel's main door, taxis are conveniently available to take guests everywhere in Singapore. The room is one of the largest in Singapore at 30m2. Their rooms now seem brand new. The area is made warmer by the golden drape and lights.
Key Differentiators:
Great deals and offerings
Exceptional stay
Reasonable rates
Client Testimonial:
"Always love this hotel! Huge spacious rooms, super convenient location and great buffet breakfast. Normally stay 1 month and will be staying 6 weeks at the end of the year!"

Tracey Tiplady
6. Hotel Soloha
A boutique hotel with a creative arts focus that provides visitors with a distinctive tropical urban jungle chic experience is called Hotel Soloha. Despite having four spirit creatures as permanent residents on the fourth floor (particularly the snail, dragonfly, hornbill, and tree frog), the Hotel Soloha, which is situated amid a concrete jungle, makes an effort to give visitors a sense of serenity and connection to nature (along with bird sounds in the corridors).
Aloha, a well-known Hawaiian proverb that conveys the idea of living life to the fullest, is combined with the enthusiastic adverb "so," which accentuates the sense of "to such a great extent," to create the word "soloha.
Soloha therefore denotes leading a full life on your own terms. The hotel strives to be a location that is both a representation of Keong Saik's charming persona and a modern version of Singapore, which is powerful, cutting-edge, and elegant.
Key Differentiators:
Remarkable living spaces
Excellent services
Exquisite experience
Client Testimonial:
"Great experience and thank you for the beautiful set up balloons! Sweet surprise and the loft room was a hit with my girls:) lovely location with many restaurants. Thank you Genie and team for the warm hospitality and really appreciate the hand written note:) hope to be back soon!"

Jessie Lim
7. Intercontinental Singapore
In the heart of Singapore's historic district, the InterContinental Singapore is a luxurious landmark. It was named the winner of the renowned DestinAsian Readers' Choice Awards 2020 and one of Singapore's top hotels by Condé Nast Traveler's esteemed Readers' Choice Awards 2017. The hotel is conveniently located in the significantly affected by Buginese culture arts and cultural areas of Bugis and Bras Basah. Numerous ancient neighborhoods, such Arab Street and Kampong Glam, may be found in the region.
The hotel is a short drive from Singapore Changi Airport and is situated on the borders of Marina Bay, around 20 minutes from the Central Business District and Suntec Convention Center. You can reach the city by walking for 5 minutes to the Bugis MRT station. Over 200 food and entertainment options are available at the nearby Bugis Junction shopping complex.
Visitors can sample a range of cuisines in the hotel's award-winning restaurants, including Man Fu Yuan's signature Cantonese classics and Ash & Elm's European Brasserie delicacies. The Lobby Lounge serves late-night snacks in addition to afternoon tea and beverages.
Key Differentiators:
Restaurants with awardsFF
Fantastic dining experience
High-quality services
Client Testimonial:
"This hotel is perfection! One of the best thing it's close to a mall, and bus stations. The service is also very good. Staff are very hospitable, they have a very good breakfast menu. Everyone is super helpful and they are organized.
Super worth the stay!"

Darlee Urbiztondo
8. M Social Singapore
M Social Singapore is a cutting-edge hotel idea for the upscale Robertson Quay neighborhood, a unique and energetic lodging on Singapore's lovely riverbank. The vibrant neighborhood, which offers a variety of food and entertainment options, is visible from the 293-room designer hotel.
Key Differentiators:
Excellent service
Vibrant accommodation
Several dining and entertainment choices
Client Testimonial:
"Room is pretty small. Great for just a 1 night stay and maximum of 2 people. One of the pillow was stained. Other than that, it's a pretty decent place for a short staycation. Walkable distance to clarke quay. The breakfast buffet at the hotel was great! Good food with good view!"

Amanda Chua
9. Porcelain Hotel
A prominent historical street in Chinatown, Mosque Street is the ideal location for The Porcelain Hotel, which is flanked by charming and traditional shops. A few nearby, traditional shop-houses that reflect the enclave's lengthy history make up the hotel. The accommodations are comfortable and up to the required standard. The Porcelain Hotel combines traditional china designs with cutting-edge startling hues to create the perfect environment for people wishing to merge in a modern décor with historic charm. On Mosque Street, The Porcelain Hotel is well situated amongst quaint and historic establishments.
Key Differentiators:
Surrounded well-known historical lanes
Excellent eating encounter
Excellent offers and discounts
Client Testimonial:
"Comfy bed, cold air conditioner and large shower. People might complain about the size, they might be claustrophobic. To me it isn't a problem since I've stayed in smaller places. Amazing location since it's in Chinatown, quite near to both Chinatown and Clarke Quay MRTs."

Aiman Abdul Haris
10. Royal Plaza on Scotts
Royal Plaza has just undergone renovations to provide you with pleasant stays. It is situated in Orchard, right in the middle of Singapore. Our acclaimed buffet restaurant, Carousel, features exquisite interior design and delectable food. Visitors to our superior rooms are welcome to use our co-working space, which has a welcoming meeting space with fantastic city views. Visitors can also place orders for delicious meals from the restaurant's menu in this area. The Orchard MRT, which is only a few meters away, is just a short stroll from the entirety of the city.
You'll feel comfortable when staying at this motel. A Simmons Dream bed that is incredibly comfy, a steaming rain shower, and free WiFi refresh.
Key Differentiators:
Food that is delicious
Restaurant buffet that has won awards
A nice setting for meetings
Client Testimonial:
"Good food, good location and excellent helpful service with lots of smiles. Happy to return and return."

Ian Howard
11. The Scarlet Singapore
The hotel in the city's heart is Singapore's first upscale boutique hotel. The Scarlet Hotel is a sensory experience. This 80-room hotel's furnishings, which were painstakingly rebuilt from an 1800 shophouse and art deco building, pulsate with an eclectic harmony.
Key Differentiators:
Interior eclectic harmony
Outstanding services
An elegant eating experience
Client Testimonial:
"Overall we had a great experience at this hotel. The rooms were super comfortable and good sized. We had paid for a premium room that included cocktails and wine which was also fun. That also included free use of the mini-bar which was supposed to be stocked daily, but it wasn't on our final day there. The staff was very friendly. Breakfast was included and it was good, albeit limited in scope. The location was excellent right in Chinatown so easy access to great food. It was a 30 minute walk to the marina area which wasn't bad (except for the humidity!). We would definitely stay here again."

Bryan Wohlwend
12. The Haven by JetQuay
The hotel in the city's heart is Singapore's first upscale boutique hotel. The Scarlet Hotel is a sensory experience. This 80-room hotel's furnishings, which were painstakingly rebuilt from an 1800 shophouse and art deco building, pulsate with an eclectic harmony.
Key Differentiators:
Exceptional services
Exquisite dining experience
High quality services
Client Testimonial:
"Awesome lounge and staff is friendly. Been there for a visit and find that the facilities are top notch. love the person check in area."

Keon Tang
13. Hotel 81
Since Hotel 81 has locations all around the island, especially if you have a longer trip, you shouldn't have any trouble finding their addresses at each stop. Additionally, the Singapore National Museum, Gardens by the Bay, and other popular tourist destinations are close to where they live. Depending on the kind of room and its location, they provide affordable rates. The best hourly rate hotel in Singapore can be found there for you, whether you're traveling for pleasure or business.
Key Differentiators:
Exceptional dining experience
Near major tourist attractions
Cost-effective rates
14. Fairmont Singapore
The five-star Fairmont Singapore is a wonderful day-use deal on Flow, an hourly hotel app in Asia. You may reserve a large room with a private balcony for the day, together with access to the hotel's two outdoor pools and gym, for just $145 SGD (52% off a full day's fee). Your day trip is taken care of if you use the 75 SGD eating credit at one of the 15 onsite restaurants and bars.
Key Differentiators:
High quality living spaces
Exceptional dining experience
Exquisite services
Client Testimonial:
"This hotel is amazing!!! The service was great from the moment we stepped out of our taxi to the day we checked out! The room was so spacious and so clean. My favourite part of this hotel was the drinkable hot water tap, didn't need to use the kettle at all! We loved it here."

Aprille T
15. Tai Hoe Hotel
Price and quality are typically adversely correlated while looking for a place to stay. You won't have to worry about compromising either of these if you choose the Tai Hoe Hotel. Their rooms are fully furnished and furnished in terms of amenities. There are also options for meal delivery and wake-up services. These are all quite reasonably priced.
Key Differentiators:
Fully equipped furnishings and facilities
Exceptional living spaces
Excellent services
Client Testimonial:
"Excellent location. Rooms are small but nice and cleaned daily if requested. Rooms are a bit noisy if on the roadside. Easy access to Farrer park MRT and City square mall. Good housekeeping staff. Was a pleasant stay. Will be back again."

Jehan De Zilva
16. Fragrance Hotel
With 21 locations across the island, Fragrance Hotel is the oldest hotel in Singapore. They are well recognized for their inexpensive lodging options, which are typically found close to convention centers, beaches, and other tourist hotspots. For ease of use, the majority of Singapore's best hourly rate hotels are close to busy intersections, bus stops, and MRT stations.
Key Differentiators:
High-end portfolio
Excellent living spaces
Exceptional deals and offerings
Client Testimonial:
"Hotel is Clean and around the city centre, courteous staff, rooms are very compact and do not expect more for the price you gave."

Mahesh Kumar B V
17. Harbour Ville Hotel
Experience the Hamilton Harbor Ville Hotel's recently remodeled rooms. When you make a direct booking, you can save up to 36% on all rooms. Before your arrival and throughout your stay, their devoted housekeeping staff thoroughly sanitizes every room.
Key Differentiators:
Devoted house cleaning team
Outstanding living quarters
An excellent internet transaction
Client Testimonial:
"I had a pleasant 7-day SHN experience here. The Superior Queen room is super lovely! It looks and feels cozy when you turn on the lamp, which radiates warm yellow light, and the bedlights too. It's also quite airy when you open the windows. The bathroom is spacious, airy, and comfortable. If you are looking for a decent hotel that's not too expensive, I recommend this one."

Linh Dang
18. Hotel Nuve
Hotel Nuve is located in Singapore's celebrated shopping district, and you'll love your stay! The hotel is surrounded by a vibrant and cosmopolitan atmosphere, so you'll be immersed in the city's entertainment. The best hourly rate hotel in Singapore provides a wide range.
Key Differentiators:
Vibrant and cosmopolitan atmosphere
Exceptional services
Exquisite deals and rates
Client Testimonial:
"The front desk staff, Careleen was so helpful and helped us with our last minute reservation request with a huge smile on her face. It's really nice to have a genuinely friendly staff at the front desk to greet and assist the visitors. We definitely had a wonderful stay in Hotel Nuve. Will definitely recommend to everyone."

Kayal
19. Iyf Funan Singapore by Ascott
City Hall is about a 5-minute walk from the property and is the closest MRT stop. A short 5-minute walk from the City Hall MRT station is Ascott's lyf Funan Singapore, which is conveniently located inside the Funan Mall. You'll have a great time here, and the gym, common kitchen, and laundry area are all attractively decorated, so you can shoot lots of Instagram-worthy photos.
Key Differentiators:
Instagram-worthy infrastructure
Elegantly crafted amenities
High-quality services
Client Testimonial:
"Rooms are generally well designed, bright and quiet. This time my windows were facing a safety stair case and a black wall. Barely any outside light… Service is good. Hotel is in the middle if a mall with multiple restaurants and services. Clarke Quay is just across the river which gives a full access to the metro network."

Laurent Delarue
20. ST Signature Jalan Besar
Do you want to work from a hotel without having to spend all day at your desk? You'll have a carefree holiday at this hotel. The hotel has various shared amenities, such as a common kitchen with free daily quality 100% Arabica coffee, a laundry room, a co-working area, and many more places where you can meet others who share your interests.
Fear not if you're afraid about going hungry; there are unique cafés in a small, trendy neighborhood where you can enjoy personalized coffee and inventive contemporary cuisine.
Key Differentiators:
Variety of shared facilities
Excellent services
Exquisite living spaces
Client Testimonial:
"It was a lovely stay. The room was clean and location was also easy to find. the self check in is also very efficient and there are many facilities available."

S Sharon
21. Grand Park City Hall
It's hard to find a posh hotel with rooms available for a few hours. There are many shopping malls and entertainment alternatives nearby that will thrill your date who is all about the glitter, and the Grand Park City Hall is a 5-star hotel with a magnificent outdoor pool, a fitness facility, and an upscale European restaurant and bar called "Tablescape." You'll be relieved to learn that it's only a 5-minute walk from the closest MRT station and is surrounded by Instagram-worthy historical monuments if your significant other lacks the virtue of saintly patience.
Key Differentiators:
Luxurious hotel
Various remarkable nearby attractions
Exquisite experience
Client Testimonial:
"Modern and clean rooms. Excellent location as well. I really enjoyed my stay. Compared to another hotel I stayed at recently (5 star hotel that's old and needs refurbishing), the rooms were clean and the huge bathtub is a plus point. Really like the handsoap provided by the hotel too. The staff are very attentive, calling us to double check if we require anything when they noticed we didn't need our room made. Great experience overall, would like to come back again."

Amanda Goh
22. Park Hotel Farrer Park
This hotel is an excellent value because it is situated over an MRT station. You can use the area's gorgeous interior decor, spectacular scenery, and pre-war ethnic vendor homes to cast a love spell on your significant other and keep the romance alive. The hotel would be thrilled to help bring this one-of-a-kind love story to life because it would be so special! If you intend to stay at the hotel throughout your entire stay, Blue Jasmine and The Coffee Belt, two dining options at Park Hotel Farrer Park, both offer excellent set breakfasts for S$25+ and SDR12.5 per adult, respectively.
Key Differentiators:
Offers two dining alternatives
Reasonable rates
Outstanding services
Client Testimonial:
"Good location. Great service."

Tan Shin Hui
23. Hotel Mono
If you are a fashion expert or creative person who like neutral tones, the color palette of Hotel Mono's rooms is unmatched! Hotel Mono should be at the top of your list if you have a strong passion for architectural design and structures that blend classic beauty with contemporary. The area is lovely since it has kept the most prominent buildings from the old town while also retaining its elegance with rococo-style windows and classical airwells.
Key Differentiators:
Excellent architectural design and buildings
Exquisite living spaces
Most significant monuments nearby
Client Testimonial:
"Clean and comfortable place to stay, very close to China Town, train station, shops and restaurants.
Staffs we're friendly and accommodating, rooms were a bit tight but I guess that's fairly common in Singapore. Bed were on a bit of uncomfortable side (maybe this is personal)
Overall a great place and would stay again during my next visit."

Patrick Boondok
24. YWCA Fort Canning
Do you wish to leave your cramped bedroom and experience staying in a spacious hotel room while on vacation? The YWCA Fort Canning is ready to assist. In addition to the exceptional service they offer, their rooms include floor to ceiling windows, giving you more space and natural light. They have added a brand-new cafe lodge with a fitness center and an outdoor pool to their collection of pride and delights. Don't forget to try their delicious food and exclusive deals!
Given the variety of activities available at the hotel, it might be challenging to stay on top of everything that is going on there. The hotel is perched atop a hill with a view of serene Fort Canning Park. If you're on a shopping frenzy, Orchard Road and the city's central business district are both nearby. You'll also be happy you stayed at the YWCA Fort Canning because it supports social initiatives like Meals-on-Wheels and Empowering Mums.
Key Differentiators:
Wide range of activities
Excellent service
Great deals and offerings
Client Testimonial:
"Stayed here a few times now and first time since renovations great place to stay at such a convenient location at a great price."

Stewart Ray
25. Singapore Marriott Tang Plaza Hotel
Located in the center of Orchard Road, a popular area that the majority of Singaporeans are familiar of. The prior full-day tariffs were replaced with half-day rates. You are welcome to utilize all of the hotel's amenities throughout your brief visit, which include a swimming pool entrance, a gym, free parking, and opulent room accommodations.
Key Differentiators:
Full facilities
Excellent services
Exceptional living spaces
Client Testimonial:
"I'd like to give a shout out to Vic and Auntie and the rest of the staff of Crossroads Cafe. You guys did an excellent job! The food was awesome!"

Beki Mon
26. J8 Hotel
The building was created during the early twentieth century and is constructed using traditional gothic architecture styles. After you check-in, you'll be given a warm welcome and some of the area's most appealing amenities.
Key Differentiators:
Traditional gothic architecture styles
Appealing amenities
Exceptional living spaces
Client Testimonial:
"Service staffs were nice! They cater to your needs. There's morning breakfast complimentary. If you miss out there's food outside nearby. However, the place is quite deep inside to discover."

Arvind Ravindran
27. Sofitel Singapore City Centre
The Sofitel Singapore City Centre's location in the CBD, next to the Tanjong Pajar MRT, offers the ideal balance of work and play. Among the city's tall buildings, a rooftop pool with breathtaking views of the outdoors. Enjoy a great, brief getaway while being mesmerized by the elegant and lovely decor.
Key Differentiators:
Heart-throbbing views
Beautiful and stylish interiors
Excellent services
Client Testimonial:
"Enjoy stay 2 night here. Very nice bed to relax and sleep. Room is new and swimming pool is good. With open gym 24 hours on 5th floor. Convenient to walk to China town. Very enjoy for good quality of breakfast. And bellboy give my daughter Ahmeng's doll."

Ler鍾樂
28. ONE°15 Marina Sentosa Cove
The next item on the list is in the shape of the sea rather than a piece of land. The exclusive private marina and yacht club in Sentosa Cove offers a variety of waterfront accommodations with the utmost in luxury. Discover nature, award-winning boats, and an ocean filled with memories and sunsets.
Key Differentiators:
Luxury at its highest
Wide range of accommodation
Award-winning experience
Client Testimonial:
"World-class Marina and Clubhouses with great amenities for boat owners."

James Roy
29. Galaxy Pods
At the edge of the Chinatown MRT, you can find a secret capsule pod with charging ports, a flat-screen TV, and a separate locker for optimum privacy. Let's not wait for Falcon 9 to establish itself before setting our minds to space exploration.
Key Differentiators:
Exceptional amenities
Exquisite experience
High quality services
Client Testimonial:
"The Pods are an amazing and funny experience. I slept very well and for me it was not too loud so I didn't need my earplugs. Showers were hot and had a good water pressure. I really liked that they offer free cold and hot water, tea and coffee as well as a little fridge. Staff (especially Spencer) was amazing and helpful. We had a lot of fun 🙂 Location is very central in Chinatown, close to some bars, restaurants, cafés, laundry self service and of course to metro and bus station."

H. Bu.
Hourly Hotel Singapore
When traveling to Singapore, hourly rate hotels are an excellent method to cut costs. They're ideal for folks who like the occasional staycation with their family or friends but don't want to spend too much time at their hotel. In order to focus all of your concentration on packing, you can find hourly rate motels in our listings.
And if you want more related articles, check out the following links:
Frequently Asked Questions (FAQ)
If you have any questions about Hourly Hotel in Singapore, you can refer to the frequently asked questions (FAQ) about the best Hourly Hotels in Singapore below:
Additional Useful Articles
If you are looking for other useful guides and articles about Hourly Hotels in Singapore, check them out below: