Team Bonding Games Singapore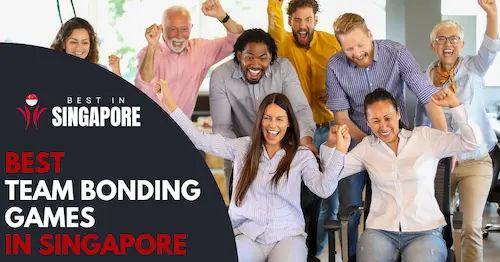 Team bonding activities in Singapore are an important part of any team building process because they help to build trust, encourage collaboration and communication, and create a bond within the team.
The best Team Bonding Games in Singapore include Laser Tag, Bubble Soccer, Giant Board Games, Poolball™, Bullet Ball, Art Jam, Virtual Leather Workshop, and Virtual Clay Making Workshop.
With their impressive track record of organizing over 50,000 successful events and receiving 8,000 outstanding reviews, FunEmpire stands out as the go-to choice in Singapore.
Whether you have a small or large team, a limited budget, or a specific type of activity in mind, the team bonding games we have listed have got you covered
Key Consideration Factors When Choosing Team Bonding Games In Singapore
Before you pick which activities to do for your next team bonding in Singapore, check out these key considerations that might help you:
Team Size: Different team building activities can accommodate different team sizes, so be sure to factor in how many people will be participating.
Duration of Activity: Some fun activities might require more time than others – depending on the length of your team's outing or event, you should decide which games best fit within that timeframe.
Budget: Most favourite team building activities come with a price tag, and it's important to take into consideration how much money you are willing to spend.
Type of Activity: There's a wide variety of team building activities available in Singapore, so it's important to pick the right one for your team – consider the interests and personalities of everyone involved.
Best Team Bonding Games Singapore
Adventure Team Bonding Games
1. Saber Tag®
Join epic missions like Saber Wars and Defenders of The Galaxy, where your team must use combat sabers and work together to complete objectives. Saber Tag® is perfect for team building events and birthday parties, offering a unique and enjoyable team building in Singapore.
2. Poolball™
Take your pool game to the next level with Poolball™, the world's largest pool table. Play a range of team building games like Poolball Classic and Poolball Sabotage that require teams to have excellent communication and group strategy among team members. This game is perfect for corporate team-building events and can host small or large groups of participants of all ages.
3. Bullet Ball
Looking for a more exciting version of dodgeball? Try Bullet Ball, a high-speed game that challenges your coordination and team communication. This affordable team-building option is suitable for both adults and kids, and can be played in any space, including your office conference room.
4. Giant Board Games
Relive your childhood memories with larger-than-life versions of classic board games like Jenga, Connect Four, Pick-Up Sticks, and Snakes & Ladders. These interactive team bonding activities offer a fun and engaging team-building experience in Singapore.
5. Bullet Strike (Nerf Gun)
Get your adrenaline pumping with Bullet Strike, a thrilling team-based game that requires strategy and quick reflexes to outsmart your opponents. With multiple game modes available, this fast-paced corporate team-building activity is sure to keep your team engaged and entertained.
6. Bubble Soccer
Experience the thrill of Bubble Soccer, one of the most enjoyable and unique team building activities in Singapore. This safe and playful game requires strategy and team work to achieve success, making it an effective cohesion team building exercise that also reduces stress.
7. Ninja Tag
Challenge your ninja skills with Ninja Tag, a fun and engaging team-building game that involves close combat using foam Ninja Daggers and scoring vests. With a variety of missions and game modes available, this game is a great way to challenge yourself and your fellow colleagues.
8. SaberFit
Try the world's first high-energy group fitness workout that combines combat sabers and striking techniques. SaberFit is perfect for team building and sweating together, and includes a pair-work dueling segment and team building exercises for a distinctive and unforgettable team-building event in Singapore.
9. Laser Tag
Laser Tag is a great team building activity suitable for all ages, featuring exciting missions that can be played both indoors and outdoors. Choose from a variety of interactive game objectives like Capture the Flag, Mission Impossible, and Domination to build camaraderie and bonding within your group.
10. Archery Tag
Experience the thrill of Archery Tag, a fast-paced game that combines dodgeball and archery. This game is safe for all ages as foam-tipped arrows and face masks are used for extra protection.
Choose from exciting missions like The Revival and The Last King that demand strong teamwork, communication, and resourcefulness.
Creative Team Bonding Workshops
11. Balloon Sculpting
Join the Balloon Sculpting Workshop and learn how to make fascinating balloon designs that both kids and adults can enjoy. This interactive workshop provides an opportunity to showcase your creativity by crafting your own balloon sculptures, such as a balloon pirate sword, butterfly, rainbow, and flower. It is a perfect team building activity for any age or skill level.
12. Art Jamming
Release your inner artist with an art jam workshop where you can create your own masterpiece to take home or display in your office space. This team building activity can be done individually or in groups, providing an opportunity to bond and relax with your colleagues.
Enjoy the background music as you paint, making it perfect for small groups and occasions like birthday parties and weddings.
13. Leather Workshop
Learn about leather properties and create various leather products like coin pouches, key FOBs, and luggage tags at the Leather Workshop. This fun team building activity is a fun and creative way to bond with your colleagues and make personal keepsakes or gifts.
Immerse yourselves in a culinary journey with a team bonding cooking class in Singapore. Whether it's preparing traditional Singaporean dishes or experimenting with international cuisine, this fun-filled activity is guaranteed to bring your team closer.
It offers a unique opportunity to work collaboratively, assigning different roles and responsibilities to prepare a tantalizing feast.
14. Terrarium Workshop
Create your own terrarium with vibrant sand and adorable figurines at the Terrarium Workshop. They offer tailored workshops for individuals and groups, perfect for various team building needs in Singapore. Showcase your creativity and explain the reasoning behind your specific decoration and creative approach.
15. Candle Making Workshop
Make your own scented candles at the Candle Making Workshop, which offers various packages like basic soy candle making, advanced soy candle layering, and gel candle making with colorful sands and decorative figurines.
This popular team building activity allows each team member to create their own unique scented candles to take home or bring back to their office.
16. Clay Making Workshop
Create personalized clay figurines with the Clay Making Workshop, which taps into participants' imaginative abilities. Choose from a diverse range of clay figurine options and customize the entire experience to suit your team's preferences. This team building workshop is a fun and creative way to bond with your colleagues.
17. Cooking Class
Experience Singapore's distinctive cuisine and delicious local dishes with a cooking team building activity. This fun and engaging team building activity provides an opportunity to prepare and cook meals together with your group.
Cap off the activity by tasting and enjoying the food that you have made. If you have a passion for food, consider taking up cooking classes in Singapore.
Immerse yourselves in a culinary journey with a team bonding cooking class in Singapore. Whether it's preparing traditional Singaporean dishes or experimenting with international cuisine, this fun-filled activity is guaranteed to bring your team closer.
It offers a unique opportunity to work collaboratively, assigning different roles and responsibilities to prepare a tantalizing feast.
18. Perfume Workshop
Create a unique fragrance that reflects your personality through a perfume workshop. Blend different scents to create a personalized perfume bottle that you can take home. This exciting team building activity provides an opportunity to understand your team members' personalities through scent and make a beautiful keepsake.
The perfume workshop is a blend of art and science, opening a world of fragrances for participants to explore and appreciate. It can prove to be an intriguing experience as one navigates through various aroma families and layers to curate a personal scent.
Besides fostering creativity and personal expression, this workshop also encourages participants to associate memories or experiences with different aromas, creating a truly unique and personal olfactory journey.
Quest Team Bonding Games
19. Amazing Race
Embark on an adventure across various locations in Singapore to complete a set of exciting challenges with your team.
Finish each challenge before proceeding to the next checkpoint and compete to be the first team to reach the final destination point. This team building activity promotes creative thinking skills and is an excellent opportunity for team building.
20. Escape Room
Collaborate with your team to solve challenging puzzles within a time limit at an escape rooms in Singapore. With a variety of mysteries, crime scene, hidden gems, and themes to choose from, it's an enjoyable team building experience that requires creativity, communication, and problem-solving skills.
Leisure Team Games
21. Neon Bowling
Experience the thrill of neon bowling in a glowing, cool, and dark atmosphere. Knock down as many pins as possible to score points in this exciting variation of regular bowling.
You can also explore different team building game types for your corporate team building event, which primarily focus on promoting active listening, teamwork, and trust among team members. It's an ideal leisure activity for your upcoming team building event in Singapore.
22. Yacht Rental
Looking for a unique way to celebrate a special occasion or host a corporate team building event? Consider renting a yacht in Singapore. Escape the hustle and bustle of the city and enjoy a luxurious experience on the water.
Whether it's a romantic proposal, anniversary celebration, birthday party, or corporate event, yacht rental in Singapore is an excellent choice for your upcoming event.
Virtual Team Activities
23. Virtual Party Mania
Add some fun and laughter to your team bonding event with a series of specially designed party games through video conferencing.
These team building games are aimed to foster camaraderie and team building, and experienced facilitators will guide you throughout the fun activity.
The winner of the virtual party will receive a prize, so let's get the party started and strengthen your relationships with colleagues, friends, and family.
24. Virtual Ben's Big Heist
Gather your team and get ready to rob a bank in the Big Gold Heist game! With the help of a found blueprint and notes, crack vaults, fill loot bags, and escape before the police catch you.
The difficulty of the vaults will increase as you progress, so be prepared for a challenge. This team-building game is perfect for those in Singapore looking for their next team building event.
25. Virtual Travel Experience
Experience a combination of Treasure Hunt, Virtual Amazing Race, and Virtual Escape Rooms experiences in FunEmpire's Virtual Travel Experience.
Embark on an exciting journey through the different eras of Singapore's history as you complete challenges in an immersive virtual environment. There's no participant limit, so join with as many team members as you like and work together to achieve success.
26. Super Planet
This educational escape room for kids lets you become the ultimate superhero and save the Earth. Solve puzzles using your special abilities while learning about important topics such as sustainability. Join forces with others to complete the mission and help save the planet. Will you answer the call, superhero?
27. Virtual Amazing Race
Compete with your friends and colleagues to be the first to travel around the world in this exciting team-building activity. The details of the game are kept a surprise, so you will have to play it with your team members to find out.
Our certified trainers will conduct the session to provide an unforgettable experience for you and your team. The amazing race experience is suitable for remote teams work from different locations as there is no participant limit.
28. Virtual Squid Escape Game
Join this escape room experience based on the popular show Squid Game. Solve clues and riddles with your friends to escape the room and expose the game's cruel master to the authorities.
Certified facilitators will lead the session to create a memorable experience for you and your team members, and the game can accommodate any number of participants, making it ideal for remote teams worldwide.
29. Virtual Time's Ticking
Put your detective skills to the test with this thrilling online escape room experience. Your team is tasked with stopping a bombing threat in the city. Collaborate with the whole team to eliminate the danger and save the day! But hurry, the clock is already ticking and time is running out.
30. Virtual Nightfall
Test your team's communication skills, ability to read body language, and persuasion in this game based on the popular game of Murderer. Each team member is assigned a character such as a killer, detective, or superhero in this battle of good vs. evil.
Book a private session for your group and the other teams and let our professional facilitator conduct the Virtual Nightfall session. Learn about each other's strengths and weaknesses in this mind game perfect for team building.
31. Virtual Escape Room
In the Virtual Escape Room game, you must help your friend Jack, who had too much to drink the night before and can't remember anything.
Work with your team members to explore the hotel room, visit the casino, and piece together what happened before Jack's flight departs. But time is ticking, so be quick and efficient in this virtual game!
32. Virtual Food Quest
Calling all food enthusiasts! FunEmpire's Virtual Food Quest in Singapore is a unique team-building activity that promises an exciting culinary journey.
Collaborate with your colleagues, friends, and family to tackle food-related obstacles that vary according to different cuisines.
Expand your knowledge about various types of food while strengthening your relationships and improving your communication skills. Give this fun experience a try and get ready to have fun and share laughter!
33. Virtual Time Travel
Join in the Virtual Time Travel experience, the world's first and only game of its kind! Travel through various eras and time zones, solve puzzles, and discover if time travel is possible.
Work against the clock to accomplish your mission, which will test the problem-solving skills of your entire team. There is no maximum number of participants, and the game can be played with as few as 2 people.
34. Virtual Jack's Hangover
In this game, you must assist your friend Jack who is dealing with a severe hangover after drinking too much the night before. Jack is unable to recall anything that took place and needs to catch his flight shortly. Collaborate with your cohesive team to aid Jack, explore the hotel room, go to the casino, and help Jack retrieve his lost memories.
35. Mayday
Join Captain Rogers on a mission to rescue a stranded botanist on a remote island in the Mayday team-building game. Safely transport the botanist back home while solving clues and riddles along the way.
This game relies on excellent communication among teammates to complete the mission, as a cyclone is approaching the island, and all communication with Louis has been lost. Be prepared for unexpected problem solving challenges.
Virtual Workshops
36. Virtual Leather Making Workshop
Partate in our virtual team building event and enjoy our well-liked leather crafting program from the convenience of your home.
We will provide leather crafting kits to all attendees before the next team building events. Our skilled facilitator will lead you through the project during the online session.
37. Virtual Candle Making Workshop
Assemble your team and join FunEmpire's Virtual Candle Making Workshop where you can make a scented soy candle of your own.
The workshop includes a figurine to add some visual appeal to your candle. All the required materials will be provided in the soy candle home kit, so you have every reason to take part in this incredible team building experience in Singapore.
38. Virtual Art Jamming
One enjoyable activity to do at home is to have a painting session. This can help you relax and feel content while expressing your creativity through a beautiful piece of artwork. All the necessary materials, such as acrylic paints, pencils, erasers, canvas or tote bags, are provided.
You can choose to paint on either canvas or tote bags and start your creative journey. The finished artwork can be displayed in your home or workplace.
39. Virtual Clay Making Workshop
Join us for a fun team activity where you can make clay figurines or charms. You can also create special gifts for your loved ones.
We use high-quality, non-toxic air dry clay that's safe for kids and versatile. In our live virtual clay workshop, our professional instructors will teach you basic concepts like color mixing and manipulating clay.
You'll also learn important tips on handling and molding clay. With no limits to your imagination, you can unleash your creativity and create your own unique design.
40. Virtual Terrarium Workshop
Looking for a crafty and enjoyable activity to do with friends or colleagues at home? FunEmpire provides a digital version of their Terrarium Home Kits workshop, which includes all necessary materials delivered directly to each participant's doorstep.
In this award-winning workshop, certified trainers will guide you through both practical and theoretical aspects of creating your own mini garden, with the addition of a cute figurine to complete the look.
Other Team Games
41. Go-Kart
If you have a passion for fast cars and the adrenaline rush of Formula 1 racing, then you are in for a thrilling team-building experience with Go-Karting!
Imagine you and your colleagues competing against each other in specially designed Go-Kart vehicles, showcasing your driving skills and determination.
You'll have the opportunity to race on multiple tracks, including the renowned international racing track, where legends have made history, and the dynamic karting arena track, filled with twists and turns to challenge even the most skilled drivers.
Get ready for an unforgettable adventure in this outdoor activity that will bring out the competitive spirit in everyone!
42. Paintball
This activity involves team members from different teams shooting paintballs at each other while completing missions. It's a thrilling tactical challenge, but not recommended for those who get intimidated easily.
If you're up for it and don't mind some minor bruises, paintball could be a great choice. However, if you prefer a less physical activity, consider laser tag for your team building activity in Singapore.
43. Giant Whack A Mole
In Singapore, there is a thrilling and engaging team building activity known as the Whack-A-Mole game. This exciting game takes inspiration from the beloved arcade classic, where participants aim to strike opponents who are attempting to snatch colorful balls.
It offers a truly enjoyable entire experience that guarantees to generate abundant laughter and forge indelible memory lane, particularly for teams brimming with high energy and enthusiasm.
Without a doubt, this distinctive game is an absolute must-try and an invitation you should enthusiastically accept!
44. Hybrid Amazing Race
FunEmpire has introduced the Hybrid Amazing Race, which is a distinctive experience blending physical and virtual reality activities.
The participants will have to complete physical challenges and solve online puzzles as a part of the game. The game is designed to highlight Singapore's cultural heritage, rich history, local cuisine, and landmarks of Chinatown.
The Hybrid Amazing Race is ideal for highly energetic teams searching for team-building exercises that adhere to social distancing norms. Additionally, there is no limit to the number of participants who can join.
45. Human Foosball
In this exhilarating game of life-sized Foosball, players find themselves immersed inside a giant table, strategically positioned and armed with poles.
With movements restricted to the sideways shuffle, reminiscent of the iconic mini plastic figurines, the players embark on a thrilling quest.
Their mission: to skillfully score goals in the opponent's territory while simultaneously defending their own, creating an electrifying atmosphere of healthy competition and camaraderie.
Collaboration and coordination among teammates are paramount, as every member of the team contributes to the collective pursuit of victory, making each moment an unforgettable great team building experience filled with adrenaline and excitement.
46. Virtual SaberFit®
You can now join SaberFit®, an innovative group fitness class, right from the cozy confines of your own home.
This dynamic workout combines the intensity of High-Intensity Interval Training (HIIT) with saber techniques to provide you with a comprehensive full-body toning experience that effectively burns fat.
Perfect for fostering camaraderie, this collaborative fitness program is ideal for you and your coworkers, allowing you to inspire and motivate each other while breaking a satisfying sweat. Get ready to unleash your inner warrior and achieve your fitness goals with SaberFit®!
47. Wine Appreciation Singapore
Are you and your coworkers interested in joining a Wine Appreciation workshop?
This engaging session will delve into the fascinating world of wines, where you'll not only learn about the nuances between Pinot Noir and Merlot but also discover the art of identifying a wine's region from the label.
This immersive experience promises to enhance your wine-tasting skills and equip you with knowledge that will undoubtedly impress your boss or clients at future company events.
Don't miss out on one of the best team bonding activities to expand your wine expertise and elevate your professional networking game!
48. Kaboom Singapore
Try a crazy fun and engaging team-building game where participants are blindfolded and challenged to navigate through a crowded area while collecting specific items.
This exciting game is designed to strengthen communication, trust, and teamwork skills, providing a unique opportunity for participants to bond and collaborate.
With its versatility and ability to accommodate a large number of participants, this game guarantees laughter and a memorable team-building experience.
49. Dragon Boat Singapore
Dragon boating is an exhilarating outdoor activity that puts your teamwork, determination, communication, and endurance to the test.
It offers a unique opportunity to develop a strong sense of camaraderie, team performance, and cooperation with your teammates while basking in the warm embrace of the sun.
As you paddle together, your synchronized movements propel the race boat towards the thrilling finish line. This engaging manner and fun-filled team building activity not only provides an excellent workout but also serves as an ideal platform to foster strong relationships, unity, and collaboration within your team.
50. Flower Arrangement Singapore
Are you intrigued by the artistry of florists who skillfully craft stunning bouquets by expertly combining an array of vibrant colors and diverse flower types?
If so, you have the opportunity to delve into the world of floral arrangement and acquire the fundamental knowledge of selecting and blending various flower varieties and hues.
With this expertise, you can create a personalized and heartfelt bouquet that serves as a truly enchanting gift for someone exceptional in your life, whether it's a cherished colleague or a beloved family member. Let your creativity flourish and your gesture of affection bloom with the beauty of flowers.
Team Bonding Games Singapore
As you can see, there are plenty of options for cool team building activities in Singapore.
Whether it's a physical activity like Dragon Boat or Giant Whack A Mole, virtual games such as Virtual SaberFit®, Hybrid Amazing Race and Kaboom, or something more creative like Flower Arrangement and Wine Appreciation – you're sure to find the perfect game that suits your team's needs.
Team building activities (or team building in Singapore) are an important part of any successful business culture; so why not take advantage of some fun and engaging team bbuilding games this year?
With these best team building activities available in Singapore, success is just around the corner!
If you want to read more interesting articles, follow the links below:
Frequently Asked Questions (FAQ)
If you have any questions about team bonding games in Singapore, you can refer to the frequently asked questions (FAQ) about the Best Team Bonding Games in Singapore below:
Additional Useful Articles
If you are looking for other useful guides and articles about Team Bonding Games in Singapore, check them out below: