Tuition Centre Singapore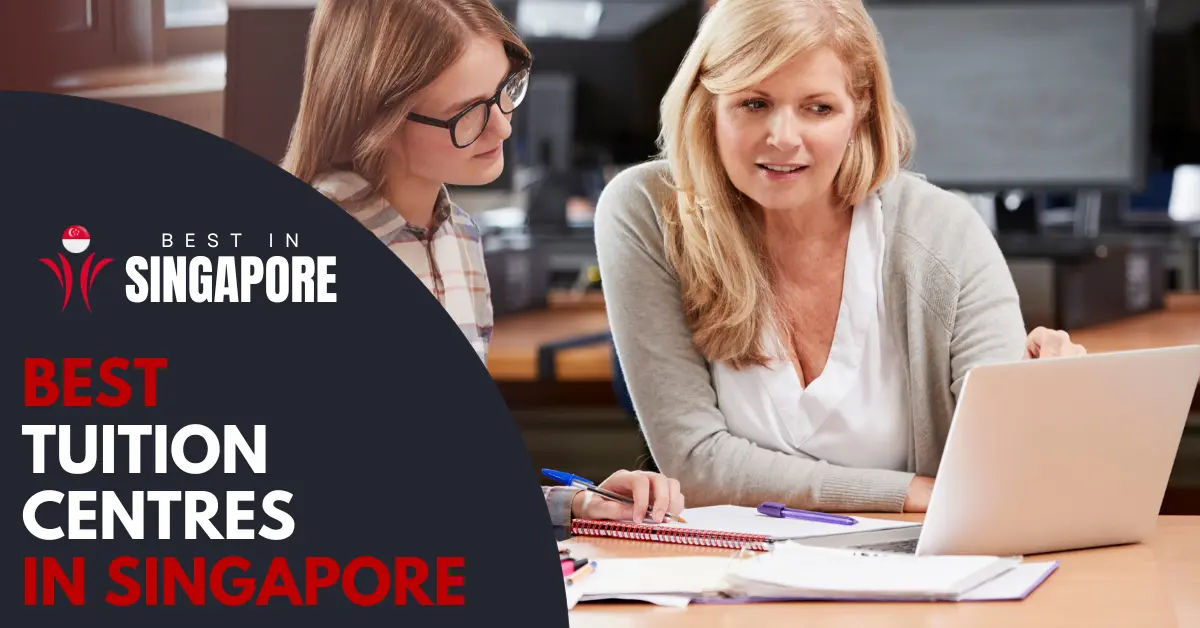 Selecting the right tuition center in Singapore can be a daunting task, given the myriad of options available.
The best tuition centres in Singapore include Happy Tutors Learning Centre, AGrader Learning Centre, WR!TERS @ WOR, and The Learning Board.
When selecting a tuition center in Singapore, take into account elements like the center's location, credentials, pricing, reputation, and schedule.
In Singapore, tuition centers are well-known for their rigorous academic curricula, experienced tutors, and tailored teaching methods that cater to the individual learning requirements of every student.
This comprehensive guide will walk you through the best tuition centers in Singapore, suitable for all levels, to help make your decision-making process smoother and more informed.
Key Consideration Factors
When choosing a tuition centre in Singapore, make sure to consider these important factors:
Location: The location of a tuition center plays a significant role in accessibility and convenience for both students and parents.
Credentials: Look for centers with qualified tutors, proven track record, and certifications from recognized educational institutions.
Cost: Education in Singapore can be expensive, so consider the affordability of the tuition center while also keeping in mind the quality of education they offer.
Reputation: A good reputation is often an indicator of the quality and success rate of a tuition center.
Schedule: Ensure that the tuition center's schedule aligns with your child's timetable to avoid any conflicts or inconvenience.
Best Tuition Centre Singapore
1) Yes Tuition Agency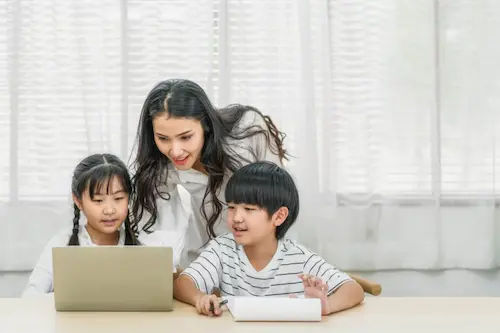 Yes Tuition Agency, established in 2006, has become a trusted provider of skilled and certified tutors, offering invaluable support to students in their academic pursuits. Starting with just 100 tutors in 2006, the agency has grown significantly, now boasting a database of over 20,000 tutors in 2020, serving the entire Singapore region.
The team of tutors is diverse, including undergraduates, graduates, former school teachers, and full-time professionals. Yes Tuition is a passionate group of educators dedicated to your child's education, prioritizing the improvement of the user experience for tutors, students, and parents.
Their main objective is to establish a reliable agency that effortlessly links students and tutors through their cutting-edge system. They are fully dedicated to ensuring you have the utmost satisfaction.
The team recognizes the distinctiveness of each student, which is why they carefully match every tutor to meet individual needs. With their vast expertise and extensive network, they can pinpoint the weaknesses of each student and recommend the perfect tutor for you.
2) The Learning Board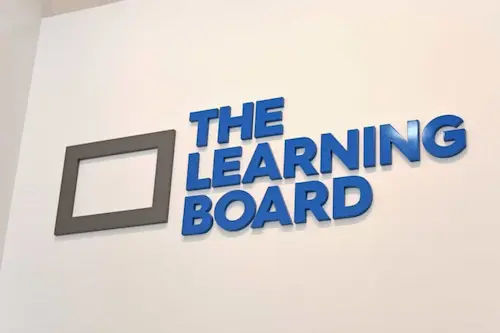 The Learning Board is committed to offering a diverse range of subjects, such as English, Maths, and Science, for students from primary to secondary school levels.
With a strong dedication to student success, they excel at motivating and guiding students towards achieving their desired A grades through the use of highly effective strategies.
By implementing the Triple Star core system, which includes SMART Sheets, skilled teachers, and positive reinforcement, students not only improve their academic performance but also make significant progress in their learning journey.
The Learning Board employs a combination of cutting-edge materials and interactive techniques to establish a nurturing learning atmosphere, allowing students to progress at their own speed without feeling inundated. As students attain proficiency in the subject matter, they feel empowered and motivated to continue their advancement.
3) EduFirst

EduFirst Learning Centre, renowned for its exceptional education, operates a network of 12 conveniently located branches throughout the island. Boasting an impressive track record, they have been honored with the title of "Best Enrichment and Learning Centres" for an impressive four consecutive years, as recognized by Parent's World Magazine.
Furthermore, their commitment to providing top-notch education has positioned them among the top three tuition centers in Singapore, according to threebestrated.sg.
EduFirst provides a wide range of tuition services that cover subjects like English, EduFirst Learning Centre provides customized services in Mathematics, Chinese, and Science, catering to students of varying levels, from Pre-Primary to Secondary 4 O level.
Apart from their exceptional tuition programs, EduFirst also offers specialized student care services for primary school children, fostering their holistic development and academic success. With a steadfast commitment and a well-established reputation, EduFirst Learning Centre is a trusted institution in Singapore's educational landscape.
4) AGrader Learning Centre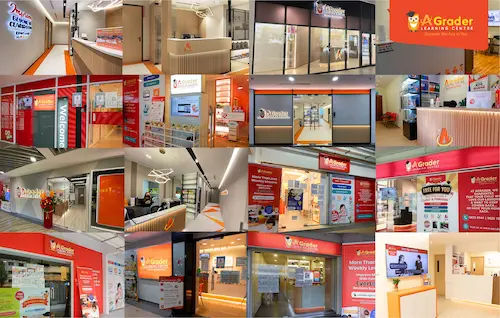 AGrader Learning Centre, established in 2013, is a leading tuition centre chain in Singapore. With 17 branches conveniently located across the island, it offers comprehensive tuition and enrichment programmes in English, Mathematics, Science, and Creative Writing for Pre-primary, Primary, and Secondary Levels.
Classes are limited to 12 students to ensure individualized attention. AGrader has positively impacted over 20,000 students, achieving an impressive improvement rate of over 83.4% without any student pre-selection.
AGrader provides weekly lessons and the exclusive EverLoop Improvement System for students. It offers extra worksheets, comprehensive learning videos, and unlimited revision sessions to enhance the learning experience.
Enrollments also include complimentary access to additional learning resources from up to 3 previous levels, including worksheets, exam-oriented questions, and learning videos for revision and improvement.
5) Jai Learning Hub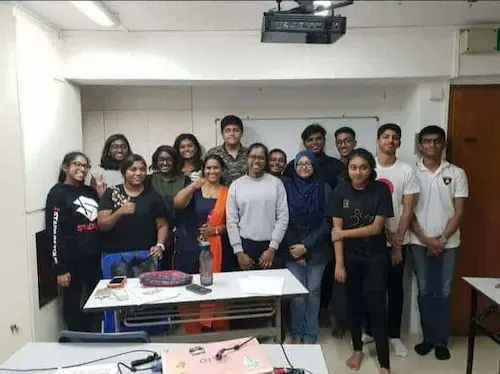 Established in 2007 by Madam Devi, Jai Learning Hub aims to not only enhance children's proficiency in the Tamil language but also foster their passion for it. Currently, Jai Learning Hub boasts a team of dedicated, highly qualified, and like-minded full-time tutors who are making a significant difference in the lives of countless students.
Their unwavering dedication to providing exceptional education and ensuring comprehensive growth is encapsulated in their motto: "WE PROMISE YOUR EXCELLENCE."
6) Math Note
The Math Note learning centre, founded by a former teacher, empowers students facing math challenges. With structured lessons, Math Note builds confidence and fosters excellence in mathematics.
With a success rate of over 90%, Math Note's graduates consistently achieve A/B grades. They update their curriculum to align with the latest MOE syllabus.
With nearly 15 years of industry experience and a proven track record of teaching over 700 students, Math Note is committed to helping your child excel in Mathematics. They bring expertise and creative teaching methods for your child's success.
7) Our Learning Loft
Our Learning Loft provides specialized small group classes, focusing on Primary and Secondary (IP) programs to enhance children's academic performance and excel in schoolwork and exams. The experienced teachers create a nurturing environment and a comprehensive curriculum that promotes a deep understanding of concepts.
Tailored for schools like RGPS, ACS, MGS, NYPS, HCI, NYGH, RI, RGS, and more, the curriculum offers relevant content and an optimal learning pace. Skilled educators offer study materials with real-life scenarios to boost comprehension.
The dedicated instructors at Our Learning Loft use innovative teaching techniques to keep students ahead, appreciated by students.
8) AO Studies Tuition Centre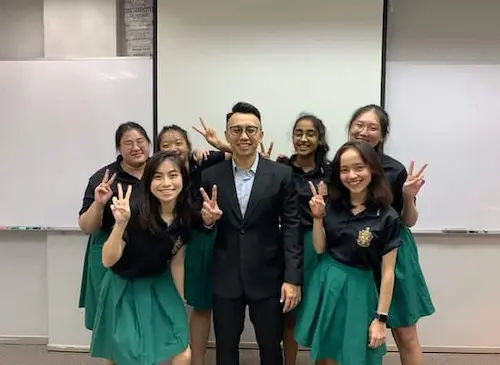 AO Studies is a tuition center specializing in 'O' and 'A' Levels education. Since 2012, the center has exceeded expectations, offering top-notch education to every child. Their proven methodology has helped countless students achieve exceptional exam results. With small class sizes, each student receives the necessary attention during lessons.
Parents can be confident that the center employs highly skilled educators with extensive teaching experience. These teachers are readily available and offer complimentary consultation sessions to all students. AO Studies is committed to their students, evident in the thoughtful gestures they extend.
The center's curriculum includes unique learning tools such as name card-sized formula cards, comprehensive syllabus revision, and mock exams. At AO Studies, they prioritize both education and enjoyment. Additionally, there are no administrative, withdrawal, or registration fees associated with these offerings!
9) Ingel Soong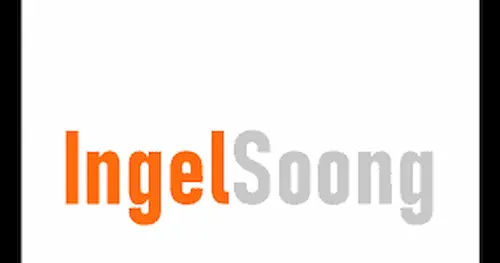 Ingel Soong is an exceptional teacher who effortlessly simplifies complex information, helping students grasp concepts with clarity. By bridging theory and practical applications, he effectively applies principles from Physics, Chemistry, and Mathematics to real-world scenarios, enlightening his students in the process.
His courses not only foster academic growth but also impart practical knowledge for everyday life, empowering parents to equip their children with essential skills and quality education. By instilling knowledge from a young age, children will be better prepared to make informed decisions and exercise sound judgment as adults.
Give your child the tools they need to succeed in the real world with Ingel's comprehensive learning experience.
10) EduZ Tuition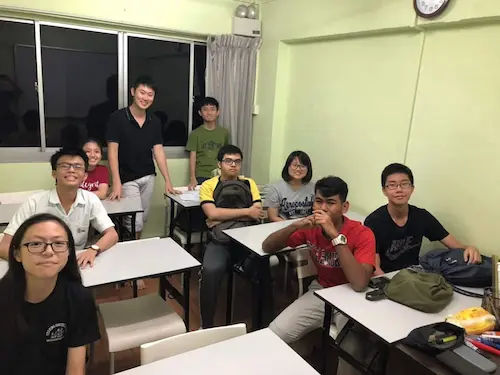 Since its establishment in 2010, EduZ Tuition has offered a unique and effective learning model. Created by experienced ex-school tutors, this model aims to provide quality education.
The center ensures specialized teaching materials for all enrolled students. With multiple branches in Singapore, EduZ Tuition is easily accessible. Additionally, the center provides live-streamed online lessons, offering convenient access to interactive and high-quality education from home.
The EduZ Tuition team is committed to providing a holistic learning experience, addressing individual needs and progress. With a strong commitment to education and a passion for student success, EduZ Tuition is a trusted choice for parents and students.
11) MyMasterclass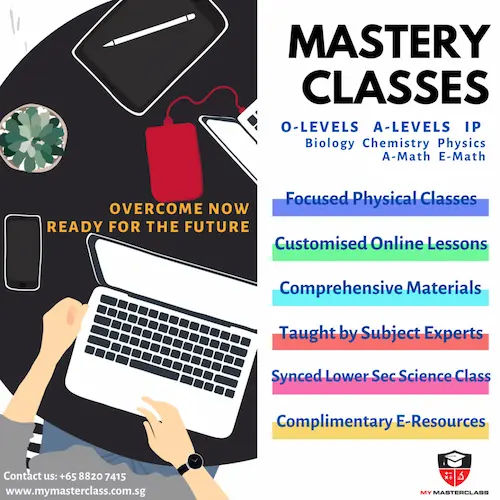 My Masterclass focuses on Math & Science curriculum designed for Secondary, IP, and Junior College students. Their distinctive methodology, Critical Thinking, Critical Learning, goes beyond rote memorization to enable students to understand fundamental concepts and apply their knowledge effectively.
The tutors at My Masterclass are experienced educators, ranging from PhD holders to dedicated full-time tutors with extensive teaching backgrounds. They actively involve students and optimize their learning capabilities.
With My Masterclass, there's no fixed learning path. Teachers create personalized plans based on each child's needs, considering their school progress and pace.
Materials include notes, lesson checkpoints, and worksheets of varying difficulties. Students also gain access to My Masterclass's online platform with extra videos and revision materials curated by their tutors.
12) Happy Tutors Learning Centre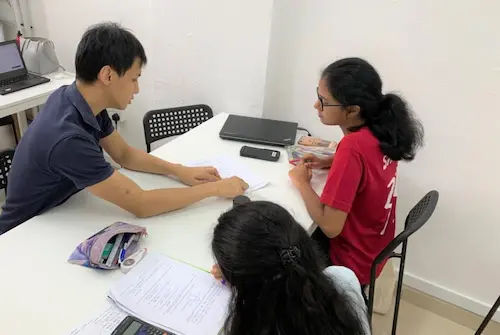 Since 2013, this young company in the education industry has been dedicated to providing students with top-notch educational services. Their main focus is offering personalized academic programs tailored to meet the unique needs of each student.
Additionally, they provide a wide range of subjects to cater to students at different academic levels. As a tuition center that emphasizes small group learning, their priority is simplifying the content and aligning it with the MOE syllabus.
Their ultimate goal is to cultivate students' character and confidence, inspiring them to excel academically. This approach not only helps students succeed in their studies but also equips them with essential skills for success in other areas of life.
13) Jφss Sticks Tuition Centre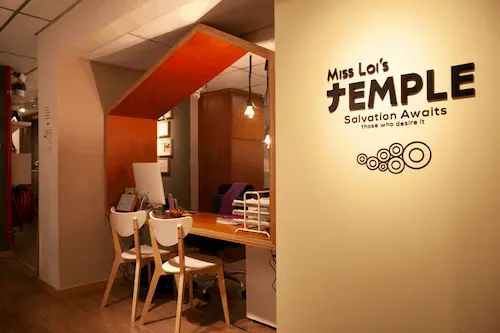 Since 2007, Miss Loi's Temple, also known as Joss Sticks Tuition Centre, has been a spiritual sanctuary for one of Singapore's original Super Tutors. Located near Novena MRT, it helps students struggling with Math, aiming to boost their confidence and eliminate errors. Specializing in O & A Level Mathematics, they are the authorities in the curriculum.
Contrary to its name, "Joss Sticks" and "Miss Loi's Temple" have no religious connotation. Rather, "Joss Sticks" alludes to the challenging exam questions devised by Miss Loi. A "Jφss Sticks Session" is an immersive Math group tuition class conducted by Miss Loi.
Let Miss Loi illuminate your path to exceptional Math grades. Prepare for an exhilarating journey of mathematical mastery!
14) Miracle Math Tuition Centre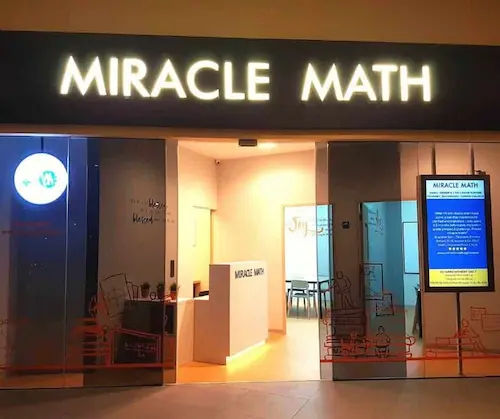 Miracle Math Tuition Centre is an accredited institution by MOE, dedicated to providing top-notch small group Maths Tuition in Bedok. With a proven track record spanning since 2007, Miracle Math tutors have consistently empowered students to not only excel academically but also experience personal development.
By providing expert guidance and a personalized approach, students have achieved remarkable progress, often surpassing two grade levels within just 6 to 18 months. The secret to their success lies in the strong partnership formed between teachers and students, where collaboration and dedication serve as the building blocks.
Choose Miracle Math and embark on a transformative learning journey that guarantees exceptional results!
15) Irwin's Study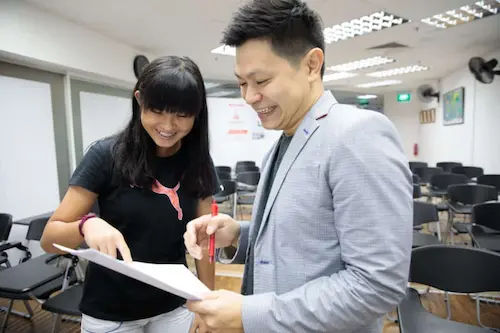 Irwin's Study is a one-of-a-kind tuition center specializing in General Paper (GP) and English tuition. Established in 2009 by Irwin See, a former MOE teacher and Oxford University graduate with a Master's degree (with Distinction), Irwin's Study has successfully helped over 1,000 students enhance their academic achievements for A-levels, O-levels, and the Integrated Programme (IP). Additionally, it fosters a passion for the English language.
Established in 2018, The Seed Initiative serves as the social branch of Irwin's Study. Its mission is to offer financial aid and guidance to social projects that strive to create a positive impact in our world. It has successfully supported numerous impactful initiatives thus far.
Thanks to the high praise from both parents and students, seats for classes at Irwin's Study are typically filled within the first few months of each year.
16) WR!TERS @ WOR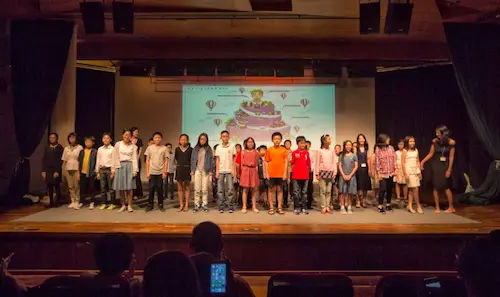 WR!TERS @ WORK firmly believes in the teachability of writing. Their mission is to empower children with the necessary skills and confidence to excel in school and beyond.
Founded in 2012 by a team of edu-preneurs, WR!TERS @ WORK revolutionizes conventional teaching approaches with an effective and outcome-oriented curriculum. Their meticulously crafted writing programs aim to provide an enjoyable learning journey and empower children to achieve exceptional examination results.
17) Tutor Suzanne
Suzanne, a highly sought-after tutor, specializes in Math and Science instruction for primary and secondary school students. With over 100 annual students, she is popular among parents and students in Jurong West.
Suzanne has developed a successful program that simplifies complex concepts, making it easier for students to understand. She believes in offering a wide range of materials to enhance Math and Science education, including cheat sheets, quizzes, revision packages, and mock exams.
In addition to classroom instruction, students receive ongoing support, including unlimited consultations and digital access to recorded lessons. They can reach out to Tutor Suzanne for further assistance with school work or self-revision. Learning knows no bounds!
18) Aspire Thinking Learning Centre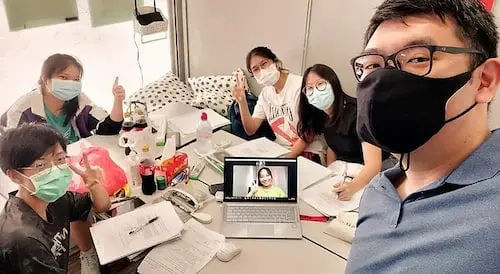 Established by Terence in 2018, the Aspire Thinking Learning Centre has evolved from offering one-on-one tutoring to blossoming into a thriving educational hub in Bishan. Boasting a team of experienced tutors and a state-of-the-art learning management system, their unwavering dedication lies in ensuring the academic success of every student.
Their primary objective is to cultivate a learning environment that imparts crucial knowledge while fostering an enjoyable experience. By employing a range of effective techniques such as identifying strengths and weaknesses, utilizing relevant concepts and thought-provoking questions, incorporating school papers and Ten-Year Series, they facilitate optimal learning.
Moreover, they perform micro-tests, conduct after-action reviews, and customize their approach to cater to individual learning preferences. With an internal learning management system and ICF-Certified coaching sessions, they diligently monitor progress and offer encouragement for professional development.
19) Best Physics Tuition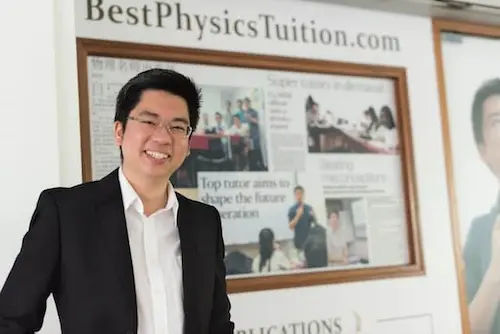 The Best Physics Tuition Centre is a specialized educational facility that focuses on providing tuition in Physics to A-level, O-level, and IP students. It was founded by Mr. Tony Chee, a highly qualified ex-MOE school teacher. The centre prides itself on its outstanding track record in the field of Physics.
Mr. Chee possesses a First Class Honours degree from the United Kingdom and has been honored with multiple teaching awards from MOE. The center has effectively assisted countless students in restoring their confidence in Physics and attaining exceptional outcomes in their national examinations.
20) Ignite Tuition Centre
Ignite is a close-knit community of passionate educators and learners who share a love for knowledge and personal growth. At this exceptional tuition center, innovative teaching approaches foster genuine enthusiasm for the learning journey.
With outstanding teachers, teaching assistants, and carefully selected resources, students at Ignite achieve remarkable academic success, creating a network dedicated to excellence and growth in education.
Tuition Centre Singapore
In conclusion, Singapore boasts a host of exemplary tuition centres, each with its unique approach to education and student development.
These institutions are dedicated to fostering a conducive learning environment and equipping students with the necessary skills to excel both acadically and personally.
Whether it's specialized subject tutoring, innovative teaching methods, or a focus on personal development, these tuition centres represent the best of Singapore's commitment to educational excellence.
Frequently Asked Questions (FAQs)
If you have any questions about the Tuition Centre in Singapore, you can refer to the frequently asked questions (FAQ) about the best Tuition Centre in Singapore below:
Additional Useful Articles
If you are looking for other useful guides and articles about best Tuition Centre in Singapore, check them out below: