Amazing Race Singapore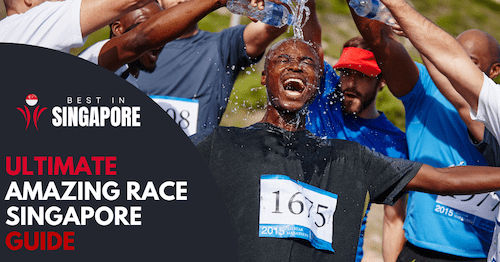 The Amazing Race Singapore offers a unique blend of fast-paced competition and captivating exploration.
The best Amazing Race Activities in Singapore include Physical Amazing Race, Hybrid Amazing Race, and Virtual Amazing Race.
When searching for an activity in Singapore like the Amazing Race, consider factors such as team size, location, race duration, challenge type, and price.
FunEmpire's Amazing Race is the ultimate choice for adventure and excitement in Singapore, backed by an impressive track record of over 50,000 successful events and more than 8,000 glowing 5-Star client reviews.
Whether you're a tourist wanting to discover Singapore from a fresh perspective, or a local hoping to rediscover your city, Amazing Race Singapore promises an unforgettable experience!
Quick Summary
Best Amazing Race Activities in Singapore include Physical Amazing Race, Hybrid Amazing Race, and Virtual Amazing Race.
When you're looking to book an Amazing Race Singapore activity, take into account factors like the size of your team, the location, the race duration, the type of challenge, and the price.
With over 8,000 5-Star client reviews and a remarkable track record of over 50,000 successful events, FunEmpire's Amazing Race is Singapore's top choice for adventure and excitement.
What Is Amazing Race Singapore?
Amazing Race Singapore is a fascinating and entertaining journey that gives guests a tour of the city-state. From Chinatown to Sentosa Island, participants must look for hints and accomplish tasks all throughout the city. Teams compete in Singapore's Amazing Races by having to follow instructions, decipher puzzles, navigate, and finish tasks within set deadlines.
The objective is to discover new areas in Singapore while being the first team to reach the finishing line. Every event has its own unique set of unique challenges and goals, as well as a spectacular reward for those who cross the finish line!
It's a terrific chance for groups to learn more about the country while team building in Singapore!
Benefits Of Amazing Race Singapore
Promote Physical Activity: Amazing Races' physical challenges assist to encourage fitness, making workers ultimately healthier and more effective.
Enhance Decision-Making Capabilities: Teams competing in the Amazing Race must be able to make judgments quickly and accurately while under time constraints.
Promote Teamwork: Amazing Races are team-based competitions that promote collaboration, effective communication, and team building, assisting all competitors in developing better and more fruitful professional connections.
Increase Employee Creativity: Amazing Races in Singapore encourage imaginative approaches to issues, assisting staff members in thinking outside the box and developing original concepts.
Boost Team Morale: Participating in an Amazing Race (one of the best team building activities in Singapore) may help raise team spirits, enhance staff engagement, and promote drive to accomplish a shared objective.
Tips When Playing Amazing Race Singapore
Use technology: By offering instructions or hints in certain regions throughout the race, technology like as cellphones or tablet computers may aid teams in navigating through checkpoints swiftly.
Use maps and compasses: Despite the availability of technology, it's necessary to be acquainted with offline maps, compasses, and landmarks to enable quick navigation throughout the race.
Imaginative thinking: To create a success narrative that all teams will be proud of, be willing to try new things, think creatively, and outdo yourself.
Dress appropriately: Put on sensible, comfortable clothing that is appropriate for walking, jogging, and other activities. If required, use a helmet for protection.
Remember to map out your route: Choose your path before the event begins to make the most efficient use of your time and accomplish each checkpoint.
Collaboration is crucial: The success of your team in the Amazing Races depends primarily on your ability to communicate effectively and work as a team to solve obstacles.
Have fun: Last but not least, remember to have fun even if winning the race is vital! Take advantage of this exceptional chance to make memories with your colleagues, snap pictures along the road, or indulge in local foods from other nations during pit breaks.
But before that, here are some consideration factors when choosing Amazing Race in Singapore.
Key Considerations Factors
Take security properly: Teams should think about the safety measures at each checkpoint location, confirm that any offered equipment is secure for use by participants of all ages and abilities, and get aware with any risk management strategies in advance.
Employ support personnel: Along the route, support workers may be required at checkpoints to aid with safety concerns or simply to re-direct participants who have gotten off course. Be sure they are trained on what they need to do beforehand!
Establish a backup strategy: To ensure that no one is abandoned or left behind during an Amazing Race event in Singapore, make sure there is a backup plan in place in case of bad weather or emergencies.
Choose an interesting concept: The Amazing Race can have a more fun and engaging experience if the theme is fascinating. Such themes like an island-hopping marathon or a historical treasure quest give a distinctive experience.
Think about the race: Choose between a linear or open-ended race structure that will include various sorts of tasks and present varied degrees of difficulty depending on your team's aims and ambitions.
Observe the laws: To guarantee a smooth competition and free teams to concentrate more on having fun throughout their Amazing Race adventure, familiarizing yourself with the race rules is crucial.
Choose suitable places: To maximize fun and learning possibilities, make sure that the sites are convenient, secure, and provide the correct type of ambience for the targeted participants.
Plan emergency stops: To help fatigued participants, refuel them with food and beverages, or give them some time to relax before carrying on with their trip, pit breaks should be included into the planning process.
Now that you know what to look for, here are some of the Best Amazing Race Games In Singapore.
Recommended Amazing Race Singapore Games
1. Virtual Amazing Race
One of the most immersive virtual team building activities in Singapore, FunEmpire Virtual Amazing Race is run with the help of a web-based platform made for virtual communication and working together. It's a wonderful opportunity for remote employees to interact, have fun, and get to know one another better.
The format of the virtual Amazing Race is similar to that of the hybrid and live versions in that it is a race with a variety of obstacles in an exciting storyline. Still, the people who take part in the virtual race experience stay in a different place the whole time. Before the competition starts, the contestants are divided into teams, and each team is assigned a distinct starting spot. After that, the teams are given a set of instructions and a link to the website with the challenges.
The winning team is the one with the highest score at the end of the contest. During the debriefing session, which is when all the teams get together at the end of the activity, the facilitators can talk about the teams' results and get feedback from the teams.
FunEmpire's Virtual Amazing Race is a fun and unique way for remote teams to work together and improve their communication, teamwork, critical thinking, and problem-solving skills. It's one of the best ways to bring together teams from different places and give them a shared experience that wouldn't be possible any other way.  
2. Physical Amazing Race
In The Physical Amazing Race by FunEmpire, several physical tasks and challenges are spread out along a set route or venue. This is a fun way to put together a team. The goal of this tournament is to promote physical endurance, problem-solving skills, leadership skills, working as a team, and talking to each other.
During the Physical Amazing Race event, participants are divided into teams of 4-6 persons, and each team is given a set of instructions prior to the race. They could be given a map and a list of chores or puzzles to do in order to complete the race. The teams must then work together as they pass through the many checkpoints on their journey to the finish line.
The tasks themselves are a lot of fun. Sports, minigames, overcome obstacles, and other activities are among them. These challenges allow participants of all physical levels to take part, enabling people from all walks of life to become engaged and really make a difference.
In general, FunEmpire's Physical Amazing Race is a thrilling and entertaining approach to forming a team, encouraging cooperation, motivating fitness, and addressing issues. It is the ideal technique for any group to increase their capacity for cooperation, communication, and bonding.
3. Hybrid Amazing Race
The FunEmpire Hybrid Amazing Race is a unique combination of indoor and outdoor activities. It presents a broad variety of cognitive, artistic, and physical demands. This kind of team-building exercise combines the best of the actual and virtual worlds.
The hybrid Amazing Race is more flexible for companies than the outdoor Amazing Race because it has parts that take place inside. This event is suitable for companies that want a hybrid experience since it can handle both large and small group sizes.
The contestants in the hybrid Amazing Race are split into teams, and each amazing race team is given a different starting point. Teams have to go between checkpoints when the game starts using a number of methods, such as walking or using public transportation.
In short, the FunEmpire Hybrid Amazing Race activity is a fun way to build teams that combines the best parts of face-to-face and online interactions. It helps people develop a wide range of skills, such as problem-solving, communication, teamwork, and creativity, that can be used in many different types of workplaces. 
Amazing Race Singapore
With its rich history and huge variety of attractions, Singapore is a fantastic location for an Amazing Race competition. Whatever your group's size or desired level of activity, FunEmpire has the perfect Amazing Race for you, whether it's a traditional Amazing Race, a virtual Amazing Race, or a hybrid Amazing Race that combines the best of both worlds.
The Physical Amazing Race is another option for those who want a more active test of their problem-solving and team-building abilities. As a result, Singapore is one of the greatest venues in the world to host outstanding racing events, no matter what kind of experience you're looking for.
If you're looking for more recommendations, you can check out our other posts below:
Frequently Asked Questions (FAQ)
If you have any questions about Amazing Race in Singapore, you can refer to the frequently asked questions (FAQ) about the best Amazing Races in Singapore below:
What kind of team building activities can we expect in the Amazing Race Singapore?
The Amazing Race Singapore includes a variety of activities that promote teamwork, such as solving clues, completing challenges, and participating in a heritage race. These activities are designed to improve team dynamics and enhance team bonding.
How does the heritage race in Amazing Race Singapore work?
In the heritage race, teams navigate through historical and cultural landmarks of Singapore, solving clues related to the country's rich heritage. It's a thrilling adventure that not only promotes teamwork but also celebrates multiculturalism.
How can participating in Amazing Race Singapore help improve team member dynamics?
By working together to solve puzzles and complete challenges, team members can improve their communication, collaboration, and time management skills. This shared experience fosters better understanding and improves overall team dynamics.
Why is Amazing Race considered a popular team building activity in Singapore?
Amazing Race Singapore offers a unique blend of fun, adventure, and learning. It encourages team bonding, enhances teamwork skills, and provides an exciting way to explore the city's multiculturalism, making it a popular choice for team building in Singapore.
How does Amazing Race Singapore promote team bonding?
Amazing Race Singapore promotes team bonding by providing shared challenges that require cooperation and collaboration. Overcoming these challenges together fosters camaraderie, mutual respect, and a stronger sense of team identity.
What skills are required to solve clues and complete challenges in Amazing Race Singapore?
Solving clues and completing challenges in Amazing Race Singapore requires effective communication, problem-solving, and time management skills. It's a practical and enjoyable way for team members to hone these skills.
Can you describe the thrilling adventure aspect of Amazing Race Singapore?
The thrilling adventure of Amazing Race Singapore comes from the combination of physical tasks, intellectual puzzles, and cultural discoveries. Teams race against time and each other, navigating through the city to complete challenges and solve clues.
How does Amazing Race Singapore celebrate cultural diversity?
Amazing Race Singapore celebrates cultural diversity through its heritage race component, where teams explore various cultural landmarks and learn about Singapore's multicultural heritage. This enriches the team building Singapore experience with cultural appreciation and understanding.
What role do professional facilitators play in Amazing Race Singapore?
Professional facilitators guide teams through the race, ensuring the event runs smoothly. They also observe team interactions, provide feedback, and facilitate a debriefing session at the end of the race to reinforce learning outcomes.
How does Amazing Race Singapore promote teamwork?
Amazing Race Singapore promotes teamwork by requiring teams to work together to solve clues and complete challenges. This collaborative environment helps team members appreciate each other's strengths and fosters a spirit of cooperative achievement.
Additional Useful Articles
If you are looking for other useful guides and articles about Amazing Races in Singapore, check them out below: