Barber Shop Singapore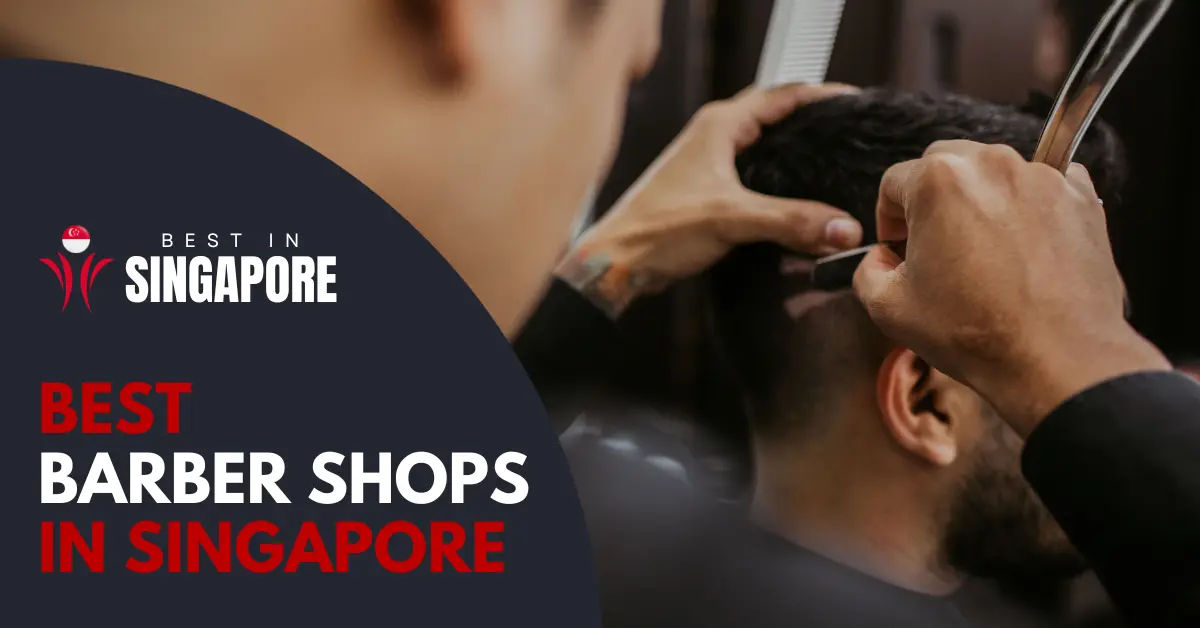 In the bustling city-state of Singapore, finding the perfect barber shop that meets your styling needs can be a daunting task.
The best barber shops in Singapore include Sultans of Shave, Haar Attic, Barber 25, Red Panther, and Kings Barber.
When selecting a barber shop in Singapore, take into account factors like customer reviews, available services, reputation, and level of experience.
Barber Shop Singapore encompasses a wide range of grooming establishments, providing top-notch services that cater to different styling preferences and grooming requirements.
In this guide, we'll explore the best barber shops in Singapore, each offering a unique blend of service, ambiance, and stylistic expertise.
Quick Summary
Best barber shops in Singapore include Sultans of Shave, Haar Attic, Barber 25, Red Panther, and Kings Barber.
When choosing a barber shop in Singapore, consider factors such as customer reviews, services offered, reputation, and experience.
Barber Shop Singapore represents a diverse selection of grooming establishments, offering high-quality services that cater to a variety of styling preferences and grooming needs.
Key Consideration Factors
Before getting into the best barber shops, here are some consideration factors to remember:
Customer reviews: Reading reviews from previous customers can give you an idea of the quality of service provided by a barber shop.
Services offered: Different barber shops offer various services, including haircuts, beard trims, hot towel shaves, and hairstyling. Choose one that offers services that fit your needs.
Reputation: A barber shop with a good reputation in the community is likely to provide high-quality services.
Experience: Experienced barbers are more likely to deliver excellent results compared to inexperienced ones.
Best Barber Shop Singapore
1) The Good Guys Barbershop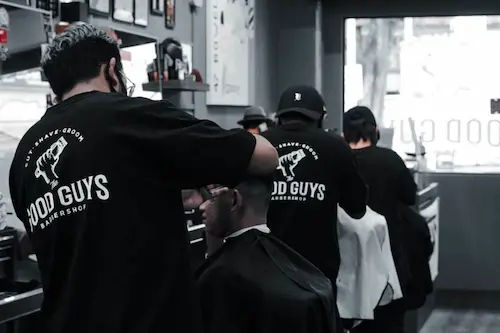 Key services
Modern Gentleman's Cut and Shave service
Website
www.thegoodguysbarber.com
Address
47 Rowell Road Singapore 207997
Phone
+65 8661 9609
Email
hello@thegoodguysbarber.com
Operating hours
Monday to Thursday: 12pm-10pm
Friday to Saturday: 3pm-midnight
Sunday: 3pm-10pm
Discover The Good Guys Barbershop, nestled in a serene corner of the neighborhood, where you can indulge in a well-deserved pampering session and achieve your desired haircut.
Whether you prefer your hair in its natural shade or crave a pop of color, their skilled and amiable barbers will weave their magic. Enjoy the added perks of a soothing shoulder massage, beard oil, and more.
Select a hairstyle that complements your lifestyle and fashion preferences. Embrace your uniqueness and express yourself with an incredible haircut from The Good Guys Barbershop.
2) Red Panther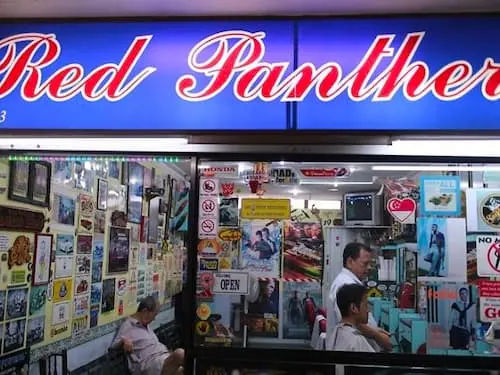 | | |
| --- | --- |
| Key services | You can admire the wonderful collection of random collectables and vintage car plates |
| Address | #03-13 Upper Serangoon Shopping Centre, 756 Upp Serangoon Rd, Singapore 534626 |
| Phone | 6286 0003 |
| Operating hours | Mon-Thu, Sat-Sun: 10:00 am – 8.30 pm, Closed on Fridays |
Have you ever experienced the atmosphere of an old-school barbershop? Picture the Sit in a small chair, facing the mirror, while a skilled barber cuts your hair with precision. At the Red Panther, you can relive those nostalgic moments while receiving an amazing haircut. The hairdressers' exceptional skills are evident in the countless positive reviews from satisfied clients. Discovering the shop may require some effort as it's tucked away in a hidden spot, but it's absolutely worth it. While you wait for your turn, take a moment to appreciate the remarkable collection of unique collectibles and vintage vehicle plates. It's a delightful experience to sit in the cozy chair next to a friend or loved one and enjoy a haircut at this extraordinary place.
3) Hombre Barbers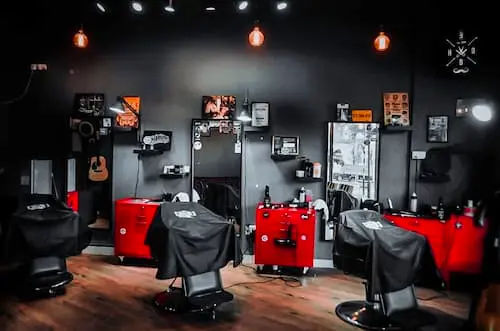 Key services
Providing a clean and sanitary salon atmosphere
Website
http://www.hombrebarbersg.com/
Address
228 Changi Rd, #01-04, Singapore 419741
Phone
+65 8750 9301
Email
hombrebbs@gmail.com
Operating hours
Mon
12:00 – 21:10
Tue
12:00 – 21:10
Wed
12:00 – 21:10
Thu
12:00 – 21:10
Fri
14:00 – 22:10
Sat
10:00 – 21:10
Sun
10:00 – 21:10
Hombre Barbershop has built a strong reputation for its exceptional services. They are renowned for their dedication to delivering traditional and sophisticated experiences, attracting male clients who value the inviting ambiance.
Their beard sculpting techniques are highly respected, offering a variety of options from trendy fades haircuts to specialized treatments for black and brown hair. Experience the expertise of their talented barbers firsthand by visiting Hombre Barbershop!
Barbers in Singapore offer top-notch hair waxing services to their clients. To ensure prompt service, it is recommended to schedule an appointment in advance. Every man feels incredible after a visit to the barbershop thanks to the barbers' commitment to maintaining a clean and hygienic work environment consistently.
4) Truefitt and Hill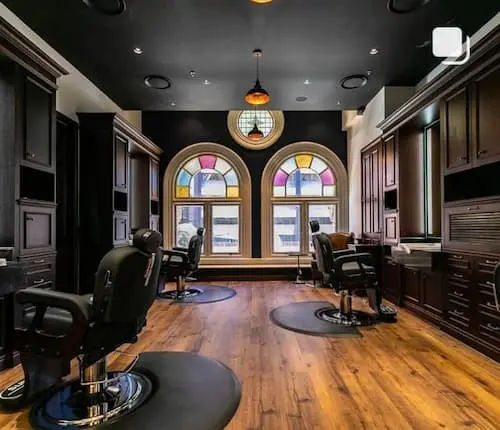 Experience exceptional grooming services at Truefitt and Hill! Their team of highly skilled barbers and manicurists offers a wide range of luxurious treatments, including haircuts, shaving services, nail care, and massages.
Choose from an extensive selection of services, such as hair colorings, hot towel wet shaves, beard trims, styles, perm, and relaxing treatments. Indulge in a variety of nail care services, including manicures, pedicures, acrylics, and wraps.
5) Splice Barbershop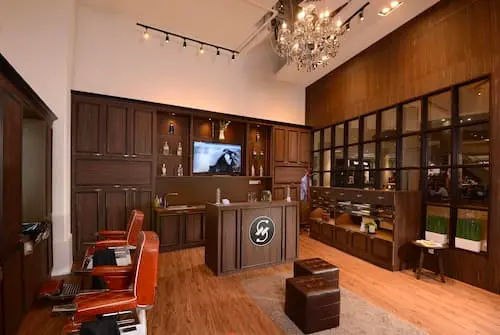 If you're looking for a barbershop that combines a modern vibe with a relaxed atmosphere, Splice Barbershop is the place to be. Their team of skilled barbers are experts in the traditional art of hair sculpting and are dedicated to ensuring your complete satisfaction with your look.
Located conveniently at the Suntec City Mall, you'll have plenty to keep yourself entertained while you wait. If you're in need of a place that offers a completely dapper look, this is the perfect spot. Here, you can find a wide range of accessories, including cufflinks, timepieces, neckties, and lapel pins, all in one convenient location.
6) Sultans of Shave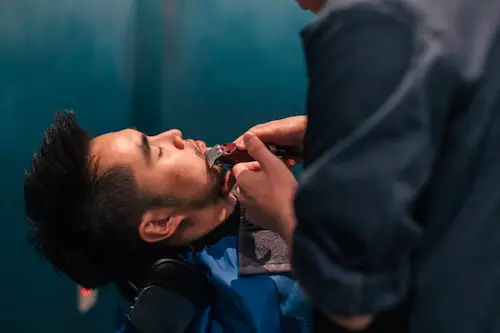 Key services
Haircuts
Deluxe Haircut
55 SGD
consultation | haircut | wash | finish

Sultan's Haircut
75 SGD
consultation | haircut | massage | wash & finish

Shaves
Deluxe Shave
45 SGD
hot towel | shave cold towel | post shave balm

Sultan's Shave
65 SGD
facial scrub | hot towel | shave cold towel | post shave balm | moisturizer

Beard Trim
35 SGD
consultation | trim | style

Experiences
The Deluxe Experience
92 SGD
a set comprising a Deluxe Shave and a Deluxe Haircut

The Sultan's Experience
130 SGD
a set comprising a Sultan's Shave and a Sultan's Haircut
Website
www.sultansofshave.com
Address
Flagship Store
11 North Canal Road, #02-01
Singapore 048824

Palais Renaissance
390 Orchard Road,
#02-07, Singapore 238871

Tanjong Pagar
15A Duxton Road,
Singapore 089481

Jewel Changi Airport
78 Airport Boulevard, #04-240
Singapore 819666
Phone
Flagship Store: +65 6222 0201
Palais Renaissance: +65 6735 3280
Tanjong Pagar: +65 6220 0201
Jewel Changi Airport: +65 6388 0201
Email
General Enquiries: contactus@sultansofshave.com
Marketing Enquiries: cin@sultansofshave.com
Operating hours
Flagship Store
Monday to Friday: 10:30am – 9pm
Saturday: 11am – 6pm
Closed on Sundays

Palais Renaissance
Monday to Sunday: 10am – 7:00pm

Tanjong Pagar
Monday to Friday: 10:30am – 9pm
Saturdays, PH: 11am – 6pm
Sundays: 10am – 7pm

Jewel Changi Airport
Monday to Sunday: 10am – 10pm
Enter the modern gentleman's sanctuary, a refuge where the contemporary man can unwind and mingle in a relaxed setting. Fueled by inspiration and a true love for the art of male grooming, including mustache wax, our team is committed to delivering an exceptional barbering experience.apore.
Since its inception in 2013, the brand has expanded from a single outlet to four, aiming to become the premier provider of men's grooming services in Singapore.
7) DeepCuts Barbers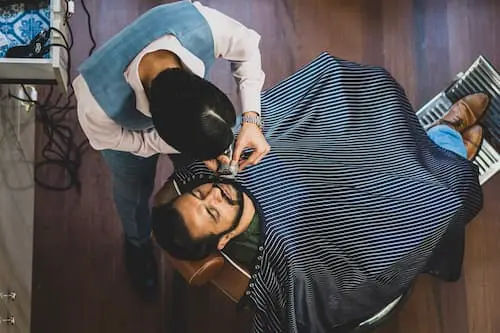 | | |
| --- | --- |
| Key services | Affordable service |
| Website | https://www.deepcutsbarbers.com/ |
| Address | 77 Kampong Bahru Rd, #02-01, Singapore 169376 |
| Phone | +65 9023 3735 |
| Operating hours | Daily except Friday: 11am–9pm |
DeepCuts Barbers provides budget-friendly haircuts, shaves, and beard trims or sculpts starting at only $20. Achieve that classic, sophisticated appearance without exceeding your budget.
Their commitment to barbering and male grooming has garnered recognition from local and international media, resulting in numerous prestigious awards.
8) Kings Barber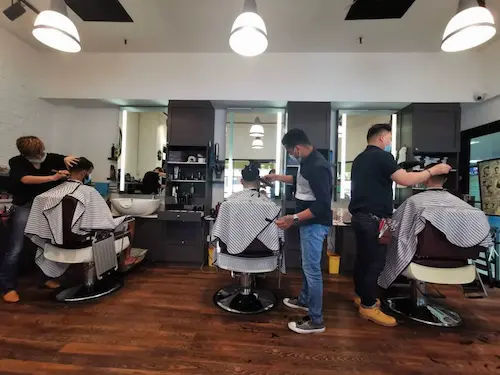 | | |
| --- | --- |
| Key services | Clean fades, high quality haircuts |
| Website | http://kingsbarber.com.sg/ |
| Address | 400 Balestier Road, #01-16 Balestier Plaza, Singapore 329802 |
| Phone | + (65) 8781-7032 |
| Email | kingsbarbersg@gmail.com |
| Operating hours | Weekdays: 10:30AM – 9PM Weekends: 10:30AM – 8:30PM |
At Kings Barber, they always prioritize your satisfaction, whether you choose a classic barber shave or one of their modern alternatives. Their services include traditional wet shaves, haircuts, hair coloring, and facials. Arriving early is recommended to catch their opening hours!.
They not only carry and offer top-notch grooming brands to meet your needs but also proudly represent Proraso as the exclusive ambassador in Singapore! Additionally, all of their barbers are UK-certified, ensuring that a visit to them will leave you looking like royalty.
9) Haar Attic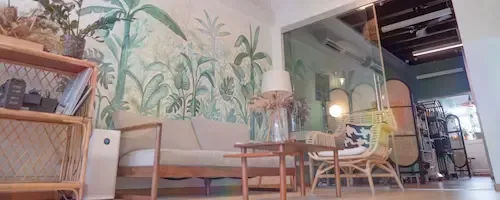 Key services
Haircut, Creative Coloring, Perming, Scalp and Hair Treatment.
Website
www.haarattic.com
Address
Outlet 1: 67A Boat Quay S049855 ( 2nd floor)
Outlet 2: 7A Neil Road S088807 ( 2nd floor )
Phone
68359811 / 98730235 (Whatsapp)
Email
info@haarattic.com
Operating hours
Weekdays: 11am – 8pm
Weekends: 11am -7pm
Discover the vibrant and one-of-a-kind hair salon at Haar Attic, where skilled and experienced hairstylists will assist you in transforming your style. Each visit to this barber shop goes beyond your expectations.
At Haar Attic, the team strongly believes in comprehending their clients' needs and provides comprehensive consultations for all services. Effective communication plays a crucial role in achieving exceptional results. After understanding your preferences, your stylist combines technical expertise with creative flair to craft a hairstyle that not only complements your personal style but is also effortless to maintain.
Your hair is a vital aspect of self-expression, akin to a genuine work of art. Allow the team at Haar Attic to revel in creating a masterpiece exclusively for you.
10) Barber 25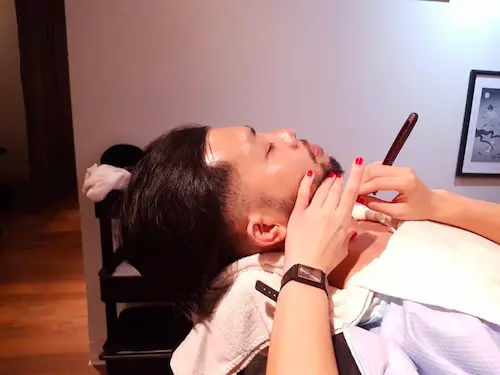 Key services
Men's hair and beard services, ladies' hair services, head spas and hair treatment (Cream Bath, Raw Honey Spa, Organic Spa and more)
Website
www.barber25.net
Address
6A Shenton Way OUE Downtown Gallery, #03-16, Singapore 068815
Phone
T: 6222 7551
M: 9424 7051
Email
sgbarber.25@gmail.com
Operating hours
Weekdays: 10am-8pm
Weekends and some PHs: 10am- 6pm
Barber 25 is renowned for its exceptional barbering, hairdressing, and head spa services, catering to both men and women. Drawing inspiration from the Japanese concept of "smile," Barber 25 ensures that every customer departs with a beaming smile on their face. With an unwavering commitment to providing top-notch service, Barber 25 goes the extra mile to help customers look their absolute best for significant life or business occasions.
At Barber 25, they take immense pride in their exceptional Japanese hospitality, personalized service, and unparalleled expertise in barbering and hairdressing techniques. When they proudly declare "From Japan," it comes with a guarantee of utmost quality and unbeatable deals.
Going beyond the realms of a conventional haircut and beard shave, Barber 25 offers an extensive range of services, truly embodying the concept of a 'one-stop barbershop.' Indulge in the epitome of relaxation and pampering by treating yourself to one of their head spas in a private and serene spa room.
While Barber 25 initially focused on delivering outstanding grooming services for men, they have now expanded their expertise to include skilled stylists specializing in women's hair. Moreover, they provide exclusive private rooms dedicated solely to women, ensuring a comfortable and personalized experience.
With Barber 25, you can rest assured that you will receive nothing short of exceptional service, leaving you feeling refreshed, confident, and ready to conquer the world.
11) Autocutt Barbershop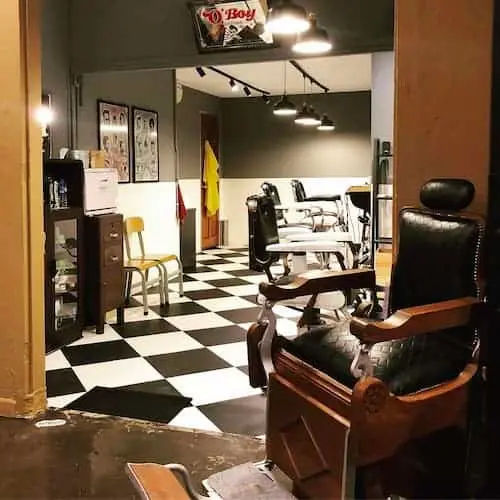 Autocutt Barbershop is well-known for its traditional haircuts and rejuvenating trimming sessions. Vintage memorabilia and rare World War bikes adorn the shop's ambiance, creating a one-of-a-kind atmosphere.
The skilled professionals take pride in their craftsmanship, delivering outstanding services. Moreover, they incorporate exclusive cologne fragrances into facial treatments, elevating the overall experience for their clients.
The barbers at this establishment are highly proficient in beard trimming and hot towel shaves, providing top-tier services. Additionally, customers can schedule exclusive appointments during specific time slots to indulge in exceptional hair tattoo services.
12) Rogue & Beyond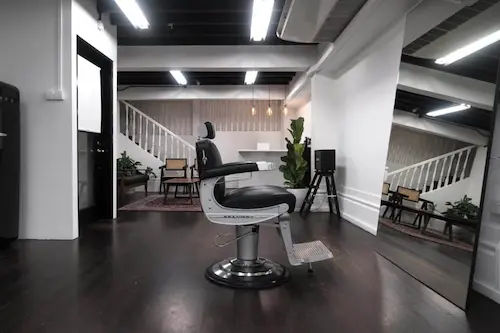 Key services
Haircut, shave, beard design
Website
www.rogueandbeyond.com
Address
147A Telok Ayer Street Singapore 068606
Phone
8298 7488
Email
hello@rogueandbeyond.com
Operating hours
Tuesday to Friday: 10:30am – 8pm
Saturday: 10:30am – 6pm
Sunday: 12 – 4pm
Closed on Monday
Rogue & Beyond is renowned for their exceptional expertise in men's hairstyling, offering effortlessly stylish modern classics. The team takes great pride in providing each client with the perfect haircut, beginning with a thorough consultation to analyze their unique features and personal style.
Drawing upon their solid foundation in technique, they meticulously craft and execute customized cuts that are tailored to perfection. Treating each client's hair as a fresh canvas, Rogue & Beyond showcases their creativity to achieve sophisticated and contemporary looks that can be effortlessly replicated and maintained at home.
13) YanCutsHair

Key services
Barber services. Check out their Star Wars collection and other sci-fi memorabilia
Website
https://yancutshair.youcanbook.me/
Address
PENINSULA.EXCELSIOR, 5 Coleman Street #B1-18, Singapore 179805
Phone
+65 8685 0464
Operating hours
Mondays – Fridays: 11:00 am to 9:00 pm, the Last cut at 8:30 pm
Saturdays: 11:00 am – 6:00 pm, the Last cut at 5:30 pm
Enter a barbershop that embraces your inner geek! It's not your typical barbershop; it's an immersive journey. Discover their Star Wars collection and other sci-fi artifacts, like helmets, that are waiting for you.
Moreover, their skilled barbers have a keen eye for detail and craft haircuts with meticulous and elaborate designs. It's no wonder they have a loyal customer base. If you're short on time, make sure to book your consultation through their website.
14) Bodeiga Barbershop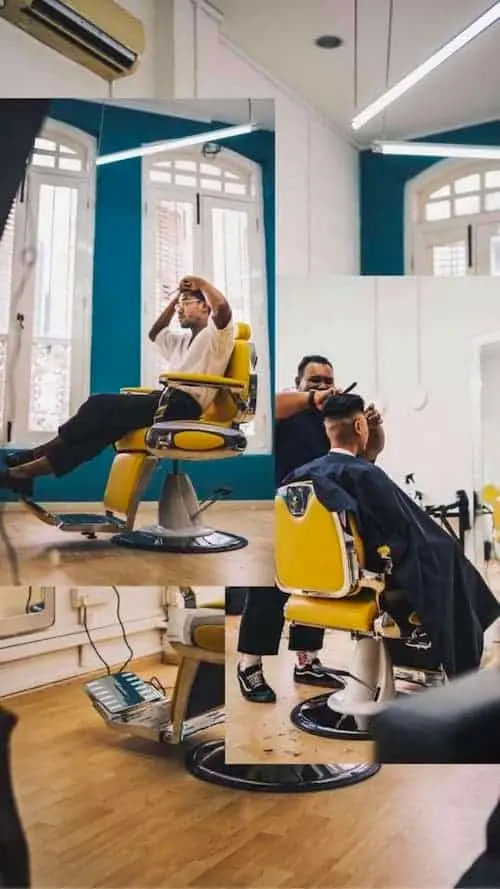 Key services
Affordable haircuts
Website
https://bodeigabarbershop.com/
Address
4 Lor Telok, #03-01, Singapore 049017
Phone
+65 9119 0611
Email
hello@bodeiga.co
Operating hours
Sunday: 11:00 AM–2:00 PM,3:00 PM–6:00 PM
Mon–Sat: 11:00 AM–3:00 PM,5:00 PM–8:00 PM
A bodega, often known as a small corner store, offers beverages, snacks, and various essentials. Taking inspiration from its name, Bodeiga Barbershop provides affordable barber services in a convenient location.
Three skilled barbers with a shared goal of establishing a reputable business in Singapore have successfully achieved this objective by delivering exceptional services, showcasing their expertise, and adopting a personalized approach to cater to each client's unique needs.
15) Before and After Barber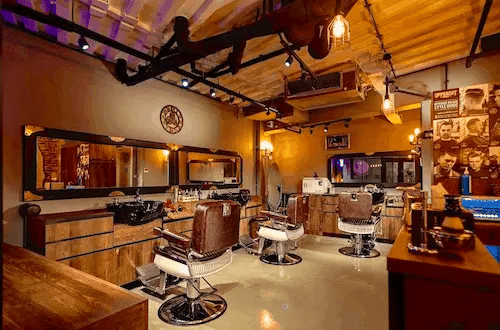 Before and After Barber, situated in central Singapore, is a local barber shop that offers a variety of contemporary and innovative hair care services. They take pride in providing a wide range of hairstyles, treatments, looks, and high-quality products to cater to each customer's unique individuality and personal preferences. Don't hesitate to inquire about our hair darkening dye treatment too.
At Before and After Barber, they understand the significance of looking and feeling your best. Their professional hair services in Singapore offer clients the chance to revitalize their appearance and leave with satisfaction. They prioritize your happiness as their main objective and customize their services to meet your specific needs, all at unbeatable prices.
Barber Shop Singapore
Having your hair cut, styled, and groomed at a proficient and dedicated barber shop is an experience like no other. Amidst the hustle and bustle of Singapore, these barber shops stand as sanctuaries of style, relaxation, and self-care.
Whether you're seeking a classic cut, contemporary style, rejuvenating treatment, or even a unique hair tattoo, the barber shops of Singapore deliver unparalleled services.
These establishments are not just about haircuts; they're about delivering an experience and helping you express your unique style with pride and confidence, all under the skilled hands of expert barbers.
Frequently Asked Questions (FAQ)
If you have any questions about barber shops in Singapore, you can refer to the frequently asked questions (FAQ) about the best barber shops in Singapore below:
What are the best barber shops in Singapore?
The best barber shops in Singapore include Kings Barber, Red Panther, Haar Attic, Sultans of Shave, and Barber 25.
How much does a hair cut cost in Singapore?
Haircuts in Singapore usually cost between $25 and $70, varying based on the location and the type of service offered.
Where can I cut buzz cut in Singapore?
There are various barbershops in Singapore that offer buzz cuts, such as Autocutt Barbershop, DeepCuts Barbers, and Before and After Barber. Prices may vary depending on the establishment and hair length. It is recommended to reach out to them beforehand or check their website for more specific pricing details.
How much is a fade in Singapore?
In Singapore, the cost of a fade haircut can vary depending on the location and establishment, typically falling between $20 and $40. However, the price may fluctuate based on the barber's level of experience and skill.
Who owns LA Barbershop?
Meet Mr. Lee Soon Liang, an esteemed entrepreneur and barber with over three decades of industry expertise. He takes immense pride in owning LA Barbershop and has successfully founded multiple thriving barbershops and hair salons in Singapore. If you're in search of a premium haircut in a well-established setting, LA Barbershop should undoubtedly be your first choice!
What are some of the best barbershops in Singapore?
The article features a curated list of top-notch barbershops in Singapore, including Golden Rule Barber Co., James Barker Barber, Grease Monkey Barber Garage, and Bipolar Barber Shop.
Do these barbershops offer beard grooming services?
Yes, many of the featured barbershops provide beard grooming services. They specialize in shaping, trimming, and styling beards to give you a polished and well-groomed look.
Are the prices at these barbershops affordable?
Absolutely! The article highlights barbershops that offer high-quality services at affordable prices. Whether you're looking for a regular haircut, beard grooming, or scalp treatments, you can find options suitable for affordable services.
Do these barbershops cater to both men and women?
While most of the featured barbershops primarily focus on men's grooming, they also offer ladies hair services. So, both men and women can enjoy the expertise of these talented barbers.
Are there any unique services offered by these barbershops?
Yes, some of the barbershops mentioned in the article go beyond traditional dapper haircuts and grooming. For example, the Panic Room offers hair tattoos, while Grease Monkey Barber Garage specializes in full beard sculpting.
Do these barbershops have a loyal customer base?
Absolutely! These barbershops have earned the loyalty of their customers through their exceptional services, attention to detail, and friendly atmospheres. Many people keep coming back to enjoy the barbershop quality haircuts and scalp treatments provided by these establishments.
Additional Useful Articles
If you are looking for other useful guides and articles about barber shop in Singapore, check them out below: