Best Biryani Singapore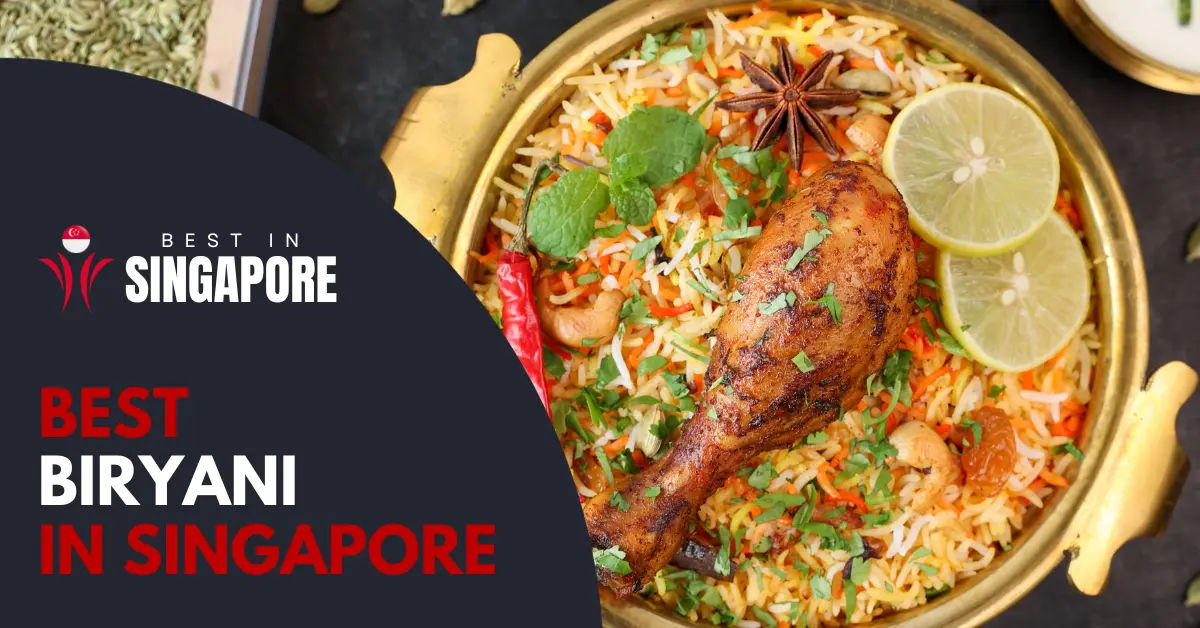 When it comes to mouthwatering biryani in Singapore, one is spoilt for choice as the city-state offers a medley of rich and aromatic versions of this South Asian cuisine.
The best Biryani in Singapore include Bismillah Briyani Singapore, Allauddin's Briyani, The Song of India, Zam Zam, and Mr. Briyani.
When selecting a biryani in Singapore, take into account factors like portion size, spice level, ingredient quality, authenticity, price, and location
In Singapore, biryani is a beloved dish, celebrated for its unique fusion of flavors that beautifully represents the country's multicultural fabric, with each restaurant offering its own distinct rendition steeped in rich tradition and local influences.
This guide will take you on a culinary journey through Singapore's best biryani outlets, ensuring your taste buds get the treat they deserve.
Quick Summary
Best Biryani in Singapore include Bismillah Briyani Singapore, Allauddin's Briyani, The Song of India, Zam Zam, and Mr. Briyani.
When choosing a biryani in Singapore, consider factors such as portion size, spice level, quality of ingredients, authenticity, location, and price.
In Singapore, biryani is a beloved dish, celebrated for its unique fusion of flavors that beautifully represents the country's multicultural fabric, with each restaurant offering its own distinct rendition steeped in rich tradition and local influences.
Key Consideration Factors
Before going to try biryani, make sure to consider these important factors such as:
Portion size: Biryani is known for its generous portions, so make sure to consider the size of the serving before ordering.
Spice level: Biryani can range from mild to spicy, so it's important to know your spice tolerance and choose accordingly.
Quality of ingredients: A good biryani is made with quality ingredients like fragrant basmati rice, tender meat, and a blend of aromatic spices.
Authenticity: If you're looking for an authentic biryani experience, be sure to check if the restaurant follows traditional cooking methods and uses original recipes passed down through generations.
Location: The location of the restaurant can also play a role in your overall dining experience. Some restaurants may offer a more atmospheric setting or have better accessibility.
Price: Biryani can vary in price depending on the type of meat used and the restaurant's location. Consider your budget before making a choice.
Best Biryani Singapore
1) The Song of India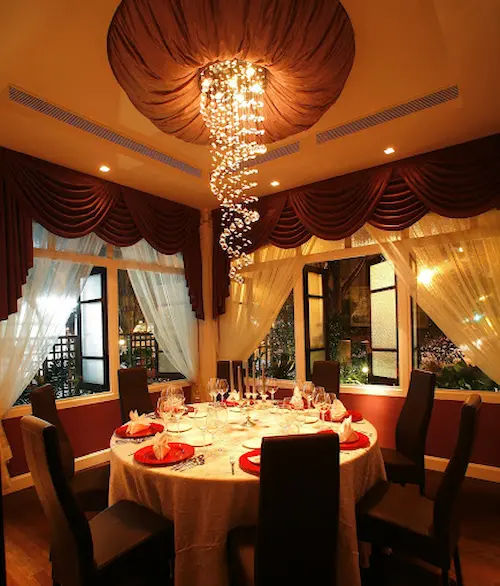 | | |
| --- | --- |
| Key services: | Michelin-starred restaurant |
| Address: | 33 Scotts Rd, Singapore 228226 |
| Website: | Facebook |
| Phone: | +65 6836 0055 |
Immerse yourself in a truly exceptional and elevated dining experience at The Song of India. Here, you can indulge in the exquisite flavors of biryani, renowned for its innovative interpretations of Indian cuisine while still honoring tradition.
Their thoughtfully curated menu features a tantalizing mutton briyani prepared in the authentic Lucknow-style. It offers a delicate balance of flavors with a lighter touch on the spices, resulting in succulent pieces of perfectly cooked mutton that create a harmonious blend of textures and tastes, leaving you craving for more.
For seafood enthusiasts, The Song of India also presents a delightful alternative with their tiger prawn biryani. This delectable creation combines the freshness of tiger prawns with a burst of fruity flavors, resulting in a vibrant and satisfying culinary masterpiece.
Experience the artistry and craftsmanship of biryani at The Song of India, where each bite tells a story and every dish is a celebration of Indian gastronomy.
2) Geylang Briyani Stall (aka Hamid's Briyani)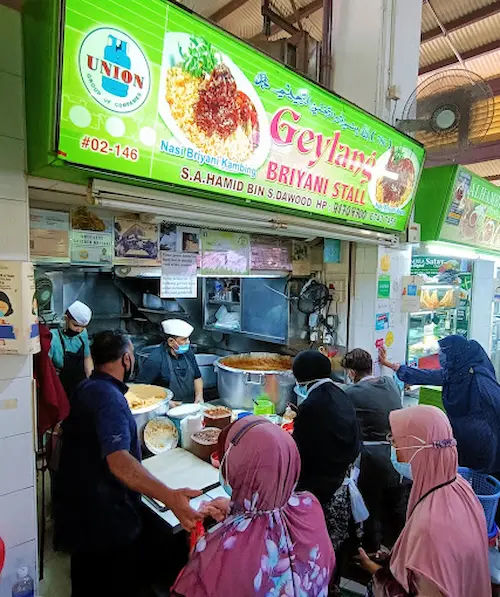 Key services:
Hawker stall that only serves three dishes
Address:
1 Geylang Serai, #02-146, Singapore 402001
Website:
Facebook
Phone:
+65 9170 9700
Operating hours:
Thursday
10:30AM–3PM
Friday
10:30AM–3PM
Saturday
10:30AM–3PM
Sunday
10:30AM–3PM
Monday
Closed
Tuesday
10:30AM–3PM
Wednesday
10:30AM–3PM
Dr. Leslie Tay, a respected local food blogger and physician from Singapore known as "ieatishootipost," highly recommends this dish.
After personally visiting this establishment three times in a week, Dr. Tay confidently asserts that this culinary creation offers unmatched gastronomic satisfaction in the Lion City, particularly considering its affordable price.
At Hamid's Briyani, patrons are treated to a sensory delight of tender mutton, perfectly cooked basmati rice, and a tantalizing chicken masala gravy. When generously poured over the biryani rice, the gravy creates an explosion of flavors, resulting in an unparalleled gastronomic experience.
3) Islamic Restaurant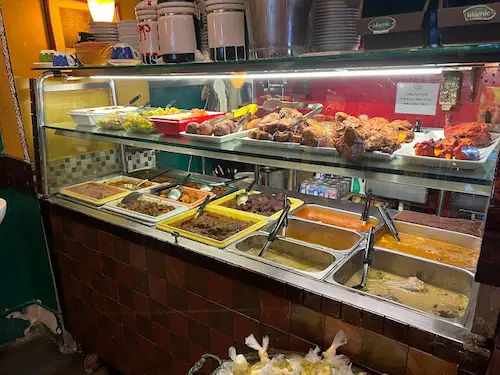 Key services:
Age-old biryani recipe
Address:
735 North Bridge Rd, Singapore 198703
Website:
https://islamic.sg/
Phone:
+65 6298 7563
Operating hours:
Thursday
10AM–10PM
Friday
10AM–1PM, 2–10PM
Saturday
10AM–10PM
Sunday
10AM–10PM
Monday
10AM–10PM
Tuesday
10AM–10PM
Wednesday
10AM–10PM
Starting from the oldest establishment on the list, we cannot forget the beloved Islamic Restaurant. This hidden gem has been serving biryani enthusiasts in Singapore for almost a century! In its heyday during the 1970s, this charming shophouse restaurant attracted dignitaries, ministers, and businessmen, all drawn to its renowned nasi biryani.
Fast forward to the present day, and Islamic Restaurant still proudly preserves its age-old recipes that have stood the test of time. The biryani remains incredibly popular, with a dedicated hotline for eager patrons. The enduring allure and unparalleled flavor of their biryani continue to captivate food lovers from all walks of life.
4) Bismillah Briyani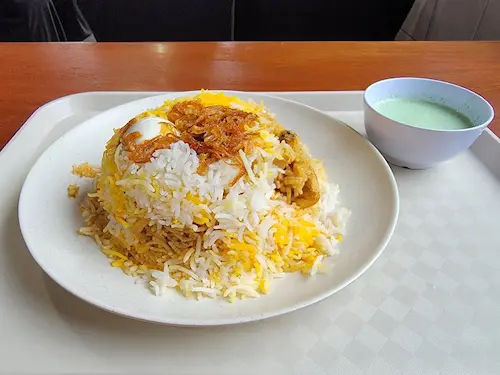 Key services:
Pakistani-style biryani
Address:
50 DUNLOP ST.
S209379
Website:
https://www.bismillahbiryani.com/
Phone:
6935 1326
Operating hours:
MON – FRI 11.30 – 19.45
SATURDAYS 11.30 – 17.30
CLOSED ON SUN & PH
​
Tel: 6352 1277
In Singapore, the biryani we encounter is a unique variation. It is served with a generous amount of curry to achieve a moist texture. It's delightful to add our own twist to something we cherish! However, in other parts of the world, like Pakistan, biryani is prepared in a distinct manner.
Pakistani-style biryani is served in a dry form, accompanied by chicken curry or gravy on the side. Marinated meat is cooked with saffron and fragrant basmati rice, garnished with chopped cashew nuts. Traditionally, it is prepared in a large pot with the lid sealed using dough, resulting in an incredibly flavorful dish that will undoubtedly leave you yearning for more.
5) Allauddin's Briyani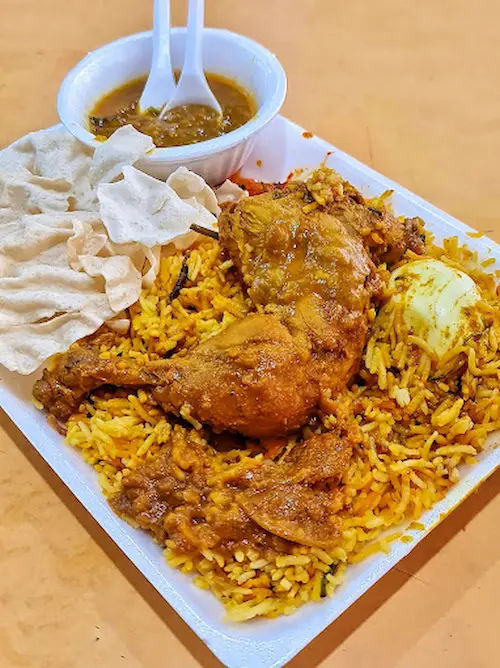 Key services:
Generous portion of biryani
Address:
#01-232, #01-229 Market, Singapore 210665
Website:
Facebook
Phone:
+65 6296 6786
Operating hours:
Thursday
8AM–8PM
Friday
8AM–8PM
Saturday
8AM–8PM
Sunday
8AM–8PM
Monday
8AM–8PM
Tuesday
8AM–8PM
Wednesday
8AM–8PM
Allauddin's Briyani, located in the beloved Tekka Market, is the ultimate destination for a satisfying breakfast that will energize your day. Picture indulging in a generous serving of biryani, expertly crafted with the finest basmati rice and adorned with fragrant cashews.
The biryani itself is a masterpiece, presented in a manner resembling a small mountain, each bite offering a symphony of flavors and textures. The succulent and tender mutton biryani perfectly complements the aromatic rice, creating a harmonious blend that will leave you craving for more.
To elevate your dining experience, a side of pickled cucumber adds a delightful touch of acidity and a refreshing crunch, perfectly balancing the rich and savory elements of the dish. Prepare yourself for a regal feast that will transport your taste buds to new heights of satisfaction at Allauddin's Briyani.
6) The Banana Leaf Apollo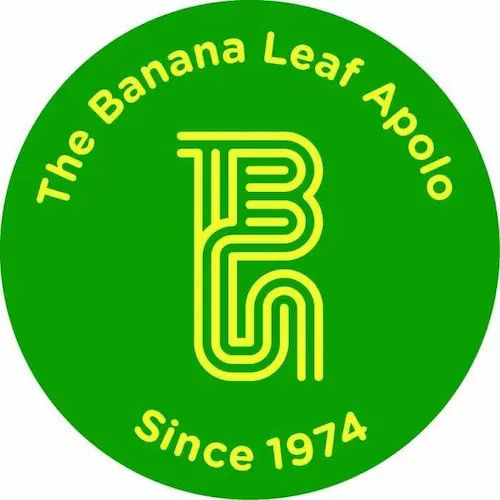 Key services:
Extensive menu of classic Indian dishes
Address:
54 Race Course Rd, Singapore 218564
Website:
https://www.thebananaleafapolo.com/
Phone:
+65 6293 8682
Operating hours:
Thursday
10:30AM–10:30PM
Friday
10:30AM–10:30PM
Saturday
10:30AM–10:30PM
Sunday
10:30AM–10:30PM
Monday
10:30AM–10:30PM
Tuesday
10:30AM–10:30PM
Wednesday
10:30AM–10:30PM
Banana Leaf is renowned for its fiery fish head curry, but their menu offers much more. Don't miss out on their exceptional biryani. If you're in the mood for chicken dum biryani, opt for the set meal. Alternatively, you can explore their extensive selection of classic Indian dishes.
From aromatic chicken masala to succulent mutton mysore, and creamy palak paneer to flavorful aloo gobi, the choices are endless. The explosion of flavors will leave your taste buds dancing with joy. So, on your next visit to Banana Leaf, embark on a culinary journey that will satisfy your cravings and delight your senses.
7) Singapore Zam Zam
Key services:
Exceptional nasi briyani
Address:
697-699 North Bridge Rd, Singapore 198675
Website:
https://zamzamsingapore.com/
Phone:
+65 6298 6320
Operating hours:
Thursday
7AM–11PM
Friday
7AM–11PM
Saturday
7AM–11PM
Sunday
7AM–11PM
Monday
7AM–11PM
Tuesday
7AM–11PM
Wednesday
7AM–11PM
Singapore Zam Zam is a hidden culinary gem that surpasses expectations. While renowned for its heavenly venison murtabak, loved by late-night clubbers and supper enthusiasts, this establishment offers much more.
Brace yourself for an exceptional nasi briyani experience, meticulously crafted with care, and bursting with flavors that transport your taste buds to paradise.
With a rich century-old history, Singapore Zam Zam has become a legendary icon, standing the test of time. Prepare for a dining experience you won't forget!
8) Mr. Briyani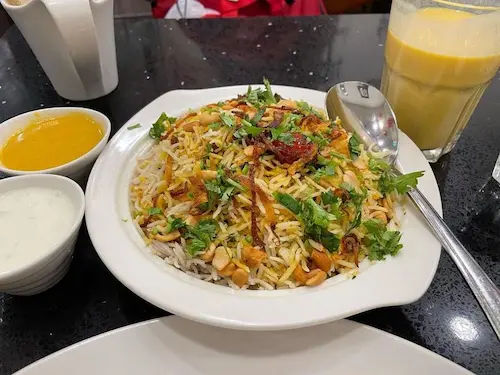 Key services:
Perfected hyderabadi biryani
Address:
32 Norris Road, Singapore 208274
Website:
https://www.mrbiryanisg.com/
Phone:
+65 8661 4271
Operating hours:
Tuesday – Sunday: Lunch from 11.00am – 3.30pm | Dinner from 6.00pm – 10.30pm
Closed on Mondays
Introducing Mr. Briyani, the renowned Hyderabadi biryani restaurant known for its traditional dum style. Their delightful recipe from Hyderabad showcases the perfect fusion of aromatic Indian spices and fiery chilies.
Indulge in the succulent and fragrant chicken, lamb, and fish biryani, elevated to new culinary heights by their flavorful yogurt-based sauce. Vegetarians will also be delighted to find the famous biryani crafted with creamy cottage cheese, the exquisite paneer biryani.
And for non-meat eaters, fret not! Their jackfruit dhum biryani offers the savory goodness you crave, with remarkable taste and texture. Each bite is a gastronomic journey to pure delight.
Best Biryani Singapore
In conclusion, the multicultural city of Singapore provides a bounty of culinary delights to explore, with biryani being a standout favorite.
From traditional recipes passed down through generations to innovative and modern twists, the city-state is a paradise for biryani lovers. Each establishment mentioned offers their unique take, making every biryani encounter a unique gastronomic adventure.
Whether it's your first time trying biryani or you're a seasoned connoisseur, these restaurants promise a dining experience that will leave you with unforgettable flavors and a new appreciation for this beloved dish.
Frequently Asked Questions (FAQ)
If you have any questions about Biryani Singapore, you can refer to the frequently asked questions (FAQ) about the best Biryani in Singapore below:
Which is the best biryani in Singapore?
The best Biryani include Singapore Zam Zam, The Song of India, Mutton Dum Biryani, Mr Biryani, Bismillah Biryani, Hawker Stall Allauddin's Biryani, and Geylang Biryani Stall Stands.
Which biryani is most flavorful?
Once again, the answer to this question is subjective as different individuals may have varying opinions on what imparts flavor to a biryani. However, in Singapore, some of the most delectable biryanis include the Dum Biryani from Bismillah Biryani, the Mutton Dum Biryani from Allauddin's Biryani, and the Fried Chicken Biryani from Mr. Biryani. Ultimately, the choice depends on personal preferences and taste, so it's recommended to explore different options to discover your personal favorite!
Which is the most loved biryani?
The question of the most beloved biryani in Singapore remains subjective, as different individuals may hold diverse opinions. Nonetheless, there are numerous highly recommended and widely adored biryanis in the city. These include the Dum Biryani at Islamic Restaurant, Fish Head Curry at Banana Leaf Apollo, Fish Tikka Biryani, and Hyderabadi Biryani at Mr. Briyani. These dishes have received praise and positive reviews from both locals and tourists alike. Ultimately, it's all about discovering your personal favorite based on your unique taste and preferences!
Which is the most famous biryani?
Deciding on the most famous biryani in Singapore is subjective. However, there are numerous popular and highly recommended biryani dishes to try, including mutton dum biryani, chicken briyani, and vegetarian options like paneer biryani. Moreover, many people believe that experiencing the fish head curry at Banana Leaf Apollo is a must when it comes to biryani in Singapore. So, don't hesitate to explore different eateries and uncover the wide array of delicious choices available!
Where can I find the best mutton biryani in Singapore?
For a delicious mutton biryani, Bismillah Biryani Restaurant is highly recommended. They are known for serving authentic and flavorful dishes, including their mouth-watering mutton biryani made with fragrant long grain basmati rice and aromatic spices.
What is nasi briyani Singapore?
In Singapore, Nasi Briyani is a beloved dish that has its roots in the Indian subcontinent but has been modified to suit local palates. Fragrant basmati rice is infused with a harmonious blend of spices, herbs, and delectable stewed meat or vegetables. This renowned dish is a culinary delight, enticing both visitors and residents of Singapore. Some variations may incorporate additional elements such as nuts, dried fruits, and yogurt, alongside the traditional biryani components.
What makes the lamb shank biryani at Bismillah Biryani Restaurant stand out?
Bismillah Biryani Restaurant's lamb shank biryani is a must-try. The tender lamb shank is slow-cooked with aromatic spices and layered with fragrant long grain basmati rice, creating a rich and flavorful rice dish that is sure to impress.
Which food centre in Singapore serves the best nasi biryani?
When it comes to tasty nasi biryani, head to the food centre known for its wide range of flavors and options. There, you can enjoy flavorful nasi biryani served by various stalls, each offering their unique take on this delicious rice dish.
Does Bismillah Biryani Restaurant specialize in serving authentic chicken biryani?
Yes, Bismillah Biryani Restaurant is known for its authentic and flavorful chicken biryani. Their chicken biryani is made with the finest ingredients, including fragrant long grain basmati rice, aromatic spices like cumin seeds, and succulent pieces of chicken.
What makes the saffron rice at Bismillah Biryani Restaurant so special?
Bismillah Biryani Restaurant's saffron rice is a highlight of their biryani dishes. The fragrant long grain basmati rice is infused with saffron, which not only imparts a beautiful golden color but also adds a distinct and aromatic flavor to the biryani.
Can you recommend any unique biryani options apart from the usual chicken and mutton?
For a unique biryani experience, try the jackfruit biryani at Bismillah Biryani Restaurant. This vegetarian option features tender jackfruit cooked with fragrant biryani rice and an array of flavorful spices, creating a delightful and innovative twist on traditional biryani.
Additional Useful Articles
If you are looking for other useful guides and articles about Best Biryani in Singapore, check them out below: