Best Burgers Singapore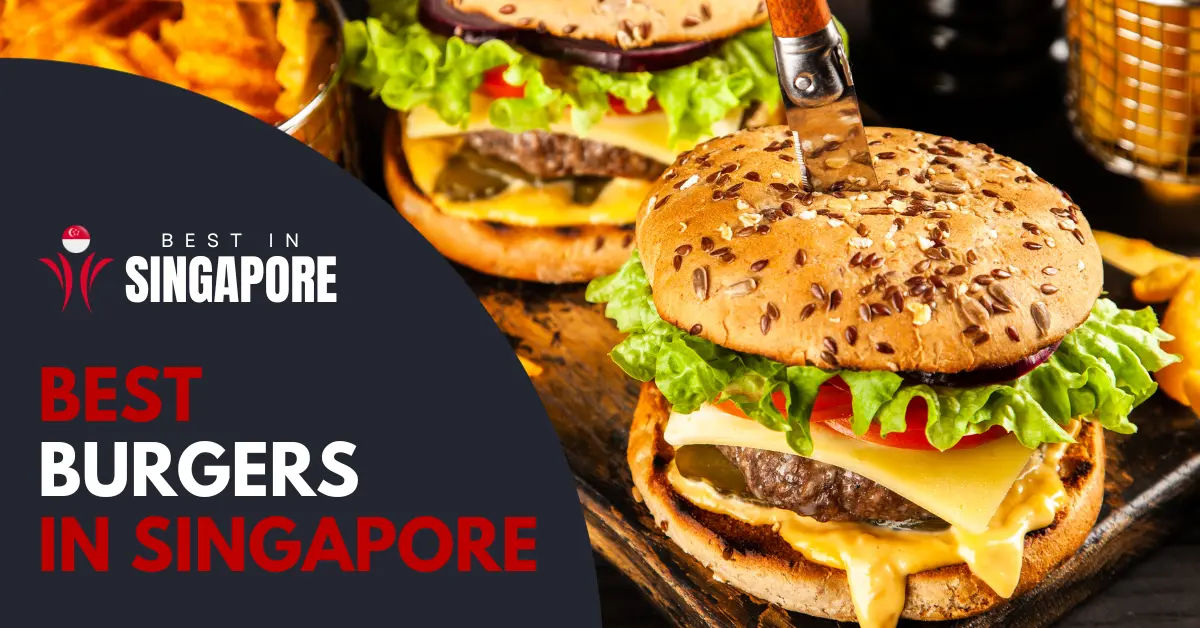 Singapore is not just about its diverse cultural heritage and iconic skyline, it's also a haven for food lovers.
The best Burgers in Singapore are NBCB, One Fattened Calf, Ashes Burnnit, The Goodburger, 25 Degrees, and ROKUS a.g.b.
When searching for a burger place, be sure to assess the customer service, location, delivery choices, menu offerings, and pricing.
Singapore's food scene is a vibrant mix of cultures and cuisines, offering a diverse range of burgers. From classic favorites to innovative creations, there's something for everyone to enjoy in this culinary paradise.
This guide will take you on a culinary journey across the city, highlighting the best burgers, each with their unique flair and flavors that make them a must-try.
Quick Summary
Best Burgers in Singapore are NBCB, One Fattened Calf, Ashes Burnnit, The Goodburger, 25 Degrees, and ROKUS a.g.b.
When looking for a burger joint, make sure to check out the customer service, location, delivery options, menu, and prices.
Boasting a vibrant and eclectic food scene, Singapore offers an impressive array of burgers, ranging from the traditional classics to innovative renditions, reflecting the city's unique blend of cultures and cuisines.
Key Consideration Factors
Consider these important factors before trying out the best burgers in Singapore.
Customer service: The service should be prompt, friendly and knowledgeable about their burgers.
Location: A convenient location makes it easier to satisfy your burger cravings anytime.
Delivery options: In today's fast-paced world, having the option for delivery is a major plus.
Menu offerings: From classic beef burgers to vegetarian options, the menu should have something for everyone.
Pricing: While high-quality burgers may come with a steep price tag, it's important to find a balance between quality and affordability.
Best Burgers Singapore
1) ROKUS a.g.b.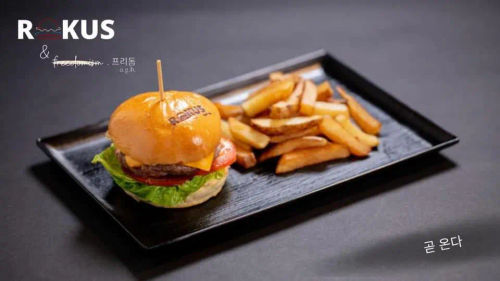 Get ready to tantalize your taste buds at ROKUS a.g.b, a hawker stall nestled in Lau Pa Sat! Offering a tempting fusion of Western and Korean street food, their menu boasts mouthwatering American-Korean burgers, rice bowls, and delectable sides that will leave you craving for more. When it comes to their beef burgers, ROKUS a.g.b takes it up a notch with premium Australian grass-fed beef patties, topped with a unique signature sauce and a medley of ingredients straight from Korean cuisine.
Sink your teeth into the classic Cheeseburger, or embark on a culinary adventure with their one-of-a-kind Tteokbokki Burger. This extraordinary creation combines juicy beef patty with chewy rice cakes coated in a mouthwatering sweet and spicy tteokbokki sauce. It's a flavor explosion that will leave you craving for more!
ROKUS a.g.b is not just a feast for your taste buds, but a feast for all your senses. Whether you're a fan of traditional flavors or seeking a unique gastronomic journey, this place has got you covered. So head down to Lau Pa Sat and treat yourself to the best of both worlds – a tantalizing fusion of Western and Korean delights that will leave you wanting more!
2) NBCB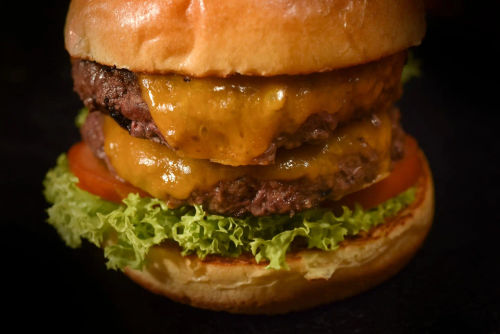 | | |
| --- | --- |
| Key Service | Homemade burgers |
| Address | Orchard Central, 181 Orchard Rd, 04-23, Singapore 238896 |
| Website | https://nbcb.com.sg/ |
| Phone | +65 8872 0160 |
| Email | ask@nbcb.com.sg |
| Operating Hours | Daily 11 AM–10 PM |
Introducing NBCB (Nothing But Cheese Burgers), a burger chain born in Singapore's HDB, where burger magic happens! Previously operated from home, NBCB is renowned for its exclusive focus on offering a tantalizing variety of homemade beef burgers without any gimmicks.
Prepare to be amazed by the explosion of creative and mouthwatering flavors in each burger, accompanied by amusing and "vulgarly good" names that bring a sense of whimsy and pure delight. If you're seeking more than just a traditional bacon cheeseburger, NBCB offers an enticing opportunity to customize your burger according to your wildest taste preferences.
Indulge in delectable toppings like Crispy Bacon for an added crunch, Truffle Mayo for a touch of luxury, and a Sunny Side Up egg to elevate your burger experience to new levels of deliciousness. Get ready to embark on a burger adventure like no other!
3) Wildfire Burgers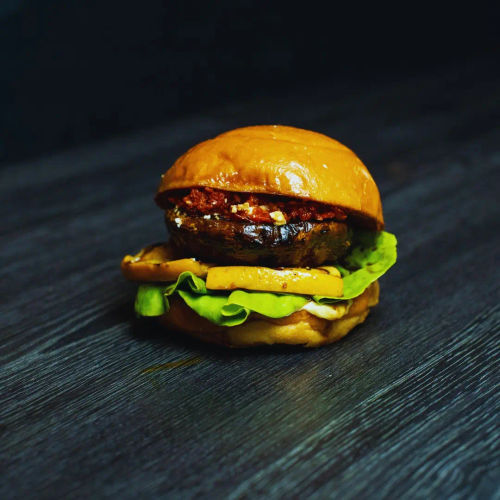 Wildfire Burgers is famous for its Classic 001 Cheeseburger, which can compete with any high-end burger joint in Singapore. You'll be amazed by their unwavering commitment to quality, as each burger is carefully crafted by hand using a USDA-certified black Angus beef patty.
Satisfying your taste buds, it comes with a delicious signature sauce, caramelised onions, gherkin, American cheese, and chipotle mayo. Indulgence reaches new heights with their irresistible Truffled Mushroom Burger. Get ready for an unparalleled culinary experience!
4) Wolf Burgers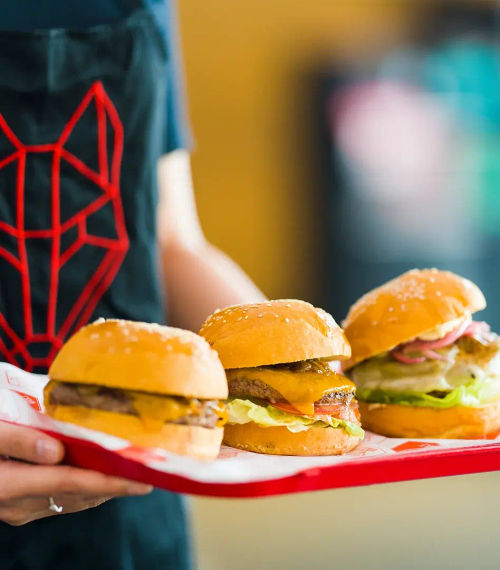 Key Service
Gourmet burgers
Address
1 Expo Drive Hall 5
Outside Stall #01-117
Singapore 486150
Website
https://www.wolfburgers.com/
Operating Hours
Tuesday to Sunday
11:00am to 9:00pm
For those seeking delicious gourmet burgers that offer great value, Wolf Burgers is a must-visit. One of their standout options is the Original Wolf burger, priced at just $9.90. This delectable creation consists of perfectly grilled juicy beef patties nestled in a soft brioche bun, accompanied by caramelised onions, crisp lettuce, melted cheese, ripe tomatoes, and tangy pickles. Indulging in this hassle-free and reliable choice is guaranteed to satisfy your burger cravings, leaving you fully content and craving more.
5) Three Buns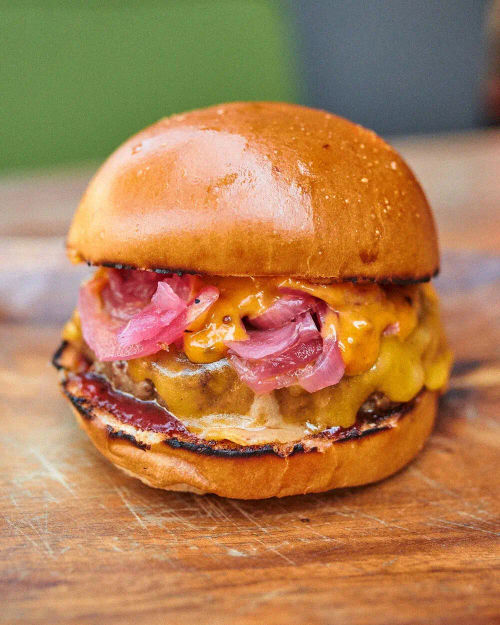 Key Service
Tropical-style burger
Address
60 Robertson Quay, #01-01, Singapore, Singapore
Website
https://web.facebook.com/ThreeBunsSG/
Phone
+65 6909 7838
Email
threebuns.quayside@potatohead.com
Operating Hours
Monday
5:00 PM – 10:00 PM
Tuesday
5:00 PM – 10:00 PM
Wednesday
5:00 PM – 10:00 PM
Thursday
5:00 PM – 10:00 PM
Friday
12:00 PM – 10:00 PM
Saturday
10:00 AM – 10:00 PM
Sunday
10:00 AM – 10:00 PM
If you're longing for the laid-back and tropical vibes of Bali, look no further than Potato Head Folk at Keong Saik. This trendy spot, an extension of the famous beach club, offers a wide array of experiences to tantalize your senses.
While Three Buns, their renowned burger franchise, steals the show, there are plenty of other hidden gems waiting to be explored. Indulge in the ultimate burger experience with the Da Cheese Master. Sink your teeth into a mouthwatering grass-fed beef patty, cooked to perfection and generously topped with an abundance of cheese.
The combination of flavors is simply divine, making it one of the most luxurious and indulgent beef burgers you'll ever taste in Singapore.
6) Ashes Burnnit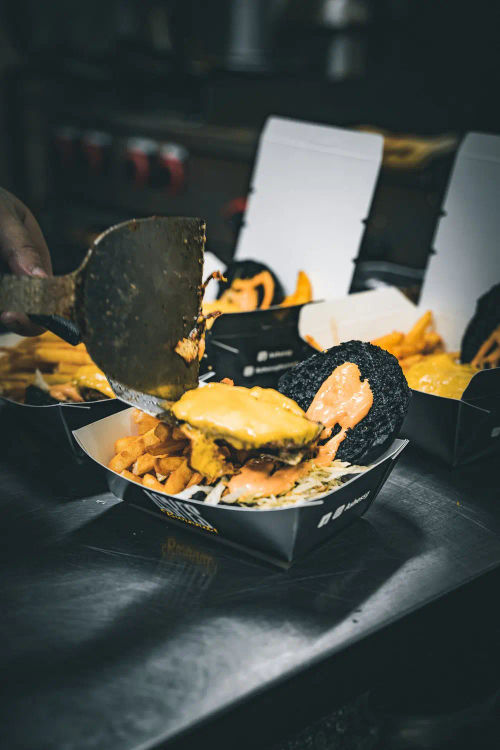 Key Service
Affordable gourmet burgers
Address
727 Ang mo kio Avenue 6,
Singapore 560727
Website
https://www.ashessg.com/
Phone
+65 8748 5961
Operating Hours
Monday – Thursday
11.30am – 8pm
Friday – Sunday (includes PH)
11.30am – 8.30pm
Daily Break (outlet closure)
3.30pm – 4pm
Originally starting as a burger stall in the basement of Golden Mile Hawker Centre, Ashes Burnnit has experienced remarkable growth, now operating six outlets and remaining the top pick for those seeking delicious yet affordable gourmet burgers in Singapore.
Indulge in their selection of signature black bun burgers, starting at an incredibly budget-friendly price of S$6.50, showcasing the mouthwatering Ashes Smash Cheeseburger.
For those with a larger appetite, the option to double up is also available for an incredibly low price of S$9.50. With its rising popularity, Ashes Burnnit is undeniably a must-visit destination for burger enthusiasts in SG.
7) Meatsmith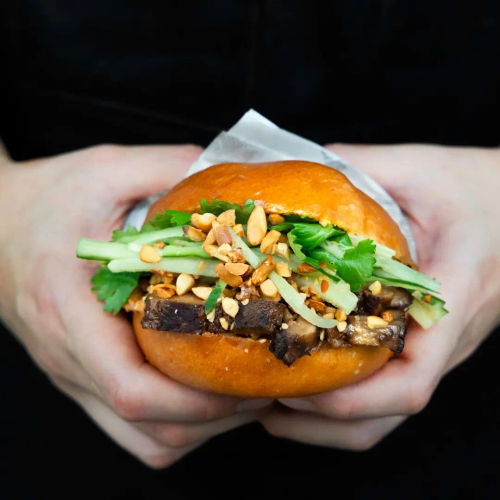 Key Service
Hearty wood-fired BBQ and burger
Address
167-169 Telok Ayer St, Singapore 068620
Website
https://www.meatsmith.com.sg/
Phone
6221 2262
Operating Hours
Monday – Sunday:
11:30AM – 3:00PM (Last order 2:30PM)
5:30PM till Late
You absolutely cannot afford to miss out on Meatsmith's unbelievable S$10 burger takeaway deal. Believe me, it's an unforgettable experience that will leave you yearning for more! Imagine this: succulent double patties, perfectly grilled to give you that irresistible smoky flavor that will make your taste buds dance with delight. But that's just the beginning!sation that will have you coming back for more. Don't miss out on this mouthwatering delight!
These juicy beef patties are lovingly nestled between two soft and buttery brioche buns, adding a delightful touch of sweetness to each and every bite. And guess what? The deliciousness doesn't end there! Get ready to savor a heavenly layer of creamy cheddar cheese that effortlessly melts in your mouth, perfectly complementing the flavors of the patties.
Oh, and let's not forget about the tangy pickles! They provide a refreshing burst of flavor, skillfully balancing out the richness of the cheese and the smokiness of the juicy beef patties. Trust me, this burger is a culinary delight that is sure to satisfy your taste buds!
8) One Fattened Calf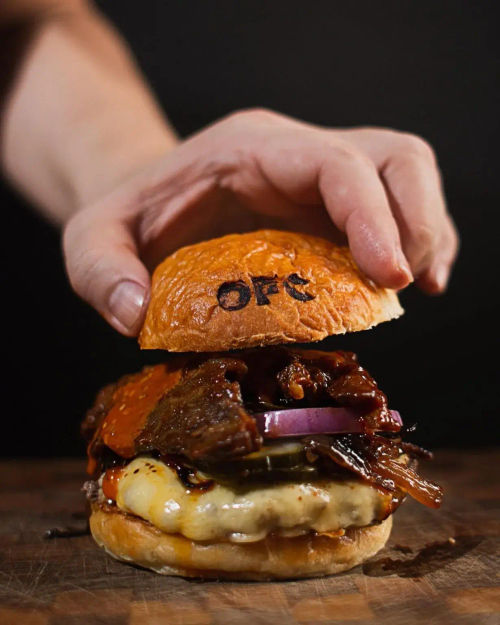 The One Fattened Calf's burgers are a gastronomic delight, setting a new standard in the realm of gourmet burgers. Each burger is meticulously crafted, featuring a succulent, tender patty made from the finest quality beef. The beef is thoughtfully sourced from well-nurtured, grain-fed calves, ensuring a rich, unparalleled flavor.
Nestled within a freshly baked artisanal bun, the burger becomes a harmonious composition of textures and flavors, further enhanced by select, fresh toppings and a secret, house-made sauce.
Every bite of a One Fattened Calf burger is a testament to culinary craft and love for quality food.
9) Burger Frites

| | |
| --- | --- |
| Key Service | Gourmet burgers |
| Address | 340 Joo Chiat road, Singapore 427592 |
| Website | https://www.burgerfrites.sg/ |
| Phone | +65 9116 3304 |
| Operating Hours | Monday-SUNDAY &PH: 12pm-3pm & 6PM-11PM |
Burger Frites, operated by the same team behind the renowned Braseiro steakhouse, often goes unnoticed despite being a hidden gem. This little spot presents a tempting array of French-inspired burgers, each with its own unique twist and flair.
If you're craving something cheesy and creamy, the Burger Bleu is an excellent choice. It combines blue cheese, crispy bacon, and tangy tartare sauce, resulting in a delightful blend of flavors that will astound your taste buds. Alternatively, the Burger Raclette is equally indulgent with its rich and gooey raclette de savoie, complemented by savory bacon, raw onions, and a delectable cream pepper sauce.
10) Working Title – Burger Bar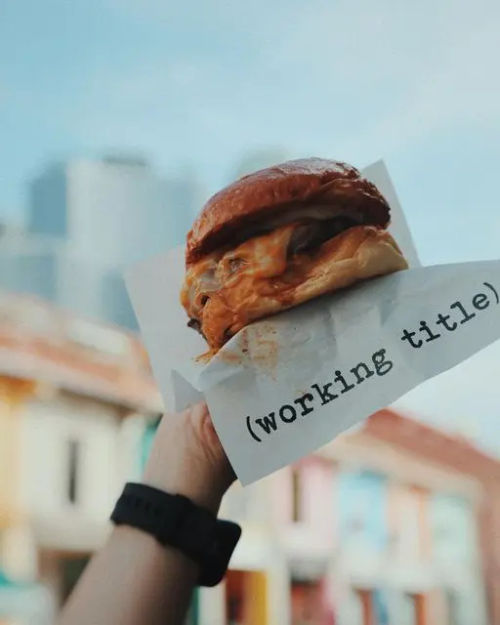 Being one of the pioneering halal burger joints in Singapore, (working title) Burger Bar has gained popularity among many for its inviting atmosphere, cozy setting, and an exceptional selection of gourmet burgers. Don't miss out on the irresistible Baconator, a timeless favorite from their menu that never fails to impress.
Another option worth exploring is the Shaft, a relatively recent addition that features a tantalizing combination of beef chorizo, gouda cheese, crispy onions, and zesty cumin lime mayo, all stacked on a juicy angus patty. With its delightful offerings and welcoming ambiance, Working Title – Burger Bar is the ideal place to indulge in an unforgettable beef burger experience.
11) The Goodburger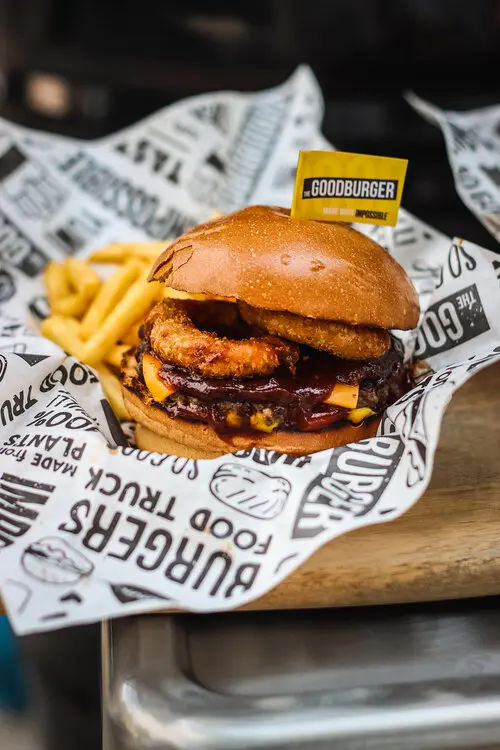 Enter the world of The Goodburger, where burger creations go beyond the ordinary. No regular meat here, as they shape their patties using meatless substitutes from Impossible Meat.
Surprisingly, this unique twist has propelled this funky food truck to outshine many gourmet burger joints in Singapore, all while exclusively offering a plant-based menu. Prepare yourself for an indulgent experience with their mouthwatering classic American cheeseburger, The Classic. Or let your taste buds embark on a culinary adventure with the Thai-inspired delight of One Night In Bangkok.
With such an innovative and delicious menu, it guarantees to satisfy not only your cravings but also your desire for a sustainable dining experience. Get ready for a journey filled with flavors!
12) 25 Degrees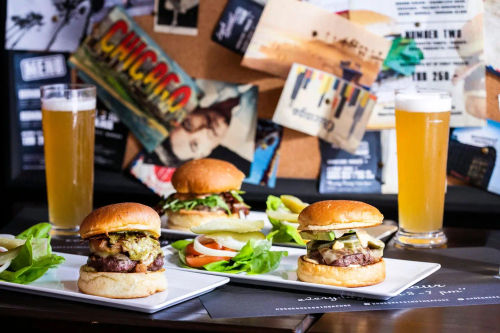 The Number One burger at 25 Degree's burger, wine, and liquor bar is truly exceptional. What sets it apart is the perfect combination of caramelised onions and crispy bacon, complemented by the sharpness of gorgonzola cheese and the tangy piquancy of thousand island sauce.
These carefully selected ingredients come together to create a burger that bursts with unique flavors, all sandwiched between the thickest buns you'll find in Singapore. Savor this culinary masterpiece and treat your taste buds to an unforgettable journey.
Best Burgers Singapore
In conclusion, Singapore offers a diverse array of gourmet burgers that are sure to satisfy every palate, whether you're a fan of traditional beef burgers, exciting new combinations, or even meatless alternatives.
Each establishment crafts its burgers with meticulous attention to detail, using quality ingredients to create a memorable dining experience.
So if you're a burger enthusiast or just in search of a satisfying meal, these spots in Singapore are worth exploring for their exceptional burger offerings.
Happy burger hunting!
Frequently Asked Questions (FAQ)
If you have any questions about the best burgers in Singapore, you can refer to the frequently asked questions (FAQ) about the best burgers in Singapore below:
What are the best burgers in Singapore?
The best Burgers in Singapore are NBCB, One Fattened Calf, Ashes Burnnit, The Goodburger, 25 Degrees, and ROKUS a.g.b.
Which company has the best burgers in Singapore?
Deciding on the top burger joint in Singapore is a matter of personal taste. However, there are several well-known establishments celebrated for their mouthwatering burgers, like Ashes Burnnit, One Fattened Calf, and Wolf Burgers. Other noteworthy options include Meatsmith and 25 Degrees.
Where in the world is the best burgers in Singapore?
Views on the best burger in Singapore vary and depend on personal preference. Some claim that the United States, particularly cities like New York or Los Angeles with a rich burger culture, provide the best burgers in Singapore. On the other hand, some argue that countries such as Japan or Germany, with their innovative interpretations of classic burgers, offer some of the finest options in Singapore.
What is the best selling burger in the world?
Finding the top-selling burger globally is a difficult task due to regional differences and individual tastes. However, burgers like McDonald's Big Mac, Burger King's Whopper, and In-N-Out's Double-Double have gained immense popularity worldwide. These burgers are famous for their consistent flavor and wide availability.
What makes the pulled pork burger at The Butchers Club Burger stand out?
The pulled pork burger at The Butchers Club Burger is known for its succulent beef patty and soft brioche buns, creating a perfect combination of flavors and textures.
Is the Tasmanian vintage beef patty used in Singapore's best burgers?
Yes, many of the best burger joints in Singapore use the Tasmanian vintage beef patty, known for its exceptional quality and flavor.
Where can I find a classic cheeseburger with charred onions in Singapore?
BurgerLabo serves a classic cheeseburger with charred onions, offering a delightful blend of flavors along with their prime beef burger.
Where can I find crispy chicken burgers or fried chicken sandwiches in Singapore?
Potato Head Folk offers a fried chicken burger and Chix Hot Chicken serves delicious fried chicken sandwich, both served on fluffy brioche buns for a satisfying meal.
Are the burgers in Singapore made with New Zealand grass-fed beef?
Yes, many burger establishments in Singapore pride themselves on using high-quality ingredients, including New Zealand grass-fed beef for their burgers.
Do any of the top burger places in Singapore offer truffle mushroom burgers?
Yes, some of the best burger in Singapore, like Burger & Lobster, offer mouthwatering truffle mushroom burgers alongside other gourmet options.
Additional Useful Articles
If you are looking for other useful guides and articles about Best Burger in Singapore, check them out below: