Best Steak in Singapore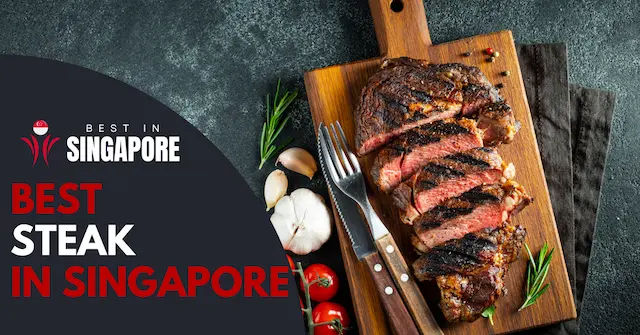 Whether you're a fan of tender filet mignon or prefer the full-flavored ribeye, finding the perfect steak is a quest many of us embark on.
The best steakhouses in Singapore include Les Bouchons, District 10, Stirling Steaks, MediumRare by Saveur, and Officers' Mess Polo Bar.
When selecting a steakhouse in Singapore, take into account aspects such as service quality, pricing, menu options, reputation, and customer reviews.
Steaks in Singapore are more than just a meal; they are a culinary experience that showcases a wide range of cuts and flavors, catering to diverse taste preferences.
We've rounded up the best steak restaurants in Singapore that will not only meet but exceed your expectations. Enjoy the gastronomic journey!
Key Consideration Factors
Before trying out the best steak in Singapore, make sure to consider these important factors:
Service quality: A good steakhouse should provide excellent service, from the moment you step in to when you leave. Look for places with attentive and knowledgeable staff who can guide you through your meal.
Pricing: While steakhouses tend to be on the pricier side, it's important to know what you're paying for. Some places may offer value-for-money deals while others might be more upscale. Choose a steakhouse that fits your budget.
Menu options: The best steakhouses offer variety in terms of cuts, cooking techniques, and sides. Look for places that cater to different dietary preferences and have options beyond just beef.
Reputation: A restaurant's reputation is often a reflection of its food and service quality. Do some research beforehand and read reviews from past customers to get an idea of what to expect.
Customer reviews: In addition to reputation, reading customer reviews can give you insights into the overall dining experience at a steakhouse. Pay attention to feedback on service, taste, and portion size.
Best Steak in Singapore
1) Bedrock Bar & Grill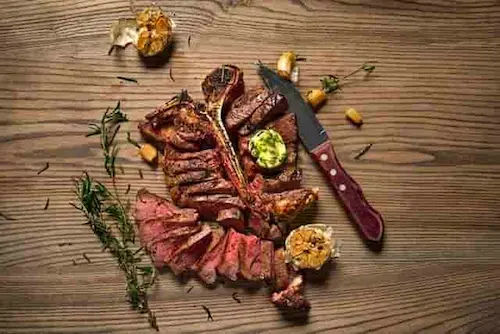 By offering exceptional cuts of steak sourced from Japan, Australia, and the United States, this steakhouse has garnered the appreciation of its patrons.
Their colossal grain-fed long-bone ribeye Tomahawk steak is a top choice, cooked expertly over a charcoal grill. The result is incredibly tender meat infused with a delicious smoky flavor.
It complements a variety of dishes, including beef, chicken, fish, sauerkraut, mushrooms, roasted root vegetables, and chorizo. Whether you're preparing a red wine sauce, Bedrock chili oil, wholegrain whisky mustard, or a classic bearnaise, it adds delectable flavor to your meals.
2) Les Bouchons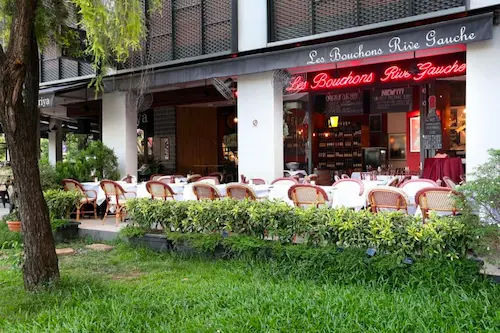 Since its establishment in 2002, Les Bouchons has been a pioneering and exceptional steak restaurant in Singapore. Renowned for its iconic French Steak Frites (Steak and Fries), Les Bouchons invites diners to embark on a gastronomic adventure along the lively streets of Paris, celebrating the esteemed heritage of French Bistros & Steakhouses.
Les Bouchons is renowned for its outstanding steak offerings, setting a high standard with steaks that boast exceptional marbling and tenderness. Each dining experience is guaranteed to be extraordinary, with bold flavors and delightful textures that are sure to satisfy.ts.
Located in a traditional shophouse, Les Bouchons Ann Siang combines the best of French culture in a vibrant neighborhood filled with bars and restaurants. With its charming and vintage ambiance, the venue also offers a cozy Private Dining Room on the second floor, making it perfect for reservations and more.
3) T Bob's Corner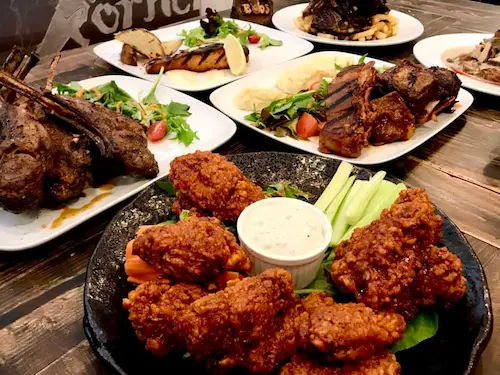 T Bob's Corner is a family-owned restaurant known for its wide selection of premium meat cuts. The first branch was opened in Bedok in 2015. In 2016, T Bob's introduced the famous Tomahawk steaks in Singapore, which have since become a hit in various dining establishments.
T Bob's Corner is renowned for its halal steaks and has had the honor of hosting celebrities, events, and even the President. Following a successful 5-year stint in Bedok, T Bob's Corner has relocated to a more central spot in Bras Basah, offering ample seating while continuing to serve their famous steaks, ribs, and an array of delectable new dishes.
4) Guzman y Gomez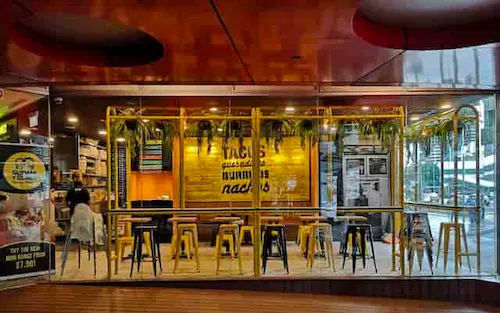 Looking to elevate your steak experience with a crunchy twist? Indulge in the delectable combination of steak with nachos or add it to a burrito bowl at Guzman y Gomez (GYG). GYG offers a wide selection of beef options, such as tender beef steak, slow-roasted beef, and flavorful beef mince, all made with premium True Aussie Beef sourced from Australia.
Experience the delectable True Aussie beef toppings at GYG, where fresh and savory meat creations are made on-site daily. Enjoy your favorite menu items delivered or for takeaway from any of GYG's 13 locations in Singapore, bringing the authentic Mexican street food experience straight to your doorstep. Prepare to savor some of the most mouthwatering Mexican street food you've ever tasted!
5) Butcher's Block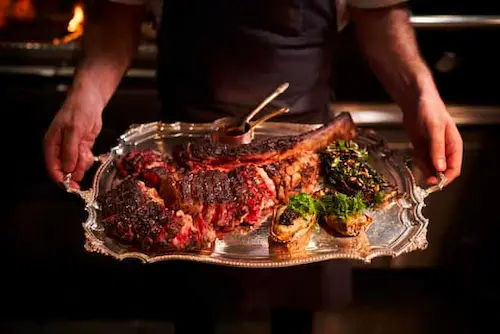 Raffles Hotel has recently introduced a new dining option called Butcher's Block, replacing the former Long Bar Steakhouse. This exciting establishment specializes in a wide selection of delicious roasted, cooked, and grilled cuts of prime USDA beef. One particular highlight you definitely shouldn't overlook is the Wagyu beef tartare, a dish that will absolutely melt in your mouth.
For a delightful combination, you can choose between Japanese hamachi or charred carrot. The dining area is elegantly designed with an open wine cellar and a glass cooler that displays meats, enhancing the sophistication of your dining experience.
6) Bochinche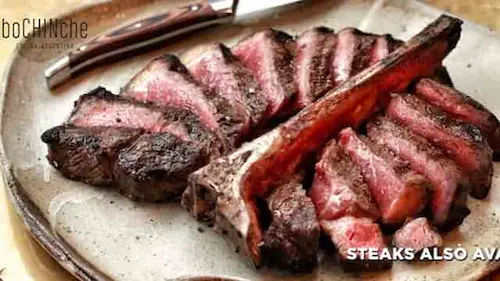 In Argentina, beef is famous for its quality, and in Singapore, there is a unique spot on Amoy Street where meat enthusiasts can savor authentic Argentinean cuisine. Bochinche, a Latin American restaurant, is well-known for its lunch sets that feature a choice of two or three-course options.
Bochinche serves steaks cooked using the traditional Argentine grilling method known as parilla. These steaks are sourced from grass-fed ribeye, ensuring high quality and flavor. With its warm and inviting atmosphere, along with exceptional service, this restaurant is a favorite among steak enthusiasts and boasts a loyal customer base.
7) Huber's Butchery/Bistro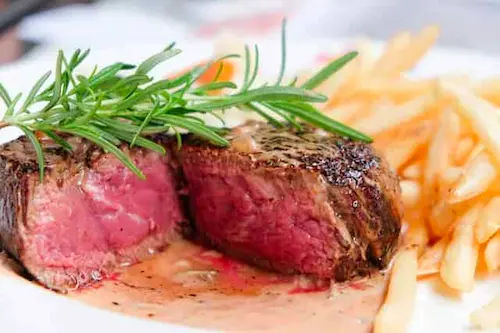 Huber's Meat Shop is a trusted supplier of beef to numerous eateries in Singapore. Why not get a firsthand experience of the source? Take a look at these two steak options: the US Prime Sirloin Steak (S$38/250g) and the Flat Iron Steak (S$19).
These steaks are grilled to perfection, and you can rely on this butcher for exceptional quality meat. Nowhere else will you find such a combination of quality and value for money, even with the US Prime steak, which comes with a delectable herb & butter flavored brown sauce.
8) Black Marble by Otto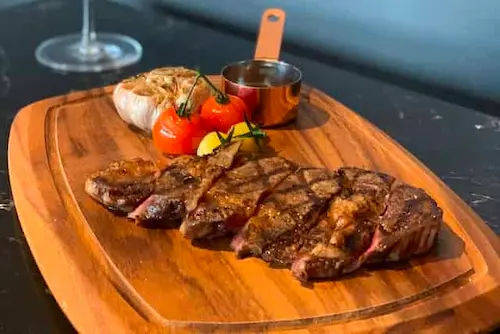 Renowned as the "godfather of steaks," Otto Weibel embodied the principles of simplicity and perfection, which are beautifully reflected in his cuisine.
Experience a range of choices like Wagyu striploin, Australian Angus ribeye, or dry-aged t-bone steak, and enhance your grilled meats with delightful accompaniments such as chimichurri sauce, mushroom port wine sauce, or herb-infused butter.
Indulge in a mouthwatering seafood platter and savor the moment with friends, accompanied by delicious sides like hand-cut fries soaked in brine for 24 hours.
9) Stirling Steaks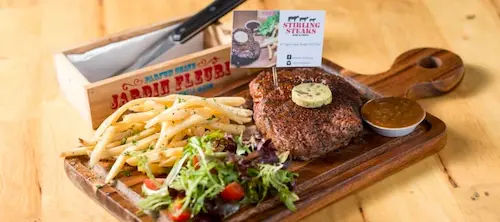 Stirling Steaks is a renowned steakhouse that specializes in charcoal-grilled steaks, accompanied by the highly sought-after Stirling Sauce. They offer a selection of 10 distinctive steak cuts that are rarely found in Singapore, including the famous tomahawk, prime ribeye, tenderloin, flat iron, hanger, and other delectable steak choices.
Experience the pleasure of savoring a perfectly cooked steak, infused with a delightful smoky aroma, as it grills over a charcoal flame in a cozy setting at their restaurant located along the bustling East Coast Road. And if that's not enough, you can even take home your favorite cut from their well-stocked in-house butchery, featuring their signature selections.
10) Cut by Wolfgang Puck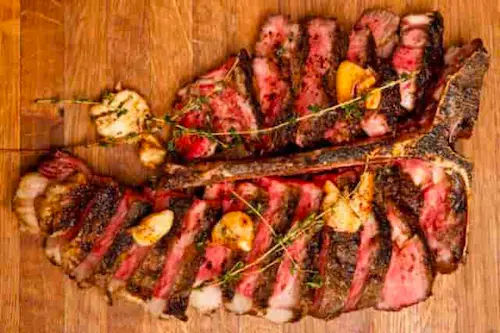 Cut by Wolfgang Puck, located in Singapore, is a renowned steak restaurant that is celebrated for its exceptional steak dishes. Since its establishment in 2010, it has consistently maintained its status as a top-notch steakhouse by serving exclusively the highest quality prime beef cuts.
Be sure not to pass up the opportunity to try their American Wagyu ribeye, which is sourced from Snake River Farms in Idaho. It's a must-try! In addition to that, their menu offers other tempting choices such as the delectable creamy bone marrow flan with mushroom jam.
For a truly indulgent experience, treat yourself to the luscious Valrhona chocolate souffle, which is perfect for sharing with up to three people. And if you want to extend your visit, the Michelin-starred restaurant also boasts an impressive selection of wines.
11) District 10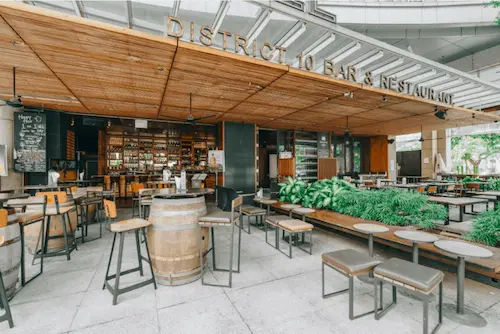 District 10 concept brings a lively and relaxed dining atmosphere, offering a delightful combination of authentic rustic European cuisine, Mediterranean-inspired fusion dishes, and tantalizing bar bites.
With an expansive selection of both classic and contemporary beers and wines, the beverage menu caters to the flourishing middle-class demographic of professionals, managers, executives, and business experts.
Established in 2009 under the leadership of Executive Chef Luca Pezzera, District 10 has proven to be a strategic and widely acclaimed extension of the esteemed Bonta Italian fine dining brand in Singapore.
12) Meat 4 Meat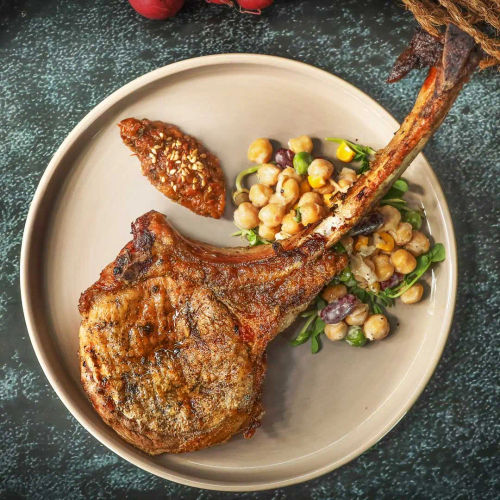 Under the leadership of Chef Jimmy, formerly from Wooloomooloo Steakhouse at Swissôtel, Meet 4 Meat offers flame-grilled steaks at their hawker stand on East Coast Road. Get ready to indulge in premium-quality steaks that stand out from the crowd.
Their Beef Wellington, a signature dish priced at S$28 (S$31 with foie gras), features tenderloin coated in a delicious blend of pâté and duxelles (mushroom paste), elegantly wrapped in puff pastry, and baked to perfection.
Chef Jimmy adds a unique touch to this dish by substituting pâté de foie gras with a flawlessly seared foie gras, complemented by mushroom duxelles. The delightful combination is generously slathered over a 180g grass-fed Australian tenderloin.
Another excellent choice is the Premium AZ Ribeye, which is priced reasonably at S$23 for a fulfilling 240g serving. These hawker steaks deliver outstanding quality without straining your wallet.
13) Officers' Mess Polo Bar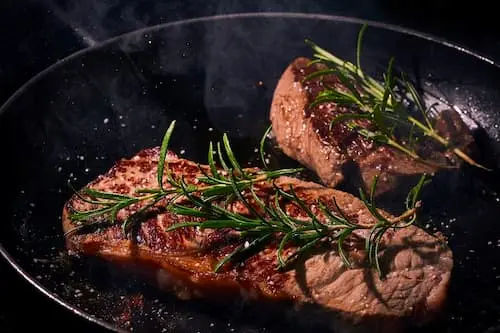 Step into the Polo Bar at the Officer's Mess and instantly find yourself in a world of refined elegance. Immerse yourself in the vibrant atmosphere, where conversations flow amidst beautiful crystal stemware, softly lit tables, and comfortable armchairs dressed in military attire.
The Polo Bar is a steakhouse that excels in serving exceptional prime grade cuts of meat and a delightful grilled seafood platter. Their menu presents a tempting selection of dishes, such as lobster, crab cakes, and their famous Polo burger priced at $75.
Moreover, they offer a delectable variety of sides to perfectly complement your meal. This refined dining establishment also boasts a world-class wine cellar, thoughtfully curated by a team of sommeliers.
14) Burnt Ends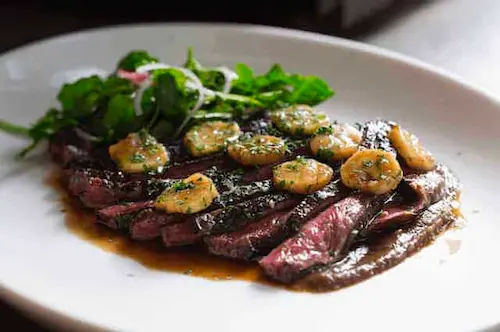 Getting a reservation at this renowned restaurant might be difficult, but the dining experience is bound to leave a lasting impression. Since 2013, this contemporary Australian establishment has gained a devoted following, thanks to its unique grilling methods.
The menu changes daily, but the beef tenderloin and Blackmore's cube roll are highly recommended and will surely make you want to come back for more.
In recent years, the restaurant has expanded its offerings by introducing a bakery section. This includes a variety of bread, scones, tarts, cinnamon rolls, and doughnuts. Just like getting a reservation at the restaurant, getting a box of doughnuts may be a challenge, but the delicious taste makes it totally worth it.
15) Opus Bar & Grill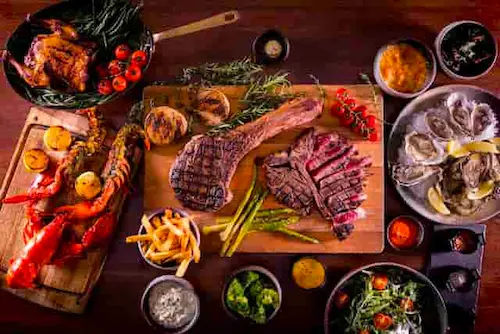 Immerse yourself in the world of culinary delights at Rangers Valley, Opus Bar & Grill. Get ready to be enchanted by this exceptional restaurant, as it promises to impress even the most discerning meat lovers with its top-quality beef offerings. Treat yourself to the primal pleasure of sharing plates that will tantalize your taste buds.
And don't miss the pièce de résistance – the signature 1.2kg Australian whiskey-aged wagyu tomahawk for two. Accompanied by unlimited drinks and seared foie gras, this dining experience will take your senses on an unforgettable journey.
16) Picanhas'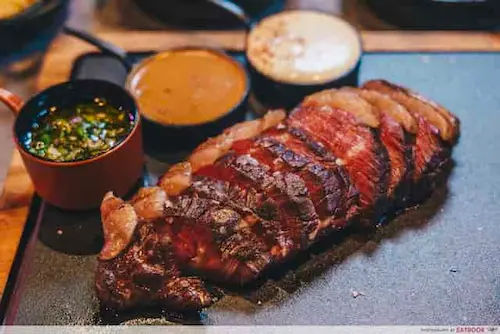 Picanhas is dedicated to providing its customers with the motto "Steaks for Everyone." Founded by Shaleh Jati on Club Street, Picanhas specializes in a single variety of beef – the picanha.
This remarkable piece of meat, known as the rump cap or picanha steak, is sourced from the hindquarters of the steer. It features a generous layer of fat encircling the edges, an underrated gem that is not widely acknowledged beyond Brazil. As Gordon Ramsay famously declares, "Flavor comes from fat."
17) 665 ºF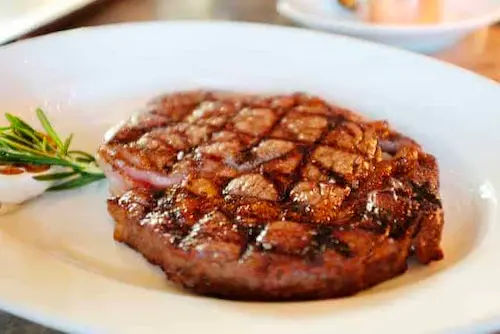 Immerse yourself in the epitome of dining luxury at 665°F, located atop Andaz Singapore. Drawing inspiration from the elegance of Savile Row menswear boutiques, this restaurant offers breathtaking city views and an exceptional menu highlighting premium cuts and sustainable seafood. Whether it's a romantic night out or a special occasion, this venue is an absolute delight!
Experience an exquisite dining experience with a variety of mouthwatering appetizers, such as lobster bisque and grilled octopus. Indulge in specialty dishes like A4 Kagoshima wagyu striploin, grass-fed country lamb chops, and New Zealand king salmon, guaranteed to satisfy your cravings.
Choose from a wide range of side options, including creamed spinach, mac and cheese, and truffle French fries. For a more satisfying meal, consider adding asparagus and rice cakes. And don't forget to treat yourself to a delightful dessert like fresh fruit sorbets or other delectable treats!
18) MediumRare by Saveur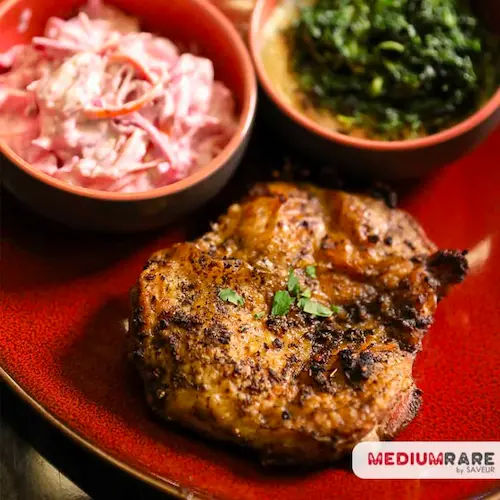 MediumRare, a steakhouse presented by Saveur, is dedicated to providing an authentic steak cooking experience. They take pride in offering only the finest cuts of steak at an affordable price. Renowned for their commitment to quality, they invite you to savor their selection of high-quality Australian tenderloin wagyu, cooked to perfection according to your preferences, from rare to well-done.
Elevate your steak experience by indulging in a variety of delectable sides that offer a delightful fusion of flavors and textures. Don't miss out on trying their unique mala, black bean, and café de paris sauces, expertly crafted to cater to local taste preferences.
MediumRare goes beyond just offering steaks. Their menu showcases grilled chicken, fish, and rice bowls paired with Japanese rice, Sous Vide Egg, and a special sauce. Furthermore, they provide a thoughtfully curated wine collection, personally selected by the chefs to perfectly complement their premium Wagyu selection.
19) Bistecca Tuscan Steakhouse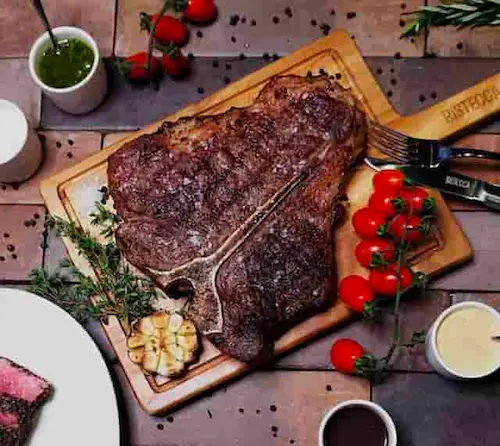 Renowned for its elegant atmosphere and extensive selection of meats, this Italian steakhouse is known for its upscale interior and diverse range of offerings.
From the tender Miyazaki A4 Wagyu striploin to the flavorful grain-fed Bistecca alla Fiorentina, there is something for every palate. The highlight of the menu is the succulent, thick-cut T-bone steak, expertly grilled to perfection and ideal for sharing.
Indulge in a wide range of Italian culinary delights, from antipasti and pasta to mouthwatering, sustainably sourced seafood dishes. In addition to beef, you can also savor alternative protein options like pork chop, rack of lamb, and roasted chicken. And make sure to explore their extensive wine collection, with a glass or two perfectly complementing your meal.
20) Wooloomooloo Steakhouse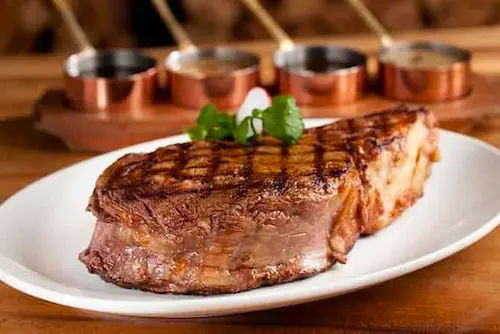 With its floor-to-ceiling windows offering breathtaking panoramic views of the city skyline, this restaurant stands out among all the steakhouses in Singapore. Indulge in their exquisite range of high-end steaks that are guaranteed to please your taste buds.
Drawing inspiration from a picturesque bayside town in Sydney, Wooloomooloo Steakhouse proudly showcases its Australian heritage. Delight in the Great Steak Escape, featuring a range of cuts carefully selected from Queensland. Experience the succulent Stanbroke rib eye, grain-fed for 150 days, or savor the exquisite Westholme Wagyu sirloin, grain-fed for 330 days, boasting a marbling score of nine.
At Wooloomooloo Steakhouse, every steak comes with a selection of four delicious sauces: au jus, peppercorn, mushroom, and red wine Madeira. For a tantalizing choice, savor the beef wellington, a puff pastry stuffed with mushroom duxelles, parma ham, and foie gras. The exceptional meat cuts at Wooloomooloo Steakhouse offer remarkable quality and flavor!
Best Steak in Singapore
In conclusion, Singapore boasts an exceptional variety of steakhouses, each offering a unique dining experience.
Whether it's the whiskey-aged wagyu tomahawk at Opus Bar & Grill, the underrated picanha at Picanhas', the luxurious offerings of 665°F, the tasteful simplicity of MediumRare, the Italian delight of Bistecca Tuscan Steakhouse, or the Australian-inspired cuts at Wooloomooloo Steakhouse, there's a steakhouse in this city for every discerning palate.
Each of these places delivers its own culinary flair, an unforgettable blend of ambiance, service, and most importantly, mouthwatering steaks that speak of quality and passion in every bite.
Frequently Asked Questions (FAQ)
If you have any questions about Best Steak in Singapore, you can refer to the frequently asked questions (FAQ) about the Best Steak in Singapore below:
Additional Useful Articles
If you are looking for other useful guides and articles about Best Steaks in Singapore, check them out below: