Birthday Activities Singapore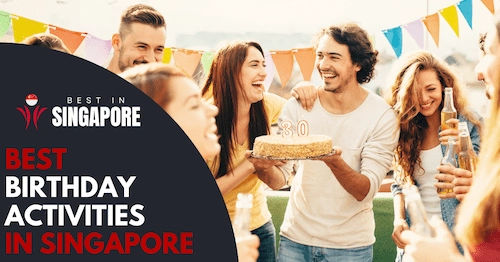 There is a wide variety of exciting birthday activities available in Singapore that cater to people of all ages and preferences.
The best Birthday Activities in Singapore include Bubble Soccer, Amazing Race, Combat Archery Tag, Poolball, Ninja Tag, Art Jamming, and Escape Room.
When organizing Birthday Activities in Singapore, it is crucial to consider important factors such as budget, type of activity, capacity, location, and safety guidelines.
As a top events provider in Singapore, FunEmpire has successfully organized over 50,000 events and garnered more than 8,000 5-star reviews.
Prepare for a remarkable experience with your loved ones as you explore this comprehensive collection of birthday activities!
Key Considerations Factors
Capacity: Prior to choosing an activity site or location, confirm that it can comfortably fit all of your visitors without cramming them in. Everyone will be able to enjoy their time together without feeling crowded or uncomfortable thanks to this.
Party Venue: Choosing a suitable site is also crucial since it should be convenient for everyone involved and easy to get there by public transportation, if required. If you're planning an outdoor activity, keep things like the weather in mind as well.
Guidelines & Security: It is crucial to confirm safety procedures in advance so that everyone may enjoy the festive occasion in peace. For a more enjoyable experience overall, be aware of any guidelines issued by the authorities regulating group meetings during this time and abide by them.
Cost: It's crucial to think about establishing a budget before organizing a birthday activity in Singapore. Prices might be modest or exorbitant, depending on the kind of activity you wish to conduct. Consequently, setting a budget in advance will enable you to organize a better and more enjoyable birthday celebration.
Activity Type: Choosing the appropriate activity is crucial for the birthday party in Singapore. There are many possibilities available, including indoor activities like escape rooms and virtual gaming as well as outdoor ones like kayaking and camping. The tastes and hobbies of the individual celebrating their special day should be taken into consideration when selecting a kind since each has its own set of advantages.
Benefits Of Organizing Birthday Activities In Singapore
Organizing birthday activities in Singapore provides various benefits, such as:
Strengthening relationships among family members, friends, and colleagues.
Creating valuable memories that can be cherished for years to come.
Enhancing collaboration skills through a fun environment.
Celebrating special moments with others and feeling the joy of togetherness.
Fostering a sense of achievement and improved confidence.
Boosting creative thinking through engaging and innovative activities.
Providing a unique and memorable celebration that stands out from the usual birthday celebrations.
Offering an opportunity to explore and experience the diverse culture and vibrant scene of Singapore.
Promoting health and wellness through physical activities.
A chance for personal growth, as individuals get to step out of their comfort zones in a supportive environment.
Organizing birthday activities in Singapore is an excellent way to ensure that everyone involved will have a memorable experience, build relationships with each other, and create lasting memories!
Best Birthday Activities Singapore
Creative Activities
1. Stitched Leather Workshop
Looking for a unique and creative birthday activity in Singapore? Look no further—FunEmpire's Leather Workshop is the perfect alternative! In this workshop, facilitators will guide participants through the process of creating their own leather items, such as wallets and bags. Through this process, they can practice developing important basic leatherworking skills such as cutting, measuring, stitching, and weaving.
Moreover, they can choose their preferred dyes, stamps, and decorations in order to personalize their creations—making them one-of-a-kind! To sum up, FunEmpire's Leather Workshop is an ideal birthday experience for all ages—it presents a unique opportunity for participants to express themselves creatively while developing valuable skills along the way. So don't wait any longer—book your Leather Workshop experience with FunEmpire today!
2. Terrarium Workshop
Celebrate birthdays in an unforgettable way with FunEmpire's Terrarium Workshop in Singapore! This unique and engaging workshop is suitable for people of all ages and provides participants with a fun, hands-on experience.
Through this workshop, participants are able to learn basic terrarium-building skills such as plant selection, soil preparation,, and ornament arrangement, allowing them to design and craft their own miniature gardens. In addition, they can also find out more about the different plants, such as ferns, mosses, and succulents, that can be used in the terrariums.
FunEmpire's Terrarium Workshop is an ideal birthday experience for all ages—it presents a unique opportunity for participants to express themselves creatively while developing valuable skills along the way. So don't wait any longer—book your Terrarium Workshop experience with FunEmpire today!
3. Non-Stitched Leather Workshop
In this session, attendees will learn how to use leather to create unique pieces of art. Participants will learn the fundamentals of non-stitched leatherworking by making their own leather goods, including wallets, purses, and keychains, with the help of facilitators. They may hone fundamental abilities like cutting, measuring, and weaving via this procedure.
FunEmpire's Non-Stitched Leather Workshop is great for celebratory events of all ages, as it gives guests the chance to use their imaginations while also learning new skills. Don't procrastinate any longer; reserve your spot in a non-stitched leather workshop with FunEmpire now!
4. Clay Making Workshop
Looking for a creative and unique birthday activity in Singapore? Look no further than FunEmpire's Clay Making Workshop! This workshop provides participants with an unforgettable experience as they are able to express their creativity and imagination through clay molding.
Facilitators will guide them through the process of crafting their own clay figurines, dolls, or tiles while teaching the basics of this art form.
Through this process, they can practice honing important skills such as rolling, cutting, and polishing while learning about different techniques like glazing and baking. In addition, participants have the opportunity to personalize their creations by choosing from a variety of pigments for coloring, making it an enjoyable experience for all age groups.
Leisure Activities
5. Giant Board Games
Giant Board Games by FunEmpire are the perfect birthday activity if you're looking for something exciting and interactive that will get your guests moving and thinking. With giant-sized game components like dice and pawns, giant board games are a classic and amusing take on the classic board game. Several well-known games are available, such as the board games Monopoly, Scrabble, and Snakes and Ladders.
In conclusion, FunEmpire's giant board games are a thrilling, entertaining, and cognitively challenging way to celebrate a birthday that also encourages movement. This is a fun and exciting activity for creating lasting memories since it guarantees that participants of all ages will have a fantastic time.
Now is the time to bring the whole family together and make some great new memories with FunEmpire's Big Board Games.
6. Bowling
Neon Bowling by FunEmpire is the perfect way to add some pizzazz to your birthday bash in Singapore. Neon bowling is a modern spin on the traditional game of bowling that promises to be a lot of fun for the whole family.
Neon bowling is great for birthday parties since it's fun for people of all ages. The bright colors and neon lights create a one-of-a-kind setting that everyone will love. Neon bowling is an excellent physical activity for enhancing coordination, precision, and equilibrium. Active, low-impact movement of the arms, shoulders, and legs is encouraged as participants attempt to knock down the pins.
Adventure Activities
7. Laser Tag
Searching for a memorable way to celebrate your next birthday in Singapore? Then you should try out the thrilling adventure game Laser Tag, available at Fun Empire. This thrilling, team-based competition is perfect for any age group.
Participants are equipped with high-tech laser gun simulators and tasked with completing a series of missions while working together to take down other rival teams, defeat enemy forces, and conquer objectives in the game arena.
So if you're searching for an unforgettable experience that's sure to impress young and old alike, look no further than FunEmpire's Laser Tag! Book your adventure today and get ready for some intense fun with one of the best birthday and team building activities in Singapore!
8. SaberFit
Celebrate your next birthday in a truly unforgettable and exhilarating way at FunEmpire's SaberFit! Immerse yourself in a thrilling adventure game that will keep you on the edge of your seat, with heart-pounding action and excitement at every turn.
SaberFit is a unique team-based activity that is perfect for people of all ages. Gather your friends, family, or colleagues and embark on an epic journey together. Armed with light sabers, you will not only have a blast but also get a great workout as you complete challenges and missions.
Imagine the excitement of wielding a light saber, engaging in friendly combat, and unleashing your inner warrior. It's an experience that combines the thrill of an adventure game with the fun of a workout, making it an ideal choice for a cool and memorable birthday party or a fantastic team building activity in Singapore.
So, why settle for the ordinary when you can have an extraordinary celebration? Book your SaberFit experience today and create unforgettable memories that will last a lifetime.
9. Bullet Ball
From the ultimate birthday party activity to team building in Singapore with a twist, FunEmpire's Bullet Ball is sure to get the party started! This fast-paced adventure game is perfect for players of all ages and offers plenty of action and excitement.
In this exhilarating team-based competition, each player is equipped with a special bullet-proof vest that can absorb laser shots fired from their opponents. Their mission? To complete a series of challenges within a set time frame—such as defeating rival teams and enemy forces, finding hidden items, or conquering objectives in the game arena—while working together as one unit.
So if you're searching for something exciting and unique for your next birthday celebration or teambuilding event, look no further than FunEmpire's Bullet Ball! Book your adventure today and get ready for some intense fun!
10. Bullet Strike (Nerf Gun)
Make your next birthday party a blast with FunEmpire's Bullet Strike (Nerf Gun), the ultimate team-based game experience perfect for players of all ages and skill levels! This thrilling game pits teams against each other as they must complete a series of exciting challenges within a set time frame.
Participants get to wield Nerf guns as their weapons and attempt to defeat enemy forces, solve puzzles, find hidden items, or conquer objectives in the game arena—all while working together as one unit. FunEmpire takes it one step further by providing exciting themed challenges such as zombie invasions or space battles that can be customized to fit individual group preferences.
Quest Activities
11. Escape Room
The Escape Room, developed by Fun Empire, is a fantastic option for Singaporeans looking to celebrate their birthdays in a unique and exciting way. Step into a world of mystery and adventure as you and your loved ones embark on a thrilling quest to solve puzzles and uncover hidden clues.
This immersive experience will not only challenge your problem-solving skills but also create lasting memories as you work together as a team. With safety measures in place, you can enjoy the game with peace of mind, knowing that everyone's well-being is a top priority.
Make your birthday party truly unforgettable by choosing the Escape Room as the centerpiece of your celebration.
12. Amazing Race
While racing to the finish line, teams in The Amazing Race must work together to solve puzzles and accomplish tasks. This game is great for birthday parties because it promotes cooperation, communication, and problem-solving abilities while bringing everyone together in a fun and engaging manner.
The game may be tailored to the birthday person's likes and dislikes, making it fun for the whole group. It's flexible enough to be adapted for use with audiences of any size and maturity level. If you're looking for a fun way to celebrate a birthday in Singapore, the Amazing Race by Fun Empire is your best bet.
It's a great way to get some exercise (both mental and physical) while having a good time. Enjoy the advantages of cooperation, communication, and adventure by treating yourself or your loved ones to an Amazing Race experience today!
Virtual Workshops
13. Virtual Balloon Sculpting Workshop
Unleash your creative side with FunEmpire's Virtual Balloon Sculpting Workshop, a fun and interactive birthday activity that's perfect for all ages! Participants will get to learn the craft of balloon sculpting from skilled instructors who will lead them step-by-step as they create their very own balloon masterpiece in this virtual workshop that FunEmpire exclusively designed.
They'll also gain valuable knowledge on various kinds of balloons, how to make simple ties, and even become experts at twisting and innovating their designs. The workshop includes everything needed to get started—from instruction videos to detailed handbooks and a range of pre-designed templates—to ensure that everyone leaves with something special they created in their hands.
14. Virtual Terrarium Workshop
FunEmpire's Virtual Terrarium Workshop is a fantastic way to celebrate your birthday in Singapore! Whether you're turning 5 or 50, this fun and interactive virtual workshop is designed to cater to all ages and skill levels. Led by experienced instructors, participants will have the opportunity to learn the art of creating their own personalized terrariums using a wide range of materials.
Included in the workshop package are detailed handbooks and instructional videos that will guide you through the step-by-step process of terrarium making. From selecting the perfect plants to understanding the intricacies of proper soil and pebble arrangements, you'll gain valuable knowledge on all aspects of creating and maintaining a thriving terrarium.
Not only will you have a blast during the workshop, but you'll also leave with a unique and beautiful terrarium that you can proudly display in your home or office. Imagine the joy of having a living piece of nature that you've created yourself, serving as a reminder of your special birthday celebration.
So why wait? Join us for this unforgettable virtual workshop and embark on a journey of creativity, nature appreciation, and birthday bliss!
15. Virtual Tote Bag Art Jamming
Looking for a unique and exciting birthday activity to do in Singapore? Look no further than FunEmpire's Virtual Tote Bag Art Jamming Workshop! This workshop provides the perfect opportunity for you to unleash your creativity and learn how to create your very own personalized bag.
During the workshop, experienced instructors will guide you step-by-step through the bag creation process. They will share valuable tips and techniques, ensuring that you can create a beautiful and one-of-a-kind bag that reflects your own style and personality.
All the materials you need for the workshop will be provided, including detailed handbooks and instructional videos. You'll have everything at your fingertips to dive into this immersive experience from the comfort of your home.
Join this virtual workshop and make your special day truly unforgettable. Discover the joy of creating something unique and leave with a stunning bag that you can proudly call your own. Don't miss out on this amazing opportunity to explore your artistic side and have a blast on your birthday!
16. Virtual Canvas Art Jamming
For a unique Singaporean birthday experience, choose FunEmpire's Virtual Terrarium Workshop. Each attendee will leave with the skills necessary to create their own terrarium, as well as new insights into the world of plants and terrarium supplies like soil and stones.
Everything you need to create a one-of-a-kind terrarium that you can be proud of is included, from the necessary supplies to instructional manuals and videos. Participate in this online seminar to create a special birthday for a loved one.
Virtual Games
17. Virtual Time Travel
FunEmpire's Virtual Time Travel game is a great way to celebrate a birthday in Singapore! With this virtual game, you can travel through time and explore different cultures and places. You will learn about history, geography, culture, and language as you journey through time. It's an exciting adventure that offers the chance to gain knowledge while having fun.
This virtual game is perfect for all ages and can be adapted to fit any size or maturity level of your group. Make your next birthday celebration unforgettable with FunEmpire's Virtual Time Travel Game!
18. Virtual Mayday
The Singaporean birthday party can't be complete without a round of FunEmpire's Virtual Mayday! Players of this video game must cooperate in order to escape a sinking ship. They'll have to utilize their ingenuity and problem-solving abilities to overcome a number of obstacles.
Throughout gameplay, players may pick up useful information on nautical fundamentals, including navigation and maritime safety. Participate in the action and excitement of this age-appropriate online game.
19. Hybrid Amazing Race
Singaporeans looking for a unique birthday experience may go no farther than FunEmpire's Hybrid Amazing Race. This one-of-a-kind online game takes the thrill of an ordinary fantastic race and fuses it with the interactivity of modern video games for a really remarkable experience.
Gamers will need to utilize their critical thinking and imagination to perform various tasks, such as deciphering riddles and exploring digital environments. They will also gain knowledge of navigation, ship safety, and other essentials of nautical science. Celebrate your special day in style by participating in FunEmpire's Hybrid Amazing Race!
20. Virtual Amazing Race
In Singapore, having a birthday party at FunEmpire's Virtual Time Travel game is a must. Playing this video game is like going on a thrilling adventure across time and space. Moving from one period to the next will teach you about the world, other cultures, and different languages.
It works well with groups of varying ages and maturity levels and is suitable for participants of all ages. Use FunEmpire's Virtual Time Travel Game to create a once-in-a-lifetime experience at your next birthday party!
Tips To Make Your Birthday Celebration A Success
Celebrating a birthday in Singapore can be an unforgettable experience. With the right activities and planning, you can create a special day that your friends and family will never forget. Here are some tips to make sure your celebration runs smoothly:
Choose activities appropriate for the age group: it's important to select age-appropriate games and activities so everyone can join in and have a fun time.
Plan ahead: it's essential to make sure your activities fit into the timeframe you have available and that there is enough space for everyone at the venue.
Consider virtual options: virtual activities are a great way to connect with distant friends or family members while still celebrating together.
Give yourself plenty of time: make sure you leave enough time to carry out the activities and still have fun.
Get creative with decorations: decorations can make any space look more festive, so don't be afraid to get crafty!
Send out reminders: send a reminder about the day's events to your guests a few days before the event. This will help ensure everyone is ready on time.
Following these tips can help guarantee that your birthday celebration in Singapore will be a success! So go ahead and make the most of your special day with FunEmpire's amazing activities and games. Have an unforgettable birthday experience in Singapore!
Birthday Activities Singapore
Singapore is home to a broad variety of unique birthday celebration options, from online soy candle and clay-making classes to leather-working masterclasses.
Don't procrastinate any longer: FunEmpire is the place to go for booking the best birthday activities in Singapore
If you're looking for more recommendations, you can check out our other posts below:
Frequently Asked Questions (FAQ)
If you have any questions about Birthday Activities in Singapore, you can refer to the frequently asked questions (FAQ) about the best Birthday Activities in Singapore below:
Additional Useful Articles
If you are looking for other useful guides and articles about Birthday Activities in Singapore, check them out below: