Birthday Celebration Singapore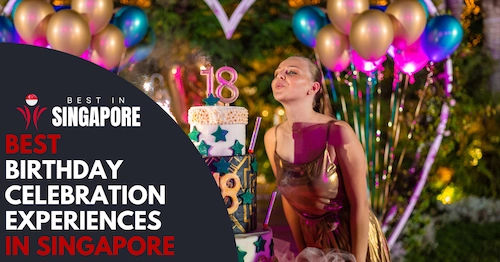 Singapore is the perfect destination to create an unforgettable birthday celebration with various unique and exciting experiences to choose from.
The best Birthday Celebration Singapore ideas are Ninja Tag, Bubble Soccer, Bullet Strike, Clay Making Workshop, Hybrid Amazing Race, and Virtual Food Quest.
When choosing an idea for a birthday celebration, it is crucial to consider the available packages, location, budget, and price range.
FunEmpire offers the best Birthday Celebration ideas in Singapore, backed by 8,000+ 5-star client reviews and a proven track record of over 50,000 successful events.
In this article, we'll explore some of the best experiences for a birthday celebration in Singapore, so your special day will be memorable and enjoyable.
Key Consideration Factors
When looking for Birthday Celebration Experiences in Singapore, it's important to consider the following factors:
Packages Offered: Many venues offer packages that include everything you could possibly need – food, decorations, activities and more. Be sure to enquire what each package entails so you can make the most suitable choice for your event.
Location: Singapore offers a wide variety of exciting and unique options, from indoor playgrounds to restaurants. When deciding on your location, remember that convenience and distance are both key elements in making the right choice for you and your guests.
Budget: Budgeting is essential to ensuring that everyone has a blast while keeping costs low. Set your budget and stick with it – you don't have to spend a fortune in order to make an unforgettable experience!
Price Range: Before you make your choice, take the time to explore all pricing options of birthday parties. And don't forget: certain venues may offer discounted party package or group booking deals for large groups – be sure to inquire if this is an option at your selected birthday venue!
Now let's take a look at some of the best Birthday Celebration Experiences In Singapore!
Adventure Activities
1. Saber Fit
Prepare to be invigorated and tested in an unprecedented way with Saber Fitness – a high-intensity workout that brings together martial arts tactics and partner battling! If you live in Singapore, this rare activity is the ideal choice for birthday celebrations as it offers a unique experience for all involved.
Not only will individuals gain physical advantages from participating, but they'll also have the opportunity to build strong relationships while engaging in this one of a kind birthday parties! Get ready now for an extraordinary bonding session full of enthusiasm and effort.
2. Ninja Tag
Are you ready to show off your strength and hone your ninja abilities? Ninja Tag is here to deliver an electrifying birthday experience with foam daggers, scoring vests, and exciting missions! Join forces with loved ones as you fight in close-quarter combat. With its multitude of game modes, the entertainment of birthday parties never ends – so why wait any longer? Unleash your inner power now and become a true ninja warrior today!
3. Saber Tag
Transform your kids birthday party into an unforgettable Star Wars experience with Saber Tag at Hyperspace Singapore! Let them explore a galaxy far, far away while they wield their own Sabers to complete missions. With plenty of decorations, food and exciting activities, everyone is sure to have an amazing time. Top off the night by cutting up Storm Trooper-themed cake for a magnificent finale!
4. Combat Archery Tag
Make your child's birthday an extraordinary one with a thrilling Combat archery session! With FunEmpire, kids at least 1.2m tall can have the most exhilarating time of their lives – but fear not, it is still totally safe since they are supplied with foam-padded arrows to fire and dodge throughout the game. You get to choose between playing classic or Neon Combat archery; either way you're ensured for both you and all guests' enjoyment!
5. Poolball
Have you been struggling to find the perfect way to celebrate your next birthday party celebration? Look no further than Poolball! This thrilling kids birthday party will give kids an unforgettable experience, as they kick soccer balls towards seven meter-long pockets on a table instead of using cue sticks. Forget about outdated futsal ideas – take full advantage of this one-of-a kind opportunity and make those special party guests feel extra loved on their big day!
6. Giant Whack A Mole
Transform your child's birthday into an experience they won't soon forget with Giant Whack A Mole! At 1.8 meters tall, this inflatable arcade game is the perfect way for kids to bring their favorite classic to life – and become a mole themselves! The only birthday venue that can accommodate it is Hyperspace Singapore, so you know your kid will have an amazing time regardless of what kind of weather comes along. Make sure your little one has the coolest kids birthday party ever with Giant Whack A Mole!
7. Neon Laser Tag
Make this kids birthday party a truly remarkable one by hosting it with Neon Laser Tag! Not only is there a state-of-the-art playing arena that is the largest neon lit area in the country, but kids will be able to have an amazing time with bunkers and inflatable walls making rounds of hide and seek more exciting.
To add to the festivities, dress up your birthday boy/girl in white – they'll look like shining stars amidst everyone else! Book now for an unforgettable party experience with Neon Laser Tag!
Alternatively, Neon Laser Tag is also a great option for team building in Singapore!
8. Bubble Soccer
Celebrate your special day with Bubble Soccer in Singapore! This exhilarating and fun activity will provide hours of laughter, bumps, and strategy-building – perfect for any birthday party. Not only do you get to enjoy the pure entertainment that comes with bubble soccer but it also allows individuals a chance to de-stress while strengthening teamwork skills among colleagues or friends. Make this unique event the highlight of someone's day by choosing Bubble Soccer as your go-to celebration experience!
9. Bullet Strike
Get ready for the most exciting and thrilling birthday celebration ever with Bullet Strike! Arm yourself with Nerf blasters and battle your opponents as you blaze through different objectives. Don't worry about safety, since each bullet is made of soft foam; simply wear protective masks to enjoy a safe game experience. With various game modes that require smart strategies and thoughtful party planning, team up with friends or family members in an ultra-fast paced action adventure that demands creative thinking from all players – it's guaranteed to be an unforgettable bonding activity on this special day! Say yes to nerf battles – get set for a stimulating birthday party extravaganza with Bullet Strike!
Creative Activities
1. Clay Making Workshop
Unleash your inner artist and celebrate a special occasion with Clay Making Workshop! All the materials needed to form beautiful, handmade clay creations are supplied so that each guest can express their creativity. Not only does this workshop introduce everyone to the versatility of clay but it also offers an opportunity for imaginations soar as party guests shape and mould amazing pieces – creating something truly one-of-a-kind in the process!
2. Candle Workshop
Make any birthday party unforgettable with FunEmpire's Candle Workshop! It offers a unique way to celebrate a special occasion, as your party guests will be able to craft their own custom wax creations. Choose between two options- Soy and Gel candles – and create an inviting atmosphere full of captivating fragrances while learning lots of new knowledge in the process. Let us help make every milestone event one that you'll remember forever!
3. Perfume Workshop
They say that scent speaks volumes, and with this unique perfume workshop experience for your birthday celebration, you and your friends can unlock the secrets of one another through creating individualized fragrances tailored to each personality. Experimentation with various aromas will provide a deeper understanding between everyone all while having fun! In the end, every guest goes home with their own custom-made bottle as an unforgettable memory from the party — ensuring an extraordinary event unlike any other!
4. Terrarium Workshop
Celebrate and strengthen important relationships with our thrilling terrarium workshop! An exceptional indoor activity for your special occasion, everyone will have the chance to express their artistry and display their amazing terrarium designs. At its completion, individuals can take home the gorgeous terrariums they formed. This experience is also one of the most exciting team building activities in Singapore ever created – making your birthday celebration even more extraordinary!
5. Art Jamming Workshop
Make your children's birthday extra special this year by organizing an Art Jamming session! This allows the kids to tap into their creative genius and show off what they can do through drawings on Tote Bags or Canvases. To take it up a notch, consider Neon Art Jamming at Hyperspace for a truly unique experience that will stay with them forever. Plus, your little ones get to keep physical mementos from the day as reminders of all the fun times!
6. Cooking Class
Embark on an exciting culinary adventure and become a master chef at your birthday celebration! Join us for one of our cooking classes, where you can roll up your sleeves and whip up some delectable local favorites. Invite all your friends and family to join in the fun – it's is sure to be a memorable session that will tantalize tastebuds with added bonus of savoring the delicious meals prepared afterwards! Don't miss out on this unique opportunity to experience Singapore's flavors like never before.
7. Leather Making Workshop
If you're searching for something fun, creative and special to do in Singapore for a birthday celebration, come join us at FunEmpire's Leather Workshop! Here, we will guide your group through the basics of leather properties before each individual crafts their own unique items like coin pouches or luggage tags. We offer both stitched and non-stitched versions so that all levels can enjoy this experience – let's create lasting memories together with your friends at our Leather Workshop today!
Quest Activities
1. Amazing Race
Are you in search of a unique way to celebrate a special birthday? Then why not embark on the game and make memories that will last forever. Guests can bond with one another as they traverse unfamiliar lands, attempt to solve puzzles using their critical thinking skills, and race against the clock!
This is an excellent opportunity for your friends and family members to deepen their connections while exploring new territories filled with hidden gems – what better way is there to commemorate such an important milestone?
2. Escape Room Puzzle
Are you ready to make your birthday truly extraordinary? Escape Rooms are the answer! Gather loved ones together and be prepared for a thrilling, puzzling journey with plenty of captivating themes and mysteries in Singapore.
Bond over this one-of-a-kind experience while racing against time – it's sure to result in an unforgettable celebration that everyone will talk about long after the party is over. Unlock your inner sleuth today for a remarkable adventure!
Leisure Activities
1. Yacht Rental
Create an experience to remember with a luxurious yacht rental in Singapore! Choose from our collection of premier boats for any occasion, whether it be a birthday celebration or simply quality time with family and friends. Escape the city life and make those moments even more extraordinary – take some time just for yourself because you deserve it! Let FunEmpire show you how to create one-of-a-kind memories like never before.
2. Giant Board Games
Are you ready to relive your fondest childhood memories by playing classic board games like Giant Jenga, Pick Up Sticks, Connect Four and Snakes & Ladders? These interactive activities are perfect for an event in Singapore – not only do they spark conversations but also provide a greater sense of challenge than ever before! Get excited to bring those beloved recollections back from the past at your next birthday celebration!
3. Cosmic Bowling
Make your birthday one to remember with the thrilling game of Cosmic Bowling! Players can truly excite their senses as they strive for their top score. This classic bowling activity offers an unforgettable twist that is sure to bring out all of the positive vibes among those involved in play. If you're on a mission to make your special day something extraordinary, Cosmic Bowling should be right at the top of your list!
Virtual Games
1. Virtual Food Quest
Are you a food enthusiast looking for something unique? FunEmpire is proud to bring you Singapore's Virtual Food Quest experience – the ideal birthday celebration activity! Experience an exciting gastronomic voyage as you connect with your friends, family and/or colleagues. Tackle scrumptious puzzles featuring diverse cuisines and show off your culinary knowledge. Exchange engaging conversations while discovering different dishes; there will be tons of merriment throughout! Get ready for an appetizing journey that could make even your mouth water in anticipation.
2. Hybrid Amazing Race
Treat yourself to an unforgettable journey through Singapore from the comfort of your own home with FunEmpire's Hybrid Amazing Race! Enjoy a combination of physical and virtual activities as you solve puzzles and explore Chinatown's renowned sights. Create lasting memories for any birthday celebration when you join us on this unique adventure – bond physically and emotionally while discovering our nation in a completely new way! Don't miss out on this race, sign up now for exciting thrills guaranteed to leave you smiling!
3. Virtual Amazing Race
Create a unique, once-in-a-lifetime birthday celebration experience with us today! Embark on an exhilarating journey around the world with your friends and colleagues. Solve puzzles together to unlock exciting surprises – regardless of where you are or how large your group is. Our certified trainers will guide each member safely through this thrilling virtual escapade from the comfort of their homes. Don't miss out on this amazing opportunity while working remotely – join us now for an unforgettable award winning event experience!
4. Virtual Escape Room
Transform yourself into a sleuth and create strong relationships with FunEmpire's groundbreaking virtual events–perfect for gatherings from two to large groups. With our singular birthday celebration, you can commemorate the special day remotely while being comfortable in your own space! Have an unforgettable experience that will satisfy both your intellect and emotions. Don't miss this amazing opportunity; join us at FunEmpire now!
5. Virtual Squid Escape
Make your birthday an adventure of a lifetime with an unforgettable escape game experience from Squid Game Escape Room! Uncover hidden secrets, solve puzzles and crack codes – all while racing against the clock to achieve freedom. With certified facilitators on hand to orchestrate a thrilling journey, you and your crew are in good hands. No maximum people limit also makes it great for remote teams or large groups of friends. Get ready to be amazed with our birthday celebration Singapore experiences! Celebrate your unforgettable birthday with a true challenge!
Virtual Workshops
1. Virtual Leather Workshop
Elevate your birthday celebrations by registering for our Virtual Leather Making Workshop! Our talented instructors will guide you in perfecting leather crafting and soon enough, you'll be creating one-of-a-kind items from the comfort of home – a great opportunity whether you're just starting out or an experienced crafter hoping to discover something new!
2. Virtual Terrarium Workshop
Celebrate someone special with an exciting and unique at-home project! FunEmpire Digital Workshops will deliver you a Terrarium Home Kit directly to your door, complete with all the necessary materials for crafting your own stylish terrarium. Our certified trainers are ready to guide you through each step of building this mini-garden – along with an adorable figurine for extra flair – so get excited for some birthday festivities in the comfort of your very own home!
3. Virtual Art Jamming Workshop
It's time to give your next birthday celebration an artistic upgrade with FunEmpire's remarkable Virtual Art Jamming Workshop! Our experienced facilitators will lead you on a thrilling journey of expressing yourself and discovering new techniques. Regardless if you're a professional painter or just getting started, our seasoned guides will show you how to reawaken your inner artist and explore the incredible world of art! With FunEmpire's Virtual Art Jamming Workshop, everyone can experience painting in their own unique way like never before.
4. Virtual Candle Making Workshop
Create lasting memories with your closest family and friends at FunEmpire's Virtual Candle Making Workshop! Show off your creative side by crafting a stylish soy candle, which comes complete with an elegant figurine – all using the materials provided in our home kit. Don't miss this one-of-a-kind opportunity to bond; come join us for an unforgettable birthday celebration Singapore experiences today! Not to worry, our knowledgeable facilitator will be there throughout the virtual session to provide guidance for you and your group!
Birthday Celebration Singapore
Make your birthday celebration in Singapore an unforgettable one with a plethora of options to choose from. Creative workshops such as Canvas Art Jamming and Tote Bag Art Jamming or thrilling activities like Laser Tag and Combat Archery Tag are sure ways to create lasting memories with friends and family.
Embrace these incredible birthday celebration Singapore experiences and celebrate the special day with excitement in Singapore. Why wait? Plan the ultimate birthday party in Singapore now with fun-filled activities!
The activities featured above are also great considerations for team building in Singapore, should you not be planning a birthday celebration at the moment.
If you're looking for more recommendations, you can check out our other posts below:
Frequently Asked Questions (FAQ)
If you have any questions about Birthday Celebration Experiences In Singapore, you can refer to the frequently asked questions (FAQ) about the Best Birthday Celebration Experiences In Singapore below:
Additional Useful Articles
If you are looking for other useful guides and articles about Birthday Celebration Experiences In Singapore, check them out below: