Birthday Deals Singapore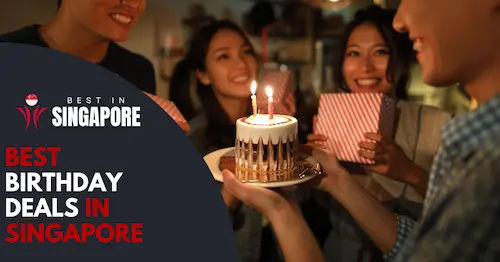 If you live in Singapore, you're lucky because there are plenty of great birthday deals available for all types of budgets.
The best birthday deals in Singapore include Starbucks, Boost, Ikkousha Hakata Ramen, Mr. Coconut, and McDonald's.
When choosing a birthday promotion in Singapore, consider factors such as the duration of validity, guidelines for the promotion, verification of your birthday, and the location.
FunEmpire, the premier event company in Singapore, has an exceptional track record of over 50,000 successful events and more than 8,000 5-Star reviews from satisfied clients.
So what are you waiting for? Let's dive into the best birthday deals in Singapore!
Key Consideration Factors
Here are some things to remember when looking out for birthday deals in Singapore:
Terms and Conditions: Every deal comes with its own set of terms and conditions that you should read before making a purchase. Make sure to understand which deals provide the most value for your money.
Availability: Not all birthday deals are available throughout the year, so make sure to check beforehand to see when they're offered.
Discounts: Different types of discounts may be available, so make sure to compare and shop around for the best deals.
Exclusivity: Some deals are only available for a limited time and to specific customers, so make sure to read the fine print before making a purchase.
Best Birthday Deals Singapore
1) Starbucks
To celebrate the start of your birthday month, Starbucks has a special treat for you! When you purchase one of their handcrafted beverages, you'll not only get your daily caffeine fix but also a free slice of cake. Indulge in the mouthwatering options of cookie crumble cheesecake or red velvet cake.
It's the perfect opportunity to pamper yourself and enjoy an extra delightful treat on the house! Don't miss out on this amazing deal that combines the joy of birthday celebrations with the irresistible flavors of Starbucks desserts.
2) McDonald's
To start your birthday month on a positive note, why not give it a boost by downloading the McDonald's app? Simply make a purchase of $10 or more and as a special treat, you'll be rewarded with a complimentary set of 20 McNuggets.
Don't miss out on this incredible offer and make sure to take advantage of it before it comes to an end. Enjoy the delicious taste of these golden, crispy bites and have a fantastic birthday celebration!
3) Ikkousha Hakata Ramen
At Ikkousha Hakata Ramen, a renowned ramen restaurant, you can experience a delightful surprise on your birthday. They offer a special treat of free gyoza dumplings, and the number of dumplings corresponds to your current age. Indulge in this unique and personalized birthday celebration!
Located conveniently at Chijmes and Tanjong Pagar, their outlets provide a cozy and inviting atmosphere for you to enjoy your dining experience. Whether you prefer to dine-in or opt for a convenient takeaway, Ikkousha Hakata Ramen has got you covered with their delicious tonkotsu ramen.
But that's not all! In addition to their mouthwatering ramen, you also have the option to purchase fresh or frozen dumplings. Take a piece of the Ikkousha Hakata Ramen experience home with you and enjoy their delectable dumplings anytime you crave them.
Come and treat yourself to the ultimate ramen adventure at Ikkousha Hakata Ramen. It's an experience you won't want to miss!
4) Boost
When you sign up for Boost membership, you'll be delighted to know that it won't cost you a single penny. And that's not all! As a member, you'll also receive a special birthday treat – a refreshing original-sized juice of your choice from a range of options like Immunity or Wild Berry.
Plus, you'll have the flexibility to redeem this delightful gift within two days before or after your birthday. Isn't it an incredible incentive to become a member? Join us today and experience the amazing benefits!
5) Tanuki Raw
At Tanuki Raw, a trendy and vibrant restaurant, you can celebrate your birthday in style and indulge in a complimentary salmon sashimi platter. Immerse yourself in the exquisite flavors of perfectly sliced sashimi, with each slice symbolizing a cherished year of your life.
Whether you're a youthful soul or a seasoned adventurer, you can enjoy up to 40 slices of succulent sashimi, ensuring a truly memorable dining experience.
This exclusive birthday offer is available at Tanuki Raw's conveniently located branches, including the Jewel Changi Airport and Cross Street outlets. To elevate your celebration further, you have the option to savor the occasion with a bottle of fine wine or traditional sake, adding a touch of sophistication and delight to your special day.
Embrace the joy of your birthday at Tanuki Raw, where delectable cuisine and unparalleled hospitality create unforgettable moments that will be cherished forever.
6) Koi
Koi is a renowned bubble tea store in Singapore, known for their wide variety of delectable flavors and high-quality ingredients. Every sip of their bubble tea is a burst of happiness, guaranteed to bring a smile to your face.
Moreover, by becoming a member and adding just $10 to your account, you can enjoy the added perk of receiving two free medium-sized drinks during your birthday month, making your special day even more memorable.
Don't miss out on the opportunity to experience Koi's extraordinary and delightful bubble tea creations. Treat yourself to the amazing flavors of Koi today!
7) Shin Minori
During your birthday month, indulge in a delightful culinary experience at Shin Minori with our exclusive offer. You can savor the exquisite flavors of our Omizu A La Carte Lunch Buffet, which is worth $74, completely free of charge! Immerse yourself in the authentic taste of Japan as you explore a variety of delectable options, including hand rolls, aburi sushi, nigiri sushi, and even sushi tacos.
To make your birthday celebration even more special, we'll treat you to a complimentary pint of Asahi Super Dry, perfectly complementing your meal. And to add a touch of magic, we'll present you with a unique sushi cake adorned with a lit candle, inviting you to make a wish as you blow it out.
It's the perfect opportunity to create unforgettable memories and make the most of your special day. Don't miss out on this exclusive birthday offer – it's our way of celebrating with you in style!
8) Lawry's The Prime Rib
Make your birthday celebration extra special at Lawry's The Prime Rib and receive exclusive perks! Indulge in a delightful dining experience as you savor our signature prime rib, cooked to perfection and bursting with flavor. As a birthday treat, enjoy a complimentary dessert of your choice, carefully crafted by our talented pastry chefs. Capture the memories with an instant photo, provided as a cherished souvenir of your unforgettable celebration.
But that's not all! When you order one mouthwatering main dish from our extensive menu, you'll receive a generous 50% birthday discount on the second one. It's the perfect opportunity to explore the diverse flavors and culinary delights Lawry's has to offer.
And if you're looking to make your celebration even more memorable, gather your loved ones and friends to join in the festivities. When you bring more friends, not only will they get to relish our delectable cuisine, but you'll also receive the third main course for free! It's our way of ensuring that your birthday celebration is truly unforgettable, surrounded by the warmth and joy of your favorite people.
Come and celebrate your special day with us at Lawry's The Prime Rib, where exceptional cuisine, impeccable service, and exclusive birthday perks await you. Let us make your birthday a truly remarkable experience that you'll cherish for years to come.
9) Cajun on Wheels
When you order the Olympian Bucket at Cajun on Wheels, a renowned seafood restaurant nestled in the heart of Louisiana, you will be treated to a truly indulgent culinary experience.
Not only will you savor the mouthwatering flavors of the freshest Sri Lankan crab, succulent Boston lobster, juicy prawns, tender white clams, and delectable blue mussels, but you will also be delighted to discover that your feast serves 5 to 6 people, making it perfect for sharing with your loved ones or a gathering of friends.
And as a special treat, with your order of the Olympian Bucket, you will receive an extra touch of luxury – a complimentary lobster! So come and immerse yourself in the irresistible tastes and generous portions that Cajun on Wheels has to offer, and let the flavors of Louisiana transport you to seafood paradise.
10) Sephora
If you are a beauty enthusiast and have a passion for trying out the latest beauty products, it is highly recommended to join Sephora's exclusive membership program. By becoming a member, you not only gain access to a wide range of benefits, but you also unlock a world of endless birthday rewards and exciting discounts. Imagine receiving special perks tailored just for you, from personalized recommendations to early access to new product launches.
One of the most delightful aspects of being a Sephora member is the joyous celebration of your birthday month. During this special time, Sephora goes above and beyond to make you feel truly cherished. You can look forward to receiving fabulous free gifts, such as an exquisite Ouai haircare set or a luxurious Glow Recipe skincare bundle. These carefully curated surprises add an extra touch of magic to your birthday month, making it an unforgettable experience.
Joining Sephora's membership program is not only a practical choice for beauty enthusiasts, but it also elevates your shopping experience to a whole new level. Discover the world of beauty like never before and indulge in the luxuries that Sephora has to offer. Don't miss out on this incredible opportunity to enhance your beauty routine and pamper yourself with the finest products available.
11) COCA Steamboat
COCA Steamboat is offering a free regular buffet for celebrants who dine with a minimum of three paying adults. This promotion is exclusively for members and available for a limited time. Head to one of the hot pot restaurants in the area for an unforgettable dining experience and take advantage of this offer before it expires.
12) The Boiler
The Boiler Seafood Bar & Beer is a popular restaurant recognized for its delicious seafood boils cooked with a mix of local and western spices that provide a delightful taste. If you're looking for a fulfilling and delightful meal, then The Boiler's seafood boils are a fantastic option.
13) Wild Wild Wet
If you're the type who enjoys thrilling activities, celebrating your special day by simply sitting at a table won't seem enough. Instead, you might want to gather some friends and head to Wild Wild Wet for an exciting adventure! With 16 rides and attractions available, you're sure to have a birthday filled with entertainment and excitement.
14) Suki-Ya
You can enjoy a free regular buffet dining on your birthday at any Suki-Ya outlet (except KIN) without being a member. This offer is applicable for a minimum of four diners and cannot be combined with any additional top-ups or additions. You can savor the delicious and reasonably priced all-you-can-eat shabu shabu and make your birthday celebration more memorable.
15) Sulwhasoo
To clarify, the name Sulwhasoo represents the exploration of ginseng and its role in the development of Korean medicine and Eastern wisdom. Moving on to the birthday deal, Sulwhasoo members are eligible for special gifts on their birthday, such as a 10% discount on regular-priced items at boutiques and a free facial with a purchase over S$500. This offer is quite impressive, wouldn't you agree?
16) Brotzeit
If you celebrate your birthday at Brotzeit with a group of four or more people, you can enjoy unlimited free beer all night. Additionally, you will each receive a special stein to use for your drinks. Keep in mind that this offer is only available on your actual birthday, so be sure to plan accordingly.
17) RockU Yakiniku
Celebrate your birthday at Rocku Yakiniku and enjoy a complimentary Japanese Charcoal Grill buffet. Simply bring three paying adults with you to enjoy unlimited food. Gather your loved ones and take advantage of this offer.
18) Mr. Coconut
When you're in Singapore's hot climate, there's nothing better than enjoying an ice-cold coconut shake. And on your special day, you'll receive a free Mr. Coconut drink or ice cream, which makes it even better! The signature coconut shake is the most popular, but if you're looking for something different, they also have gula melaka coconut latte and strawberry-flavored coconut shakes available.
19) Spizza
Head to Spizza for a birthday treat. You'll receive a complimentary meal of your choice valued at up to S$25 when you dine with three paying adults. The dishes range from classic pizzas to pastas and other Italian favorites.
20) ORBIS
In Japan, you can easily find drugstores and pharmacies that carry the budget-friendly beauty brand called ORBIS. By becoming an ORBIS member, you can enjoy a one-time discount of 20% on regular-priced items during your birthday month, which is a great present.
21) Genki Sushi
If it's your birthday, you can enjoy a 20% discount on your meal at any Genki Sushi outlet. All you need to do is show your birthday card or NRIC. Genki Sushi offers sushi, sashimi, tempura, and other Japanese dishes. Don't forget to bring your ID, as this promotion is only valid on your birthdate.
22) Swensen's
Customers who are Cool Rewards members can receive a free Firehouse Happy Birthday Sundae at any Swensen's location on the day of their actual birthday. This is a longstanding birthday deal in Singapore.
23) Lancome
Explore Lancome's skincare collection, which caters to all skin types, and indulge in a luxurious French beauty experience. The range includes brightening serums, moisturizers and youth-activating concentrates to achieve a flawless complexion. You can also receive a complimentary gift on your birthday from Lancome. Platinum and VIP members can access Deluxe and Premium Gift Sets. Combat the effects of Singapore's unpredictable climate and hectic schedules with Lancome's range to rejuvenate your skin.
24) Clinique
Clinique's advantage is that their products are made by dermatologists, which allows the active ingredients in their formulas to penetrate deeper into the skin compared to store-bought items. Also, Clinique gives birthday gifts to customers as a thank you gesture on their birthdays with each purchase.
25) Beauty in the Pot
Consider celebrating your birthday at Beauty in the Pot for a perfect experience. They offer a free slice of cake that's big enough to share with your friends or family. Note that the flavor varies depending on the outlet and day, but rainbow cakes and fruit cakes are usually served. Don't forget to enjoy every bite since this treat is only available once a year!
26) Seoul Garden
At the Marina Square branch of Seoul Garden, you can get a free surprise gift and a brownie cake on your special day if you have a meal with three other adults, students, or senior citizens who are paying customers. You can also enjoy an extensive buffet with unlimited options to make your celebration extra special.
27) Innisfree
Innisfree is the perfect place to find high-quality makeup basics at an affordable price. As a loyal customer, you can get a free birthday kit by downloading the Innisfree app and presenting your Birthday Kit app coupon in-store on your special day.
28) Hai Di Lao
At Hai Di Lao, you can indulge in visually appealing fruit plates and cakes. Depending on the location and your server's preference, you might be treated to a complimentary dish of personalized Pulut Hitam, a variety of excellent ice cream flavors or a sweet gift. Moreover, senior citizens will be offered special longevity buns.
29) Bari-uma Ramen
Bari-uma Ramen has a special offer for people whose birthday falls from Monday to Thursday. If you buy fried rice or ramen, you can get the same number of gyoza as your age. Please note that this offer will not be available from July to September.
30) kikki.K
If you're looking for cute stationery and planners that won't break the bank, kikki.K has plenty of options to suit any personality. From journals to diaries to personalized gifts, there's something for everyone. Instead of always giving gifts to others on your birthday, why not consider treating yourself to something special from kikki.K? Take some time to pamper yourself with a meaningful gift.
Birthday Deals Singapore
Singapore has plenty of amazing birthday deals that you can take advantage for your birthday party in Singapore. From free desserts to complimentary gifts, there's something for everyone!
Whether it's treating yourself to a luxurious beauty experience at Lancome or indulging in visually appealing fruit plates and cakes from Hai Di Lao, make sure you seize the opportunity to enjoy some unique experiences while saving money.
With these best birthday deals in Singapore, celebrate your big day with style and savings! Plan your next birthday party in Singapore now!
Looking for more articles? Check out our recommendations below:
Frequently Asked Questions
If you have any questions about birthday deals in Singapore, you can refer to the frequently asked questions (FAQ) about the birthday deals in Singapore below:
Additional Useful Links
If you are looking for other useful guides and articles about birthday deals in Singapore, check them out below: