Buffet Singapore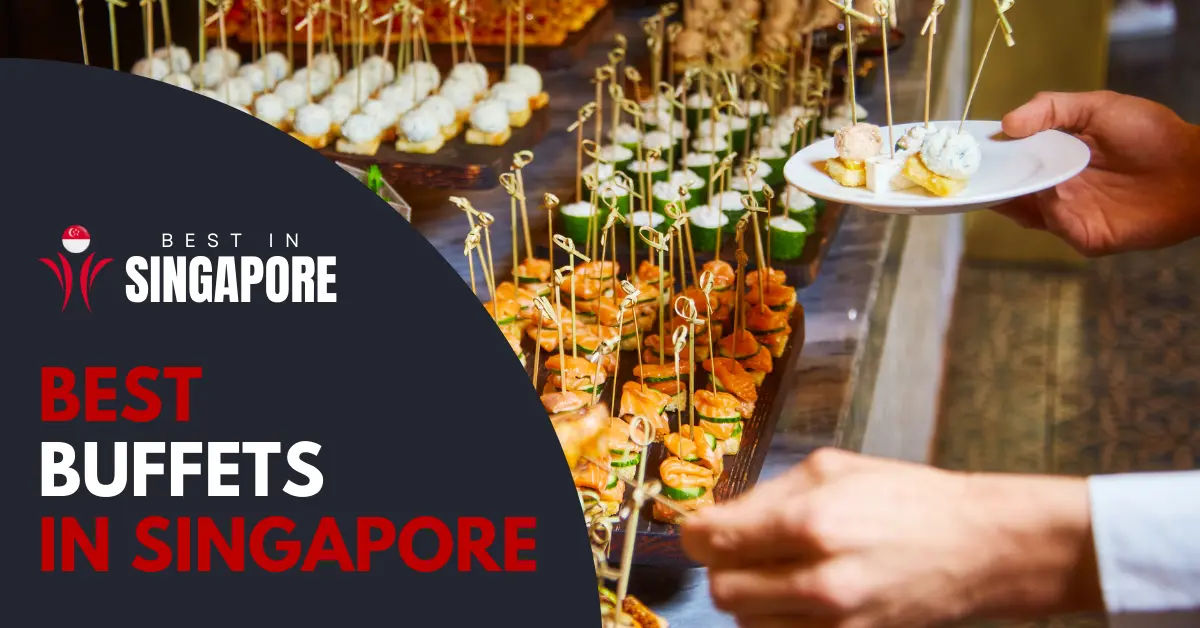 Singapore, renowned for its exquisite culinary landscape, offers a plethora of buffet options sure to satisfy even the most discerning of food connoisseurs.
The best buffets in Singapore include Dookki, Edge, Crystal Jade Xiao Long Bao, Ssikkek Melt Cafe, and BBQ.
When selecting a buffet in Singapore, take into account elements like the venue, atmosphere, food quality, variety of options, and pricing.
Singapore is renowned for its enticing buffets that bring together an exquisite blend of flavors. From mouthwatering seafood to delightful desserts and a wide range of international cuisines, it's a true haven for food enthusiasts.
Brace yourselves to embark on an unparalleled gastronomic adventure and satiate your palate with our curated list of the best buffet options in Singapore.
Key Consideration Factors
Before getting into the best buffet, here are some consideration factors to remember:
Location: While selecting a buffet, think about the location and whether it's easily accessible.
Ambience: The ambience of the place plays an important role in making your dining experience enjoyable. Look for buffets with a cozy and welcoming atmosphere.
Food Quality: A good buffet is all about the quality of food. Make sure to read reviews or ask around for recommendations before diving in.
Food Choices: Variety is the spice of life, and buffets are known for their wide array of food choices. Choose a buffet that offers a diverse range of dishes to satisfy your cravings.
Pricing: Buffets can be quite expensive, so it's essential to consider the pricing before making a decision. Look for promotions or discounts to get the best value for your money.
Best Buffet Singapore
1) Lime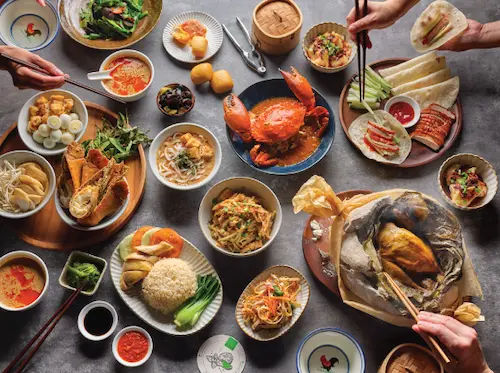 Indulge in the enchanting oasis of Lime Restaurant at PARKROYAL on Pickering, where lush greenery and architectural marvels intertwine. Step into a world of culinary delights as you feast on a delectable buffet amidst the stunning surroundings.
Lime, the signature open-kitchen all-day dining restaurant, beckons with a vibrant and theatrical atmosphere, where Asian flavors and contemporary international specialties take center stage.
Brace yourself to be captivated and left yearning for more with this truly unforgettable dining experience.
2) 21 On Rajah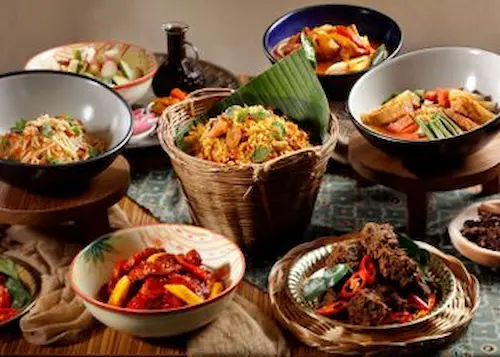 If you're after a more relaxed vibe, 21 On Rajah is a fantastic choice. Its laid-back atmosphere makes it perfect if you prefer a less formal dining experience. Moreover, it offers great affordability, making it an ideal option for those looking to save on their dining expenses.
3) Straits Kitchen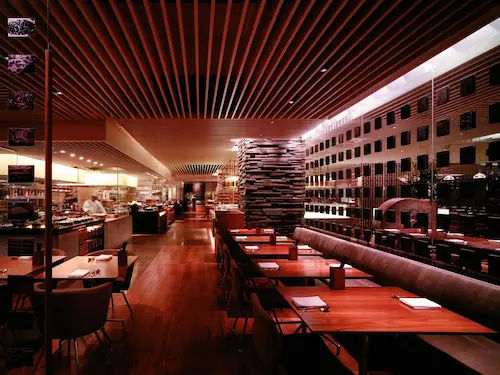 Located in the Grand Hyatt Singapore, Straits Kitchen provides an unparalleled dining experience in the city. This renowned restaurant showcases the best cuisine from our region. Guests have the choice between à la carte or buffet-style dining options.
If you prefer à la carte, our talented chefs will prepare a custom dish exclusively for you. Additionally, diners can indulge in a wide array of delectable halal hawker dishes at their own pace, conveniently served in a buffet format.
4) The Line (Shangri-La Hotel)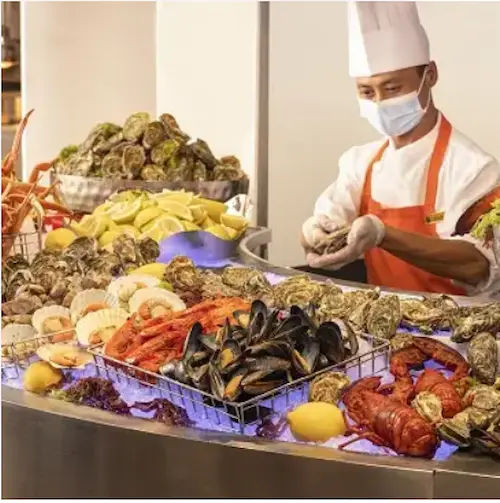 The Line at Shangri-La is famous for its outstanding dining experience, showcasing a wide selection of delicious dishes crafted by a team of skilled chefs. With its lively ambiance and diverse international culinary options, this hotel buffet is a must-try for all food lovers.
5) The Carvery

The celebration centers around live carving stations, where you can indulge in delicious slices of roast beef, pork, roast chicken, and more. Moreover, they showcase pies baked in a wood-fired oven, catering to both meat lovers and non-meat enthusiasts. These pizzas, with a thin crust to reduce carb intake, still offer a generous amount of melted cheese and tantalizing toppings.
6) Melt Cafe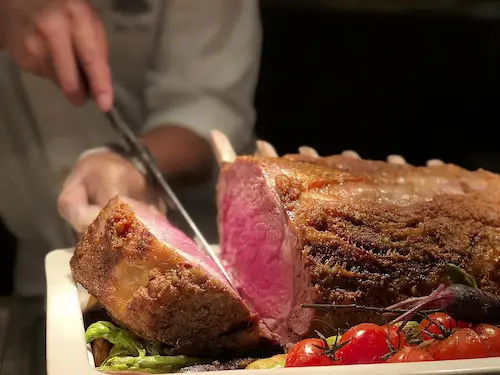 If you're looking for a diverse range of culinary delights, a visit to Melt Cafe in Singapore is a must. With an extensive selection of exceptional cuisines, Melt Cafe strives to provide customers with a high-end dining experience. Indulge in their delectable roast meats, carvings, and live gourmet stations. Don't miss out on their highly recommended dishes, including Oysters & Premium Seafood, Royal Tandoori Selection, Herbal Drunken Prawns, and Roasted Wagyu Cuts.
7) Kushi Dining Bar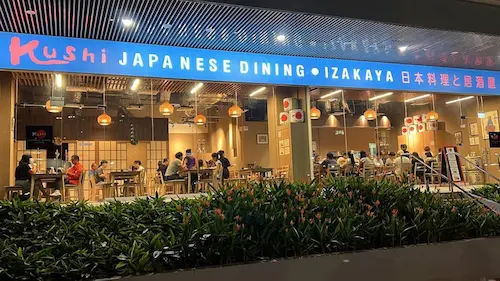 Located conveniently near the Tai Seng MRT, Kushi Dining Bar is a hidden gem that offers mouthwatering Japanese cuisine on par with the delectable spread of a luxurious hotel buffet. Indulge in a sumptuous array of carefully prepared dishes, such as Wagyu beef cubes, lobster porridge, salmon head, tataki, and much more.
8) Ginger

Located along Beach Road, Ginger entices with its mouthwatering buffet spread. Enter this culinary paradise in Singapore, where traditional Chinese zi char delights steal the spotlight. Drawing inspiration from the city's diverse cultural tapestry, from the lively Kampong Glam to the bustling Little India and historic Chinatown, Ginger expertly blends local and international flavors into a harmonious symphony.
Prepare to be mesmerized by the live cooking stations, showcasing the freshest seafood, including succulent lobsters and delightful crabs, awaiting your indulgence. But that's not all – the buffet menu also features beloved local classics like the irresistible Oyster Omelette, fragrant Bak Kut Teh, tantalizing roasted meats, and mouthwatering Satay.
Embark on a gastronomic journey like no other at Ginger, where every bite tells a tale of Singapore's rich culinary heritage.
9) The Square Restaurant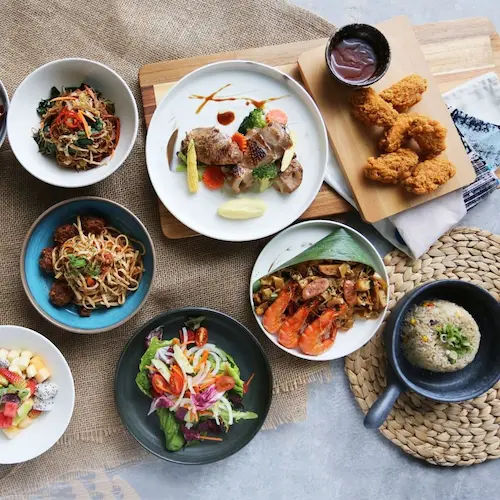 Experience a wide array of mouthwatering dishes conveniently at your fingertips, ensuring you'll never go hungry again. From generous family packs and delightful roasts to irresistible pizzas, pastas, and our signature laksa with tiny abalone, we've got all your cravings covered.
Indulge in authentic Halal Indonesian cuisine at Kintamani or enjoy a hassle-free dinner from The Square@Furama, with island-wide 24/7 delivery and convenient drive-thru pick-up options.
10) Shin Minori

Shin Minori, a Japanese buffet that embodies the essence of "new harvest" in its name, is an ideal choice for social gatherings with loved ones. It caters to a variety of Japanese food cravings, offering an extensive selection of Sashimi and Sushi. Shin Minori is renowned for its a la carte buffet, featuring signature dishes like Maguro Sashimi, Kani Tempura, Zaru Soba, Spider Temaki, Ebi Tempura Maki, and Harvest Maki Roll. It is widely recognized as one of the finest Japanese buffets in Singapore.
11) Colony
The hotel's restaurant provides a wide range of options for breakfast, including a buffet with a variety of choices. Enjoy handcrafted cocktails served right at your table, and don't miss the bakery where you can find a delightful selection of freshly baked bread, pastries, and cakes. At Colony, indulge in the finest seafood, such as white clams, sea squirts, Australian black mussels, and snow crabs.
12) Alley On 25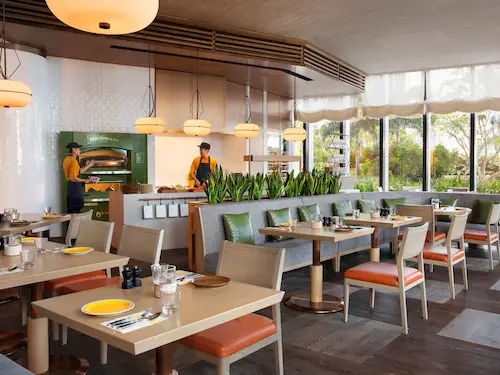 If you're looking for a fantastic hotel deal, we highly recommend considering one that not only offers outstanding accommodation but also provides a delightful culinary experience, refreshing drinks, and captivating entertainment. This incredible offer includes a cozy night's stay and three delicious meals at the renowned Alley On 25 – Andaz Singapore. Immerse yourself in the luxurious atmosphere and treat yourself to an unforgettable experience that will leave you fully satisfied and craving for more.
13) Kiseki Japanese Buffet Restaurant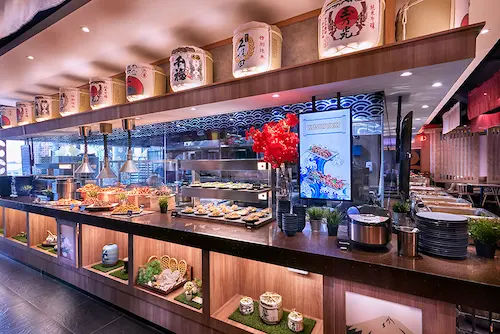 Kiseki Japanese Buffet Restaurant is renowned for its unbeatable value. It is adored by students and those on a budget for its affordable yet exceptional Japanese cuisine. With a wide variety of more than 200 buffet items across 29 categories, such as sashimi, robatayaki (Japanese grill), nabemono (hotpot), and Japanese western cuisine, this establishment ensures a diverse selection of delectable culinary offerings.
14) Chicken Up

If you love Korean fried chicken, then this buffet in Singapore is a dream come true! Chicken Up takes their chicken meat and marinates it for more than 12 hours, then cooks it using the traditional Korean double-fry method. The result is incredibly crispy and juicy chicken that will surpass your expectations.
If you like some spice, make sure to try the Spicy Up or YangNyum styles. And to complete your experience, there's beer and soju, the perfect accompaniments to Korean fried chicken.
15) Shabu Sai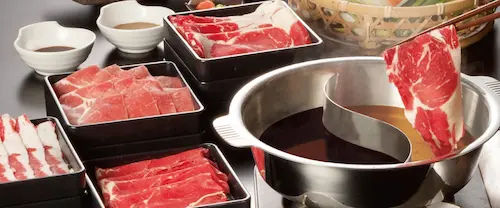 Shabu Sai is a must-visit for meat lovers! They offer a wide range of meats and vegetables to cater to all palates. On top of that, you can enjoy complimentary soft drinks and ice cream at the dessert bar for just an additional S$1.99++. Shabu Sai is an excellent choice for those seeking value. Indulge yourself in their delicious shabu broths and savor a variety of premium cuts sourced globally.
16) Si Chuan Dou Hua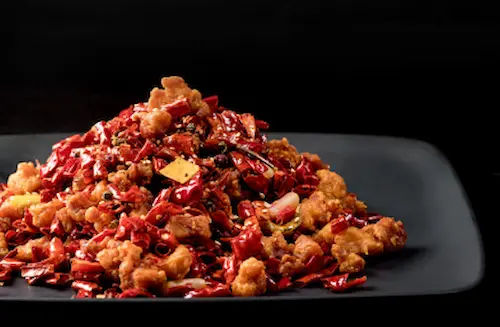 Si Chuan Dou Hua presents a one-of-a-kind buffet experience in Singapore, inviting you to embark on a delightful culinary journey. If you have an affinity for Chinese cuisine, particularly the flavors of Sichuan and Cantonese, this is an essential destination!
Their menu showcases a variety of renowned dishes, such as the succulent Braised Seafood Treasures with Sliced Abalone, the flavorful Marinated Mushrooms in Onion Oil, the delicious Minced Meat Dumpling, the rich Braised Sea Cucumber in Sichuan Bean Paste, the tantalizing Boiled Sliced Fish in Sichuan Pepper Sauce, and the satisfying Sichuan Dan Dan Noodles.
17) The Three Peacocks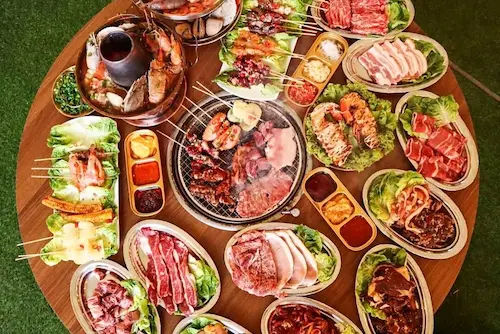 Renowned for its exceptional buffet, The Three Peacocks in Singapore is well-known for its live seafood and meat barbecue offerings at the bar. Boasting a wide variety of fresh fish and a diverse selection of meat, it is the perfect choice for those seeking a dining experience that is both pet-friendly and delightful.
18) Suki – Ya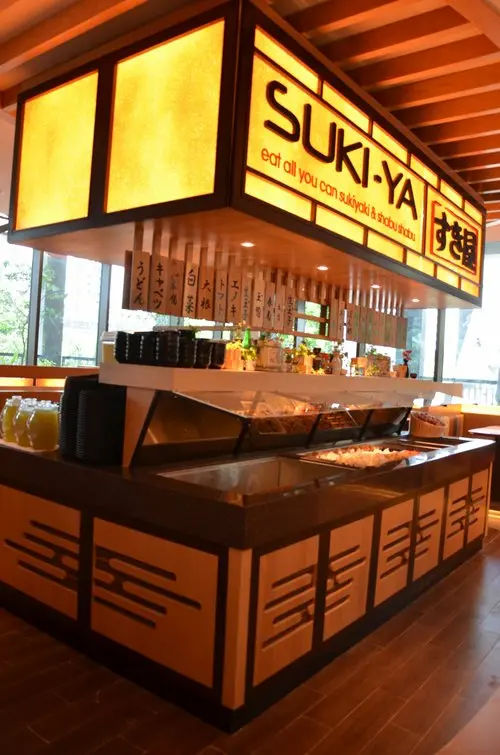 Suki-Ya is an authentic Japanese restaurant that specializes in shabu-shabu, offering a traditional experience of Japanese cuisine. Whether you're looking for a place to relax and have a good time, this is the perfect spot!
Indulge in delicious dishes, friendly service, and a wide selection of beverages. And if you need more reasons to visit, their selection of mouthwatering meat options is truly limitless!
19) Food Capital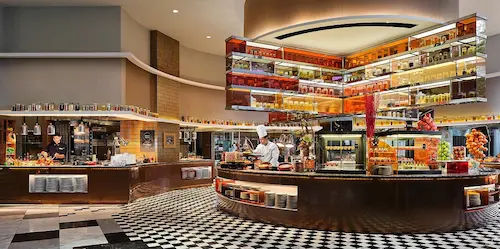 Embark on a gastronomic journey across the globe at Food Capital in Grand Copthorne Waterfront Singapore. This spacious restaurant, previously named Café Brio, features lofty ceilings and cozy armchairs, offering a wide variety of international cuisines. For those who enjoy al fresco dining, the scenic Singapore River provides a delightful atmosphere.
20) The Carvery

The focal point of the festivities revolves around the live carving stations, where guests can indulge in mouthwatering slices of roast beef, pork, roast chicken, and other savory delights. As an added treat, there are wood-fired oven-baked pies that cater to both meat lovers and non-meat enthusiasts. These pizzas boast a thin crust to reduce carb intake while still offering an abundance of gooey cheese and delectable toppings.
21) Crystal Jade Xiao Long Bao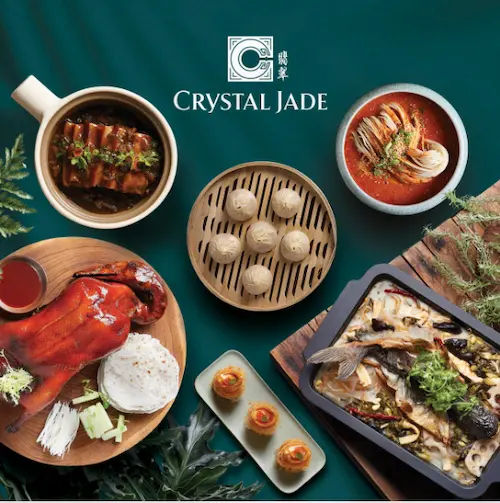 Crystal Jade Xiao Long Bao Buffet in Singapore is renowned for being one of the best Chinese buffets. Their menu features a wide range of delectable dishes, including the crispy Wuxi Style Deep-fried Whitebait, LA Mian with Scallion Oil served with Dong Po Pork Belly, and various flavors of Steamed Xiao Long Bao such as salted egg yolk, chili crab, and mushroom.
Don't miss out on this culinary adventure, especially if you're a fan of Xiao Long Bao! Additionally, they offer delightful desserts like Pan-fried Red Bean Pancake and Osmanthus with Wolfberry cake to satisfy your sweet tooth.
22) Atrium Restaurant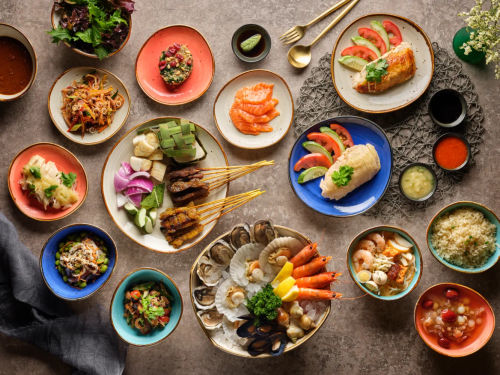 The Atrium Restaurant in Singapore is a certified Halal buffet that offers a delightful variety of beloved local cuisines. In addition to the tempting local flavors, there is also a diverse selection of international dishes to satisfy your taste buds.
Notable crowd favorites include Fresh Oysters, Chef's Signature Laksa, Chef's Signature Chicken Rice, Fresh Handmade Prata, and Chilli Crab. Make sure not to miss their signature desserts such as Durian Pengat and Traditional Ice Cream served with Bread or Waffle.
23) Edge
The Edge is widely known as one of Singapore's top buffets, offering exceptional cuisine at an affordable price. With an impressive variety of nearly 120 dishes and 35 desserts, you'll have plenty of options to choose from. Boasting seven open kitchens and skilled master chefs, you can indulge in a diverse selection of exquisite Asian and Pacific Rim delicacies.
Be sure not to miss the tempting Thai and Korean options available as well. At Edge, the focus is on providing an interactive dining experience that allows you to observe and engage with some of Singapore's finest chefs.
24) Dookki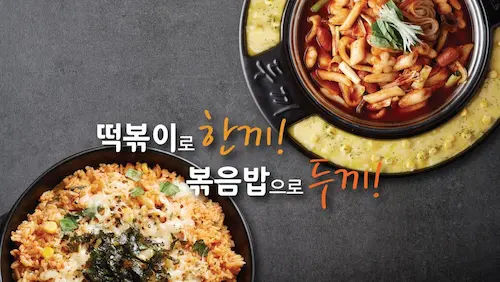 "Dookki," which translates to "Two meals" in Korea, is a highly popular buffet chain in Singapore, boasting over 100 locations worldwide.
The unique concept of "Two meals" involves starting with a delectable Korean hotpot-style feast and concluding with a delightful serving of kimchi fried rice. The hotpot offers an array of tantalizing options, including various types of stuffed Korean rice cakes, boiled eggs, glass noodles, and more.
Afterwards, you have the freedom to customize your own Korean fried rice by adding ingredients like rice, kimchi, and sweet corn!
25) The Carvery

The celebration centers around live carving stations, where you can enjoy mouthwatering slices of roast beef, pork, roast chicken, and more. Alongside the meats, there are delectable pies baked in a wood-fired oven, satisfying both meat enthusiasts and non-meat lovers. These pies have a thin crust that reduces carb intake while still providing ample amounts of gooey cheese and flavorful toppings.
26) J65 @ Hotel Jen Tanglin

J65 Hotel Jen Tanglin by Shangri-La is renowned for its extensive food options. The seafood selection stands out for its consistent quality, as suggested by the name. The restaurant hosts various events and parties, such as Seafood BBQ & Beer on Mondays and Lobster Rock 'n' Roll on Wednesdays. Don't miss their weekday lunch buffet, especially if you're a lobster lover.
27) I'm KIM Korean BBQ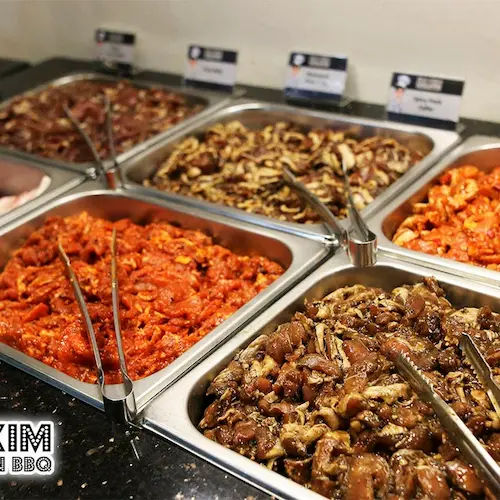 KIM Korean BBQ, a renowned Korean BBQ establishment in town, showcases a diverse selection of premium meats. Situated in SOTA (School of The Arts), this unique restaurant, designed in the shape of a dragon, provides over 50 delectable dishes including an all-you-can-eat option. From sizzling grilled meats to delectable offerings like potato wedges and chicken wings, there is a wide array of delights to gratify every palate.
28) Oscar's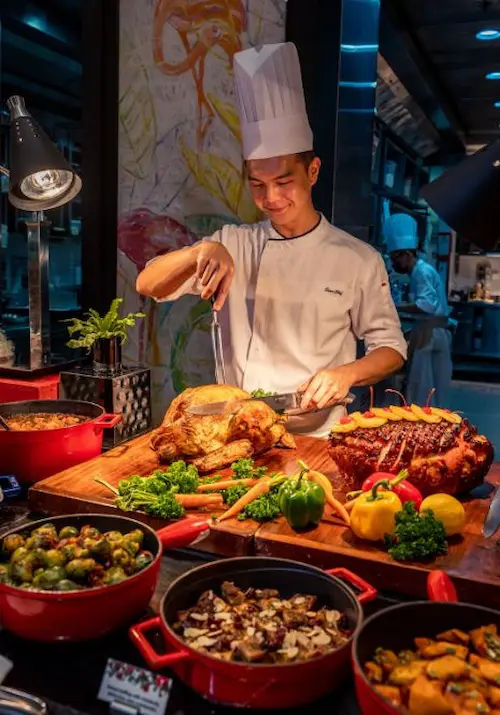 Oscar's buffet is a delightful discovery, featuring a wide range of Asian and International dishes. Their seafood selection includes crab legs, prawns, yabbies, and oysters. As the recipient of the Best Buffet award in the Wine&Dine Singapore's Top Restaurants Guide, Oscar's also presents fresh seafood, delicious sushi, and Pork Knuckles at various stations.
29) Peppermint
If you're searching for one of the top halal buffets in Singapore, Peppermint Restaurant is the place to go! This dining experience is not limited to Muslims – it is enjoyed by people from all walks of life. With its charming garden ambiance, it is an ideal choice for couples looking for a romantic dinner. Additionally, you have the flexibility to dine either outdoors or indoors, where you can relish breathtaking views of the park, gardens, and open kitchen.
30) K. Cook Korean BBQ Buffet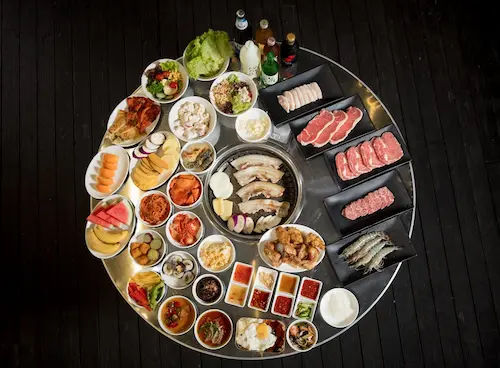 You have the option to indulge in the lunch buffet priced at S$16.90++ or the dinner buffet at S$26.90+ in this Korean restaurant. The restaurant is divided into three sections, including air-conditioned and non-air-conditioned dining rooms.
To ensure a pleasant dining experience without any unwanted burnt smell, the non-air-conditioned area is equipped with large ceiling fans. Enjoy a delightful and value-packed meal without any inconvenience.
Buffet Singapore
In conclusion, Singapore boasts an eclectic mix of buffets, each offering a unique culinary journey. Whether you're a lover of local cuisines, Asian delicacies, or international dishes, the city-state has something to suit every palate.
From Chinese and Korean BBQs to Halal buffets and ocean-fresh seafood, Singapore's buffet scene is a gastronomic adventure that promises to delight and satisfy. Don't forget to wrap up your feast with some mouth-watering desserts.
Happy dining!
Frequently Asked Questions (FAQ)
If you have any questions about buffet in Singapore, you can refer to the frequently asked questions (FAQ) about the best buffet Singapore below:
Additional Useful Articles
If you are looking for other useful guides and articles about best buffet in Singapore, check them out below: