Car Wash Singapore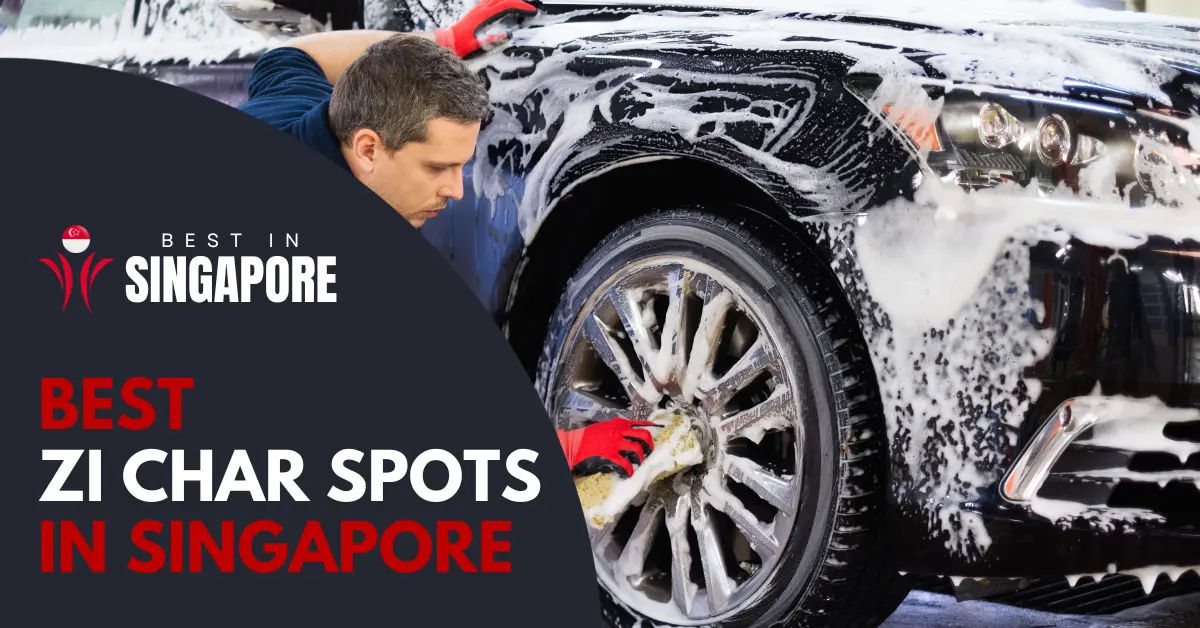 In the bustling city-state of Singapore, maintaining the pristine condition of your car can be quite a task.
The best car wash services in Singapore include United Automobile Services, Revol Carz, Big Elephant Carwash, Carpow, and eWash.
When selecting a car wash service in Singapore, take into account various factors including environmentally conscious practices, types of services offered, cleaning quality, location, and cost-effectiveness.
Car wash services in Singapore provide a wide range of offerings to maintain your vehicle's pristine condition. With advanced technology and eco-friendly practices, they deliver efficient and sustainable cleaning solutions of high quality.
This article explores the top car wash services in Singapore, providing an in-depth analysis of each to help you make an informed decision.
Quick Summary
Best car wash services in Singapore include United Automobile Services, Revol Carz, Big Elephant Carwash, Carpow, and eWash.
When choosing a car wash service in Singapore, consider factors such as environmentally friendly practices, service type, quality of cleaning, location, and cost efficiency.
Car wash services in Singapore offer a comprehensive range of services to keep your vehicle in top-notch condition, integrating advanced technology and eco-friendly methodologies to deliver high-quality service, and efficient, and sustainable cleaning solutions.
Key Consideration Factors
Before getting into the best car wash Singapore, here are some consideration factors to remember:
Environmentally friendly practices: As a responsible citizen, it is crucial to choose a car wash service that implements environmentally friendly practices. This includes the use of biodegradable and non-toxic cleaning products, water conservation techniques, and proper waste management.
Service type: Different car wash services offer various types of services such as exterior washing, car interior detailing, ceramic coating, waxing, and more. Consider your car's needs and choose a service that caters to them.
Quality of cleaning: Look for services with positive reviews and feedback from previous customers. This will give you an idea of the quality of their cleaning services.
Location: The location of the car wash service can also play a role in your decision-making process. Choose one that is conveniently located near your home or workplace for easy access.
Cost efficiency: Lastly, consider the cost of the services provided. While you want to maintain your car's condition, it is essential to choose a service that offers value for money.
Best Car Wash Singapore
1) eWash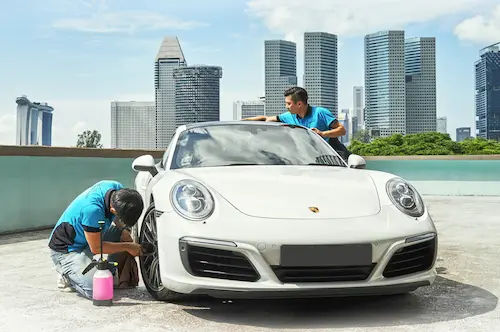 Bid farewell to long queues, appointments, and hefty fees with their app. Effortlessly plan and track your car washes. Your next vehicle wash is just a tap away.
EWash offers a more efficient way to keep your car clean. Say goodbye to traveling or making phone calls for a car wash. Let the car wash studio come to you.
With their waterless car wash technology, only one cup of water is needed to clean a car. This is a significant reduction compared to traditional gas station car washes that consume over 140 liters of water. That's why they are one of the leading car wash services in Singapore.
2) Big Elephant Carwash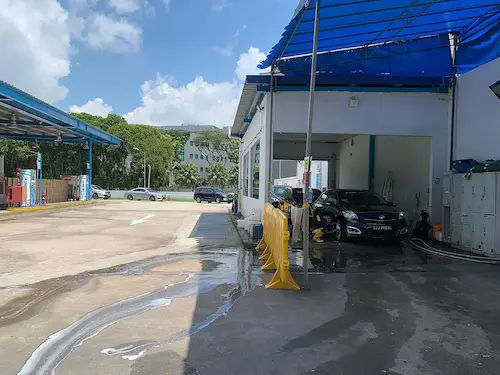 Big Elephant Carwash, one of the earliest car washes in Singapore, is well-known for its dedication to impeccable cleanliness and protection. They have established a reputation as one of the finest car washes in Singapore by offering a wide range of services.
Their meticulous process involves washing in stages, thoroughly cleaning body and suspension parts, and hand tool interior cleaning in hard-to-reach areas. They also apply protective coatings to all plastic, chrome, rubber, and wooden components, ensuring that your vehicle is restored to its original "showroom" condition.
Every detail is given careful attention at Big Elephant Carwash.
3) Revol Carz
| | |
| --- | --- |
| Key Services: | car repair, car body restoration, Car Grooming |
| Website: | https://www.revol.com.sg/ |
| Address: | Blk 42 #01-75, Toh Guan Rd E, Enterprise Hub, Singapore 608583 |
| Phone: | +65 6267 9331 |
| E-mail: | enquiry@revol.com.sg |
| Operating Hours: | 8:30AM – 6:30PM Daily |
Experience a comprehensive 3.5-hour detailing and polishing session to say goodbye to unsightly watermarks, stubborn stains, and dirt. Our team of experts will bring back the vibrant color of your car's paintwork. Inside, we'll rejuvenate your vehicle using safe and effective bio-friendly solutions.
Leave with the feeling of driving a newly purchased car from the dealership. With over 17 years of experience and countless satisfied customers, SGCarMart guarantees your satisfaction.
4) United Automobile Services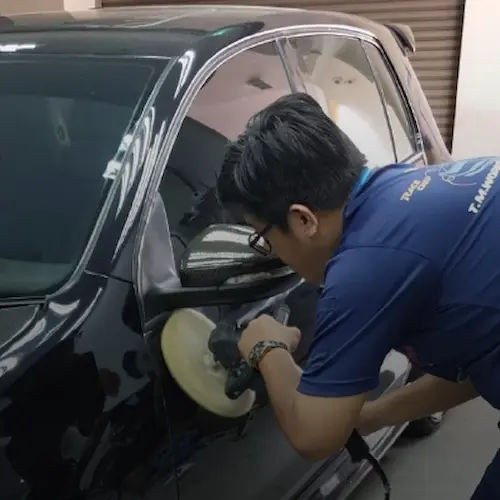 Established in 2006, United Automobile Services (UAS) initially focused on Automotive Window Film. By the following year, UAS became an authorized applicator for 3M Automotive Window Films.
Over time, UAS has grown to become both an Authorized Distributor and Sole Distributor of Automotive Products and Performance Accessories. UAS's dedicated team works together to foster a strong organizational culture, overcoming challenges and driving innovation in the automotive industry.
With solid partnerships in the industry, UAS is confident in delivering outstanding products and services, positioning themselves as a leading car wash service provider in Singapore.
5) Elite Image Detailing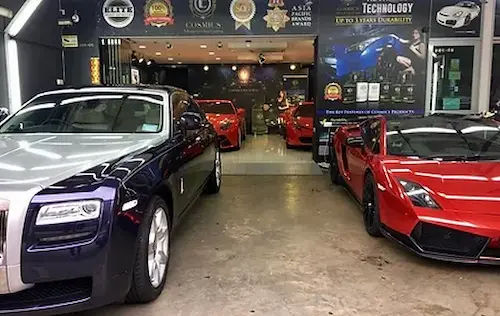 Elite Image Detailing, established in 2012, has quickly become one of Singapore's most respected automobile detailing companies. Despite its young age in the industry, it has rapidly climbed the ranks to its current prestigious position.
At Elite Image Detailing, they leave no detail overlooked in our pursuit of perfection. They meticulously select only the finest options for our valued clients, ensuring every item utilized meets our high standards.
From basic enhancements to expert Paint Correction and Paint Protection services, they offer a comprehensive range of top-quality solutions that are sure to impress even the most discerning car enthusiasts.
6) Smart Energy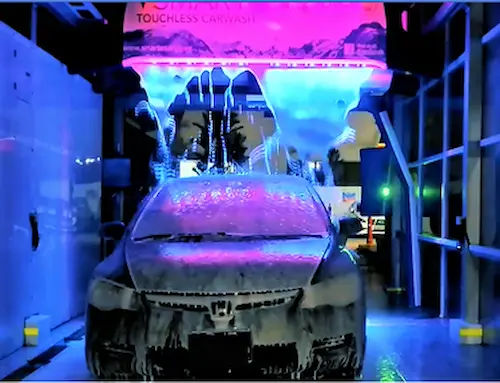 Smart Energy provides a convenient solution for busy consumers, offering a wide range of refueling and lifestyle services all in one place. Their stations feature S-Mart convenience stores stocked with a diverse selection of products, including essential groceries, beverages, snacks, household appliances, and car cleaning supplies.
Additionally, they have in-store food stations where customers can enjoy freshly prepared meals and beverages. Collaborations with renowned establishments like Napolizz Pizza and CP Foods showcase their commitment to delivering the highest quality car wash services.
As a result, Smart Energy has gained recognition as one of Singapore's leading car wash providers.
7) Euro Wash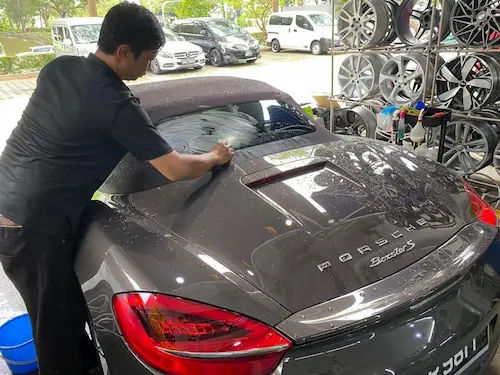 | | |
| --- | --- |
| Key Services: | Decontamination Wash, Clay Bar Treatment, Removal of Mild Water Marks, Bird Dropping Stains, Swirl Marks and Fine Scratches, Cleaning and Conditioning of Leather |
| Website: | Facebook |
| Address: | 3 ANG MO KIO ST 62, #01-06 LINK@AMK Singapore, Singapore 569139 |
| Phone: | +65 9482 7482 |
| E-mail: | eurowash@europfm.com |
| Operating Hours: | 10:00AM – 7:00PM Mondays – Saturdays |
Euro Wash offers a comprehensive automobile detailing service that focuses on affordable and efficient car washing.
Their team ensures a thorough cleaning of both the exterior and interior of your vehicle, ensuring a delightful and refreshing journey. With dedicated attention for approximately 15 minutes, their services extend beyond just car washing and include meticulous vacuuming.
For just S$15, you can enjoy the benefits of a clean and pristine car, inside and out. Experience the difference with Euro Wash and take your driving experience to new heights.
8) CARs International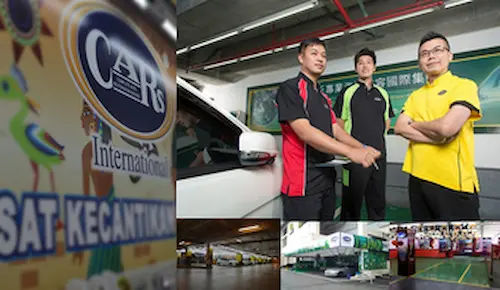 CARs International is a prominent player in the automotive aftercare industry, catering to customers in Malaysia, Singapore, Indonesia, Taiwan, Hong Kong, and China. With approximately 300 outlets and a dedicated workforce of over 2800 employees, CARs International operates around 300 centers globally.
Renowned for its exceptional car care services that offer long-term value and enhance the aesthetics of vehicles, CARs International is the trusted choice for car owners. Additionally, CARs International has obtained the ISO 9001:2000 certification and has received numerous local and regional corporate accolades.
9) Coatconut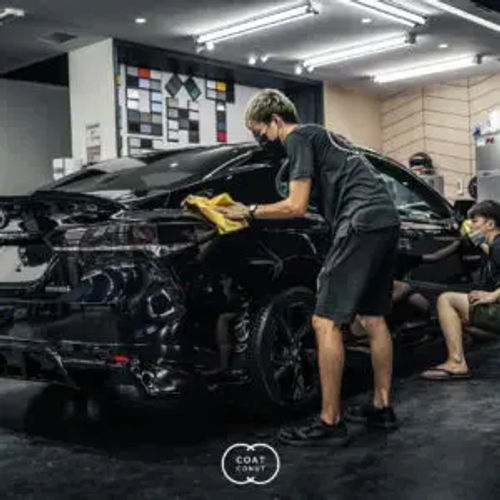 Coatconut, a well-known local car detailing service, started operating in 2017 and has experienced rapid growth ever since. With a strong focus on maintaining high-quality standards, they have greatly expanded their range of services.
Offering a diverse array of options, Coatconut provides a comprehensive suite of car detailing services, including coating, wrapping, cleaning, and solar film services, among others.
Their commitment to ensuring exceptional customer satisfaction and dedication to excellence have played a pivotal role in their ongoing success and continuous growth within the industry.
10) Shiokr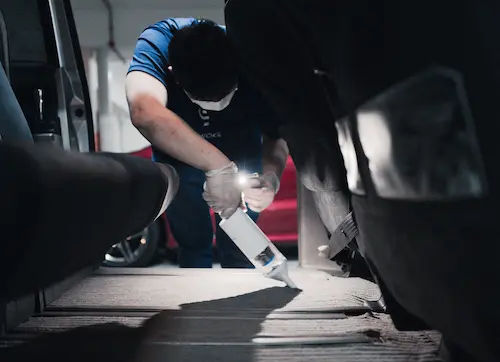 | | |
| --- | --- |
| Key Services: | Waterless Hand Wash, Rims Cleaning with Tire Shine, UV Wax Coating |
| Website: | https://shiokr.com/ |
| Address: | 5008 Ang Mo Kio Avenue 5, #04-09, Techplace II, Singapore 569874. |
| Phone: | +65 6589 8484 |
| E-mail: | support@shiokr.com |
Their company started with just three individuals who recognized the challenges of car washing in Singapore – long waits, average quality, and unskilled groomers. That's when Shiokr stepped in.
Their on-demand car wash software enables you to order a wash anytime, anywhere. They exclusively use top-notch materials and skilled local groomers to provide their services.
With their waterless car wash, not only do you achieve outstanding results, but you also contribute to a greener environment by conserving water. That's why they've gained a reputation as one of the best car washes in Singapore.
11) Boons' Car Wash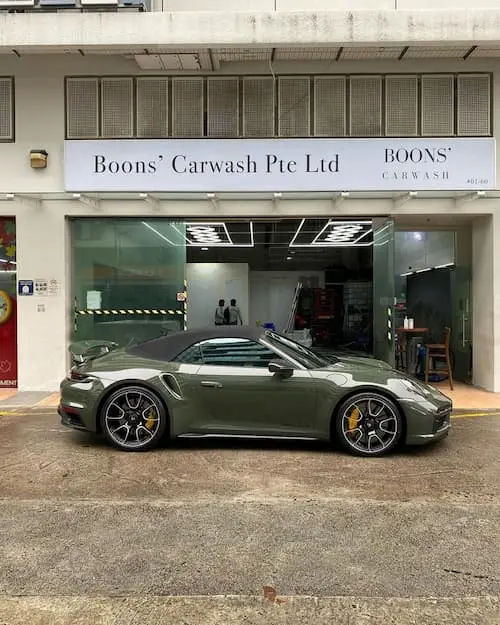 | | |
| --- | --- |
| Key Services: | Full Detailing, Full Paint Protection, Ceramic Coating, Polishing, Interior Cleaning and Grooming, Fumigation |
| Website: | Facebook |
| Address: | 20 Sin Ming Lane #01-60 , Midview City Singapore, Singapore 573968 |
| Phone: | +65 9759 9580 |
| E-mail: | boonscarwash@gmail.com |
| Operating Hours: | 10:00AM – 6:00PM Mondays – Saturdays |
Boons' Car Wash Service is revolutionizing the car cleaning industry in Singapore with its innovative and game-changing approach. Through the use of advanced shampoo and high-quality filtered water, they have perfected a unique method that guarantees a sleek and glossy finish for every vehicle that comes through their doors.
What sets Boons' apart from other car wash services is their refusal to settle for generic solutions and products. They understand that each vehicle is unique, with its own set of specific needs and requirements. That's why they go above and beyond to continuously enhance their services and solutions, ensuring that every customer receives personalized and outstanding car cleaning that exceeds expectations.
With their unwavering commitment to excellence, it's no wonder that Boons' is recognized as one of the leading car wash services in Singapore. Don't miss out on the difference they can make for your car. Treat it to the exceptional care it deserves at Boon's Car Wash Service.
12) VGlobal Car Salon Pte Ltd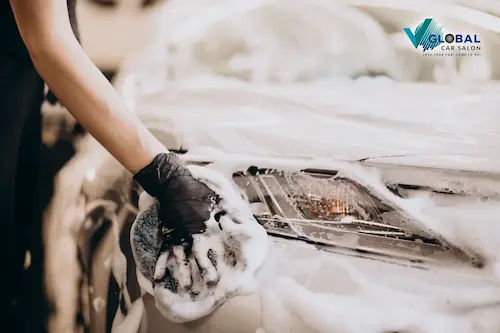 | | |
| --- | --- |
| Key Services: | Car Grooming & Detailing, Car Wash, Coating |
| Website: | https://vglobalcarsalon.com.sg/ |
| Address: | 68 Kaki Bukit Ave 6, #01-05 Ark@Kaki Bukit, Singapore 417896 |
| Phone: | +65 8123 8933 |
| Operating Hours: | Monday to Saturday 10am to 7pm |
With the aim of surpassing the manufacturer's expectations and enhancing the appearance and well-being of your vehicle, VGM Global Car Salon was founded. Their mission is to provide your car with a remarkable transformation, prioritizing safety, cleanliness, and luxury.
They are committed to delivering a seamless experience by offering meticulously chosen premium products and unparalleled craftsmanship to meet your car's long-term maintenance requirements.
13) Carpow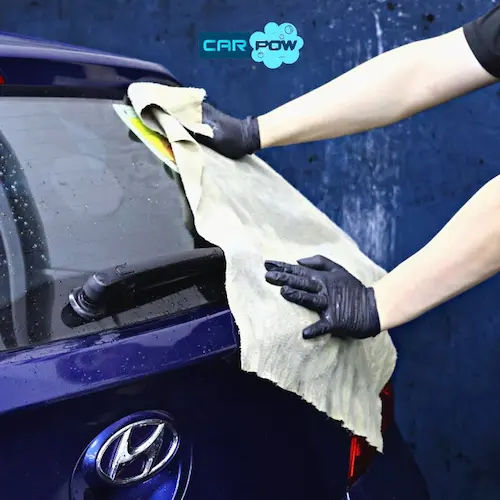 | | |
| --- | --- |
| Key Services: | Car washing to cleaning, affordable prices |
| Website: | Facebook |
| Address: | WCEGA Plaza, 01 Bukit Batok Crescent #03-33 |
| Phone: | +65 9118 5684 |
| E-mail: | carpowsg@gmail.com |
| Operating Hours: | 12PM – 2AM Daily |
Carpow is renowned for its team of amiable and accommodating staff members who consistently deliver exceptional service. They provide high-quality car care solutions at affordable rates, ensuring thorough washing and meticulous cleaning.
Despite being a relatively new company, Carpow has rapidly established a loyal customer base by prioritizing exceptional value for money. With their comprehensive and affordable car wash services, Carpow Car Wash has emerged as one of the top providers of car wash services in Singapore.
Car Wash Singapore
In conclusion, Singapore offers a multitude of car wash services, each with its unique offerings and strengths. Whether it's high-quality detailing, waterless washing, cost-effective solutions, or on-demand services, there is a provider to meet every car owner's needs.
These businesses not only prioritize impeccable cleaning but also focus on delivering excellent customer service, enhancing vehicle aesthetics, and promoting environmental sustainability.
Therefore, choosing a car wash service in Singapore comes down to identifying the needs of your vehicle and your personal preference for service delivery.
Frequently Asked Questions (FAQ)
If you have any questions about Car Wash Singapore, you can refer to the frequently asked questions (FAQ) about the best car wash services in Singapore below:
What are car wash services in Singapore?
Car wash services in Singapore are a great way to keep your car clean and sparkling. Whether you need a quick wash or full detailing, there are plenty of options available to suit your needs.
How much does a car wash cost in Singapore?
The cost of a car wash in Singapore can vary depending on the type of professional service and the company you choose. Generally, prices can range from S$10 to S$100 or possibly higher for more comprehensive services.
Where can I wash my car in Singapore?
There are several car washing options in Singapore, including self-service stations, drive-through car washes, and professional detailing services. You also have the option of mobile car wash services that conveniently come to your location. It's important to note that washing your car on public roads or residential areas is strictly prohibited in Singapore and can result in fines.
Is the car wash business profitable in Singapore?
Absolutely! The car wash industry in Singapore holds great potential for profitability, thanks to the strong demand for car grooming services and the competitive pricing and value-added offerings from numerous companies. However, achieving success in this field hinges on crucial factors such as strategic location, delivering top-notch service, and ensuring utmost customer satisfaction. Consequently, businesses should aim for unwavering consistency and excellence to sustain their profitability. As a consumer, you can effectively assess and compare prices and services provided by different car wash companies to identify the most suitable option that meets your unique requirements.
How often should I wash my car?
The frequency at which you should wash your car varies depending on its usage and condition. If you frequently drive on dusty or muddy roads, it is recommended to wash your car at least once a week. For those primarily using their car in urban areas, washing it every 2-3 weeks is generally sufficient. Nevertheless, if you observe any accumulation of dirt or grime, it is always wise to have your car washed to prevent potential damage to its paintwork.
Where can I find a car wash that offers a basic car wash service in Singapore?
Shell Car Wash provides a basic car wash service at a reasonable price. Their services include exterior car grooming to keep your vehicle looking clean and well-maintained.
Is there a car wash that specializes in manual car wash in Singapore?
Yes, Finest Detailing Express is known for their expert manual car wash services. They offer meticulous handwashing techniques to ensure your car is thoroughly cleaned.
Where can I go for professional exterior car grooming in Singapore?
Mobile Services, located at 33 WCEGA Plaza Singapore 658064, provides excellent exterior car grooming services. They use advanced equipment to give your vehicle a thorough cleaning.
Which car wash in Ang Mo Kio offers automated car wash services?
Car Park in Ang Mo Kio offers automated car wash services for a quick and convenient cleaning experience. You can trust their automated systems to effectively clean your vehicle.
Where can I get a premium car wash in Singapore?
For a premium car wash experience, visit Finest Detailing Express. They offer a comprehensive range of services to ensure your vehicle is cleaned to the highest standards.
Is there a one-stop shop for all car grooming needs in Singapore?
Yes, Mobile Services is a one-stop shop for all your car grooming needs. From basic car washes to premium services, they provide a wide range of options to keep your car looking its best.
Additional Useful Articles
If you are looking for other useful guides and articles about Car Wash in Singapore, check them out below: