Cat Grooming Singapore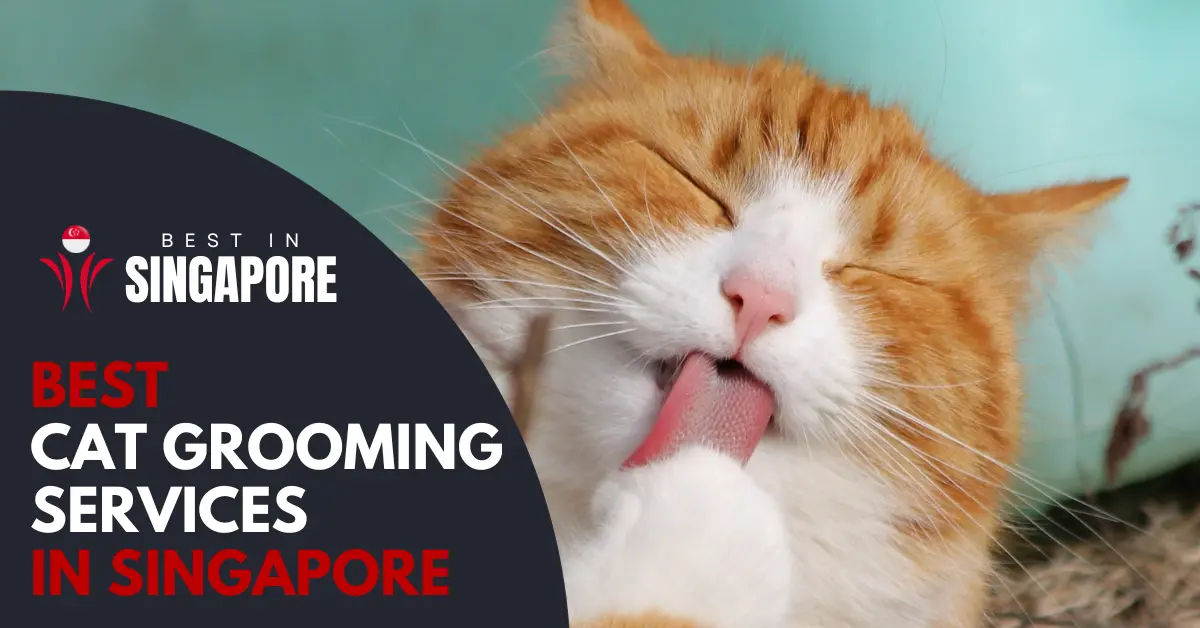 For cat owners in Singapore, ensuring their beloved feline friends are well-groomed is of paramount importance.
The best places for cat grooming in Singapore include Surrpaws Pet Grooming, Petronize, Awesome Pawsome, Pawrus, and The Precious Pets.
When selecting a cat grooming service in Singapore, take into account various factors including pricing, range of services, location, and customer reviews.
Cat grooming in Singapore is a thriving industry with dedicated professionals providing top-notch services to keep your furry friends looking and feeling their best.
This guide outlines the best cat grooming services in Singapore, providing insights into each to help you make the best choice for your furry companion.
Quick Summary
Best places for cat grooming in Singapore include Surrpaws Pet Grooming, Petronize, Awesome Pawsome, Pawrus, and The Precious Pets.
When choosing a cat grooming service in Singapore, consider factors such as price, services offered, location, and reviews.
Cat grooming in Singapore is a thriving industry with many professional and dedicated services catering to the needs of your furry friends, ensuring they look their best and feel comfortable.
Key Consideration Factors
When choosing which cat grooming in Singapore to go to, make sure to consider these important factors:
Price: The cost of cat grooming can vary greatly depending on the services offered and the location. It is important to compare prices and find a service that fits your budget.
Services: Different cat grooming services in Singapore offer different packages with varying services such as baths, haircuts, nail trimming, ear cleaning, and more. Choose a service that offers the specific grooming needs for your cat.
Location: It is important to choose a cat grooming service that is conveniently located for you and your cat. This will make it easier for regular grooming visits.
Reviews: Check online reviews or ask for recommendations from other pet owners to find a reliable and reputable cat grooming service in Singapore.
Best Cat Grooming Singapore
1) Fur & Away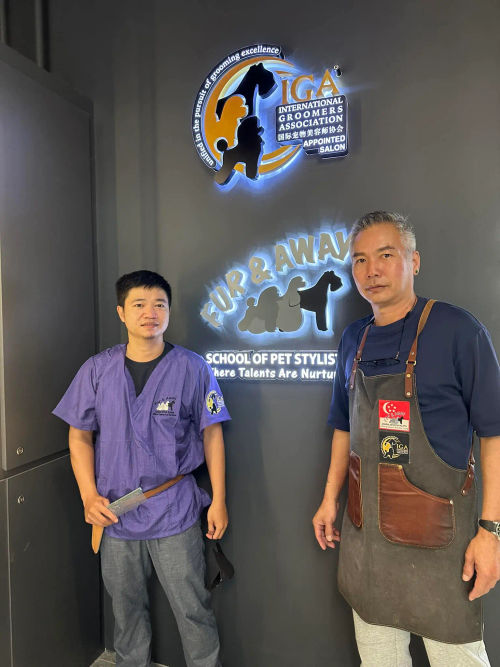 Key Features
Floor to ceiling glass walls.
Fully equipped, top quality grooming equipment.
Confident Certified Professional Stylists.
Consultants on skin problems.
Website
https://furnaway.com/
Phone
+65 6853 7549
Email
info@furnaway.com.
Operating Hours
Business Hour: 9am – 6pm , closed every Tuesday
Fur & Away treats every pet as a beloved family member. They go above and beyond to offer exceptional pet care, including top-notch grooming and secure, comfortable boarding. Because every furry friend deserves the absolute best!
At Fur & Away, visitors have a range of services to choose from when it comes to maintenance. These services include everything from comprehensive grooming to simple tasks like tick and mat removal.
Additionally, Fur & Away has skilled stylists available to answer any questions customers may have about their furry friends during the grooming process.
2) Pet Lovers Centre

Key Features
13 grooming salons in Singapore
Hairstyling, brushing, conditioning in basic cat grooming package
Nail clipping, ear cleaning, and dental services
Kitten nursery
Website
https://www.petloverscentre.com/
Address
494 Changi Rd, Singapore 419903
Phone
+65 6449 2436
Operating Hours
Monday to Sunday: 10.00am – 10.00pm
Pet Lovers Centre is the leading online store offering a wide range of food and accessories for cats, dogs, reptiles, and other pets. They also provide specialized nurseries for puppies and kittens.
In addition, Pet Lovers Centre has 13 convenient city locations where you can access services such as pet grooming, boarding, and veterinary care. Their services cover both grooming and boarding needs.
Explore the complete cat grooming package, featuring nail trimming, ear cleaning, fur shaving, conditioning, and brushing. For an extra touch of sophistication, indulge your feline friend in Pet Lovers Centre's lavish hair styling services. Watch as your cat becomes the star of the show.
3) Nekomori Cat Grooming Salon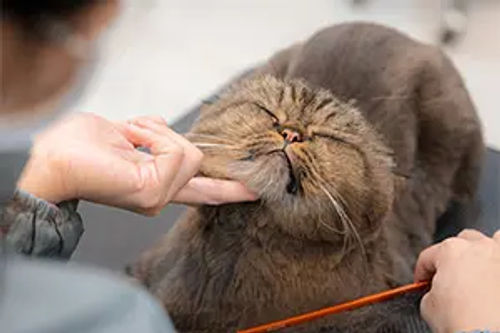 Key Features
Spa treatments
Safe and hygienic establishment
Seasoned cat handlers
Website
https://nekomori.co/
Address
59A Kampong Bahru Rd, #02-02, Singapore 169367
Phone
+65 6996 7908
Operating Hours
Monday – Friday: 11:00 AM – 7:00 PM
Nekomori Cat Grooming Salon, the pioneer holistic grooming salon in Singapore, caters to a wide range of cat breeds. Their services extend beyond grooming, providing a truly tranquil experience. By incorporating massage therapies, their goal is to cultivate a serene atmosphere for cats.
Nekomori Cat Grooming Salon distinguishes itself from other pet clinics through its unwavering commitment to safety and cleanliness. Each room is meticulously maintained to ensure the utmost comfort and well-being of the cats. The salon takes pride in its team of highly experienced and skilled cat handlers who are dedicated to delivering exceptional care to every feline visitor.
Nekomori Cat Grooming Salon goes above and beyond traditional cat grooming. They specialize in revitalizing and rejuvenating feline companions, offering a calming and soothing experience. Their team of knowledgeable specialists provides individualized attention and care, catering to the specific needs of each cat.
4) Hanis The Groomer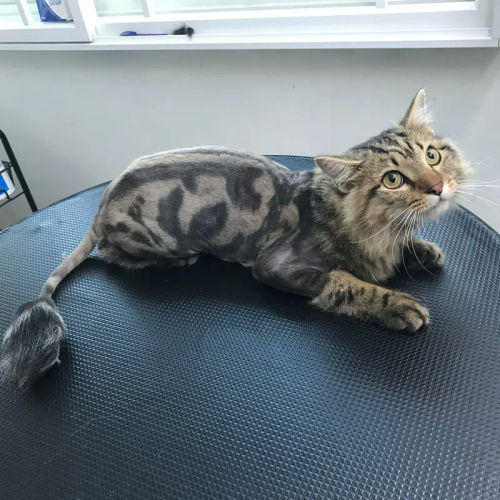 Key Features
Trained groomers
All cat breeds are welcomed
Website
http://www.hanisthegroomer.com/
Address
162 Joo Chiat Rd, #03-01, Singapore 427437
Phone
+65 9100 1737
Operating Hours
Monday – Friday: 10:00 AM – 8:00 PM
If you're looking for a pet salon with a diverse selection of grooming services, Hanis The Groomer is the ideal option. They specialize in grooming cats, setting them apart from other salons on the island.
At Hanis The Groomer, you can choose from a variety of furcuts including customized shaving, trim short, comb cut, lion cut, and bear cut. If you've ever wanted your cat to have a unique and special look, Hanis The Groomer can make it a reality!
Discover the exceptional cat grooming services at Hansis The Groomer! Their team of skilled groomers offers a range of pampering treatments including nail trimming, sanitary butt shave, triple wash, chin cleaning, ear cleaning, and full comb-out. Experience why they are renowned as one of the premier cat grooming businesses in Singapore. Give your feline friend the care they deserve!
5) Pet Pat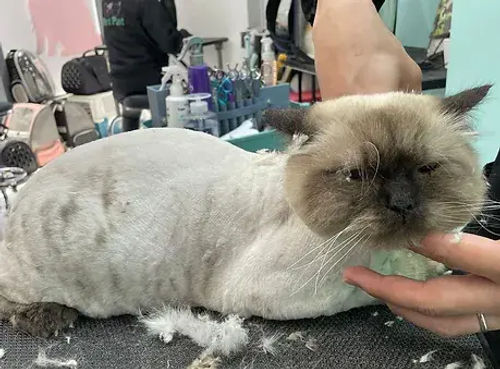 Key Features
High-quality cat products
Friendly and accommodating staffs
Certified Cat Stylist
Website
https://www.petpat.org/
Address
183 Jin Pelikat, B1-62 The Promenade, Singapore 537643
Phone
+65 8434 3224
Operating Hours
Wednesday to Friday (11am to 6pm), Saturday (11am to 8pm), and Sunday (11am to 5pm)
When it comes to choosing a cat grooming service, look no further than Pet Pat. They stand out from the competition with their exceptional quality and dedication. By using only top-quality shampoo, they ensure your cat's fur is not only soft but also promotes overall health.
With their unique approach to cat care, Pet Pat ensures your furry friend's well-being is their top priority. Say goodbye to cages and restraints, as they provide a stress-free experience. Their dedication to your pet's care is evident, making them the go-to choice.
Count on Pet Pat to give your cat the attention and care it deserves. Don't wait, book today and join our community of satisfied customers who have experienced the exceptional service Pet Pat offers!
6) Surrpaws Pet Grooming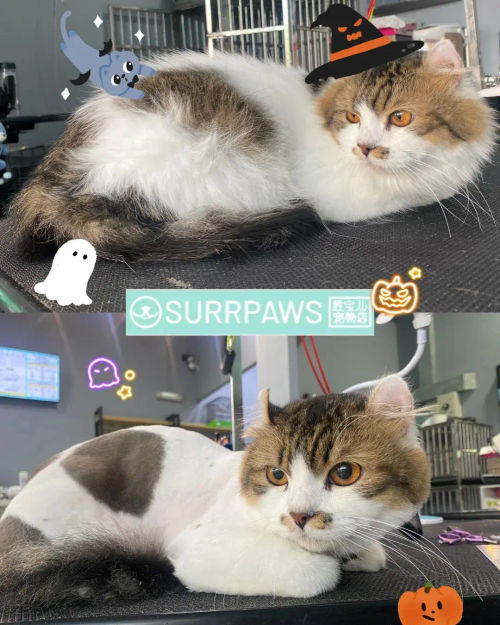 Key Features
Trained groomers
Seasoned veterinarians
Easy booking of services
Website
https://surrpaws.com/
Address
Kensingston Square, 2 Jln Lokam, #01-21, Singapore 537846
Phone
+65 8845 7183
Email
surrpaws@gmail.com
Operating Hours
Monday – Friday: 10:00 AM – 7:00 PM
For top-notch care and essential services for your beloved feline friend, we highly recommend visiting the prestigious Surrpaws Pet Grooming salon. With their outstanding services and unwavering commitment to animal welfare, this reputable establishment goes above and beyond to provide your cat with the attention and pampering they truly deserve.
Surrpaws Pet Grooming provides a comprehensive range of services to meet all your cat's needs. With a team of experienced groomers and veterinarians, they offer stylish haircuts and thorough checkups, prioritizing your cat's well-being above all else.
Discover their exceptional care and unwavering dedication in crafting a cozy and relaxed atmosphere for your beloved feline companion. Rely on Surrpaws Pet Grooming to provide top-notch grooming services tailored to your cat's needs.
7) The Precious Pets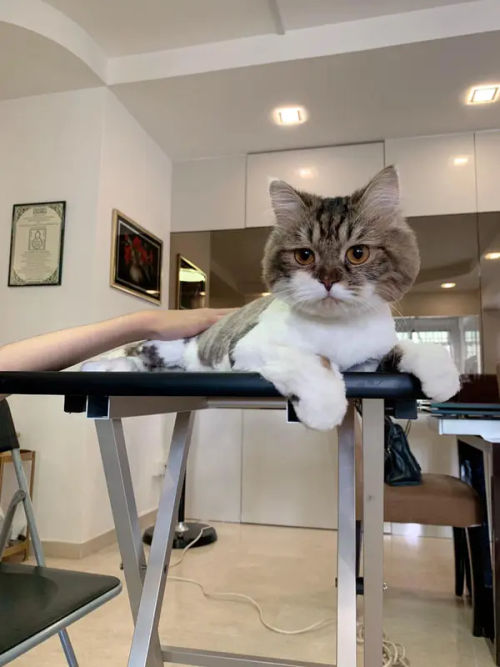 The Precious Pets offers a convenient solution for busy pet owners. This fully insured and certified pet salon specializes in providing in-home grooming services across the entire island. They cater to a range of furry friends, including cats, dogs, rabbits, and guinea pigs.
In addition to providing grooming services, The Precious Pets can also help alleviate separation anxiety in cats when their owners are away. With their expertise and gentle techniques, you can trust that your beloved feline companions will no longer be a challenge for the groomer. Say goodbye to any previous concerns you may have had!
At The Precious Pets, they boast a team of highly skilled and knowledgeable pet stylists who have undergone comprehensive grooming training. Customers can have complete trust in the exceptional care and attention their cats will receive.
8) Awesome Pawsome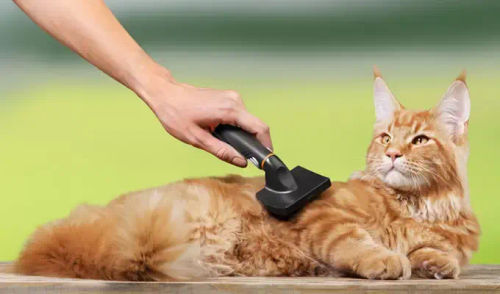 Pawsome Pawsable is a well-known company that offers top-notch house-call pet grooming services across Singapore. The concept of mobile pet grooming has gained significant popularity in Singapore, just like in Western countries. With a firm commitment to prioritizing the needs of their customers' pets, Awesome Pawsome aims to meet the growing demands for in-home pet grooming.
Instead of taking your furry companions to the store, consider professional pet grooming as a safe and stress-free alternative. They provide top-notch grooming services for dogs and cats in the comfort of your own home.
What sets them apart from other groomers on this list is their specialization in home services, ensuring convenience for you and a worry-free experience for your pets. With their personalized approach, your pets can stay in their familiar surroundings, alleviating any separation anxiety they may have.
9) Petronize
Key Features
Pet grooming, sitting, and boarding services
Full grooming without bathing
Services for dogs, cats, rabbits, and other small animals
Website
https://www.petronize.sg/
Address
18 Upper Boon Keng Rd, #01-1135, Singapore 380018
Phone
+65 9871 7593
Email
karen@petronize.sg
Operating Hours
Monday to Sunday: 10am–6pm
Petronize is a renowned and highly regarded pet care service that excels in all aspects of pet care, ranging from grooming to boarding.
They offer extensive grooming services for cats, which include bathing and grooming. Moreover, Petronize provides a daycare facility where your pet can relax and interact with other animals while you're not around.
Not only that, but they also provide a diverse array of must-have supplies like food, vitamins, and accessories. Plus, you can find glass cages and travel bags for rabbits, tortoises, and other adorable small pets!
10) Pawrus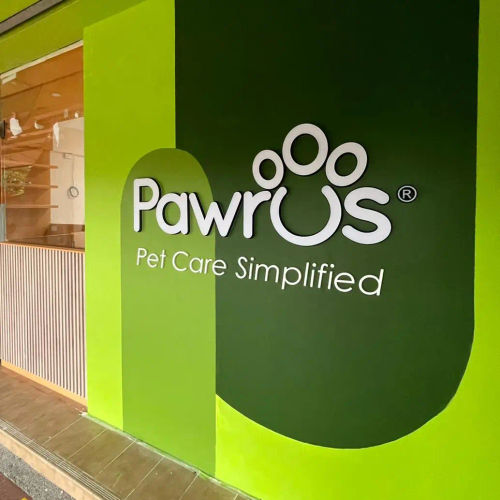 Key Features
Offers housecall services
Various grooming packages are available
Website
https://www.pawrus.com.sg/
Phone
+65 8223 9340
Email
wecare@pawrus.com.sg
Operating Hours
Mondays to Fridays: 10am – 5pm

Saturdays, Sundays & Public Holidays: Closed
Pawrus offers a comprehensive range of pet care and training services, customized to cater to the requirements of your beloved furry friends. Among their outstanding services is their renowned cat grooming service in Singapore, delivered with the utmost care and expertise.
Jasline, the esteemed leader of the Pawrus team, boasts a wealth of accolades and qualifications, solidifying her position as a trusted authority in the grooming and training industry.
Pawrus provides an extensive array of services for your beloved Furkids, including comprehensive grooming and a selection of customizable treatments. Whether you're seeking a complete grooming session or prefer specific individual services, Pawrus assures that your Furkid will emerge looking and smelling better than ever before.
With their meticulous attention to detail and unwavering commitment to excellence, Pawrus delivers a pampering experience that will leave both you and your furry companion utterly content.
Cat Grooming Singapore
In the bustling city of Singapore, cat owners have plenty of options to ensure their feline friends receive the best grooming care possible. Ranging from in-store services to convenient home visits, these professional groomers are dedicated to creating a comfortable and stress-free experience for your pet.
Whether your cat prefers a luxurious pampering treatment or just a basic grooming session, you can count on these highly rated businesses to meet their needs.
With their commitment to quality care and loving attention, your pet is guaranteed to look and feel their best.
Frequently Asked Questions (FAQ)
If you have any questions about cat grooming services in Singapore, you can refer to the frequently asked questions (FAQ) about the best Cat Grooming Services in Singapore below:
What are the best places for cat grooming in Singapore?
The best places for cat grooming in Singapore include Awesome Pawsome, The Precious Pets, Surrpaws Pet Grooming, Petronize, Hey Good Cat, Singapore Kennel Club, and Pawrus.
How much does it cost to groom a cat in Singapore?
The grooming expenses for cats in Singapore may vary depending on the required services, the size and breed of the cat, and the selected salon or provider. Basic grooming services typically range from $60 to $100, whereas more extensive treatments such as furcuts or spa packages can cost over $150.
How much is normal for cat to groom?
Cats usually engage in self-grooming multiple times daily as a part of their normal behavior. This routine helps them keep their fur clean and well-maintained. However, if you notice excessive grooming or licking in a specific area, it could be a sign of skin irritation or an underlying health issue. In such cases, it is recommended to consult a veterinarian for guidance. Furthermore, scheduling regular grooming sessions with a professional can help maintain your cat's coat and overall well-being.
Is it okay to take your cat to a groomer?
Having your cat groomed by a professional is a safe choice. Groomers possess the knowledge and skills to provide comprehensive grooming services that may be challenging for pet owners to handle on their own. They utilize specialized equipment and products specifically designed for cats' delicate skin and fur. Just make sure to choose a reputable salon with well-trained staff and a clean, secure environment.
Why are cat groomers so expensive?
Cat groomers typically charge higher prices compared to dog groomers. This is due to the specialized handling and different grooming needs of cats. Unlike dogs, cats may not find the bathing and grooming process enjoyable, which requires groomers to invest more time and effort to ensure a thorough job.
What are grooming packages offered by cat groomers in Singapore?
Cat groomers in Singapore offer a variety of grooming packages to meet the needs of different cats. These packages may include services such as bath and brush, nail clipping, ear cleaning, and more.
What is included in a basic cat grooming package?
A basic cat grooming package usually includes services like brushing, nail trimming, ear cleaning, and a gentle bath. It provides essential care to keep your beloved pet clean and healthy.
Do cat groomers in Singapore use herbal and organic products during grooming sessions?
Yes, many cat groomers in Singapore prioritize the use of herbal and organic products. These products are gentle on your cat's skin and coat, minimizing the risk of irritations or allergies.
How experienced are the pet groomers in Singapore?
The pet groomers in Singapore are highly experienced and skilled in their profession. They have undergone training and have a wealth of experience in handling and grooming cats.
Where can I find certified cat groomers in Singapore?
Certified cat groomers can be found in reputable pet salons and grooming establishments across Singapore. These groomers have obtained certifications that demonstrate their expertise in cat grooming.
What are full grooming services for cats?
Full grooming services for cats typically include a comprehensive range of grooming procedures such as bathing, drying, brushing, nail trimming, ear cleaning, and even full comb out services. It ensures your cat receives a thorough grooming session from head to paw.
Additional Useful Articles
If you are looking for other useful guides and articles about best Cat Grooming Services in Singapore, check them out below: