Ceiling Fans Singapore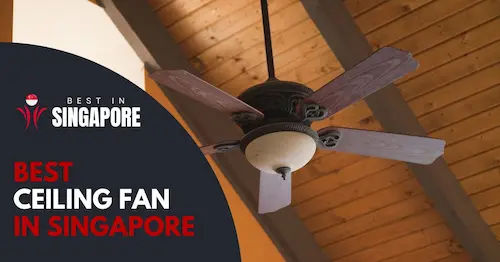 If you are searching for an ideal way to maintain your home comfortable, energy-efficient and cost-effective, then ceiling fans are the perfect solution.
The best ceiling fans in Singapore include KDK T60AW DC Motor Ceiling Fan, Fanco I-Con 48 Inch Ceiling Fan, Acorn Intaglio DC-159 52 inch Ceiling Fan, Fanztec FT-TWS-1 52 Inch Ceiling Fan.
When choosing a ceiling fan in Singapore, consider several factors such as the size of the room, the height of the ceiling, the direction of airflow, the style of the fan, and the price.
There are three primary types of ceiling fans: standard ceiling fans, low-profile ceiling fans, and dual-motor ceiling fans. Each type offers its own unique features and aesthetics.
With our guide you can quickly find one which suits your needs and budget – guaranteed not to disappoint.
Key Consideration Factors
Type: There are two main types of ceiling fans: indoor and outdoor. Indoor ceiling fans are designed for use in enclosed spaces, such as homes and offices, while outdoor ceiling fans are designed for use in open spaces, such as patios and decks.
Size: Ceiling fans come in a variety of sizes, from small to large. It is important to choose a size that is appropriate for the space in which it will be used. For example, a small ceiling fan would be ideal for a small room, while a large ceiling fan would be better suited for a large room.
Style: Ceiling fans come in a variety of styles, from traditional to contemporary. It is important to choose a style that compliments the overall décor of the space in which it will be used. For example, a traditional ceiling fan would be more appropriate for a traditional-style home, while a contemporary ceiling fan would be more suitable for a contemporary-style home.
Price: Ceiling fans range in price from relatively inexpensive to quite expensive. It is important to set a budget before beginning the search for a new ceiling fan so that you do not overspend.
Best Ceiling Fans Singapore
1.KDK T60AW DC Motor Ceiling Fan
KDK T60AW is the first of its kind – a ceiling fan with a DC motor, 5 60-inch blades and an Auto mode that can detect the temperature in your room to adjust speed accordingly. As KDK's pioneering invention, it brings unprecedented convenience and energy efficiency into any home!
Key Differentiators:
With Spring Singapore Safety Mark
3D Blade ensures stronger airflow
1 Year Warranty by KDK
2. Fanco I-Con 48 Inch Ceiling Fan
If you're looking for a fan that won't disturb the peace in your home, this beautiful one is perfect. The Ultra Silent Fan Motor ensures that all you hear from it are gentle breezes – no more whirring! With its silent technology and stunning design, this ceiling fan stands out from the rest.
Key Differentiators:
Homely Looking
Lifetime warranty on motor
1 Year warranty on parts
3. Acorn Intaglio DC-159 52 inch Ceiling Fan
If you're looking for an energy-efficient fan with a simple design, this one is perfect. You might be wondering what the reverse capability does; it works when you turn on the air conditioner and directs wind towards your ceiling so that everyone in the room can enjoy its refreshing coolness!
Key Differentiators:
High-End Looking
Energy Saving DC Fan built with DC Motor
Affordable
4. Fanztec FT-TWS-1 52 Inch Ceiling Fan
The Fanztec 52 Inch Ceiling Fan has the capability to produce three different types of light – warm, cool and white. Moreover, its FT-TWS-1 model is completely programmable so you can set it up precisely according to your desired options for your home. With the Fanztec ceiling fan, you don't have worry about having a customized fit in order to enjoy the perfect ambiance!
Key Differentiators:
DC Brushless Motor
More than 2 blades are available
6 selections of speeds
Option to add in LED Light Kit
5. Crestar DC ValueAIR 55 Inches Ceiling Fan
Look no further than the Crestar DC ValueAIR 55 Inches Ceiling Fan if you're searching for a fashionable fan with fantastic cooling capabilities. Crafted from natural wood, this fan offers both modern aesthetics and adjustable LED lighting in three hues – giving you control to select which hue fits your mood best!
Key Differentiators:
Trendy DC Motor
5 Blade Fan
6-Speed Fan
With Remote Control
Light Kit Comes with Three Colours
6. Fanco FFM3000 Ceiling Fan
If you're on a tight budget, this exquisite and highly adjustable fan is an ideal pick. With black, silver, or white designs to choose from, you can even add a remote control for just $65 extra! Moreover, the option of installing a light in addition to your ceiling fan gives it added value.
Key Differentiators:
Extremely Affordable
Customizable
Affordable
7. Samaire Fanniti SA483 48 Inches Ceiling Fan
Samaire Fanniti's SA483 boasts a large range of designs and colors to match your house's interior design, with many alternatives to select from. Furthermore, the fan is both energy-efficient and environmentally friendly at the same time. You'll be receiving a fan that is not only ecologically beneficial but also incredibly cost-effective! The motor and water heating elements are also highly durable and efficient, ensuring that you get a fan that runs softly during operation.
Key Differentiators:
Highly Efficient and Powerful
Anti-Rust Fan Blades
Silent Motor
8. Amasco Wale 52 Inches Ceiling Fan
If you're looking for a cooling solution in Singapore, Amasco is the way to go. Their ceiling fans provide exceptional performance and come equipped with an upgraded motor that packs more power than most other models.
The Wale 52 Inches Ceiling Fan stands out from the rest not just because of its impressive functionality, but also its sleek design – making it perfect for any home or apartment! Plus, thanks to their DC Brushless Motor technology your room will be cooled in record time!
Key Differentiators:
Highly Powered
6 Speed Reversible Fan
Uses 3D PC Blade for maximum airflow
9. AMASCO Fanta 46 Inches DC Motor Ceiling Fan
With the Amasco P-888 Fanta, enjoy a swift 6-speed reversible fan that rotates up to 245 rounds per minute! Easily adjust the lighting between three distinct levels and install it on your ceiling with ease. And don't worry about having to switch off different lights separately – use one button on your remote control for total illumination or darkness!
Key Differentiators:
6 Speed Reversible Fan
DC Brushless Motor
Energy Efficient
10. Kaze KZ-03 40 Inch Ceiling Fan
The Kaze KZ-03 40 Inch Ceiling Fan offers the most energy efficient illumination and three tone hues to choose from (day, warm, cool). The motor is powered by an Efficient Direct Current system that guarantees maximum efficiency. With this advanced technology you will be able to use less power than ever before!
Key Differentiators:
With Digital Inverter
Minimalist Exterior design
LED Module with matching design aesthetics
11. Fanco A-Con 52 Inches Ceiling Fan
With over two decades of expertise and 325 consumers who recommended it, Fanco is a highly cost-effective fan that will keep your house cool. Depending on the needs of your home, you may also choose to install the light kit.
Furthermore, the fan has a vintage appearance that will undoubtedly appeal to your guests.
Key Differentiators:
Well-Designed
Ultra Silent Motor
1 Year Warranty for parts
Lifetime warranty for motor
12. KDK DC Motor Ceiling Fan U48FP
KDK is a renowned Singaporean producer of ceiling fans and their products are unparalleled. This fan provides the ideal balance between illumination and air flow; it's essentially two units combined! Featuring its chic design along with up to 9 variable speeds, this KDK fan offers unrivaled ventilation power for your convenience.
Key Differentiators:
Affordable
Has LED Light integrated with the fan
Smooth and strong airflow provided
Safety fuse in place to prevent overheating or power surge
1-year local warranty with KDK
13. Kaze Quinto KZ05 Ceiling Fan
The Kaze Quinto KZ05 Ceiling Fan is designed to optimize efficiency while reducing energy consumption. Outfitted with the revolutionary iSense technology, it automatically adjusts its performance as needed according to external conditions. Additionally, this fan has an Energy Efficient Direct Current motor that uses exclusive technology and can decrease energy utilization by up to 80%.
Key Differentiators:
Energy Efficient
Motor optmization
Budget-friendly
14.AEF1 Decor Fan 38 Inches (L3F/BLBL)
Decor Fan SEA is a proudly local brand that offers an exquisite fan with a modern and sophisticated design. The most remarkable detail of this fan is its curved blades which lend it the perfect sleek aesthetic to blend in any room setting.
As if that weren't already great, you can choose from either black or white for your new purchase; two colors as versatile as they come! Make Decor Fan SEA's beautiful piece part of your bedroom or living area today!
Key Differentiators:
Stylish
3-tier lighting
10-Years Warranty on Motor with Decor Fan SEA
2-Years Warranty on Parts with Decor Fan SEA
50-inches blade
15. KDK 4 Blade 56inch Ceiling Fan R56SV
Singaporeans trust the KDK brand, as it has a long-standing history of supplying products with excellent value. Their fan is unparalleled in terms of both efficiency and safety – its whisper-quiet operation combined with an automatic shutoff system make this product perfect for any room that needs a gentle breeze. With KDK's fan, you can rest assured knowing your living area will remain comfortable without breaking the bank!
Key Differentiators:
Minimalistic
56-inch ceiling fan
4 Blades Design
Strong PPG Blade Makes Fan More Durable
3D Blade delivers smooth and powerful airflow
16. Decco Sydney 54 inches DC Motor Ceiling Fan
The Decco Sydney 54 inches ceiling fan will be a stunning addition to any living room, and you can choose from 4 distinct colors – GM, Bamboo, Oak or White – so that it perfectly matches your home's decor.
Not only does this modern ceiling fan come with an amazing look but also with a light kit that offers 3 options: Cool light, arm light and White light. The atmosphere in your house will surely get enhanced when you turn on the Decco Sydney!
Key Differentiators:
Stylish
54 inches ceiling fan
Color switching
17. Elmark Aircraft A8 Ceiling Fan
When the heat is on, it can be unbearable trying to prepare food for your loved ones in an overheated kitchen. That's why you need a fan that will provide proper ventilation and keep you cool as you create delicious meals – enter Elmark Aircraft A8!
No more sweat beads running down your forehead while cooking; this fan is perfect for tight spaces and gives maximum cooling power. Get ready to whip up tasty treats without breaking into a sweat with the Elmark Aircraft A8!
Key Differentiators:
Perfect for Small Spaces
AC Motor 18 Inches Ceiling Fan
3 Adjustable Angles
110 Degree oscillating function
Perfect in kitchen and confined spaces.
18. PO ECO DC Motor Ceiling Fan
Since its inception in 1987 as a lightning manufacturer, PO Eco Fan has transcended from an unknown name to a trusted household product provider. Along with their manufactured ceiling fans and LED lighting solutions, they offer something truly innovative – the ability to connect your products to Wi-Fi for handsfree voice control! This groundbreaking feature makes it easier than ever before to keep your home comfortable at all times.
Key Differentiators:
Smart Fan
Affordable
Can access net with voice control by Google Home and Alexa
19. Acorn Intaglio DC-159 Ceiling Fan
Invest in the Acorn Intaglio DC-159 Ceiling Fan to increase comfort and boost energy efficiency. This device is an ideal choice for all areas of your home, so why not purchase several? It provides six speeds through a powerful DC motor as well as the ability to reverse fan direction – ideal qualities when striving for sustainability while also remaining cool!
Key Differentiators:
Energy Efficient
Generates powerful wind that'll cool down your room
Lasting and powerful ABS acrylic blades
20. Eco-Airx DC Ceiling Fan
Singaporeans, experience the ultimate combination of energy-efficiency and luxury with the Eco-Airx DC Ceiling Fan! Not only does this fan feature a workhorse of an engine backed by a lifetime guarantee, but its handcrafted wooden blades provide unparalleled quality that you won't find anywhere else.
Plus, save up to 80% on your power costs – who says living comfortably has to be expensive? Get your Eco-Airx DC Ceiling Fan today and relish in long lasting comfort without compromising our planet's resources.
Key Differentiators:
Free Installation
Energy Saving DC Motor Fan
High-Quality Handcrafted Wooden Blades
21. Sembawang Lighting House
Sembawang Lighting House is the ideal place for customers who are looking to buy an extensive selection of ceiling fans. Don't let the name deceive you, Sembawang has much more than just lights! Their website houses a massive catalog of different types and sizes of ceiling fans accessible with one click.
So what are you waiting for? Visit Sembawang Lighting House now and upgrade your living space today!
Key Differentiators:
Safe and reliable ceiling fan installation service
Professional team of electricians for installation
Carries many major brands of ceiling fans
Offers other products and services too
22. Yafen Ceiling Fan
Here at Yafen, you'll find all your home lighting and ceiling fan needs, as well as bathroom and kitchen essentials. We carry a full line of ceiling fans including ones with lights, without lights or in various sizes – something perfect for any space!
Key Differentiators:
Affordable prices
Color available: Matt Black / Matt White / Frappe / Latte
Blade: 3 blades
23. Haiku H-series
PHYLUX is the exclusive distributor of USA-based Haiku in Singapore. H-series, I-series, L-series, 84-series, and Big ass fans are among their product lines. They're said to have created the groundbreakingSenseME® technology, which adjusts your fan settings automatically based on the ambient temperature. This lowers your energy bills by promoting greater comfort and efficiency.
Key Differentiators:
Real bamboo material
Hand crafted
Tensile strength of steel
24. Spin Fans
Since 2008, Spin Fans has been revolutionizing the luxury fan industry and how people view quality ceiling fans. We're committed to delivering a romanticized yet functional fan that is tailored to your specific needs with its refined styling.
Key Differentiators:
Minimalist and timeless designs
Perfect natural windflow
Seamless finishing
Energy saving
Free shipping with 10 year warranty
Ceiling Fans Singapore
If you're looking for a ceiling fan Singapore that will keep you cool and comfortable, there are plenty to choose from. The key differentiators of each ceiling fan should help guide your decision-making process as well as the pros and cons of each. From affordability to power consumption, we've got everything covered!
Check out our other useful articles about home and living here:
Frequently Asked Questions (FAQ)
If you have any questions about Ceiling Fans in Singapore, you can refer to the frequently asked questions (FAQ) about the best Ceiling Fans in Singapore below:
Additional Useful Articles
If you are looking for other useful guides and articles about Best Ceiling Fans in Singapore, check them out below: