Dessert Singapore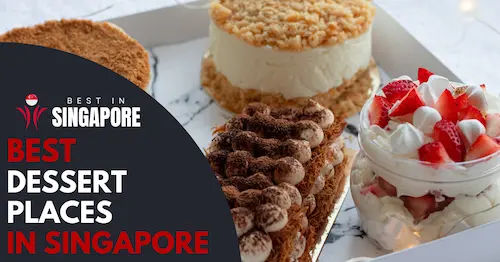 The dessert scene in Singapore is a delightful fusion of traditional heritage and modern creations that push the limits of dessert artistry.
The best dessert places in Singapore are The Durian Bakery, KURA, FLOR Patisserie, The Wonderment Collective, and Bread & Butterfly.
When choosing a dessert spot in Singapore, consider factors like pricing, quality of ingredients, variety, location, and operating hours.
Ice kachang, chendol, and traditional pastries like ang ku kueh and mooncakes rank high as beloved desserts in Singapore.
Check out our list of the Best Dessert Places in Singapore that are absolutely worth indulging in as you continue reading.
Quick Summary
Best dessert places in Singapore are The Durian Bakery, KURA, FLOR Patisserie, The Wonderment Collective, and Bread & Butterfly.
When selecting a dessert place in Singapore, take into account factors such as pricing, ingredient quality, variety, location, and operating hours.
Ice kachang, chendol, and traditional pastries such as ang ku kueh and mooncakes are among the top favorite Singaporean desserts.
Key Consideration Factors
Portion size: When it comes to desserts, smaller portions are typically better as they will be easier to enjoy without creating a feeling of being overwhelmed. Additionally, choosing local ingredients and traditional flavors can add an interesting cultural element that may make the dessert more enjoyable for all.
Nutritional value: Desserts should not only taste good but also provide some vitamins and minerals. Look for desserts that contain ingredients such as fruits, vegetables, nuts, whole grains, lean proteins and low-fat dairy products. These types of ingredients can add a nutritional boost to the dessert without compromising on flavor.
Cost: While more expensive options may seem tempting due to their higher-quality ingredients and flavors, it is important to consider the overall cost of each item. By opting for more affordable but still delicious options, you can indulge in a variety of desserts without breaking the bank.
All in all, selecting the perfect dessert in Singapore requires considering multiple factors including portion size, nutritional value, cost-effectiveness, and overall taste. With the right combination, you can find a dessert that will satisfy both your sweet tooth and nutritional needs!
Best Dessert Singapore
1. The Durian Bakery
Fans of durians, rejoice! A dessert shop with a focus on creating delectable, rich durian products is called The Durian Bakery. The Durian Bakery is a popular choice for birthday cakes since they take delight in each and every cake that is sent out. In addition to being expertly made by hand and tastefully designed, each product also comes with birthday cake accessories. Even if you are unable to be present, you can still surprise a loved one by ordering one of their delectable durian-flavored cakes and having it delivered right to their home.
Key Differentiators:
Life-changing Durian Eating Experience
Premium Durian Handmade Cakes
Best Mao Shan Wang Cake Delivery in Singapore
Client Testimonial:
"The durian taste is so authentic! Probably the best durian pastry I ever had. Went to their store since i was nearby and bought a box of the durian puff. Friendly counter staff. Used to think emicake durian puff is the best but this win hands down! Will definitely purchase again and try other products. Good job! "

A Happy Customer
2. KURA
Key Services
Pastry bakery shop, Dessert Singapore
Website
www.kura.sg
Address
46 Kim Yam Road, The Herencia, #01-07
Singapore 23935
(Located at Drop Off Point B)
Email
hello@kura.sg / order@kura.sg
Operating hours
11AM – 6PM
Koojee and Rachel, the two co-founders, are known by the name KURA, which is also a little Japanese house where one preserves one's treasure. In order to produce beautiful artisanal pastries, KURA therefore combines both French techniques and Japanese flavors.
Key Differentiators:
KURA is located in the previous Nan Chiau Secondary School.
At their establishment, KURA serves up both Traditional and Western Drinks. Rachel and Koojee feel it is very important to remember our traditional roots, so you can enjoy your cake with a cup of Kopi O or Teh bing.
Having almost all sorts of flavours ranging from Fruit base to Tea base to Dark Chocolaty Base. Even the Tiramisu Desserts uses Local Kopi O instead of Espresso.
Client Testimonial:
"Nostalgia. First time returning to a somewhat familiar area as my alma mater was relocated near to this location when it was under going renovations in Anderson Rd many moons back. Apparently this was where Nan Chiau Sec Sch used to be. ( Both our schools' students used to pack like sardines on the morning peak-hour buses 32/54/195 to reach our destination. The tarts : Yummilicious factor : 5 stars! 1. Uji triple matcha tart Rich matcha taste with nuts to add texture. The crust was thin so it did not feel as if we are just eating the tart crust . 2. La vie en rose Their signature tart is dark-chocolatey terrific! From the milk chocolate mousse to the dark chocolate mid-way, down to the buttery base, every mouthful explodes an array of flavours that releases feel-good hormones so for women during "that time of the month" , this is perfect haha! ofcourse it is still a tart for all fellowmen 🙂 Love it and cozy ambience as well as good service."

Raelynn Burge
3. FLOR Patisserie
Key Services
Japanese-inspired French pastries bakery, Dessert Singapore
Website
www.cakeflor.com.sg
Address
Siglap:
42 Siglap Drive, Singapore 456167

Duxton Hill:
2 Duxton Hill #01-01, Singapore 089588

Capitol:
13 Stamford Road #01-11 Capitol Singapore, Singapore 178905
Phone
Siglap: 62430813
Duxton Hill: 62238628
Capitol: 69777202
Email
sales@cakeflor.com.sg
Operating hours
Siglap: 11AM – 6PM
Duxton Hill: 11AM – 7PM
Capitol: 11AM – 7PM
Authentic Japanese-inspired French pastries are served at FLOR Bakery, a patisserie with a Japanese aesthetic. FLOR takes pride in using only the freshest and highest-quality ingredients in their pastries since they are firm believers in honest baking with the best ingredients. The sweets that are FLOR's specialty are lighter in flavor than traditional French pastries and made primarily of fresh fruit. Along with the classics like Strawberry Shortcake, Signature Roll, and Yuzu Strawberry Tart, FLOR also offers seasonal treats like its famed Tofu Chiffon, whose flavor rotates every two months.
Key Differentiators:
A Japanese-styled patisserie serving authentic Japanese-inspired French pastries.
Honest baking with the finest ingredients is their motto.
Does not use any artificial stabilizers, agents or preservatives; not even a speck of baking powder is used in the cakes and pastries.
Client Testimonial:
"I'm a silent cake eater…. but I highly recommended Flor for its excellent cakes and great service! Recently was when I ordered a Mont Blanc cake with their online delivery and it came very beautifully delivered. They even ask me to check the cake before I take it in my hands! I can feel the work and effort they have done in this single cake. Our family enjoyed it a lot. Second was a 2 weeks' back experience at your Capitol outlet, their staff was very kind to extend a carpark coupon to me due to my spending. Hahaha you can see how much I love your cakes. Great service and keep it up guys! Thank you for the little things you do."

Brillyn Toh
4. The Wonderment Collective
Key Services
Premium Gifting Company that provides artfully handcrafted bakes – both traditional and western delicacies – in beautifully designed packaging, Dessert Singapore
Website
www.thewondermentcollective.com
Address
90 Lorong 23 Geylang, #01-01 Agrow Building
Singapore 388393
Phone
6980 0793
Email
enquiries@thewondermentcollective.com
Operating hours
Weekdays: 10AM – 6PM
Saturday: 10AM – 1:30PM
Closed on Sunday and Public Holidays
Since 2004, The Wonderment Collective (TWC) has been preparing sweet gifts for loved ones, as they are of the opinion that sweet treats are the most honest gifts. When combined with exquisitely crafted labels and packaging and put together as classy gift baskets, it truly is a source of luxury custom presents!
Among other baked goods, their expertly constructed pineapple tarts are produced using a secret family recipe that dates back to the 1930s. TWC promises that after you've tried their pineapple tarts, you won't look for another brand because of the balanced sweetness and richness of the intentionally sourced ingredients, as well as the subtle notes of delicate spices elevating the pineapple jam, caramelized to perfection. Additionally, they provide a variety of special sweets and other treats that are only available in their La Boutique and not in their online store. The physical location of the business is equally decorated with their distinctive European and Asian design elements, which serves as the ideal backdrop for your elegant snacks or a high-tea session with friends or family.
Key Differentiators:
Classic: TWC's bespoke packaging designs carry authentic classical motifs, both European and Asian combined.
Contemporary: TWC pays strict attention to detail, from their bakes' taste, to its packaging, assembly and also cafe ambience (from music to design). TWC makes sure every fans' latest needs are catered to so that they get the best gustatory satisfaction every time they come over!
Distinct: the bespoke designs on TWC's labels, café French inspired décor, and beautifully assembled gift baskets are the pride of TWC. They make sure every aspect of their products are
Client Testimonial:
"One does not patronize The Wonderment Collective for a boisterous, convivial time. Instead, TWC has set itself up as a space of quiet and peaceful reflection, where voices above a whisper would seem, perhaps a tad too intrusive. It's a great place for a first date also, but it's even better for thirty minutes of solace, solitude, and calm all on your own."

Zat Astha via SethLui
5. Bread & Butterfly
Key Services
Artisanal ice cream shop, Dessert Singapore
Website
www.breadandbutterfly.sg
Address
435 Orchard Road, #B1-46 Wisma Atria
Singapore 238877
Email
breadandbutterfly@saveur.sg
Operating hours
Monday to Thursday: 12PM – 3PM, 4PM – 9:30PM
Friday and Sunday: 12PM – 10PM
What matters most is what's inside. Bread & Butterfly's artisanal ice creams are made by chefs using only fresh ingredients, including herbs, spices, fruits, and nuts, and are inspired by the adventurous flavors of travel. When you eat Bread & Butterfly ice cream, you can expect to feel creamy, crunchy, and refreshing. It is the delicious item that will undoubtedly melt your heart and bring you joy and happiness. They say it, but I won't know because I live in my own universe. Eat me to experience it for yourself.
Key Differentiators:
All Natural Flavours made with fresh ingredients.
12 unique and tasty flavours to choose from.
Picture corner in store for you to snap social media-worthy photos with your ice-creams.
Client Testimonial:
"Will highly recommend their pistachio ice cream! The bits in it and the strong pistachio taste just makes me crave for more! One is not enough for me."

Huiwen
6. Nasty Cookie
Key Services
Handcrafted gourmet cookies baked to perfection, Dessert Singapore
Website
www.nastycookie.com
Address
Nasty Cookie @ Funan:
107 North Bridge Road, Funan Mall #02-35
Singapore 179105

Nasty Cookie Factory @ Kaki Bukit:
1 Kaki Bukit View #01-02
Singapore 415941
Email
hello.nastycookie@gmail.com
Operating hours
Funan:
Daily: 12:30PM – 9PM

Kaki Bukit:
Weekdays: 10AM – 8:30PM
Weekends: 1PM – 8:30PM
Nasty Cookie is the first New York gourmet cookie shop to open in Singapore, and it was sinfully founded in October 2018. The Jumbo NY-inspired gourmet cookies offer a combination of chewy, chunky, and crispy textures in one cookie. These handcrafted treats will give you a taste that is both rich and opulent with every mouthful because they are made solely with the finest dark couverture chocolates. Your taste senses should be in for a nice surprise as the sweetness is perfectly balanced. These cookies are not your typical treats; they are bad cookies.
Key Differentiators
Nasty Cookie keeps things interesting for their consumers by launching new flavours monthly and also new packaging yearly.
Apart from cookies, Nasty Cookie also has a range of merchandise to showcase the brand's creativity.
Each outlet is designed with a different concept to provide a unique experience with each visit.
Client Testimonial:
"Amazing flavor bombs. They're very sweet but perfect with fresh milk. Crispy on the outside and melty on the inside. Highly recommend the Lotus and dark chocolate cookies will be back to try the red velvet and peanut butter ones!"

Su L
7. DOHKIE
The first and only edible cookie dough store in Singapore is called DOHKIE. Since 2018, DOHKIE has been spreading the love for edible cookie dough, whipping up everyday fresh cookie dough in 8 distinctive flavors to satiate your sweet craving. Looking for a different dessert option because you're sick of the typical selections? Visit DOHKIE to see if their chilled edible cookie dough, which has a distinct flavor and texture, is right for you. Who knows, this may be the dessert you've been missing from your refrigerator. For your cookie dough fix whenever you need it, there are both dining in and takeout choices available!
Key Differentiators"
The first and only edible cookie dough brick-and-mortar shop in Singapore.
Will not melt, making it the perfect movie/Netflix treat!
Unique flavours of cookie dough available. The most popular flavours are Original Chocolate Chip, Cookies & Cream, and Brownie Batter.
Client Testimonial:
"Cookie Dough may not be for everyone but I enjoy it every darn time. Personally do not have a sweet tooth (but love strong flavours) so my recommendations are: Peanut Butter, Bitter Matcha with White Chocolate, Brownie Batter (significantly more decadent and sweet but a superb chocolate fix). If you like earl grey tea, their Earl Grey Vanilla soft serve is one of the most (naturally) flavourful out there. Note that the Soft Serve is sweeter than the dough, so it balances out. Their staff is the epitome of an intrusive but always helpful and welcoming. They've made the small space conducive for hanging out with friends or chilling alone if you have none. Also the branding is perfection. Is it a fishball? A potato? Nobody knows!! But maybe, just maybe, an unbaked cookie. Thanks for being the definitive DOH joint here in Singapore"

Anonymous
8. Mrs. Plumps
| | |
| --- | --- |
| Key Services | Healthier-alternative ice cream, Dessert Singapore |
| Website | www.mrsplumps.com |
| Address | imPAct@Hong Lim Green, 20 Upper Pickering St, #01-01, Singapore |
| Phone | 9186 5011 |
| Email | mrsplumps.icecream@gmail.com |
| Operating hours | Monday to Friday: 12:30PM – 6:30PM |
The first superfood ice cream in Singapore was Mrs. Plump's. The mother of two picky preschool-aged boys, Mrs. Plump, has been slipping some of their daily serving of fruits and vegetables into their favorite treat. Vanilla ice cream Superfoods like kale, chia seeds, and berries are emulsified into the mixture along with other natural sweeteners like agave, dates, and fruits to create a deceivingly delectable treat. Along with keto vegan superfood ice cream, sugar-free vegan superfood popsicles, and an ever-evolving, decadent CheatDay collection with exclusive holiday flavors, Mrs. Plump's also sells these products. Really, there is an ice cream flavor to suit everyone. Her ice creams are genuinely a labor of love, made by Mrs. Plump herself in tiny amounts. Try some of their best-selling flavors such as Chocolate Kale, Banana Dates, Keto Cinnamon Coconut and Strawberry Popsicles at their store or online. Healthy food has never tasted so amazing!
Key Differentiators:
No refined sugar – their ice creams are mainly sweetened with natural sugars from fruit, dates and organic agave nectar.
Superfood ice creams contain a sneaky dose of superfoods which add fibre, vitamins and minerals to the ice cream, making it a healthier treat.
All-natural ingredients are used – oes not contain any dextrose, maltodextrin, liquid sugars, preservatives or other nasties found in a typical ice cream. 
Client Testimonial:
"This is some of the best ice cream I have ever had. Chocolate Kale is divine. And the keto ice cream is amazing. My son loves the Vietnamese Coffee one! And what I also love is the environmentally friendly packaging."

Anonymous
9. The Tiramisu Hero
| | |
| --- | --- |
| Key Services | Bespoke tiramisu and savoury meals cafe, Dessert Singapore |
| Website | www.thetiramisuhero.com |
| Address | 121 Tyrwhitt Road, Singapore 207548 |
| Phone | 62925271 |
| Email | order@thetiramisuhero.com |
| Operating hours | 11AM – 10PM daily (closed every third Wednesday of the month) |
If the name doesn't give it away, this place is all about tiramisu. The Tiramisu Hero opened its doors in 2013, delivering customised tiramisu that is offered in up to 20 flavors, and is tucked away in the vibrant neighborhood of Jalan Besar. Choose from distinctive flavors like hojicha, yuzu, Milo, or Speculoos to give the traditional desserts a contemporary flavor. Additionally, you can select the ideal quantities of sweetness, wetness, and alcohol for your ideal tiramisu dose!
Along with coffee and a variety of other savory dishes like Garlic Butter Shrimp Pasta, Sir Antonio Mega Breakfast, and entertaining regional specialties like Homemade Dry Mee Hoon Kueh, The Tiramisu Hero also serves the Italian dessert. Additionally, they have a meat-free section to accommodate our vegetarian guests.
Key Differentiators:
Customizable tiramisu where customers can select from a list of up to 20 available flavours, and thereafter customise how moist, how sweet and how much (or whether) they would like their tiramisu alcoholic.
Bring a part of The Tiramisu Hero home with their line of merchandise featuring our cafe mascot, Sir Antonio.
The Tiramisu Hero has a franchisee currently based in Japan, near Tokyo.
Client Testimonial:
"Saw this place at night when my friend and I were on the way back to the hotel. It looks cute from outside and very crowded, as it was really late and we were too sleepy, we decided to have breakfast the next day here. The place indeed is very cute and cozy. The drawings of Sir Antonio (the main cat) are on the wall and ceilings. The servers are friendly too! I ordered piccolo latte and it came in a very cute cat mug and my friend ordered long black. We shared the mega breakfast, and lucky that we decided to share it, as the portion is really big. Bacons, egg, very chewy yummy bread, sausages, salads and fried potatoes are in the mega breakfast. The price and portion are really worth it. We didn't try the tiramisu because we were very full but we did tried the chocolate tester and yum, the chocolate with dried strawberry tastes good."

Anonymous
10. Drips Bakery Cafe
Key Services
Round and baked tarts, Dessert Singapore
Website
www.drips.com.sg
Address
Tiong Bahru:
82 Tiong Poh Road #01-05
Singapore 160082

Takashimaya:
391 Orchard Road #B2-31 Takashimaya Shopping Centre Ngee Ann City
Singapore 238872
Phone
62220400
Email
dripbakerycafe@gmail.com
Operating hours
Tiong Bahru:
Sunday to Thursday: 9AM – 9PM
Friday and Saturday: 9AM – 10PM

Takashimaya:
Daily: 8AM – 9PM
In the center of Tiong Bahru, Drips Bakery Café is an artisanal café that opened its doors in 2010. Since a decade ago, Drips Bakery has been dedicated to providing the best culinary experience possible by utilizing the finest products and unique fruits that are imported from all over the world. Try the Seasonal Fruit Tart, their trademark tart, and enjoy in the succulent sweetness of fresh fruits mixed with the delicate flavor of custard laced with Madagascar vanilla. Each of their tarts is placed on a delicately formed tart shell prepared with fine French butter. Their Baked Macadamia Tart and Fresh Avocado Tart are two more delectable audience favorites.
It is understandable why Drips Bakery has gained a cult following and is regarded as having some of the best tarts in Singapore because of its consistently high quality and use of the finest ingredients. Drips Bakery suggests serving their artisanal tarts with a flavorful cup of tea or coffee for the ideal treat for friends, family, and loved ones.
Key Differentiators:
Specialising in tarts since 2010.
Homed in nostalgic Tiong Bahru estate for the last decade.
Artisanal specialty roasted and filter coffees available to pair with your tarts.
Client Testimonial:
"Hi my friend and I tried out your new cafe at Takashimaya. love your pastry and even more so the service from your staff, they are very attentive full of positive vibes and excellent svc attitude. Pls relay my gratitude to them."

@grouchytigeress
11. Dolç Patisserie
Key Services
Patisserie cafe serving food, beverage and desserts, Dessert Singapore
Website
www.dolcpatisserie.com
Address
67 Kampong Bahru Road #01-00
Singapore 169371
Phone
96784686
Email
dolcpatisserie@gmail.com
Operating hours
Monday, Wednesday to Saturday: 9AM – 6PM
Sunday: 10.30AM – 5PM
Closed on Tuesday
Dolç Patisserie is a pastry store that combines French methods with contemporary flavors and Spanish influences. High-quality ingredients, delicate flavors, and contemporary techniques combine to produce delicate yet eye-catching items at Dolç Patisserie. Dolç Patisserie will offer distinctive baked goods during restricted times of the year that mirror the dessert culture in the Spanish city of Barcelona in an effort to bring a piece of Barcelona to Singapore. There is something at Dolç Patisserie to satiate every sweet craving, whether it be a warm buttery croissant or a petite gateau.
Key Differentiators:
Dolç Patisserie prides in bringing high-quality pastries from Barcelona to Singaporeans.
Everything is made from scratch in their patisserie.
Dolç's cake flavours cannot be easily found in other cake shops in Singapore.
Client Testimonial:
"So happy to find this new patisserie with great desserts and croissants. We visited two times and tried ham & cheese croissant, royale (dark chocolate dessert), Charlotte(strawberry mousse with basil), Elsie(cream cheese yogurt & coconut) all of them are so good and so satisfied!!! Definitely will visit again."

Seyeon Jeon
12. Melted Bakehouse
Key Services
Basque burnt cheesecake, buns and swiss rolls, Dessert Singapore
Website
www.meltedbakehouse.com
Address
1 Irving Place, The Commerze #02-05
Singapore
Phone
96731151
Email
melted@bakehouse.com
Operating hours
Arbitrary
Melted Bakehouse specializes in the popular basque burnt cheesecake and serves high-quality, delectable dessert with an open heart. To satisfy any melty cheesecake desires, Melted Bakehouse provides not one but seven different variations of the basque burnt cheesecake. The popular Forest Basque Burnt Cheese Cake, which has a ton of berries on top, and the Chocolate Basque Burnt Cheese Cake, which is created with Valrhona chocolate fudge and has a burnt crust top that is heavily dusted with cocoa powder, are also available. If you want something light and refreshing, choose their distinctive Earl Grey Basque Burnt Cheesecake, or go for the Truffle Cheese Basque Burnt Cheesecake for a robust and flavorful profile. A cheesecake that is always prepared to perfection can never go wrong.
Key Differentiators:
Flexible pick up time for self-collection at any hour of the day.
Quick replies & confirmation at any hour of the day.
High-quality ingredients used such as Valrhona chocolate and truffle cheese.
Client Testimonial:
"Thank you meltedsg for the beautiful cake! My kids were so excited when they saw it! Very detailed design and more importantly the cake is nice! Definitely recommended!"

Ken Koh
13. Dessert First
Key Services
Retail sales of Hot & Cold Desserts. Also partnering with delivery platforms like Grabfood & Foodpanda.
Website
www.dessertfirst.shop
Address
8 Liang Seah Street #01-04
Singapore 189029
Phone
92415672
Email
dessertxian@gmail.com
Operating hours
Monday to Thursday: 12.30PM – 12.30AM
Fridays to Saturday: 12.30PM – 1.30AM
Sunday: 12PM – 12.30AM
Dessert First was founded in 2009 and offers delectable sweets of the finest quality prepared with the finest natural ingredients. Dessert First, a restaurant in Liang Seah, is committed to giving you a comfortable dining experience, warm service, and delicious sweets that are affordable. Enjoy the cooling flavor of freshly made snow ice or shaved ice that is offered in a wide variety of flavors, including mango, strawberry, chocolate, and even durian. Or choose the traditional, delicious, home-made Belgian waffles with ice cream on top!
Key Differentiators:
A wide variety of our popular Snow Ice/Shaved Ice Series & Home-Made Belgium Waffles.
Our Fresh Mango & Durian dessert items are very popular.
Striving to provide Friendly & Professional Service Standards.
Client Testimonial:
"Dessert First serves Quality food that is reasonably priced and with good Customer Service! Had their Durian Ice & Thick fluffy Salted-Caramel Waffle, Very delicious and surely a Recommended desserts place to go! Will definitely be back for more yummy Desserts!"

Anonymous
Dessert Singapore
Our list of dessert spots to visit this year is now available for your perusal. Enjoy these delectable sweets before making your next New Year's goal to "cut back on the sweet stuff" because most of us enjoy desserts!
You may also check these related articles:
Frequently Asked Questions (FAQ)
If you have any questions about Desserts in Singapore, you can refer to the frequently asked questions (FAQ) about the best Desserts in Singapore below:
What are the best desert places in Singapore?
The best dessert places in Singapore are The Durian Bakery, KURA, FLOR Patisserie, The Wonderment Collective, Ah Chew Desserts, and Bread & Butterfly.
Where can I find the best chocolate cake in Singapore?
If you're a chocolate cake lover, you should definitely try the one at Plain Vanilla Bakery. Known for its moist and decadent cakes, this bakery never disappoints when it comes to satisfying your sweet tooth.
Are there any dessert places that offer unique flavours like Earl Grey Lavender in Singapore?
Absolutely! You can enjoy the unique flavour of Earl Grey Lavender at Sunday Folks. They are known for their handmade ice cream and have this flavour as one of their specialities.
I've heard a lot about Sea Salt Gula Melaka. Where can I try it?
Sea Salt Gula Melaka is a popular flavour among ice cream lovers in Singapore. You can try this at several places that offer freshly churned ice cream, including Sunday Folks.
What makes Plain Vanilla Bakery stand out among other dessert places in Singapore?
Plain Vanilla Bakery is renowned for its high-quality ingredients and the wide variety of flavours they offer. Whether you're looking for sliced cakes, cupcakes, or cinnamon brown sugar treats, they've got you covered.
What are some traditional Chinese desserts I can try in Singapore?
Singapore offers a wide range of traditional Chinese dessert. You can try sweet potato desserts, those made with coconut milk, and many more at various dessert shops across the city.
Where can I find desserts that feature roasted pistachio in Singapore?
Roasted pistachio is a popular ingredient in many desserts in Singapore. It's commonly used in ice cream cakes and freshly churned ice cream, which you can find at places like Sunday Folks.
Are there any places in Singapore that specialize in ice cream cakes?
Yes, there are several places in Singapore that offer delicious ice cream cakes. Sunday Folks is one of them, known for their handmade ice cream cakes that cater to all ice cream lovers.
Can you recommend a place that serves desserts with cinnamon brown sugar?
Cinnamon brown sugar is a popular flavour at Plain Vanilla Bakery. They have a variety of treats featuring this flavour, including their famously soft and moist sliced cakes.
As an ice cream lover, where should I go in Singapore?
Singapore has plenty of options for ice cream lovers. For freshly churned, handmade ice cream with unique flavours like roasted pistachio or sea salt gula melaka, try Sunday Folks. Another great option is Plain Vanilla Bakery that also serves delicious ice cream cakes.
Additional Useful Articles
If you are looking for other useful guides and articles about the best desserts in Singapore, check them out below: