Go Kart Singapore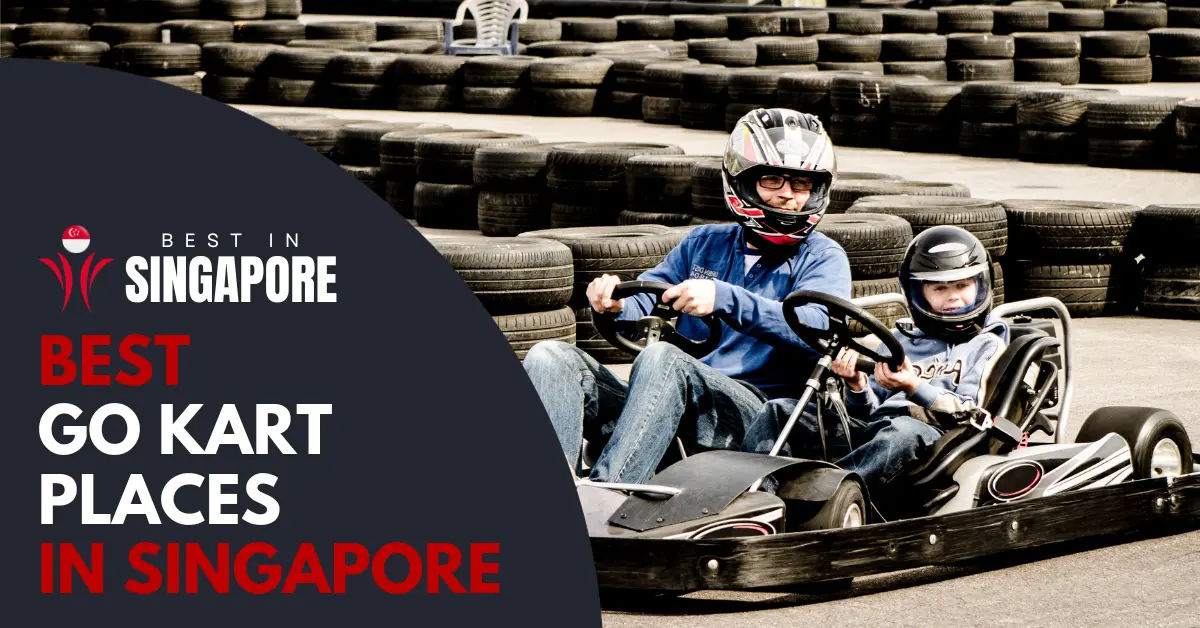 Go-karting has long been a favorite pastime for both the young and the young at heart.
The best places for Go Kart in Singapore are RaceHub Singapore, Karting Arena Jurong, KF1 Karting Circuit Kranji, and KF1 Karting Circuit Singapore Expo.
When deciding on a Go Kart venue, it's important to take into account crucial factors like the venue's location, pricing, availability, and the quality of service provided.
Go Kart Singapore offers an adrenaline-pumping experience with a variety of tracks in premium arenas. It's the perfect blend of speed, excitement, and competitive fun in a safe and well-maintained environment.
In the following sections, we'll be exploring the best places for go-karting in Singapore.
Quick Summary
Best places for Go Kart in Singapore are RaceHub Singapore, Karting Arena Jurong, KF1 Karting Circuit Kranji, and KF1 Karting Circuit Singapore Expo.
When choosing which arena to go for Go Kart, make sure to consider important factors such as the location, price, availability, and quality of service.
Go Kart Singapore offers thrill seekers an adrenaline-pumping experience, providing an array of tracks in premium arenas across the city-state, blending speed, exhilaration, and competitive fun in a safe, well-maintained environment.
Key Consideration Factors
Before going into a Go Kart arena, make sure to consider these important factors:
Location: The location of the Go Kart arena is important when deciding on which one to go for. Make sure it is conveniently located and easy to access.
Pricing: It's important to look at how much a single session or package costs, as well as what additional services you may have access to with the payment.
Availability: Make sure to book your Go Kart sessions in advance, as many venues need advanced booking.
Quality of Service: Check out the arena's customer reviews and reputation for excellent service, and make sure that all safety regulations are met when you're on the track.
Best GoKart Singapore
1) KF1 Karting Circuit Singapore Expo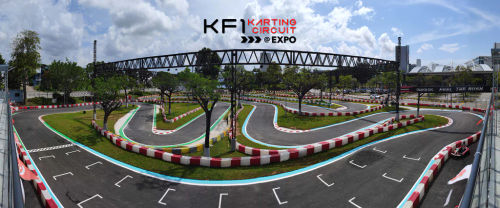 Situated in the vibrant East of Singapore, you'll find an impressive go-kart track that stretches a remarkable 750m, making it one of the longest in the city. With its 16 thrilling turns, this track promises an exhilarating racing experience like no other.
Whether you're a seasoned racer or a beginner, get ready to feel the adrenaline rush as you navigate each turn, pushing your racing skills to the limit.
But the excitement doesn't end there. After your heart-pumping session at the KF1 Karting Circuit Singapore Expo, why not extend your adventure at Changi City Point? Indulge in a delightful culinary journey, exploring the diverse range of flavors and cuisines available. From local delicacies to international delights, there's something to satisfy every palate.
And if shopping is your thing, get ready for a truly satisfying spree as you browse through the many retail outlets, offering a wide variety of products and brands to choose from.
Make the most of your time in the East and create unforgettable memories at this incredible go-kart track and beyond.
2) KF1 Karting Circuit Kranji
Situated in the lively district of Kranji, Singapore, this go-kart track offers an unparalleled adrenaline-pumping experience that is truly one-of-a-kind. With its remarkable length spanning an impressive 960 meters and a meticulously designed layout consisting of 18 exhilarating turns, the KF1 Karting Circuit Kranji guarantees a heart-racing adventure that will undoubtedly leave you yearning for more.
Whether you are an experienced racer with a passion for speed or a first-timer looking to embark on an exciting new journey, this extraordinary track is committed to maximizing your time and investment, ensuring an exhilarating and unforgettable adventure that will fulfill your need for speed and ignite your racing spirit.
3) The Karting Arena Bukit Timah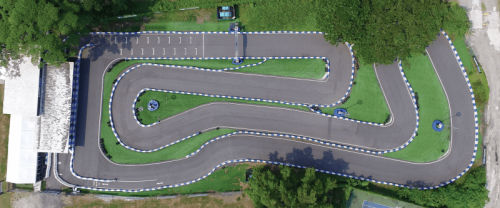 Located in a prime location in the vibrant heart of Bukit Timah, The Karting Arena Bukit Timah offers a conveniently situated 500m track that will ignite your senses with its 9 thrilling turns.
Whether you are in search of a delightful activity to engage in just a stone's throw away or a distinctive and exhilarating venue to host an unforgettable birthday celebration for kids or adults, this extraordinary option guarantees an unparalleled and truly memorable experience that will be etched in your memories forever.
4) The Karting Arena Jurong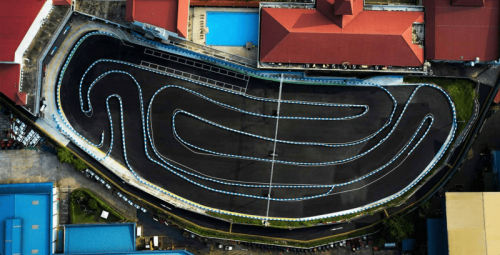 Situated in the heart of Jurong, the Karting Arena Jurong stands as a premier go-karting destination that promises an exhilarating experience for both novices and seasoned racers alike.
Prepare to be amazed as you embark on a thrilling journey, testing your skills and embracing the adrenaline rush that courses through your veins with every twist and turn of its impressive 700m track, boasting a total of 11 heart-pounding corners.
At the Karting Arena Jurong, racing enthusiasts are presented with not just one, but two exciting options to satiate their need for speed. The first option, aptly named Fun Karting, invites you to engage in a friendly competition against your friends or family members, vying for the title of the fastest lap time in an invigorating 10-minute session.
This exhilarating activity serves as an incredible opportunity to challenge yourself and immerse yourself in the unparalleled thrill that kart racing has to offer.
5) HyperDrive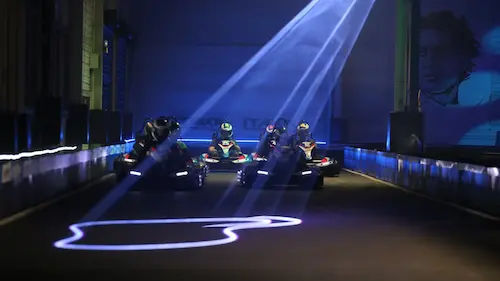 This unique and unparalleled attraction provides an extraordinary and futuristic go-karting experience. It showcases cutting-edge electric go karts that are powered exclusively by 100% electricity and harness the energy of the sun.
What truly distinguishes this track from others is its remarkable three-level indoor racing route. This innovative design incorporates exhilarating virtual gaming elements, seamlessly blending the physical and digital realms.
As you navigate the virtual track, picture yourself collecting power-ups strategically, positioning yourself at the forefront of the race, just like the iconic and beloved game, Mario Kart! Let your imagination run wild as you embark on a thrilling adventure that combines the joy of go-karting with the excitement of virtual gaming.
6) RaceHub Singapore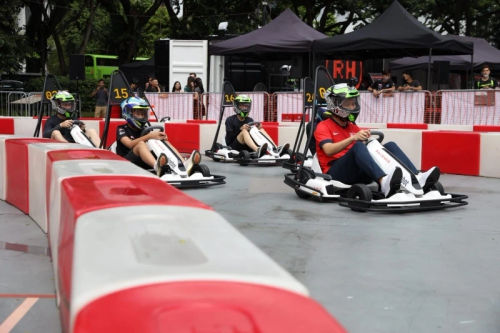 Located conveniently in the heart of town, RaceHub Singapore is the ultimate destination for go-karting enthusiasts. With its prime location, it offers easy accessibility to all racing enthusiasts looking for an adrenaline-pumping experience. What sets RaceHub apart from other go-kart tracks in Singapore is its state-of-the-art electronically-powered go-karts.
These cutting-edge karts not only deliver unparalleled speed and thrills but also provide a fully adjustable experience, ensuring that every racer can find their perfect and most comfortable position on the track.
But that's not all. RaceHub takes go-karting to the next level by introducing innovative digitized tracks. Picture the exhilaration of go-karting right at your doorstep! With these digitized tracks, you can engage in exhilarating races against your friends or even challenge virtual opponents, all while immersing yourself in the realistic thrill of high-speed racing.
RaceHub guarantees an unforgettable experience that combines the best of technology and motorsport, making it a must-visit destination for racing enthusiasts of all levels.
7) Skyline Luge Sentosa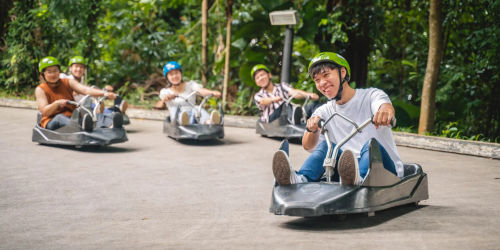 While not strictly following the traditional go-karting concept, one of Sentosa's most sought-after attractions is the unparalleled Luge karting experience at Skyline Luge Sentosa. Prepare yourself for an adventure filled with adrenaline, as you navigate through a variety of tunnels, slopes, and twists amidst the lush greenery of this captivating island.
Allow the wind to sweep through your hair and the exhilaration to course through your veins as you embark on a scenic Skyride, immersing yourself in the breathtaking panoramic views of the surrounding beauty.
And then, brace yourself for the heart-pounding downhill race on one of the four thrilling race tracks: Jungle Trail (622m), Kupu Kupu Trail (638m), Expedition Trail (658m), and Dragon Trail (688m). Let the excitement unfold and create memories that will last a lifetime.
GoKart Singapore
In conclusion, Singapore offers a wide range of go-karting experiences to cater to various preferences and skill levels. Ranging from professional, high-speed circuits to kid-friendly, fun-filled venues, and even to tracks that amalgamate the thrill of racing with digital gaming.
This diverse selection ensures that every go-karting enthusiast, irrespective of their proficiency, will find an experience that suits their desires and needs.
So, buckle up, put the pedal to the metal, and prepare for an exhilarating adventure that Singapore's go-karting scene has to offer.
Frequently Asked Questions (FAQ)
If you have any questions about Go Kart in Singapore, you can refer to the frequently asked questions (FAQ) about the best Go Kart places in Singapore below:
What are the best places for Go Kart in Singapore?
The best places for Go Kart in Singapore are The Karting Arena Jurong, RaceHub Singapore, KF1 Karting Circuit Singapore Expo, and KF1 Karting Circuit Kranji.
How much does go-karting cost in Singapore?
The cost of go-karting in Singapore varies based on the track and package selected. You can find packages ranging from approximately S$23 to S$83, catering to different budget preferences.
Are go karts legal in Singapore?
Indeed, go karts are permissible in Singapore as long as they comply with the requirements and conditions stipulated by the Ministry of Home Affairs.
Why is go-karting so expensive?
Go-karting can be quite costly due to the need for specialized equipment, dedicated tracks, and staff to ensure safety and provide an enjoyable experience. The expenses involved in running a go-kart business are considerably higher compared to other motorsports, which is a contributing factor to the higher overall costs.
What is the height limit for KF1?
The height limit for KF1 is between 120cm to 200cm.
Where can racers find a state-of-the-art race track in Singapore?
Maximum Drift Karting Arena is one of the best places for go kart racing in Singapore, offering a top-notch race track for adrenaline-fueled experiences.
Are there any venues in Singapore that offer sim racing experiences alongside go kart tracks?
Yes, racers Sim Racing Studio provides a unique combination of sim racing and go karting, allowing enthusiasts to enjoy the thrill of virtual and real-life racing in one place.
Which go kart venue in Singapore is known for its tandem kart configurations?
Grand Prix stands out with its tandem kart configurations, providing the option for double seater go kart, perfect for enjoying the go kart racing experience with a friend or family member.
Can I host professional race events at go kart tracks in Singapore?
Absolutely! Both Maximum Drift Karting Arena and Arena Country Club offer excellent facilities and race tracks suitable for hosting professional race events.
Are there any go kart venues in Singapore with dedicated race control rooms?
Yes, Arena Country Club has a dedicated race control room to ensure smooth operations and enhanced safety during go kart races.
Where can beginners find novice karts to kick-start their go kart racing journey in Singapore?
Novice karts are available at multiple go kart tracks in Singapore, including Maximum Drift Karting Arena and Grand Prix, catering to beginners who want to learn and improve their skills.
What are some of the best go kart places in Singapore that offer junior karts for younger kids?
Some of the top go kart places in Singapore that cater to younger kids with junior kart include KF1 Karting Circuit and The Karting Arena. These places provide a safe and controlled environment for younger kids to enjoy the thrill of go karting. They have specially designed junior karts that are easy to handle and ensure the safety of the little ones.
Where can I find advanced go karts and senior karts in Singapore for double the fun?
For those looking for advanced go karts and senior kart, KF1 Karting Circuit and Maximum Drift Karting Arena are great options. They offer powerful senior karts designed for experienced drivers. These karts provide double the fun and excitement with their high-speed capabilities and challenging tracks.
Are there any go kart places in Singapore that offer dual karts?
Yes, The Karting Arena in Singapore offers dual karts. These are perfect for parents who want to accompany their kids or for friends who want to race together. With dual karts, you can share the thrill and create memorable experiences.
Additional Useful Articles
If you are looking for other useful guides and articles about Go Kart in Singapore, check them out below: