Group Activities Singapore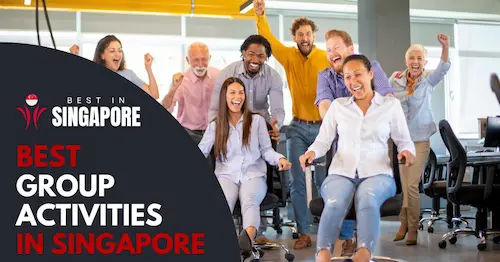 Discover the best group activities in Singapore that guarantee endless fun and excitement!
The best group activities in Singapore are Bubble Soccer and Giant Board Games to unique experiences like Poolball™, Bullet Ball, Leather Workshop, and Clay Making Workshop.
When booking an activity, consider important factors such as your teammates' preferences, equipment quality, pricing, and location.
For an unforgettable experience, FunEmpire's Group Activities shines as the top choice in Singapore, with a remarkable track record of organizing over 50,000 successful events and receiving 8,000 outstanding reviews. Get ready for an adventure like no other!
From team building activities to leisurely pursuits – we've compiled extraordinary group activities just for you!
Key Consideration Factors
When choosing a group activity in Singapore, make sure to check out on the important factors, such as:
The teammate's preferences: Ask your group what type of activity they want to do and take their feedback into consideration. From outdoor activities such as Bubble Soccer, Giant Board Games, Poolball™, Bullet Ball, etc., to indoor activities like Leather Workshop and Clay Making Workshop – there is a great variety of engaging activities for everyone to enjoy!
Quality of equipment: It is important to make sure that the activity you chose has quality, safe, and up-to-date equipment for everyone to feel comfortable with. Consider checking out reviews from customers who have already tried the activity in question.
Pricing: Check through all available packages and select the one that fits your budget. Make sure to compare the pricing with other similar activities to get the most value for your money.
Location: Make sure that the chosen activity is located conveniently for all members of your group. Consider taking into account transport options such as driving, public transport, or ride-hailing services.
Benefits of Group Activities in Singapore
Creates a shared experience: Engaging in group activities results in a meaningful and memorable experience, which can foster team bonding and ultimately lead to new friendships.
Improves mental well-being: Collaborating with others toward a common goal during group activities positively impacts mental well-being. Such team bonding activities can uplift self-esteem, decrease stress, and improve overall mood.
Increases physical activity: Physical team bonding activities, including sports or fitness classes, raise physical activity levels, which significantly impacts health by reducing the risk of chronic illnesses such as heart disease and diabetes.
Builds community and social connections: Participating in group activities allows people to network with individuals who share similar interests and values, growing a sense of togetherness and community. This can eradicate loneliness/ isolation.
Helps develop new skills: Group activities present opportunities to develop and learn new skills, which is especially beneficial for individuals living in Singapore's fast-paced and positive work environment, where the need for constant learning is essential for personal and professional growth.
Best Group Activities Singapore
Creative Workshops
1. Perfume Workshop
Unleash the full potential of team building with a captivating and extraordinary custom perfume workshop! Immerse yourself in the captivating world of scent as you explore and discover each other's unique personalities.
Together, you'll embark on a sensory journey to create a truly exceptional fragrance that encapsulates the essence of your collective identity. This remarkable activity not only fosters creative expression but also strengthens the team bonds between group members, forging deeper connections and understanding.
Prepare for an unforgettable experience as you collaborate, crafting an aroma that speaks volumes about who you are together. Get ready to indulge in this immersive and enriching adventure, where the power of scent becomes a catalyst for unity and shared creativity.
2. Cooking Class
Looking for an invigorating and educational team-building event? Look no further! Join one of Singapore's premier cooking classes to learn how to create local cuisine with your teammates. This offers aspiring
Looking for an invigorating and educational team building activities in Singapore? Look no further! Join one of Singapore's premier cooking classes to learn how to create local cuisine with your teammates.
This unique experience offers aspiring chefs in this vibrant city a great opportunity to sharpen their culinary skills, explore the rich flavors of local dishes, and gain invaluable lessons from expert chefs.
But it's not just about the cooking! This excellent team building activity also provides a platform to foster strong relationships among peers, fostering teamwork, communication, and collaboration. As you work together to prepare delicious meals, you'll bond over shared experiences and create lasting memories.
Immerse yourself in the vibrant culinary culture of Singapore as you learn traditional cooking techniques, discover the secrets behind iconic local dishes, and unleash your creativity in the kitchen.
At the end of the class, you and your teammates will be rewarded with the ultimate satisfaction of enjoying the delectable dishes you've cooked together. Share laughter, stories, and good food as you savor the fruits of your labor.
Don't miss out on these extraordinary team building activities in Singapore that combines the joys of cooking, learning, and bonding. Sign up for one of Singapore's premier cooking classes today and create a memorable experience that will strengthen your team and leave everyone craving for more!
in this vibrant city a great opportunity to sharpen their culinary skills, build stronger relationships among peers, gain invaluable lessons – all while ultimately getting the reward of enjoying the delectable dishes cooked up during their time together.
3. Art Jamming
Experience a unique and unforgettable day with our team building activities in Singapore that will transform your office environment. Immerse yourself in a soothing soundtrack, creating a serene ambiance that encourages everyone to unwind and engage in open conversations.
Unleash your creativity as you create beautiful artwork that you can proudly take home as a cherished memento from this extraordinary experience. It's not surprising that our calming interludes have become one of the most sought-after services, considering the overwhelming workplace stress that plagues us today. Embrace this opportunity to relax, bond, and rejuvenate with your team like never before.
4. Leather Workshop
Looking for an extraordinary team building experience that will leave a lasting impression? Or perhaps you're eager to unlock your creative potential in a unique way? Look no further than The Leather Workshop in Singapore!
This workshop offers an immersive journey into the art of leather crafting, where participants can unleash their creativity and fashion a wide range of stylish items. From chic coin pouches to trendy key FOBs and elegant luggage tags, the possibilities are endless. Each handcrafted piece is a true masterpiece, reflecting the individuality and personal touch of its creator.
Whether you choose to keep it as a cherished memento or gift it as a special present, this workshop promises to create everlasting memories that will be treasured for years to come. Embark on this enchanting experience and discover the joy of creating something truly unique at The Leather Workshop in Singapore!
5. Terrarium Workshop
Are you in search of an exciting and perfect team building activity that will engage and stimulate your team? Look no further than Terrarium Singapore!
Immerse yourself in an immersive experience where you and your colleagues can come together, whether near or far, to create your very own captivating pocket forest. In this virtual workshop, you can unleash your creativity and collaborate as a collective to design something truly amazing.
Don't miss out on the opportunity to bond and connect with your team while enjoying the Terrarium Singapore workshop. Join us today and embark on a journey of creativity and teamwork!
6. Candle Making Workshop
Experience the unforgettable and one-of-a-kind team activity of candle making workshops in Singapore! Immerse yourself in the art of crafting candles as our workshop offers an array of packages that cater to all levels of creativity and expertise. From the basics of soy candles to the more intricate designs featuring gel layering and vibrant color additions, you'll have the opportunity to create truly unique and personalized candles.
Indulge your senses as you combine fragrances and colors to craft candles that not only illuminate your surroundings but also evoke delightful aromas. Whether you're looking to create a memorable souvenir or enhance the ambiance of your workspace, our soy candle making workshop experience guarantees an unmatched level of satisfaction and creativity.
Join us and unlock your inner artist as you embark on candle making workshops journey like no other. Be inspired, unleash your imagination, and create candles that reflect your personal style and taste. Discover the joy of candle making and take home a piece of art that will light up your space and leave a lasting impression.
7. Clay Making Workshop
Unleash your creative energies and embark on an extraordinary journey with the Clay Making Workshop, a unique and engaging team-building session held in the vibrant city of Singapore! This immersive workshop offers participants the opportunity to explore the art of clay crafting under the guidance of our experienced instructors.
During the workshop, you will discover the versatility of air dry clay as you create stunning and personalized items. With a wide range of figurines available, including beautiful flowers and various objects, you can fully customize your clay creations to reflect your own artistic vision.
Not only does the Clay Making Workshop provide a platform for team bonding, but it also encourages innovative thinking and imaginative self-expression. By engaging in this hands-on experience, you and your group will have the chance to collaborate, communicate, and tap into your creative potential, fostering a sense of unity and camaraderie.
Join us for the Clay Making Workshop and let your artistic spirit soar as you delve into the world of clay crafting. Whether you are seeking memorable team building activities in Singapore or simply a fun and fulfilling way to express yourself, this workshop promises an unforgettable experience filled with creativity and foster camaraderie.
8. Balloon Sculpting
Unlock your creative potential and let your imagination soar with our immersive Balloon Sculpting Workshop. Designed for participants of all ages, this workshop is a journey into the captivating world of balloon artistry.
In this hands-on experience, you'll delve into the intricacies and limitless possibilities of hues, shapes, and forms within the realm of balloon sculptures. From elegant butterflies to swashbuckling pirate swords, you'll discover that there are no boundaries when it comes to crafting with balloons.
Bring any concept or idea to life as you learn the art of transforming ordinary balloons into extraordinary works of art. Our expert instructors will guide you through the step-by-step process, sharing valuable techniques and tips along the way.
Join us for a truly unforgettable experience where you'll not only create stunning balloon sculptures but also ignite your creativity and leave with newfound skills. Get ready to amaze yourself and others as you master the art of balloon sculpting.
Adventure Activities
9. Ninja Tag
Unleash your inner ninja with Ninja Tag – the ultimate action-packed team bonding experience! Immerse yourself in the world of ancient warriors and embark on an adrenaline rush adventure like no other.
Equipped with a foam-covered Ninja Dagger and a scoring vest, you'll participate in a series of exhilarating missions, challenging objectives, and thrilling game modes. Test your agility, strategy, and stealth as you navigate through the immersive battleground, honing your skills in the art of ninjutsu.
Whether you're seeking to prove your prowess or simply looking for some friendly competition, Ninja Tag invites you to join us today and discover the true power of the ninja. Are you ready to embrace the way of the ninja?
10. Bubble Soccer
Bubble Soccer is not just an ordinary activity; it's an extraordinary experience that goes beyond fun and games. It's the perfect opportunity to build strong relationships and strengthen bonds with your co-workers or friends in Singapore. This invigorating game of strategy not only provides a refreshing escape from stress but also fosters collaboration and teamwork.
As you roll through victory, you'll create lasting memories and have a wonderful time filled with laughter and camaraderie. So gear up and get ready to dive into the exhilarating world of Bubble Soccer!
11. Bullet Strike (Nerf Gun)
Get ready for an incredibly exciting and thrilling activity that will not only bring your team closer but also create unforgettable memories with Nerf Gun! Equipped with special masks and foam bullets, two teams will engage in an epic battle where strategy and teamwork are key to achieving victory.
Whether you are planning a corporate event or a fun day out with friends or colleagues, there are multiple game modes available to cater to your specific objectives and preferences.
Prepare yourself for an exhilarating rush of adrenaline as the tension builds up, leading to an epic and nerve-wracking competition. Get ready to bond, strategize, and have an absolute blast with Nerf Gun!
12. SaberFit
In this modern era, where work-life balance is crucial for our overall well-being, achieving the perfect equilibrium is paramount. With Saberfit, companies can now prioritize their employees' health and wellness like never before! This ideal team building activity not only provides an ideal solution for team building but also ensures that everyone values their health. Imagine the joy and excitement of exercising together under vibrant neon lights, while an entire group cheers each other on their wellness journeys.
Say goodbye to searching for gym buddies, as Saberfit creates an incredible atmosphere of support and enthusiasm. Join the movement and experience the transformative power of this remarkable program!
13. Saber Tag®
It's time to ignite the team spirit and unleash the full potential of your team with an incredible team-building activity – Saber Tag®! Gather your group and embark on an epic adventure, immersing yourselves in thrilling missions like Defenders of The Galaxy or Saber Wars. These heart-pounding challenges will put their teamwork and collaboration and leadership skills to the test, allowing you to witness the true measure of their success when working together as a more cohesive team.
Whether it's for a corporate event or a birthday party, Saber Tag® is the ultimate game that guarantees to strengthen the bond between individuals while providing heaps of exhilarating fun. Step into the world of Saber Tag®, Singapore's most exciting team bonding experience, and prepare for an unforgettable journey of camaraderie, excitement, and shared moments of triumph.
Join us now and embark on a thrilling adventure that will leave lasting memories and forge unbreakable connections among your team!
14. Laser Tag
Are you feeling worn out from the regular nine to five office routine? Are you yearning for a break that takes you on a thrilling journey back in time? Look no further than laser tag! It may sound silly, but there's something truly invigorating about shooting at targets with a simulated gun.
Not only is laser tag a fun and exciting activity, but it also provides an opportunity to improve your team-building skills. As you and your colleagues engage in this remarkable game, you'll not only grow closer but also learn how to better cooperate and collaborate. It's a win-win situation!
So why not take a much-needed break today and have some fun along the way? Laser tag is the perfect way to recharge, bond with your team, and create lasting memories. Step into the arena, let your competitive spirit soar, and enjoy an adrenaline-fueled adventure like no other!
15. Giant Board Games
Rediscover the cherished memories of your childhood with the captivating large-format board games offered in Singapore! Immerse yourself in the excitement of Giant Jenga, Pick-Up Sticks, Connect Four, and Snakes & Ladders, now available in larger sizes for an enhanced and unforgettable entertainment experience.
Make lasting memories as you spend quality time playing these team building games with your beloved family members or colleagues. Indulge in the joy of friendly competition and create moments that will be etched in your heart forever.
16. Poolball™
Get ready to be enthralled by Poolball, the thrilling new combination of pool and soccer! At The Fun Empire, we have taken this classic bar game to a whole new level with an electrifying twist. In Poolball, strength and special skills are not necessary; instead, to practice effective communication will be your greatest assets.
Experience the excitement of playing Poolball with your friends and family as you strategize, collaborate, and compete in a game that blends the precision of pool with the exhilaration of soccer. Work together to sink the balls into the pockets using only your feet, and feel the rush of victory as you outmaneuver your opponents.
But Poolball doesn't stop there. We offer a range of amazing variations to keep the fun going. Try the sabotage mode, where you can piggyback on one another to hit the ball, adding an extra layer of challenge and hilarity to the game. Or, for the truly daring, play blindfolded and test your skills in a game of Poolball where your senses are heightened, and every kick becomes an adventure.
With Poolball, you can expect a fun experience that will leave you craving more. So gather your team, lace up your shoes, and get ready for a game like no other. Poolball is here to redefine the way you play and enjoy the thrill of healthy competition. Are you ready to take on the challenge?
17. Bullet Ball
If you're looking for the ultimate team building activities that will leave everyone amazed, then you need to check out Bullet Ball! Created by FunEmpire, this exhilarating game offers an unmatched level of excitement and fun for people of all ages. Whether you're playing in your office conference room or enjoying the outdoors in Singapore, Bullet Ball is guaranteed to be a hit!
Not only is Bullet Ball thrilling, but it also fosters coordination and teamwork among players, creating unforgettable bonding moments. With its fast-paced gameplay and unique team building activities, this game is perfect for taking your best team building activities to the next level. So why settle for ordinary team building activities when you can elevate the energy and engagement with Bullet Ball?
Affordable, enjoyable, and highly engaging, Bullet Ball is the ultimate choice for companies and organizations seeking a memorable and impactful team building experience. Don't miss out on the opportunity to create lasting memories and strengthen the bonds within your team. Try Bullet Ball today and see the difference it can make!
18. Archery Tag
Are you ready to take on the ultimate challenge? Test your Hunger Games skills with Archery Tag – an exhilarating fusion of archery and dodgeball that will leave you breathless! Immerse yourself in thrilling missions like The Revival or The Last King, where highly energetic teams must join forces to battle it out using foam-tipped arrows, all while wearing face masks for safety. Step into the arena, unleash your inner warrior, and showcase your strength! Join us today for an unforgettable experience filled with glory and adrenaline!
Leisure
19. Neon Bowling
Experience the thrill of something truly exhilarating and new with Neon Bowling – a unique twist on the classic game. Step into an evening of pure fun in the dark, as you compete against friends and family to rack up points and sharpen your bowling skills. But this isn't just any ordinary bowling experience; it's a chance to prepare yourself for even tougher contests ahead!
These enjoyable yet thought-provoking corporate team building activities are designed to promote trust and camaraderie among colleagues. As you navigate the neon-lit lanes and aim for victory, you'll not only create lasting memories but also strengthen the bonds within your team. It's time to shine bright and embrace the excitement of Neon Bowling!
20. Yacht Rental
Are you searching for a truly extraordinary and unforgettable way to commemorate your special occasions? Look no further than yacht rental in Singapore!
Whether you're planning a romantic proposal, celebrating a wedding anniversary, or hosting a vibrant birthday party with your loved ones, hiring a luxurious yacht is the ultimate escape from the hustle and bustle of city life. Experience the freedom and joy as you bask in a delightful blend of exhilaration and love, surrounded by the breathtaking views of the Singaporean waters.
And it's not just limited to personal celebrations – a lavish yacht is also an ideal setting for your favourite team building activities, fostering a sense of unity and adventure among colleagues. Don't miss out on this incredible opportunity! Make sure to secure your booking in advance before it disappears forever.
Quest Activities
21. Amazing Race
Embark on an extraordinary and truly unforgettable journey of collaboration, excitement, and fun with Singapore's Amazing Race! This exhilarating adventure offers an immersive experience like no other, where you and every team member will have the opportunity to expand your horizons and discover the vibrant city like never before.
Throughout the race, you will navigate through the bustling streets, iconic landmarks, and hidden gems of Singapore, as you dash from marker to marker. Each marker presents a unique challenge and activity that will test your skills, foster teamwork, and problem-solving abilities. From mind-bending puzzles to physical challenges, every obstacle conquered brings you one step closer to victory.
As the race unfolds, the clock will be ticking, intensifying the adrenaline-fueled healthy competition. With every destination unlocked, you will inch closer to your final goal, fueling the thrill and excitement that keeps you pushing forward. This captivating experience is not just for the adrenaline junkies, but for all ages, creating lasting memories and building stronger bonds within your team.
Prepare to be enthralled by the vibrant energy of Singapore, the camaraderie of your fellow team members, and the sense of accomplishment as you cross the finish line. Join us on this invigorating adventure and let the Singapore's Amazing Race take you on a journey of a lifetime!
22. Escape Room
Get ready to be completely mesmerized when you step into our meticulously crafted Escape Room. Every single detail has been carefully designed to create an immersive and mind-bending experience like no other. Prepare for a truly unique adventure where hints are cleverly hidden in plain sight, drag and drop riddles will put your brainpower to the test, and slider puzzles will sharpen your problem-solving abilities.
But remember, time is ticking away, adding an extra thrill to your quest. Embark on a journey into a world of mystery and excitement, where your escape artist skills will be put to the ultimate test. Are you up for the challenge?
Virtual Workshops
23. Virtual Clay Making Workshop
Ignite your creative spark and create memories that will last a lifetime at FunEmpire's Clay Workshop! Our air dry clay is not only lightweight, but non-toxic too which makes it safe even for kids. Plus you'll receive unparalleled guidance from our knowledgeable professionals in an interactive virtual session among remote teams covering details such as colour combinations, fundamental form making principles, and helpful tips on managing the clay.
24. Virtual Art Jamming
Unleash your creative energy with FunEmpire's Painting Session! Our expert instructor is here to help you as you give vibrancy and life to a clean canvas. All necessary supplies, including paint brushes, paints, pencils, erasers and frames for exhibiting your masterpiece after completion are provided. On top of that – should the need arise – we can have an energizing discussion session in which you get to expressively share what has been created from motivation and hard work!
25. Virtual Leather Making Workshop
Awaken your creative energy with FunEmpire's Leather Crafting Home Kit! Our renowned leather crafting program is now offered in an at-home bundle, furnishing all the materials you need to craft two remarkable pieces – key FOBs and Coin Pouches. We'll offer expert guidance as we host virtual team building sessions teaching from several types of leather to upkeep suggestions and sophisticated stitching procedures – beginning at a tremendous value! Are you prepared for some artful fun?
26. Virtual Terrarium Workshop
FunEmpire's Terrarium Home Kits are here to bring your living space alive with whimsy and delight! All the materials, tools, and figurines needed to craft a miniature garden of paradise are included in this package. Plus certified trainers who will lead you together every step of the way while you construct these magnificent terrariums or own mini garden. Not only do they make striking decorations for any room at home but crafting them alongside friends or colleagues promises hours upon hours of stimulating entertainment as well!
27. Virtual Candle Making Workshop
Come join the FunEmpire Candle Making Workshop with your colleagues and create beautiful, unique candles! Our comprehensive home kits include all of the required materials for making soy candles plus a special figurine. Also, our experienced facilitator will guide you through this virtual workshop session step-by-step – so there is no reason to miss out on this crazy fun and stress free activity. Make lasting memories while bonding over candle making today when you sign up for FunEmpire's Candle Making Workshop!
Virtual Games
28. Virtual Squid Escape Game
It's time to put your team to the test with Squid Game! Gather a crew of courageous adventurers and embark on an escape room journey that will challenge you like never before. Solve intricate clues, solve puzzles, and riddles in order to find the route out – no matter where you are located; our game allows up to an unlimited number of players from any location. Prove that your squad is ready for anything by joining in this virtual game show and seeing if you're able make it out alive!
29. Virtual Nightfall
Unleash the detective within and discover your team's hidden skills with Virtual Nightfall – a unique twist on the acclaimed game of Murderer. Assign each participant an individual character that they'll need to use their communication, body language reading, and persuasion techniques in order to outsmart others during this virtual game. With our experienced facilitator providing comprehensive briefing as well as supervision, you can sit back while uncovering both strengths and weaknesses amongst colleagues– ideal for any corporate gathering or casual get-together!
30. Virtual Amazing Race
If you're ready for an incredible international journey, grab your family and friends and get ready to race! Our thrilling experience is full of surprises that will make it a memorable event for every player. With certified trainers present at each session, everyone can join in the fun no matter how close or distant they are geographically – there's no limit on how many participants! Challenge yourself against others and be the first one across the finish line; with our unique multiplayer offering, there's never been a better time to embark on this extraordinary adventure.
31. Virtual Travel Experience
Are you searching for an extraordinary virtual team bonding event to join? Then look no further — FunEmpire's Virtual Travel Experience is the perfect fit! This stimulating experience will not only test your problem solving abilities, but it'll also give you a chance to discover Singapore's captivating history. Featuring three fun activities such as Treasure Hunt, Virtual Amazing Race and Virtual Escape Room combo, this journey through different epochs in Singapore comes complete with an intriguing storyline that needs decoding – can you manage all tasks presented to you? Join now and find out!
32. Virtual Time Travel
Unleash your adventurous side and join us on the world's only Virtual Time Travel experience! This exhilarating game is sure to challenge strategic thinking, collaboration skills, and mental acuity. All you need is two daring people eager for an exciting journey full of thrilling puzzles, surprises, and opportunities to defy expectations with our Team Building activities. Whether it's a small or large group – anyone can participate in this remarkable adventure! So don't hesitate – sign up today for a unique time-traveling escapade like no other!
33. Virtual Ben's Big Heist
Are you ready to get your hands on the Big Gold Heist? Get your team together and step up to an electrifying mission of unlocking strongboxes, filling bags with valuable treasures, and running away without being detected by authorities. Equipped only with a blueprint of the bank plus some secretive notes – it will take teamwork as well as logical thinking in order for this daring plan to succeed. Could this potentially be Singapore's most premier team-building activity? Fasten yourself for an exceptional experience like none other!
34. Virtual Escape Room
Get the team moving and grooving with FunEmpire's award-winning virtual team bonding event! From the comfort of their own homes or office space, your colleagues can collaborate to solve puzzles, discover hidden treasures, boost team morale, and encourage communication skills and problem solving skills. This interactive game is perfect for large or small teams – it promises hours of wholesome fun for everyone involved. So forget about dull activities, unleash your competitive spirit and be part of the winning team!
35. Virtual Food Quest
Are you a passionate food-lover that can't resist the temptation of delicious fare? Then take part in FunEmpire's Virtual Food Quest – an unparalleled gastronomic experience! Join together with your family, friends, or workmates and uncover Singapore's mouthwatering culinary treats while competing in enjoyable game show challenge. Not only is this an ideal way to strengthen relationships; it also makes for a fun team building exercise filled with laughter and delight foe the whole team! And who knows – when all the exciting team building activities Singapore are finished, you may find yourself wanting more scrumptious snacks.
Other Activities
36. Hybrid Amazing Race
Transform your team building experience into something extraordinary with FunEmpire's Hybrid Amazing Race! This game combines physical and virtual puzzles so that you can explore Singapore's Chinatown in an entirely unique way. There is no limit to the number of participants, making this exciting team building activity a great choice for the whole team while still adhering to social distancing protocols. Don't miss out on being among the entire team participating at your corporate team building event – join together towards victory for an unforgettable moment with friends or colleagues!
37. Giant Whack A Mole
Prepare for a wild and enjoyable time! Sign up with FunEmpire's Giant Whack-A-Mole – the great team building activity that will bring back fond memories of our favorite childhood arcade game. Outwit your opponents as they try to obtain colorful balls from your side of the court! This exclusive fun team building event ensures loads of joy and laughter – don't miss out, join today along with your co-workers and form unforgettable experiences together!
38. Virtual Reality
Step away from the dated Daytona machines and into Zero Latency – a far more exhilarating experience. Unearth an entirely new virtual reality domain, where you'll be placed on the edge of your seat as you encounter evil robots and zombie baddies that seem to pop out of nowhere! Demo your puzzle-solving skills in this dystopian environment built with 2K resolution headsets for extra realism. All it takes is one controller, so are you brave enough?
39. Axe Throwing
Arm yourself with a miniature axe and propel it in the direction of the target. Your success lies in how precisely you strike, which could come handy during unprecedented circumstances like surviving zombie attacks! Besides being an invigorating pastime to enjoy with friends, this fun activity encourages relaxation while testing your aim. So take up your axe and launch away for some action-packed stress relief!
40. Go-Kart
Unleash your inner race car driver and embrace the excitement of speed at The Karting Arena! Our Grand Prix group racing package gives you and seven other friends three thrilling rounds to compete in—warm-up, qualifying, and race. Here is an opportunity for you to bring all of your Formula One dreams alive with our unparalleled Race Car driving experience. It's time to take on a new challenge – join us today!
Group Activities Singapore
Spice up your friendships and team dynamics with entertaining group activities in Singapore. Whether you prefer the virtual world, outdoors or at home – FunEmpire has something extraordinary for everyone! From Amazing Race to Laser Tag, all it takes is a quick jumpstart on your feet and you're ready for a great team building experience full of fun. See you soon – get set, go!
Looking for more articles? Check out our recommendations below:
Frequently Asked Questions (FAQ)
If you have any questions about group activities in Singapore, you can refer to the frequently asked questions (FAQ) about the Best Group Activities in Singapore below:
Additional Useful Articles
If you are looking for other useful guides and articles about group activities in Singapore, check them out below: