Halal Buffet Singapore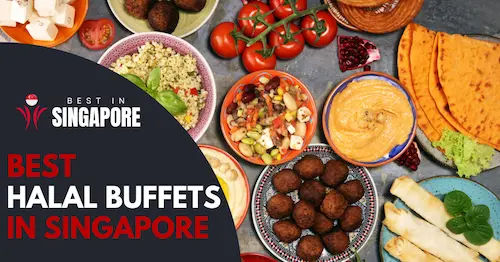 In Singapore, there are several halal buffets that serve delicious food; you only need to know where to seek.
The best Halal buffets in Singapore include Katong Kitchen, Jinshangyipin Buffet Hot Pot, StraitsKitchen, Captain Kim Korean BBQ & Hotpot Buffet, and Deli Hub.
When selecting a Halal buffet in Singapore, take into account factors like the variety of food choices, pricing, ambiance, and convenient location.
Singapore's best Halal buffet offers a mouthwatering fusion of diverse culinary delights, from succulent Chili Crab to flavorful Chicken Rice and refreshing Gado-Gado Salad.
This blog post explores the top halal buffets in Singapore, where your taste senses will be delighted by these amazing halal restaurants!
Consideration factors when choosing Halal Buffet Singapore
Food options: The first is the type of food offered – is it authentic, halal-certified dishes with quality ingredients and flavors? Additionally, one should look at the variety of dishes available – a good buffet will offer not only traditional halal cuisine but also international flavors, giving guests plenty of choices.
Atmosphere: It is also important to consider the atmosphere – a buffet should be enjoyable and comfortable for guests, with good service and cleanliness standards being maintained.
Cost: Finally, many people choose buffets based on price – make sure that the cost of the buffet reflects the quality of food and service provided!
With these considerations in mind, it should be easy to find the perfect Halal Buffet in Singapore for your occasion!
Best Halal Buffet Singapore
1. Katong Kitchen
A restaurant with a Halal certification that serves both residents and visitors is called Kitchen at the Katong Kitchen. It is renowned for offering halal food from both eras, which most halal eateries on the island are unable to do. The stingray sambal, sweet and sour sea bass, nasi biryani, beef rendang, and beef kurmah are a few of the foods tourists advise you to try. Additionally, it offers weekend prawn noodles, cuttlefish, and chinchalok mussels as daily specials.
Key Differentiators:
Hospitable staff
Spacious and cozy area
Competitively priced dishes
Client Testimonial:
"Restaurant with seafood main dishes, the taste is good, with a lot of choice and the importance one is Halal…. also the waiter so nice."

Anonymous
2. Jinshangyipin Buffet Hot Pot
Another well-liked option for dinner is the wonderful halal food served at Jinshangyipin Buffet Hot Pot. The restaurant's menu offers authentic Chinese barbecue and hotpot in two price ranges, Standard and Premium. On the other side, there aren't many meat options on the Standard menu. A sizable hotpot menu from the restaurant, available for a fair price, also helps to balance out the variety. Along with premium seafood components for hotpot, premium adds three additional meat dishes to the menu.
Key Differentiators:
Wide variety of food options
Quick service
Client Testimonial:
"My first time here with family. Staffs were friendly and helpful. Lots of variety to choose from. I recommend the mushroom soup base. Nice ambience and the space is spacious. Currently there's a promo going on. Will visit some other time."

Anonymous
3. StraitsKitchen
StraitsKitchen is the place to go if you want to sample some of the halal food that the area has to offer. It offers a wide selection of halal meals, and both Singaporeans and visitors appear to like its take on the country's halal cuisine. For breakfast, lunch, and dinner, StraitsKitchen offers three unique cuisines, each as unique as the other. The international cuisines available include Chinese, Indian, and Malaysian, to name a few.
Key Differentiators:
Local Halal dishes
Lively theatre kitchen
International menu
Client Testimonial:
"Fantastic experience… Chef Ashok is young but has a deep understanding of Indian cuisine. The starters were tenders and succulent, mains was perfectly spiced and most importantly the desserts were not too sweets!!! Ashok deserves a dedicated space like Rang Mahal and the talented chef is up to something big in long term!!! Highly recommend to visit the kitchen table at W Sentosa and try the magical food."

Anonymous
4. Captain Kim Korean BBQ & Hotpot Buffet
Captain Kim Korean BBQ & Hotpot Buffet features all the Korean food you could want. Halal-certified menu items at this restaurant include army stew hotpot and Korean BBQ, both of which feature more than 60 different meat tastes. With a good assortment of halal food, Captain Kim Korean BBQ & Hotpot Buffet offers exceptional value for a weekday lunch buffet. This buffet restaurant routinely has some of the greatest halal food options in Singapore since it offers a wide selection of halal food for customers who wish to enjoy Korean BBQ and hot pot dishes.
Key Differentiators:
90 minutes weekday lunch
5-minute walking distance from Tampines MRT
Client Testimonial:
"My first having lunch at Captain Kim's since we were in the East area and craving for halal Korean food. The place closes at 3.30pm for its lunch session and we arrived at 2.30pm. Had about half an hour to get our food as the buffet counter is closed by 3pm. For 2 pax, 1 hour is just nice to have a normal lunch. We love the Mongolian beef, its meat cut thinly and is chewy even after being grilled. Thank God for the free flow calamansi drink that helps to clear the palate. The glass noodle is yummy, too. However, we wish there were more choices especially for dessert."

Anonymous
5. Deli Hub
It might be challenging to find great cuisine on a tight budget. After all, hiring premium ingredients and paying experienced chefs to cook your chosen dishes is not cheap. Fortunately, Deli Hub is an exception. With years of experience under its belt, Deli Hub is one of the first companies mentioned on this list. The business is skilled in giving customers halal food that is good and reasonably priced. The skilled kitchen team at Deli Hub can turn any of the aforementioned ingredients—vegetables, meat, or spices—into delectable dinner meals.
Key Differentiators:
Uses freshest and finest ingredients
Offers appetisers, vegetables, meats, seafood, and dessert dishes
Wide array of catering services
Client Testimonial:
"Ordered for my daughter's 100 days celebration, great experience! Food was really delicious, salesperson was really attentive and friendly, delivery guy was all smiles and very polite as he set up the buffet. Awesome job Deli Hub!"

Anonymous
6. Royal Palm
If you like to eat with lots of pals, we advise going to the Royal Palm. It is one of the best places to eat on the island and has a huge, comfortable dining area that can accommodate 350 people. We are delighted to say that The Ritz-Carlton, Sentosa has one of the best halal buffets in Singapore thanks to our professional customer service team. Upon arrival, each guest will receive a cordial welcome and be shown to a table with the best view.
Key Differentiators:
Diverse and international menu
Affordable menu
Excellent customer service
Client Testimonial:
"Came here for my brother solemnisation. Service staff was pretty good. But cleanliness and attentiveness needs to improve. The napkin on my plate was a stained and my niece was given a cracked glass which is for water. The overall ambiance was good. The green curry, mutton curry and satay chicken dish was pretty good."

Anonymous
7. Seoul Garden
Without a doubt, Seoul Garden is a well-liked local hangout! They serve their well-known Korean beef that has been marinated in a buffet-style setting so that you can slowly grill while catching up with loved ones. Don't worry if you're dining alone; personal grill sets have also been added. Exceptional slices that are tender, flavorful, and attractively marbled.
Key Differentiators:
Affordable menu
High quality ingredients
High quality service
Client Testimonial:
"Seoul Garden has always been about the experience around the table. The smokeless tabletop cooker, the amazing flavor of the food. Had a long overdue catch up with friends last night and nothing has changed, except that it is no longer a buffet due to the pandemic. Instead you order from the table and the servers bring the food to your table quite promptly. The place was full (by safe standards) and we stuffed ourselves too."

Anonymous
8. Peppermint
Give yourself a delicious feast from Peppermint this holiday season! Their luscious and delectable Traditional Christmas Roast Turkey is served with exquisite chestnut stuffing, a handmade turkey giblet sauce, and herbs and spices that were freshly picked from their Urban Farm. A new menu has also been added, featuring delectable meals like Milk-Fed Veal Au Poivre and Black Angus Beef Belly! The meats are all correctly cooked with a luscious pink core, therefore you won't find any overcooked steaks here.
Key Differentiators:
Wide range of menu
Fresh ingredients being used
Quick service
Client Testimonial:
"Excellent service. Lovely decorations. They have different little areas which can sit 8-10 for private functions which are so window pretty and insta ready! Obviously for during HA, they will give it if you have a smaller group size. We had a lovely afternoon."

Anonymous
9. Asian Market Cafe
You probably already know what the Asian Market Cafe at the Fairmont Hotel serves up in terms of cuisine from its moniker. Pan-Asian and Singaporean food, indeed! Among the buffet offerings are seafood on ice, Japanese sushi, roasted duck, live roti prata and satay stations, mutton rendang, Singapore style chilli crab, and more. From 4-6 pm every day, the buffet is $98++ for adults and $48++ for kids under 12 years old.
Key Differentiators:
Reasonable pricing
Certified halal
Hospitable staff
Client Testimonial:
"The place is very cozy. Staff are friendly. Encik was very patient n guide us thru the buffet (due to pandemic mode) , food are served to us n if you wanted any dishes, they will serve to your table.. Food is good. The dessert was great too."

Anonymous
10. Window on the Park
The vacation hotel buffet restaurant On The Park at the Holiday Inn Singapore Orchard City Centre serves only halal food! Discover mouthwatering dishes from the area or Asian cuisine, such as Chinese Rojak, Kueh Pie Tee, Chef's Singapore Laksa, and prawn mee. Seafood lovers will love their tender poached prawns and Canadian cold mussels. Try one of their delectable desserts, which include cakes, kueh, and ice cream in a variety of colors, to finish your dinner.
Key Differentiators:
Local Halal dishes
Delivery services
Quick service
Client Testimonial:
"Nice ambident eventhough there are a lot of noise when all ppl start talking, maybe if the table are far apart, noise level will be reduced, friendly staffs."

Anonymous
11. Atrium Restaurant
Visit the halal-certified hotel restaurant of the Holiday Inn Singapore Atrium, Atrium Restaurant, if you're hungry! Enjoy their exquisite live stations, specifically created trademark dishes, and a fusion of regional and international cuisines. You must sample the fresh selection of Australian Black Mussels, Poached Tiger Prawns, and Fine De Claire Oysters at Atrium!
Key Differentiators:
Supreme quality ingredients used
Wide range of option of the menu
Competitive pricing
Client Testimonial:
"Great experience dining in here. Very fast respond for the food and very great service. Very good customer service. Especially Frennie the Senior Asst Restaurant Manager, Janice and Edmund. Food is incredibly nice. Very unexpected for the good quantity food. Very well recommended. Will definitely return."

Anonymous
12. The Landmark Restaurant
One of the best halal buffets in Singapore is The Landmark Restaurant, which serves delectable halal food from all around the world. If you want a lavish and enjoyable dinner experience, it is perfect. Your experience at the halal buffet will be enhanced by the richly adorned premises, which will give you the impression that you are somewhere else. The restaurant offers a wide variety of international foods, including Singaporean, Malaysian, and North Indian cuisine, in addition to its decor and atmosphere.
Key Differentiators:
Halal dishes from different countries
Elegant dining experience
Client Testimonial:
"Atmosphere always inviting! Always loved coming here. My 3rd time here… The controlled assisted choosing of the food spread is quite genius. Food is delicious and quite a variety. The staffs all are friendly and welcoming. Will come here again of course!"

Anonymous
13. Taste of India
One of the most delectable cuisines available is Indian, and Taste of India makes it simple to try it for the first (or second, or third!) time. As the name suggests, Taste of India is a beautiful fusion of flavors from North and South India. Tandoor foods, Chettinaadu dishes, and many other types of Indian food are available on the menu to suit your tastes.
Key Differentiators:
Offers catering services
Open for home delivery and ala carte dining
High quality services
Client Testimonial:
"I want to express my thanks to the taste of india team and Karthik for catering for my colleagues earlier. I received good reviews from my friends and they loved the food. The dum briyani was packed professionally in bento boxes for convenience. Well cooked and food tasted really good. The Meat was fresh, tender and savoury. Really appreciate it so much and "Taste of india" has never let me down."

Anonymous
14. Carousel
Numerous review websites routinely place The Carousel among the best halal buffets in Singapore. For seven years straight, AsiaOne People's Choice Awards has rated it Singapore's top buffet restaurant. If you're looking for a halal restaurant that offers more than just the typical halal cuisine, Carousel won't let you down.
Key Differentiators:
Multi awarded restaurant
Delivery services
Affordable menu
Client Testimonial:
"Went there once more than 10 years ago and always thinking of recommending to everyone. Finally got a chance to be there again to celebrate my birthday! Service and Food ok but no lobster or crab for lunch buffet!"

Anonymous
15. Four Seasons Catering
Four Seasons Catering is one of the best options on the island for a wide variety of cuisines that can be enjoyed at any time. The packed meal boxes produced by this company, which feature dishes like Pandan Nasi Lemak, Thai Basil Chicken, and Hainanese Chicken Rice, are its most well-known product. People who wish to eat halal cuisine in large quantities can also choose their halal buffet, which is also a very popular alternative. In recent times, Four Seasons Catering has now offered buffet options to customers who desire them.
Key Differentiators:
Meal and party boxes available
Wide array of menu options
Caters to webinars
Client Testimonial
"We catered from Four Seasons for a corporate event. The gourmet meal boxes were tasty and value-for-money! It was very well-received by all our attendees. Delivery was also timely to all addresses. Joseph was also responsive and handled our various requests well, despite the changes and tight timeline. Thank you!"

Anonymous
16. Ginger at PARKROYAL on Beach Road
Another halal buffet restaurant to operate in Singapore is Ginger. The restaurant's most well-known dishes include slow-braised beef rendang, crispy lamb with Thai green curry, and chili crab with mantou. Additionally, there are five live stations where you can sample delicious grilled foods including satay and BBQ chicken wings. With mouthwatering treats like lamb rack, Wagyu beef steak, and sambal clam, Ginger has a seafood and BBQ meal.
Key Differentiators:
Quick service
Professional chefs
Great serving
Client Testimonial:
"Nicely redecorated place with newly revamped menu. Must say that the Crab Bee Hoon is really nice…and all peeled, which is great for keeping your fingers clean. Nice little wok hei as well. The Hainanese Chicken Chop is a great idea – brings back memories of old style Hainanese pork chops. A bit more of the tangy sauce would be great. The chicken cutlet is HUGE….fish is Halibut, which is tastes like crab. The popiah is also pretty good – the crispy bits are interestingly made of ayam penyet style crisps. Worth giving this place a try. The place has undergone a solid revamp, well done!"

Anonymous
17. Kintamani Indonesian Restaurant 
Do you have a rabid craving for Indonesian food but are unsure of what to order? You should head over to the Kintamani Restaurant at the Furama Riverfront Hotel to experience a taste of Bali. This restaurant has been serving you a delicious variety of Indonesian meals since 1985, giving you the impression that you are in the middle of a Balinese village!
Key Differentiators:
Competitively priced dishes
Helpful customer service
Premium quality ingredients
Client Testimonial:
"Was here with the wife today having dinner buffet. I like the ambience and their ayam +lamb! Food tastes great, a must go if you're looking to try."

Anonymous
18. Marina Bay BBQ Steamboat
The Satay By The Bay Marina BBQ Steamboat (MBBS), an outdoor buffet, is located at Satay By The Bay's Marina South. MBBS is conveniently situated close to Marina Barrage and the well-known Gardens By The Bay. Away from the hectic pace of the city, MBBS is an excellent spot to unwind and relax. It's a must-see as a fantastic gathering place for families, couples, and groups! You will have a ton of fresh seafood, meats, vegetables, desserts, and soft drinks to choose from. Come and see why each of our customized packages is perfect for any occasion.
Key Differentiators:
Affordable Price
Huge Variety of seafood
Scenic Views
Client Testimonial:
"The food was awesome. Seafood is fresh. The sambal so power. And good service from the staff. Will definitely come again. Thumbs Up."

Anonymous
19. Sedap Thai BBQ Steamboat
This Berseh Food Centre Thai steamboat restaurant offers an all-you-can-eat buffet for just S$20 per person. That offer is too wonderful to pass up.
Key Differentiators:
Affordable
All-you-can-eat buffet
Excellent service
Client Testimonial:
"Amazing and extraordinary meat. The best part is that it is halal. Very tender meat and the pepper meat was so nice."

Anonymous
Halal Buffet Singapore
Singapore's halal buffet serves halal meals from all around the world. There are halal buffet restaurants that serve halal food from various cultures, including Chinese, Indian, and Malaysian food. Surely you will enjoy them all!
Check out some of our other related articles and useful guides below:
Frequently Asked Questions (FAQ)
If you have any questions about halal buffets in Singapore, you can refer to the frequently asked questions (FAQ) about the best halal buffets in Singapore below:
Additional Useful Articles
If you are looking for other useful guides and articles about halal buffets in Singapore, check them out below: