High Tea Singapore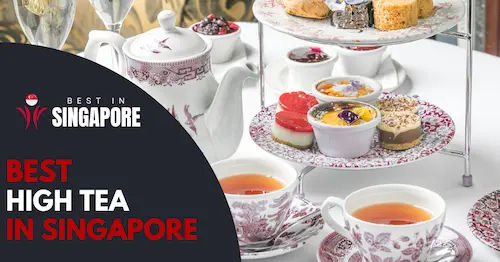 If you're a tea enthusiast with a penchant for exquisite afternoon experiences, Singapore is a city that won't disappoint.
The best high tea places in Singapore include L'Espresso, Isabel Bar, Atlas, SKAI, and 1864.
When choosing a high tea location in Singapore, consider factors such as the ambiance, menu options, level of service, and feedback from customers.
Experience the perfect blend of traditional and fusion delicacies, accompanied by an extensive range of teas, in an elegant setting at a high tea venue in Singapore.
In the following guide, we explore the best high tea spots in Singapore that are sure to delight every tea lover.
Key Consideration Factors
Location: The first consideration when choosing a high tea place in Singapore is location. There are many high tea places located throughout the city, so it is important to choose one that is convenient to your current location. If you are staying in a hotel, for example, you may want to choose a high tea place that is nearby.
Price: Another consideration when choosing a high tea place in Singapore is price. High tea can be quite expensive, so it is important to find a place that fits within your budget. There are many high tea places that offer discounts or special promotions, so be sure to ask about these before making your final decision.
Menu: When choosing a high tea place in Singapore, it is also important to consider the menu. Many high tea places offer a wide variety of teas, sandwiches, and pastries, so you will want to make sure that the menu has items that you enjoy. It is also important to make sure that the menu has items that are suitable for your dietary restrictions, if any.
Atmosphere: The atmosphere of a high tea place can also be an important consideration when making your decision. Some people prefer a more formal setting, while others prefer a more relaxed atmosphere. Be sure to visit several different high tea places before making your final decision so that you can find the one that best suits your preferences.
Service: Finally, service is another important consideration when choosing a high tea place in Singapore. You will want to make sure that the staff is friendly and attentive and that they are able to answer any questions you may have about the menu or the teas available.
Best High Tea Singapore
1. L'Espresso
Spend a relaxed Sunday afternoon with your loved ones sipping on exquisite tea by the poolside at L'Espresso. We guarantee that you won't be disappointed as we offer one of the city's finest high teas at Goodwood Park Hotel. Come and indulge in an exceptional experience!
This tea room is renowned for its scones served with strawberry jam and clotted cream. But the treats don't stop there! With an array of pastries, one can enjoy a delightful high tea including finger sandwiches, duck rillettes tartlet with fig jam, and much more – enough to tantalize even the pickiest palate in your family.
For the finest high tea delivery experience in Singapore, look no further than L'Espresso's 3-Tier Sets. We highly recommend their Sweet and Savory Pleasures Set which combines an orange chiboust cake with a delicious pork shepherd's pie – sure to tantalize taste buds of any palate!
Key Differentiators
High tea buffet
Place for elegant teatime pursuits
Spacious and breezy terrace
Customer Testimonial
We came here to enjoy afternoon tea with National Day delights. Love their National Day theme. The desserts are so pretty! There are also oysters and cold prawns. SO Fresh!
~
The highlight is certainly the desserts. The cakes are all so fluffy and soft. They are so creative with the National Day theme! Love the cozy and relaxing ambience.

Eat DreamLove
2. Isabel Bar
Isabel Bar is the epitome of sophisticated luxury and creates an intimate atmosphere perfect for any occasion. Our selection of exquisite wines, champagnes, spirits, liquors and special elixirs from around the world will tantalize your taste buds while you relax in timeless elegance.
To give your chic gatherings an added touch of luxury, the outlet offers a refined afternoon tea experience. An exquisite selection of teas and treats – from sweet delights to savory finger sandwiches and English scones served with clotted cream and preserves – is completed by Beluga caviar along with vodka shots for that extra indulgence.
Key Differentiators
Stylish & evocative Bar
With an outstanding selection of cocktails, wines & champagne
Elegantly chic afternoon tea
Customer Testimonial
Hidden away near Maxwell, this place is a gem. Started around 3 months ago. They serve high tea and the food is really good. Serving is sufficient and customer service is excellent. A small and intimate venue perfect for dates.

Better bring your dates and partners there before the place becomes known and you are on a one year waiting list, questioning your decisions in life, and regretting not reading this review earlier…

Lim
3. Atlas
If you're looking for an unforgettable evening, take your date to Parkview Square's magnificent art deco-influenced lobby bar. Enjoy a romantic night with glasses of wine or champagne and bask in the beauty of its Instagrammable interior design. For an extra special touch, head over to ATLAS–the most luxurious high tea restaurant in Singapore–for an experience like no other! The decked out floors are adorned with glamorous art deco interiors that will certainly make heads turn.
Treat yourself to the luxurious ATLAS High Tea Set, featuring a delightful selection of sweet and savory treats like strawberry fruit tart, lobster crostini, and Iberico jamon toast. Complimentary tea from the ATLAS tea list is included with your set – but if you want something extra special why not choose one of our specialty teas for just $4 more?
Key Differentiators
Drinking
Dining
Afternoon Tea
Customer Testimonial
Ranked 16 among the World's Best Bars list, Atlas is definitely worth a visit if you're looking for a nice, comfortable place to have drinks or dinner. The Art Deco decor and the very high ceilings lends a certain gravitas to the establishment.

We went for dinner and I was pleasantly surprised by how good the food tasted. Almost all the dishes we had were delicious! Special mention to the chocolate and salted caramel tart, which was so good! Rounded off the evening with a few drinks as well.

Highly recommended! Since it's pricey, might be a good option to set aside for special occasions. Best to make reservations in advance before heading down.

Vikneswaran Kumaran
4. SKAI
Elevate your senses at SKAI, situated 70 stories above the city skyline. Enjoy an exquisite high tea experience with a Japanese twist in Singapore's most celebrated contemporary grill restaurant – nothing less than what you'd expect from SKAI!
You won't be able to get enough of the small treats like crab and ikura with pickled apple, foie gras with shiso, plum jam and beet bun. Little ones will love trying out macarons and bonbons presented on a cherry blossom tree stand. Don't forget about some seasonal baked goods that are sure to tantalize your taste buds!
Key Differentiators
Contemporary Grill & Wine Bar
SKAI Restaurant
SKAI Bar
Customer Testimonial
Had wonderful experience celebrating our wedding anniversary here. The crab cake was yumz and so was the beef steak and pasta. Ambience was great as it came with a great view (check out the sunset!) And it was casual dining. Thank you Skai for the experience and the small cake to mark our occasion!

Josephine
5. 1864
Spend a few lovely hours at Sofitel Singapore City Centre's 1864, sampling the best high tea in Singapore! Enjoy tantalizing options like truffle egg and caviar croissants, mini beef cheek rendang with aioli, and aromatic truffle mushroom quiche to share with your favorite person.
Indulge in an unforgettable high tea experience from 1864 with Executive Pastry Chef Sam Leong's signature creations. Enjoy a scrumptious selection of treats, including earl grey cranberry scones and the light and moist peanut butter financier topped with jasmine tea ganache. Every bite will be sure to tantalize your taste buds!
Toast to lifelong camaraderie with an upgrade to the exquisite Duval-Leroy Champagne! Want your experience to be extra cozy? With only one day's notice, order their High Tea set and savor delightful mochis and focaccias from the convenience of your home.
Key Differentiators
Bar
Afternoon Tea
Champagne & Cocktails
Customer Testimonial
One of the best hotel afternoon teas in Singapore. This is our second time having tea here. The menu changes from time to time, but the quality remained tip top and we enjoyed every single item presented in the box. Quantity might not seem a lot as compared to other places, but the quality made up for everything. Loved it.

However, this can be a little pricey. So either use a HSBC card or use Accor Plus membership to get a significant discount.

Bahari
6. Hortus
If you find yourself journeying to Gardens by the Bay, it would be a mistake not to check out Hortus! This meal-centric spot inside of the Flower Dome is renowned for its Mediterranean inspired sharing plates. Every dish bursts with bright and flavorful ingredients that will delight your taste buds!
If you're in the mood for a light lunch, Hortus has an array of vibrant salads, dips and freshly-baked breads that are perfect for sharing. For heartier fare, try one of their delicious tagines or rustic dishes cooked over wood fire grill. And don't forget to save room for afternoon tea – with housemade cakes, tarts and pastries available all day long!
To ensure your utmost comfort, it is highly recommended to dress for cooler weather when visiting Hortus in the Flower Dome conservatory. Since the temperature here remains at a constant 20°C, wearing lighter clothing will make your experience much more pleasant.
Key Differentiators
Limousine buggy service
Hortus Privilege
Complimentary access to the Flower Dome
Customer Testimonial
Lovely place with a very chill vibe. Find the right seat near the corner and it becomes romantic as well. Food was really good and the pistachio date tart was awesome despite its plain looking exterior. The watermelon salad is recommended – I was hesitant due to the inclusion of olives but I ended up eating most of the delicious olives! Wine was reasonably priced and good as well.

One thing to note is that the other desserts, especially the rum cake, can be very sweet.

Our dinner, including a glass of wine (not pictured) each, set us back about $180.

Michael
7. Arteastiq
Treat your palette to an exceptional epicurean experience with Arteastiq's Dream Treasury High Tea. For only $58 or just $32 for two people, you can sample a variety of delicious savory and sweet delicacies including truffle shell pasta, salmon roulade, squid ink macaroon with blue cheese and lychee jelly as well as the classic French Canele pastry.
Get your appetite ready for a tantalizing feast! With plenty of local cuisines to choose from, the National Treasure High Tea offers an array of delicious selections at pocket-friendly pricing. Choose from an exquisite selection including kueh pie tee, otah fries, tapioca kueh and banana pancake – this is sure to leave you feeling satisfied!
Indulge in the Luscious Seafood High Tea Set – with a decadent lobster tail, exquisite blue crab cake and oysters from both menus. Satisfy your cravings and reward yourself today!
Key Differentiators
Afternoon Tea Set
Boutique tea house
Premium tea lounge
Customer Testimonial
I had a fantastic meal at this restaurant last month. Almost every of their food and drinks are top notch and super delicious. However, their pasta meal are so-so. But the rest was really good. Decor and atmosphere of the restaurant are great and furnishing came with a lot of detailing and exquisite utensil and cutlery. Highly recommend this place if you are out with your girlfriends.

Evelyn
8. Wildseed Cafe
The Wildseed Cafe provides the perfect atmosphere for a romantic date with your partner as it is nestled in nature's beauty and adorned by exquisite dried flower arrangements. You wouldn't want to leave your furry friend at home either, because this cafe allows pets – so feel free to bring along Fido! The Wildseed Cafe offers an unparalleled high tea experience that makes Singapore stand out among other cities.
Rejuvenate your taste buds with the High Tea Set from Wildseed Cafe! Madeleines, macarons, cakes and tarts – you'll be spoilt for choice. Although their tea selection may not be extensive, why not order a smoothie or one of their signature cocktails to pair with the dainty nibbles? Enjoy an unforgettable high tea experience today at Wildseed Cafe.
Key Differentiators
Pet-friendly
Floral Cafe
Two locations
Customer Testimonial
It was my second time dining in at Wildseed Cafe but this time we went for Dinner. The ambiance was very pleasant and cozy as always and the food as expected were all tasty and delicious. We had a great time catching up with our friends and we really enjoyed the food. Kudos to the ever accommodating Head Chef Mr Edward and the Manager Mr George. We will definitely come back again.

Nice
9. The Lobby Lounge
At Conrad Singapore's Lobby Lounge, indulge in a daily High Tea experience with special themes such as the Sakura High Tea. Featuring Japanese sakura flowers and weekend selections of seafood and cheese platters – this is an exceptional treat for perfect afternoons!
Treat the royalist in your life to The Heritage Royale High Tea Set, complete with a glass of bubbly! This exquisite set features decadent dishes such as chili lobster sandwich prepared Singapore-style and caviar. Indulge in smoked salmon pumpernickel topped with gold leaf for an extra special touch along side banana genoa that will tantalize your taste buds. Make every day feel like a coronation when you bring home this opulent high tea from The Heritage Royale.
Are you looking for a high tea experience like no other? The Green Tea High Tea Set offers exclusive discounts on home-delivered teas in Singapore, featuring exquisite dishes that are sure to tantalize your taste buds and invigorate the senses. Enjoy an unforgettable culinary journey right at home!
Key Differentiators
Heritage Royale Luxury Afternoon Tea
Kids Afternoon Tea
Vegan Afternoon Tea
Customer Testimonial
Highly recommended afternoon tea. Great place to enjoy in a colonial lounge setting environment. The food has western and some local style pastry which suits the theme of this place. They also have pianist doing live performances which lighten up the atmosphere. One of the highly rated place to enjoy afternoon tea time.

Stan Lee
10. Tea Lounge
The Tea Lounge in Regent hotel provides a contemporary colonial garden atmosphere to make your next Instagram post perfect! Their latest high tea menu is fueled by the delightful flavors of spring. During weekdays, savor their three-tiered High Tea Set featuring delectable desserts such as Ivory Chocolate Panna Cotta Mandarin Compote and Amalfi Lemon Almond Meringue Tarts. Come experience this exquisite dining ambiance for yourself!
For those looking for a weekend treat, Tea Lounge is the place to go. With their special high-tea menu on weekends, you'll be able to enjoy dishes like yuzu confit wild salmon with ponzu sauce and porcini mushroom-crusted wagyu beef with Yorkshire pudding and black truffle sauce! Even better – on weekdays you can devour three tiers of tea snacks and desserts too; making it an unbeatable offer for all who are hungry!
Key Differentiators
Afternoon Tea
Island-wide delivery and takeaway
Dining
Customer Testimonial
1. Nice ambience and comfortable seats. Came here for my anniversary with wife and had a special request for a small surprise for her ( a slice of cake with wordings)
2. The Chinese weekday theme afternoon tea food is unique
3. Their house blend chinese tea "Regent Blend" is exceptionally good and definitely worth having top ups. The aroma and aftertaste of the tea helps to get rid of the sweetness of the pastries.
4. Friendly and attentive staffs (e.g. Alice in particular) that is always there to help you and explain the dishes and types of tea.

Vincent
11. Brasserie Les Saveurs
Are you looking forward to a staycation at The St. Regis Singapore? Then head on over to Brasserie Les Saveurs for an exquisite selection of high teas in Singapore! Start your trip off with some light on the taste buds, such as freshly baked scones.
The bright and colorful asparagus soup with poached egg and parmesan sauce is a special treat from the chef. It's a creamy dish with a strong cheesy aroma, and there's plenty of room in your tummy for the traditional two-tiered sweet delights including delicious macarons.
Remember to compliment the gorgeous spread with their excellent tea selections. But, if you had to choose one beverage from their menu, go for the St. Regis Singapore Tea Blend.
Key Differentiators
St. Regis Champagne Brunch
Afternoon Tea Experience
The Connoisseur Experience
Customer Testimonial
We have visited this hotel many times over the years and have never been disappointed.
Very dedicated team members made sure we had again a perfect week at this hotel.
For Singapore visitors, is the hotel in an excellent place to visit the Orchard road on foot and not only.

Frank
12. The Rose Veranda
For the past three decades, Shangri-La Hotel's Rose Veranda has been known for offering Singaporeans some of the finest high teas around.
The gorgeous eatery that once featured a buffet is now back with an exciting new concept – a 3 course menu highlighting small plates (such as sandwiches) followed by your pick of mains and topped off with delectable desserts served up in three tiers. Whether you are looking to relax and enjoy afternoon tea or have a special occasion to celebrate, Rose Veranda at Shangri-La Hotel will surely deliver an unforgettable experience!
Upgrade your weekly tea experience with The Rose Veranda's ever-changing high tea menu! Go classic and choose the beautiful pastel pink meal set for delivery in Singapore. This extraordinary package includes Foie Gras Tarts, Strawberry Lobster Slaw Sandwiches, and other Insta-worthy treats that will make you excited to try them out. So don't hesitate – indulge yourself in a one of a kind high tea experience today!
Key Differentiators
Kids High Tea Menu
High Tea Menu
Tea Menu
Vegetarian Menu
Customer Testimonial
Had the high tea set for 2 at $90 after tax.

Scones were dry and hard which is a disappointment. The rest of the dishes is not bad. You get a free glass of wine for every person wearing red.

The tea was just Normal in tea bags. Beef was flavourful but tough don't expect too much.

Overall good value as you get a lunch to go with dessert.

Christine
13. The Landing Point
To enjoy local and global delicacies with an amazing view, visit Landing Point at The Fullerton Bay Hotel Singapore. Every day, they offer a unique high tea menu featuring freshly-made scones and finger sandwiches, plus exquisite pastries and indulgent sweet treats. Don't miss out on this delightful experience!
High tea at The Landing Point not only offers complimentary coffee and tea, but also provides you with the choice to upgrade your experience with a glass of wine or Champagne.
Key Differentiators
A La Carte and Artisanal Drinks
Expressions Afternoon Tea
Spring Expressions Afternoon Tea
Customer Testimonial
Absolutely wonderful experience at the high tea. Delicious food and amazing plating and presentation. Staff were friendly and excellent service. My friend was getting married the next day and they were so sweet to present her a complimentary congratulatory cake. Very thoughtful gesture. Did I mentioned the amazing view overlooking marina bay sand! Highly recommended.

Sam
14. The Courtyard
Don't let dietary concerns prevent your family from relishing Singapore's premier high tea. Treat them to a vegetarian-friendly experience at The Courtyard in the luxurious Fullerton Hotel – come now and be amazed!
Indulge in the unique, mouth-watering flavors of our 100% plant-based pastries like carrot confit, impossible meat sandwiches and granny smith apple cinnamon crumble – all served with a pot of tea. For something juicy yet sweet try the silver moon tea or for a more light flavor opt for pai mu tan tea that retains its mildly sweet aftertaste.
Why not bring Paris' renowned high tea culture to your own home? Teatime In Paris's High Tea Set is available for only $68 and provides a handcrafted three-tier box bursting with authentic French delicacies. It has never been easier (or tastier!) to provide luxurious high tea services in Singapore!
Key Differentiators
Timeless setting for leisure dining and afternoon tea
Simple yet elegant
High-ceiling atrium with melodious tunes
Customer Testimonial
Besides Raffles Hotel, this is the most traditional High Tea experience in Singapore. The 3-tier platter is plenty for two and has decent balance between sweet and savory. The recipes are traditional (not Asian!) such as Victoria and Mountbatten cakes, and cucumber sandwiches of course. NOTE: The savory items are no longer free-flow.

Aki
15. Alley on 25
Combine your love of rooftop bars and traditional nyonya-inspired snacks at Alley on 25. Nestled atop the Andaz Singapore, this exceptional restaurant offers guests a unique dining experience with delicious cuisine to match!
Turn on your favorite maxi dress and get ready for an incredible culinary experience at Singapore's most exclusive high tea! The High Tea Set features a stunning tiffin carrier and picnic basket set up, recreating the feel of picnicking in the clouds. Get prepared to take part in this unforgettable journey today!
This restaurant is a paradise for local food lovers, with chili crab choux pastry, beef rendang toasts and braised pork belly buns. Come explore the exciting flavors of our heritage with two nonya-inspired desserts – ondeh ondeh cake and prune kueh lapis!
Key Differentiators
Fresh perspectives on indigenous cuisine
With a side of stellar city views all around
Self-collection Takeaways & Islandwide Delivery
Customer Testimonial
Great service and great food. Went on 2 October for dinner and everything was great, ambience was lovely and staff were very friendly and helpful. It was my friend's birthday so the staff helped so much, they gave us a complimentary cake with candle, as well as soft serve too, kudos to them for a great evening.

Yuan
16. Colony
The iconic pairing of high tea and The Ritz is celebrated worldwide, so naturally the Colony in Singapore has perfected this timeless tradition. Their five-tier menu offers freshly baked plain or chocolate scones, Mini Mushroom Cheese Chicken Pie for a savory option, as well as sandwiches and delightful pastries such as mini cakes and cookies – all accompanied by a glass of Barons de Rothschild Ritz Brut NV Reserve Champagne to make it that much more special!
Key Differentiators
'Live' Conservatory Kitchens
The Collection Cocktails
Colony's Culinary Experiences
Customer Testimonial
One of the best experiences in Singapore. Highly recommend the buffet dinner. It is so delicious! We've been twice now and it's the same atmosphere and enjoyment as the first time.

The staff are phenomenal! Friendly and fun, yet very professional.

Mark
17. Violet Oon Singapore
If you're looking for an authentic Singaporean experience, make sure to visit this renowned chef's restaurant! Here, you'll get a taste of the Nyonya culture and handpicked teas that have been delicately blended by Tea Sommeliers from the famous Singapore Tea Company. Don't miss out on this one-of-a-kind opportunity!
Is it a piece of cake or a slice of heaven? For just $58, two people can enjoy the Singapore High Tea Set featuring an exquisite pot of tea, three sandwiches and two scones. At Nonya Kuehs there are 13 unique dishes to choose from that will tantalize your taste buds – such as kueh pie tee, chili crab tartlet and bubur cha cha pudding! Don't miss out on this one-of-a-kind dining experience.
Undeniably, this is the top high tea experience in Singapore to make your parents feel special!
Key Differentiators
Highly-acclaimed group of restaurants
Asian gourmet delights
Rooted in Nyonya and Singapore cuisine
Customer Testimonial
What a delectable high tea set at a very affordable price. I have not had high tea for eon and this is definitely very enjoyable. Don't be fooled by the seemingly petite size of the savoury and sweet items, we actually struggled to finish the sweet items towards the end. The drinks is free flow, so we started with tea and had an espresso. It is perfect for a Saturday afternoon. But you have to make reservation beforehand.

CP
18. TWG Tea
For those seeking to experience the best high teas Singapore has to offer, TWG should be at the top of your list! As a well-renowned tea expert in Singapore, they feature an exquisite selection from their signature TWG Tea Series – perfect for enjoying on a delightful afternoon.
Indulge in an afternoon of elegance and delight with their Parisian High Tea Set, crafted to serve two. Enjoy a range of finger sandwiches while sipping on delicious tea, complemented by truffle Croque, muffins, and scones – perfect for a date with your closest companion!
Key Differentiators
High tea in Singapore
Renowned tea experts
Exquisite selection of teas
Customer Testimonial
Located inside Ion.
Not difficult to find the location inside the mall. Had a relaxing time there.
The tea was good. A wide range of selection of teas- mind blowing to be exact.
Various options for lunch, we had wonderful lunch there. Quite full after eating.
Price was still reasonable.
The service was acceptable too.
It was a nice experience. Would definitely go back again.

Davy
19. Mo Bar at Mandarin Oriental
MO Bar, situated in the renowned Mandarin Oriental hotel on St. James Road, Singapore is known for its modern High Tea at Sukibar menu (that can be carried out too). This five-course culinary experience consists of delectable bites which draw inspiration from Japan and put a fresh spin on classic favorites.
Our delectable menu offers a wide selection of both sweet and savory treats, featuring unique flavors like yuzu cheesecake, smoked salmon with Hokkaido milk bread and wasabi mayo- all created with traditional Japanese ingredients!
Indulge in the wide selection of exotic teas from Asia's renowned tea-growing regions that are sure to tantalize any taste buds, or sip a glass of luxurious "R" de Ruinart champagne while admiring the captivating cityscape views!
Key Differentiators
MO Bar Menu
Afternoon Tea Menu
Lunar New Year Afternoon Tea
Customer Testimonial
Enjoyed myself at the high tea on a Saturday afternoon. The bites were beautifully presented and tastefully curated. The palate cleanser was refreshing and every bite thereafter was delicious. The scones were fluffy (especially the chocolate ones, you can eat it on its own). There's a good selection of tea, and the individual sweet and savoury dishes were complimentary to each other. The staff was friendly, the ambience was relaxing. I'm going back to revisits.

JTalk
20. One Ninety Bar
The One Ninety Bar's vanilla scones are even more scrumptious with the addition of Strawberry Rose Preserve, not to mention an extensive array of delightful finger sandwiches and sweet pastries. And for a limited time in April and May 2021, Four Seasons joined forces with Michelin-starred Peranakan restaurant Candlenut – creating a custom High Tea that is sure to tantalize your taste buds, complete with an assortment of delectable Peranakan desserts.
Key Differentiators
Dynamic and passionate about all things botanical
Indulges the senses with sophisticated craftsmanship
Breezy outdoor terraza
Customer Testimonial
A really gorgeous looking set up, with the dry ice and flowers! Easily one of the prettiest afternoon tea I have been too.
Both the savory and sweets bites are quite above average, which was great!
However the scones were really not up to the standard at all. It was very bland, almost tasteless and not as dense as what a scone should be. That said, I still think it's definitely worth coming back again! Oh, and you get 2 drinks as well!
Service staff was friendly, and quite prompt.

Lyndy
21. The Marmalade Pantry
For an unforgettable high tea experience unlike any other, head to The Marmalade Pantry! During the weekend, you'll be spoilt for choice with two teapots of your favorite Monogram by Gryphon Tea selections alongside a range of savory dishes and pastries. But that's not all – their iconic buttermilk scones come in two delicious flavors: strawberry preserve and orange marmalade. Enjoyment is guaranteed at this remarkable afternoon tea set!
Key Differentiators
All Day Dining
Afternoon Tea
Petite Afternoon Tea
Customer Testimonial
Wait time is about 20 mins maybe because it is a weekday around 3 plus😊The service is good. We ordered the lemon cake and that was good. It is sweet but coupled with the lemon, it was just nice. Many people ordered the sticky dessert with ice cream. I agree it is very nice with the ice cold ice cream blended with the warm sauce and cake. You should try it😃

Yeo
22. The Capitol: Kempinski
Indulge in a luxurious high tea with The Capitol Kempinski Hotel's delectable take-away set. Our menu offers both classic and modern dishes including Crab Cakes, Bacon Cheese Quiche, Chicken Rice Arancini and Smoked Salmon Foccacia to tantalise the taste buds! Enjoy sweet treats like Chocolate Marzipan Cake, Citrus Meringue Tart and Plum Streusel – guaranteed to make every afternoon delightfully special.
Key Differentiators
Bountiful Takeaway
Great Customer Service
Sweet Treats
23. Tablescape High Tea Takeaway
Our newly released High Tea Set offers a tantalizing menu that is sure to please even the most discerning palate. Enjoy delectable mini egg mayo and black truffle sandwiches, Foie Gras with Nectarine and Pistachio Tartlets, savory Sable Bréton topped with bresaola, as well as exquisite sweet treats like Velvet Cheese Mousse, Almond Torte and miniature Chocolate Hazelnut Éclairs.
Transform a mundane High Tea set into something truly special with this luxurious takeaway packaging. Glimpse at the majestic three-story tower, which is filled to the brim with delectable cakes, tarts and finger foods – just like what you'd find in a five-star restaurant!
Key Differentiators
Newly released High Tea set
Tantalizing menu
Delectable treats
Customer Testimonial
Fist time coming here. On the same level as the hotel lobby. Was very quiet when we arrived but subsequently more people came in. Good value set meals but it was unfortunate pork is not available (as one of the mains) when they only have 3 options (one is a vegetarian). Thankfully food is decent and service is wonderful.

Josj
24. The Knolls
Escape from your everyday routine and discover the splendor of Capella's Sentosa. With lush greenery surrounding you, this sanctuary is perfect for a luxurious yet restful high tea experience. The staff members are inviting and attentive to your needs, providing prompt service while honoring your privacy. Indulge yourself in being transported to this peaceful paradise!
The buffet was a sight to behold, with an abundance of scrumptious delicacies and exquisite desserts. But that's not all – the menu also boasted a wide array of Gryphon brews! It goes without saying that this place had it all – from incredible food options to remarkable variety.
Key Differentiators
Great customer service
Private place
Serves delectable cuisines
25. Lady M Champagne Bar
Indulge in a luxurious high tea experience at Lady M's new Champagne bar at ION Orchard! Enjoy an array of delicious bite-sized savouries and dessert pastries beautifully paired together, followed by a unique customised tea brewing session. From the fantastic selection of Art of Tea leaves, pick your favorite flavor and watch it being freshly brewed right before you – what could be more delightful?
Key Differentiators
Pioneer of the Beloved Mille Crêpes
Great customer service
Customised Tea Brewing Session
26. Anti:dote
Any day of the week, indulge in Anti:dote's freshly baked scones, plus their unique savory treats such as aubergine quiche or smoked ocean trout. But don't forget to also save room for a sweet treat! Not only that – they offer both kid-friendly high tea meals and gluten-free options too. It's impossible not to be impressed by this place!
Key Differentiators
A stylish and modern cocktail bar
Progressive selection of concoctions
Appeal to the most discerning taste buds
Customer Testimonial
This Trolls high tea set was so pretty!
Portion and varieties were good! Tea selection was great!
Ambience is certainly very comfortable and luxurious

I would like to give special thanks to the staff, Yuli for his warm welcome to my friends and being so professional in making our dinning in a special experience!

Thank you and you guys deserve the 5-stars!

Amy
27. Lime Patisserie
Step away from your hectic life and experience a calming moment in great company with Lime Patisserie's tea set. You won't want to miss our exquisite Tiers Of Joy Set, crafted by the renowned Chef Candy Lu exclusively for us! Relax over steaming cups of exotic teas paired perfectly with mouth-watering pastries – an absolute treat for all senses.
Come and tantalize your taste buds with our delicious mid-afternoon delights, ranging from our delectable peanut butter crunch topped with a gianduja chantilly to the irresistible earl grey cappuccino tart made with a strong coffee tea.
Our classic shepherd's pie remains a firm favorite, while new creations like nasi lemak ball and crab meat remoulade have been added to the menu. Plus, enjoy unlimited customized coffee and TWG tea!
Key Differentiators
Peaceful place
Sweet delicacies
Calming experience
Customer Testimonial
Came here for brunch with friends. Haven't been back since they opened. Loving the ambience, floor-to-ceiling windows bring in the greeneries inside with bright natural lights. Christmas decorations are adequate to put around the premises bringing up the festive mood. The buffet spread is fantastic, not a lot of varieties but top quality and has a delicious taste. Service was excellent and accommodating. One of my top three list of hotel brunches in Singapore.

Daniel
High Tea Singapore
Ready to treat yourself and your friends to an unforgettable high tea experience? Then look no further than the 27 best places for afternoon tea in Singapore! From grand hotels and restaurants all the way down to cozy cafes, you can enjoy a wide array of British delicacies. Whether it's savory or sweet that tickles your taste buds, let these recommendations guide you on finding the perfect spot for indulgence!
You may also check these related articles:
Frequently Asked Questions (FAQ)
If you have any questions about high tea in Singapore, you can refer to the frequently asked questions (FAQ) about the best high tea in Singapore below:
Additional Useful Articles
If you are looking for other useful guides and articles about high tea in Singapore, check them out below: