Hotpot Singapore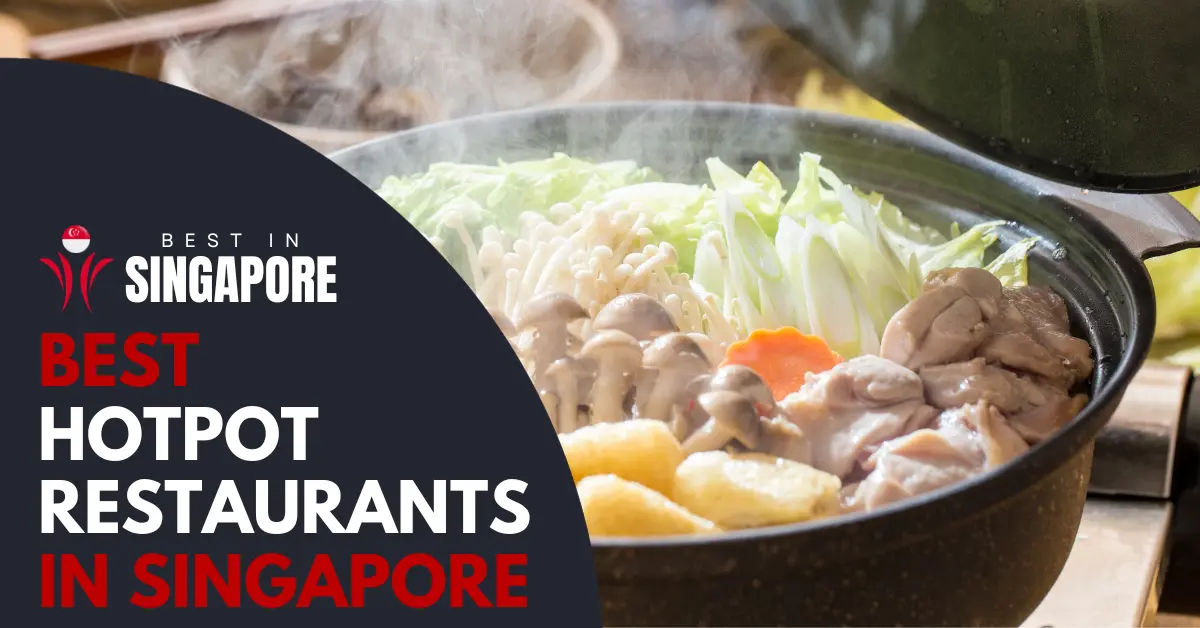 Hotpot, a delectable culinary tradition hailing from East Asia, has found a warm welcome among the food enthusiasts of Singapore.
The best hotpot restaurants in Singapore are Black Knight Hotpot, Happy Lamb Hotpot, Wu Wang Guo, Spicy Bangkok Hotpot, and San Laksa Steamboat.
When selecting a restaurant, give priority to elements such as the menu, location, customer service, atmosphere, pricing, and budget considerations.
Hotpot in Singapore goes beyond being just a meal; it is a shared dining experience that harmoniously combines an array of fresh ingredients, flavourful broth, and diverse cultural inspirations.
This guide will lead you through the best hotpot in Singapore, each offering its own distinctive take on this popular dining experience.
Best Hotpot in Singapore
1) Black Knight Hotpot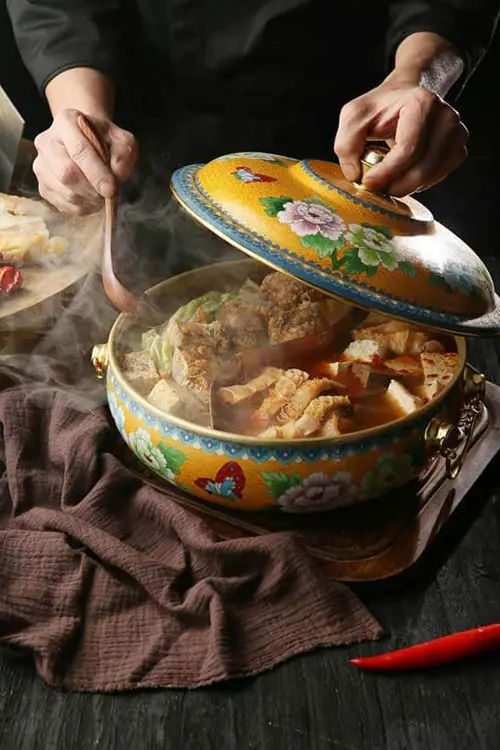 Treat yourself to an exquisite feast at Black Knight Hotpot, a beloved hotspot joint in Taipei. Don't miss the Fish Maw Chicken Pot and the famous Spicy Pot, boasting a Taiwanese-style mala broth bursting with flavor.
Delight in a plethora of live seafood, premium meats like Japanese Wagyu and Okinawa Black Pork Belly, and mouthwatering dishes such as Taiwan Braised Beef Noodles and Fried Frog Leg with Pepper & Salt.
2) Gonghe Seafood Hotpot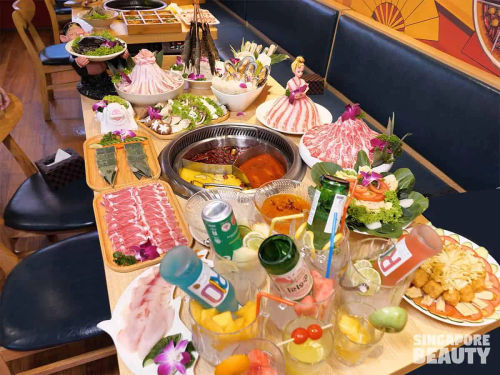 Step into the hidden gem of Gonghe Seafood Hotpot, nestled inside the charming Golden Cafe coffee shop in Aljunied. Prepare to embark on a culinary adventure like no other!
Immerse yourself in the irresistible allure of their pocket-friendly all-you-can-eat seafood buffet, priced at an unbelievably affordable S$28 nett (for adults). Dive into a world of endless delights, with a plethora of delectable seafood options including succulent crabs, plump mussels, flavorful crawfish, delicate clams, tender scallops, and juicy prawns.
3) Qi Xiang Hotpot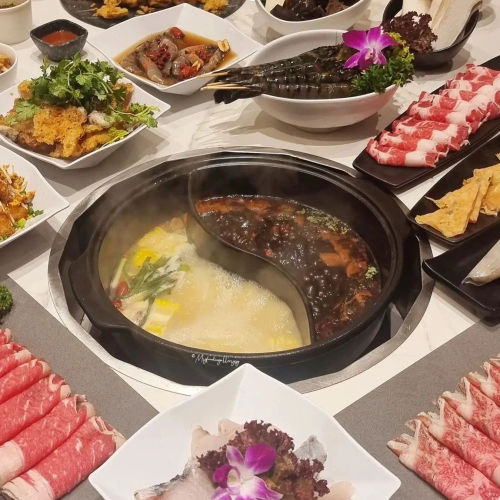 Calling all fans of the famous Qi Xiang Chicken Pot! Brace yourself for an unforgettable late-night hotpot experience at its sister outlet, Qi Xiang Hotpot in Jurong.
Prepare to be dazzled by over 80 tantalizing ingredients and the mouthwatering beer-infused dark soy chicken broth.
But what truly sets this gem apart as one of Singapore's most distinctive hotpot restaurants is its unique fusion of local delights and breakfast favorites. Get ready to embark on a culinary adventure like no other!
4) Happy Lamb Hotpot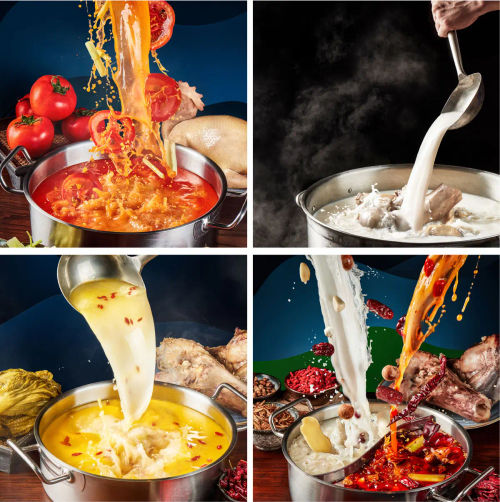 Discover the culinary delight of Happy Lamb Hotpot, a paradise for lamb enthusiasts! Originating from Baotou in Inner Mongolia, this global hotpot chain offers a unique experience. Delight in their specialty: "Good Soup without Dipping Sauce" – a savory and delicious broth that needs no additional sauces.
Prepare to be amazed by beautifully presented portions of fresh, tender, and non-gamey Scottish and Mongolian cuts of lamb. Indulge in a tantalizing array of skewers, handmade dumplings, and even Mongolian yogurt for a delightful dessert.
5) Shang Pin Hot Pot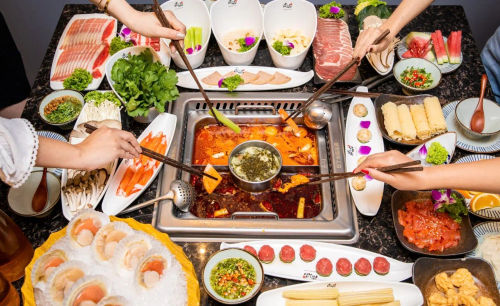 Discover the sensation of an authentic Sichuan Chinese restaurant that has taken Singapore by storm through TikTok and RED. Immerse yourself in a trendy hotpot experience at their two vibrant locations in City Hall and Marine Parade.
Prepare to be captivated by the comforting and flavorful Golden Chicken Soup broth, accompanied by an enticing array of ingredients. Indulge in the richness of Premium Snow Beef, the succulence of Black Pork Slices, the freshness of Fresh Tripe, and the delightful surprise of Sea Urchin Balls.
6) Qi Li Xiang Hot Pot

Craving hotpot in the late hours of the night? Look no further than Qi Li Xiang Hot Pot, a hidden gem in Tanjong Pagar that tantalizes your taste buds with homestyle hotpot until 6am every day.
Qi Li Xiang lives up to its name with a delightful selection of aromatic broths, including popular choices like the fiery Sichuan spicy soup bases and the comforting Coconut Chicken Broth.
Indulge in their signature braised dishes like succulent Pork Liver, flavorful Chicken Feet, and tantalizing fried beancurd skin. And to top it all off, end your meal with a sweet surprise – complimentary ice cream that will leave you wanting more.
7) Yi Zi Wei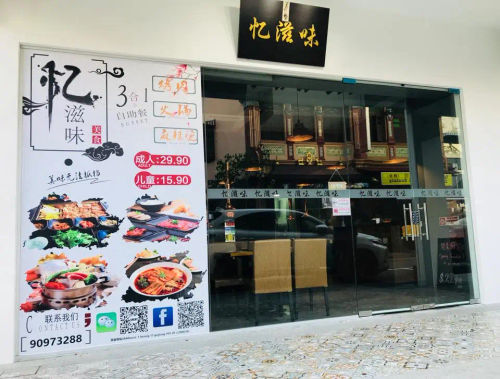 Singapore is a food paradise, and when it comes to hotpot restaurants, there's no shortage of options. But let me tell you about a gem that truly stands out: Yi Zi Wei. This Chinese and Korean-inspired eatery takes the concept of a buffet to a whole new level with its incredible 6-in-1 spread.
And that's not all! Yi Zi Wei also delights with a tempting array of ala carte dishes. Think fluffy Kimchi Pancake and Seafood Pancake, fish balls, tantalizing Spicy Rice Cake, delectable Japchae, and the classic comfort of Bibimbap.
8) Upin Hot Pot

Looking for a fantastic alternative to Haidilao? Look no further than Upin Hotpot! Not only is it a budget-friendly option, but it also brings you closer to an amazing dining experience. With three conveniently located outlets that stay open until 12am daily, Upin Hotpot is the perfect mid-tier chain restaurant to satisfy your cravings.
Prepare your taste buds for a flavorful journey with their renowned seven soup bases. Among them, the signature Tomato Soup stands out, ready to take on any competition from larger, more established restaurants.
9) La Jiang Shan Hotpot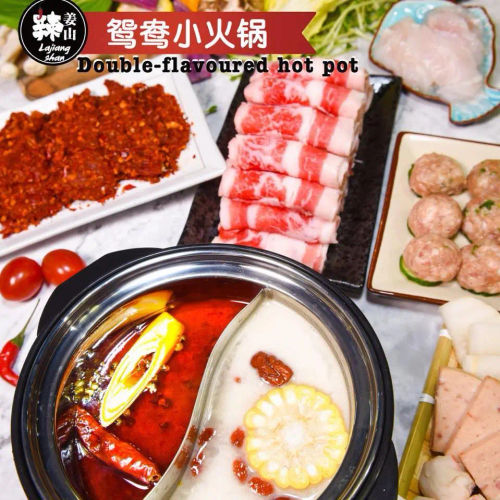 La Jiang Shan Hotpot, an established gem in Singapore's hotpot scene, tantalizes taste buds with its extensive selection of luncheon meat, seafood, and delectable appetizers, all available in their exquisite all-you-can-eat buffet.
Prepare to be enchanted by delightful highlights like the succulent xiao long bao and exclusive dinner specials, including the fiery mala grilled fish, mouthwatering flower crab, and indulgent slipper lobster noodles.
10) Wu Wang Guo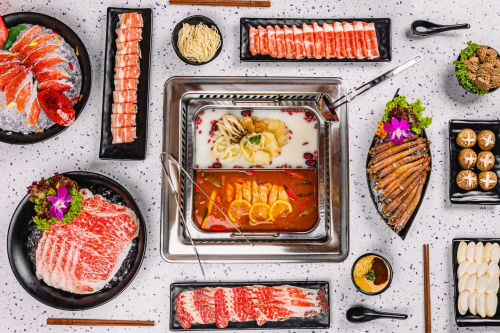 If you're a fan of late-night hotpot, there's a hidden gem in Chinatown that might just rival Beauty in The Pot – Wu Wang Guo.
Prepare to be amazed by their delectable offerings, which range from traditional classics to locally-inspired soup bases like Golden Fish Maw with Pig Stomach and Nourishing Drunken Chicken Soup. But what truly steals the show is their unbelievably rich and nourishing WWG Collagen Beauty Soup.
11) Xiao Long Kan Hotpot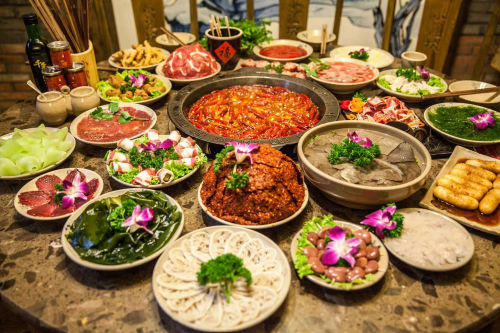 Step into the world of Xiao Long Kan Hotpot, a renowned hotpot chain that takes you on a journey to the era of Ancient Chinese royalty. Experience the opulent decor, reminiscent of the captivating Romance of the Three Kingdoms, as you immerse yourself in the 3 Flavours Hotpot.
Indulge in the irresistible combination of Butter Spicy Soup, Tomato, and Mushroom, tantalizing your taste buds with every bite.
12) Coucou Hotpot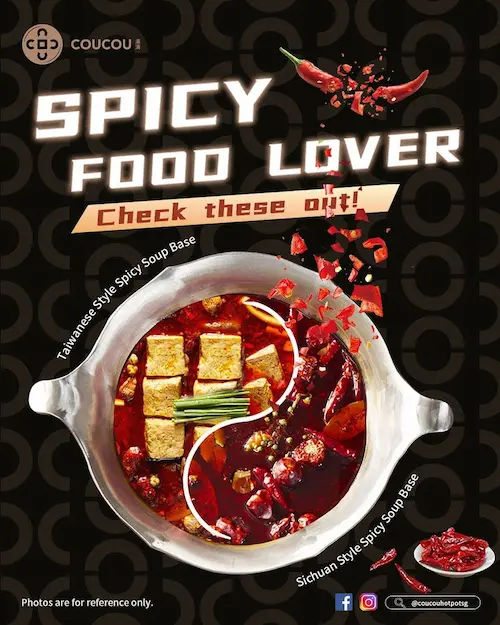 Step into the world of Coucou Hotpot, the ultimate destination for hotpot enthusiasts and bubble tea aficionados in Singapore.
Known as the "celebrity hotpot restaurant," we offer a tantalizing fusion of Taiwanese-style hotpot and a delightful array of bubble tea flavors. Get ready to satisfy your cravings as you indulge in not one, not two, but up to three delectable broths simultaneously.
From the bold and fiery Taiwan Style Spicy Soup (with a Sichuan twist available) to the comforting Coconut Chicken Soup and the rich Bovine Bone with Tomato, our signature flavors will take your taste buds on an unforgettable culinary journey.
13) Spicy Bangkok Hotpot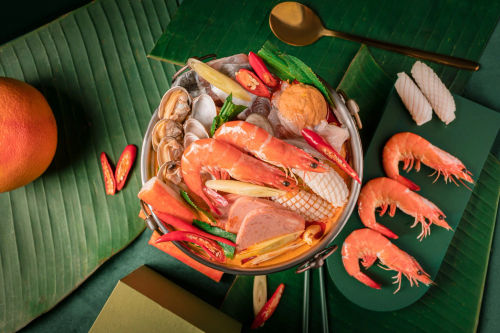 Indulge in a world of nourishing soup bases that will ignite your taste buds and leave you yearning for more. Explore the iconic and fiery Tom Yum Goong, boasting a tantalizing fusion of lemongrass, lime, and chili.
Or savor the delightful and comforting Sour Papaya with Golden Soup, where the sweetness of ripe papaya meets the warmth of golden broth. With an array of flavor profiles to suit every palate, prepare for a truly captivating culinary journey.
14) Hao Lai Wu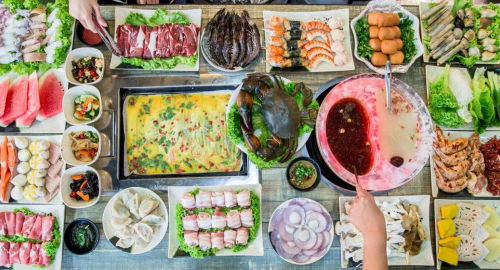 Step into the enchanting world of Hao Lai Wu, where oriental-style interiors captivate your senses and TikTok fame awaits.
This hidden gem boasts two charming outlets in Chinatown and Bencoolen, beckoning you to indulge in an all-you-can-eat buffet of traditional hotpot and smokeless BBQ.
With a tantalizing array of over 90 dishes, from succulent seafood to premium marinated meats, prepare for a feast that not only satisfies your cravings but also delights your eyes.
15) Yunnan Ah Ma Shi Hotpot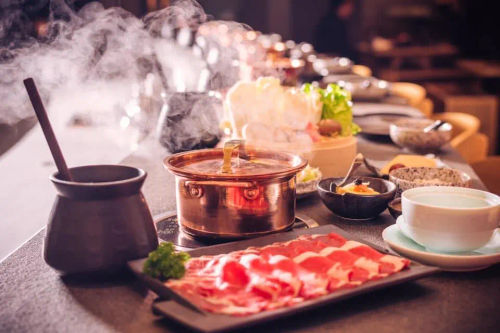 Indulge in a hotpot feast at Yunnan Ah Ma Shi Hotpot on Liang Seah Street! This popular restaurant offers an irresistible all-you-can-eat buffet that keeps you coming back for more.
Choose between two enticing buffet sets. Set A spoils you with over 50 diverse ingredients, including succulent Fine Beef, flavorful Sliced Pork Belly, and mouthwatering Fresh Prawns.
For a truly premium experience, Set B takes it up a notch with an extraordinary selection of meats, seafood, and "exotic" ingredients like Spanish Black Pork, melt-in-your-mouth Premium Wagyu Beef, a tantalizing Wild Mushroom Platter, and even Live Mud Crab.
16) FuFu Pot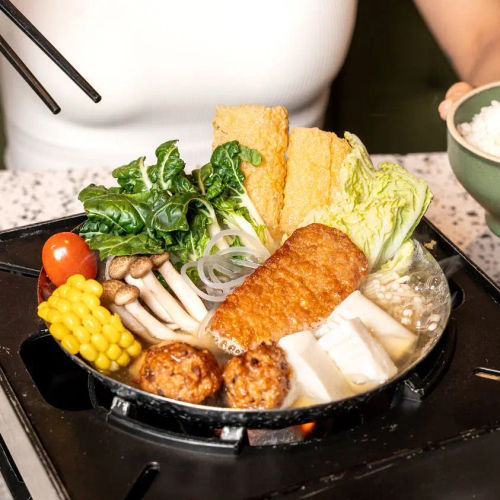 Step into FuFu Pot, a laid-back hotpot haven nestled in Dhoby Ghaut, Singapore. This hidden gem caters to solo diners, ensuring a delightful experience for all.
Indulge in their individual pots, brimming with an array of tantalizing soup bases that will transport your taste buds. From the fiery Korean Army Stew to the aromatic Thai-inspired White Curry, and even the daringly unique Stinky Tofu – a first in Singapore – prepare for a culinary adventure like no other.
Each set at FuFu Pot is a masterpiece, curated with care and precision. Discover a medley of ingredients, including shimeiji mushrooms, sweet potato vermicelli, and succulent pork balls.
17) San Laksa Steamboat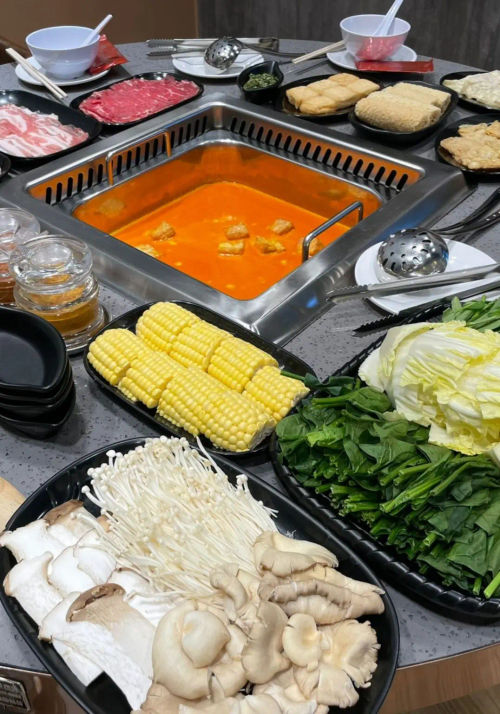 San Laksa, living up to its name, is more than just a hotpot joint in Singapore. It's a culinary haven that takes pride in crafting indulgent, creamy, and oh-so-satisfying laksa broth that will leave you craving for more.
For the ultimate experience, go for the refillable Signature Laksa Soup Bases or opt for the Two Soup Base Combo to get the best of both worlds – the Herbal Chicken Soup is a refreshing delight that will tantalize your taste buds.
While the menu may not boast an extensive array of options like some other places on this list, fear not! The selection of top-quality meats, seafood, and vegetable platter is more than enough to satisfy even the most discerning palates.
18) Uncle Fong Hot Pot
Indulge in the fiery and flavorful broth of Uncle Fong Hot Pot, a beloved hotpot chain hailing from Hong Kong.
Renowned for its authentic Chongqing-style soup bases, this culinary gem in Singapore tantalizes your taste buds with a unique blend of five essential ingredients.
From the fiery Chongqing Shizhuhong Chilli to the aromatic Yunnan Yellow Ginger, each spoonful promises a captivating spice level that rivals the renowned da la.
19) Jianghu Hotpot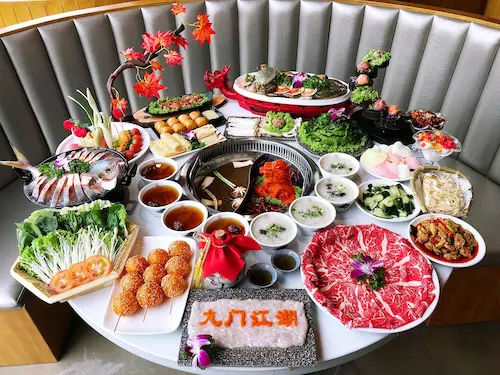 Indulge in an exquisite dining experience at Jianghu Hotpot in Somerset and Yishun, where individual hotpots meet the thrill of communal dining.
Prepare to be captivated by their unique conveyor belt service, adding an element of excitement to your meal. an unbeatable value, opt for the delightful 2-in-1 hotpot and BBQ buffet.
Prepare your taste buds for a fusion adventure with tantalizing offerings like Mala Scallops, Korean Sauce Pork Belly, and the irresistible Deep-Fried Glutinous Rice Ball with Brown Sugar.
20) Hippot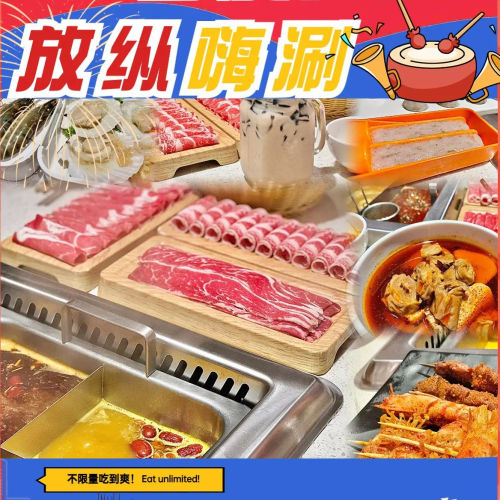 If you frequently find yourself yearning for hotpot during late nights, your top choice would be Liang Seah Street, a bustling area known for its numerous Chinese eateries. Among them, Hippot is a standout, offering a popular hotpot buffet concept.
With over 100 ingredients and 11 soup bases to choose from, you can indulge in a wide variety of tom yum, meats, fresh seafood, vegetables, and carbs. On weekday lunch buffets (Mon-Thu), hotpot enthusiasts can opt for the economical Buffet A.
Hotpot Singapore
Exploring the hotpot scene in Singapore is a culinary journey that promises a delightful dining experience for every palate.
From the traditional delights of Yunnan Ah Ma Shi Hotpot and the adventurous flavors of FuFu Pot, to the late-night offerings of Hippot, there is a hotpot shop to satisfy your every craving.
Whether you're a solo diner seeking a comforting meal or a group of friends looking for a memorable communal dining experience, these hotpot restaurants in Singapore offer an unforgettable gastronomic adventure.
Frequently Asked Questions (FAQ)
If you have any questions about Hotpot in Singapore, you can refer to the frequently asked questions (FAQ) about the best Hotpot in Singapore below: