Indoor Activities Singapore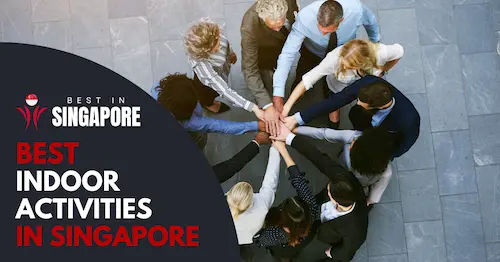 Despite the hot and humid weather in Singapore, there are plenty of exciting indoor activities available for everyone to enjoy.
The best indoor activities in Singapore are Escape Rooms, Laser Tag, Archery Tag, Art Jamming Workshops, Amazing Race, Giant Board Games, Poolball, Bubble Soccer, Candle Making Workshops.
To ensure a well-planned and enjoyable experience for all, consider factors such as participants' age group, duration, cost, and location when making reservations for indoor activities.
FunEmpire, a prominent team building company in Singapore, has an outstanding track record of organizing over 50,000 successful events and receiving 8,000 client reviews with a perfect 5-star rating.
Discover a diverse range of age-appropriate experiences in Singapore, from virtual reality gaming centers to team building activities, and uncover hidden indoor treasures while staying protected with sunscreen.
Benefits of Indoor Activities in Singapore
Indoor activities offer many benefits, such as:
An opportunity to explore and discover something new.
A chance for family bonding, team building and socialization among friends.
Improved physical and mental health by providing a much needed break from the mundane routine of daily life.
It helps in developing problem solving skills, creativity, and communication skills.
It provides a platform to socialize with like-minded people, learn new experiences, and build relationships.
They facilitate learning in a fun and engaging environment. Educational indoor activities like museum visits or workshops can broaden horizons and enhance knowledge.
Indoor activities are weather-independent, making them a reliable choice for entertainment, regardless of Singapore's unpredictable rains or heat.
They enhance motor skills and coordination. Activities like laser tag or indoor rock climbing are not only fun but also help in improving physical agility.
Indoor activities promote cultural appreciation. Visiting art galleries or attending cultural performances can foster an appreciation for diverse cultures and arts.
They provide opportunities for stress relief. Engaging in enjoyable activities can help alleviate stress and provide much-needed relaxation.
Consideration Factors When Booking Indoor Activities in Singapore
Before booking an indoor activity, it is important to understand different factors which might affect your experience.
Age Group: It is important to consider the age group of participants when booking an activity as certain activities are best suited for adults while some are suitable for children only.
Duration: The duration of the activity is also important to consider when booking. Are you looking for a one-day event or something longer?
Cost: The cost of the activity should be taken into account while making reservations. It would be wise to select an activity that fits your budget without compromising on quality.
Location: Depending on where you are located, certain activities may be more accessible than others. You should book an activity at a convenient location for all participants to enjoy without any hassles.
Safety: Enquire about the safety measures and preventive measures taken by the venue for participants' wellbeing.
Equipment: Find out what equipment is required and provided for the activity to avoid any last-minute disappointments.
Best Indoor Activities
Adventure Activities
1) Combat Archery Tag
Are you ready for an unforgettable adventure? Get ready to experience the thrill of Archery Tag – a unique game that combines the excitement of dodgeball with the precision of archery. Picture this: you and your teammates, wearing protective face masks, strategically aiming foam-tipped arrows at your opponents in an exhilarating battle.
The tension builds as teams challenge each other, creating an adrenaline rush like no other. Join the excitement and prepare for an action-packed experience that will leave you wanting more. Get your heart racing and your competitive spirit soaring with Archery Tag!
2) Laser Tag
Get connected and build teamwork with the exciting game of laser tag! Whether you're indoors or outdoors, this thrilling activity is perfect for people of all ages – from small gatherings of friends to large-scale events.
Experience the adrenaline rush as you participate in a mission like never before, creating unforgettable memories with your teammates. Immerse yourself in the unparalleled excitement and join the fun today!
Discover the joy of strategizing, communicating, and working together towards victory in this action-packed adventure. Don't miss out on this unparalleled experience – it's time to grab your laser tag gear and embark on an epic journey filled with laughter, camaraderie, and heart-pumping action!
3) Poolball
Get ready to experience the ultimate adrenaline rush as you dive into the world of captivating games like Poolball Classic and Poolball Sabotage on our colossal pool table! Picture this – a perfectly crafted table, larger than life, with vibrant colors and smooth surfaces that will make your gaming experience truly unforgettable.
Imagine hosting a corporate event where colleagues can bond over friendly competition, or a family gathering where everyone can come together and create lasting memories. But it's not just limited to groups – even as an individual, you can join in on the excitement and challenge yourself to new heights.
Our massive pool table is designed to accommodate players of all ages, making it the perfect activity to build relationships and strengthen bonds. Whether you're a seasoned player looking to showcase your strategic skills or a beginner eager to learn, our game is accessible to all.
So, gather your closest friends, unleash your competitive spirit, and prepare to become champions on our colossal pool table. Experience the thrill, the camaraderie, and the joy of this larger-than-life gaming adventure today!
4) Giant Whack-A-Mole
Are you prepared for an absolutely thrilling and adrenaline-pumping excursion? You absolutely cannot afford to miss out on the mind-blowing and jaw-dropping Giant Whack-A-Mole game, taking place right in the heart of vibrant Singapore!
Picture this: you and your competitors eagerly vying to snatch up vibrant, eye-catching balls in an exhilarating and unforgettable experience that you simply cannot afford to neglect. But don't wait too long, because this once-in-a-lifetime opportunity won't last forever! So hurry, before it's too late, and make memories that will last a lifetime!
5) Saber Tag
Take up arms and become a hero! Equip yourself with an amazing battle saber, team up with others, sharpen your tactical skills and dive into exhilarating missions such as Saber Wars and Defenders of the Galaxy. Don't miss this fantastical quest – join it now!
Ready to give your team a dazzling boost and make unforgettable memories? Come join us at Saber Tag, Singapore's hottest activity today! Whether you're looking for an invigorating corporate team-building event or planning the most epic birthday celebration ever, this thrilling game will bring everyone together. So don't miss out on all this fun – prepare yourself for an adrenaline-filled experience with Saber Tag now!
6) Ninja Tag
Unleash your inner Ninja warrior with Ninja Tag, the ultimate team building adventure! Get ready for an adrenaline-pumping experience like no other as you test your ninja skills and engage in epic close combat battles. Armed with soft foam Ninjas Daggers and equipped with vests to keep score, you'll embark on numerous thrilling missions that will challenge and excite you at every turn.
Whether you're a seasoned ninja or a beginner, our immersive and customizable experience ensures endless fun tailored just for you. Don't wait a moment longer – join us now and get ready to experience the thrill of a lifetime that will leave you craving for more!
7) SaberFit
Unleash the strength of an exceptional saber fitness workout that combines captivating battle tactics, partner-working duelling and stimulating activities! Our carefully designed group exercise is perfectly suited for your Singaporean corporate team building event. This inspiring challenge offers a physical test as well as encourages collaboration among coworkers in a fun setting! Experience this remarkable journey – it's sure to be something you won't soon forget! Get ready to break into a sweat and savor unrivaled excitement with us today.
8) Bullet Ball
Looking for an adrenaline-pumping team outing without breaking the bank? Then you need to join FunEmpire and check out their newest game: Bullet Ball! This variant of Dodgeball will guarantee a tremendous amount of fun, excitement and adventure – so what are you waiting for? Gather your gear and come over to Singapore; let's play Bullet Ball!
9) Bullet Strike
Unleash your inner warrior and join the excitement of Nerf-powered laser tag games! Arm yourself with soft foam pellets and high-tech blasters, then engage in an adrenaline-fueled battle against opponents while completing mission objectives. Your safety is guaranteed as you don protective masks during this action-packed team building in Singapore.
Creative Workshops
10) Terrarium Workshop
Are you looking for an invigorating and engaging team-building activity? Look no further than our terrarium workshop! Not only will your employees strengthen their relationships, but they'll also get to craft wonderful handmade pieces that they can take home with them. Our workshops have become renowned in Singapore – don't miss out on this amazing chance – book a session with us now!
11) Tote Bag Art Jamming
Unlock your imagination and come explore the exciting world of art jamming with FunEmpire! Our special tote bag sets provide you with everything needed for an extraordinary artistic journey, no prior painting knowledge necessary. Create something unique by letting your creative energy flow – these totes make amazing gifts or mementos that can be cherished for years. Unveil what incredible work you will produce and join us on this unforgettable artistic voyage!
12) Non-Stitched Leather Workshop
Searching for an exciting and creative way to bond with your team? Look no further than Leather Workshop in Singapore! Here, you can explore the possibilities of leather crafting and create beautiful items like coin pouches, key FOBs or even luggage tags – all of which can be kept as keepsakes or given away as gifts. So why wait? Gather up your colleagues and come join us at Leather Workshop now to craft something truly remarkable together!
13) Canvas Art Jamming
Unwind and experience the utmost level of relaxation with FunEmpire's Art Jamming sessions! Invite your favorite people – family, friends, or even coworkers – to join you in this peaceful excursion into creativity. Our top-of-the-line equipment is accompanied by specialist instructors who will guide each step along the way; no prior art knowledge needed! Let go and give full rein to your creative spirit – without any pressure– as you leave feeling accomplished and revitalized.
14) Soy Candle Making Workshop
Are you a novice just starting out with soy candles, or an experienced candle-maker who wants to add extraordinary details? Either way, we have the perfect selection of supplies for all your waxworking dreams. Our collection includes beautiful sands, figurines and other decorations, so that each and every one of your creations turns out as unique and intricate as you imagined them.
15) Clay Making Workshop
Unleash your artistic side with FunEmpire! Our workshops offer a creative, interactive way to learn something new. All of the necessary tools are provided for each participant to design their own one-of-a-kind clay figures! Don't miss out on this chance to explore your creativity today – join us at our mini workshops now!
16) Gel Candle Making Workshop
Forming meaningful connections with your Singapore team can be an enjoyable experience – why not try a Candle Making Workshop? This activity fosters both learning and bonding, while also providing each member of the group with their own personalized creation to take home as a special memento. Team building activities don't have to be tedious; spark creativity and bring everyone closer!
17) Cooking Class
Elevate your team building in Singapore by immersing yourself and your colleagues in Singapore's vibrant culinary culture with a cooking class! Our classes are designed to not only be enjoyable, but also give everyone an opportunity to create like professional chefs while tasting new flavors. With us, you can rest assured that satisfaction is guaranteed – after all, who wouldn't want more of these delicious local delicacies? Now is the time to embark on this extraordinary gastronomic journey and experience something truly unique!
18) Stitched Leather Workshop
Fuel your creativity and hone a timeless skill with our Stitched Leather Workshop! Here, you'll learn the fundamentals of leather stitching while crafting an elegant cardholder from the ground up. We provide an intimate setting that allows for maximum learning potential – plus, by signing up now, you can gain these invaluable skills before seats run out! Take this opportunity to unlock your true potential – sign up today and experience firsthand why mastering leather craft will benefit you forever.
19) Balloon Sculpting Workshop
Release your imagination and discover how to make captivating balloon figures, like a pirate sword, butterfly, rainbow or flower—all without leaving the comfort of home!
20) Perfume Workshop
Make a statement about your distinctive self with the perfect scent! Join us for our perfume workshop and design an aroma that speaks to who you are. Our selection of world-class scents allows you to craft something completely individualized – so don't miss out on this remarkable chance! Discover what it's like to express yourself through smell today.
Forge a stronger connection between you and your colleagues while exploring each other's knowledge with an energizing team-building exercise! The highlight of the day will be experimenting to create exclusive scents, and everybody can take home their one-of-a-kind scent in its personalized bottle. Create a remarkable experience that is both meaningful and memorable – something for everyone to cherish for years down the line!
Quest Activity
21) Escape Room
Take your team-building experience to the next level with Escape Rooms! You and your co-workers will be pushed out of your comfort zone as you try to figure out a series of puzzles in a thrilling race against time. With an array of amazing challenges located across Singapore, it's guaranteed to bring everyone closer together. Unleash the detective within and embark on this unforgettable journey – one that is sure to make lasting memories!
Leisure Activity
22) Giant Board Games
Ready for a thrilling and memorable experience? Look no further! Our selection of Giant Jenga, Pick Up Sticks, Connect Four & Snakes & Ladders will leave you in awe. Gather some friends and engage in the joy of these classic board games – it's an unforgettable adventure that is guaranteed to bring endless fun! Prepare yourself for a challenge unlike anything else you've ever encountered before.
Virtual Games
24) Virtual Amazing Race
Are you ready to embark on a memorable international journey? Seize the moment and explore unknown territories with kindred spirits, all while striving for an exhilarating reward! Don't let this opportunity slip away – join us now for an inspiring adventure that will render everyone in awe.
25) Virtual Escape Room
Discover your hidden capabilities and nurture meaningful relationships with family, friends or colleagues when you participate in FunEmpire's treasured virtual event. Regardless of the size – from two to hundreds, this interactive game can cater to everyone! What's more? You can easily enjoy it at home – making it ideal for corporate team building activities. Don't miss such a chance to stimulate your minds today!
26) Virtual Squid Escape
Are you and your friends looking for a thrilling, mind-boggling challenge? Then the Squid Game Escape Room is perfect for you! Test each other's creativity as well as intellect in order to escape captivity – hunt down hidden clues, solve difficult puzzles, and unravel cryptic secrets that may be the only way out of this game. Work together quickly before time runs out – rely on intelligence combined with team spirit to unlock this captivating puzzle! Dare yourselves to rise up to meet the ultimate challenge?
27) Virtual Travel Experience
Ready for an unforgettable voyage with your global colleagues? Join Team Building Games Singapore's Virtual Travel Experience and embark on a captivating adventure! Whether you have a small team or a large organization in tow, this exhilarating game will offer endless entertainment. Tackle interactive puzzles together and accomplish dynamic tasks – it'll be an amazing journey regardless of where in the world you may be located! Don't hesitate any longer; start planning your virtual expedition now!
28) Virtual Food Quest
Take an adventure into the unknown and discover your inner foodie with FunEmpire's one-of-a kind Virtual Food Quest! Put your knowledge about all things food to the test as you go on a truly unique culinary journey. Don't let this remarkable epicurean experience pass you by – join now for an unforgettable exploration of delectable delights!
Reconnect with your loved ones and explore the unique offerings of Singapore while indulging in a tantalizing puzzle experience! Taking part in this thrilling game allows you to savor time together, as well as assess your team's communication skills. Immerse yourself in all that Singapore has to offer – who knows? Maybe soon after you'll be presented with some delicious snacks!
29) Virtual Time Travel
Ready for the experience of a lifetime? Embark on an incredible journey through time and explore eras that have only been stories until now! Challenge yourself with puzzles from different points in history, race against the clock, and invite friends or colleagues along to complete their mission before it's too late. Get ready to be amazed at all of the wonders you will see during this remarkable virtual time travel adventure!
29) Virtual Time's Ticking
Let's come together, draw on all available resources, and dive deep into the captivating mystery to guard our city! Join us in a shared mission – unite for one common goal. Don't procrastinate; we must end this malevolent threat before it is too late. Are you ready? Buckle up – let's begin our journey!
30) Virtual Nightfall
Are you up to the challenge of testing your squad's creativity and wits? Murderer has arrived with a thrilling quest that demands teamwork, attention to detail, and convincing arguments. Will you opt for being detective or murderer – maybe even sport a cape? In this play filled with crime-solving intrigue, only one will be victorious in the end! Who is going to come out on top today?
31) Virtual Super Planet
It's time to demonstrate the world what authentic heroism looks like! Join us on a remarkable voyage through our Escape Room and support protect Earth from annihilation. As you collaborate with other valiant defenders, you will acquire priceless knowledge about sustainability. Stand up for your planet – it needs your courage now more than ever before!
32) Virtual Jack's Hangover
Rally your forces! Jack, a valued friend of yours and companion to many, has woken up in pain after an outrageous night of partying. He can hardly remember what happened; you're the only one who has the chance to help him now – so act quickly! Scour his hotel room for clues that could lead to solving this mysterious situation. Investigate the casino he visited last night for any hints before it's too late- time is ticking away! Are you able to aid Jack before his flight takes off?
Virtual Workshops
33) Virtual Tote Bag Art Jamming
Unleash your creativity and become the artist you've always wanted to be by joining us for our thrilling Virtual Art Jamming session! Create a custom-made bag – from totes to backpacks – of any size, design, or shape that can either be gifted away or kept for yourself. Don't worry about having artistic talent; FunEmpire is here to guide you throughout this enjoyable venture with just enthusiasm and eagerness! Start turning something ordinary into extraordinary through our art jamming event today.
34) Virtual Terrarium Workshop
Are you and your friends looking for a unique, enjoyable way to stay entertained at home? FunEmpire's virtual workshops offer the ideal solution! And even better: we're offering a complimentary Terrarium Home Kit. So why not get creative while lounging in the comfort of your own living space?
35) Virtual Clay Making Workshop
Searching for an unforgettable and one-of-a-kind team development activity that everyone can partake in? We suggest customizing air dry clay figures or charms! Our toxin-free, lightweight clay is absolutely safe to use with children. Not only do you get to have a fun time but each person will also be able to make something unique they can keep as mementos or gift away afterwards – making this a truly special experience!
36) Virtual Non-Stitched Leather Workshop
Are you ready to embark on an exciting adventure? Come join us for our Virtual Leather Making Workshop, where experienced craftsmen will show you the fundamentals of leatherworking – no prior knowledge required! With this rare opportunity, beginners and experts alike can create amazing custom pieces without ever leaving their home. So don't hesitate; take that first step today and get ready for a unique experience like no other!
37) Virtual Canvas Art Jamming
Unleash your inner artist and create soulful works of art with FunEmpire! Our Virtual Art Jamming experience enables you to bond and craft amazing pieces together – no prior painting skills needed. Soak in the joyful atmosphere while having fun. Allow your creative spirit soar through; sign up for an unforgettable adventure at FunEmpire now, one that will help reveal the hidden masterpieces within you!
38) Virtual Soy Candle Making Workshop
Ignite your team's creative spirit with FunEmpire's Virtual Candle Making Workshop! Unwind together and design stunning soy candles adorned with elegant figurines from the comfort of home. Build relationships, enjoy one of Singapore's most engaging pastimes, all in one place – take this special opportunity to come closer today!
39) Virtual Stitched Leather Workshop
Ignite your creativity and join us for an unforgettable virtual leather crafting class! Our Stitched Leather Making workshop grants you the tools, knowledge, and creative freedom to devise something entirely unique – all from the convenience of home. With instruction from our competent teachers, you'll be able to craft a one-of-a-kind card holder in only one session – unleash those inventive juices today!
40) Virtual Balloon Sculpting Workshop
Unleash your creativity by learning to craft beautiful balloon sculptures from the convenience of home! From pirates swords, butterflies, and rainbows to flowers-we will guide you through every step in these easy-to-follow tutorials. So come on – let those innovative vibes flow freely!
Tips for Indoor Activities
If you are looking to add a unique twist to your indoor activities, here are some useful tips:
Involve the whole family. Get everyone involved and work together to create something special. It could be a themed movie night or an art activity where everyone gets to make their own contribution.
If you have limited space, find activities that don't require a lot of materials. Board games, puzzles, and other card games can provide hours of entertainment with minimal setup required.
Keep it exciting by finding ways to make the activity interactive. Play charades or come up with interesting questions to ask each other during family game nights.
Take advantage of technology and modernize your indoor activities. You can make use of online tools to organize virtual game nights or engage in an online escape room adventure with friends!
Don't forget to have fun and be creative. There's no limit to what you can do! Get creative with your indoor activities and come up with something unique that everyone will enjoy.
Indoor Activities Singapore
Get ready for the extraordinary experience of a lifetime! Don't hesitate to grab your sunscreen and dive into Singapore's thrilling indoor attractions. From laser tag & combat archery tag, canvas art jamming & soy candle making workshops, virtual games & giant boardgames or trampoline parks – this incredible list has something special for all kinds of people: adventurers, artists and even those who are simply looking for some fun activities. Your remarkable journey is only one click away – begin it today!
Interested in related articles? Do check out the links below!
Frequently Asked Questions
If you have any questions about Indoor Activities in Singapore, you can refer to the frequently asked questions (FAQ) about the Best Indoor Activities in Singapore below:
Additional Useful Links
If you are looking for other useful guides and articles about Indoor Activities in Singapore, check them out below: