Japanese Buffet Singapore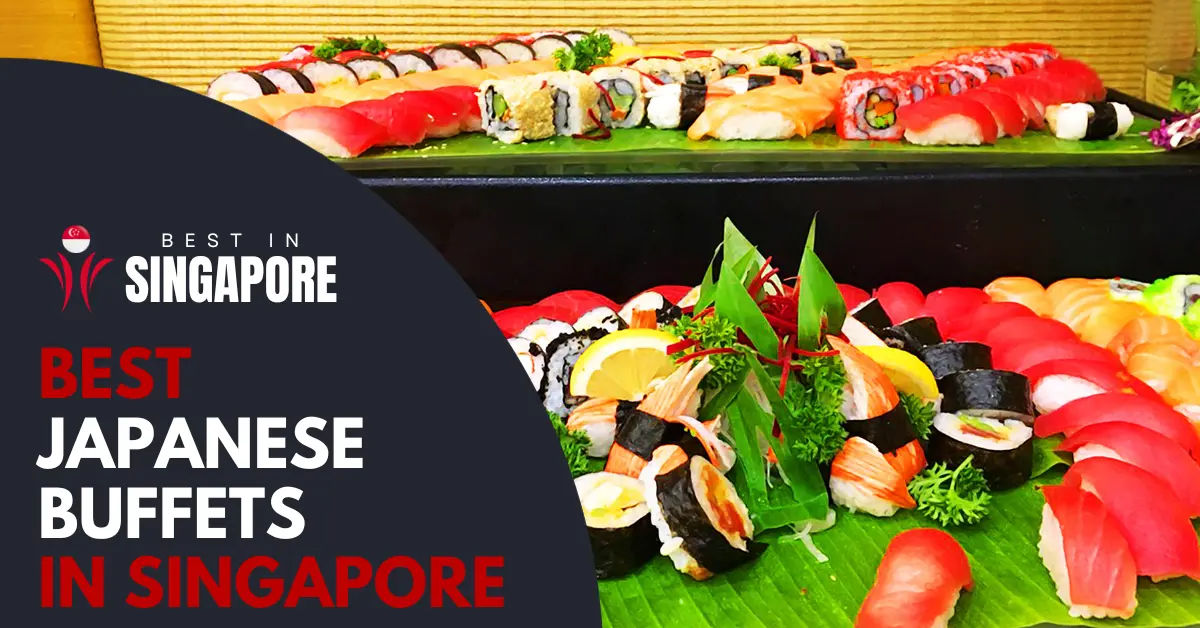 For the lovers of sushi, sashimi, and all things umami, Singapore boasts a selection of exquisite Japanese buffets that are sure to satisfy your cravings.
The best Japanese buffets in Singapore include Irodori Japanese Restaurant, Himawari Japanese Restaurant, Syohachi Yakiniku, Ikoi Japanese Restaurant, and Hokkaido Sushi.
When selecting a Japanese buffet in Singapore, take into account factors like food quality, location, pricing, variety, and ambiance.
Japanese buffets provide a diverse selection of culinary delights, including sushi and tempura, giving diners the opportunity to savor an authentic all-you-can-eat experience of Japanese cuisine.
From traditional sushi bars to contemporary Japanese dining experiences, this guide is your ticket to an unforgettable gastronomic adventure.
Key Consideration Factors
Before getting into the best Japanese buffets in Singapore, here are some consideration factors to remember:
Quality: The quality of ingredients, preparation techniques, and presentation is crucial in determining the overall dining experience.
Location: Choose a buffet located conveniently near public transport or your place of stay to avoid long travels and traffic.
Price: Buffets can range from affordable to high-end, so decide on your budget beforehand.
Variety of food: Look for buffets with a diverse selection of dishes and specialties to cater to different preferences and dietary restrictions.
Ambience: The ambiance of a restaurant can affect the overall dining experience, so choose one that fits your preferred atmosphere.
Best Japanese Buffet Singapore
1) Ikoi Japanese Restaurant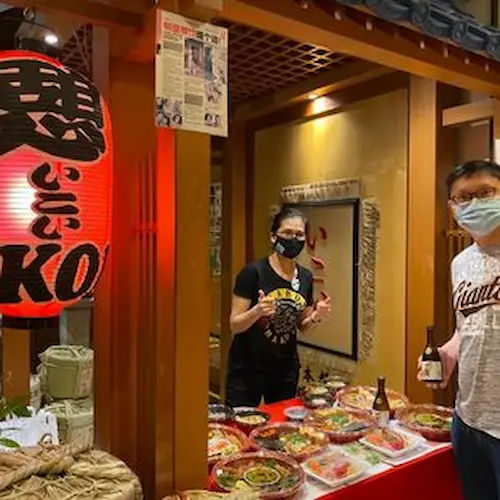 Ikoi Japanese Restaurant PTE is a charming dining establishment located on the ground floor of Hotel Miramar, boasting a dedicated following. The restaurant's affordable buffet, a long-standing tradition since the early 1990s, has garnered rave reviews from customers.
Despite its reasonable price, the restaurant never compromises on the quality or variety of its offerings, making it a favored choice among those who are aware. The restaurant cultivates a distinctive and captivating ambiance, delivering an authentic Japanese experience that is hard to come by elsewhere.
As you savor your meal, the waitstaff, adorned in traditional Japanese attire, adds to the allure. Be sure not to miss their delectable sashimi, featuring thick and flavorful slices.
2) Hokkaido Sushi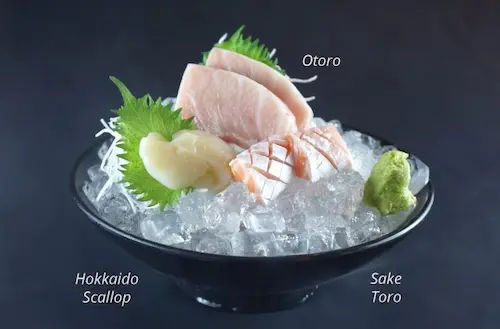 Located within M Hotel Singapore, Hokkaido Sushi is a Japanese restaurant that ensures a delightful culinary experience. With a spacious dining area, including a 14-seat sushi bar and four private rooms, customers have ample space to indulge in a truly satisfying dining venture.
Embark on a gastronomic journey through the diverse flavors of Japanese cuisine at Hokkaido Sushi. From traditional dishes to inventive creations, the restaurant offers a wide range of mouthwatering options that will tantalize your taste buds.
Prepare yourself to savor the delicate flavors of white fish combined with the aromatic essence of truffle, resulting in an unexpected and unforgettable culinary sensation.
3) Shin Yuu Japanese Restaurant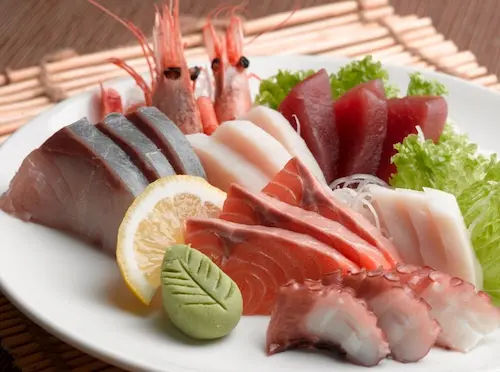 Getting a reservation at this restaurant can be quite a challenge due to their specific lunch and expensive dinner hours. However, it's definitely worth a shot to indulge in their A La Carte Buffet, priced at $39.90++ for lunch and $57.90++ for dinner.
For sushi lovers, you must try their signature Shin Yuu Special Aburi Sushi – grilled salmon topped with a generous dollop of flavorful mentaiko sauce. To enhance your dining experience, I highly recommend sampling Toro Sashimi, Taraba Kani, Zuwa Kani Tempura, and their delightful ice cream during dinner!
4) Shaburi & Kintan Buffet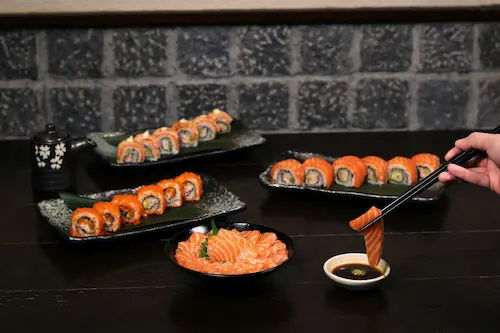 If you're torn between hotpot and yakiniku, Shaburi & Kintan Buffet offers the best of both worlds! Enjoy a wide variety of buffet selections, including lunch, combo lunch, grand, or combination grand. Indulge in both options and savor your meal.
For an extra special experience, you can upgrade for an additional S$13.90 to enjoy unlimited servings of salmon sashimi and sushi.
This place is highly recommended as one of the top Japanese buffets in Singapore. For just S$9.80++, you can relish two plates of BBQ meat, have unlimited access to the buffet bar, and enjoy free-flow soft drinks. And don't forget about the student discount, valid from Mondays to Thursdays, 11:30 a.m. to 4 p.m. Don't miss out on this amazing opportunity!
5) Mitsuba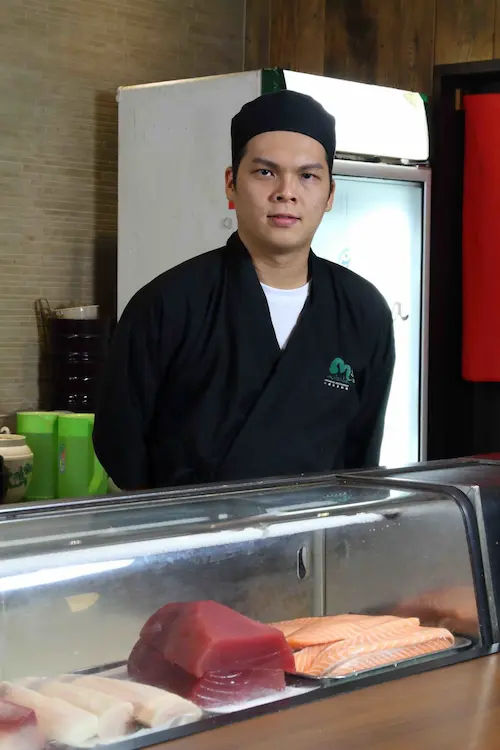 Founded in 2014 by a retired banker, Mitsuba is a fast-growing fast food chain offering affordable yet authentic Japanese cuisine.
From its humble beginnings, Mitsuba has gained recognition for its thick-cut sashimi, sushi, and an extensive à la carte buffet menu. With a variety of options including classic rolls, hand-rolled sushi, appetizers, teppanyaki, and other delightful specialties, Mitsuba caters to diverse tastes.
The founder personally ensures exceptional service and welcomes guests, making it advisable to reserve in advance to avoid any potential delays.
6) Kiseki Japanese Buffet Restaurant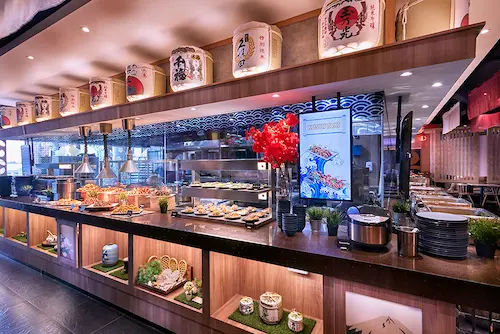 Kiseki has gained popularity among budget-conscious individuals for its incredibly affordable buffet prices. This makes it a top choice for those willing to make some trade-offs to save money.
With a vast selection of over 200 buffet dishes spanning 29 categories in the heart of Orchard, you can indulge in a wide variety of options, including sushi, sashimi, hotpot, Japanese grill, Japanese Western cuisine, and more!
Additionally, the outdoor dining area offers a scenic view of the mountains, making it the perfect destination for a satisfying meal.
7) Tsukada Nojo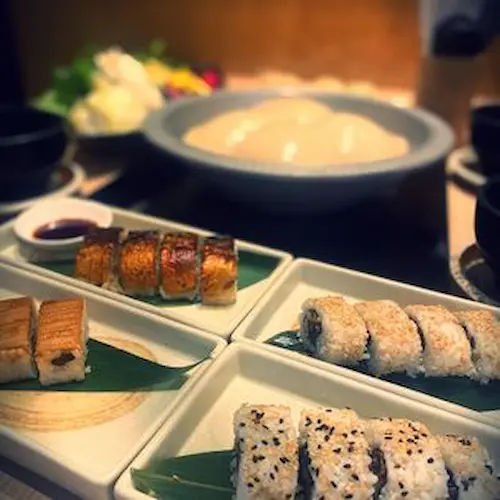 Tsukada Nojo is renowned for its Bijin Nabe, a collagen pot featuring a soup base made from certified organic vegetables, fresh seafood, and high-quality chicken. The chicken collagen soup is infused with delightful flavors like tomato, pumpkin, or spinach.
This dining experience is truly sophisticated, offering an array of delectable items such as mentaiko fish cakes, chestnut pork, and even exquisite wagyu beef. Additionally, a variety of salads and deep-fried dishes are available for you to indulge in.
8) Rocku Yakiniku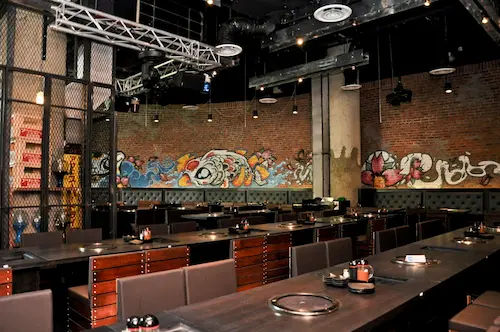 Rocku Yakiniku offers lunch and dinner buffets from Monday to Thursday, priced at $27.90 and $29.90 respectively. With a diverse selection of over 50 menu items that includes steaks, short plates, and pork bellies, it stands out as one of Singapore's limited Japanese buffets that focuses on meat.
For seafood enthusiasts, there are delectable options like green mussels and baby octopus. Be sure not to miss out on the variety of dipping sauces available, ranging from sweet miso to spicy miso and ponzu. Please take note that on weekends, public holidays, or the eve of a public holiday, there is an additional surcharge of $3.
9) Shabu Sai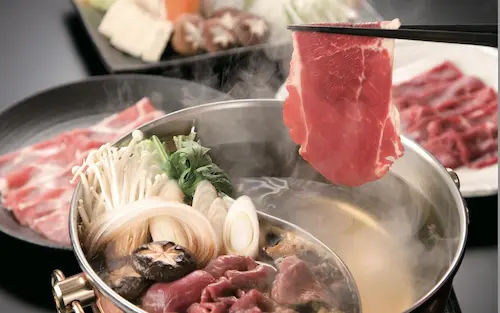 At their nine Singapore locations, Shabu Sai offers a delightful array of shabu shabu dishes. The lunch buffet on weekdays is priced at $16.99+ and $20.99+ on weekends. For dinner, prices begin at $23.99++ from Monday to Thursday and $25.99++ from Friday to Sunday. Apart from the daily broth and unlimited meat and vegetables, they introduce a new special seasonal soup every month for you to enjoy and explore.
10) Irodori Japanese Restaurant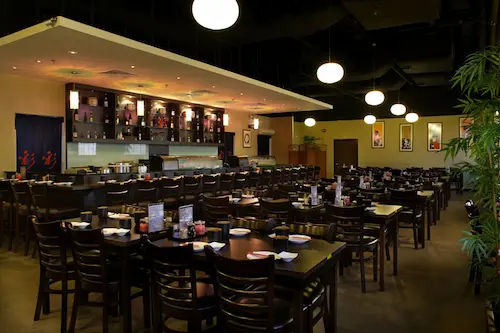 At Irodori Japanese Restaurant, their highly popular a la carte buffet (starting at $38.80) is a must-try. Indulge in a variety of deep-fried dishes, known as agemono, and enjoy unlimited servings of delectable, fresh sashimi.
Make sure not to overlook their signature dish, the Irodori Maki. This delectable maki roll is stuffed with creamy lobster and enveloped in tobiko, resulting in a delightful fusion of flavors.
11) SUKI-YA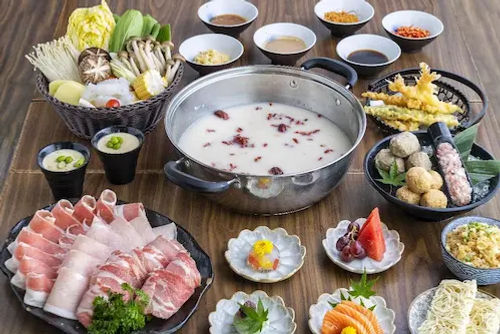 SUKI-YA is a well-liked option for hotpot enthusiasts, offering a Japanese buffet experience with their specialty sukiyaki and shabu-shabu. You don't have to worry about spending too much, as their lunch buffets are priced from $19.90, available Monday to Thursday. For dinner, you can savor a delightful meal with beef and pork slices, accompanied by a choice of five different soups.
12) Gyu-Kaku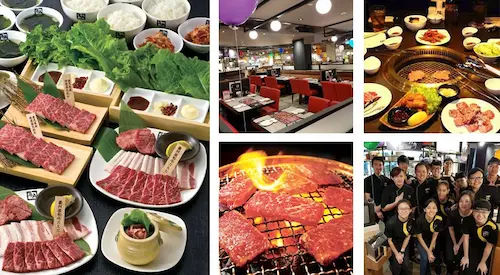 Gyu-Kaku offers two sought-after cuts, Harami and Fire! Karubi, available for weekday dinners at a price of $58.80 each. Their menu features delectable meat dishes such as Spicy Cold Tofu, as well as appetizers that showcase vegetables and seafood.
For a truly extravagant dining experience, treat yourself to the Japanese Wagyu Buffet priced at $86.80+ per person, creating an ambiance of pure luxury.
13) Tajimaya Yakiniku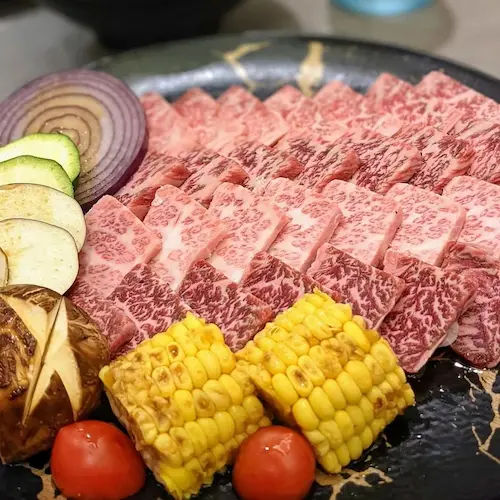 Tajimaya Yakiniku is a Japanese restaurant that specializes in offering a delectable wagyu feast, perfect for meat enthusiasts. They have a lunch buffet priced at $58.90++ and a dinner buffet priced at $68.90, inclusive of succulent, well-marbled wagyu slices that you can personally cook to your preferred level of doneness.
Don't miss out on trying their delightful selection of Japanese side dishes, including chawanmushi, garlic fried rice, and sashimi. Both lunch and dinner sessions have a time limit of 100 minutes.
14) Himawari Japanese Restaurant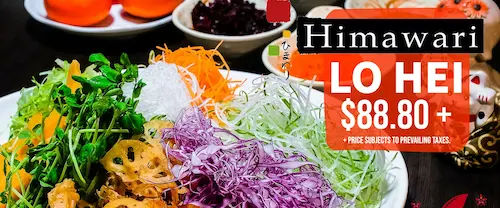 Himawari Japanese Restaurant, located in Yishun and Alexandra on the outskirts of Orchid Country Club, offers a wide variety of dishes on its buffet menu. The buffet table boasts an impressive selection of sashimi cuts that are sure to satisfy any seafood lover.
One cannot help but rave about the exceptional flavor of the ham and cheese croissant, which is truly a treat for the taste buds. With each bite, you'll be delighted by the rich and scrumptious experience it provides. And for those looking for some culinary adventure, the highly recommended Shabu Shabu is not to be missed!
15) Syohachi Yakiniku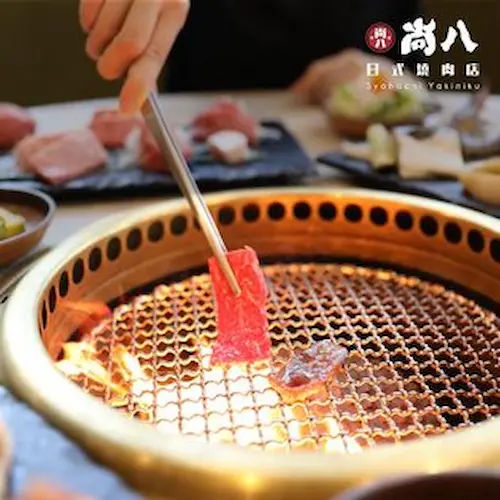 Syohachi Wagyu is well-known for its reasonably priced Japanese Wagyu buffet. At Syohachi Yakiniku, you can enjoy a lunch buffet of high-quality yet affordable dishes for only $22.50++ per person.
Indulge in unlimited servings of rice, noodles, pork, chicken, seafood, and vegetables to complement your main courses. If you're craving the exquisite flavor of A5 Wagyu beef, you can choose the tasting platter priced at $30+ per person, beautifully served on a single plate.
16) Shin Minori Japanese Restaurant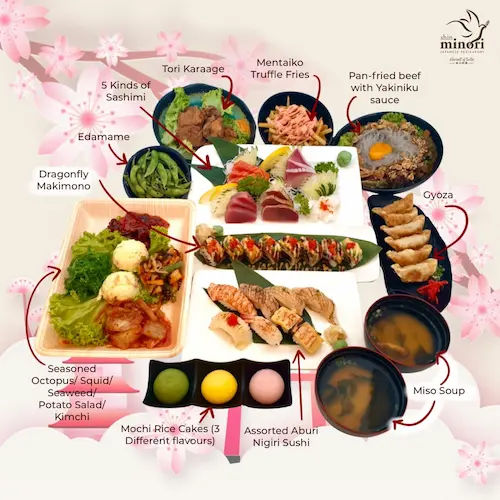 If you're craving Japanese cuisine, make sure to visit Shin Minori Japanese Restaurant. Treat yourself to their A La Carte Buffet, priced at just $58.90++. For shrimp lovers, the Ebi Tempura is an irresistible option with its crispy batter and juicy prawns that will leave you wanting more.
If you're feeling adventurous, give their grilled chicken intestine dishes a try, like the Grilled Chicken Liver with Sweet Soy Sauce and Grilled Chicken Gizzard with Salt. Additionally, their user-friendly tablet ordering system makes it easy to order more delicious food.
17) Kumo Japanese Dining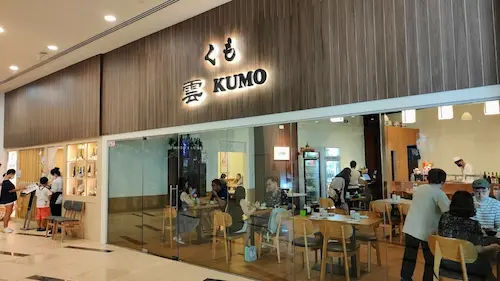 Experience an exceptional dining journey at Kumo Japanese Dining, where affordability meets excellence! Explore a diverse array of tempura agemono, each offering its own unique flavors. The grilled options are equally enticing.
With a wide-ranging menu and consistently fresh dishes, you'll truly get value for your money, especially if you're a seafood lover. Despite its compact size, the attentive staff ensures prompt service, even for outdoor seating.
18) En Dining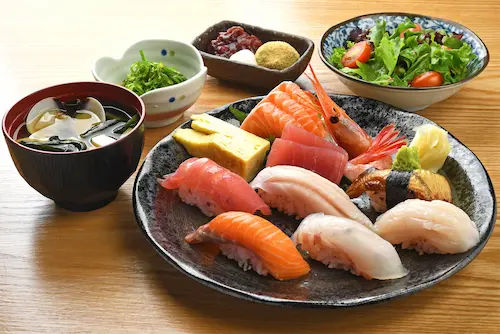 En Dining, with over 20 years of service in Singapore, has established itself as a trusted name, offering affordable yet high-quality Japanese and Okinawan cuisine. Committed to delivering authentic dishes from Japan, you can explore a diverse selection, including hotpot, stir-fried, and deep-fried meals, along with delightful starters and more.
Although prices may be slightly higher than in other areas of the city, dining at En Dining ensures a premium experience with exquisite cuisine.
19) Yakiniku Heijoen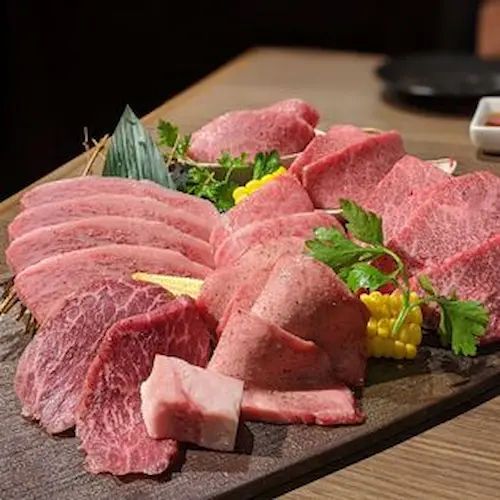 Experience the delight of indulging in unlimited grilled meats at the 100AM buffet by Yakiniku Heijoen. The Rich Buffet Course, priced at $55++, offers a 90-minute feast for two, featuring 49 delectable dishes including mouthwatering beef cuts like short rib steak, striploin steak, and harami steak, accompanied by a variety of delicious side dishes.
For a more elevated dining experience, opt for the Premium Wagyu Buffet Course at $70 per person, which includes A5 Wagyu Kalbi and black pork belly for 90 minutes.
20) Kushi Japanese Dining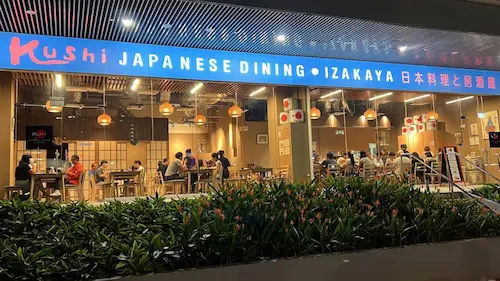 Founded in 2008 by a duo of siblings, Kushi Japanese Dining is a beloved, family-owned restaurant. With utmost care, they create delicious and nourishing meals. The establishment is renowned for its kushiyaki, expertly skewered and grilled non-poultry and poultry items, making it one of Singapore's top destinations.
The team of experienced chefs, with more than 20 years of expertise, ensures an unforgettable dining experience. Sourcing ingredients from Tokyo's Tsukiji Fish Market guarantees exceptional freshness and flavor. Enjoy a wide range of dining options, including buffet, weekend brunch, weekday set lunch, and à la carte buffet!
21) Tenkaichi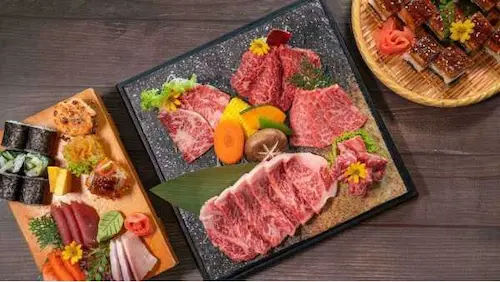 On the other hand, Tenkaichi presents a pricier menu but offers the undeniable advantage of serving higher quality cuts of meat. Their specialty lies in hand-sliced wagyu meat platters.
Opt for their Premium Buffet Dinner ($114.80++), which grants you the chance to choose from a variety of beef cuts.For an absolutely delightful dining experience, we highly recommend indulging in their Wagyu Beef Short Rib and Rib Eye Cap. These cuts boast buttery layers of fat that result in a mouthwatering, melt-in-your-mouth texture.
And make sure to save some space for the array of seafood options available, including scallops, Hokkaido oysters, and sashimi.
Japanese Buffet Singapore
In conclusion, Singapore offers a multitude of Japanese buffet options that cater to a wide array of palates and budgets. Whether you're craving succulent, premium cuts of Wagyu, a diverse selection of sushi and sashimi, or an array of grilled delights, there's a Japanese buffet in the city just waiting to satiate your desires. From affordable, value-for-money options to more indulgent, upscale dining experiences, the Japanese buffet scene in Singapore promises a gastronomic adventure that's both diverse and satisfying.
Frequently Asked Questions (FAQ)
If you have any questions about Japanese buffets in Singapore, you can refer to the frequently asked questions (FAQ) about the best Japanese buffets in Singapore below:
Additional Useful Articles
If you are looking for other useful guides and articles about Japanese buffets in Singapore, check them out below: