Japanese Restaurant Singapore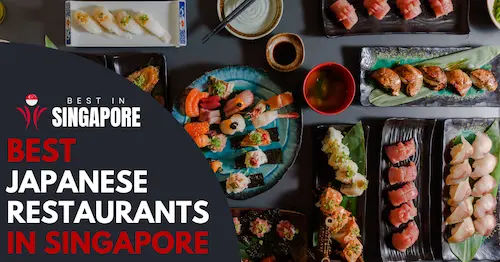 There are many various sorts of foods in Japanese cuisine, and they are all wonderful in their own special ways.
The best Japanese Restaurants in Singapore are The Gyu Bar, Fat Cow, Akira Back, The Sushi Bar, and Shukuu Izakaya.
When selecting a Japanese restaurant in Singapore, take into account factors such as location, authenticity, food quality, price range, menu selection, and atmosphere.
Japanese restaurants are known for serving popular dishes like sushi, sashimi, ramen, shrimp tempura, and yakitori.
Whether you're in search of a mouthwatering lunch spot or an authentic Izakaya experience, this list has got you covered!
Key Consideration Factors
Food options: One of the most important considerations is the type of food served. Japanese cuisine is known for its variety and quality, so it's important to pick a restaurant that serves high-quality dishes from both traditional and modern styles.
Ambiance: It's also important to consider the ambiance of the restaurant. Many Japanese restaurants in Singapore feature modern, sophisticated decor and offer a warm, welcoming atmosphere for guests to enjoy their meals.
Price: Another important factor to consider when choosing Japanese restaurants in Singapore is the pricing. Japanese cuisine can be quite expensive, so it's important to look at the prices before making a decision. Some restaurants offer discounts or set meals that can help to make the experience more affordable.
Reviews and ratings: Finally, it's important to consider the reviews and ratings of a restaurant before dining there. The feedback from past customers can provide valuable insights into the quality of food, service, and atmosphere at the restaurant.
By taking all these factors into account, you should be able to find the perfect Japanese restaurant for you in Singapore. Bon appétit!
Best Japanese Restaurant Singapore
1. The Gyu Bar
The Gyu Bar is the perfect place to enjoy dinner with loved ones because of its warm, inviting atmosphere. Guests may enjoy a handcrafted gourmet dining experience at this modern Yakiniku restaurant. With dinner seats costing between $30 and $50, it also isn't a cheap Japanese eatery. You won't run out of food because the menu is split among lunch and dinner courses.
Key Differentiators:
Contemporary Yakiniku restaurant
Cheap Japanese restaurant
Diverse meat options
Client Testimonial:
"Wide selection of beef. The olive one especially has a unique taste. The sukiyaki is delicious. Tasteful decor and friendly atmosphere."

Omar Shoman
2. Fat Cow
At the Westin Resort Sentosa, there is a Japanese restaurant called Fat Cow that specialized on high-end custom meats and Wagyu beef from Japan. This well-known steakhouse is renowned throughout the world for both its omakase experience and its superb raw, cold, and hot starters. From the lounge to the dining area, the interior of Fat Cow is a modified contemporary Japanese restaurant with wood and slinky bronze subtly braided together. Simplicity and minimalism are two design aesthetics that are widely used.
The Fat Cow is dedicated to serving a wide variety of distinctive, petite dishes overflowing with rich flavors and specializing in Japanese Wagyu beef. Omakase eating experiences are available at Fat Cow for those who prefer a unique meal experience every time.
Key Differentiators:
Exquisite bespoke meats and Wagyu beef
Wide range of distinct, tiny dishes overloaded with strong tastes
Modified contemporary Japanese restaurant
Client Testimonial:
"Excellent service! Excellent food! We had Kobe, Miyazaki, and 21 days dry aged waygu, all are medium rare cooked and taste amazing! Sashimi were fresh, never had some wonderful Japanese cuisine experience!"

JW 111
3. Akira Back
Akira Back, a contemporary Japanese restaurant in Singapore's South Beach, is the eponymous celebrity chef's most recent endeavor. To begin with, this Japanese restaurant's decor in Singapore is everything from traditional. It's one of the several dining options that the hotel manages. A bar, a sizable communal table, and private dining rooms are all present. Due to its proximity to the same elevator lobby, the Marriott hotel is convenient for those staying there.
Key Differentiators:
Conventional interior
Decent variety of food
Unquestionably one of the finest Japanese restaurants in the area
Client Testimonial:
"Excellent dinner menu. All the food was delicious and the service was top notch. Lots of Japanese classic food as well as some creative dishes with Korean influence. Loved everything I ate. Would definitely go back again!"

Kevin M
4. The Sushi Bar
The Sushi Bar's delicious dishes will tantalize your taste buds. This Japanese eatery is well-known for delivering authentic Japanese food such donburi, sashimi, sushi, and noodles prepared in the Japanese style. The Sushi Bar's goal is to provide exquisite meals in a calm, casual environment. A well crafted menu of healthy meals and a large range of Japanese sake and whiskey round out the experience. They see offering top-notch meals at reasonable prices as an essential part of their business.
Key Differentiators:
Specializes in typical dishes
Exquisite cuisine in a calm, unassuming atmosphere
Reasonable price
Client Testimonial:
"The seasonal sashimi quality is really good thick fresh salmon, tuna, ~$48.9; Ankimo ponzu was disappointing; hamachi Kama was good, The dining area is comfortable, the food is nice. Ponzu fresh oysters are juicy and nice! Charged by per piece. Highly recommend."

Judith Tan
5. Shukuu Izakaya
Four longtime friends with various abilities and a shared love of all things Japanese opened the Japanese restaurant Shukuu Izakaya, a sensory Izakaya adventure right outside your door. Shukuu Izakaya takes great pride in this distinction, and on the Shukuu website, it is listed immediately below their name. The owners are sommeliers who have made it their mission to raise awareness and admiration for Singapore's underrated Japanese spirit. A testament to the owners' and staff's diligence and commitment to providing a full izakaya experience is Shukuu's menu, which features more than 90 different varieties of Japanese tapas. You'll be glad to hear that the prices for the dishes are reasonable!
Key Differentiators:
Great pleasure in this distinction
More than 90 different sorts of Japanese tapas
Reasonable price
Client Testimonial:
"Had a great night catching up with friends at Shukuu Izakaya. The charcoal grilled selections were well flavoured, smoky and juicy. Definitely get the meatballs! We found the Mackerel a bit too fishy for our tastes. Overall, it was a satisfying meal."

Wenjia Dong
6. Shinji by Kanesaka
The Japanese eatery Shinji by Kanesaka is a branch of the upscale Ginza neighborhood of Tokyo's original Edo-style sushi restaurant owned by Chef Shinji Kanesaka. According to its core principles, its aim is merely the desire to spread appreciation for traditional Japanese culinary practices without sacrificing their purity. A Japanese team of master chefs hosts and efficiently manages an omakase (Japanese for "your own") dinner menu. The restaurant's manager, Okami-san, who makes sure that customers are taken care of, is another representation of the Japanese fine dining experience.
Key Differentiators:
Extension of Chef Shinji Kanesaka's Edo-style sushi restaurant
Japanese team of artisans chefs
Sushi restaurant
Client Testimonial:
"Still one of the best sushi restaurants in Singapore. Tamaru San had the best hospitality and service was excellent. It's not hard to book, just get on their waitlist! Sushi was impressive as usual."

Keefe Teo
7. Sen of Japan
Modern Japanese eatery and bar SEN of Japan serves traditional Japanese meals with a modern touch. They use a range of premium products to make delicious dishes on their menu, which is centered on freshness or "Sen." The proprietor of SEN Restaurant & Bar, Nakano Hiromi, formerly the head chef at NOBU Las Vegas, has assembled a variety of traditional Japanese ingredients. Sen offers one of Singapore's most comprehensive sake menus, as well as a sweetness-dryness chart to help you choose the best pairing for your meal.
Key Differentiators:
Classic Japanese dishes with a contemporary twist
Delectable meals created using a variety of high-quality ingredients
Extensive sake menus
Client Testimonial:
"Great food, waitress has suggested this big eye fish which is seasonal for us. We tried it half grilled half sashimi and head is used for soup. It has been quite some time since we had a really good Japanese food in Singapore."

Fc
8. Tamashii Robataya
A Japanese eatery called Tamashii Robataya is located on North Canal Road. If you're seeking for an authentic Japanese dining experience, it hits the perfect balance between tradition and innovation, making it well worth visiting. The tasty and creative Kappo dishes that may satiate any appetite and are all produced with authentic, fresh ingredients are this restaurant's best feature. Ramen and shabu-shabu are only a couple of the options available.
Key Differentiators:
Right balance between tradition and innovation
Real and fresh ingredients
Fantastic place for small groups
Client Testimonial:
"The dishes presented were creative and delicious. Informed chef that I dont take raw and amazed by the variety presented. Spoken to chef and got to understand their ingredients are sourced and imported from Japan!"


Angela Teo
9. Shinzo Japanese Cuisine
Chef Patrick Tan, the executive chef and sushi chef at Shinzo, takes the art of making sushi seriously. He doesn't just mean that he spends his days bent over delectable fish and seafood with a stern expression on his face; he means that he has devoted more than 39 years of his life to learning the craft. Whether they are strangers, acquaintances, or relatives, he aspires to forge a special connection with each of his patrons over sushi and sake. Shinzo's lunch and dinner omakase sets, which start at $80 per person, highlight their use of seasonal and fresh ingredients. It is divided into four sections: soup, a cooked entrée, sashimi, sushi, and dessert.
Key Differentiators:
Mouthwatering fish and seafood
Create a unique connection with his customers
Fresh and seasonal ingredients
Client Testimonial:
"Amazzzzzzingggg food w the nicest chefs. Super casual omakase experience. It's not the kind you need to mind your manners, dress up atas all type place. The chefs are super nice and down to earth. Food is bangin"

Sam Teh
10. Esora
Esora, a restaurant owned by The Lo & Behold Group, is a 26-seat Japanese restaurant in a historic shophouse. Chef Koizumi plates modern kappo food, which is simply described as "to cut and cook." The proprietor and head chef of this Japanese restaurant, Shigeru Koizumi, takes painstaking care when presenting the kappo food. Because of his experience working at Singapore's own two-Michelin-starred Odette and Tokyo's three-Michelin-starred Nihonryori Ryugin, he combines modern cooking techniques with an obsession with using only the freshest ingredients to produce the best unforgettable dining experience.
Key Differentiators:
Contemporary cooking methods
Obsessive focus on fresh ingredients
Prepared carefully and served in thinnest, most delicate stemware and champagne coupes
Client Testimonial:
"My husband and I came over to Esora for lunch and were completely blown away by the presentation and flavours of the dishes. I especially loved the Zen garden as it was not only beautiful but just delicious. The service was on point with the staff being polite and explaining each dish's ingredients."

Gwen K
11. Sushi Jiro
Famous Japanese eatery Sushi Jiro specializes in sushi and omakase meals. Thanks to the hard work of its chefs, Sushi Jiro brings in fresh ingredients from Japan at least four times per week. Please complete the online reservation forms on the website if you want to eat at this restaurant. To go along with this feature, Sushi Jiro also provides a thorough online ordering platform. Due to the restaurant's delivery and take-out options, individuals who are unable to visit either location can still enjoy the food at Sushi Jiro. Others find that, due to the high caliber of service, ordering food from Sushi Jiro's via delivery is the best alternative. You should be informed that it is one of the priciest Japanese restaurants, though.
Key Differentiators:
Specializes in sushi and omakase meals
Comprehensive online ordering system
Reasonable price
Client Testimonial:
"Had a 5 star wonderful experience dinner at one of the top fine dining Japanese restaurant in Singapore. The exquisite foods were skillfully and freshly prepared by the Executive Chef Mr Kenji Nakagawa. One of my top recommendations for Japanese food!"

Yizong Liu
12. Sushi Kimura
One of the best-kept secrets in the city is Sushi Kimura, which is located in a quiet area near Palais Renaissance. This Japanese eatery specializes in Edomae-style sushi, which is made with fish flown in from Tokyo's Tsukiji Market and sushi rice made at a specific farm in Yamagata Prefecture using only premium Japanese imports.
Japanese-born chef Tomoo Kimura, who has worked in a number of fine dining and Michelin-starred establishments, must be a perfectionist since he makes sure that every meal is prepared with only the best ingredients and presented flawlessly. It's not your typical sushi rice that Chef Kimura produces himself using spring water from Hokkaido. He uses uncommon species that are infrequently found on Singaporean sushi menus because he is a master in fish maturation. The friendly chef greets his clients with a warm smile and provides a brief description of each dish.
Key Differentiators:
Specializes on Edomae-style sushi
Highest quality ingredients and presented to perfection
Incorporates unique fish
Client Testimonial:
"love it love it.. it's amazing how good sushi can be in the hands of a master. price of course, is expensive.. to me, this is the kins of place where we come for experience and appreciation of quality."

Kris Trimoeljo
13. Koh Grill & Sushi Bar
The Koh Grill & Sushi Bar doesn't need much of an introduction, especially to Singapore's fans of Japanese cuisine. You may get wonderful sushi and Japanese grills at this lively and entertaining restaurant for fair (but not cheap) prices. Shiok Maki is their specialty. This Japanese eatery is situated on floor 4 of Wisma Atria Shopping Center, inside the Food Republic food court. Despite being modest, the space is neat, warm, and welcoming. Transparent windows on one side offer a glimpse of Orchard Road below. Pleasant views give the place the appearance of being larger.
Key Differentiators:
Delicious sushi and Japanese grills
Tidy, cozy, and comfortable atmosphere
Reasonable price
Client Testimonial:
"Enjoy the shiok maki gen 1 and gen 2! Love the sauce and combination of sushi. This place will have Long queue during peak hours so go early if you do not want to wait! The hot green tea is also refillable! Drop by if you're near!!"

Jia En
14. Tatsu
Japanese eatery Tatsu provides affordable meal sets. To give patrons a sense of simulating dining at a real ramen shop in Japan, it began as the only Japanese restaurant in Singapore with a 24-seat long counter. This won't let you down if you're searching for a genuine Japanese ramen dining experience. The sashimi and sushi at this Japanese restaurant are of a quality and flavor you'd expect from a genuine Japanese restaurant. This is because it makes four weekly purchases of fresh fish that is air-transported directly from Japan to ensure optimal freshness.
Key Differentiators:
Budget-friendly meal sets
24-seater long counter
Quality and taste of its sashimi and sushi
Client Testimonial:
"Food really yummy. Very funny chef. Celebrating birthday and chef performed a 'fire performance' for beef tenderloin and 'beating heart' fried rice. Really entertaining. Service staff a little intimidating with repeated up-selling. Cosy place. Limited seating. Overall still a very wonderful experience."

Thomas Cheah
15. Mikuni
Consider Mikuni if you're looking for a classy Japanese eatery. Mikuni is the greatest when it comes to a variety of meals. A la carte products, bento boxes, lunch sets, dinner sets, winter lunch specials, and winter evening entrees are all categories on the menu. Unagi kabayaki, tokjo sushi, grilled unagi, different sashimi, and beef steaks are some of the restaurant's best-known specialties. Most of its main dishes are made up of premium meat or freshest seafood, both of which are delicacy in Japan. There are always options for meals available to guests at Social House. It does not, however, feature a menu that is inexpensive; the least expensive lunch option costs about $80.
Key Differentiators:
Well-known for its beef steaks and more
High-quality meat or seafood
Budget-friendly menu
Client Testimonial:
"Used my Love Dining privileges here which made the meal completely worth it. Pretty good Japanese food, especially with the carpaccio and pork belly! Service is friendly and approachable. The rolls meet the baseline but didn't blow my mind."

Rovik Robert
16. Unagiya Ichinoji
The best Japanese restaurant for unique eels and squids is Unagiya Ichinoji. As its name suggests, this Japanese restaurant is highly known for its grilled unagi. It imports all of the food it offers to consumers from Japan. Eels are steamed before being grilled when unagi is prepared in the Japanese manner.
Unagiya Ichinoji is an expert at making unagi. In order to provide a full and authentic unagi supper, it also provides nori, wasabi, green onion, clear dashi, and other side dishes. By using traditional Japanese chefs and modifying its settings to reflect contemporary Japanese views, Unagiya Ichinoji not only provides food and methods but also serves as a representation of Japanese culture.
Key Differentiators:
Exotic eels and squids meals
Complete and genuine unagi dinner
Traditional Japanese chefs
Client Testimonial:
"If you are looking to eat some Japanese style eel you should come here. You can even pick the size of your eel so you can enjoy it as much as you want :). Simple, small place, with no frills and friendly staff. A bit difficult to find but worth it. "

Lorenzo Aurea
17. Teppei Japanese Restaurant
Teppei, an Omakase restaurant on the ground floor of the Orchid Hotel, is one of the best places to satisfy your cravings for Japanese cuisine. This popular Japanese eatery, known for its inexpensive food, has a devoted following among both regular patrons and newcomers. Each dish on the menu is made by chef Yamashita, a contented individual who enjoys cooking for others. Since moving to Singapore in 2006, he has attempted to reinvent the cuisine there.
The menu of the restaurant, which offers everything from omakase set dinners to bara chirashi lunch bowls, demonstrates the dedication of the business to satisfying every taste. Omakase at Teppei Japanese Restaurant should be at the top of your list whether you want to treat yourself or go out to supper with your special someone.
Key Differentiators:
Low-cost cuisine
Has lived in Singapore since 2006
Variety of Japanese food
Client Testimonial:
"Managed to book only 2 slots at 8.30. Need to check on their website for availability, probably need to plan one month ahead. There were some dishes that blew our mind and some good dishes. Overall, the quality of food is very good. The staff will introduce the ingredients of each dish when serving. Cost $138++ for dinner."

CW K
18. Nanbantei Japanese Restaurant
The best yakitori experience can be had at Nanbantei Japanese Restaurant, which offers traditional sitting in addition to watching your meals being made over an open flame sizzling from dripping beef fat and liquids. If you want to witness your food being prepared over an open flame, sizzling from dripping meat fat and juices, don't be afraid to sit at the grilling station. When your order leaves the grill, you may enjoy the wonderful simplicity of good ingredients that have been perfectly cooked.
If you're on a strict lunch break but don't want to spend time putting meals together, Nanbantei's bento and lunch kits are a perfect alternative. Most of their visitors choose the Yakitori Bento, which includes yakitori skewers made with veggies, rice, and the day's dessert. Do you wish to stay away from the crowds? Yakitori cuisine can be enjoyed at home in peace and quiet. For free delivery if your order is S$125 or more, place your order on their website or over WhatsApp.
Key Differentiators:
Exquisite simplicity of fine ingredients
Excellent online transaction
Reasonable price
Client Testimonial:
"Top of the line Yakitori restaurant, small but nice and cosy. Really good service and most of all, great food. But be prepared to queue…best to call ahead and make reservations"

GK Soh
19. Rappu
The team behind The Feather Blade has developed a new idea, this time focusing around handrolls. At this groove-focused eatery, you can have freshly wrapped rolls and beverages while listening to Wu-Tang Clan and Kendrick Lamar. The restaurant's focal point is a 36-seat sushi bar where food and drinks are made in front of you as you wait. There will only be seven handrolls on the menu, one of which is a very expensive creation topped with uni, wagyu, and caviar.
Customers can purchase six freshly prepared sushi rolls for $36, each filled with different types of fresh fish. As easy-to-love choices from the outset, there is fatty toro, sliced hotate, and house-brined salmon garnished with wasabi furikake.
Key Differentiators:
Variety of fresh fish
Groove-focused restaurant
36-seat sushi bar
Client Testimonial:
"High quality ingredients, great ambience, superior service. I recommended this restaurant to all of my friends. The only minor call out would be the very loud music on the night of my visit, quite hard to maintain a conversation or hear your server describing dishes."

Zef Mrb (zef_mrb)
20. Omote
Omoté is constantly packed, and the majority of the patrons come here for the affordable chirashi bowl. At Omote, a large mouthful of chopped seafood is placed on top of each bowl of sushi rice ($12.80), making this meal a great deal. Eat it alone or complement your meal with delectable uni, crisp scallops, and other imported Japanese seafood from Japan. The house-blend soy sauce that was created especially for the restaurant and its seafood goes best with it.
Key Differentiators:
Reasonable chirashi bowl
Excellent value
Exquisite uni, fresh scallops, and other Japanese seafood imported from Japan
Client Testimonial:
"Ordered upsides chirashi, oysters, and wagyu, everything is really good. The beef was really good and truffle serving was very generous! One of the better chirashi avaliable and the portion is amazing.
We came again the next day. And is still good."

Yue Yu
21. Sabar
Sabar relocated from Japan Food Town in Wisma Atria and now has a new nest in Tanjong Pagar. The eatery is known for its mackerel dishes and serves sushi stuffed with the restaurant's signature fish prepared in a variety of methods, including grilling and flame-searing.
Key Differentiators:
Specializes in mackerel dishes
Reasonable price
Excellent service
Client Testimonial:
"Very delicious and satisfied meal. Fresh and good quality. The saba fish is huge."

Woo Connie
22. Ikoi Japanese Restaurant
Do you get stomach aches when you consider Japanese buffets that are all-you-can-eat? In Singapore, Ikoi ought to be your first pick. Singapore's beautiful Ikoi Japanese Restaurant, which has been offering its renowned Japanese a la carte buffet for twenty years, is widely known among foodies there. The delicious sushi that is always available to customers at Ikoi Japanese Restaurant is just the beginning. We implore you to devour the entire, exquisite meal. There is a buffet after all! And that implies that everything has a set price.
Key Differentiators:
All-you-can-eat Japanese buffets
Exquisite dishes
Full and gorgeous menu
Client Testimonial:
"What a great value place, great service, fresh ingredients and a good Sake list. The sashimi very good portions for buffet lunch. Basically all you can eat but quality menu. See the photos for details."

Booboo Bingbang
23. Aoki Restaurant
Owner-chef Kunio Aoki and the Les Amis Group formed a joint venture to open Aoki Restaurant in 2013. The sushi counter and kitchen are overseen by owner-chef Kunio Aoki. His compositions maintain a modern undertone while maintaining a traditional culinary flair. The 36-seat restaurant uses only the best fresh and seasonal ingredients that are purchased directly from Tokyo's Toyosu Market and other artisanal suppliers from across Japan, guaranteeing a consistent flow of repeat customers.
Do keep in mind that the restaurant has a smart-elegant dress requirement and that guests must be at least 15 years old to eat there.
Key Differentiators:
Traditional culinary style
Contemporary with modern undertones
Best fresh and seasonal produce
Client Testimonial:
"Food here is hard to beat in both quality and value. Their lunch sets are especially good and affordable. Highly recommended for anyone looking for a good fuss free Japanese fix in town. Advance reservation required."

Su Xin Lim
24. Tomi Sushi
In 1954, Niigata Prefecture in Japan was the birthplace of tomi sushi. They have already established 21 branches in Japan in more than 50 years. Tomi Sushi promises to provide the best Japanese cuisine from Niigata to Singaporeans with 3 locations and a sake bar. If you're seeking the best Japanese cuisine, Tomi Sushi is unquestionably the sushi restaurant to go to! They serve authentic nigiri sushi, course meals, and other sushi essentials.
Key Differentiators:
Originated in Japan and opened 21 branches there
Genuine nigiri sushi, course meals and other sushi staples
Excellent Japanese dishes
Client Testimonial:
"This place is always crowded and thus stands testament to the quality food. We had 3 set lunches, salmon set, saba fish and tempura. All the sets are value for money and recommended."

Lionel Tan
25. Shoukouwa Restaurant
Shoukouwa Restaurant, Singapore's sole establishment with two Michelin stars, is a top Japanese eatery that provides an unforgettable dining experience with its superb Edomae sushi food and impeccable service. There are just 8 seats available in front of the chef at the restaurant, allowing for one-on-one interaction and personalized service. Only the freshest ingredients are used by their skilled chefs, guaranteeing a delicious Japanese lunch!
Key Differentiators:
Unforgettable dining experience
Exquisite Edomae sushi cuisine
Freshest ingredients
Client Testimonial:
"Two Michelin stars – nothing else said. Head Chef Nishida-san was brilliantly part of the experience & humorous. One of the best omakase."

Jamie Wong
26. Public Izakaya
Public Izakaya does a good job at capturing the traditional pub ambience of Japan's traditional pubs. It's packed to the rafters almost always, and with good reason. The food is excellent, the pricing are fair, and the music is excellent. Of course, the cuisine is always delicious no matter which restaurant you go to. The takoyaki and everyday happy hour here completely dominate the competition.
Key Differentiators:
Reasonable price
Ancient pubs atmosphere
Excellent service
Client Testimonial:
"Good place for a gathering with friends. Cosy but not too noisy. Food is good, ingredients fresh, well put together. We "cleaned" our orders up! They don't sell desserts, though!"

Sa Rah
27. Keria Japanese Restaurant
It's not surprising that Cuppage Plaza has rapidly risen to the top of the list of hotspots for Japanese sake bars. Since everything is quite "if you know, you know," several izakaya establishments are hidden in this dilapidated building. Despite its anonymity, it can be difficult to get a table at Keria Japanese Restaurant, and most diners book at least two weeks in advance. If it's available, get the shirako ponzu ($16); it's one of the few Japanese restaurants that does it well despite being essentially fish sperm.
Key Differentiators:
Online transaction available
Great deals
Exquisite experience
Client Testimonial:
"Lovely setting, reminded us of Japan. Food was mostly good, really enjoyed the mentaiko cabbage, grilled nodoguro and gyutan. The yakitori is below average, with the salmon and chicken wings over cooked and the chicken skin is rubbery. But will definitely return to try the other dishes!"

L K
28. Fukusen Restaurant
Fukusen Restaurant, the newest tenant of Hotel Clover, specializes in high-quality seasonal seafood imported from Japan and omakase cuisine from the homeland twice a week. You can order a la carte items from the menu, which include the clover fukusen roll ($28), which contains a scallop carpaccio, and other sushi filled with salmon sashimi, cucumber, foo yung, and other ingredients. Grilled Grade A Wagyu steak ($60) served with rice or noodles is a must-have for meat enthusiasts. Be given a sake to go with the meal from one of their many selections.
Key Differentiators:
Specializes in omakase cuisine
Various menus
Excellent service
Client Testimonial:
"I ordered their sashimi platter (again, cravings while I stay at home during covid-19) and it didn't disappoint. Value for money. Would definitely order again."

cozl88
29. Hashida Singapore
Although chef Kenjiro "Hatch" Hashida is well recognized for serving up excellent sushi, at his third and most recent incarnation of the same-named restaurant on Amoy Street, it is the subtle details that truly wow. Elegant hardware and distinctive details are used throughout the interior, starting on the inside. Pass through the torii gates and choose from one of the three dining rooms, each with a distinctive atmosphere. The finest way to eat here is during a supper omakase.
Key Differentiators:
Exceptional sushi cuisine
Omakase experience
Reasonable price
Client Testimonial:
"First time here so we tried the $130 omakase menu. Enjoy our time here very much. Fresh seafood and what a pleasure watching the chef preparing sushi for us. Would love to go back again for other menu."

Rachel Wong
30. Kyuu by Shunsui
You may have a ten-course omakase dinner for $129. The affordable prices don't mean that Kyuu by Shunsui skimps on the quality of its food; go for a choice of seasonal sushi, grilled king crab, and a rice bowl brimming with ikura that has been steeped in dashi. Choose the five-course option if the eight courses seem excessive.
Key Differentiators:
High quality menus
Excellent dishes
Great deals
Client Testimonial:
"Had a lovely birthday celebration at Kyuu. The food was great and service was awesome. The prawn in tomato sauce is not too traditional but other courses were stellar. Humble corn actually tasted really sweet and yummy, what a surprise!"

E L
31. Waku Ghin
The celebrated chef Tetsuya Wakuda's modern Japanese restaurant, which had been closed for months due to renovations, has recently reopened inside Marina Bay Sands at a new location (adjacent to its original position). In addition to the exclusive chef's table omakase experience that Waku Ghin is renowned for, additional grounds abound with fresh pleasures.
Key Differentiators:
Various options
Exquisite experience
Great deals
Client Testimonial:
"Amazing food. They have 2 menus, 8 savory courses or 10 savory courses, both menus are completely different with the 8 course set including most of the signature dishes. The 10 course set is an almost completely different menu with seasonal dishes."

Amos Wang
32. Ristorante Luka
Despite the fact that most diners prefer Japanese cuisine, Ristorante Luka is onto something with its wood-burned pies. This Italian-Japanese eatery serves both rosso (red) and bianca (white) pizzas. For instance, the pizza Bianca Bianchetti ($26) has whitebait, seaweed, and anchovies on top.
Key Differentiators:
Italian-Japanese restaurant
Great deals
Reasonable price
Client Testimonial:
"Excellent italian food. Tuna tatare and mentaiko pasta were great. Their pasta texture was al dente and tasted like it was made fresh in house. Pizza dough was really good and fluffy. Will be back!"

RCSC
33. GOHO
Nobody wants to attempt an omakase dining experience because nothing is as intimidating as it is. You cede control to the chef from the outset, who serves you each course one at a time. It almost feels ritualistic before you leave. At GOHO, where the emphasis is on quality and simplicity, you get the greatest parts of an omakase eating experience.
Key Differentiators:
Omakase dining experience
Excellent service
Great deals
Client Testimonial:
"Food were mostly good. We did enjoy our 2hr experience. Unlike other similar restaurants that were dead serious, GoHo provides a rather free-and-easy ambiance."

Yulong Wang
34. Koji Sushi Bar
Due to its affordable lunches, Koji Sushi Bar has developed a devoted following of white-collar employees, as can be seen on most weekday afternoons. The restaurant is currently owned by Benny Cheong, who was the chef and proprietor of Shunjuu Izakaya before it closed in 2014. Freshly grated wasabi, a rarity in sushi rolls at this pricing point, is Koji's most distinctive feature. Additionally, you get a jar of handmade soy sauce to drizzle over each nigiri while you pretend to be a master sushi chef.
Key Differentiators:
Inexpensive lunches
Expert sushi chef
Great deals
Client Testimonial:
"Chanced upon Koji on social media and booked the 10-course omakase dinner for my husband's birthday. We were blown away by the quality of the food, the ambience and the friendly chefs. Definitely a must-visit!"

Eileen Teo
35. House of Chirashi
Japanese eatery House of Chirashi is known for its chirashi bowls. And, true to its name, the restaurant's bowls are genuinely exquisite; in addition to using fresh, thick cuts of sashimi, the bowls also include furikake and edible flower petals for extra flavor.
Key Differentiators:
Specializes in chirashi bowls
Edible flower petals
Excellent dish
Client Testimonial:
"Nice Don. A lot of choice can choose and combine. Ordered Spicy Bara Don. U get a different combination of sashimi cube."

Chen Yii
36. Tokyo Soba
You wouldn't want to bring your friends to this little, run-down soba restaurant. There are only a few seats available at the quaint restaurant, which offers freshly made soba in both hot and cold variants (mostly two seats). Noodles are made with a mixture of 20% wheat flour and 80% buckwheat flour to give them a smooth, slurp-able texture. What's best? Here, a lunch only costs about $20.
Key Differentiators:
Freshly made soba in hot and cold varieties
Limited seating capacity
Great deals
Client Testimonial:
"Comfort hot soba reminiscent of dining in Japan! This little gem outside Icon Village warmed me to my belly. The tempura was light, soup was wholesome and the soba was great! Thinking of whether to leave a review as I wanted to keep this place to myself. Definitely going back to try their other combinations!"

Hui Jie Heng
37. Kiyoshi Japanese Restaurant
Even though Kiyoshi isn't particularly distinctive among Japanese eateries, their inaniwa udon, a delicate hand-stretched noodle made in the Akita prefecture, sets them apart. The self-proclaimed inaniwa udon is said to be the most chilled, and after trying the chirashi udon ($23.80), we couldn't disagree. To try everything, order the Kiyoshi Combination Udon ($38). Think of it as a small dish meal-in-a-bowl. You can experience different flavor combinations because each bowl has a unique topping, such ikura or tempura prawns.
Key Differentiators:
Unique Japanese restaurants
Meal-in-a-bowl
Excellent deals
Client Testimonial:
"One of my fav to go for Japanese food. Great service, yummy food, nice ambiance. The sashimi moriwase was so fresh! Their house made soba and udon were superbly crafted and delicious! Go try it if you love Japanese food."

ronnie chan
38. Healthy Soba IKI
As a speciality handcrafted soba business on the fourth floor of One Raffles Place, tucked away in one of Singapore's most outlying areas, we initially didn't have very high expectations for Healthy Soba IKI. However, there is no comparison to the freshly made soba. There are numerous health benefits to the soba made entirely of buckwheat. If you're in the area, choose the Avocado Kaisen Totoro Soba ($18), a chirashi-style sofa with fresh tuna and salmon that is provided with a chilled dipping sauce.
Key Differentiators:
Freshly prepared soba
Slew of health advantages
Excellent deals
Client Testimonial:
"One of the most authentic and high quality soba available in Singapore!!! Food were great and prices were not too expensive! Added on duck as a side dish and it was thick and juicy!! Wasabi compliments the mori soba well too!"

K Max
39. Hello Arigato
First impressions are crucial, and Hello Arigato knows how to create a memorable one. It starts with a welcome home that extends an invitation for guests to enter. Concrete flooring and wooden fixtures help to warm the area. Contrarily, the menu encourages guests to linger. The team behind The Refinery, a Japanese-inspired restaurant with a focus on small plates, has applied the same methodology to the selection of food and drinks to provide new dishes that are as comforting as they are creative.
Key Differentiators:
Various cuisine and beverages
Comforting dishes
Innovative cooking style
Client Testimonial:
"Loved our experience today. The service was really good. The place was aesthetically pleasing and cosy. The tamago sando was fantastic though a little messy to eat. The mentaiko pasta was delicious! A really great experience, definitely going back again!"

Pet N
40. Yujin Izakaya
Before you even sit down, you'll realize that the new kid on the block, Yujin Izakaya, is, to put it simply, incredibly cool. Framed manga artwork is hung on the walls to create a playful and colorful atmosphere that doesn't take itself too seriously. Thus, you ought not to. Their selection of sake includes some very uncommon varieties, including Yamaguchi Prefecture's Hoya Daiginjo and Ohmine Junmai Daiginjo.
Key Differentiators:
Fun and colorful environment
Various options
Excellent dishes
Client Testimonial:
"The staffs are nice and friendly. The food generally taste good especially unagi and corn. Prices are moderate. It is a nice and relaxing place for gathering. We celebrated friend's birthday and enjoyed our dinner there."

Love Planet
41. Pipes by Hattendo
Originally known for its cream buns, Pipes by Hattendo has expanded to include savory sando sandwiches. Don't be misled by the café's unassuming exterior in Outram Park of the Dorsett Residences; the extensive menu surpasses that of other sandwich shops. But what has us hooked is the Nitamago Potato Salad Sando ($14). Additionally, there is a delectable homemade potato salad with truffle oil poured on top and an ajitsuke egg cut in half to reveal the yolk.
Key Differentiators:
Lengthy menu
Delicious homemade dishes
Exquisite experience
Client Testimonial:
"Ordered the wagyu beef patty sando and kaki fry sando. SO GOOD! The cream buns are awesome too! Topped up to add fries and drinks to the sandos to make a set too. Very generous portions. Will definitely come again for good food, nice ambience & welcoming staff. Thank you for the great afternoon spent!"

Rachel Grace
42. Ki-Sho
The three omakase menus prepared by renowned Waku Ghin chef Kazuhiro Hamamoto are expensive ($230, $280, or $330 for six standard courses plus three, five, or seven seasonal dishes). Twice a week, ingredients from all over Japan are airlifted in, including ankimo (monkfish liver), aori ika (bigfin reef squid), and hida wagyu (Japanese Wagyu). The 8-seat Ki-sho sake lounge offers a selection of more than 50 traditional and seasonal sakes.
Key Differentiators:
Chef from the renowned Waku Ghin
List of over 50 traditional and seasonal sake
Served in the 8-seat sake room
Client Testimonial:
"They finally reopened! Had a quick 6 course lunch before work. It's really satisfying. Will be back for dinner next!"

Sandy S.
43. Kappo Shunsui
Look for a frosted glass door with salt bowls on either side at the top of Cuppage Place. Call the bell, then wait. Because any mayhem involving cloak and daggers is not worth what's within. Only those in the know are permitted to dine in secret at Kappo Shunsui, a Japanese restaurant. One of the few eateries in Singapore providing Kappo cuisine, which blends five main meal preparation techniques—grilling, steaming, frying, simmering, and serving supper raw—is this one.
Key Differentiators:
Private Japanese dining experience available
Combines five primary food preparation methods
Reasonable price
Client Testimonial:
"Excellent lunch we had. Every dish was a delight and chef did some cooking in front of us though I think lunch is not supposed to be as theatrical as dinner. Quality and cooking skills are wonderful and we enjoyed every course. Hope to be back again."

Ivan Yeo
44. Hvala
The first Hvala shop may be found in Chijmes, a magnificent teahouse that has elevated the practice of brewing tea into a fine art. It has since expanded significantly, with new stores opening up in Somerset, Craig Road, and Beach Road, but one thing is for sure: it's a reliable place to buy freshly blended matcha. Choose from a variety of straight matcha, which is matcha that has only been whisked with water and no milk. Now that you know how different matcha tastes, you can appreciate how some are stronger and some have a mellow aftertaste.
Key Differentiators:
Stunning teahouse
Trustworthy location
Distinct tastes
Client Testimonial:
"Often has a queue and there is a limited dining time. Nonetheless the ambience is good and there are plenty of vegan options such as gelato. Would not recommend the sorbet though as it was icy and overly sweet."

Xin Ru Toh
45. Suzuki Gourmet Coffee
Don't let the serene atmosphere of the Japanese teahouse deceive you. In actuality, the majority of the café's menu is made up of espresso-based drinks. After all, Suzuki Gourmet Coffee, one of Singapore's oldest roasters since 1979, runs this peaceful hideaway in an industrial building on Jurong Island.
Key Differentiators:
Calm Japanese interior
Tranquil hideout
Excellent service
Client Testimonial:
"A peaceful place for coffee. A slice of kyoto right in the heart of chin bee. Master brewers, wide selection of beans, flavorful."

Maureen Wee
46. Odaka Coffee and Sweets
A well-known local favorite, Okada Coffee and Sweets is known for its hand-roasted coffee, which offers specialty blends. Its roots may be traced back to Kyushu's Okada Coffee, which was founded in 1945. To experience authentic, handcrafted Japanese food, order one of their major meals as well as the house speciality coffee (starting at $7.50). The chicken karaage curry ($13), which comes with hojicha rice and pickles on the side, is guaranteed to be a hit.
Key Differentiators:
Speciality blends
Homemade Japanese cuisine
Great deals
Client Testimonial:
"A quiet, friendly service Japanese cafe provides varieties of coffee, desserts and main course. A nice place to catch up with friends, or to enjoy a lazy afternoon. Can also find some Japan ice-cream bar, and matcha here."

Jenna Ch'ng
47. Rakuya
Singapore's Rakuya is one of the city's most distinctive Japanese eateries because it combines traditional Japanese cuisine with artistic flair. Due to Chef Kenji's extensive experience working in Japanese restaurants and hotels, his great cooking is made possible by his smart intellect. Rakuya's menu is often updated in order to keep things new, which guarantees that each dining experience will be unique. The fact that its components are continuously fresh remains constant.
Diners can choose from a vast selection of Japanese entrees and mouthwatering sakes made in various regions of Japan. If you are unfamiliar with sakes, the friendly staff will be more than delighted to introduce you to one. If you are on a limited budget, you don't need to worry because the vast majority of its meals are inexpensive. Actually, the most well-liked meals at Rakuya are Japanese lunch sets, which range in price from $15 to $28.
Key Differentiators:
Authentic Japanese cooking
Variety of Japanese dishes
Reasonably price
Client Testimonial:
"The Omakase experience is nice, the staff will explain to you how different food is prepared. Ordered 2 different set and I think should go for the expensive one, as the food quality is better."

Wesley Wong
48. Tampopo
The Japanese restaurant chain Tampopo has several locations in Singapore, including two in Ngee Ann City and one at Oasis Terraces. All of these restaurants are available to satisfy appetites for Japanese food around-the-clock, seven days a week. Tampopo now imports seafood and other fresh ingredients from Japan to maintain the authenticity of its food. Customers can then enjoy these ingredients either in their fresh or prepared forms, such as in a cup of watercress soup or Japanese delicacies like udon and sushi.
This restaurant's proprietor is also a partner in one of Japan's oldest sake distilleries. As a result, customers can count on nothing less than the best products and ingredients. Tampopo offers a variety of dishes to suit every appetite. These delicious dishes may all be ordered for delivery or takeaway. Anyone who is unable to attend one of Tampopo's restaurants can just place an online order.
Key Differentiators:
Longest-running sake breweries owner
Delectable dishes
Available for takeout and delivery
Client Testimonial:
"One of the best Japanese restaurant chains around Singapore. Good quality at decent prices, they serve a wide variety of Japanese food items. My personal favourites are the ramen, katsu don and sushi rolls. Tempura is a great choice as well. Good for gatherings, but be sure to arrive early to avoid the queue."

Deon Lim
49. Yakiniquest
A brand-new culinary experience that aspires to provide visitors a yakiniku journey unlike any other has arrived with the new neighborhood. Four private dining spaces with smokeless ceramic charcoal gas grills are available in this 64-seat restaurant. These grills each provide more control over the grilling process to provide a delicately cooked outcome while maintaining the integrity of the chosen cuts.
Only premium wagyu grade meats with ideal marbling and rare cuts, expertly seasoned, and painstakingly grilled to deliver delicious delicacies, are to be expected. Serve a variety of Japanese wines with the meat, such as sake, oolong high shochu, Yamakazi 18 Year, or whisky.
Key Differentiators:
64-seat restaurant
Skillfully seasoned and meticulously grilled
Mouthwatering delicacies
Client Testimonial:
"We had the lunch SGD 128 set, good grilled. Very tall guy serve us, explained the parts we having. Good beef. Right amount of food. No too full. The dessert too milky, less of tea flavor, maybe less sweet needed for my taste bud."

whykin leong
50. Yakiniku Yazawa
One of the newest locations to experience self-grilled pork is Yakiniku Yazawa at Robertson Walk. After a recent visit, it's clear why Yazawa, which serves Japanese barbeque similar to Korean BBQ, has been getting such high praise. But don't anticipate a pitch-black cavern filled with raucous beer drinkers. The area is largely smoke-free thanks to built-in suction on the sides of the grill, and it's also quite a pleasant sight with banquette seating in semi-private cubicles outfitted with grills on griddles.
Key Differentiators:
Newest places to sample morsels
Fairly smoke-free
Nice sight with banquette seats
Client Testimonial:
"Agreed that i had the best Japanese yakiniku here so far in town. It's quite pricy but i feel the most worth trying ones are the thin slice selections. The tenderest and juiciest beef ever."

Fiona RQL
51. Ganko Sushi
Kuwahara Toshiyuki, the executive chef at Ganko, has worked for the business for the past 26 years. He attained the status of itamae, or top sushi chef, at the age of 22. Since not everyone is an itamae, the term should not be taken lightly. It takes a significant amount of time and effort to learn and perfect the technique of preparing sushi.
Key Differentiators:
Intense commitment to learning and mastering the art of sushi making
Excellent dishes
Exquisite dining experience
Client Testimonial:
"Affordable omakase with tasty flavour! Decided to order the omakase on the spot, lucky there are still spots for me and my partner. We didn't expect anything, but very delighted with their superb service and delicious meals."

Rosalita Nindri Lestiadi
Japanese Restaurant Singapore
This list has you covered whether you're searching for a restaurant to enjoy a steaming bowl of ramen or a real Izakaya experience. Which of these Japanese eateries are on your radar in Singapore? Share this list with all of your friends that adore delectable food as much as you do and let us know if we left off any that ought to be on it.
You may also check these related articles:
Frequently Asked Questions (FAQ)
If you have any questions about gaming chairs in Singapore, you can refer to the frequently asked questions (FAQ) about the best Japanese restaurants in Singapore below:
Additional Useful Articles
If you are looking for other useful guides and articles about Japanese restaurants in Singapore, check them out below: