Lighting Shop Singapore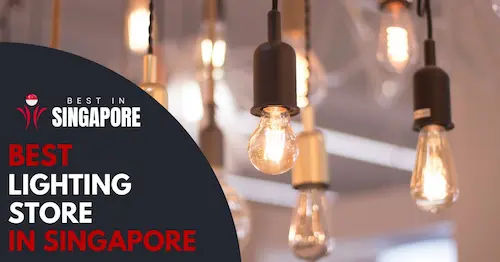 Illumination is an integral aspect of interior design that often goes unnoticed.
The best lighting shops in Singapore include KLITE Concept, Regal Lighting, Sembawang Lighting House, Light Makers, and Lightart Studio.
When selecting a lighting store in Singapore, take into account various factors including the type of lighting available, pricing, quality, return policy, and shipping policy.
In a lighting store located in Singapore, you'll discover an extensive selection of products such as ceiling lights, pendant lights, chandeliers, wall lights, table lamps, and floor lamps.
This article provides readers with a thorough list of top-tier shops where they can acquire their desired lighting products.
Key Consideration Factors
The Type of Lighting You Need: There are many different types of lighting available on the market, and each type has its own unique benefits and drawbacks. If you are unsure of what type of lighting you need, it might be a good idea to consult with a professional before making your final decision.
The Cost of Lighting: There are many different price points for different types of lighting, so it is important to find a store that offers affordable options. It is also important to keep in mind that cheaper does not always mean better, so make sure to do your research before making any final decisions.
The Quality of the Lighting: You want to make sure that you are getting high-quality products that will last for many years to come. One way to determine the quality of a product is to read online reviews from other customers who have purchased from the same store. This can give you a good idea of what others think about the quality of the products offered by a particular store.
The Return Policy: You want to be sure that you can return any products that you are not satisfied with within a reasonable period of time. This will allow you to get your money back if you are not happy with your purchase. Make sure to check out the return policy before making your final decision so that you know what your options are.
The Shipping Policy: Some stores charge for shipping, while others include it in the price of the product. Make sure to compare shipping policies before making your final decision so that you can get the best deal possible.
Best Lighting Shop Singapore
1. KLITE Concept
KLITE, a Singapore-based lighting firm that specializes in LED lightings and designer lightings, was born out of the desire to provide cost-effective options for consumers. Drawing on their own experience with feeling "chopped" when moving into an apartment many years ago has enabled them to create affordable solutions without compromising on quality or style.
To become the leaders of their growing sector, KLITE endeavors to offer their local market only top-of-the-line and inventive products. Realizing that electronics can be imperfect, all items sold by them come with a warranty for your peace of mind. Furthermore, in order to keep costs low while offering you convenience, they constantly restock inventory so that it is ready for collection at any time from their store.
Key Differentiators
Lot of stocks available
Ready for pick-up stocks
Affordable
Client Testimonial
one of the best place to go to find hanging lights. very stylo. eventhough i didnt buy anything the cute lsdy with the braces was nice enough to serve me and explain to me the products that they have. they even have blinds. the lady with braces is very nice but always give me a semi heartattack whenever she tell me the price.

Zaha Rahim
2. Regal Lighting
Regal Lighting Gallery is dedicated to providing Singapore homeowners with reliable LED lighting solutions that are both high quality and budget friendly. With a selection of exquisite products sourced from trusted manufacturers, they constantly refine their inventory for the best possible experience. Not only do they carry an impressive array of LED lights, but also specialize in distributing major ceiling fan brands—all tailored to meet your particular needs!
Regal Lighting Gallery focuses on creating a trusting and long-lasting connection with their customers, dedicating themselves to understanding the individual needs of each one. Not only that, they are also able access specific lightings in order to satisfy customer satisfaction.
They take pride in providing exemplary services as well as expertise for LED lighting & ceiling fans—so you can always count on them! Don't forget to visit their showroom for more information about what Regal Lighting Gallery has to offer!
Key Differentiators
Personalized service with long-lasting relationships with customers
Distributor for more than 10 brands of ceiling fans with competitive pricing
Products are also available for sale on Lazada, Shopee and their website
Client Testimonial
"I went to Regal Lighting 2 weeks ago to purchase replacement ceiling mount lights and ceiling fan for my home. The salesperson was very friendly, patient and knowledgeable with the product they are selling.

Not only he recommend me with the great lighting fixtures based on my need instead of prices, he also advise me on the things to watch out for when getting new lighting. Their lighting were also very competitively priced. All my lighting and fans were delivered timely and in good condition. Highly recommended !!!"
3. Sembawang Lighting House
For almost 25 years, Sembawang Lighting House has been providing customers with a wide range of home lighting fixtures and ceiling fans. With 10 well-known brands in their possession including KDK, Fanco, Crestar, Acorn, Samaire and more – clients can easily contact them via their website or WhatsApp for any inquiries or orders.
From elegant crystal chandeliers to modern acrylic ceiling lamps, SLH has all the LED lighting fixtures you could desire. Need help with installation? Their team of local electricians is on hand to provide assistance and ensure your items are installed as quickly and safely as possible. For a truly tailored experience, shop at SLH!
Key Differentiators
Practical lighting fixtures for home
Compare across 10 ceiling fans brands with local warranty
4.8/5.0 star reviews
Client Testimonial
"Bought online and Sembawang Lighting staff was great. Very helpful and answered all my questions. The installer was also fast, neat, and helpful. Very happy with my purchase"
4. Light Makers
For over 35 years, Light Makers Pte Ltd has been a beacon in the Singaporean lighting industry. We are an established authority in providing residential and commercial lighting solutions that meet customers' needs and fluctuating trends. Our product selection is extensive; from classic designs to customised creations rarely seen on the local market – we have it all! Our knowledgeable management team remains dedicated to being your premier source for illumination.
Light Makers, a premier lighting company in the area, has been crafting quality light fixtures for over three decades. With an accumulation of experience and talent from working with interior designers and project managers alike, we are able to curate customized pieces that are both safe and reliable for public consumption.
Key Differentiators
All-in-one lighting supplier
Specialisation for customised lighting
Constantly refreshing their line of lighting fixtures and make-to-order upon order requests
Client Testimonial
"I came to know of Light Makers when I was looking to renovate my home with modern lights. Been to a couple of lighting shops and none really spoke to me until I decided to give this shop a go after seeing the website & good reviews, and was I not disappointed.

I had great advice and assurance from the very experienced and humble sales team, that took care of everything the moment I made my purchase as everything delivered looked just as good in pictures and as discussed.

The team made me very happy when I saw the end result and I couldn't have asked for anyone better than the friendly and sincere staff from Light Makers. Thank you once again and my family & friends will definitely be back."

Dennis Cheng
5. Lightart Studio
If you're in the market for lighting solutions, look no further than Lightart Studio! Their boutique offers a stunning array of light fixtures – from modern downlights to magnetic lights, indoor and outdoor illumination units plus top-notch LED strips. All their products are created with exceptional craftsmanship while keeping both practicality and style in mind.
Since 2014, Lightart Studio has helped interior designers and homeowners to finish a multitude of home and business projects. Their team of keen lighting professionals is here to support you on your mission for the perfect illumination for your space. Youthful but knowledgeable, their employees are passionate about helping bring light into every corner.
Thanks to the team's savvy and having visited their showroom, you can rest assured that they will provide all of the assistance and suggestions necessary for you to finish your space with precisely what you're looking for in terms of lighting.
Key Differentiators
Offer Magnetic track lights
Offers finest downlights, track lights and LED strips
Well-informed team of lighting experts to assist you on and after your journey of selecting the ideal lights
Client Testimonial
"I liked how I was able to properly visualise the lights in my house setting because of the way their showroom is designed. The staffs who served me knew their stuff well and patiently answered my questions. Finally got the lights for my home with their help."

Esther
6. Zenterra Lighting
At Zenterra Group, they strive to provide the most comprehensive selection of lighting options and needs at an unbeatable price in Singapore. With a vast variety of lightings available on their online store, you can find all that is related to lights with just one stop. Your ultimate destination for any type of lighting solution – look no further than Zenterra Lighting!
Key Differentiators
Online store
Offers quality products at affordable prices
Huge variety of lighting products
Client Testimonial
"Good services staff Gemma. Polite and helpful. Introduce the light clearly and recommend a new model. After buying one month later install three colour downlights. Try set the remote control but not working. Call and ask about the setting, staff Gemma explanation is clear and video instructions are sent out. Definitely 5 stars given. Highly recommended."

Khin Seng Chan
7. lightings.com.sg
Lightspeaker.com.sg is a Singapore-based lighting company that has served the nation with its three stores since 2004 and counting! For over 16 years, Lightspeaker has invested in providing clients with only the best quality lightings through their shops or online platform. They've remained committed to delivering exceptional services throughout all these years of operation – making sure customers have access to reliable products suited for every need and budget!
With their unwavering commitment to providing quality products, you can feel confident that only the best of the best items will ever be sold. Their stringent standards mean that when shopping with them, you're sure to always receive high-caliber merchandise.
Key Differentiators
Have been in the lightings industry for the last 16 years
Offers free delivery
Carries a lot of trusted materials
Client Testimonial
Great service from Gewel! Super friendly and nice! Repeat customer and happy to work with her as she is very helpful and can provide good advice too. Thanks! 😊

Joraine Tan
8. Chan Huat
With a legacy that dates back to 1985, Chan Huat Group is widely recognized as one of the region's premier suppliers of lighting products and services for commercial and industrial customers. Beginning humbly as an electrical accessories supplier, their successful growth trajectory has enabled them to expand into international distribution of fixtures, lamps, and ballasts backed by their commitment to quality goods and dependable service.
At Chan Huat, we realize that excellence is key to surpassing the needs and expectations of our customers. We are committed to providing only lights and accessories of the highest quality, ensuring adherence to strict standards each time.
Key Differentiators
Latest exquisite lightings
Their values and motto is honesty, integrity and professionalism
Huge variety of products including pendant lights, light bulb, ceiling light, and more
Client Testimonial
Chan Huat has always been my go to place cos the people who served me is very well knowledgeable and give me a few tip without being pushy. I like to go to the old shop. This is my second time buying from here. Kudos love the shop because Its affordability and very good saleswomen and installation uncle.

Deah Borhan
9. SG Light Store
SG Light Store is the ideal destination for anyone looking to purchase high quality LED lights in Singapore at an affordable price. This online lighting shop boasts a comprehensive range of SG lighting solutions, with every item being closely monitored by their strong and reliable quality control team. Plus, customers can enjoy peace of mind thanks to the generous 1-year warranty on all products – it's even extended up to 3 years for Safety Mark Driver Lighting!
As a trusted LED lighting distributor in Singapore, they have taken it one step further by using their own lights for our homes and offices. This not only speaks to the quality of their products but also reinforces that these are Singapore Safety Mark, CE, and CCC marking certified for your peace of mind!
Key Differentiators
Fuss-free shopping experience
All products come with a 1-year warranty period
Trusted distributor of LED lighting in Singapore
Client Testimonial
"I've bought a number of products from this shop over the years. They are fairly priced, quality products and quite knowledgable over WhatsApp and in the shop. My go-to shop for home lighting products. Highly recommended."

Tim Bousky
10. HorizonLights
When it comes to finding unique and cost-effective lighting solutions, the HorizonLights shop stands out as one of Singapore's few specialists in floor lamps. Even better, with an experienced team curating select designs, types and functons from around the world – if you're seeking stunning elements for your space that stretch beyond local offerings – then a trip to HorizonLights should be on your shopping list.
Key Differentiators
Known for their Floor Lamps
Online lighting shop in Singapore
Helps in making great designs affordable
Client Testimonial
I had bought a lot of LED lights from HorizonLights! I was very surprised to get a good personal service from Jhonny who helped me to select the right choices and made sure that all are tested properly. Also gave his contacts for any help during installation. Very good experience! Quality of the lights are very good. I was able to install them with no difficulty. Value for money

Subramanian Gopalaratnam
11. ARC LIGHTHOUSE
Since 2011, a Singaporean company has been providing consumers with eco-friendly and energy saving light fixtures, fittings, bathroom sanitary equipment and kitchens. With their mission to improve the daily lives of people by allowing them to do more things at lower cost – they enable you to reduce your utility bills for everyone's benefit.
Key Differentiators
Imported products
Eco-Friendly products
Energy efficient products
Client Testimonial
Very helpful staff. Look for Jasmine! Amazing prices to boot.

Joelle Pang
12. Three Cubes Project
Since 2017, the 3 Cubes Project has strived to become the go-to partner for esteemed architects, engineers and interior designers. Partnering with renowned names like AZ ELITE, LANIBER, MEGAMAN PHILIPS PLUMEN & SG FiLUX customers can feel confident that they are getting top of the line Industrial and Commercial projects. We guarantee high quality services at competitive prices no matter who our clients are.
Their natural and sustainable line of light fixtures, luminaires, and lamps are all inspired by the environment to complete any project's interior décor. They have an incredible selection of both indoor decorative lighting options as well as exterior architectural illumination solutions that will bring elegance to your site.
Key Differentiators
Provide a wide selection
Interior decorating lights and exterior architectural lighting solutions
They aspire to be the supplier of choice for architects, engineers and interior designers
Client Testimonial
Purchased smart Yeelights for our home all through Three Cubes. The team was really helpful and very efficient. Went above and beyond to ensure that the delivery was timely for installation even on short notice. Will recommend and definitely repurchase from Three Cubes again!

Wei Yee
13. Etch and Blots
In 2014, Etch and Blots opened their doors on Keong Saik Road. Things were far from perfect: the shophouse was small with little ventilation, only one sofa set displayed in total!
Fast forward to today – Etch and Blots has made massive improvements; presently operating out of a 5500 square foot space at 3 Little Road complete with two showrooms for customers to browse, a bespoke workshop and loft-style studio for collaborations. That's not all though – they have also employed an entire team that is passionate about producing quality furniture pieces.
Key Differentiators
Designed to Last
Proudly Singaporean
Design First
Client Testimonial
Got our furniture from etch&bolts and was pleased with the whole experience. Really love our customised sofa (they have tons of fabric options in their showroom) dining set, bed frame and coffee table! Really approachable and friendly staffs and even though our furniture got slightly delayed due to the recent pandemic, they were thoughtful enough to update and assist us throughout.

Valerie Chia
14. Yafen Lighting
At Yafen Lighting, Bathroom & Kitchen, you'll find a vast selection of ceiling fans. Choose between models with or without lights, as well as an array of sizes to suit any space. With 10+ brands in stock – including Yafen, Fanco and Crestar – you're sure to find the fan that's perfect for your home. Don't forget: PO Eco, Eco Air; Potech; Rexant; Tech Fan; Tech Master and Rextone are also available!
Key Differentiators
Offer a wide selection
Promotion products
Great customer service
Client Testimonial
We needed 2 built-in wardrobes and kitchen cabinets. We were a bit doubtful at first about going direct to them as a carpenter as opposed to going through an interior designer firm to manage all the works. We went ahead as the quotation was reasonable and they were able to deliver and install the wardrobes and kitchen cabinets within 2 weeks. The quality of the materials used is plywood with our selected laminate on the outside.

There is some glue smell initially that went away after a few days. Proportions were based on the designs we agreed upon so they were perfect for our spaces and storage needs. We also got our lights and ceiling fans from them, all of which are white colour to match our white theme. Ceiling fans are clean looking and move good amounts of air.

The white blades look flimsy but they are stronger than they appear. Remotes are intuitive and well designed. LED lights are adequately bright. We are satisfied with the work and products and hope that they would last a long time.

Kelly Chin
15. Million Lighting
Million Lighting revolutionizes the concept of lighting, pushing boundaries with their creative and technology-driven designs that elevate light to a work of art without compromising its usability. Their passionate team has created diverse ambient atmospheres for some of the nations most prominent establishments like hotels, entertainment spots and shopping hubs as well as office buildings too!
Thanks to Million Lightings' limitless imagination they have been able to craft unique tailored experiences in every space they enter.
Key Differentiators
Created a wide spectrum of diverse ambiances
Pioneer in the lighting industry
Successfully completed both local and global projects
Client Testimonial
Great service and variety of quality lights. My electrician who installed them commented on the good quality. Recommended.

Eddie Cheng
Lighting Shop Singapore
When shopping for lighting, Singapore has a great selection of stores to choose from. Whether you're looking for modern LED lights or traditional incandescent bulbs, there is something out there that will fit your needs and budget. With so many options available in the city, it can be hard to decide which store is best for you.
But with our list of the top lighting stores in Singapore, finding quality products at competitive prices has never been easier! So don't wait any longer – start browsing today and find the perfect light fixtures for your home or business!
For more related articles:
Frequently Asked Questions (FAQ)
If you have any questions about Lighting Stores in Singapore, you can refer to the frequently asked questions (FAQ) about the best Lighting Stores in Singapore below:
Additional Useful Articles
If you are looking for other useful guides and articles about the best Lighting Stores in Singapore, check them out below: