Maid Agency Singapore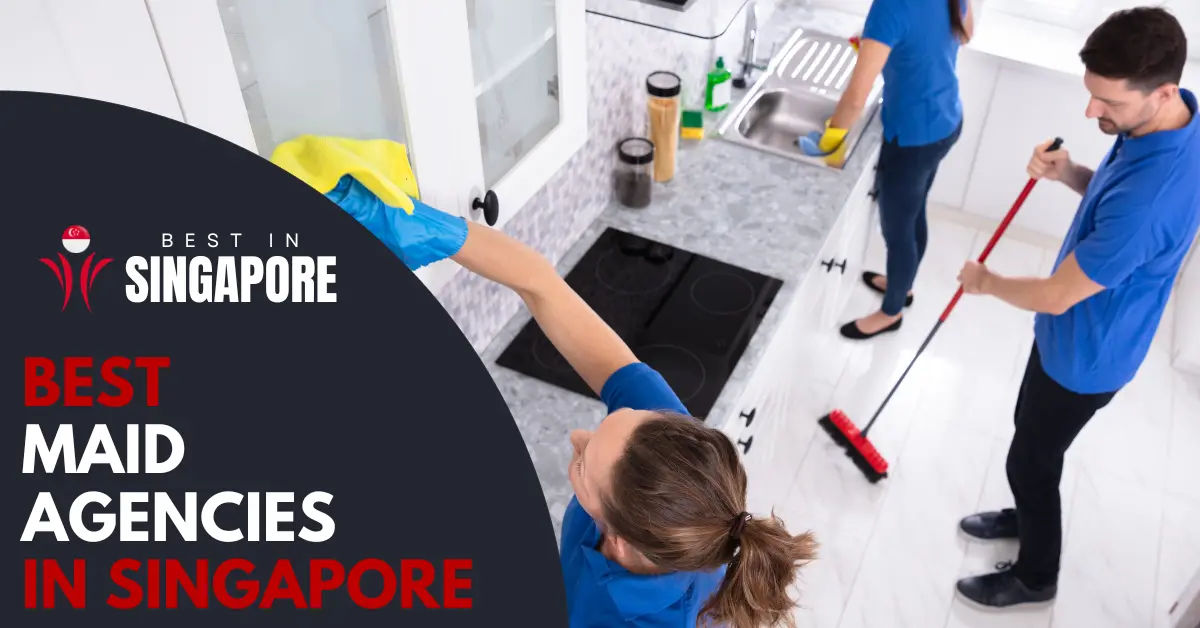 When it comes to hiring domestic help in Singapore, the sheer number of maid agencies available can be overwhelming.
The best maid agencies in Singapore include Westrama Management(s) Pte. Ltd., JPB Maid Specialist, Ministry of Helpers, and Universal Employment Agency Pte Ltd.
When choosing a maid agency in Singapore, it's important to take into account the services they provide, their fees, customer reviews, and track record.
In Singapore, maid agencies are professional services that focus on supplying skilled domestic helpers for households.
In this guide, we have curated a list of the best maid agencies in Singapore to help you find an agency that suits your specific needs and requirements, ensuring a smooth and hassle-free hiring process.
Key Consideration Factors
When choosing which maid agency to go to, make sure to consider these important factors:
Track record: Find out about the agency's experience, reputation, and success rate in matching domestic helpers with families. This will give you an idea of their reliability and credibility.
Fees: Most agencies charge a service fee that typically covers the cost of recruitment, training, and placement. Make sure to compare fees across different agencies to find one that fits your budget.
Customer reviews: Read reviews and testimonials from previous clients to get an idea of their overall satisfaction with the agency's services. This will also give you insight into any potential issues or concerns.
Services offered: Different agencies may specialize in different types of domestic help, such as housekeeping, childcare, or elderly care. Make sure the agency offers the specific service that you require.
Best Maid Agency Singapore
1) We Are Caring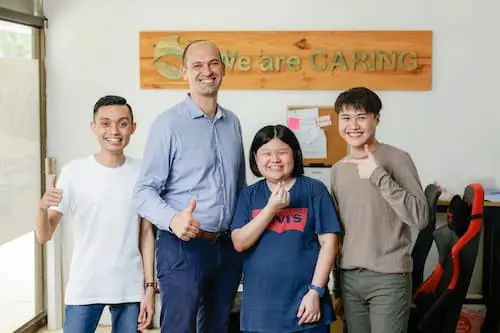 We Are Caring is a pioneering ethical maid service provider in Singapore, dedicated to offering a convenient and highly efficient way for individuals to find and hire trustworthy helpers.
Transparency is at the forefront of their values, ensuring that their dedicated staff receives well-deserved bonuses without any deductions.
With exceptional service and a commitment to fairness, We Are Caring is the trusted choice for all your maid service needs in Singapore and beyond.
2) Global Channel Employment Agency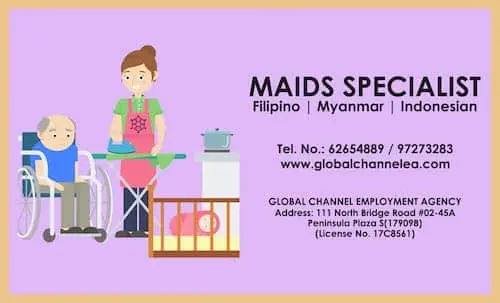 Global Channel Employment Agency has obtained an agency license from the Ministry of Manpower. Their commitment to offering reliable and trustworthy options is praiseworthy. They firmly believe in the advantages of collaborating with a team of well-prepared professionals who are always ready to provide assistance.
3) APac Employment Management Pte Ltd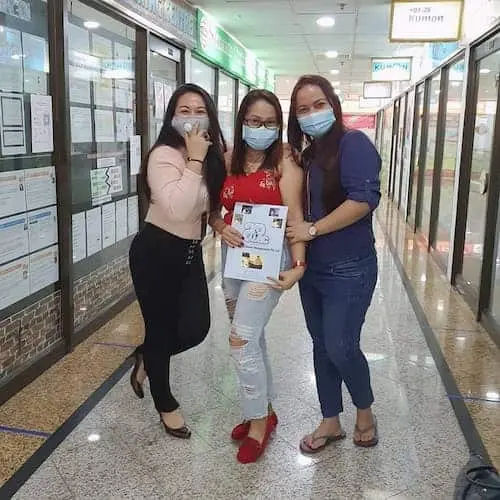 With over 30 years of experience in the field, they are a licensed Employment Agency in Singapore. Their specialization and commitment to quality have made them the go-to choice for countless satisfied Expats and local families. When it comes to finding the perfect domestic helper, they offer face-to-face interviews by appointment only, ensuring a personalized and exceptional experience.
4) 1st Allbest Maid Agency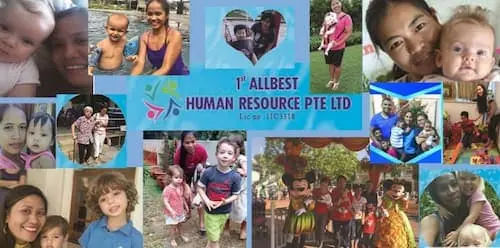 This organization is renowned for recruiting and managing highly skilled domestic servants from four MOM-approved countries, ensuring exceptional customer service. They have their own training facilities in Manila, Surabaya, Yangon, and Kolkata.
Their primary responsibility is to help organizations identify and evaluate ideal candidates who can meet their clients' specific needs, such as newborn care, child care, elderly care, and caring for sick or disabled family members. Their goal is to guarantee that their clients receive top-notch domestic assistance, resulting in an improved quality of life.
5) Eden Grace Maid Agency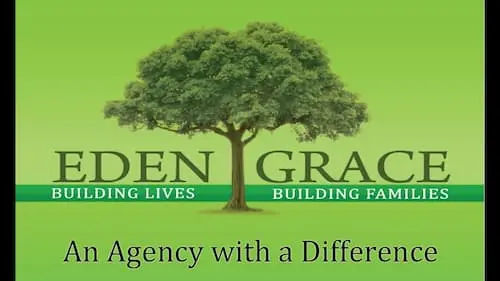 Eden Grace Human Resources Pte Ltd, a maid service based in Singapore, is committed to providing trustworthy housekeepers for your loved ones. Through a comprehensive approach that includes rigorous selection, training, and integration programs, they ensure the employment of well-trained and reliable staff.iod.
Sunny Wong, the founder and managing director of the company, recognizes the significance of a strong employer-employee relationship. That's why Eden Grace maid agency is dedicated to carefully matching each family's requirements with the perfect assistant. This is achieved through meticulous screening and a three-day trial period.
6) Zeal Care, Zeal Associates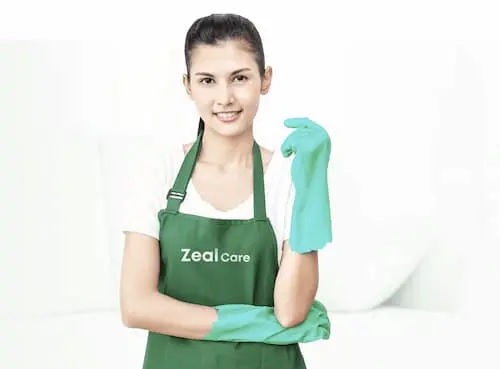 Zeal Care is a pioneering online service in Singapore that is dedicated to offering employers a seamless helper agency experience. Its goal is to enhance jobseeking journeys and make them better than ever before.
Zeal Associates, the trusted partner, goes beyond the ordinary to provide a wide range of support and caregiving options. They offer skilled home care assistance, compassionate live-in helpers, and dedicated professional nurses. The company is committed to delivering prompt, courteous, and personalized services that cater to unique needs. Let them be the helping hand that makes a difference.
7) Able Best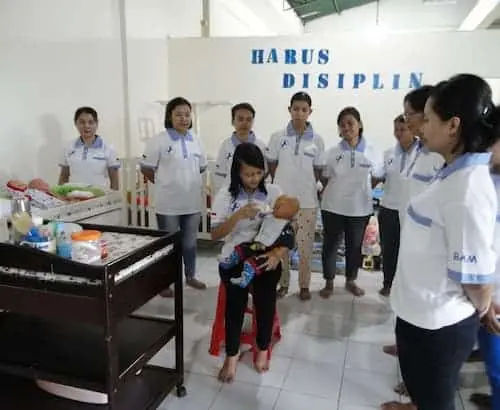 Able Best Employment Agency, established in 2003, is committed to providing Singaporeans with foreign domestic staff. They partner with reputable training institutions in Indonesia, the Philippines, and Burma to offer reliable and trustworthy housekeepers for homes in Singapore. With a strong reputation for reliability and honesty, they are dedicated to serving their clients' needs.
8) Assured Maid Agency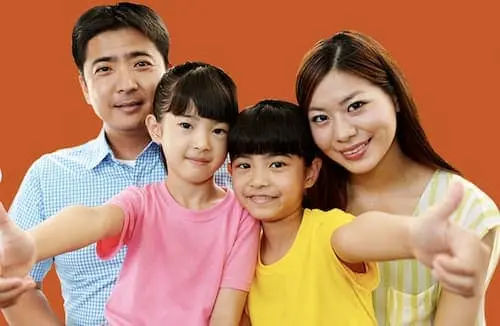 Assured Employment Services Pte Ltd was founded in 2012 with the aim of becoming one of Singapore's premier maid agencies. Their mission is to supply highly skilled and well-trained domestic workers to every household. Specializing in sourcing individuals from their home countries, they employ stringent selection processes and handle all required paperwork for their employees.
9) Inter Great Employment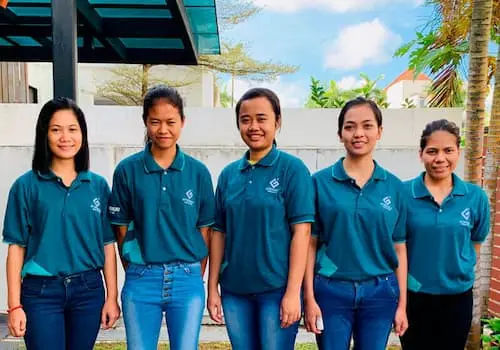 Inter Great Employment (IGE) is a personnel services company renowned for its dedication to integrity, innovation, collaboration, empathy, and resilience. With a team of highly qualified and authentic professionals, IGE excels in self-improvement and provides confident and determined experts to clients and partners.
Moreover, IGE provides employer orientation programs and interview workshops to ensure the preparedness of its staff, both physically and mentally. You can count on IGE's commitment to preparing individuals for success.
10) Westrama Management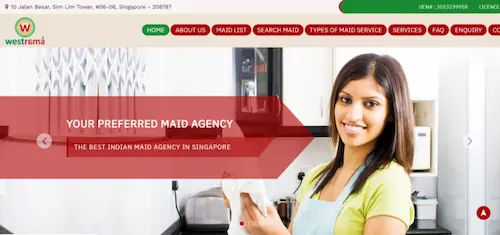 With more than 38 years of experience in the maid industry, Westrama Management offers employment opportunities for migrant domestic workers from India, Bangladesh, China, the Philippines, and Indonesia.
If you're searching for exceptional Indian maids, including Tamil and Punjabi housemaids, they are among the best in Singapore. Furthermore, they also recruit maids from countries such as the Philippines, Myanmar, Malaysia, and others.
11) Magnum Maid Agency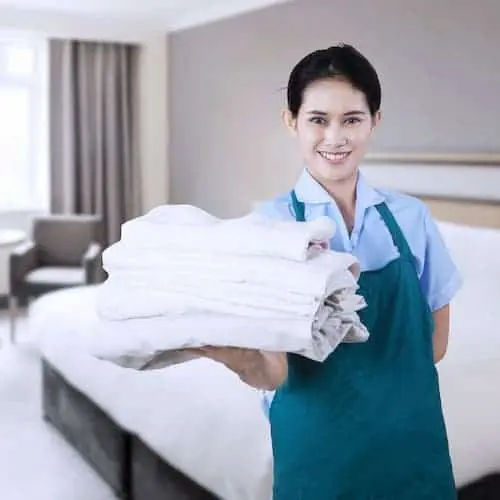 Magnum Maid Agency Singapore is a reputable and licensed company that offers a wide range of services for foreign workers. Whether you're an individual or a business, they've got you covered.
With a proven track record of over ten years, Magnum Maid Agency has built a strong presence in five countries: Cambodia, Myanmar, the Philippines, Indonesia, and Malaysia. Leveraging their extensive industry experience and expertise, they provide reliable and tailored solutions to meet the specific requirements of their clients.
Magnum Maid Agency Singapore is committed to providing exceptional services with the highest level of professionalism and efficiency, whether it's for domestic helpers, skilled workers, or any other foreign workforce needs.
12) D'Maid Agency By Syed Ali

If you're a Muslim family looking for Indonesian maids, D'Mai Agency is the perfect solution. They provide a diverse selection of maids customized to meet your family's specific requirements. Get in touch with them to explore all the available options and find the perfect maid who will perfectly fit your family.
Feel free to reach out and discover how D'Mai Agency can assist you in finding the right maid to support and assist your family.
13) Super Employment Specialist

Super Employment Specialist, founded in 2002, has emerged as a prominent recruitment agency in Singapore. Boasting exclusive foreign training facilities, they have established themselves as one of the premier maid agencies on the island.
SUPER hires skilled and well-trained staff from countries such as the Philippines, Indonesia, Burma, Thailand, India, and Sri Lanka. If you're struggling to choose the perfect maid from their wide range of applicants, their experienced consultants are ready to help. From paperwork to placement, SUPER streamlines the helper hiring process with affordable agency charges and fees.
14) Dejavu Agency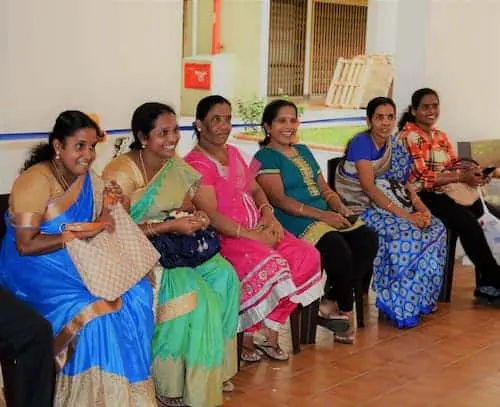 They consistently make a dedicated effort to provide regular training to applicants, ensuring the acquisition of the necessary attitude and skills that perfectly align with specific requirements. This ongoing commitment to education and development guarantees that they are fully prepared to meet and surpass needs.
Their dedication and commitment know no bounds as they strive to provide top-tier training and support to every applicant. This holistic approach not only equips candidates to excel in their roles but also cultivates a culture of constant improvement and growth within the organization.
Their unwavering pursuit of excellence will undoubtedly leave a lasting impact on the team's success and overall performance.
15) EELIT Maid Agency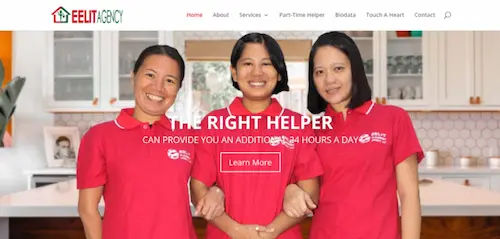 Established in 2012 and based in Singapore, EELIT Maid Agency has swiftly earned a strong reputation as one of the most dependable and reputable maid agencies. They meticulously handpick individuals who showcase reliability, trustworthiness, and skills, guaranteeing an exceptional team of the highest quality.
EELIT guarantees customers a seamless and straightforward recruitment process, handling all paperwork with transparency. The agency is dedicated to nurturing a lasting and strong employer-helper relationship. They offer essential skills training, effective communication guidance, and post-placement counseling services.
16) Reliable Maids

Reliable Maids provides a one-of-a-kind, hassle-free booking experience for maid services, setting itself apart from competitors in the industry. As a fully digital staffing agency, it adopts a 100% process-driven approach to ensure the perfect match based on your unique requirements. With Reliable Maids, there's no need to provide direct instructions to the housekeeper as they handle all language and skills training on your behalf.
17) Living Well Maid Agency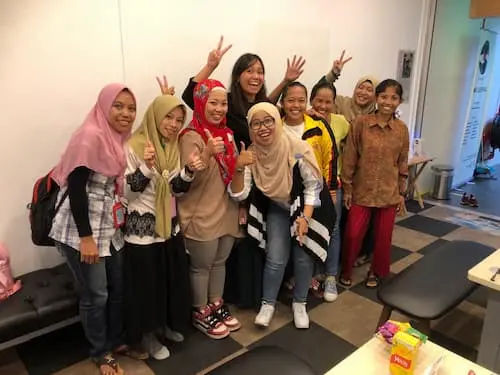 The Living Well Maid Agency was founded in February 2017 with the goal of assisting families in finding foreign domestic helpers. They are dedicated to meeting the unique requirements and expectations of each family when it comes to hiring an FDW.
Their aim is to establish themselves as a trustworthy and dependable provider of domestic assistant services. Furthermore, they specialize in connecting families with Singaporean housekeepers who are readily available for employment.
18) Jayamaids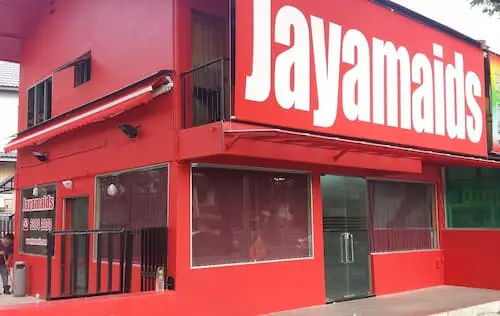 Jayamaids is committed to comprehending the distinct requirements of every client and tailoring their services to surpass expectations. With recruitment and training centers strategically situated in Central Java (Cilacap), Indonesia, they go above and beyond to ensure a seamless adaptation of their local maids to the new environment, facilitating a smooth transition for both the maids and their employers.
Jayamaids ensures the success of their employed foreign domestic workers through a meticulous selection and comprehensive training process. This fosters long-lasting relationships based on trust and reliability. Clients can rely on Jayamaids to meet their domestic staffing needs with professionalism, efficiency, and utmost care.
19) Ministry of Helpers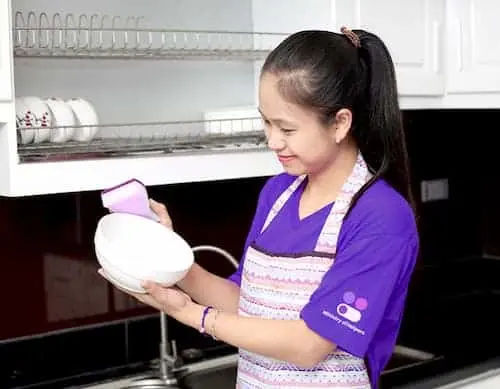 Did you know that almost 50% of first-year employer/helper relationships end in failure? But don't worry, Ministry of Helpers is determined to revolutionize the way employers and helpers are matched forever! They firmly believe that stronger connections result in better homes, and it's really that straightforward.
Ministry of Helpers is a comprehensive platform that brings together employers and helpers, promoting collaboration and success. With transparency and straightforwardness as its foundation, this dynamic and inclusive e-platform is designed to meet the needs of employers and foreign domestic helpers. Say goodbye to complications and hidden costs and embrace a simplified and direct experience.
20) Homefresh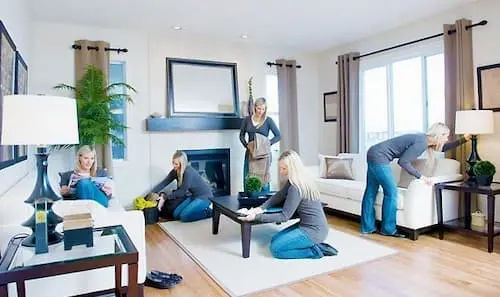 Housekeepers in Singapore play a crucial role in ensuring homes are clean and organized. This diverse group includes citizens, permanent residents, and foreign domestic workers with valid work permits. Regardless of nationality or residency status, all housekeepers share the common trait of holding valid professional cleaning credentials.
The rigorous hiring process brings homeowners peace of mind by diligently verifying the legal working status of individuals before assigning them to any job. This guarantees that only qualified and reliable individuals are entrusted with the responsibility of maintaining clean and tidy homes.
21) Express Maid Employment Agency

Express Maid is dedicated to providing a wide range of overseas employment services, taking a comprehensive approach to recruitment and selection. As a fully authorized professional recruitment firm, they go above and beyond to deliver exceptional customer service, leveraging their extensive experience in the maid service industry. With their unwavering commitment to excellence, you can trust Express Maid to meet all your needs and exceed your expectations.
22) Best Housekeeper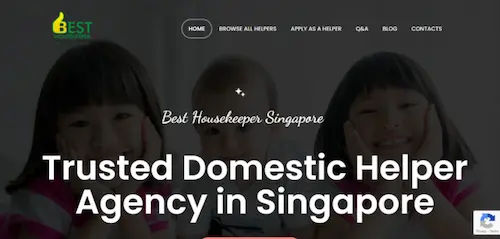 Finding the perfect domestic help in Singapore may pose a challenge, but fret not! Top Housekeeper, the premier maid agency in Singapore, is committed to connecting individuals with skilled domestic assistants who seamlessly blend into their households.
Discover your ideal maid with the Singapore Maid Agency, where customized profiles meet your unique requirements.
23) Island Maids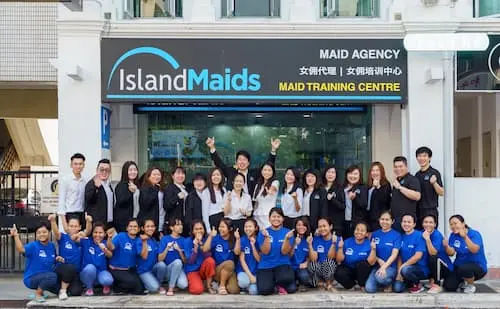 Island Maids, founded in 2011, is a Singapore-based maid agency dedicated to delivering exceptional domestic help services. With a renowned reputation for a diverse range of top-quality services, they have earned high client satisfaction and boast low transfer rates. As one of Singapore's largest and most prominent maid agencies, they take great pride in their well-established presence.
24) 121 Personnel Services

121 Personnel Services is a well-established and knowledgeable maid agency in the industry. They are committed to customer satisfaction and specialize in offering reliable and trustworthy maid hiring services to families. Going the extra mile, they provide a complimentary 365-day warranty to ensure peace of mind for their clients.
Furthermore, in the rare case that a replacement is needed, they offer two substitute maids to ensure seamless service. With their outstanding service and meticulous focus on every detail, 121 Personnel Services is your ultimate solution for all your maid hiring requirements.
25) Suria Employment Agency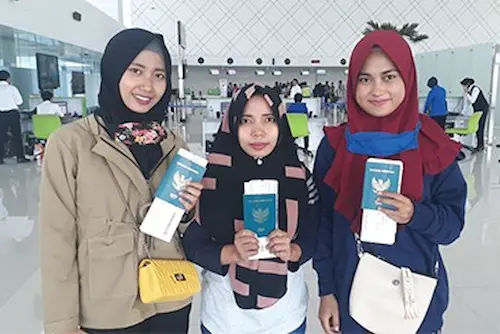 Established in 2002, Suria Employment Agency is a licensed and accredited agency in Singapore, authorized by the Ministry of Manpower. Renowned as a top-notch maid agency, they consistently earn excellent ratings from customers on the official website of the Ministry of Manpower Singapore.
26) Maids "R" Us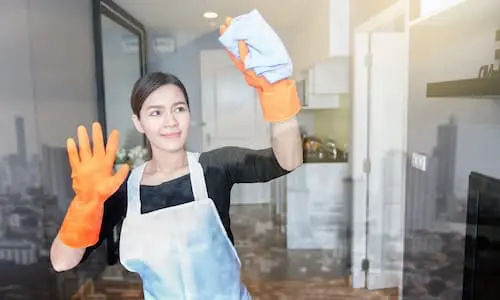 Maids "R" Us Pte Ltd has built a strong legacy in providing exceptional foreign domestic assistance to the Singapore community, establishing a solid reputation in the industry.
With a plethora of maid services available in Singapore, finding the ideal nanny to meet your requirements can be daunting. However, worry not, as Maids R Us is dedicated to delivering customized assistance to clients throughout Singapore. As a comprehensive agency, they cater to all your needs.
27) Labour Express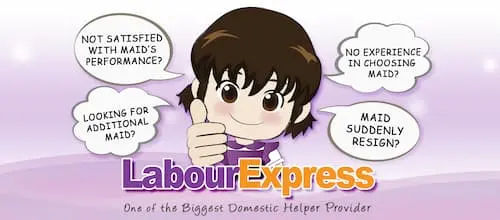 Labour Express, founded in 2003, has become a prominent provider of foreign domestic helpers in Singapore and Malaysia. They have earned a strong reputation through their commitment to value-added services, as demonstrated by their impressive track record and extensive clientele.
28) Wonderful Maid Agency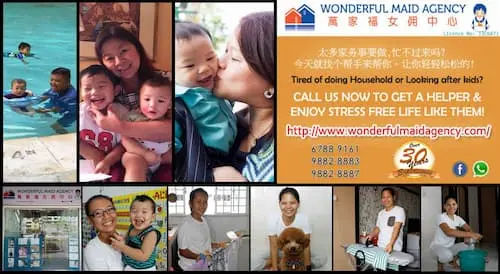 Wonderful Helper is a renowned and reliable provider of trustworthy assistance and highly skilled childcare professionals. With a focus on household supervision, their dedicated team consistently achieves outstanding results.
Whether it's ensuring the safety and well-being of children or maintaining seamless household operations, Wonderful Helper goes above and beyond to deliver exceptional support. Clients can trust that with Wonderful Helper, they will receive prompt service and peace of mind.
29) Asset Agency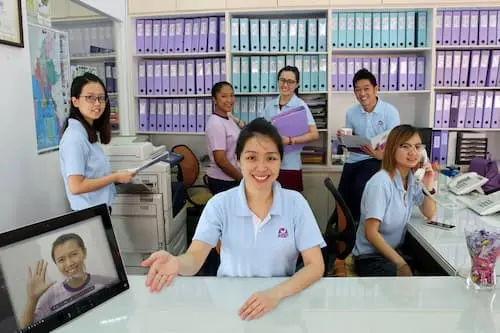 ASSET is a well-regarded agency that focuses on placing highly skilled and experienced Indonesian nationals as foreign domestic workers (FDWs). They have established lasting relationships with esteemed clients through their unwavering commitment, ethical standards, and exceptional customer service.
In addition to their successful track record with Indonesian FDWs, ASSET has expanded their services to include recruiting and placing FDWs from the Philippines and Myanmar.
30) JL Maid Specialist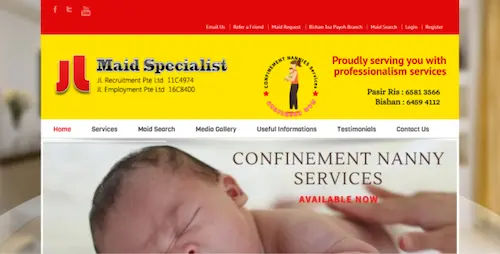 If you're in need of a dependable and professional housecleaner, look no further than JL Maid Specialist. Whether you require a nanny or a skilled cook, JL Maid Specialist can match you with the ideal maid who meets all your needs.
The top maid agencies in Singapore are renowned for offering comprehensive training to their domestic staff in elderly care, household cleaning, cooking, and child care. This guarantees that their personnel can seamlessly adapt to their new responsibilities in your home.
Maid Agency Singapore
In conclusion, Singapore hosts an array of maid agencies, each offering unique services to match the diverse needs of its clients.
Whether you require professional household cleaning, specialized elderly care, or proficient childcare, these agencies are committed to providing well-trained and reliable domestic staff. Their rigorous selection and training processes ensure that you receive top-quality service.
When it comes to finding the perfect domestic assistance in Singapore, these agencies stand as a testament to the city's commitment to quality, reliability, and customer satisfaction.
Frequently Asked Questions
If you have any questions about Maid Agency in Singapore, you can refer to the frequently asked questions (FAQ) about the best Maid Agency in Singapore below:
Additional Useful Articles
If you are looking for other useful guides and articles about Maid Agency in Singapore, check them out below: