Nail Salon Singapore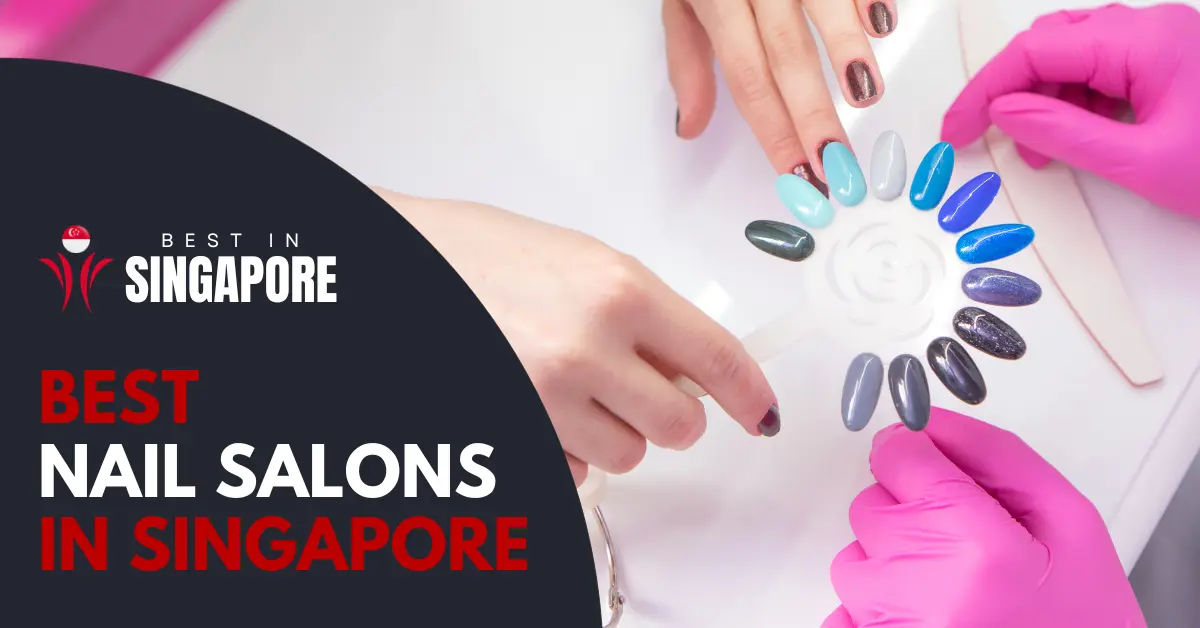 Discover the epitome of nail artistry and indulgence at some of the best nail salons in Singapore.
The best nail salons in Singapore are The Nail Status, Project Nails, Nail County, and Eileen Nails.
When selecting a nail salon, take into account various factors including pricing, cleanliness, quality of service, location, and range of services offered.
Step into the vibrant world of nail salons in Singapore, where a wide array of services awaits. From timeless manicures and pedicures to exquisite nail art, immerse yourself in an atmosphere that excels in hygiene and customer delight.
Get ready to adorn your nails with captivating colors and intricate designs at these top-tier salons, where high-quality service meets creativity and style.
Quick Summary
Best nail salons in Singapore are The Nail Status, Project Nails, Nail County, and Eileen Nails.
When choosing a nail salon, consider factors such as price, hygiene, customer service, location, and available services.
The nail salons in Singapore offer a broad spectrum of services ranging from classic manicures and pedicure services to elaborate nail art, all delivered in an environment that prioritizes hygiene and customer satisfaction.
Key Consideration Factors
When selecting a nail salon in Singapore, there are several key factors to consider:
Pricing: Prices for nail salons in Singapore can differ considerably. Consider the various packages and prices that each salon offers before making a decision.
Cleanliness: Cleanliness should always be paramount when selecting any beauty service venue, especially in Singapore where hygiene is highly valued. Ensure that the salon you select is properly maintained and sanitized to avoid any potential health risks.- Quality of Service: Read reviews to gauge the quality of service provided by the salon before making a decision.
Location: Choose a nail salon that is conveniently located for you, allowing easy access when needed.
Range of services offered: Check out the array of services available at each salon before committing to one. The best salons will offer a range or manic- ures, pedicures, and nail art.
Customer service: Consider the customer service provided by each salon. Great customer service is essential for a positive nail salon experience and adds to overall satisfaction.
Best Nail Salon Singapore
1) Exquisite Nails Spa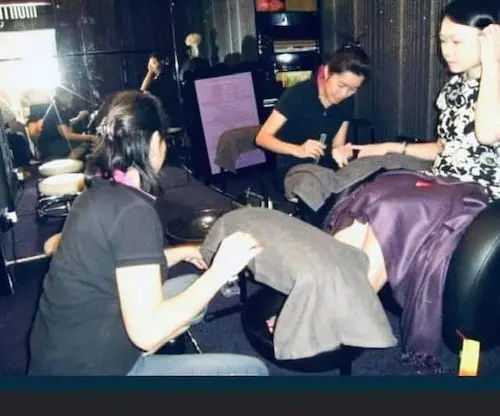 Key Services
Nail Salons Singapore
Website
https://exquisitenailsspa.com.sg/
Address
2 first street, Siglap v 01-03, Singspore 458278
Phone
62432837
Email
exquisitenail@singnet.com.sg
Operating Hours
Monday 10 am–9 am
Tuesday 10 am–9 pm
Wednesday 10 am–9 pm
Thursday 10 am–9 pm
Friday 10 am–9 pm
Saturday 10 am–9 pm
Sunday 10 am–12 am
For nearly 18 years, Exquisite Nail Spa has been nestled in the vibrant heart of Siglap, cultivating a legacy of reliability and unwavering dedication to their cherished clientele. With a team of skilled and positive professionals at the helm, they consistently go above and beyond to deliver efficient, professional, and personalized experiences that leave their valued clients mesmerized.
Throughout the years, their unwavering commitment to pushing boundaries, nurturing creativity, and elevating the art of nail services has forged unbreakable bonds of trust and loyalty with their beloved customers.
Exquisite Nail Spa extends heartfelt gratitude to their customers, friends, and family for nurturing these exceptional relationships and fostering an unwavering trust that continues to thrive.
2) Home Nails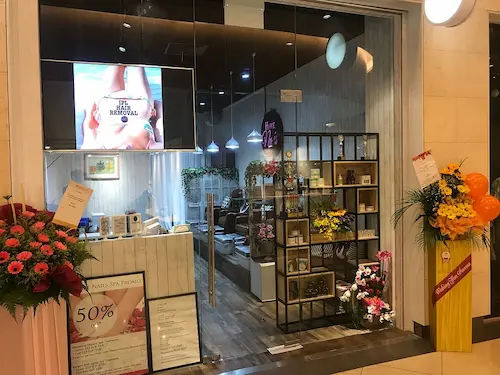 With over four years of experience, their manicure specialists are here to provide the perfect solution for all your nail needs. Conveniently located in the heart of Singapore, we offer affordable options that won't break the bank.
Their team of skilled and friendly nail artists are ready to bring any nail design you can imagine to reality. From stunning 3-D acrylic nails to elegant matte dry nail extensions and long-lasting gel polish, they have a diverse range of services to suit your style.
Indulge in the ultimate nail experience at Home Nails. Let us pamper you and make your nails truly shine!
3) The Nail Status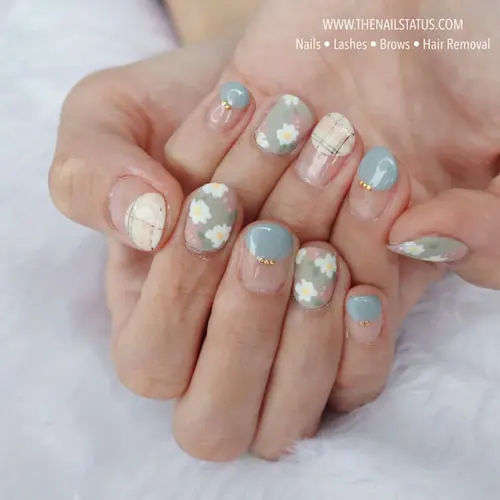 Key Services
Nail Salons Singapore: Nails, Lashes, Brows Embroidery, IPL
Website
http://www.thenailstatus.com/
Address
Far East Plaza #04-83
Wisteria Mall #01-14
The Seletar Mall #03-13
Phone
68362005, 63390735, 67027077
Email
thenailstatus@yahoo.com
Operating Hours
Far East Plaza: Mon-Sat 11 am – 930pm, Sun & Public Holiday 11 am -7 pm
Wisteria Mall: Mon-Sat 11 am – 930pm, Sun & Public Holiday 11 am -8 pm
The Seletar Mall: Mon-Sat 10 am – 9 pm, Sun & Public Holiday 10-8 pm
Established in 2004, The Nail Status embarked on its journey with humble origins – a solitary nail station and a dedication to providing unparalleled nail pampering experiences for all.
Throughout the years, The Nail Status has undergone a remarkable evolution, evolving into a distinctive chain salon in Singapore that offers more than just nail services. It now presents a diverse selection of beauty treatments to cater to the varied needs and preferences of its valued clientele.
4) Kiyone+LIM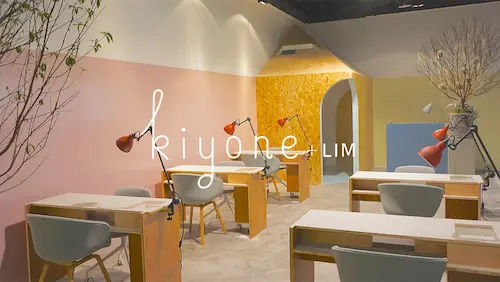 | | |
| --- | --- |
| Key Services | For the best Japanese-inspired nail art |
| Website | https://www.lessismore.co.jp/kiyone/ |
| Address | 325 New Bridge Road, #03-00, Singapore 088760 |
| Phone | +65 6834 3193 |
| Operating Hours | Open Tues-Sat 10am-9pm, Sun and Public Holidays 10am-6pm |
Step into the world of elegance with Kiyone+LIM, where less is more. Experience the artistry of talented Japanese manicurists as they meticulously craft designs with a minimalist approach. Immerse yourself in their single-hued color palette, a testament to their exquisite attention to detail.
While their prices start at S$80, this is more than just a manicure. It's an indulgence, a worthwhile investment in self-care. Treat yourself to the added luxury of a hand and forearm massage, elevating your experience to new heights.
Discover the standard of elegance at Kiyone+LIM. Unmatched quality, impeccable artistry, and an experience that transcends the ordinary.
5) Nail County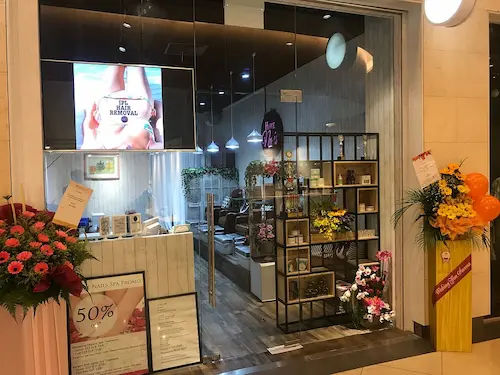 | | |
| --- | --- |
| Key Services | It offers various pedicure and manicure services ranging from a classic gel manicure and manicure plus, which many Singaporeans love |
| Website | http://www.nailcounty.com/ |
| Address | 9 Raffles Boulevard #02-20 Singapore 039596 |
| Phone | +65 6779 0014 |
| Email | singapore@nailcounty.com |
| Operating Hours | Mon – Sun, 11AM – 9PM |
Renowned for its exceptional services and unparalleled expertise, Nail County stands as one of the top nail salons in Singapore. With a specialization in Korean nail art, they offer a diverse range of treatments, including nail repair, pedicures, and manicures.
Their mission is to deliver a truly satisfying experience to each client, ensuring utmost comfort and contentment.
6) Eileen Nails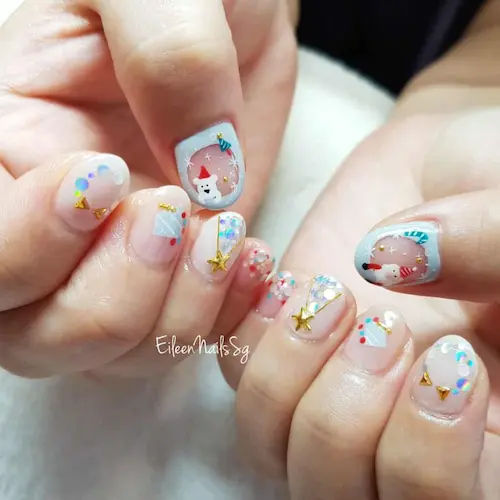 Eileen Nails, a private nail studio with more than 6 years of industry experience, is conveniently situated just a 5-minute walk from Woodleigh MRT station. Specializing in gel manicures, pedicures, nail art, and extensions, Eileen aims to provide customers with a delightful and satisfying experience.
With a dedication to sourcing high-quality products from Japan and Korea, Eileen's passion for the arts and building connections with new people shines in every appointment.
7) Nail Lodge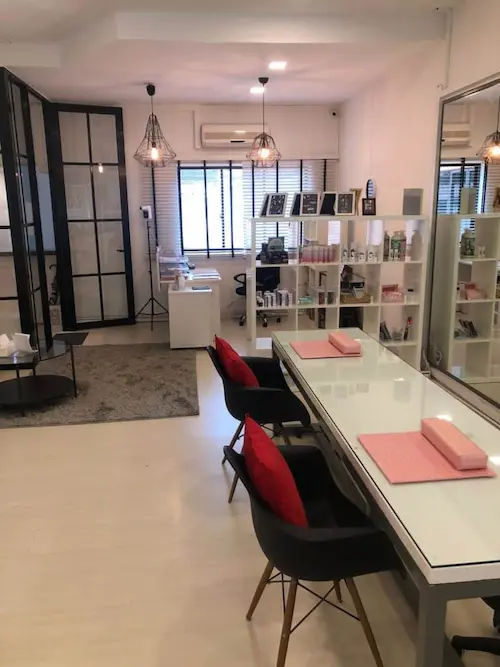 Key Services
Nail Salons Singapore: Manicure, Pedicure, Nail arts, Lash extensions
Website
http://www.naillodge.com/
Address
14A Maju Ave S556691
Phone
63830380 & 83236369
Email
enquiry@naillodge.com
Operating Hours
Mon-Sat: 10am-8pm
Sun and PH: 10am-7pm
Situated in the charming Serangoon Gardens, Nail Lodge is a cozy nail care salon found on the second floor of a shophouse opposite MyVillage mall.
With a strong commitment to customer satisfaction and a no-pressure sales approach, they offer a tranquil ambiance for you to unwind and enjoy a variety of services. These include nail care, eyelash extensions, SHR hair removal, and LED teeth whitening.
8) AgnesG.Nails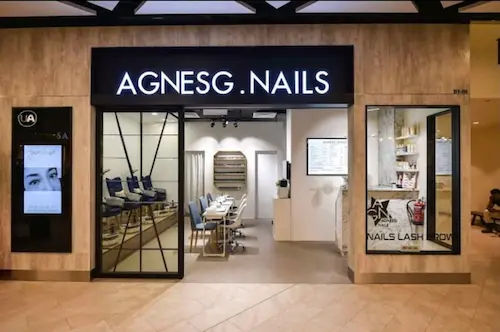 Key Services
Nail Salons Singapore: Customized nails, lash extension and brow embroidery
Website
http://agnesgnails.com/
Address
1 Maju Ave My Village #01-03 S556679
PLQ Mall 10 Paya Lebar Road #B1-06 S409057
Phone
6636 9887 / 6962 6887
Email
Agnesg.nails@gmail.com
Operating Hours
11am – 9pm
AgnesG.Nails is the ultimate destination for all your nail, lash, and brow grooming needs. The salon caters to trendy individuals who appreciate style and practicality. With a team of skilled and experienced therapists, they are dedicated to creating customized masterpieces for nails, lashes, and brows that exceed customer expectations and guarantee satisfaction.
9) Hanah Nails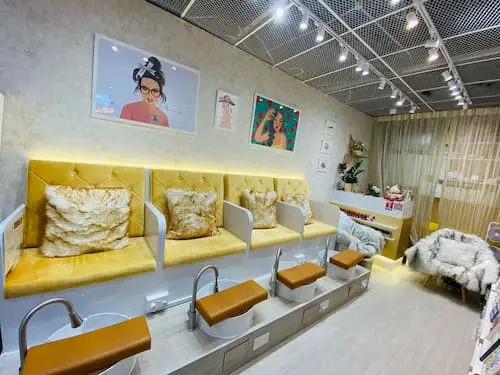 Hanah Nails is located in the vibrant Bugis Street, conveniently situated on the 3rd floor. They offer a wide range of high-quality nail services, provided by a team of skilled manicurists with over 10 years of combined experience. From basic manicures and pedicures to intricate customized nail art, they can expertly handle it all.
Hanah Nails takes pride in sourcing products directly from authorized distributors and manufacturers, ensuring the utmost quality and integrity. Enjoy their affordable prices, starting at just $13 for a classic manicure!
10) The Nail Artistry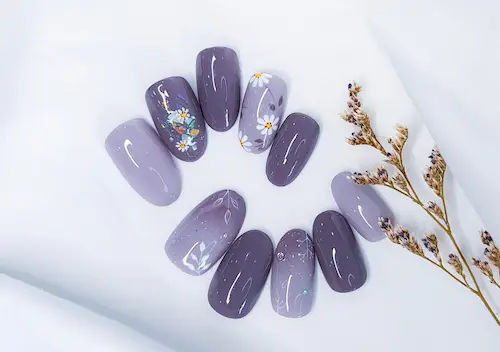 Key Services
For variety
Website
https://www.thenailartistry.com/
Address
Serangoon Gardens, 2 Maju Avenue, Singapore 556680
27 East Coast Road, Singapore 428749
Phone
+65 6966 1919
+65 6386 2722
Email
thenailartistry@gmail.com
Operating Hours
Open Mon-Fri 11am-9pm, Sat-Sun and Public Holidays 10am-9pm.
At The Nail Artistry, a team of skilled designers is ready to provide a range of contemporary designs. Whether you prefer cute anime characters, delicate feminine shades, or bold pops of color, there is something to suit every taste.
Sit back and unwind in their comfortable seating while you indulge in a Classic Gel Manicure and watch a movie on their large TV screen. For a distinctive and daring look, experience the Safari Eco Gel manicure, meticulously crafted with attention to detail and inspired by the untamed jungle.
11) Manicurious
Manicurious is a renowned manicure service that offers a wide range of stunning designs, including glossy, matte, elegant, and basic styles. If you're passionate about nail art, this is the perfect place for you.
The salon provides a relaxing and welcoming atmosphere, where you can unwind while getting your nails expertly done in vintage-inspired chairs. While the prices may be slightly higher than other nail salons, the exceptional quality you'll receive undoubtedly makes it worth the investment.
12) Project Nails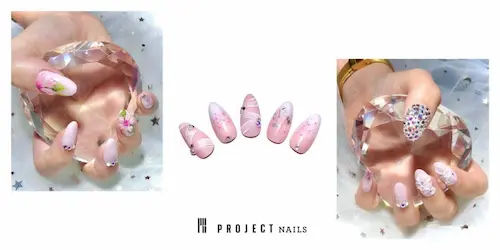 Key Services
Nail Salons Singapore:

Cuccio Paradiso spa manicure / pedicure
classic manicure / pedicure
men's manicure / pedicure
classic gel manicure / pedicure
ingrown toenail removal
Cuccio DetoXsoak treatment
nail art
nail extensions
eyelash extensions
waxing
Website
http://www.projectnails.sg/
Address
KATONG ADDRESS: 83 East Coast Road Singapore 428786
JURONG ADDRESS: Vision Exchange, 2 Venture Drive
02-36 Singapore 608526
Phone
KATONG: (65) 6344 1636 | ​​(65) 9626 9138
JURONG: ​​(65) 6250 9522 | (65) 8123 0989
Email
info@projectnails.sg
Operating Hours
11 am to 8 pm daily (Jurong branch is closed on all Wednesdays)
Project Nails is a nail salon that creates a warm and trendy ambiance. With branches in Katong and Jurong, they offer a wide array of services such as manicures, pedicures, Cuccio Paradiso hand & feet spa, nail art, eyelash extensions, waxing, and hair services.
Treat yourself to a pampering session in their massage chair, while enjoying complimentary premium tea and homemade cookies meticulously baked by the salon's founder. Rest assured that their skilled manicurists will provide exceptional care for you.
Nail Salon Singapore
In conclusion, the nail salon scene in Singapore is both vibrant and diverse, catering to a wide variety of tastes and budgets. Whether you're after a minimalist manicure or a full-on luxury pampering experience, you're sure to find a salon that suits your needs.
These establishments not only focus on delivering quality services, but also on providing exceptional customer experiences, making nail care not just a routine, but an indulgence.
So why wait? Book your appointment at one of these top nail salons and treat yourself to a well-deserved session of beauty and relaxation.
Frequently Asked Questions (FAQ)
If you have any questions about Nail Salon in Singapore, you can refer to the frequently asked questions (FAQ) about the best Nail Salons in Singapore below:
What are the best nail salons in Singapore?
The best places for dessert in Singapore are Nail Artistry, Nail Haven, Eileen Nails, Fancy Nails Paradise, Nail Queen, Lily Nails Salon, and Nailgasm.
Is it expensive to get your nails done in Singapore?
In Singapore, nail services are surprisingly affordable. Most salons offer manicures and pedicures starting from as low as $15, depending on the location.
How much does a mani pedi cost in Singapore?
In Singapore, the starting price for a manicure and pedicure is typically around $15, which may vary depending on the salon. For more intricate styles such as nail art or gel extension, the cost can range from $100 or even higher.
How much do gel nails cost in Singapore?
The price of gel nail extensions in Singapore typically varies between $40 and $80, with the cost depending on the salon. For more intricate designs such as nail art or 3D sculptures, prices may reach up to $100.
What nail repair treatments are offered at the top nail salons in Singapore?
The best nail salons offer a range of nail repair treatments to address various issues such as broken nails, damaged cuticles, and weak nails.
Do these nail salons provide a wide selection of nail polish colors?
Yes, the top nail salons understand the importance of having a diverse range of nail polish colors to cater to individual preferences and trends.
Are the nail technicians at these salons highly skilled and experienced?
Absolutely! The nail technicians at the top nail salons are trained professionals with extensive experience in providing exceptional nail care services.
Do these nail salons specialize in gel extensions?
Yes, many of the featured nail salons are known for their expertise in gel extension, offering clients long-lasting and beautifully sculpted nails.
In addition to nail services, do these salons provide other beauty services?
Yes, most of the top nail salons or beauty salon in Singapore offer a wide range of beauty services such as facials, waxing, eyelash extensions, and more, ensuring a complete pampering experience.
Do any of these nail salons offer foot massages and spa treatments?
Yes, some of the best nail salons go beyond nail services and provide luxurious foot massages and spa treatments to help clients relax and rejuvenate.
What are some of the best nail treatments offered by nail salons in Singapore?
Many nail salons in Singapore offer a wide range of nail treatments. The most popular ones include manicures, pedicures, nail art manicure, nail spa treatments, and nail strengthening treatments. Some of the top-tier salons even provide premier nail care manicure services that use high-quality products and techniques to give your nails a healthy and stylish look.
What is a nail bar and how does it differ from a typical nail salon?
A nail bar is a trendy and stylish nail salon that offers a more social experience. Called 'nail social' in some circles, these establishments often have a chic, open-plan layout for customers to interact while getting their nails done. They provide the same services as a traditional salon, such as nail treatments and nail art manicure, but with a more communal, social vibe.
Can you recommend a socially conscious salon in Singapore?
Yes, there are several socially conscious salons in Singapore that not only provide excellent nail spa services but also do their part for society and the environment. These salons often use eco-friendly products, recycle their waste, and may even donate a portion of their profits to charitable causes.
What can I expect from a premier nail care manicure at a top Singapore salon?
A premier nail care manicure often includes a comprehensive range of services, from basic nail cleaning to advanced nail spa treatments. You'll receive a thorough nail cleaning, shaping, and buffing, followed by a relaxing hand massage. After your nails are prepped, you'll get a high-quality polish application, often with options for nail art manicure. Some salons also offer luxurious add-ons like paraffin wax treatments or aromatherapy hand soaks.
What makes a nail salon in Singapore stylish?
A stylish nail salon in Singapore often combines high-quality nail spa services with a chic, comfortable environment. The interior design, the quality of the nail bar, the range of nail treatments and products used, and the level of customer service all contribute to the salon's overall style. Additionally, many stylish salons also stay up-to-date with the latest nail art manicure trends and techniques, offering their customers the most fashionable looks.
Additional Useful Articles
If you are looking for other useful guides and articles about Nail Salons in Singapore, check them out below: