Outdoor Team Building Activities Singapore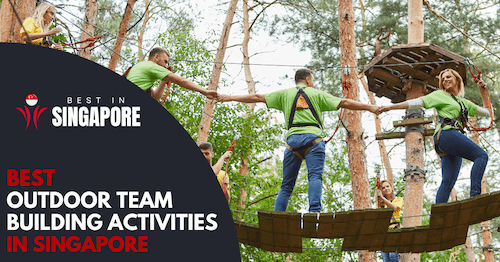 Team building activities in Singapore are an essential component of every successful firm. They promote team members' cooperation, communication, and trust.
The best outdoor team building activities in Singapore include Amazing Race, Escape Room, Saber Tag, Ninja Tag, and SaberFit.
Whether you're on a tight budget or have specific location requirements, FunEmpire has got you covered. With a remarkable track record of organizing over 50,000 successful events and receiving rave reviews from more than 8,000 satisfied customers, their reputation speaks for itself.
So don't put it off any longer—start organizing your next team building event right away!
Quick Summary
Best Outdoor Team Building Activities in Singapore include Amazing Race, Escape Room, Saber Tag, Ninja Tag, and SaberFit.
When booking an outdoor team building activity, consider important factors such as the budget, activity type, location, cost, and group size.
FunEmpire is renowned for its exceptional outdoor team building activities in Singapore. With a proven track record of organizing over 50,000 successful events and receiving more than 8,000 outstanding reviews, their reputation speaks for itself.
Key Considerations Factors
Equipment & Safety: Verify that the provider is providing all essential equipment, and see whether there will be access to medical services in case anything goes wrong during the event. This will guarantee that everyone taking part is safe for the length of the whole event!
Weather Conditions: When it comes to enjoying your outdoor team building activities in Singapore, the weather plays a significant part; make sure to keep an eye on local weather conditions so you can prepare appropriately!
Activity Type: Evaluate the demands of your team while choosing an activity type. Do they need something physically demanding? Anything original?
Budget: While selecting an outdoor team-building activity in Singapore, keep your budget in mind. Costs might vary substantially, so make sure you have enough money before booking.
Location: When selecting an outdoor team-building activity in Singapore, it's also important to look at its location and accessibility from your office or other areas of interest.
Size: Outdoor activities come in different sizes and shapes; some are suitable for small teams while others require more people to participate. Make sure you choose a size that is appropriate for your group size before booking any outdoor team building activities in Singapore!
Best Outdoor Team Building Activities Singapore
Quest Activities
1. Amazing Race
Want to find a lighthearted approach to fostering team spirit in the workplace? Join us as we explore Singapore and all it has to offer. Each checkpoint will test your and your colleagues' ability to make rapid decisions. You must complete each task before moving on to the next checkpoint. A large group may learn a lot about one another in this setting.
2. Escape Room
In Singapore, the Fun Empire Escape Room is one great team building activity that is used to help people work together better. It's an interactive game where you and the other members of your team must work together to locate clues and solve puzzles. If you want to leave the room before the given time is up, you're going to need to remain calm and act quickly.
Leisure Activities
3. Giant Board Games
If you've ever wanted to play some of your favorite childhood board games in a larger, flashier setting, Giant Board Games Singapore is the place to go. You and your workers will enjoy playing on our enormous Jenga, Pick-Up-Sticks, Connect Four, and Snakes & Ladders game boards. You won't ever have to be concerned about uncomfortable silences again with icebreakers from Giant Board Games SG.
4. Yacht Rental
Are you seeking a special location to mark a significant occasion? The fastest and most convenient way to get to Singapore is via boat rental. Selecting a cruise will allow you to escape the bustle and commotion of the city for a more intimate anniversary celebration or proposal night. A typical method to offer a loved one an experience you both will remember fondly for years to come is to rent a boat.
Adventure Activities
5. Saber Tag®
You might raise the stakes of the game by fighting players on the other side while using combat sabers to complete different game goals. take part in missions such as Saber Wars and Defenders of the Galaxy. This thrilling game is great for exercising at work and providing entertainment at birthday parties. Saber Tag® is one of the most exciting team-building activities in Singapore and will provide you with a once-in-a-lifetime chance to bond. This opportunity only comes once in a lifetime.
6. Giant Whack-A-Mole
The Giant Whack-A-Mole from FunEmpire is a fantastic team-building exercise. Giant foam moles that stick out of the ground are used in the game, which requires participants to crush them with a big foam hammer. Playing this game with your friends or family would be fun. This game is great for getting people together and having fun. Your next indoor team building activity in Singapore will go well.
7. Ninja Tag
Would you like to do something fun and novel while visiting Singapore? Everything you need is Ninja Tag from FunEmpire. To win this hard challenge, teams will need to use all of their brains, strength, and problem-solving skills.
The goal is to navigate over various obstacles without being tagged by the other side. To raise the stakes, each player has sensors that will turn on if they are tagged. This fun fun team building activity is great for fostering collaboration and cross-cultural communication. Ninja Tag from Fun Empire lets you get in on the action straight away!
8. Laser Tag
One of the distinctive features offered by FunEmpire is laser tag. It could be simpler for team members to communicate with one another and cooperate in order to accomplish their objectives. You must have the most modern laser guns, vests, and other equipment to play laser tag. The players are instructed to pass across the area unseen by the other side and to employ stealth to get the upper hand in the next stage. Both adults and children may socialize and have fun in this environment.
9. SaberFit
SaberFit, the world's first high-energy group fitness class, could help you find your inner warrior. It's not only a fun game for everyone to engage in social interaction and excellent team building activity together, but it's also unique in that it incorporates amazing team-building activities like dueling in pairs. If you want to do something special and memorable for your next corporate event or activity in Singapore, this is perfect!
10. Bubble Soccer
Bubble soccer is a new and exciting sport that can be played at FunEmpire in Singapore. It is great for people who want to have fun while also improving their social and cognitive skills. To play, players must blow up a bubble and ride it to different spots on the field and to the goal.
Bubble soccer is a high-energy sport that requires a lot of physical effort and puts a lot of emphasis on players working together. Bubble Soccer is a mix of friendly competition and funny shenanigans that will make your next online get-together one for the record books.
11. Poolball
Bubble soccer is a new and exciting sport that can be played at FunEmpire in Singapore. It is great for people who want to have fun while also improving their social and cognitive skills. To play, players must blow up a bubble and ride it to different spots on the field and to the goal.
Bubble soccer is a high-energy sport that requires a lot of physical effort and puts a lot of emphasis on players working together. Bubble Soccer is a mix of friendly competition and funny shenanigans that will make your next online get-together one for the record books.
12. Combat Archery Tag
Battle Archery Tag from FunEmpire is unlike any other game because it lets players fight in fierce battles while also improving their archery skills. Singaporeans are becoming more interested in this mix of dodgeball, paintball, and archery.
In order to win, successful teams will work together and make good decisions. In Combat Archery Tag, players try to tag members of the other team by shooting them with their bow and arrows. Players can do better if they learn to aim and shoot arrows with pin-point accuracy. Teams must work well together to win this tough battle.
13. Bullet Ball
Do you ever make an effort to try something new? For your next Singapore team building event, try FunEmpire's Bullet Ball, an exhilarating and competitive twist on the time-honored game of dodgeball. Due to the fact that it offers a high-octane rush at an affordable price, it is a product that will appeal to all customers.
Other Outdoor Team Building Activities
14. Puzzle Mania
Puzzles are not only a fun and engaging activity, but they can also serve as a powerful tool for team-building exercises. When you engage in puzzles, you not only exercise your problem-solving skills but also foster a sense of collaboration and camaraderie within your team.
One such puzzle game that embodies this team-building spirit is Puzzle Mania. At the beginning of the game, each team is given only a few puzzle pieces. The catch? Each team is presented with a unique problem that only they can solve. As the game progresses, teams must not only focus on solving their own puzzle but also analyze and examine the missing parts of every other team.
15. Tree Planting
Considering the alarming rate at which over 80,000 acres of forest are being cleared daily for various purposes, it presents a significant opportunity for your organization to make a positive impact on the environment. One effective initiative that you may consider is organizing a corporate tree-planting event. By taking part in this event, your team can actively contribute to the restoration and preservation of our natural ecosystems.
To get started, gather your team and strap on some comfortable footwear. Reach out to a reputable forestry company that specializes in tree planting and conservation efforts. Collaborating with experts in the field will ensure that the fun team building event is well-organized and maximizes its environmental impact.
16. Cardboard Boat Building Challenge Singapore
Get ready for an exciting team-building activity! We will be constructing boats using only cardboard and tape. Working together as a squad, we'll put our creativity and teamwork to the test as we aim to build seaworthy vessels.
Once the entire team has completed their boats, they'll have a chance to present their arguments for why their design is superior to the others. And the ultimate challenge? A thrilling boat race where the competing teams will showcase their creations! Get ready for an unforgettable experience of collaboration, innovation, and friendly competition.
17. Hiking
When selecting an engaging corporate team building event for you and your team, take the time to carefully choose an exciting destination that offers more than just a simple stroll. Explore nearby paths that provide ample opportunities for adventure and discovery. Additionally, consider the idea of starting a hiking group within your community as a wonderful alternative. By doing so, you can create lasting memories and forge stronger bonds while immersing yourselves in the beauty of nature. Embrace the spirit of exploration and embark on a longer journey that will leave you feeling invigorated and inspired.
18. Cornhole Tournament Singapore
Could throwing grain sacks at each other while working enhance team cohesion? It is indeed a possibility, especially when this team bonding event takes place in the context of a team-based competition with numerous matches, brackets, and divisions, accompanied by a large number of colleagues cheering them on.
Engaging in such a spirited endeavor not only promotes camaraderie and unity among team members but also fosters a sense of shared purpose and collective achievement. By participating in this unique and exciting activity, individuals have the opportunity to bond, develop trust, team performance, and foster strong relationships, ultimately leading to a more cohesive and collaborative work environment.
So, why not consider incorporating this fun and interactive practice into your team-building initiatives to boost morale and foster stronger connections among your colleagues?
19. Rock Climbing Singapore
Consider the difficulty of a rock climb as the ultimate test of a couple's compatibility. It is not just about physical strength, but also about trust, communication, and mutual support. Each member of the group plays a crucial role in helping others maintain their balance as they face the challenges that rock climbing demands on their bodies and minds. The act of climbing together strengthens the bond between partners, as they navigate through obstacles and conquer fears side by side.
Moreover, when you earn someone's confidence through such shared experiences, establishing a firm deadline or asking them to fulfill a challenging task won't seem like such a tall order. The trust and respect that have been built will serve as a solid foundation for effective collaboration and achieving shared goals. So, next time you embark on a rock climb with your partner, remember that the journey not only tests your physical abilities but also strengthens your relationship in ways you might not have imagined.
20. Ringolevio Singapore
Team building at work is akin to navigating conflicts on a playground. It resembles a thrilling and collaborative game where one team endeavors to locate and apprehend members of the opposing team, who, in turn, strive to evade capture. Unlike traditional hide-and-seek, this dynamic game fosters teamwork and unifies a diverse group of individuals into a cohesive unit.
Through strategic coordination and effective communication, participants are empowered to forge strong bonds, enhance problem-solving skills, and cultivate a supportive and resilient work environment. Engaging in such corporate team building activities not only promotes camaraderie but also cultivates a sense of belonging and shared purpose among colleagues, ultimately driving productivity and success.
21. The Egg Drop Singapore
The egg drop is a popular and engaging activity that can be enjoyed by both small and large groups. It challenges teams to think creatively and work collaboratively within a limited timeframe to design and construct a structure capable of protecting a raw egg from breaking when dropped from a significant height. The catch is that teams are only allowed to use straws, cardboard, and duct tape, adding an extra layer of difficulty to the task.
Once the structures are completed, each team presents their masterpiece, explaining the reasoning behind their chosen design and how it will effectively safeguard the egg upon impact. This not only encourages critical thinking and problem-solving skills but also fosters effective communication as teams articulate their design choices and strategies.
22. Paintball Singapore
Paintball is an exhilarating and action-packed activity that is perfect for groups. Gather your friends, family, or colleagues and embark on an adventure that will test your teamwork, strategy, and bravery.
Immerse yourself in the thrill of the game as you work together with your teammates to outmaneuver the opposing team. Navigate through challenging terrains, strategize your moves, and communicate effectively to achieve your objectives and company values.
Engage in adrenaline-pumping battles, as you dodge incoming paintballs, take cover, and make tactical decisions to outwit your opponents. The excitement builds as you aim, shoot, and hit your targets while trying to avoid being hit yourself.
23. Dragon Boat Singapore
Engage in this exciting and immensely rewarding corporate team building activity that will not only unite your group but also put their energy, commitment, and communication skills to the test. Dragon boating, a fantastic outdoor pursuit, offers a unique opportunity to bond while getting a sun-kissed glow. As your group paddles together towards victory, they will witness firsthand the remarkable synergy that can be achieved through teamwork and collaboration. Experience the thrill and camaraderie of dragon boating and create lasting memories with your group.
24. Human Foosball Singapore
Step into the action with our life-sized Foosball table, an exhilarating experience that takes the game to a whole new level. Imagine being immersed inside a colossal foosball table, surrounded by towering walls, with players on each side gripping their poles, ready to unleash their skills. Feel the adrenaline rush as you maneuver your team, strategizing and coordinating every move to outscore and outmaneuver your opponents. The competition intensifies as you try to defend your goal while simultaneously aiming for the perfect shot. This unforgettable adventure offers an unparalleled level of engagement, bringing the thrill of foosball to life like never before. Get ready to create lasting memories and embark on an epic journey that will leave you craving for more foosball excitement!
25. Treasure Hunt Singapore
If you enjoy being challenged and have a knack for thinking like a detective, then Singapore's thrilling team-building activity is a must-try! Engage in a captivating treasure hunt experience where teams decipher clues to uncover hidden items. This exhilarating adventure not only fosters camaraderie among coworkers but also enhances their collaborative skills, all while providing an unforgettable experience that will leave a lasting impact. Witness firsthand as bonds strengthen, and individuals work harmoniously together, creating a dynamic and cohesive team environment. Don't miss out on this exciting opportunity to unlock the full potential of your team!
26. Dance Challenge Singapore
Embark on an amazing journey to master the art of basic choreography for hip hop, K-pop, and more! Join us and discover the secrets behind captivating dance routines. By the end of your session, you'll possess the skills to flawlessly execute a complete routine, leaving no room for any challenges.
Not only is this a fun and enjoyable experience, but it also serves as a creative team-building activity in Singapore. Through this immersive program, participants will not only learn how to dance but also how to collaborate effectively, fostering a stronger sense of teamwork.
Step up to the challenge and embrace the opportunity to enhance your work culture like never before. Unleash your inner dancer and let the power of movement bring a positive transformation to your professional environment. Let's dance our way into a better work culture together!
27. Giant Beer Pong Singapore
Are you ready to embark on the ultimate team-building activity? Get ready for an unforgettable experience as you take beer pong to a whole new level with giant "beer cups" and oversized ping-pong balls. The objective is simple yet thrilling: strategically aim and toss the ball into your opponents' set of colossal beer cups, and watch as the excitement unfolds. But here's the twist – you'll need to skillfully maneuver the cups out of the way when you successfully score!
Gather your friends and prepare for a night filled with laughter, friendly competition, and a series of exhilarating games that will keep you entertained and craving for more. This unique twist on a classic favorite is guaranteed to create lasting memories and strengthen the bonds of your team. Get ready for an epic adventure that will leave you with stories to tell and a sense of camaraderie like never before. Let the team building games begin!
28. Tug of War Singapore
Experience the ultimate team-building activity that will put your collective thinking and coordination skills to the test. This engaging challenge pushes individuals to collaborate effectively, fostering a sense of unity and driving towards success. Whether you have a large group or a small team, this activity accommodates everyone, embracing participation from all. And the best part? It's not just about winning, it's about the exhilarating journey. Join us now and discover firsthand what all the excitement is about!
29. Running Man Games Singapore
Are you ready for an exhilarating experience like no other? Get ready to immerse yourself in the thrill of Running Man-inspired games! From the energy-packed Shake It Off challenge to the hilarious Water Piggyback race, and all the way to the exciting Photozone mission, there's no shortage of excitement and laughter.
These best team building activities are designed to create enduring memories and foster strong bonds within your team. Whether you're a group of friends, colleagues, or teammates, this action packed game will have everyone in stitches, enjoying unforgettable moments together. So, gather your squad and get ready to embark on a fun-filled adventure that will leave you with stories to tell for years to come!
30. Domino Challenge Singapore
In the Domino Challenge, a highly popular team-building activity, individuals are tasked with the exciting mission of working together harmoniously to meticulously arrange a series of dominoes in the precise order, all without the slightest mishap of accidentally toppling them over. This captivating exercise not only serves as an engaging pastime but also offers a valuable lesson in the significance of effective collaboration and seamless communication. Through this extraordinary challenge, different teams embark on an enlightening journey that unveils the true essence of teamwork, fostering an environment of synergy and cooperation.
Outdoor Team Building Activities Singapore
Some of the greatest outdoor team building activities in the world can be found in Singapore. There are many activities you may pick from to create a fun experience that can improve connections among your workers, from laser tag and Saberfit to rock climbing and cardboard boat making tasks.
Not only may these thrilling team building activities promote trust among team members, but they can also open up fresh ideas on problem-solving techniques and foster unconventional thinking. With so many enjoyable and interesting options for spending time outside with colleagues in Singapore, now is the ideal time to organize a fantastic day out!
If you're looking for more recommendations, you can check out our other posts below:
Frequently Asked Questions (FAQ)
If you have any questions about Outdoor Team Building Activities in Singapore, you can refer to the frequently asked questions (FAQ) about the best Outdoor Team Building Activities in Singapore below:
What are the best Outdoor Team Building Activities in Singapore?
The best Outdoor Team Building Activities in Singapore include escape room, bubble soccer, laser tag, saberfit, cooking team building activity, rock climbing, cardboard boat-making tasks, and other activities that promote trust among team members. They also provide opportunities for all other teams to practice problem-solving techniques and foster unconventional thinking. Outdoor activities are a great way for coworkers to get to know each other better while having fun and enjoying Singapore's natural beauty.
How do I choose an outdoor team building activity that suits my group?
When choosing an outdoor team building activity that suits your group, it is important to consider the size of your group, the level of physical activity they are comfortable with, and interests among team members. You should also make sure the activity provides a chance for people to get to know each other better while having fun and enjoying their time together. Ask the team what types of activities they would most enjoy, and consider activities that promote trust, teamwork, and collaboration. Lastly, look for activities that give highly energetic teams a chance to practice problem-solving skills, strategic thinking, and encourage them to think outside the box.
Are there any water activities suitable for team building in Singapore?
Yes, there are many water activities suitable for team building in Singapore. These include boating, kayaking, dragon-boat racing, rafting, and sailing. These activities encourage teamwork and communication, as the whole team needs to work together to paddle or sail efficiently. Additionally, they also help build trust among teammates as each team member has to rely on their peers for success! Finally, these favourite team building activities help participants appreciate the beauty of Singapore's waterscapes while having fun outdoors.
Is there an ideal group size for outdoor team building activities?
Most outdoor team building activities can accommodate a wide range of group sizes. Whether your group is small or large, there will certainly be activities that suit your needs. Some activities may require a minimum number of participants for the best experience, so it's recommended to check with the activity provider about any such requirements.
Do we need any specific equipment or clothing for these outdoor team building activities?
Generally, participation in outdoor team building activities requires comfortable clothing and shoes suitable for physical activity. Some specific activities may require additional equipment, which is often provided by the activity provider. However, it's always a good idea to confirm this in advance. If your team will be participating in water activities, don't forget to bring swimwear and towels.
What if it rains on the day of our outdoor team building activity?
Most outdoor activity providers have contingency plans in place for inclement weather. This can range from providing rain gear, rescheduling the activity, or having an indoor backup plan. It's important to discuss these possibilities with your provider when planning your team building activity.
Are outdoor team building activities safe?
Yes, outdoor team building activities are generally safe. Providers of these activities take necessary precautions to ensure the safety of participants. This includes providing safety equipment, conducting safety briefings, and having trained staff on hand to supervise activities. However, as with any physical activity, there is always some level of risk involved, so participants should listen to instructions and take care to ensure their own safety and that of their team members.
Can we customize our outdoor team building activities?
Yes, many providers allow for customization of team building activities to better match your team's needs, interests, and objectives. It's best to discuss this with your provider during the planning stage to ensure a memorable and effective team building experience.
What if some team members have physical limitations?
Providers often offer a range of activities to cater to all fitness levels and physical capabilities. When booking, it's important to discuss any physical limitations within your team so appropriate accommodations can be made.
How long does a typical team building activity last?
The duration of outdoor team building activities can vary greatly depending on the activity itself. On average, you can expect an activity to last anywhere between 2 to 4 hours, but full-day options are also available.
Are there any team building activities that also incorporate sightseeing?
Absolutely! Many outdoor activities in Singapore leverage the city's stunning scenery and landmarks. Your team can enjoy activities that combine team building with elements of a city tour, offering a fantastic way to explore and bond.
Are food and drinks usually included in these activities?
Typically, meals and drinks are not included in the package for team building activities. However, some providers may offer catering options at an additional cost. Be sure to check with your activity provider about food and drinks.
Are there any night-time outdoor team building activities?
Yes, there are outdoor team building activities that can be conducted at night. Some activities like night walks, campfires, and star gazing are perfect for fostering teamwork and camaraderie under the stars. However, the availability of these team bonding activities may depend upon the season and weather conditions.
Additional Useful Articles
If you are looking for other useful guides and articles about Outdoor Team Building Activities in Singapore, check them out below: