Peranakan Food Singapore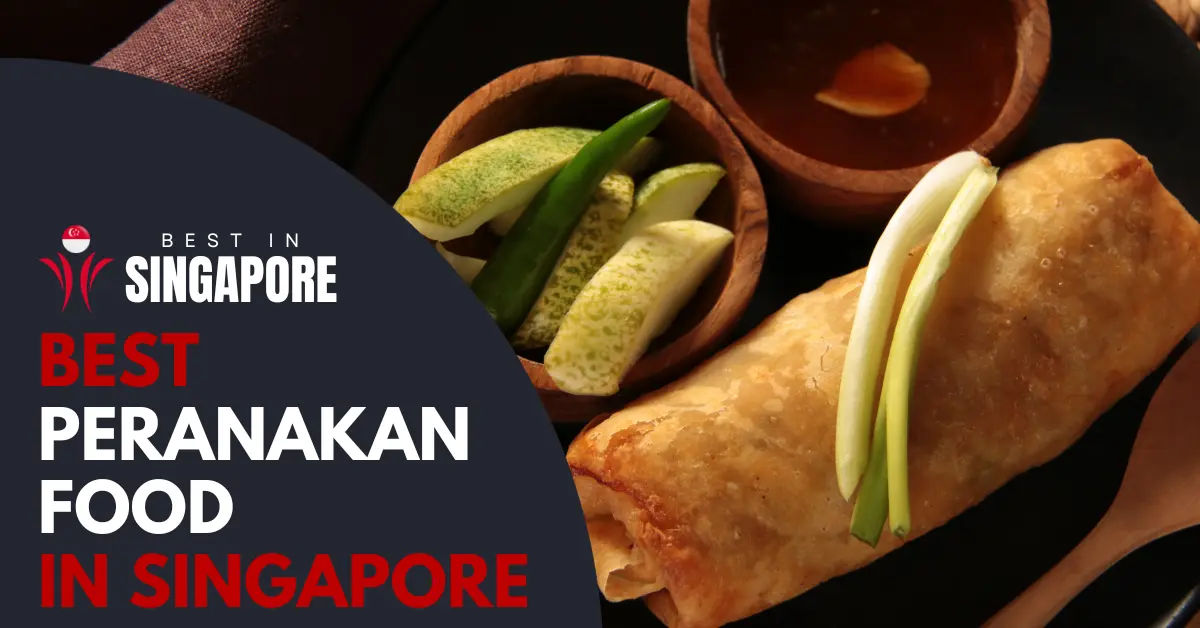 Peranakan cuisine, a perfect blend of Chinese, Malay, and Indonesian flavors, is a vibrant and integral part of Singapore's multifaceted culinary landscape.
The best restaurants that serve authentic Peranakan food in Singapore are The Peranakan, Straits Chinese Nonya Restaurant, Violet Oon, Godmama Peranakan Restaurant, and Nana's Delights.
When selecting a restaurant in Singapore for Peranakan cuisine, take into account elements including service quality, reputation, menu offerings, price range, customer reviews, and overall dining experience.
Peranakan food, known as Nyonya cuisine, is a significant part of the culinary heritage of the Peranakan community. This unique cuisine, created by the Straits-born Chinese, features a delightful mix of spices, flavors, and textures. From savory to sweet, Peranakan dishes offer a diverse range of flavors that are sure to satisfy any palate.
In this guide, we will uncover the top Peranakan spots you must try when in Singapore, taking you on a journey through the rich tapestry of flavors that define this unique cuisine.
Quick Summary
Best restaurants that serve Peranakan food in Singapore are The Peranakan, Straits Chinese Nonya Restaurant, Violet Oon, Godmama Peranakan Restaurant, and Nana's Delights.
When choosing a restaurant for Peranakan food in Singapore, consider factors such as quality of service, reputation, menu, price, reviews, and service quality.
Peranakan food, also referred to as Nyonya cuisine, holds a special place in the culinary heritage of the Peranakan community, consisting of Straits-born Chinese. With its rich blend of spices, flavors, and textures, it offers a diverse range of dishes that tantalize the palate.
Key Consideration Factors
When choosing which restaurant to go, make sure to consider these things:
Quality of Service & Food: It is essential to select a restaurant that offers excellent service with properly cooked and presented dishes.
Reputation: Check the reviews online for customer experiences at the particular restaurant to get an idea of its quality.
Menu: Is it extensive enough? Does it have enough variety?
Price Range: You want to ensure that the restaurant you're choosing offers affordable prices and value for money.
Key Consideration Factors
When choosing where to go, make sure to consider these things:Refer to reviews or customer feedback online to get a better understanding of the overall quality of food and service offered at the restaurant.
Best Peranakan Food Singapore
1) Violet Oon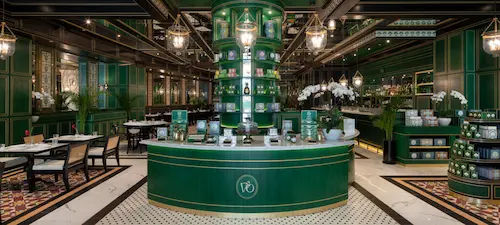 Violet Oon is famous for its captivating ambiance and internationally recognized spices that create a delightful aroma, guaranteeing a truly exquisite dining experience.
With a wide variety of culinary options influenced by different gastronomic traditions, they cater to a diverse range of palates.
Immerse yourself in the enchanting atmosphere of their beautiful long bar or open-grill area, and explore their exceptional collection of gourmet snacks and souvenirs.
2) Straits Chinese Nonya Restaurant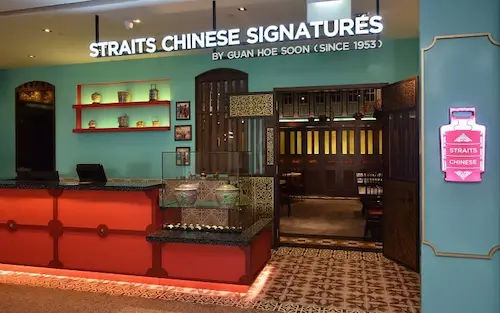 Key Services
Nonya Cuisine
Website
http://www.straitschinese.com/
Address
Esplanade Theatres
8 Raffles Ave #02-21 Singapore 039802
Cecil Street
133 Cecil St #B1-01 Singapore 069535
Joo Chiat
38/40 Joo Chiat Place Singapore 427764
Mactaggart
20 MacTaggart Road Singapore 368079
Phone
6339 3683 / 6225 8683
Operating Hours
Daily: 11:00AM-3:00PM, 6:00PM-9:00PM
Established in 1953, Straits Chinese Nonya Restaurant holds the distinction of being Singapore's pioneer nonya restaurant. They take immense pride in their culinary mastery, evident in their careful curation and utilization of the finest ingredients, a tradition that has been handed down through generations. This unwavering dedication to excellence guarantees a dining experience like no other, truly unique in every aspect.
3) The Peranakan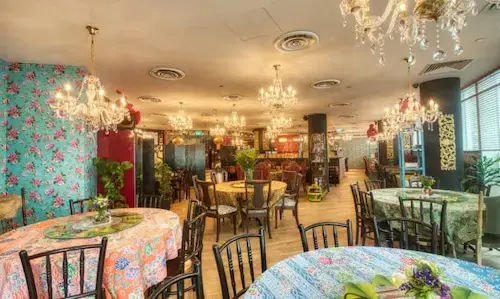 | | |
| --- | --- |
| Key Services | Home-made Peranakan dishes |
| Website | https://www.theperanakan.com/ |
| Address | 442 Orchard Road Level 2 Claymore Connect Singapore 23887 |
| Phone | +65 6262 4428 |
| Operating Hours | Monday-Sunday (11:00AM – 10:00PM) |
Discover the pinnacle of culinary perfection at The Peranakan in Singapore. Get ready to be captivated by their exquisite cuisine, which highlights a tantalizing menu showcasing succulent roast suckling pig and fish delicately wrapped in banana leaf.
Embark on a delightful gastronomic journey as you indulge in their festive menu, a harmonious symphony of flavors crafted with utmost love and passion. Delight in a delightful 6 to 8-course culinary experience that will leave your taste buds euphoric with joy.
But wait, there's more! The Peranakan goes above and beyond by offering catering services for all your special occasions. Be it a wedding, birthday, or any memorable event, they will make it truly extraordinary.
4) Tingkat PeraMakan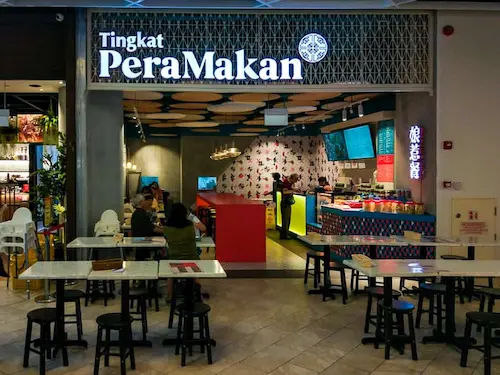 Indulge in an extraordinary Peranakan feast with your loved ones at Tingkat PeraMakan! Step into a world of authentic flavors and heartwarming nostalgia.
Experience a culinary journey like no other, as Tingkat PeraMakan delights in serving peranakan food. From savory meat dishes to enticing vegetarian options, there's a perfect meal package to suit every palate.
Prepare to be enchanted by the tantalizing aromas and expertly crafted dishes, meticulously prepared by our talented chefs. Let Tingkat PeraMakan whisk you away to a realm of gastronomic bliss, where every bite tells a story.
5) Guan Hoe Soon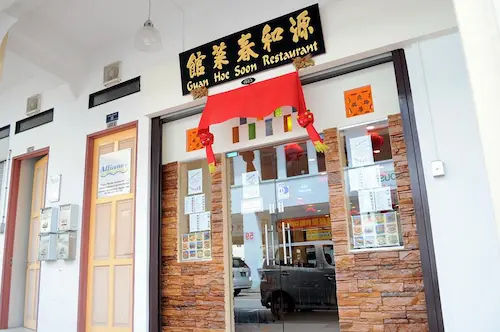 | | |
| --- | --- |
| Key Services | Affordable restaurant |
| Website | https://www.guanhoesoon.com/ |
| Address | 40 Joo Chiat Pl, Singapore 427764 |
| Phone | +65 6344 2761 |
| Operating Hours | Daily, 11:00am to 3.00pm, 6:00 to 9:30pm |
Step into the rich history and flavors of Singapore with Guan Hoe Soon restaurant, an iconic Peranakan dining destination. For decades, this renowned establishment has been captivating taste buds and hearts with its exquisite cuisine.
Prepare to be enchanted by a diverse menu, offering tantalizing options such as mouthwatering fish, succulent beef rendang, and flavorful vegetable dishes. And the best part? It's all surprisingly affordable, starting from just $15.
Indulge in a remarkable dining experience that seamlessly blends quality and affordability. Guan Hoe Soon restaurant is waiting to delight you with its culinary wonders.
6) Baba Chews
Key Services
Signature local Peranakan menu
Website
http://babachews.com.sg/
Address
86 East Coast Road Katong Square (S) 428788
Phone
6723 2025
Operating Hours
Weekdays: 7:30am–2:30pm, 6–11pm
Weekends: 7:30am–11pm
Indulge in the culinary brilliance of Baba Chews! Renowned for its unparalleled Peranakan cuisine, this gem in Singapore seamlessly blends tradition and modernity. Prepare to be enchanted by their exquisite variety of dishes, from authentic Peranakan cuisine to innovative Peranakan food creations.
But wait, there's more! Baba Chews also offers a mouthwatering selection of Western favorites, paired with an extensive range of tempting beverages, including a delightful array of alcoholic options.
Get ready for an unforgettable dining experience that will leave you yearning for more. Let their signature creations, meticulously prepared with a harmony of flavorful ingredients, transport your taste buds to new heights. Come and experience the magic of Baba Chews!
7) Candlenut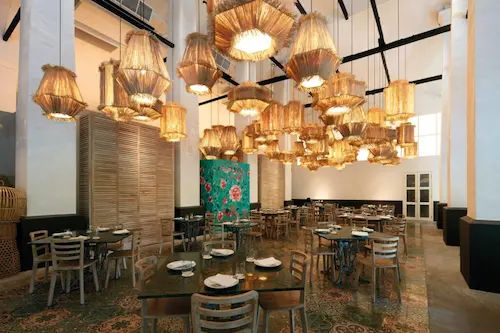 Key Services
Seasonal Peranakan menu
Website
https://comodempsey.sg/restaurant/candlenut
Address
Block 17A Dempsey Road, Singapore 249676
Phone
+65 8121 0176
Operating Hours
LUNCH, MON – SUN
12:00PM – 3:00PM
(Last seating 2:30PM; last order 3:00PM)DINNER, SUN – THU
6:00PM – 10:00PM
(Last seating 9:30PM; last order 10:00PM)DINNER, FRI, SAT AND EVE OF PUBLIC HOLIDAYS
6:00PM – 11:00PM
(Last seating 10:30PM; last order 11:00PM)
Experience the culinary magic at Candlenut, an acclaimed Peranakan place with a Michelin star. Their expertise shines through in their seamless fusion of modern elements with traditional flavors, creating a delightful gastronomic adventure.
From authentic dishes to innovative creations, every bite caters to diverse tastes and guarantees utmost satisfaction. Indulge in an unforgettable dining experience that will leave you craving Peranakan food even more!
8) House of Peranakan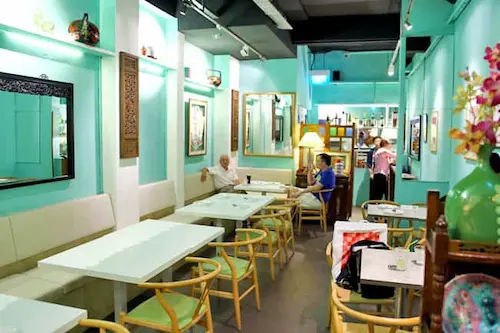 | | |
| --- | --- |
| Key Services | Authentic Peranakan Food |
| Website | http://houseofperanakan.com.sg/ |
| Address | East Coast Road, Singapore 428909 |
| Phone | 64406195 |
| Operating Hours | Daily, 11am-3pm, 6pm-10pm |
For several decades, from the vibrant 1980s to the present day, the House of Peranakan has stood as a revered guardian and passionate promoter of the rich culinary heritage of Peranakan culture.
With a legacy spanning three generations, this esteemed group of restaurants has emerged as a pioneering force in Nonya cuisine, led by a direct descendant of Peranakans.
Their unwavering dedication to preserving and celebrating the vibrant flavors and cherished traditions of Peranakan culture has elevated them to an iconic and beloved institution in the culinary world. Get ready to embark on a tantalizing journey of exquisite tastes and cultural treasures!
9) Popo and Nana's Delights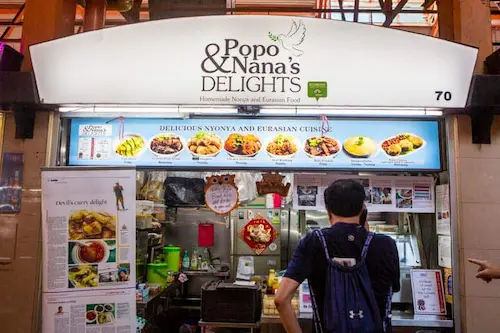 After honing her culinary skills in preparing mouthwatering Eurasian and authentic Nyonya cuisine for her family, Chef Grace Chin took a bold step into entrepreneurship in 2014, encouraged by her relatives' unwavering support.
Currently, Grace passionately curates a diverse selection of delightful, MSG-free Eurasian and Peranakan dishes for her valued customers, with the invaluable assistance of her talented brother, Christopher.
Together, they create culinary marvels that tantalize taste buds and leave a lasting impression on every fortunate visitor who indulges in their creations.
10) Godmama Peranakan Restaurant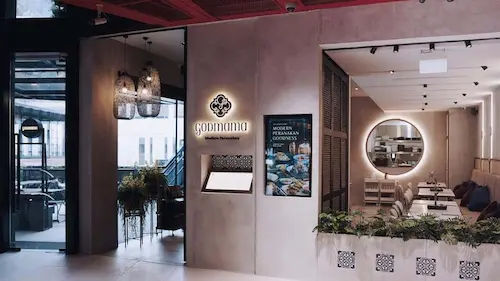 Key Services
Modern Peranakan cuisine
Website
https://godmama.sg/
Address
Funan, #04-07
107 North Bridge Road
Singapore 179097
Phone
+65 6970 0828
Email
hello@godmama.sg
Operating Hours
LUNCH: 11am – 3.30pm
DINNER: 6pm – 10pm
Godmama offers a delightful culinary experience by fusing modern and traditional Peranakan cuisine. Known for its exceptional blend of contemporary and ancient flavors, Godmama has cemented its position as one of Singapore's premier dining destinations.
Immerse yourself in their vibrant and colorful setting, where they expertly showcase both classic Nyonya dishes and inventive creations that celebrate the richness of Peranakan cuisine.
With their contemporary approach and meticulous attention to detail, Godmama promises a gastronomic journey that pays homage to Singapore's culinary heritage.
Peranakan Food Singapore
In conclusion, Singapore's delicious Peranakan food scene is a captivating blend of age-old traditions and modern interpretations, preserving a rich culinary heritage while embracing the dynamism of contemporary gastronomy.
From time-honored establishments to innovative newcomers, these remarkable restaurants each contribute uniquely to the rich tapestry of Nonya cuisine.
Offering a myriad of delightful flavors to explore, they provide a gastronomic adventure that is not only a feast for the palate, but also a journey into the heart of Singapore's vibrant Peranakan culture.
Frequently Asked Questions (FAQ)
If you have any questions about Peranakan Food in Singapore, you can refer to the frequently asked questions (FAQ) about the best Peranakan Food in Singapore below:
What are the best restaurants that serve Peranakan food in Singapore?
The best restaurants that serve Peranakan dish in Singapore are Violet Oon, Popo and Nana's Delights, Straits Chinese Nonya Restaurant, The Peranakan, and Godmama Peranakan Restaurant.
What is Peranakan cuisine in Singapore?
In Singapore, Peranakan cuisine is a delightful fusion of Chinese and Malay culinary traditions, harmoniously blending the authentic flavors from both cultures. This culinary heritage encompasses a variety of dishes, including laksa, ayam buah keluak, beef rendang, and nasi ulam.
What is the main dish of Peranakan?
Ayam buah keluak is the star of Peranakan cuisine, featuring flavorful fried chicken wings cooked in a spicy black nut paste. This dish is typically enjoyed with steamed white rice or nasi lemak. Other popular dishes include babi pongteh, beef rendang, Babi Assam, and sambal goreng.
What are Peranakan food ingredients?
It often consist of a combination of aromatic spices like lemongrass, galangal, and turmeric, along with a range of fragrant herbs and aromatics such as shallots, garlic, and chili. Additionally, coconut milk is frequently incorporated to enhance the dish with its creamy texture and rich flavor.
Where can I find authentic Peranakan food in Singapore?
There are several restaurants in Singapore that specialize in serving authentic Peranakan dish. Some popular options include Chilli Padi Nonya Restaurant, Charlie's Peranakan Food, True Blue Cuisine, and Violet Oon Singapore.
Are there any Michelin-starred Peranakan restaurants in Singapore?
Yes, Singapore is home to Michelin-starred Peranakan restaurant. One notable example is Candlenut, which has received recognition for its exceptional Peranakan cuisine.
Where can I find modern Peranakan cuisine in Singapore?
If you're looking for a modern twist on Peranakan cuisine, you should visit restaurants like Violet Oon Singapore or The Blue Ginger. These establishments offer innovative creations that blend traditional flavors with contemporary techniques.
Which restaurant serves grilled sambal barramundi, a popular Peranakan dish?
To savor the deliciousness of grilled sambal barramundi, you can head to True Blue Cuisine. They specialize in serving traditional dishes, including this flavorful grilled fish preparation.
Can you recommend a place for traditional Peranakan dishes, such as buah keluak fried rice and nyonya fried chicken wings?
For authentic and traditional food, you should consider visiting places like Chilli Padi Nonya Restaurant or The Peranakan. They offer a wide range of traditional Peranakan dishes, including buah keluak fried rice and nyonya fried chicken wings.
Where can I enjoy an ayam buah keluak burger, a unique Peranakan creation?
To try the innovative ayam buah keluak burger, make your way to Candlenut. They are known for their creative interpretations of Peranakan cuisine, combining traditional flavors with modern concepts.
Where can I find a hearty Peranakan meal, including dishes like tiger prawn laksa pasta and tamarind fish curry?
Indulge in a hearty Peranakan meal at restaurants like Folklore or Violet Oon Singapore. These establishments serve a variety of traditional food, such as tiger prawn laksa pasta, curry fish head, ayam curry kapitan, assam prawns, and tamarind fish curry, ensuring a satisfying dining experience for food enthusiasts.
Additional Useful Articles
If you are looking for other useful guides and articles about Peranakan Food in Singapore, check them out below: