Picnic Singapore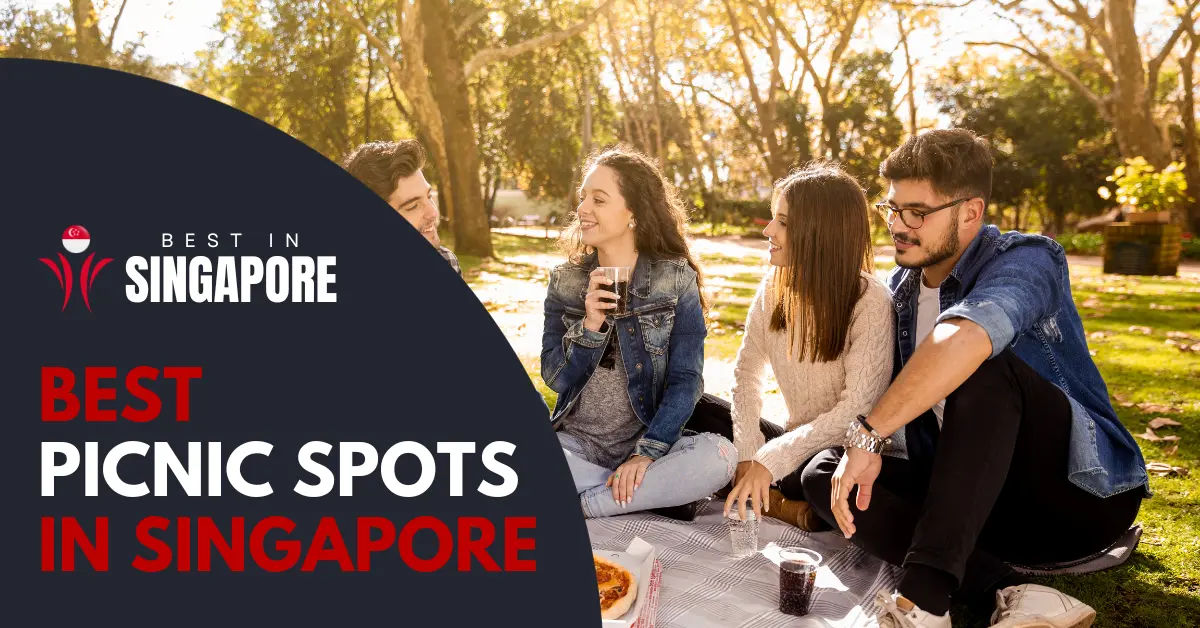 Singapore, a vibrant city-state known for its towering skyscrapers and bustling city life, also boasts numerous picturesque locations ideal for picnicking.
The best spots for picnics in Singapore are Fort Canning Park, Jurong Lake Gardens, Pasir Ris Park, Gardens by the Bay, and Punggol Waterway Park.
When searching for a picnic spot, be sure to consider the available activities, location, ambiance, and amenities.
The picnic areas in Singapore provide a wonderful combination of green landscapes, peaceful vistas, and enjoyable facilities, creating an ideal setting for a joyful and laid-back outdoor get-together.
This guide will introduce you to the best picnic spots in Singapore, ensuring your outdoor dining experience is nothing short of extraordinary.
Key Consideration Factors
When choosing which picnic spot to go to, make sure to check out these important factors such as:
Activities: Some picnic spots offer various outdoor activities like trekking, cycling, and water sports.
Location: Consider the proximity of the spot to your home or accommodation. It's best to choose a location that is easily accessible.
Ambiance: Do you prefer a peaceful and quiet location or a lively and bustling one? Choose a spot that suits your ambiance preference.
Amenities: Look for picnic spots that provide clean and well-maintained facilities, such as restrooms, sheltered areas, tables and grills.
Best Picnic Singapore
1) HortPark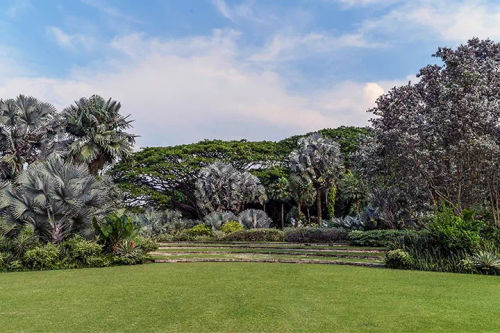 Hort Park offers a serene escape just a stone's throw away from the city. Step into a world of tranquility, where meticulously groomed lawns and breathtaking gardens enchant visitors. It's no wonder that this hidden gem has become a sought-after destination for weddings.
Venture beyond and you'll find a plethora of dining options, each catering to different tastes and cravings. From cozy cafes to upscale eateries, there's something to satisfy every palate.
And if you're in search of a romantic picnic spot in Singapore, look no further. Embrace the breathtaking sunset near Mt Faber, creating a picture-perfect setting for cherished moments.
2) Changi Bay PCN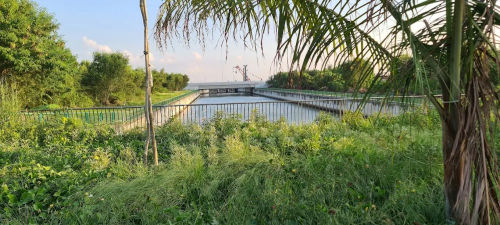 Experience the enchantment of the newly opened Changi Bay Park Connector Network! Explore meandering trails adorned with meticulously maintained lalang grass, inviting you to embark on a serene and peaceful journey.
As you leisurely walk along the charming wooden boardwalks, prepare to be mesmerized by breathtaking sea views and the stunning colors of the pink sunrise, reminiscent of the picturesque landscapes of Jeju Island in Korea.
Indulge in moments of pure joy as you find solace at well-equipped rest areas, complete with cozy wooden log benches. Alternatively, seek refuge under the comforting shade of solitary trees, providing a perfect spot for a delightful picnic. Immerse yourself in the captivating beauty of nature at the Changi Bay Park Connector Network.
3) Jurong Lake Gardens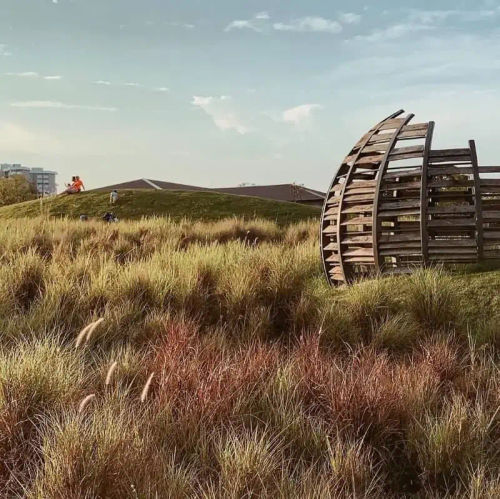 Once you experience an evening in this location, you'll develop a true appreciation for the stunning beauty that emerges when the golden light envelops everything in its warm glow. Take a moment to find a spot by the water's edge and fully immerse yourself in the picturesque scenery.
The nearby buildings and Chinese Gardens create captivating reflections on the peaceful waterfront. And if you have a furry friend, there's even a dog run where your four-legged companion can have a fantastic time.
4) Gallop Extension at Botanic Gardens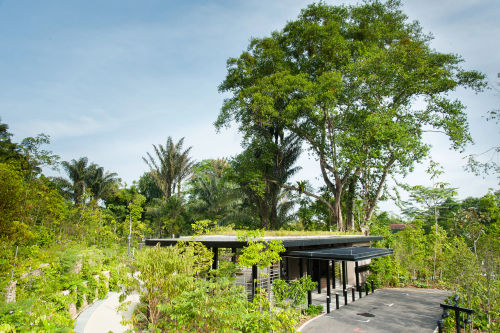 Explore the Botanic Gardens, Marina Barrage, and ECP – Singapore's well-loved picnic spots. And there's more! Rediscover the gardens and indulge in the captivating Gallop Extension. Tucked away beneath a grand colonial bungalow, this hidden treasure provides a peaceful countryside getaway. Step into a realm of tranquility, right in the bustling city center.
5) Hindhede Quarry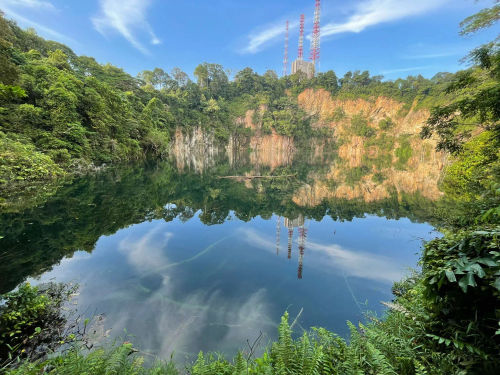 If you're looking for a serene picnic spot away from the bustling vibe of Singapore, Hindhede Quarry is an excellent option. Hindhede Nature Park is family-friendly, offering easily accessible walking trails and playgrounds, making it a perfect place to bring your children.
Moreover, the park is abundant with wildlife, allowing you to observe the graceful flight of colorful birds as they dive into the water to catch their prey.
6) Keppel Marina East Desalination Plant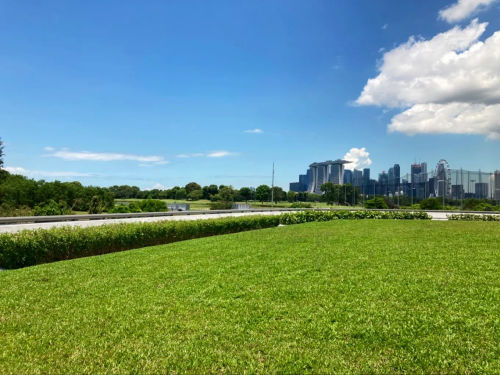 Tired of the same old routine of visiting Marina Barrage? Look no further! We have the perfect solution for you. Discover the newly opened Keppel Marina East Desalination Plant, a hidden gem that provides a refreshing alternative.
With its stunning green rooftop, you can relish panoramic views without the usual hustle and bustle or kites obstructing the sky. But that's not all – the rooftop also showcases charming water farms, adding an additional touch of serenity to your picnic outing.
7) Bishan-Ang Mo Kio Park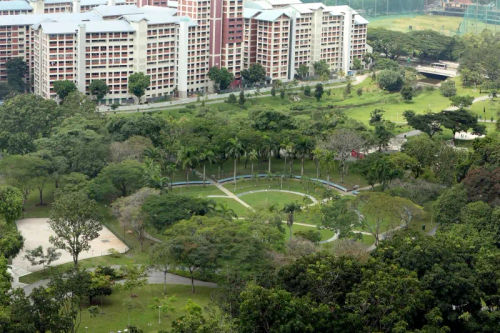 Discover the tranquil oasis of Bishan-Ang Mo Kio Park, a picturesque haven in Singapore. With its serene landscape pond and winding river, this urban park offers more than just perfect picnic spots.
Explore the enchanting Butterfly Habitat, let your furry friends enjoy the vibrant Dog Runs, and find inner peace at the serene Lotus Pond with its charming Japanese-style bridges. Unveil the hidden gems of this captivating sanctuary!
8) Punggol Waterway Park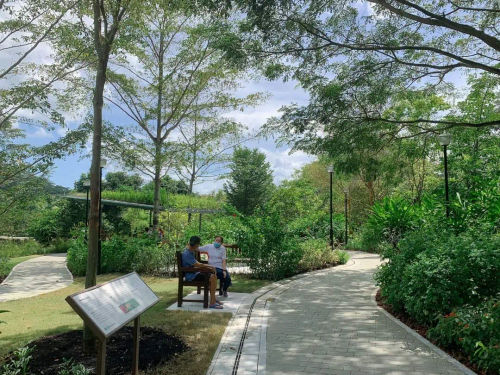 Indulge in an unforgettable picnic experience at Punggol Waterway Park! Immerse yourself in the beauty of lush greenery and picturesque bridges that offer awe-inspiring views of the Punggol waterway.
Explore the serenity of Nature Cove, where you can appreciate the waterfront and keep an eye out for otters gliding by or migratory birds soaring above.
As the day comes to an end, take a leisurely stroll to the Jewel Bridge. From this magnificent vantage point, witness the sky painted with a breathtaking sunset.
Prepare to make cherished memories in this enchanting oasis!
9) Telok Blangah Hill Park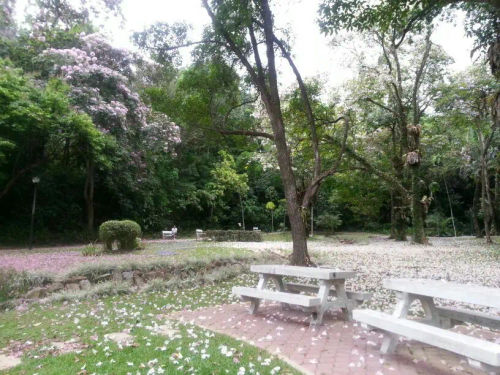 Discover the magnificence of nature at Telok Blangah Hill Park, where you can enjoy a delightful picnic surrounded by stunning flora. Take a serene journey to this park and uncover a hidden gazebo nestled on cascading stone terraces adorned with elegant steps.
During August, these terraces are adorned with vibrant Bougainvillea, creating a captivating pink landscape.
Don't forget to grab some snacks and visit this picturesque spot to immerse yourself in breathtaking views and the enchanting beauty of blooming flowers.
10) West Coast Park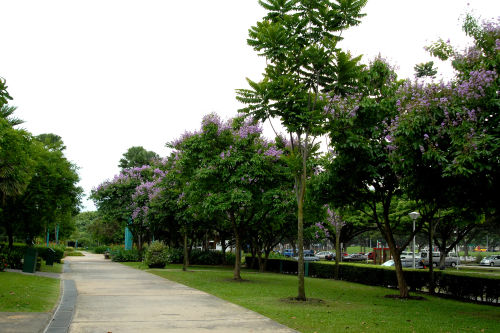 West Coast Park provides an incredible setting for families with young children to enjoy a picnic. Situated along the beautiful coastline, this park offers a wide array of activities to keep everyone entertained for hours. The sandy play area is perfect for constructing sandcastles and embarking on a treasure hunt.
Additionally, you can explore the park on bicycles using the well-maintained cycling paths, taking in the picturesque views of the surrounding nature.
And, of course, let's not forget about the beloved playground, which features an exhilarating flying fox, inviting swings, and challenging rope climbing structures.
11) Upper Seletar Reservoir Park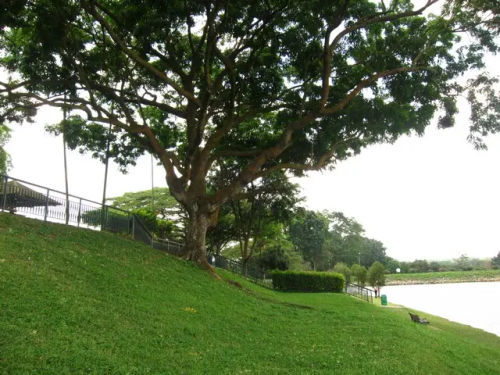 Singapore offers several picnic spots with breathtaking lake views and picturesque green surroundings, reminiscent of scenes from a travel brochure. Particularly during the tranquil sunset, as the sun gracefully descends into the water, it presents a mesmerizing sight.
Why not ask a companion to join you in savoring the fading sunset glow while sitting beneath the shade of the iconic solitary tree? It's a magical spectacle that is bound to leave a lasting impression.
12) Sungei Buloh Wetland Reserve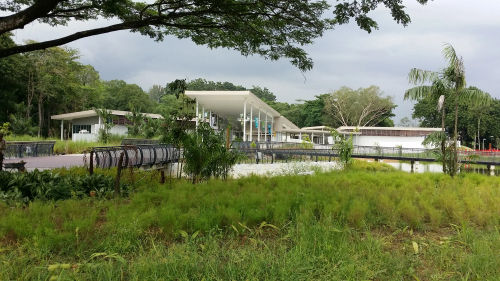 When you think of Sungei Buloh Wetland Reserve, picnicking may not be the first thing that comes to mind. However, you'll soon discover that the various benches, huts, and observation decks along the path provide ideal spots for a serene picnic surrounded by nature.
As you enjoy your meal, keep an eye out for mudskippers, unique fish, and exotic species. If you're lucky, you might even catch a glimpse of a water monitor lizard, otter, or estuarine crocodile.
13) Esplanade Roof Terrace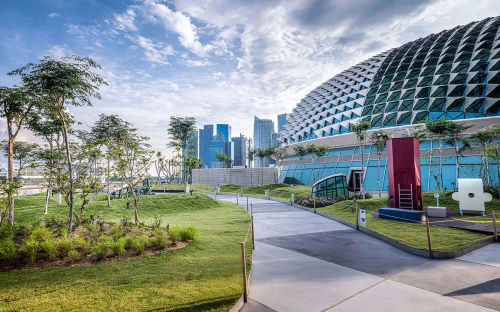 The Esplanade, not just a cultural hub of Singapore but also housing a Roof Terrace, provides a stunning vista of the Singapore River. This unique picnic spot allows you to appreciate national landmarks like the Merlion and MBS, all in a single location.
Additionally, with a plethora of dining options conveniently accessible in the city center, it is undoubtedly one of the most convenient picnic spots in Singapore.
14) Fort Canning Park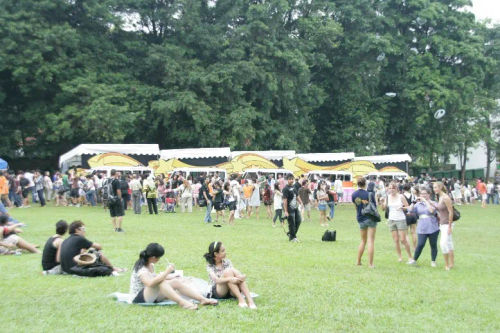 If you're a picnic lover, there are numerous open spaces to pick from, each offering fantastic spots to spread out a mat. Fort Canning Green provides a panoramic view, while seeking shade near Fort Gate offers respite from the heat.
Apart from these scenic picnic spots, you can also venture into the surroundings to uncover Singapore's historical landmarks, treat yourself to delightful goodies from Tiong Bahru Bakery, or capture breathtaking photos on the iconic spiral staircase to elevate your Instagram feed.
15) Pearl's Hill City Park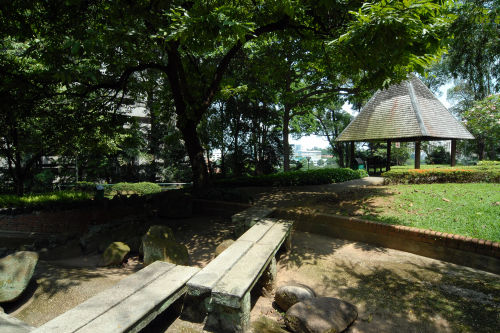 Located on Pearl's Hill Terrace, this park offers a peaceful sanctuary amidst the bustling city. Take a moment to feed the terrapins and bask in the serenity of the pond and the vibrant green surroundings, especially during the enchanting lotus flower bloom. Despite the uphill climb, it's a truly rewarding escape for those in need of a break from the urban chaos.
16) Telok Blangah Hill Park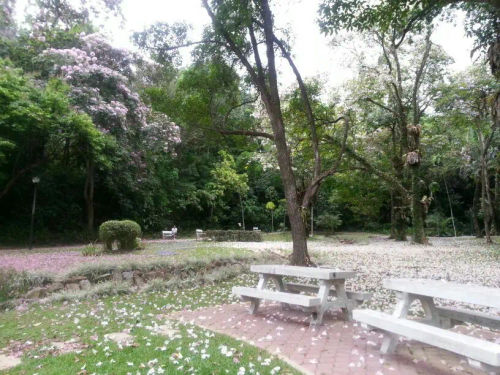 Discover the beauty of nature at Telok Blangah Hill Park, where you can enjoy a delightful picnic surrounded by stunning flora. Take a serene journey to this park and uncover a secluded gazebo nestled on cascading stone terraces, adorned with elegant steps.
In August, the terraces come alive with vibrant Bougainvillea, creating a captivating pink display. Don't forget to bring some snacks and explore this picturesque spot to immerse yourself in breathtaking views and the magic of blooming flowers.
17) Pasir Ris Park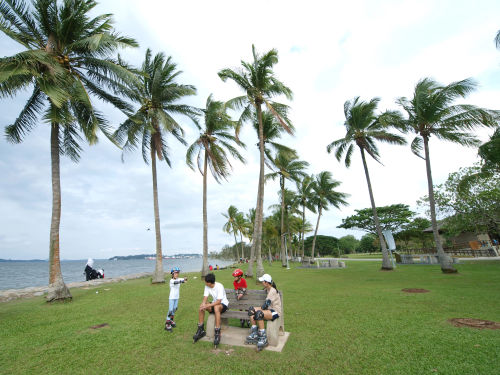 Pasir Ris Park offers more than just picnic opportunities; it presents a variety of activities. You can engage in water sports, explore a maze garden, follow nature trails, and even visit a stable to feed ponies and experience horse-riding. After exploring all that the park has to offer, you can relax and refresh with a delightful picnic on the spacious lawns and stone tables.
18) Gardens by the Bay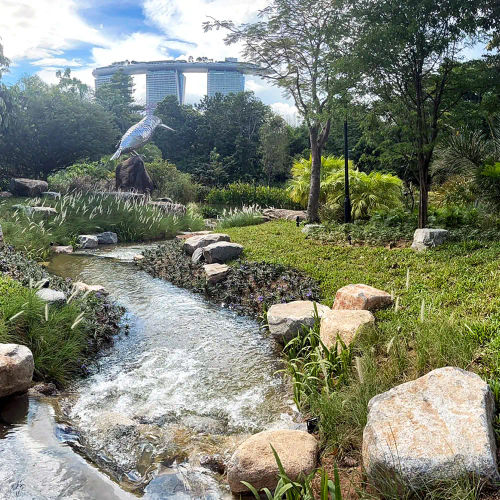 Experience the enchanting oasis of Gardens by the Bay, where expansive lawns, vibrant gardens, and abundant greenery come together to create the perfect setting for a delightful picnic. Settle down on your picnic blanket along the picturesque waterfront of Bay East Garden, with the mesmerizing Marina Bay skyline as your backdrop.
Alternatively, explore the lively realm of the new Active Garden, where you'll find a harmonious fusion of a musical playground, a communal garden, and a pet-friendly cafe. Embark on a journey of diverse encounters that will captivate your senses and create cherished memories.
19) Lazarus Island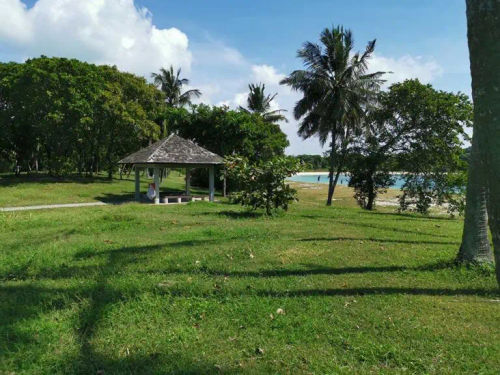 If you enjoy the invigorating sea breeze and the captivating rhythm of the waves, why not consider organizing a weekend getaway to the horseshoe-shaped beach on Lazarus Island?
Unlike the muted tones of murky green found in other well-liked coastal picnic areas in Singapore, the water here showcases a vivid and immaculate turquoise shade, creating a perfect backdrop for picnics and flying kites.
20) Changi Beach Park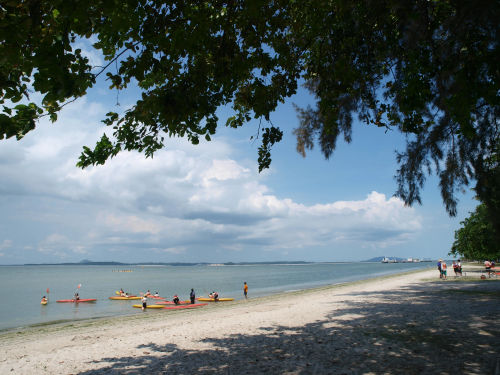 Discover the serene haven of Changi Beach Park, an idyllic spot for a delightful beach picnic. Explore this hidden gem with its picturesque sandy shores and graceful coconut palms. Immerse yourself in the tranquility while enjoying the convenience of various benches, shelters, and barbecue pits.
To enhance your picnic experience, indulge in a range of delicious takeaway options available nearby. Treat yourself to the tantalizing delights of Changi Village Hawker Centre or savor the flavorful creations at the Little Island Brewing Company.
Let your taste buds embark on a journey of culinary bliss amidst the breathtaking beauty of this coastal paradise.
Picnic Singapore
Whether you're seeking a tranquil retreat away from the city noise, a cultural immersion, or a spirited adventure, Singapore presents an array of picturesque picnic spots that cater to all tastes. Each location is unique, offering exquisite views, rich biodiversity, historic landmarks, or beachside tranquility.
So pack your picnic basket, lay out your mat, and get ready to create memorable experiences in these enchanting settings.
Happy picnicking!
Frequently Asked Questions (FAQ)
If you have any questions about Picnic Spots in Singapore, you can refer to the frequently asked questions (FAQ) about the Best Picnic Spots in Singapore below:
Additional Useful Articles
If you are looking for other useful guides and articles about Ramen in Singapore, check them out below: