Rooftop Bar Singapore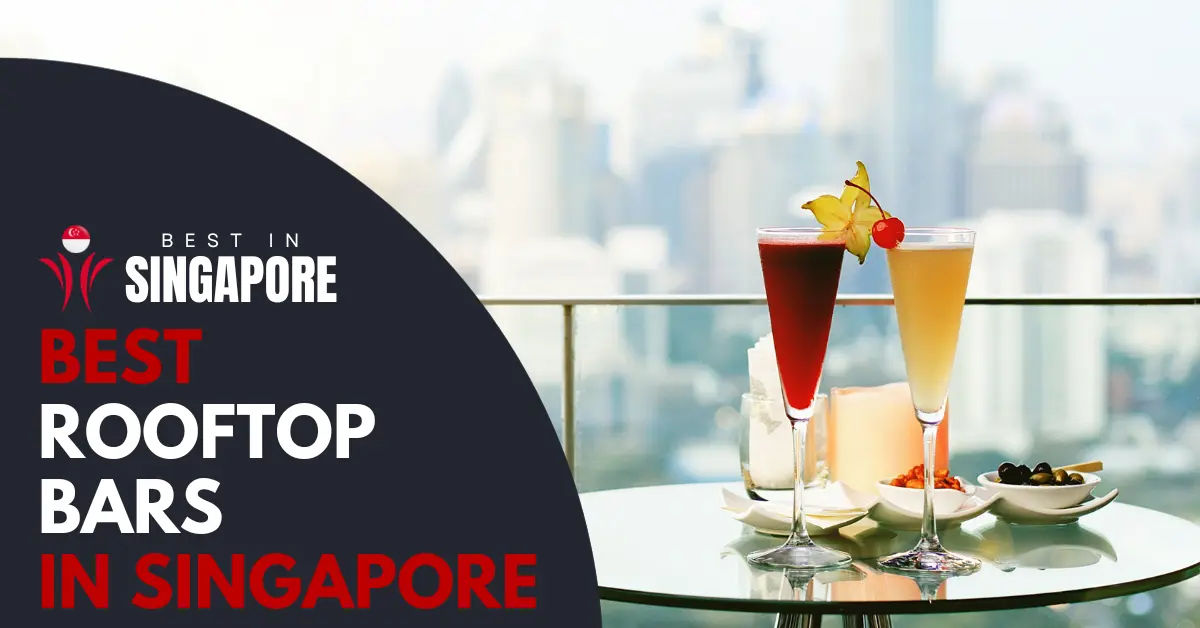 Singapore, a bustling city-state known for its towering skyscrapers and stunning skyline, is also host to a plethora of rooftop bars that offer some of the best views in the city.
The best rooftop bars in Singapore include Mr. Stork, Level33, Kinki Restaurant and Bar, Levant, and Rooftop Bar.
When selecting a rooftop bar in Singapore, take into account elements like food choices, venue, beverage selection, and overall atmosphere.
Experience Singapore's rooftop bars amidst the city lights – sip exquisite cocktails, indulge in delicious food, and soak up panoramic views of the mesmerizing skyline.
From laid-back lounges to sophisticated party spots, each rooftop bar in Singapore presents a unique experience where the urban charm of the city converges with the tranquility of the skies.
Quick Summary
Best rooftop bars in Singapore include Mr. Stork, Level33, Kinki Restaurant and Bar, Levant, and Rooftop Bar.
When choosing a rooftop bar in Singapore, consider factors such as food options, location, drinks, and ambience.
Amidst sparkling city lights, the rooftop bars in Singapore offer an unparalleled experience of sipping on exquisite cocktails, indulging in delicious food, and soaking up panoramic views of the city's mesmerizing skyline.
Key Consideration Factors
Before getting into the rooftop bars in Singapore, here are some consideration factors to remember:
Food options: Some rooftop bars may offer a full dining experience, while others may only serve small bites. Be sure to check the menu beforehand if you're looking for a specific type of cuisine.
Location: Many rooftop bars in Singapore are located in popular areas like Marina Bay or the Central Business District. Consider the location and how accessible it is for you.
Drinks: From classic cocktails to unique concoctions, rooftop bars offer a wide range of drinks. Some may also have an extensive wine or beer selection.
Ambience: Do you prefer a lively atmosphere or a more relaxed and intimate setting? Take into account the ambience of the rooftop bar when making your choice.
Best Rooftop Bar Singapore
1) Levant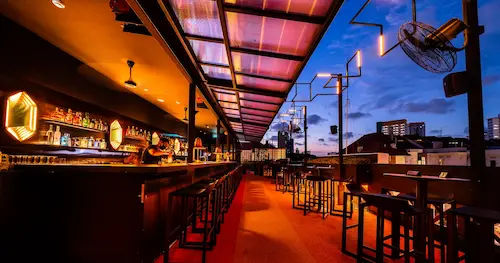 | | |
| --- | --- |
| Key services: | Complemented with spice-forward Mediterranean grub. |
| Address: | 32 Tras St, Level 4 Signature Hotel, Singapore 078972 |
| Website: | https://www.levant.sg/ |
| Phone: | 65 6304 3298 |
| Email: | book@levant.sg |
| Operating hours: | Monday – Sunday: 5pm – 12am |
Discover Levant, a hidden gem nestled atop the vibrant Tanjong Pagar. Step into a world of charm and excitement, where panoramic 360-degree views of the illustrious Singapore skyline await, captivating your senses.
Savor the art of indulgence as you immerse yourself in the captivating ambiance of our rooftop cocktail bar. Delight in meticulously crafted modern mezze and exquisite craft cocktails, expertly curated by our talented bartenders. Every visit to this picturesque haven promises to transport you to the balmy evenings of the Mediterranean, evoking cherished memories of idyllic summer nights.
Come, experience the magic of Levant and let your imagination soar amidst the enchanting allure of our rooftop oasis.
2) Vue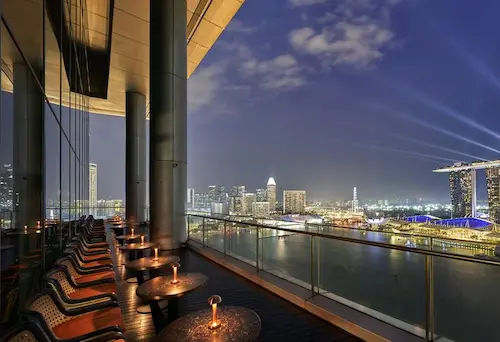 Key services:
Amazing views of the Civic District from its high floor-to-ceiling windows
Address:
OUE Bayfront, 50 Collyer Quay Rooftop Level 19, Singapore 049321
Website:
www.vue.com.sg/home-page
Phone:
+65 8879 0923
Email:
dining@vue.com.sg
Operating hours:
Operating Hours:

Weekday Lunch | Monday to Friday
12pm to 2pm

Weekend Surf & Turf | Saturday & Sunday
12pm to 2.30pm
Indulge in breathtaking views at Vue, a rooftop restaurant named after the French word for "view." Situated on the 19th floor of OUE Bayfront, this renowned Parisian-inspired establishment boasts floor-to-ceiling windows that offer stunning vistas of the Civic District. But Vue is more than just a place one of the best remarkable view.
Step into the outdoor section, which is home to Singapore's first rooftop spritz bar. Treat yourself to vibrant spritz cocktails that perfectly complement the dramatic backdrop. Experience the delightful Reiwa Highball ($18), a harmonious blend of umeshu, rum, shiso, and mint, or savor the invigorating Basil Spritz ($20), expertly crafted with dry gin, basil, and lemon.
For an extra special experience, visit between 5 p.m. and 7 p.m. to witness the breathtaking sunset. Enjoy complimentary canapés that perfectly accompany your cocktails. At Vue, every moment is a cherished opportunity.
3) Atico Lounge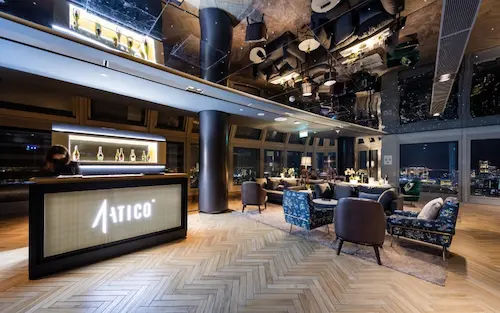 Key services:
Swing by Atico Lounge for a bird's eye view of the lively metropolis when it comes to cocktails with a view.
Address:
2 Orchard Turn, ION Orchard, #56, 01, Singapore 238801
Website:
https://www.1-atico.sg/atico-lounge/
Phone:
+65 8028 1489
Email:
enquiry@1-atico.sg
Operating hours:
Sunday
12–11PM
Monday
12–11PM
Tuesday
12–11PM
Wednesday
12–11PM
Thursday
12–11PM
Friday
12–11PM
Saturday
12–11PM
Experience an unparalleled rooftop dining adventure at ATICO, where three distinct concepts seamlessly merge to create an extraordinary culinary destination.
This remarkable venue offers breathtaking panoramic views of the vibrant cityscape. Step into the captivating Atico Lounge and awaken your senses. Immerse yourself in the stylish and modern ambiance while our talented mixologists skillfully craft tantalizing cocktails that will take your taste buds on a delightful journey.
With each sip, your palate will be enticed, perfectly complementing the stunning vistas that unfold before you. As you explore the lounge, you will be mesmerized by a carefully curated collection of photographs from previous seasons and this year's captivating exhibit.
These visual masterpieces will transport you to different realms, evoking emotions and sparking engaging conversations. ATICO is more than just a dining destination; it is an immersive experience that will heighten your senses and leave a lasting impression on your soul.
4) Smoke and Mirrors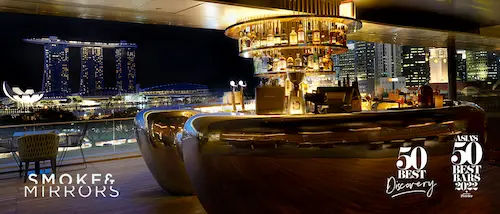 | | |
| --- | --- |
| Key services: | Its drinks menu features the Real Art of Drinking, cocktails inspired by art pieces |
| Address: | 1 St. Andrew's Road, #06-01 National Gallery Singapore, Singapore 178957 |
| Website: | www.smokeandmirrors.com.sg/ |
| Phone: | +65 9380 6313 |
| Email: | reserve@smokeandmirrors.com.sg |
| Operating hours: | Open Daily: 3PM – 10.30PM |
Perched atop the magnificent National Gallery, Smoke and Mirrors provides unparalleled panoramic views of the cityscape. From the iconic Padang to the captivating Bay, the sights are absolutely breathtaking. As the sun sets and night falls, the city comes alive with mesmerizing lights, casting a magical glow over the surroundings. It truly is an enchanting spectacle.
Beyond being a rooftop bar, this iconic establishment is a meticulously curated haven inspired by the surrounding art. The carefully crafted drinks menu showcases the art of mixology, with each cocktail being a masterpiece in its own right, reflecting the essence and beauty of various art pieces.
From vibrant tropical-inspired concoctions to perfectly balanced classic martinis, every sip takes you on a sensory journey into the realm of artistic expression.
This distinctive concept harmoniously blends with its prime location within the National Gallery, seamlessly merging the worlds of art and mixology. It creates an unforgettable experience, allowing visitors to immerse themselves in the harmonious fusion of art, culture, and the artistry of mixology.
5) Kinki Restaurant and Bar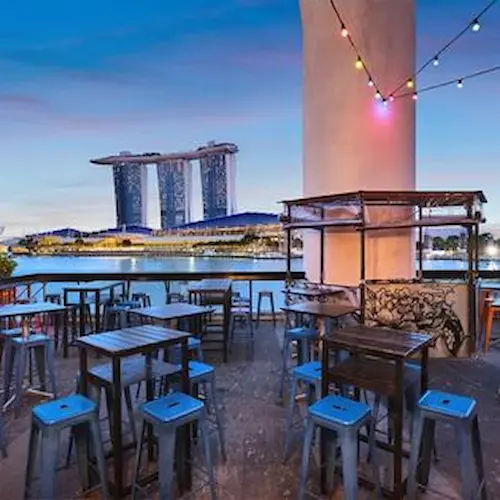 Key services:
Fascinating Kintsugi-inspired wallpaper and ascend to the third floor's al fresco rooftop bar
Address:
70, #02-02 Collyer Quay, Customs House, Singapore 049323
Website:
www.kinki.com.sg/
Phone:
65 6533 3471
Email:
enquiry@kinki.com.sg
Operating hours:
Mondays – Saturdays 12pm-3pm and 6pm-10.30pm
Sundays 12pm-3pm
Kinki has recently undergone a transformation, exchanging its funky vibe for a more refined and sophisticated atmosphere. Take a ride in the elevator, featuring captivating wallpaper inspired by Kintsugi, and make your way up to the rooftop bar on the third floor.
From there, you can admire the breathtaking cityscape of Marina Bay Sands Hotel while sipping on Asian-inspired craft cocktails priced at $22. The Gin Assam Boi pays homage to the sugarcane beverage of the region, blending Kyro gin, Malibu rum, and pineapple juice.
Alternatively, treat yourself to the Geisha-rita, a refreshing margarita infused with umeshu and Cointreau. And to perfectly complement the colors of the sunset, why not try the delightful Aurora Polaris priced at $19? This cocktail features layers of butterfly pea-infused Kyro gin, lime juice, and grapefruit tonic.
6) Mr. Stork Rooftop Bar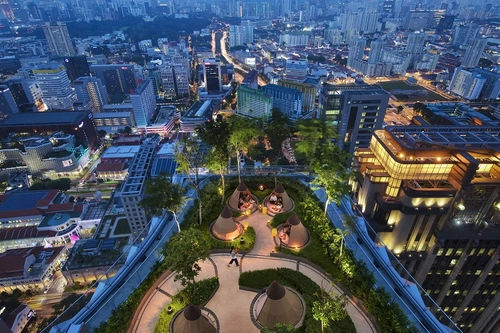 Immerse yourself in the captivating atmosphere of Mr. Stork, located on level 39 of Andaz Singapore. Discover teepee huts hidden among lush greenery, creating an idyllic setting for a romantic encounter.
Enjoy breathtaking city views while sipping on a refreshing beverage from the stunning bronze pavilion bar. Wander along cobblestone paths that wind throughout the entire level, offering a 360-degree panorama of the city.
Indulge in the Ruby, a tantalizing fusion of lemon, ginger, mint, vermouth, and Ceylon arrack, served in a magnificent elephant mug. Alternatively, treat yourself to the Rhubarb, a delightful blend of rhubarb puree, strawberry and lemon juice, sparkling wine, and a subtle hint of vodka. Prepare for an unforgettable journey of flavors and sights at Mr. Stork.
7) Level 33
Key services:
Overlooking the Marina Bay Financial Centre.
Address:
8 Marina Blvd, #33 – 01, Singapore 018981
Website:
level33.com.sg/
Phone:
+65 6834 3133
Email:
enquiries@level33.com.sg
Operating hours:
Sunday
11:30AM–10:30PM
Monday
11:30AM–10:30PM
Tuesday
11:30AM–10:30PM
Wednesday
11:30AM–10:30PM
Thursday
11:30AM–10:30PM
Friday
11:30AM–10:30PM
Saturday
11:30AM–10:30PM
Experience the captivating atmosphere of this microbrewery located at the Marina Bay Financial Centre. Immerse yourself in the flavors of craft beers brewed on-site, available at a price of $9.50 for a 300ml serving before 8 p.m., and $12.50 per hour thereafter.
If you can't decide, treat yourself to a platter of five 100ml samplers, featuring Level33's blond lager, IPA, stout, house porter, and wheat beers, all for just $14.90.
For those looking for something different, the Treacle Stout is an enticing choice for mixed beverages. And if you're not a fan of malt, don't worry. Indulge in our house wines or explore our selection of high-end vintages. Get ready for an extraordinary experience that exceeds expectations.
8) CÉ LA VI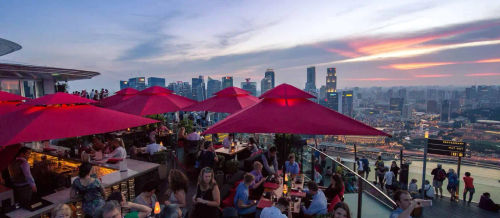 Key services:
Awe-inspiring vistas of the majestic seas and world-renowned dreamy poolside paradise
Address:
Level 57, Marina Bay Sands SkyPark, Hotel Tower 3, 1 Bayfront Avenue, 018971
Website:
https://www.celavi.com/en/singapore/skybar/
Phone:
+(65) 6508 2188
Email:
events-sg@celavi.com
Operating hours:
Sunday – Tuesday: 4PM – 1AM (Last food order 11.30PM, last beverage order 12.30AM)
*Wednesday – Saturday: 4PM – 1AM (Last order 12.30AM)
CÉ LA VI, the extraordinary rooftop bar, sets itself apart with its unmatched offerings. Immerse yourself in the awe-inspiring views of the majestic seas and world-renowned infinity pool.
From one of Singapore's highest vantage points, you'll experience an overwhelming sensation of being on top of the world. Explore the one-of-a-kind 3-in-1 concept of CÉ LA VI, encompassing a restaurant, sky bar, and lounge.
Delight in a wide range of mouthwatering Asian-inspired tapas-style cuisine that will tantalize your taste buds with its diverse flavors. Elevate your culinary journey with a selection of meticulously crafted signature cocktails that capture the nostalgic essence of Asia.
9) Spago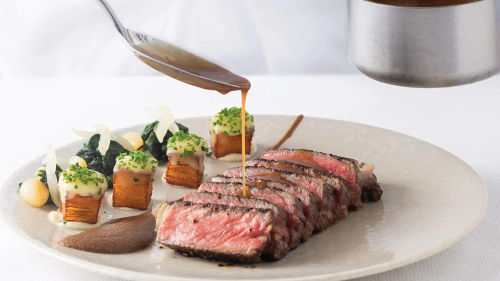 Key services:
Breathtaking scenic views and exquisite fine cuisine
Address:
L57, Sands SkyPark, Hotel Tower 2
Website:
https://www.marinabaysands.com/restaurants/spago.html
Operating hours:
Lunch: 12pm – 2pm (last seating)
Dinner:
Sun – Thu: 6pm – 9.30pm (last seating)
Fri & Sat: 6pm – 10pm (last seating)
Prepare to be captivated by Spago, renowned for its breathtaking combination of stunning vistas and exquisite cuisine. Perched on the 57th floor of the iconic MBS, this prestigious rooftop bar offers an unrivaled perspective, showcasing panoramic views of the cityscape and serene bodies of water. Brace yourself to be spellbound.
But what truly sets Spago apart is its perfect blend of affordability and luxury. Indulge in a delightful 3-course Prix Fixe set lunch for just S$65 in the elegant Spago Dining Room. It's not just a meal, it's an extraordinary dining experience that harmonizes culinary excellence one of the best mesmerizing scenery, leaving you enchanted.
So why wait? Treat yourself to an unforgettable fusion of culinary mastery and captivating landscapes that will leave you awestruck.
10) Arbora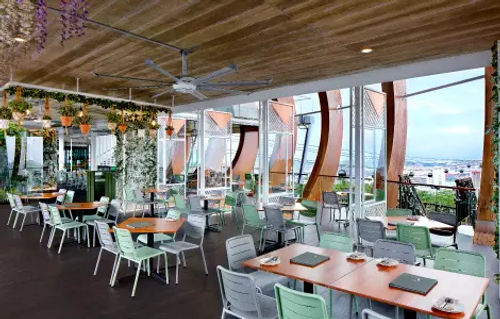 Key services:
Breathtaking panoramic views of the ocean
Address:
109 Mount Faber Rd, Faber Peak, Singapore 099203
Website:
https://www.mountfaberleisure.com/restaurant/arbora-hilltop-garden-bistro/
Phone:
(+65) 6361 0088
Email:
guestrelations@mflg.com.sg
Operating hours:
Mondays to Fridays:
Lunch: 12:00PM – 4:30PM (Last order at 4:30PM)
Tea Time: 4:30PM – 6:00PM (Sandwiches, Burgers, Cakes & Coffee only)
Dinner: 6:00PM – 10:30PM (Last order at 9:30PM)
Saturdays, Sundays & Public Holidays:
Light Breakfast: 8:30AM – 11:30AM
Lunch: 12:00PM – 4:30PM (Last order at 4:30PM)
Tea Time: 4:30PM – 6:00PM (Sandwiches, Burgers, Cakes & Coffee only)
Dinner: 6:00PM – 10:30PM (Last order at 9:30PM)
Located at the peak of Mount Faber in Singapore, Arbora offers a captivating hilltop dining experience with stunning panoramic ocean views. As you step into this enchanting venue, you'll be mesmerized by the serene atmosphere and the surrounding natural beauty.
While not your typical "rooftop bar," Arbora provides a unique vantage point that occasionally offers glimpses of spectacular fireworks from Sentosa Island. Picture yourself enjoying a refreshing cocktail amidst the lush greenery of Mount Faber, while witnessing bursts of vibrant colors illuminating the night sky.
To make the most of your visit, start your day by exploring the vibrant attractions of Sentosa. Take a scenic cable car ride from the island to Mount Faber, relishing the breathtaking views of the Singapore skyline and lush landscapes along the way. Upon arrival at Arbora, you'll receive a warm welcome from attentive staff dedicated to ensuring a memorable dining experience for you.
Indulge in a delightful dinner at Arbora, where each dish is meticulously crafted with precision and passion. The menu showcases an array of culinary delights, from botanical-inspired cocktails bursting with flavors to elegantly presented pasta dishes that will tantalize your taste buds.
Rooftop Bar Singapore
And so, whether you're seeking panoramic views of the cityscape, an unforgettable culinary experience, or a tranquil escape from the hustle and bustle, Singapore's diverse array of rooftop bars offers something to suit every taste.
Soak in the stunning vistas, tantalize your palate with exquisite cuisines and beverages, and immerse yourself in the vibrant atmosphere of these great establishments. Each rooftop bar presents its unique charm, promising an enchanting experience that will leave you longing to return.
From the urban sophistication of Level 33 to the serene hilltop beauty of Arbora, there's a world waiting to be explored above the city streets of Singapore.
Frequently Asked Questions (FAQ)
If you have any questions about rooftop bars in Singapore, you can refer to the frequently asked questions (FAQ) about the best rooftop bars in Singapore below:
What are the best rooftop bars in Singapore?
The top rooftop bars in Singapore include Vue, Mr. Stork Rooftop Bar, Levant, Level33, AND Kinki Restaurant and Bar.
What is the highest rooftop bar in Singapore?
Located on the 57th floor of Marina Bay Sands, CÉ LA VI claims the distinction of being the tallest rooftop bar in Singapore. Mount Faber is home to other elevated rooftop bars like Spago and Arbora, where you can enjoy stunning city views.
How much is the SkyBar in Singapore?
The prices of rooftop bars in Singapore vary depending on the venue and the type of experience you desire. Generally, a cocktail will set you back around SGD $20-30, while a complete meal with drinks can range from SGD $50-100 per person. Certain establishments may offer set menus or promotions that provide more affordable choices. It's recommended to check the menu and prices of the bar you intend to visit beforehand.
Which rooftop bar is Marina Bay Sands?
Marina Bay Sands is host to two well-known rooftop bars, namely CÉ LA VI and Spago. These establishments not only offer stunning views of the Singapore skyline but have also gained recognition for their exceptional dining experiences. Additionally, Marina Bay Sands is also the location of LAVO Italian Restaurant & Rooftop Bar, where guests can enjoy a unique fusion of Italian cuisine and a sophisticated restaurant bar atmosphere.
Where is the best bar to watch the sunset in Singapore?
For an awe-inspiring sunset experience in Singapore, make sure to visit the top rooftop bars such as 1-Altitude, Smoke & Mirrors, and Loof. These establishments offer stunning city skyline views, creating the perfect atmosphere to enjoy a refreshing drink while basking in the beauty of the setting sun. However, it's important to note that due to Singapore's proximity to the equator, sunsets may not be as prominent as in other parts of the world. To avoid any disappointment, it is advisable to check the specific sunset time in advance.
Which rooftop bars in Singapore offer stunning views of the city?
Some of the best rooftop bars in Singapore that offer stunning views of the city include 1-Altitude, Smoke and Mirrors, Fullerton Bay Hotel, Loof, Lin Rooftop Bar, and The Club Lounge at the Andaz Singapore hotel, located at 80 Collyer Quay.
Where can I find a charming rooftop bar in Singapore?
The Courtyard by Marriott Singapore on 99 Irvin Road Singapore has a charming bar called Urbana.
What kind of drinks are offered at rooftop bars in Singapore?
Rooftop bars in Singapore offer a variety of drinks ranging from refreshing cocktails to classic drinks. Some bars also have delectable bar bites and light bites.
Which rooftop bar in Singapore has fairy lights?
The Moon Rooftop Bar is a popular bar in Singapore that has fairy lights and offers a great view of the Marina Bay skyline.
Where can I find a rooftop lounge with a view of the Singapore River?
CÉ LA VI is a popular bar located near Boat Quay that offers stunning views of the Singapore River and the Marina Bay area.
What is a popular rooftop bar that serves delicious bar bites in Singapore?
Potato Head is a popular rooftop bar in Singapore that serves delectable bar bites and offers stunning views of Singapore's skyline. The National Gallery Singapore also has a rooftop resto and bar with great views and a selection of food and drinks.
Additional Useful Articles
If you are looking for other useful guides and articles about rooftop bars in Singapore, check them out below: