Singapore Team Building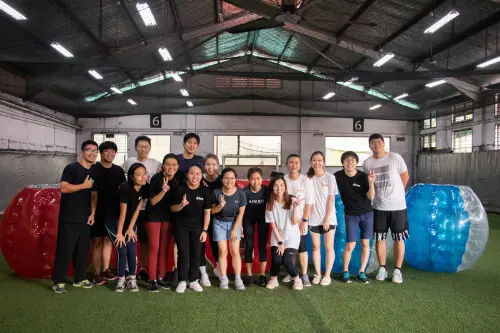 Organizations aiming to be successful must recognize the unique power of team building in Singapore as they foster relationships, cooperation, and creativity among employees.
Organizations aiming to be successful must recognize the unique power of team building in Singapore as they foster relationships, cooperation, and creativity among employees.
The best Singapore Team Building ideas are Amazing Race, Combat Archery Tag, Clay Making Workshop, Virtual Squid Escape, and Bubble Soccer.
When choosing a team building activity, it's crucial to consider factors such as the cost, nature of the activity, group size, and time constraints.
FunEmpire's Singapore Team Building ideas are renowned as the best in Singapore. With 8,000+ 5-star client reviews and a track record of over 50,000 successful events, they are the ultimate choice for team building activities.
Such team building activities in Singapore are plentiful; this article details their advantages while providing practical ideas for businesses in need of fostering teamwork and collaboration amongst their staff members.
Such team building activities in Singapore are plentiful; this article details their advantages while providing practical ideas for businesses in need of fostering teamwork and collaboration amongst their staff members.
What Is Singapore Team Building?
Singapore Team Building initiatives are designed to create a strong sense of camaraderie and collaboration throughout an organization. Through this process, organizations can engage in activities like obstacle courses, solve puzzles, sports competitions, brainstorming exercises and problem-solving simulations.
By participating in such diverse team building efforts, companies experience strengthened relationships amongst their members as well as improved problem solving capabilities.
Key Consideration Factors
When selecting a Singapore Team Building idea, there are a few key factors to consider:
10 Benefits Of Singapore Team Building
1. Enhances communication within the team members
Team building activities can be an extremely useful tool for fostering healthier communication and collaboration between team members. By engaging in such endeavors, the overall clarity of conversations is improved significantly and potential conflicts are lessened.
2. Promotes constructive collaboration and fosters healthy competition
Team building activities are a great way to create unity and collaboration amongst team members. Additionally, engaging in competition has been proven to motivate staff to push themselves further by working harder and smarter.
3. Elevates team morale and motivation levels
By engaging in team building activities, colleagues often become more connected to their work and one another. This can lead to improved morale and motivation, which will result in increased productivity as well as enhanced job satisfaction. Team building exercises are an effective way for teams to strengthen relationships while achieving success together.
4. Improves creativity and boosts productivity levels
By engaging in team building activities, your staff can be motivated to think outside the box and produce out-of-the-box solutions. This dynamic process will lead to enhanced productivity and breakthrough innovation!
5. Facilitates identification and resolution of conflicts within the team
Engaging in team building activities can help bring potential problems to the surface and foster a more open dialogue amongst teammates. Once everyone is aware of any issues that could be damaging their collective success, the group will no longer shy away from addressing them – providing an opportunity to resolve matters together.
6. Builds mutual trust and respect among team members
By engaging in team-building activities, colleagues can foster relationships of trust and respect. This ultimately leads to improved working dynamics as well as a more upbeat work culture. Getting to know one another helps create an atmosphere that is conducive for productive collaboration.
7. Helps in developing leadership skills and enhances problem-solving abilities
Through engaging in leadership and problem-solving exercises, team building activities can help employees cultivate vital skills for success.
8. Enhances team planning and goal-setting processes
By partaking in team-building activities that focus on goal setting and collaboration, employees can cultivate the invaluable skills of planning and achieving objectives – all while working together to reach common goals!
9. Encourages diversity and inclusivity within the team
Team building activities are an effective way to cultivate a diverse and inclusive environment, where every individual is appreciated and welcomed.
10. Establishes a culture of learning and continuous improvement.
To conclude, these favourite team building activities can cultivate an atmosphere of education and growth. With these activities, team members are persuaded to take risks, use their mistakes as learning experiences, and collaborate on shared objectives.
Top Recommended Team Building Activities in Singapore
Adventure Activities
1. Saber Tag
Are you in search for the ultimate activity to complement your corporate team building event or birthday party? Look no further than Saber Tag®! Not only is this game unique and unforgettable, it also helps foster an even stronger bond between your colleagues. Join us at our Singapore venue, where we guarantee that one of the trendiest games around awaits you!
2. Poolball
Get ready for an exhilarating time playing the thrilling Poolball Classic and Sabotage on the world's largest pool table. Whether you're attending a corporate event or just hanging out with your friends, this game will challenge you to strategize and collaborate as a team – regardless of age or size. As it encourages strong bonds among players, it is perfectly suitable for both small and large groups alike! Come join us in conquering the expansive pool table today – experience an unbelievable joy that lasts forever!
3. Ninja Tag
Become the ultimate ninja with Ninja Tag! Join a thrilling group-building expedition featuring foam Ninja Daggers, scoring vests and adrenaline-pumping missions. Strengthen your bonds with your workmates as you join together to complete game modes and vanquish all opponents. Don't let this chance for glory slip away – sign up for Ninja Tag now and transform into an unstoppable warrior!
4. Combat Archery Tag
Get ready to experience an adrenaline-packed game that is sure to please all ages! Archery Tag is a thrilling combination of dodgeball and archery: teams compete in this unique environment, attempting to shoot each other with foam-tipped arrows while wearing safe masks. So come join us for the ultimate battle – it's guaranteed fun!
5. Laser Tag
Laser tag is an ideal team-building game suitable to engage people of all ages. It offers a unique opportunity to participate in thrilling missions together and build strong bonds through an unforgettable experience. Whether you prefer indoor or outdoor gameplay, laser tag is versatile and can be customized according to group size and preferences. Its inclusivity and flexibility make laser tag an excellent choice for team building events. You can select from various exciting missions, such as Capture the Flag, Mission Impossible, and Domination, to build teamwork. Keep in mind that laser tag isn't just limited to fostering teamwork; it's also perfect for celebrating birthdays, bachelor parties, or any other special occasion!
6. Bubble Soccer
Are you or your team seeking a thrilling way to bond in Singapore? Look no further than Bubble Soccer! This game offers the perfect combination of fun and strategy, allowing teams to bump around safely while also employing their collective skills for success. What's more, it's a great method for building camaraderie between colleagues – not only will playing be rewarding because of how enjoyable it is, but you'll also benefit from strengthened interpersonal dynamics. Give Bubble Soccer an opportunity and experience its endless rewards firsthand!
Creative Activities
1. Clay Making Workshop
Unlock your creative potential and strengthen team unity by participating in our Clay Making Workshop. This exclusive experience not only provides an opportunity to express yourself through art but also encourages collaboration between colleagues or friends without any division of teams. Construct a personalized clay figurine with your peers, allowing for closer ties and plenty of fun as you work together!
2. Terrarium Workshop
Boost team morale and find the joy in working together with an interactive Terrarium Workshop! This enjoyable DIY project is a fantastic way to step away from your daily routine while discovering each other's individual strengths. Everyone will work on this planting expedition collaboratively, understanding how collaboration heightens any task at hand. As you come together to create something stunning—you'll be able to tap into shared energy and passion as never before for a truly memorable experience that promotes unity in every stage of the process.
3. Art Jamming Workshop
Open your imagination and create like Van Gogh or Picasso by participating in FunEmpire's Art Jamming Experience – Singapore's top-notch art jamming service. This singular team-building initiative boosts teamwork, persistence, and inventiveness among members, allowing you to strengthen relationships with coworkers or friends. Regardless of your artistic background – whether an expert artist or a beginner – this art jamming experience allows you to express yourself creatively while learning the fundamentals of color mixing theory. Uncover the hidden creator inside of you today!
4. Gel Candle Making Workshop
Experience an unforgettable and enjoyable team-building session in Singapore through our Candle Making Workshop! This workshop offers a unique opportunity for every team member to create their own personalized candle that they can take with them as a keepsake, or bring back to the office. Beyond enhancing their crafting skills, this workshop encourages teamwork and camaraderie among team members, as they work together to design scented candles. With this element of fun, your team-building activity will be a memorable and enjoyable experience for all involved.
5. Leather Workshop
Our team-building session is perfect for anyone looking to begin on the right foot! Whether you are a creative individual or newbie in art, this activity was created with your needs in mind. It will help foster better relationships amongst colleagues without any judgment. We guarantee that regardless of artistic ability, it'll be an enjoyable experience for all who participate!
Quest Activities
1. Escape Room
Are you in search of an amazing team-building activity that will have everyone talking? Escape Rooms are the perfect choice! You and your colleagues will use collaborative problem solving to solve a series of puzzles before time runs out. With endlessly intriguing themes and mysteries available throughout Singapore, this exciting team building activity is guaranteed to create bonds and leave fond memories for years to come. So dust off those detective skills, get ready for a fun journey, and make sure you don't forget it!
2. Amazing Race
Embark on an unforgettable experience with FunEmpire's Amazing Race – a stimulating combination of virtual and physical activities that will let you explore Singapore to the fullest! In this thrilling team-building game, your group can get acquainted with our nation's culture, solve puzzles, and identify Chinatown's famous landmarks – all from the convenience of your own home. Specifically tailored for larger teams who want to socialize while maintaining safe distance measures; it is an exciting way to bring family or coworkers closer together. So grab those around you and race towards victory – brace yourselves for one amazing expedition!
Leisure Activities
1. Cosmic Bowling
Ignite the passion with a thrilling round of cosmic bowling! This incredible, interactive activity is an ideal way to foster communication, strengthen teamwork and build trust among colleagues. Create unforgettable memories between your employees and enjoy this captivating spin on bowling – it's sure to be mesmerizing! Make every second count in Singapore by engaging in corporate fun that'll last for years to come.
2. Giant Board Games
Experience your cherished childhood memories at an unprecedented level! Giant Jenga, Pick Up Sticks, Connect Four and Snakes & Ladders have been taken to the next level – life-sized! With these interactive board games in Singapore, you can add a unique touch of excitement to your next team building event. Relive those old classic moments with more thrilling challenges – join the fun now!
3. Yacht Rental
Longing for a break from the hectic city life? Look no further than renting a yacht in Singapore! Whether you're hoping to pop the question, celebrate an anniversary or milestone birthday, plan team-building activities for your company – having access to such exquisite luxury will make any occasion extraordinary. Make magical moments that can be remembered forever with this one-of-a kind experience – it's not something you'll want to miss!
Virtual Games
1. Virtual Amazing Race
Unleash the ultimate adventure with The Amazing Race! Challenge your friends and colleagues in a fast-paced, fun-filled competition to reach the finish line.
Experience the thrill of navigating through diverse terrains, solving mind-boggling puzzles, and conquering exhilarating physical challenges. No matter where you are located around the world or how many players join in, this amazing experience is suitable for both local and remote teams alike – without any limitations on participation numbers!
With certified trainers, who bring their expertise and enthusiasm to guarantee an unforgettable time, you can be assured of an incredible journey. Immerse yourself in the excitement and camaraderie as you work together, strategize, and overcome obstacles. The Amazing Race offers a unique opportunity to bond, build teamwork, and create lasting memories.
So, why wait? Register now before it's too late and embark upon The Amazing Race journey together as one united team. Get ready for an adventure filled with surprises, laughter, and triumph. Are you up for the challenge? Join us today and be part of something truly extraordinary!
2. Virtual Squid Escape
Are you ready for an adrenaline-pumping, heart-racing adventure that you and your friends will talk about for years to come?
Look no further than the Squid Game Escape Room, where excitement and challenge collide! Step into a world of mind-bending brain-teasers, meticulously designed puzzles, and hidden passages waiting to be discovered. With every riddle you solve, you'll inch closer to your ultimate goal of breaking free.
Time will be your greatest adversary as you race against the clock, feeling the thrill of each second ticking away. And don't worry, our team of certified facilitators will be there every step of the way, ensuring you have the most unforgettable experience possible.
And the best part? There's no limit on participants, so even remote teams can join in on the action! Get ready to embark on an adventure like no other, where teamwork, wit, and determination will be your keys to success. Will you accept the challenge?
3. Virtual Food Quest
Are you and your friends, family, or colleagues looking for an exciting and unique experience? Look no further than FunEmpire's Virtual Food Quest! Embark on an epicurean adventure that takes you beyond the borders of Singapore. Delve into a world of interactive food-themed puzzles featuring cuisines from around the globe.
This thrilling game will not only challenge your team's communication abilities but also put your culinary knowledge to the test. Get ready for an unforgettable journey where you'll create lasting memories and possibly even develop a craving for delicious snacks. Join us and indulge in the delights that await you!
4. Virtual Travel Experience
Join in the excitement of virtual travel with FunEmpire's Virtual Travel Experience! With our one-of-a-kind virtual treasure hunt, virtual Amazing Race, and virtual Escape Room, you can learn about Singapore's history and culture without leaving home. Work together with other online participants to solve interactive puzzles and test your problem-solving skills. Follow the intriguing story and complete various missions in a stimulating virtual environment. Better yet, invite people from all over the globe and play remotely, as there are no size restrictions. This makes it a perfect team-building activity for your group.
5. Virtual Escape Room
Are you in search of a unique corporate team building exercise? Look no further than FunEmpire's top-rated virtual event! Our interactive platform supports groups ranging from two to hundreds and is the perfect way to bond with your family, friends, or colleagues. Take on stimulating problem-solving tasks while still in the coziness of your home – plus receive amazing rewards upon completion as an added bonus! Don't miss out on this incredible opportunity; join our virtual game today and strengthen both relationships and cognitive abilities simultaneously!
Virtual Workshops
1. Virtual Leather Workshop
Give your creativity a chance to shine with FunEmpire's leather crafting home kit! Get ready for an exciting virtual team-building event as you explore the world of leather crafting with our reasonably priced and comprehensive home kit. With our experienced facilitator by your side, discover all about various types of leather material and upkeep. Subsequently, apply what you have learned in practice – craft a key fob or coin pouch from scratch – and savor the joyous feeling of creating something invaluable that can be used on any given day!
2. Virtual Terrarium Workshop
Release your inventive spirit with FunEmpire's award-winning terrarium-crafting workshop! Our Terrarium Home Kit is now available for delivery directly to you, and contains all the tools necessary for constructing a stunning mini garden.
Qualified trainers will guide you through both the theory and practice of designing a unique terrarium from home – it's an incredible way to have fun with family or coworkers while creating lasting memories that can be treasured forever. Start making beautiful moments today by building your own personalized tiny oasis!
3. Virtual Clay Making Workshop
Unleash your creativity and have an absolute blast with FunEmpire's top-notch air-dry clay for team building activities! Our specially curated selection offers an endless array of vibrant colors, intriguing textures, and unique shapes, allowing you to craft exclusive figurines or souvenirs that will serve as truly special gifts.
With our air-dry clay, not only will you have a fantastic time exploring your artistic side, but you can also rest assured knowing that you are working with a safe and toxin-free material. No need to worry about any harmful substances or heaviness when creating your masterpieces.
Make the most out of your team-building experience by diving into the world of creativity with FunEmpire's air-dry clay. Start shaping your imagination today and let the fun begin!
4. Virtual Art Jamming
Discover and embrace your artistic side with FunEmpire's immersive painting experience! Get ready to unleash your boundless imagination and embark on an invigorating virtual painting journey like no other.
Whether you prefer the classic charm of canvas boards or the practicality of tote bags, we provide a wide range of materials to suit your creative preferences. With a palette of vibrant acrylic paints, a set of high-quality pencils, and even erasers for those happy accidents, we've got everything you need to create the perfect masterpiece.
But it doesn't stop there! Our team of professional facilitators is dedicated to guiding you every step of the way. From the fundamentals of color mixing theory to advanced techniques, we are here to cater to your specific needs. With their expert guidance and support, you'll not only unlock your artistic potential but also gain valuable insights into the world of painting.
So why wait? Seize this opportunity today and let your creativity soar in the comfort of your own home or office. Join us for a FunEmpire Painting Session and witness the magic of transforming a blank canvas into a stunning work of art. Unleash your inner artist and create something truly extraordinary with FunEmpire's Painting Session now!
Singapore Team Building
Don't miss the chance to boost morale and hone collaboration in a secure manner! FunEmpire's certified trainers and facilitators make it possible for you to enjoy virtual workshops, escape rooms, or terrariums from your own home.
Team building activities in Singapore are an outstanding way to foster relationships and solidify bonds between colleagues, friends, or family members – so what are you waiting for? Seize this opportunity now!
Looking for more articles about Team Building? Here are our recommendations:
Frequently Asked Questions (FAQ)
If you have any questions about Singapore Team Building, you can refer to the frequently asked questions (FAQ) about Singapore Team Building: Key Benefits & Ideas below:
Additional Useful Links
If you are looking for other useful guides and articles about Singapore Team Building: Key Benefits & Ideas, check them out below: