Team Activities Singapore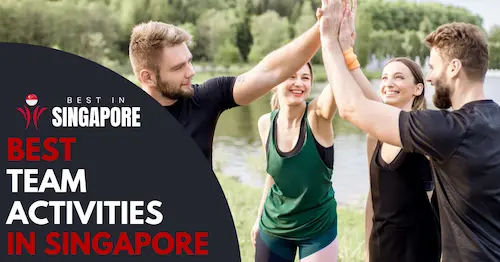 Singapore is home to a variety of exciting and unique team activities that will boost morale, foster collaboration and create lasting memories.
The best Team Activities in Singapore are Ninja Tag, Giant Board Games, Combat Archery Tag, Virtual Canvas Art Jamming, Poolball, and Virtual Amazing Race.
When selecting a team activity, it's vital to take into account various factors. Consider the size of the group, the cost involved, availability, and the type of activity that sparks excitement and fosters collaboration.
With a proven track record of over 50,000 successful events, FunEmpire offers the best team activities in Singapore. And it's no wonder, with 8,000+ 5-star client reviews backing their exceptional services.
To help make planning easier, we've compiled a list of the best team activities Singapore. Whether it's a corporate retreat or just an outing with friends and family, these activities are sure to provide everyone with an unforgettable experience!
Key Consideration Factors When Choosing Team Activities in Singapore
Before getting into the best team activities in Singapore, here are some consideration factors to remember:
Group Size: Different activities may accommodate different group sizes. Consider the size of your team when selecting a perfect team building activity and plan accordingly.
Cost: Team activities can vary widely in cost, so it's important to consider your budget before committing to a certain activity.
Availability: Some fun activities require advanced booking or are only available on certain days of the week or months of the year. Be sure to check availability before planning your team activity.
Type of Activity: Consider the type of activity you would like to do and what your team members are most interested in for your upcoming event.
Tips for Successful Team Activities In Singapore
To make the most of your team activity and ensure everyone has a good time, here are some tips to keep in mind:
Communicate effectively with everyone involved. Make sure everyone knows what time the activity starts, where to meet, and any other important details.
Have a backup plan if inclement weather or another issue arises. Do research beforehand to make sure your team activity is weather-friendly.
Bring snacks and drinks for the participants. This will ensure everyone has energy throughout the whole experience.
Encourage participation from all members of the group, no matter what their experience or skill level may be.
Take lots of photos and encourage everyone to document their experiences on social media!
Best Team Activities Singapore
Adventure Activities
1) Bubble Soccer
Bubble soccer is an incredibly fun and exciting team building activity that has gained popularity in Singapore. It involves two team work, each consisting of 4-6 players, who wear inflatable bubble suits.
The objective of the game is simple yet thrilling – score goals against your opponents while bouncing, bumping, and crashing into each other along the way!
This unique sport not only provides heaps of entertainment but also offers a fantastic opportunity to build essential skills. As you engage in bubble soccer, you'll develop teamwork, communication, and coordination abilities in a dynamic and enjoyable manner.
It's an excellent way to bond with friends, family, and fellow colleagues while experiencing the thrill of this one-of-a-kind game.
The best part about bubble soccer is that it's suitable for people of all ages. Whether you're a child, a teenager, or an adult, you can join in on the fun and excitement.
So gather your loved ones and prepare yourselves for a memorable session of bubble soccer action! Get ready to laugh, strategize, and create lasting memories as you bounce your way to victory!
2) Combat Archery Tag
Get your adrenaline rush and bond with your team by engaging in the exhilarating team-building activity of Combat Archery Tag. In this thrilling game, participants don protective gear, arm themselves with bows and foam-tipped arrows, and enter into an epic battle against each other.
It's not just about hitting targets; it's about strategizing and outsmarting your opponents to score points in this exciting game of tag.
Imagine the rush of excitement as you aim, shoot, and dodge arrows, all while working together with your teammates to achieve victory. Combat Archery Tag is not only a test of your aim and strategy skills but also a great opportunity to foster camaraderie and team spirit. Whether you're planning a corporate event, celebrating a special occasion, or organizing a group outing, this adrenaline-fueled activity is sure to captivate everyone.
Located in Singapore, Combat Archery Tag offers one of the team building games for those who thrive on mini competition and love a good challenge. So gather your team, unleash your inner archer, and get ready for an unforgettable experience filled with adventure, teamwork, and endless fun!
3) Saber Tag
Saber Tag is not just any ordinary team bonding event; it's a fun and exhilarating experience that takes place in the vibrant city of Singapore. Picture this: two participants, lightsabers in hand, engaging in a thrilling competition that will leave you breathless. The atmosphere is electric as the clash of lightsabers fills the air.
But it's not just about the excitement. Saber Tag is also a fantastic way to boost team morale and foster friendly competition among teammates. As participants wield their lightsabers, they discover their competitive nature and push themselves to new limits.
The game encourages camaraderie and teamwork, as teammates strategize and work together to outsmart their opponents.
And let's not forget about the combat moves. With this fun activity, participants have the opportunity to unleash their inner Jedi and showcase their skills with the sabers. From expertly blocking incoming strikes to executing impressive combat maneuvers, the possibilities are endless.
Safety is of utmost importance during Saber Tag, which is why all players are required to wear protective gear. The specially designed sabers are made with a unique material that allows them to effectively block impacts without causing any serious injuries. So you can fully immerse yourself in the game, knowing that you're in safe hands.
4) Poolball
Poolball is not only a fun and interactive team activity but also a thrilling experience that can be enjoyed both indoors and outdoors in the vibrant city of Singapore.
The game involves players being divided into teams of two or more, each armed with pool balls, strategically aiming to hit the opposing team's targets. This exhilarating activity not only promotes teamwork but also emphasizes the importance of coordination and communication among teammates to achieve victory.
With its unique blend of physical agility, strategic thinking, and precise coordination, Poolball offers an incredible opportunity for teams to strengthen their bonds and foster a sense of camaraderie.
Beyond the sheer enjoyment it brings, Poolball serves as an excellent tool for honing problem solving challenges. Teams must work together, brainstorming and devising ingenious strategies, in order to outsmart their opponents and emerge triumphant.
Whether you are seeking a thrilling team-building activity or simply looking to have a blast with friends, Poolball is the perfect choice.
Unleash your competitive spirit, embrace the excitement, and immerse yourself in this unforgettable experience that combines sport, strategy, and sheer fun. Get ready to dive into the world of Poolball and create a memory lane to look back with your teammates!
5) Bullet Ball
If you and your teammates are ready to mix up the classic paintball experience, try Bullet Ball instead! It's an exciting team-based sport that combines elements of football and paintball, creating a unique and adrenaline-pumping activity.
With special equipment, you and your team will engage in thrilling matches in a safe environment, regardless of your competitive spirit. This team activity not only boosts morale but also fosters strong camaraderie among fellow colleagues, creating lasting memories and strengthening bonds.
Moreover, Bullet Ball offers the flexibility of being played both indoors and outdoors, making it an ideal choice for any weather conditions. Whether you prefer the controlled environment of an indoor arena or the open space of an outdoor field, you can enjoy the game without worrying about getting wet or being affected by the elements.
In addition to its fun factor, Bullet Ball also promotes essential skills such as active listening, effective communication, and seamless collaboration within teams.
It's an all-in-one package of excitement, teamwork, and skill development that guarantees a memorable and rewarding experience for everyone involved.
6) Ninja Tag
Looking for a unique team activity that goes beyond the ordinary? Look no further! Our immersive taiko drumming experience is perfect for groups who want to bond over rhythm and music.
During this engaging group activity, participants not only get to learn about the rich heritage of taiko drumming but also have the opportunity to try their hand at playing traditional drums. Together with their fellow teammates, they will even have the chance to compose a mini-performance!
This interactive and fun-filled experience is not only a great way to build team camaraderie but also offers a fascinating insight into the culture and history of taiko drumming. And let's not forget the laughter and joy that will surely arise as everyone enjoys watching their peers' performances!
So, if you're searching for an unforgettable team activity in Singapore in 2023, this taiko drumming experience is definitely one of the best choices out there. Come and join us for a few hours of rhythm, music, and team-building!
7) Laser Tag
Laser tag is a thrilling and immersive team activity that offers participants an exhilarating experience of strategic gameplay and honing their skills.
In the vibrant city-state of Singapore, there is an abundance of laser tag arenas, each providing unique battlegrounds for teams to engage in intense battles and showcase their teamwork and tactics.
Step out of the office and embark on an adventure that not only fosters team bonding but also promotes camaraderie. And the fun doesn't end there!
After the action-packed matches, indulge in some delectable food while discussing your victorious strategies or analyzing thrilling moments.
With a plethora of laser tag arenas scattered throughout Singapore, finding the perfect spot for this enthralling and memorable activity is a breeze!
8) SaberFit
If you're looking to add some excitement and physicality to your favourite team building activities, SaberFit is the perfect choice! SaberFit is a unique and thrilling combination of swordplay, cardio, and strength training. Not only will your team have a blast, but they will also learn basic sword techniques while getting a great workout.
Imagine your team bonding together as they engage in this exhilarating activity. They will be up close and personal, working together to master the art of swordplay while improving their physical strength and endurance. SaberFit's indoor arena provides a safe and immersive environment, ensuring that your team will have the best experience possible.
Get ready to take your team-building to the next level with SaberFit. It's more than just a workout; it's an adventure that will leave your team feeling energized, connected, and ready to conquer any challenge that comes their way.
Quest Activities
9) Escape Room
If you're looking for a thrilling and engaging activity that will not only help your team bond but also enhance their active listening, look no further than Escape Room Singapore.
Imagine your team being placed in a meticulously designed room, filled with a series of mind-boggling puzzles, mysterious clues, and hidden gems, all waiting to be deciphered within the span of an hour.
This immersive experience provides a unique opportunity for team works to collaborate, strategize, and communicate effectively, as they work together to unravel the enigmatic puzzles and ultimately make their escape.
It's not just about the thrill and excitement, but also about fostering trust, camaraderie, and teamwork among your team members.
So, why not put your skills to the test in this exhilarating yet challenging environment? Get ready to embark on an unforgettable adventure that will leave your team with lasting memories and a stronger bond than ever before!
10) Amazing Race
Set up an exciting Amazing Race-style event around the beautiful city of Singapore, where your team will embark on a thrilling adventure to beat the clock while solving intriguing clues and completing exhilarating challenges.
This immersive and engaging activity not only brings out the spirit of friendly competition as it require teams race against each other to claim the ultimate victory but also serves as a fantastic opportunity to foster teamwork and enhance communication skills.
Participants will put their abilities to the test, navigate through the vibrant streets of Singapore, and manage their time effectively to conquer this fun experience. Join us for a remarkable journey filled with excitement, discovery, and unforgettable memories!
Leisure Activities
11) Cosmic Bowling
Bowling is a timeless classic, loved by people of all ages. But have you ever experienced the excitement of Cosmic Bowling? Imagine stepping into a world of vibrant lights and pulsating music, as you bowl in the dark, creating an electrifying atmosphere like no other.
It's not just a game, it's an immersive experience that will leave you and your team buzzing with energy and laughter.
Whether you're a seasoned bowler or a novice, Cosmic Bowling is sure to become one of your team's most cherished activities. So gather your friends, split into teams, and get ready for a friendly competition that will take your bowling nights to a whole new level of excitement!
12) Yacht Rental
Looking for the perfect team building experience? Look no further than a luxurious yacht rental! Picture this: you and your team sailing through the open waters of Singapore, surrounded by breathtaking views of the beautiful islands off its coast.
As you explore, you can indulge in mouthwatering barbecues, try your hand at fishing, or simply enjoy the serene sailing experience.
And let's not forget about the mesmerizing sunsets that will paint the sky with vibrant colors, setting the perfect backdrop for your team bonding activities. This unforgettable occasion is guaranteed to create lasting memories and bring your team closer together than ever before!
13) Giant Board Games
Gather your team and foster strong relationships in an engaging manner and larger-than-life board games like giant Jenga or the Giant Connect Four.
This exciting activity not only brings teams closer together but also stimulates their creative thinking abilities, fostering a collaborative and innovative environment. With every move, the game sparks joy and laughter, creating unforgettable moments of shared laughter and camaraderie.
Undoubtedly, this is one of the most sought-after thrilling team building activities in Singapore, perfect for small groups who relish both physical and mental challenges, and crave an entire experiencethat is both exhilarating and intellectually stimulating.
Virtual Games
14) Hybrid Amazing Race
If you're searching for an innovative way to foster team bonding and camaraderie without the need to physically leave the office, consider the Hybrid Amazing Race.
This great team building activity involves teams receiving virtual clues and engaging in tasks from the comfort of their own locations. It presents a unique opportunity to boost team morale and encourage collaboration while still adhering to social distancing regulations.
Participants can look forward to a thrilling combination of laughter, friendly competition, and a sense of togetherness as they build relationships and navigate through the challenges.
Whether it's solving riddles, completing virtual tasks, or unraveling murder mystery, the Hybrid Amazing Race promises a great team building experience that will leave your team feeling more connected than ever before.
So gather your colleagues and embark on this unforgettable adventure!
15) Virtual Amazing Race
To foster team collaboration and strengthen bonds, the Virtual Amazing Race offers an exciting and engaging experience. In this interactive challenge, teams work together to solve clues and puzzles, competing against other teams to complete tasks.
As they navigate through virtual environments, participants engage with cutting-edge technology that transcends physical barriers and brings teams closer together.
This immersive activity not only encourages teamwork but also provides an opportunity to learn more about one another, fostering trust and open communication.
By embarking on this fun-filled adventure, teams can create lasting memories and forge deeper connections, regardless of their physical location.
16) Virtual Squid Escape
The entire experience of guiding your team through a virtual room, filled with interactive puzzles and cleverly hidden clues.
This immersive adventure will put your problem-solving skills to the test as you work together to unlock the secrets and escape.
Not only will you uncover each team member's unique thinking and working style, but you'll also discover the power of collaboration and effective communication in this virtual game.
Get ready for an unforgettable challenge that will strengthen your bonds and ignite your creativity. Let the escape begin!
Virtual Workshops
17) Virtual Stitched Leather Workshop
For a truly unique and fun team activity that will leave a lasting impression, why not try out a virtual stitched leather workshop? This engaging experience will not only bring your team together, but also allow you to tap into your creative side while learning a valuable new skill.
Under the expert guidance of experienced leather crafters, your team will embark on a journey of creativity and craftsmanship. Together, you will delve into the art of working with fine leather, mastering techniques that have been honed over generations.
As you work side by side, stitching and shaping, you will witness the transformation of raw materials into beautiful, handcrafted pieces that are not only functional but also carry a touch of your team's collective spirit.
Imagine the satisfaction of holding in your hands a meticulously crafted leather item that you helped create. From elegant wallets to stylish keychains or even personalized accessories, the possibilities are endless.
These exquisite pieces will not only serve as mementos of a shared experience but also remind you of the camaraderie and creativity that flourished during the workshop.
18) Virtual Canvas Art Jamming
Get the team to flex their creative muscles and let loose with an exhilarating art jamming session. Thanks to the wonders of technology, this exciting activity can now be enjoyed virtually, bringing highly energetic teams together no matter where they are.
Imagine this: your team gathers for a virtual canvas painting session, each member receiving their very own acrylic canvas and a delightful package of painting materials delivered right at their doorstep.
As the session begins, a live virtual instructor guides everyone through the artistic process, providing expert tips and encouragement along the way.
But wait, there's more! If you're looking to take it up a notch, consider hiring a live artist for an on-site art jamming workshop.
Picture this: your team immersed in a lively atmosphere, surrounded by vibrant colors and the sound of creativity flowing. With a skilled artist leading the way, your team will embark on a memorable journey of exploration and collaboration.
Whichever option you choose, one thing is certain – art jamming will ignite the creative minds of your team members, fostering a sense of unity and harmony as they work together to create something truly unique. So go ahead, unleash the artistic spirit within your team and watch the magic unfold!
19) Virtual Terrarium Workshop
Immerse yourself in the world of nature by assembling your own virtual terrarium in the comfort of your home!
This engaging team activity offers a unique and interactive experience, providing highly energetic teams with the opportunity to unleash their creativity and collaborate closely with one another.
As you embark on this journey, the workshop guide will be your trusted companion, offering insightful step-by-step instructions and expert tips on how to create stunning and visually appealing terrariums.
At the end of the session, each team member will proudly possess a one-of-a-kind terrarium, a miniature ecosystem that captures the beauty of nature. Whether you choose to display it in your home, office, or gift it to a loved one, this personalized creation will serve as a constant reminder of your team's creativity and shared experience.
So, get ready to discover the wonders of nature and embark on this captivating journey of building your own virtual terrarium!
20) Virtual Tote Bag Art Jamming
Gather your team online and immerse yourselves in a delightful experience of Virtual Tote Bag Art Jamming.
This innovative virtual session invites each participant to bring their own favorite tote bag, sketching utensils, and an array of art supplies to create captivating artwork together, all from the comfort of your remote locations.
Under the guidance of a skilled and experienced facilitator, you will embark on a journey of artistic exploration, embracing various styles and approaches to art making. Unleash your creativity and let your imagination run wild as you experiment with different techniques and unleash your inner artist.
What makes this virtual art jamming session even more special is the opportunity to easily share your unique creations with the rest of the team.
Before or after the session, you can effortlessly showcase your artwork, enabling everyone to gain valuable insights into each other's creative process and fostering a deeper connection within the team.
The Impact of Team Building Activities on Team Performance
Team building activities are a powerful way to bring your team together, promoting collaboration and fostering creative problem solving. Through these immersive experiences, teams not only gain valuable skills but also develop a stronger sense of unity and shared purpose.
When teams come away from their fun activities feeling more connected, motivated, and inspired, they are better equipped to tackle the challenges that lie ahead. Ultimately, team building activities can have a positive and lasting impact, enabling teams to become more productive, innovative, and successful.
When planning your next team activity, consider the impact it will have on your team's performance. Choose an activity that will challenge them while allowing them to come together as a cohesive unit – one that will foster greater collaboration and deeper connection among your team members.
And don't forget to make it FUN! After all, a little bit of fun goes a long way in improving team morale and performance.
The Role of Team Building Activities in Developing Leadership Skills
Team building activities are not only an effective way to bring teams together, but also a powerful tool for developing leadership skills. Through these immersive experiences, leaders can cultivate their communication and negotiation skills while amplifying their team's productivity.
For example, team building activities such as virtual art jamming sessions require strong leadership in order to succeed. Leaders must be able to organize their team, delegate tasks, and make decisions quickly in order to achieve the desired outcome.
These activities also provide an opportunity for leaders to practice their communication skills by articulating strategies and instructions clearly and efficiently.
In addition, team building activities can also help leaders develop problem-solving abilities by encouraging them to think outside the box. As teams work together to solve puzzles and complete challenges, leaders must come up with creative solutions and anticipate potential risks.
Overall, team building activities can be a powerful tool for developing leadership skills and unleashing the creativity of your team.
With these activities, leaders can cultivate their communication and negotiation skills while also fostering collaboration and promoting problem-solving abilities.
Team Activities Singapore
Team activities Singapore can be a great way to bond and have fun together. We've discussed 20 of the best team activities that you can do this year, from virtual terrarium workshops to art jam sessions.
Whether your team is looking for something creative or just wants to relax and enjoy each other's company, there are plenty of options available that will help everyone feel connected and engaged with one another.
With these ideas in mind, let us know what your favorite activity was so we can continue making sure teams have access to amazing experiences!
Interested in related articles? Do check out the links below!
Frequently Asked Questions (FAQs)
If you have any questions about team activities in Singapore, you can refer to the frequently asked questions (FAQ) about the best team activities Singapore below:
Additional Useful Articles
If you are looking for other useful guides and articles about the best team activities in Singapore, check them out below: