Team Bonding Activities Singapore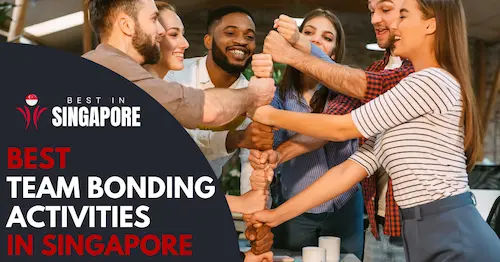 Team Bonding Activities are getting more popular in Singapore because they are a great way to build team spirit and help coworkers engage with each other better.
The best Team Bonding Activities in Singapore are Laser Tag, Bubble Soccer, Giant Board Games, Poolball™, Bullet Ball, Leather Workshop, and Clay Making Workshop.
With a track record of organizing over 50,000 successful events and receiving 8,000 outstanding reviews, FunEmpire stands out as the best choice for team activities in Singapore.
When booking, consider important factors like the type of activity, cost, location, and number of participants for the best experience with your group!
So if you're looking for the perfect way to boost morale at work or just want an excuse to get out with your colleagues, these best activities in Singapore should be on your list!
Key Consideration Factors
Before getting into the best team bonding activities Singapore, here are some consideration factors to remember:
Type of Activity: Depending on the type of team you have, it's important to choose a bonding activity that everyone can feel comfortable with. While some activities may be more suitable for outdoor enthusiasts or energetic people, others may be better suited for those who prefer quieter, more subdued activities.
Location and Cost: Location is another factor to consider – make sure to pick a venue that is convenient for everyone, and be mindful of the costs involved.
Number of Participants: It's also important to consider the number of participants – some activities may require a minimum number of people or a maximum number, so make sure you know exactly how many people will be attending beforehand.
Best Team Bonding Activities Singapore
Adventure
1) Bubble Soccer
Bubble soccer is a fun and energetic team bonding activity that's sure to bring the laughs! Participants don protective bubble suits that inflate around their bodies, allowing them to bump and crash into each other without fear of getting hurt. It's an amazing way to break down barriers between teammates, while also having loads of fun.
2) Archery Tag
Put your archery skills to the test with this team-bonding activity! Archery Tag is an exciting and adrenaline-filled game that will definitely bring other teams closer together as they compete in an intense battle of arrows.
This activity requires participants to be agile and use tactical strategies, making it a great way for other teams to learn about trust and develop active listening. Plus, it's a fun way to stay active while bonding with colleagues! It is recommended for groups of 10 or more.
3) Saber Tag®
Saber Tag® makes for a great team bonding activity in Singapore, with its immersive and exciting experience that can get your heart racing. It is an indoor laser tag arena where teams of up to 18 people battle it out with infrared-emitting "sabers" that respond to hits from opponents.
The Sabers also track shots fired and hits, so you can see who the top players are! This team bonding activity is perfect for groups that want to get a little competitive and have some fun. Saber Tag® caters to both large and small groups, making it an ideal choice when looking for team activities in Singapore.
4) Bullet Strike
Bullet Strike is a high adrenaline team bonding activity that encourages teamwork for better team performance. It involves participants being split into two teams and shooting each other with foam darts from Nerf guns in a custom-built arena. The goal of this outdoor activity is to defeat the opposing team by tagging out all players.
This fun team building activity helps to foster communication among players, improve strategic exercise and instill a sense of camaraderie. It is suitable for any size team and can be customised to fit the needs of your group. Bullet Strike offers an exciting experience that will surely bring out the competitive spirit in everyone.
5) Laser Tag
A fun group activity that is sure to get your team laughing and working together. Gather everyone at the state-of-the-art laser tag arena at Sentosa, and split them into teams for a fun game of laser tag! This thrilling activity will push your team's communication skills as they dodge laser beams and strategize to win the game. A great way to get everyone out of their comfort zone and bond as a team!
6) Bullet Ball
This new team-building activity is perfect for those looking to bond while having fun with the friends they make in Singapore. Players are divided into teams and will use Nerf guns to shoot their opponents' targets located around a designated course.
Not only does this activity requireteams to have strategy and cooperation amongst teammates, it also offers excitement as participants race against time. Bullet Ball is perfect for those who want a unique team building experience in Singapore, as it combines the classic fun of Nerf guns with a thrilling race against time. It's sure to be an instant hit amongst all ages!
7) Giant Whack A Mole
Put your team's coordination and agility to the test with Giant Whack A Mole. You'll be swarmed with oversized foam moles that need to be whacked, a great way to relieve stress and have tonnes of fun!
Perfect for large groups, this interactive game helps to bring out everyone's competitive side in a stress-free environment. A few rounds of Giant Whack A Mole is sure to bring your team closer together! This fun activity in Singapore will have everyone smiling and laughing at the end of it.
8) Ninja Tag
Ninja Tag is a fun, active and challenging activity that encourages trust and communication among team members. This game requires players to move around in an enclosed space while trying to avoid being caught by the "It" player who has to tag them.
Players must rely on each other, communicate and keep themselves hidden in order to win. This game can also be modified to help players learn new skills such as map reading and team strategy making. It is a great way for members of the team to bond and have some fun while learning something new at the same time.
9) Poolball™
Bring out the competitive streak in your team with Poolball™, a sport that has been gaining rapid popularity since its launch in Singapore. A combination of pool and basketball, this game will bring out the competitiveness between teams as they test their skills against each other.
This activity is suitable for all ages and skill levels and can be enjoyed even by those with no prior experience in either game. With its low physical demands, dynamic rules and minimal equipment needed, Poolball™ is the perfect team bonding activity that will get everyone excited!***
10) SaberFit
In the SaberFit activity, team work together in a fun and challenging environment as they put their skills to the test with lightsabers. Through this activity, the whole team will be able to develop strategic thinking, better communication, understanding and trust amongst each other while having a great time.
As one of the best fun activities in Singapore, it not only encourages physical activity, but also brings out the true spirit of camaraderie. With a variety of games such as tag and dueling with the lightsabers, SaberFit is sure to be an unforgettable experience for everyone involved.
Quest
1) Amazing Race
Put your team spirit to the test with a modified version of the popular game show! An Amazing Race in Singapore will take your group through various locations solving puzzles and competing in challenges.
2) Escape Room
A great way to build engagement is to take the team on an escape room adventure. With Mystery Rooms Singapore, you can choose from a variety of exciting and challenging puzzles and crime scene that are sure to test your team's skills. Not only will it be loads of fun, but it will also help build communication and problem solving challenges amongst team members.
Leisure
1) Yacht Rental
A great way to bond with fellow colleagues is to rent a yacht and sail around the stunning Singapore coast. This experience allows colleagues to enjoy each other's company while taking in some of the best views that Singapore has to offer.
Paired with delicious food, drinks, and activities onboard like having a cooking team building activity while on a yacht, this is sure to be one of the most memorable bonding activities to try in Singapore.
2) Bowling
With so many bowling alleys around Singapore, it's no wonder that this is one of the most popular team building activities in the city-state. Bowl a few rounds with your colleagues and you might even find yourself enjoying it enough to make it a regular activity!
Not only can you have fun while competing against each other, but you'll also be able to strengthen the bonds between you in an unexpected way. Plus, who doesn't like having snacks and drinks while bowling? It's a great way to spend some quality time together outside of the office.
3) Giant Board Games
This fun and interactive activity can be arranged for your whole office in Singapore. Teams will compete against each other to solve puzzles, answer questions, complete tasks and race against the clock as they make their way around a large board game set up on an open grass field or in a spacious room. It is an excellent way to encourage collaboration and communication, as well as foster friendships and engagement.
Participants will also have the opportunity to strategize and bond over creative problem-solving! After the game ends, wrap up with a short debriefing session to get feedback from different teams on what they felt were their strongest points and weakest areas in order to improve upon them even further.
Virtual Games
1) Hybrid Amazing Race
Put together a hybrid version of an Amazing Race, comprising both virtual and physical activities that your team can participate in! This is the perfect way to boost creativity and collaboration as teams compete against each other.
2) Virtual Game Show
Host your own virtual game show and challenge your team to answer a series of questions about their knowledge or skills. You can customize the game for different departments, or even offer prizes for the winners! Virtual game shows are a great way to have fun with your colleagues without having to leave the house.
Plus, you'll be able to access all sorts of interesting facts and trivia that you wouldn't normally have access to. So, why not have a little fun while engaging in team buildingg activities in Singapore? It's the perfect way to foster strong relationships with your colleagues and show them how much you appreciate their hard work.
3) Virtual Super Planet
Team activities has gone beyond the physical walls of office buildings. Virtual Super Planet is a virtual team-building activity that will take your team into an interstellar journey in outer space. Here, your team will come together to compete against each other while completing missions and puzzles.
This game encourages communication, collaboration and problem-solving skills – all the while, having an out of this world experience!
The best part? Your team will be able to enjoy the adventure without leaving their office! So, if you're looking for a unique and exciting way to bond your team, Virtual Super Planet is definitely worth considering.
4) Virtual Party Mania
If you're looking for a unique way to bond with your team, why not try Virtual Party Mania? With the help of their experienced facilitators and entertaining activities, this virtual team building game will have your entire team laughing and bonding in no time!
Each round consists of trivia questions and fun tasks that can only be completed if everyone on the team works together. It also helps to strengthen relationships between your colleagues and encourages creative skills.
Plus, with a variety of themes available, it's sure to be an unforgettable experience that will have everyone talking!
5) Virtual Mayday
Mayday is an urban escape room game specially designed with the perfect balance of collaboration and competition. You'll need to work together as a team to crack mind-boggling puzzles, uncover hidden clues, and ultimately get out before time runs out.
However, you'll also be competing for points along the way. Virtual Mayday is available in Singapore and your team can follow the instructions from a remote facilitator. It's perfect for teams who want to bond while having fun.
Plus, you don't have to leave the office space or home! This is one of the most popular team building activities in Singapore that is highly engaging and educational.
6) Virtual Jack's Hangover
Challenge: Virtual Jack's Hangover Challenge is a team building activity best suited for small to medium-sized groups. The challenge requires teams of 2-4 members each to complete a series of tasks and puzzles within an hour, with the aim of winning points to purchase virtual treats like drinks, snacks and team building games as rewards. This game encourages communication and problem-solving skills among team members.
7) Virtual Time's Ticking
This team building activity brings the classic "escape room" experience to your electronic device. Teams must work together and use their problem-solving skills to crack codes, work through puzzles, and ultimately escape from virtual rooms within a time limit. It is highly engaging and offers unique challenges for teams of all sizes.
The best part of the best team building activities? Participants don't have to leave home! This entire experience is available online and accessible from any device. It's perfect for remote teams or those who are spread across different locations.
Virtual Time's Ticking, your team can come together for a fun and interactive experience that will help build relationships no matter where you are.
8) Virtual Travel Experience
Organise a virtual travel experience for your team with JetLagCure! You can pick from any destination around the world and explore unique cultural experiences.
From food tours to museum visits, your team will be able to bond as if they were really travelling together, even if you're all sitting in different locations. Not only is this a great way to get some culture, but it's also an opportunity for the team to learn more about each other in a fun and engaging manner.
9) Virtual Nightfall
For those looking for a great entire experience, Virtual Nightfall is perfect! Participants will be divided into teams and compete with each other to complete creative challenges within the virtual environment.
This game encourages collaboration, communication and creativity – all important skills that can help build stronger teams. It's also a great way to get everyone out of their comfort zone and have some fun!
Not only is it a great bonding activity, but it's also an excellent way to learn new skills. Virtual Nightfall is sure to be a fun time in Singapore.
10) Virtual Time Travel
Take a virtual journey back in time with Virtual Time Travel! This activity brings you and your colleagues to an era of your choice, such as the Middle Ages or Ancient Egypt. It's a fun experience that will let you explore different cultures, customs, and lifestyles while strengthening bonds between members of the team.
Plus, there are plenty of interactive games and thrilling team building activities to make the experience even more memorable! This activity is a great way to encourage communication, collaboration, and critical thinking skills in your team.
11) Virtual Escape Room
There's no doubt that escape rooms are a great way to have fun and bond with one another. The challenge of finding clues, solving puzzles, and getting out of the room in time is an exciting adventure for all involved. However, if you can't physically get together due to social distancing restrictions or other factors, there's no need to worry. It become a popular way to bond in the past year, and they're just as thrilling!
12) Virtual Squid Escape
This virtual escape room is perfect for team activities in Singapore! Teams of four to six are locked in a simulated underwater world, and must work together to solve puzzles, find clues and ultimately escape the room within an hour. In this game, teams will learn about communication, leadership skills and collaboration.
Players can also customize their own teams to ensure that everyone can have a great time. With its immersive environment and engaging puzzles, Virtual Squid Escape is an exciting and unique way for teams to bond in Singapore.***
13) Virtual Amazing Race
Organise a virtual Amazing Race with your team for your upcoming event! This is the perfect way to get everyone out of their comfort zone, while also promoting healthy competition and collaboration. To start off, divide your teams into smaller groups (depending on the size of your workforce).
Each group will be given an envelope with clues that will lead them to their next destination – whether it's a physical or virtual location, or even an online quiz. As they progress through the race, teams can collect points and items from each stop. At the end of the race, the team with the most points wins!
Virtual Workshops
1) Virtual Tote Bag Art Jamming
Gather your team and unleash the creative genius of everyone with a virtual tote bag art jam session. This activity is perfect for teams who want to bond over art without having to leave their homes.
All participants will receive an artisanal tote bag canvas kit, complete with all the tools they need to create masterpieces. Afterward, the team can convene virtually to share their artworks, inspired by the artistic spirit of Singapore.
2) Virtual Non-Stitched Leather Workshop
If your team is looking for a new way to bond, why not try something out of the ordinary? Virtual Non-Stitched Leather Workshop offers an interactive online experience that allows teams to create their own custom leather items together.
Partnered with local shops in Singapore, Virtual Non-Stitched Leather Workshop provides all the necessary materials and tools for you to make your own leather creations with the help of an experienced instructor.
Each team member will be able to create their own unique items such as a wallet, bag or belt, and take them home at the end of the workshop.
3) Virtual Soy Candle Making Workshop
This virtual workshop is the perfect team-building activity for Singaporeans! It encourages creativity, collaboration and cooperation amongst team members as they craft their own unique soy candles.
Participants will be guided step-by-step through the process of making a beautiful candle with all the necessary materials provided to them in advance.
The end result will be a stunning handmade candle that will be a reminder of the activity and the team's bonding experience. This is an excellent way for teams to bond, as well as to create something memorable and special for everyone to take home and enjoy!
4) Virtual Balloon Sculpting Workshop
This is one of the most creative team building activities in Singapore. The Virtual Balloon Sculpting Workshop require teams to work together by having each member contribute to building a balloon sculpture.
It's an excellent way for teams to get their creative juices flowing and bond over something fun and unique. Additionally, this virtual workshop also helps create memories that can last a lifetime.
By participating in this workshop, it require teams to create figures and shapes using balloons in just about any style or size. It's an ideal activity for corporate fun team building event as well as private parties and group gatherings.
5) Virtual Terrarium Workshop
An innovative way to bring team members together and promote creative collaboration is by organizing a virtual terrarium workshop.
By virtually designing your own mini eco-systems, participants can learn more about the environment and how to create sustainable habitats for plants. The process of creating these terrariums helps build relationships as well as spark creativity.
It also brings out the best in each other while getting to know more about nature. This activity is suitable for team members of all ages and can easily be done online or through a video conference call.
6) Virtual Stitched Leather Workshop
Organize a virtual leather-stitching workshop for your teams to bring out the craftsmanship in them. Your team members will get to design and stitch their own personalized leather item such as passport holders, keychains, cardholders or wallets with the help of experienced artisans from Leather Craft Singapore.
This activity encourages collaboration between colleagues from different departments, while promoting creativity and appreciation of craftsmanship. It is an excellent team building activity that your teams will remember fondly!
7) Virtual Clay Making Workshop
Looking for an activity to bring your team closer together despite the physical restrictions posed by the pandemic? Look no further than a virtual clay making workshop! In this workshop, professional instructors will guide participants through the basics of working with clay and provide tips on how to create their own works of art.
This is a great opportunity for teams to work together and create something unique that symbolizes their shared company values. With the help of the instructors, teams can learn different techniques for clay-making, and explore new ideas along the way!
8) Virtual Canvas Art Jamming
Virtual Canvas Art Jamming is a fun and creative way to bring teams together, even though they are physically apart. This activity allows participants to be creative and unleash their inner artist through a virtual platform! Teams can choose from various artworks or create their own, using special tools and colors available on the platform.
Other Activities
1) PoundFit Singapore
PoundFit is a great team bonding activity in Singapore that offers a full-body workout. This class combines Pilates, yoga and cardio to create a unique and effective way of getting your heart rate up and having fun at the same time. Your group will be divided into teams and then compete against one another while they take part in different team building exercises.
2) BounceFit Singapore
Challenge your colleagues to a fun and energetic session of BounceFit at trampoline park, Bounce Singapore. This team bonding activity combines fun bouncing with intense cardio workouts, helping to foster camaraderie and teamwork among your colleagues.
At the same time, it's also a great way to get some exercise while having fun together. The sessions are customizable and can be tailored to suit your corporate team building activities needs. From a few hours of jump-and-jive session, to day-long corporate team building activities complete with food, drinks and games, BounceFit has it all.
3) Treasure Hunt Singapore
Go on a treasure hunt around Singapore with your team! It's a great way to discover the city and bond over some fun clues. Pick up helpful hints that are hidden in the streets and work together to solve challenges.
This activity will bring out creative skills, as well as encourage communication between team members. Plus, it can be as long or short as you'd like. Starting from the office or any central location, plan ahead and map out a creative route that takes your team around Singapore. Let the treasure hunt begin!
4) Music Jamming Singapore
Let your team unleash their inner rockstars and bring out the music in them. Music jamming is one of the best team building activities in Singapore as it allows members to explore different musical instruments like guitars, drums, keyboards or even just singing together.
Not only will this fun team bonding activity help increase cohesion among your colleagues but also helps build trust and stronger communication among them.
It also teaches your team to think outside the box and be creative which can help benefit their everyday work life. So set a date for some music jamming with your colleagues and let the good vibes flow!
5) Dance Challenge Singapore
Get your team moving with a little friendly competition! Gather everyone together for a cohesive team dance challenge, and encourage them to show off their moves. This is an especially great activity if you want to release some energy before getting down to business.
You can even make it a bit more interesting by challenging teams to come up with themed dance performances or mixing and matching different styles of dance. For added crazy fun time, you can even set up a prize for the winning team!
Whatever you decide, this activity is sure to get everyone laughing as they show off their creative moves. They don't come much more exciting than this!
6) Flower Arrangement Singapore
If you're looking for a unique team building activity, a flower arranging workshop might be it. The Flower Arrangement Workshop in Singapore is perfect for the entire team of all sizes, as the session can be customised to cater to large groups with plenty of cool team building activities and materials to go around.
During the two-hour session, each participant will learn how to properly arrange a bouquet of fresh flowers, culminating in a beautiful flower arrangement that can be taken home as a souvenir. The workshop is also great for encouraging collaboration and communication among the team members.
7) Dragon Boat Singapore
Get your team to work together as one unit and race against other highly energetic teams in this traditional Chinese canoeing team building activity. There are many companies that offer dragon boat racing activities in Singapore, which are suitable for corporate bonding events.
It is an exciting way to get the team members pumped up for a productive day ahead! The experience of working with each other in such an intense environment will certainly help to strengthen the team's bond. Be sure to have a prize for the winning team with the highest score points!
8) Human Foosball Singapore
If you're a fan of foosball, but don't have the space or budget to get an actual table, Human Foosball is a great way to make use of your team's energy and enthusiasm. Divide your team into two evenly-matched teams and have them play a game of Human Foosball. This game will have your team members laughing and strategizing at the same time, making it an ideal team bonding activity in Singapore.
9) Trampoline Singapore
Nothing says team building like bouncing around in a trampoline park! This team building activity is great for coworkers of all ages and abilities.
Gather your team at a nearby trampoline park and get them jumping, flipping, and soaring as team work together to have fun. Not only is it an awesome way to let off some steam and bond together, but it's also a great form of exercise.
Whether you want to practice flips and tricks or just have a friendly game of trampoline dodgeball, there are plenty of ways to make this exciting team building activity exciting for your team. Indeed, this is one of the best team building activities in Singapore that you won't want to miss out on.
10) Virtual Reality Singapore
For a totally immersive experience, why not have your team try their hand at virtual reality games for your team building activity? From simulator rides to shooting, dragon boating, and combat games, there's plenty of options available in Singapore.
Make sure everyone on the team gets to play something they like! This is a great way for teams to bond as it requires communication and team work to win the team building game.
As an added bonus, most virtual reality arcades offer special discounts for groups and corporate team building activities, so be sure to check out what's available near you!
11) Indoor skydiving Singapore
Take your team to an indoor skydiving centre and experience the thrill of free-falling! The sensation of flying is guaranteed to bring out a different side of everyone, and it's sure to be a unique bonding experience.
Indoor skydiving centres in Singapore offer this adrenaline-pumping activity with professional instructors and safety protocols for your team's safety.
With the help of wind tunnels, teams can enjoy a simulated skydiving experience without having to jump out of an aircraft! It's an exhilarating way to form a connection and create some unforgettable memories.
12) Kaboom Singapore
Kaboom Room is a excellent team building activity that can be done in Singapore. It is perfect for teams who are looking to test their strategic. In this game, participants will be split into two teams and given a set of items to construct a "bomb" within 30 minutes. The team which successfully build the bomb the fastest will be declared the winner.
Players must collaborate and communicate well in order to succeed in this team building game. This is a great way to get teams work together while having fun. It can also help to strengthen bonds within the group, as it requires each member to contribute their skills and knowledge towards a common goal.
13) Go-Kart Singapore
Go-Karting is a great team bonding activity for groups of all sizes and ages. Test your skills on the track, or challenge each other to friendly competitions! With several go-karting centres across Singapore, you can have access to top-notch facilities for your team bonding event.
Round up the race with some snacks or drinks from the nearby eateries to celebrate your win! This is an excellent way for teams to build trust and communication skills, cultivate friendly competition, and have loads of fun at the same time.
Go-karting are great ways to bring people closer together while building a strong work ethic.
14) Paintball Singapore
Paintball is a great team building activity. It encourages cooperation and strategy among teammates, and the adrenaline rush keeps everyone engaged and having fun. The sport also allows players to develop their physical agility and strategic thinking. If you're looking for a fun, yet challenging team building activity, paintball is the perfect choice!
15) Wine Appreciation Singapore
A Wine Appreciation Workshop is the perfect way to foster team bonding in Singapore. A professional sommelier will teach your team about different types of wines, and how to pair them with a variety of foods. At the end of the workshop, everyone can sample some of the wines they've learned about and talk about their experiences.
Team Bonding Activities Singapore
Overall, Singapore is the perfect place for team building activities. From trampoline and go-karting to bullet strike, art jamming, laser tag, and bubble soccer, there are plenty of fun ways to bond with your coworkers!
Not only will these activities help create trust among employees, but they can also enhance communication skills, which are essential for building a good business culture.
Take advantage of Singapore's unique range of team bonding experiences today—you won't regret it!
Interested in related articles? Do check out the links below!
Frequently Asked Questions (FAQs)
If you have any questions about team bonding activities Singapore, you can refer to the frequently asked questions (FAQ) about the best team bonding activities Singapore below:
Additional Useful Articles
If you are looking for other useful guides and articles about the best team bonding activities Singapore, check them out below: