Team Building Singapore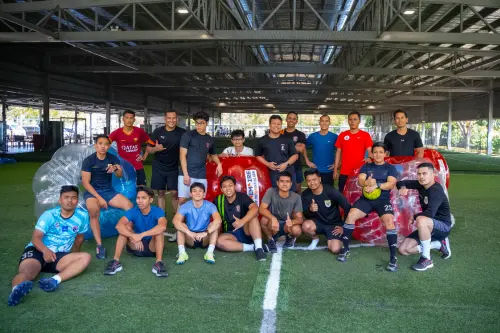 Team building is essential as it fosters better communication, increases collaboration, and encourages creativity, ultimately leading to improved productivity within the team.
The best team building ideas in Singapore are Laser Tag, Bubble Soccer, Giant Board Games, Poolball™, Bullet Ball, Virtual Leather Workshop, and Virtual Clay Making Workshop.
Whether you have a small or large team, a limited budget, or specific preferences, FunEmpire has got you covered.
With a remarkable track record of organizing over 50,000 successful events and receiving 8,000 outstanding reviews, FunEmpire stands out as the top choice for team building in Singapore.
With our help, you can create an unforgettable experience that will strengthen relationships between teammates while having a great time!
What Is Team Building?
Team building is the process of bringing members of a group closer together and fostering collaboration between them. It can involve activities like discussion forums, team sports or problem-solving exercises. The goal of team building is to promote teamwork and help build trust within a group.
When done correctly, it can lead to increased productivity, improved communication between teammates and a more positive work environment.
Top 5 Tips For Organising A Successful Team Building Event
1. Think About Your Goals:
Before you start planning your team building event, take a step back and think about what you want to achieve. Do you want to foster better communication between members? Or increase collaboration on projects? Knowing what you're trying to accomplish will help you create an event that meets those goals.
2. Choose The Right Activity
Once you know what you're hoping to accomplish, it's time to choose the right activity. Think about the type of event that will best suit your group – something physically active, or a more relaxed gathering? Be sure to take into account your team's interests and abilities when deciding on an activity.
3. Find The Perfect Venue
Whether you're staying indoors or going outdoors, finding the right venue is key. Look for a place that will suit your team's needs – and don't forget to factor in location, budget and other important considerations.
4. Prepare Ahead Of Time
Once you have an activity and a venue chosen, it's time to start preparing for the event. Make sure everyone is aware of the plan and any necessary equipment or materials needed. If you're having an outdoor activity, be sure to include provisions for inclement weather.
5. Follow Through After The Event
Team building doesn't end when the event does. Follow up with your team after the event to ask for feedback and discuss how you can incorporate what was learned into everyday work.
5 Awesome Benefits Of Team Building
Team building can do wonders for your team's morale, productivity and collaboration. Here are five of the top benefits:
1. Improved communication
Team building encourages people to communicate openly with one another and share ideas more freely. This improved communication strengthens relationships between teammates and allows for better problem-solving capabilities.
2. Increased collaboration
Team building facilitates collaboration between members, leading to better teamwork and a more productive workplace overall.
3. Enhanced problem-solving skills
When working together on cohesive team building activities, people are forced to think outside the box in order to solve problems quickly and efficiently. This helps to develop their problem-solving skills, which can be invaluable in the workplace.
4. Increased morale
Team building can help boost morale by giving people a chance to get away from the office and have some fun with their colleagues. This helps build relationships between teammates and creates a more positive work environment.
5. Improved productivity
Team building can help to increase productivity by helping people develop better communication and collaboration skills, as well as problem-solving capabilities. This leads to faster results and more efficient work processes overall.
Top 48 Recommended Team Building Activities in Singapore
Adventure Activities
1) Laser Tag
Laser tag is a great team building activity for any group size. It's fun, competitive and encourages communication between participants. Laser tag involves using infrared signals to shoot each other with 'lasers' in an arena-like setting.
The goal is the first team to score the most points by tagging opponents and gaining control of the different 'zones' within the arena. Laser tag is an exciting way to build a sense of camaraderie and bonding among coworkers in Singapore!
It helps participants get to know each other better, strategize together and work as a team. Plus, it's also a great workout!
2) Saber Tag
Saber Tag is a popular team building activity in Singapore and one of the best ways to get your teammates bonding! Players wield foam swords and battle their opponents with the goal of tagging them with their sword. This fun, safe game requires teamwork, strategy, and communication to succeed.
It encourages people of all ages to think on their feet, work together, and have a good time. Saber Tag is a fantastic way to help your team build trust, foster camaraderie, and let off some steam amidst the corporate grind.
3) SaberFit
SaberFit is a unique team building experience in Singapore that combines physical challenges and mental exertion. Participants will learn the basics of saber combat and individual tactics, while having to strategize and work together as a team to complete various scenarios. It also offers great opportunities for leadership training as well as uncovering individual strengths and weaknesses.
4) Giant Whack-A-Mole
A great way to engage the whole team and build camaraderie in Singapore is with a Giant Whack-A-Mole game. This fun activity is suitable for both indoor and outdoor settings, making it perfect for any type of team building event. Players stand at a distance from the 'moles' (typically wooden or plastic balls) and use a giant foam mallet to whack them back into the holes.
The aim is to hit as many moles as possible in a given time limit. This activity can be tailored to suit different age groups and team sizes, making it perfect for all types of get-togethers.
5) Bullet Strike
Bullet Strike is a great team building activity to build communication and strategy skills. The game requires players to be divided into two teams, in which they have to shoot each other with foam bullets while trying to defend their own base.
Players can also use various tactics such as hiding behind obstacles and working together as a team to gain an advantage over their opponents. This activity is a great way to foster team spirit and help your group develop problem-solving skills in an exciting and challenging environment.
6) Ninja Tag
This classic game of tag is sure to bring out a competitive streak in your team. It can be played indoors or outdoors and involves the whole group hiding from each other in an enclosed space until you are able to 'tag' one another. This game helps build trust, encourages creative problem solving and develops effective communication skills within teams.
7) Bubble Soccer
If you're looking for an exciting way to get your team bonded, bubble soccer ticks all the boxes. It is a game played in inflatable bubbles where two teams try to score goals against each other. It's easy to learn and offers hours of fun, laughter and exercise for everyone involved.
Bubble Soccer can be held almost anywhere too – at the beach, park, gym or sports field. This makes it an ideal team building activity in Singapore as there are so many different outdoor options available.
Be sure to plan ahead and book with a reliable bubble soccer provider for a safe and enjoyable experience. Your team will love this unique way of bonding and creating unforgettable memories together!
8) Combat Archery Tag
Combat Archery Tag is a great way to build coordination and camaraderie among your team. Here, teams of 4-8 players battle it out in an inflatable arena using bows and foam-tipped arrows. Players must strategize and work together to hit their opponents while avoiding being shot themselves!
9) Bullet Ball
If you want to inject a bit of fun into your team building session, give Bullet Ball a try! This is a game that can be played indoors or outdoors, and involves players trying to shoot each other with foam balls. It's a great way for teams to foster camaraderie, as well as practice their reflexes and aim.
10) Poolball
Poolball is a great team-building activity for groups of all sizes. This game emphasizes communication and cooperation among the players, which is essential to any successful team. The aim of the game is to hit your balls into certain pockets before your opponent does.
Poolball can be played in most billiards halls across Singapore and requires minimal setup. It is an easy game to learn and can create lots of laughs and enjoyment among participants. Poolball is a fun team building activity for groups looking to work together while having fun at the same time!
Creative Activities
1) Non-Stitched Leather Workshop
One of the most popular team building activities in Singapore is the Non-Stitched Leather Workshop. This activity offers an opportunity for participants to come together and create their own handcrafted leather products, by using special techniques and tools. It encourages cooperation and collaboration between team members as they work towards a common goal.
2) Stitched Leather Workshop
The Stitched Leather Workshop is one of the most popular team building activities in Singapore. Participants learn to create beautiful leather products with their own hands, creating unique items that they can take home at the end of the session. This workshop provides an opportunity for teams to work together, as well as come up with creative solutions and ideas.
3) Gel Candle Making Workshop
Gel candle making is a great team building exercise because it requires the participation of each individual in order to successfully create a finished product. This activity encourages creativity and cooperation, as well as strengthens communication within the group. With a gel candle making workshop, participants can customize their own candles with scents, colors, and decorations that reflect their personalities.
4) Tote Bag Art Jamming
For those looking for a creative team building activity, art jamming is a great option. Tote bag art jamming allows teams to work together to create unique designs and artwork on their own canvas bags. It encourages out-of-the-box thinking and problem solving as well as collaboration amongst group members.
This activity can be done indoors or outdoors and provides an atmosphere where employees can express their creativity while creating unique items as a team.
5) Soy Candle Making Workshop
Candle making can be a great activity to do as a team! With the Soy Candle Making Workshop, you and your team will have the opportunity to learn how to craft soy candles from scratch. Choose your own scents, colors, and decorations for the ultimate customization experience.
6) Canvas Art Jamming
Art Jamming or Canvas Art Jamming is a fun, creative activity which helps to improve team bonding. In this activity, all participants are given blank canvases and supplied with paint and other materials to create artworks inspired by their own imaginations. Teammates can either work together on one large artwork or take turns adding elements to each other's canvases.
This activity offers a unique way for participants to express themselves and collaborate in order to create something beautiful. It also allows team members to develop trust, communication and problem solving skills as they work together creatively.
7) Cooking Class
Cooking classes are a great way to build team spirit in Singapore! Not only can you learn how to make delicious dishes, but also get to know your colleagues better while having fun and engaging with each other. The beauty of cooking together is that everyone can contribute and be creative in their own way.
8) Clay Making Workshop
Clay making is a traditional activity that can bring out the creativity of your employees. It also encourages problem solving and collaboration, which makes it an ideal activity for a team building day in Singapore. Clay making workshops are available throughout the island, and they usually include instruction on how to make clay animals or figures from scratch.
9) Perfume Workshop
In Singapore, perfume workshops are becoming increasingly popular as a fun and engaging way to build teams. In such a workshop, participants are guided through the process of creating their own custom perfume blend that they can take home with them.
This activity encourages creative expression and gives team members an opportunity to bond over the shared experience. It is also great for developing communication skills as participants will have to work together and share ideas in order to create a successful blend.
10) Balloon Sculpting Workshop
Balloon sculptures are a popular team-building activity, particularly in Singapore. Balloon sculpting can help teams learn how to cooperate, communicate and work together. It also helps develop problem-solving skills as teams must figure out how to shape specific balloons into the desired sculpture.
11) Terrarium Workshop
If you are looking to add a creative and unique element to your team building experience, a terrarium workshop could be the perfect solution. The beauty of this activity is that it requires no prior knowledge or skills, making it suitable for all sorts of groups. Participants will get to enjoy some light-hearted fun while learning about plants and crafting together!
Quest Activities
1) Escape Room
Escape Room games have become increasingly popular in Singapore for team building activities. It's a great way to get your team out of their comfort zone and challenge them to come up with creative solutions to puzzles under pressure. These games can help build trust, encourage collaboration and improve problem-solving skills between team members.
2) Amazing Race
An Amazing Race is a great way to engage your team and have them work together towards a common goal. Participants are given a set of tasks or challenges that they must complete at different locations in Singapore, which can include everything from having to solve puzzles to racing against others!
Leisure Activities
1) Yacht Rental
When it comes to team building in Singapore, nothing quite beats an unforgettable experience onboard a luxurious yacht. Yacht rental is becoming increasingly popular among businesses looking for a high-end team building activity — and with good reason!
A day spent sailing the waters of Singapore can be incredibly rewarding and provide your team with a unique opportunity to bond and connect. Yacht rental companies in Singapore provide world-class vessels and experienced captains to ensure you have a memorable experience out at sea.
2) Cosmic Bowling
Cosmic Bowling is a great way to bring your team together and have some fun. It's the perfect solution to break up any monotony and introduce something new into the mix. This activity is an all-ages friendly, bowling game taken up a notch with loud music, disco lights, and glow in the dark lanes. Once you start playing, the fun and laughter will quickly ensue.
Cosmic Bowling has become a popular team building activity in Singapore due to its versatility, affordability and ability to encourage teamwork and sportsmanship.
3) Giant Board Games
This is a relatively new concept in Singapore and it has been gaining popularity among team building activities here. Giant board games involve enlarged versions of classic board or card games, such as Jenga and UNO. These games are often played outdoors and can accommodate for larger groups of people. Players must work together to complete the game, making them great for developing teamwork and communication.
Virtual Games
1) Virtual Nightfall
Do you want to bring your team closer together in a fun and interactive experience? Then virtual nightfall adventure is the perfect team building activity for your group! This unique game takes place over video-conferencing, where teams of 4-6 individuals try to race against each other in solving a series of puzzles.
As an added bonus, virtual nightfall also encourages communication and teamwork by having players work together to reach the ultimate goal. It's a great way to build trust amongst your team members while also providing an engaging activity that everyone can enjoy!
2) Virtual Party Mania
The next logical step for team building in Singapore is to go virtual. With the rise of virtual reality, mixed with augmented reality and artificial intelligence, it's now possible to have a truly interactive and immersive experience. Virtual Party Mania provides an easy way to connect your team online in a simulated environment, with games and activities that promote collaboration while still allowing for social interaction.
3) Virtual Super Planet
Virtual Super Planet is one of the most popular team building activities in Singapore. This virtual video arcade offers a wide range of exciting and entertaining games suitable for all ages. Whether you're looking to compete in your favourite racing game, test your puzzle-solving skills or challenge yourself with an action-packed shooter.
4) Virtual Mayday
The digital revolution is here and team building activities are no exception. Virtual Mayday brings the concept of team building to you through their video conferencing technology, allowing teams to get creative with their ideas while collaborating remotely. This is a great option for those who may have limited physical contact due to distance or safety reasons.
5) Virtual Escape Room
An increasingly popular method of team building in Singapore is the virtual escape room. It's a live, interactive game where teams are 'trapped' in a digital room and must work together to complete objectives and find their way out. This type of game encourages collaboration and problem-solving skills, as well as communication among members.
6) Virtual Amazing Race
Organizing a virtual Amazing Race is a great way to encourage team building in Singapore. This activity can be done remotely, without having to leave the comfort of your home or office. Give teams a list of items they need to find and tasks they need to complete throughout their virtual race.
Prizes can be awarded for the fastest time and most creative solutions. This activity helps to foster creativity, collaboration and critical thinking which are important skills for success.Team building activities like the virtual Amazing Race can greatly enhance team morale while helping to create better bonds between colleagues.
It also encourages teamwork, problem solving and competitive spirit among staff members, making it a fun and educational experience for everyone involved.
7) Hybrid Amazing Race
If you're looking for an exciting team building activity in Singapore, then consider organizing a hybrid Amazing Race. This is the perfect activity to get your teams out of the office and into some fun and unique places around Singapore.
Teams will be split up into smaller groups and given clues that they must decipher together to find their way to the finish line. Along the way, they'll have to complete various challenges and tasks in order to earn points. This is a great opportunity for teams to bond while exploring Singapore together in a fun and exciting race!
8) Virtual Squid Escape
Squid Escape Rooms provide a unique virtual team building experience in Singapore. Participants enter a 3D digital world and work together to solve puzzles, uncover secrets, and find their way out.
With many different escape room variations available, it is sure to give your team an unforgettable challenge. The rooms can be customized for any group size, making them a great option for virtual team building.
Plus, the use of cutting-edge technology allows participants to connect from anywhere in the world! So if you're looking for an immersive and engaging experience, this is definitely one to consider.
9) Virtual Food Quest
This unusual and fun team-building activity will keep the whole group occupied for hours. It's a great way to break up the day and get everyone involved, no matter how far apart you are. With Virtual Food Quest, teams must find their way around Singapore by completing challenges that take them on a virtual food journey across the country.
Teams must use their problem-solving skills and creativity to complete the challenges in each region, with a bit of friendly competition thrown in for good measure!
10) Virtual Time Travel
Another popular team building activity in Singapore is virtual time travel. It can be done internally or through a professional service provider. With virtual time travel, teams are taken on an interactive journey to different parts of history using VR technology and other immersive elements.
This allows the team to explore a variety of locations and eras from around Singapore's rich cultural background. Team members learn about the past and present, understanding the similarities and differences in how people lived at different points in time.
11) Virtual Game Show
Virtual game shows are increasingly popular in Singapore now – they bring the fun and engagement of a physical game show right to your virtual event! Host an exciting virtual game show for your team, with general knowledge questions, interactive puzzles, or even customised trivia about your company. It's a great way for teams to interact remotely and have some fun together.
Team building activities like this foster a sense of belonging and strengthen team bonds, even when you're miles apart. Many virtual game show providers offer customisable packages in Singapore, so you can create the perfect event for your team!
12) Virtual Jack's Hangover
Did you know that team building activities don't always have to be done in person? Virtual Jack's Hangover is a virtual game designed for highly energetic teams of all sizes. Players are assigned roles and tasks, and must work together to complete objectives and puzzles before the time runs out.
Not only will this activity help your team bond and learn to work together more effectively, but it's also a great way to have some fun while doing so. With the help of technology and creativity, Virtual Jack's Hangover is sure to be a hit in Singapore!
13) Virtual Time's Ticking
Time's Ticking is a virtual team building activity that gives your team members the chance to work together remotely in order to complete assignments and tasks before time runs out. It's an exciting way for teams to bond and learn about each other as they tackle various challenges, from logic puzzles to scavenger hunts.
With its fast-paced and interactive format, Time's Ticking is a great choice for teams looking to have some fun while growing their team building skills.
14) Virtual Travel Experience
Virtual travel experiences have become increasingly popular for team building in Singapore. Companies are now able to take their teams on a virtual adventure and explore the fascinating places of cultures around the world without ever having to leave the office.
Virtual tours can be customized to suit any group's interests, from learning about foods, customs, or even taking part in virtual challenges. Team building activities such as scavenger hunts, trust exercises, and problem-solving tasks can be incorporated into the itinerary to further strengthen team bonds and increase collaboration.
Virtual Workshops
1) Virtual Canvas Art Jamming
Virtual Canvas Art Jamming is a fantastic team building activity that can be conducted virtually! In this activity, participants will join an online platform with their colleagues and receive individual canvases, brushes, acrylic paints and other art materials.
The leader or facilitator will then guide the team into creating a collaborative painting together without anyone seeing each other's canvas. As the team works together, they will have to communicate, plan and trust each other in order to come up with a beautiful piece of artwork.
2) Virtual Terrarium Workshop
The virtual terrarium workshop is a unique team-building activity that encourages collaboration, problem-solving and creative expression. Participants will design their own mini garden using various recycled materials such as bottles, cans and cloth scraps to create their own miniature terrariums. The best part? Everyone gets to keep theirs afterwards!
3) Virtual Stitched Leather Workshop
Virtual Stitched Leather Workshop is a fun and creative team bonding activity that allows your team to create their own handmade leather stitched product. This virtual workshop was designed to encourage teamwork, communication, creativity, and problem solving skills.
The facilitator will provide an overview of the different types of leatherworking tools and techniques, as well as demonstrate the stitching and finishing process. The facilitator will then guide the team through a series of exercises, helping them to create their own unique leather product.
4) Virtual Clay Making Workshop
Take your team bonding activities to the virtual realm with a Clay Making Workshop! Despite it being online, this workshop still brings out creativity and encourages collaboration amongst participants. Through this activity, each participant is able to express their views through art in a fun and engaging way.
By learning new techniques together as a group, teams will be motivated to work together and come up with creative ideas to create the most unique pottery. With an instructor guiding you through, this is sure to be a memorable experience for everyone involved! Plus, it's a great way to practise mindfulness and have some much-needed fun.
5) Virtual Balloon Sculpting Workshop
Bring some fun and creativity to your team bonding exercises with a virtual Balloon Sculpting Workshop. This is a great way to bring out the competitive spirit in your team by engaging them in an interactive game of balloon sculpting.
By splitting your teams into several teams, each team will be challenged to construct their own unique designs using provided instructions and materials. The team with the most creative and unique design will be crowned the winner!
6. Virtual Candle Making Workshop
If you're looking for an exciting team bonding activity, why not try a virtual candle making workshop? It's a fun and creative way to get your team to bond over their shared interests in art and design. During the session, participants will be guided step-by-step on how to create unique candles from scratch.
7) Virtual Non-Stitched Leather Workshop
Virtual corporate team building activities are becoming increasingly popular in Singapore, as they offer flexibility and convenience. An example of this is a Virtual Non-Stitched Leather Workshop, which allows teams to create unique leather products such as wallets, bags and keychains. This fun team bonding activity requires minimal tools, skills or experience and can be easily adapted for any group size.
8) Virtual Tote Bag Art Jamming
Virtual art jamming is becoming increasingly popular for team bonding activities in Singapore. This method allows every team member to create and collaborate on a painting virtually, all from the comfort of their home or office. The entire team will be able to have an interactive experience as they work together to bring life to the piece of art.
Top 5 Venues For Indoor Team Building In Singapore
1) FunEmpire HQ
If you're searching for the perfect place to host your upcoming event, our versatile event space near Mattar MRT is just what you need! Make it even better by adding some interactive activities from FunEmpire. From Gel Candle Making to Poolball – this private spot in Singapore can help take your team's performance and bond to a new level without any intrusive onlookers. Enjoy total privacy at our welcoming venue so that no one disturbs the fun!
2) CharisTurf @ Eunos
Are you looking for the perfect spot to host your team bonding event in Singapore? Look no further than CharisTurf @ Eunos! This venue provides ample room and parking accommodations, making it a great choice for large groups.
Your group can enjoy cool team building activities like dodgeball, soccer, volleyball and more when they gather here. With this exceptional space available to you, why wait any longer? Make plans today to have your next team building event at CharisTurf @ Eunos!
3) Wing Fong Building
End your pursuit for the perfect spot to plan and organize your team bonding session today – Wing Fong Building located on Guillemard Road has arrived! With ample parking spaces and 24/7 availability, this expansive venue provides a brilliant backdrop for large events such as dodgeball or capture the flag. Unite all of your highly energetic teams in one area and let them interact collaboratively with your favourite team building activities that will help you accomplish objectives quickly and effortlessly.
4) The Cage @ Kallang
Don't miss out on this great opportunity to book Kallang for your corporate event! This prime location offers ample parking, private pitches with comfortable seating arrangements and adequate shelter in case of inclement weather. Additionally, we have partnered up with experienced event organisers to ensure that all your needs are met. Make sure you don't miss out – reserve now!
5) FutsalArena @ Yishun
Are you in need of a break from the mundane drudgery of your daily office routine? Come to Futsal Arena @ Yishun and shake off all those worries! Take pleasure in this opportunity for the best team building activities including Laser Tag and Bubble Soccer, with an awe-inspiring backdrop provided by the lush greenery of Yishun Park.
Fuel up on some thrilling fun competition as everybody strives to come out victorious – it's time crown a champion among these "funtastic" games!
Top 5 Venues For Outdoor Team Building In Singapore
1) East Coast Park
Singapore's East Coast Park is a favorite amongst visitors, rich with delicious food options and best team building activitiess to partake in. Unfortunately, this also makes it an incredibly popular spot for team gatherings—and since it's a public park space, paying for exclusive use of the area might not be feasible as demand often exceeds availability. For those who are looking for more seclusion during their event or corporate gathering, overcrowding can become problematic if you don't plan ahead.
2) West Coast Park
Have you been looking for a tranquil and peaceful setting away from the bustling city? If yes, then West Coast Park is your go-to destination! This 50-hectare park located in Singapore's southwest corner — opposite East Coast Park – offers BBQ pits, camping sites, plenty of family fun activities, and most importantly fewer visitors compared to other parks.
Consequently making it easier to secure a spot here if you're planning on hosting the best team building activities outdoors. Before booking your outdoor event venue make sure to consider electricity needs as well!
3. Labrador Park
Step into Singapore's oasis of tranquility, the Labrador Park situated at its southernmost point! A quick walk away from the freshly built MRT station, this beautiful park has something for every type of explorer. From jungle gyms and ancient tunnels to tranquil panoramas along its shoreline – see it all when you come to Labrador Park!
4. Pasir Ris Park
Looking for the perfect location to bring your family or colleagues together? Pasir Ris Park is an ideal choice! Situated on Singapore's eastern coast, this park offers 6km of picturesque trails and mangrove forests to explore. Enjoy watersports and rent out barbecues for some delightful outdoor dining with friends and companions.
Plus, there are plenty of open fields available where you can play team building games in a fun-filled atmosphere – what more could you ask for?! With so much to offer at Pasir Ris Park, it truly is the best spot for team bonding activities!
5) Sentosa
Are you aching for a peaceful escape from the urban hustle and bustle? Look no further than Sentosa Island – an exquisite destination between sun, sand, and sea. You can kick back with friends or business partners while enjoying the best team building activities or corporate events. It is undoubtedly heaven on earth!
Top 5 Team Building Companies In Singapore
1) FunEmpire
FunEmpire is the ideal place to make remarkable, thrilling memories that are suitable for any kind of team-building event, party, gathering or even holiday. With our top-tier entertainment facilities and services you can experience something extraordinary like never before!
2) Terrarium Singapore
Release your creative energy and construct a distinctive miniature glass garden. Form meaningful connections with family, friends or colleagues by joining our distinguished Terrarium Workshop in Singapore! Our qualified instructors will be there to assist you throughout the entire process so that it's an experience worth relishing. As one of the most well-known terrarium workshop providers, we guarantee that you'll have a mesmerizing time at our workshops!
3) Combat Archery Tag Singapore
Ready for a thrilling experience that combines paintball, dodgeball, and archery? Combat Archery Tag is just what you're looking for! This exciting activity has something to offer everyone in your family 10 years old or above. For an unforgettable day out full of entertainment, there's no better way than Archery Tag Singapore!
4) Laser Tag Singapore
Ready for the most exciting Outdoor Laser Tag experience in Singapore? Look no further! We provide state-of-the art laser tag equipment and camouflage tents to bring you an amazing adventure. Best of all, we are 100% mobile so our gear is brought straight to your door – indoors or outdoors space! With us, you can expect a one-of-a kind thrilling time each and every time.
5) Poolball Singapore
Prepare for an outlandish experience with Poolball Singapore – the optimal blend of pool and football! No cue sticks required; simply fire soccer balls into pockets on a larger-than-life pool table. It's sure to be more fun than you can imagine!
Team Building Singapore
For any group looking to cultivate trust, open communication, and collaborative problem-solving amongst its members, team bonding is an absolute must.
Singapore provides a variety of activities both indoors and out that can be customized to your crew's unique needs – so there are limitless possibilities for creating unforgettable moments with your colleagues!
Are you searching for an exciting experience or a great team bonding activity? Look no further than FunEmpire, Laser Tag Singapore, Combat Archery Tag Singapore and Terrarium Singapore!
These first-rate companies will guarantee that your fun team building event is nothing short of successful. With the support they offer, there's no doubt that it'll result in exceptional outcomes for your team!
Looking to find out more about team building? Check out some more of our blog posts down below:
Frequently Asked Questions
If you have any questions about Team Building in Singapore, you can refer to the frequently asked questions (FAQ) about Team Building in Singapore below:
Additional Useful Links
If you are looking for other useful guides and articles about Team Building in Singapore, check them out below: