Team Building Venues Singapore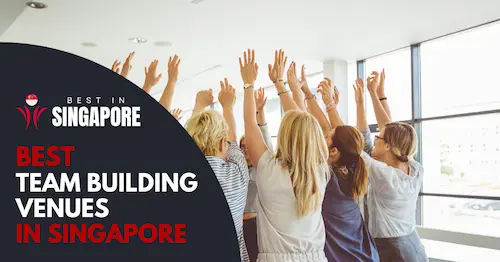 Team building in Singapore is an important part of any business, and Singapore offers some of the best venues for it.
The best Team Building Venues in Singapore are FunEmpire HQ, The Cage at Kallang, CharisTurf at Eunos, and Futsal Arena at Yishun.
When choosing a venue, it is crucial to assess factors such as size, location, and the range of activities offered.
FunEmpire's Team Building Venue in Singapore is renowned as the best, with over 8,000 5-star client reviews and a remarkable track record of 50,000+ successful events.
We'll explore each venue's own unique features and discuss how they can be used to create effective team-building experiences for your organization. So if you're looking for ways to bring your company closer together through fun team building activities in Singapore, read on!
Guide to Choosing Venues For Team Building Singapore
Team building activities are a great way of boosting morale, encouraging collaboration, and fostering creative problem-solving. When looking for the right venue for your team-building activities, there are several factors to consider:
Size of the Venue: The size of the venue should be appropriate to accommodate all attendees, with adequate space to move around and complete activities.
Location of the Venue: When selecting the location for your team-building venue, it's important to consider accessibility and proximity to public transportation. If your venue is far from public transport, ensure that there are sufficient parking lots available. Additionally, check if the venue is near any popular attractions or places of interest that could be explored before or after the team-building activity.
Type of Activities That Will Be Available: Depending on the activities, you may need to make sure that the venue offers sufficient space for the participants to move around and complete tasks. For example, if you are planning to have physical activities such as sports or outdoor games, the venue must have a field or open space large enough to accommodate your team.
Benefits of Finding Effective Team Building Venues Singapore
Provides an opportunity for an effective team bonding session
Through engaging activities that require teamwork, colleagues can foster trust and develop relationships with one another. This helps create a supportive environment which promotes creativity among team members.
Moreover, team building activities help break down hierarchy within the team as everyone is required to work together regardless of their role within the organization. Through team building, every team member can develop a better understanding of each other and learn how to effectively communicate with one another.
Learn new skills in these fun activities
Team building activities are a great way to help employees develop new skills in communication and strategic thinking, while having fun. Such popular team building activities can range from problem-solving games and puzzles to more physical activities like sports, hiking, and obstacle courses. Through these activities, team members can gain confidence in their abilities as they work together to achieve a common goal.
Team building events boost employee morale
Team building events have been shown to have a positive impact on employee morale. They provide employees with an opportunity to work together in a fun and creative environment, which can help build trust and relationships between colleagues. Additionally, these activities help foster collaboration, problem-solving skills, and team-building skills among team members.
Furthermore, these events can help employees feel more appreciated, as they are given the opportunity to bond and socialise with their peers after a long day at work. With such benefits, team building activities are an excellent way to increase job satisfaction and motivation in the workplace.
Tips for Choosing Venues For Team Building Singapore
Consider the Location of the Venue
When choosing the location for a team building venue, it is important to consider the accessibility and proximity to public transportation. If the venue is located far from public transport, it should have ample parking available or be near other attractions so participants can explore before or after the event. Additionally, it is best to select a venue that is central and easily reachable by the majority of attendees.
Consider the Type of Activities That Will Be Available
When selecting a venue for team-building activities, it is important to consider the type of activities that will be available. Team building activities are designed to help foster collaboration and creativity among team members while also providing them with fun activities. There are a variety of team building activities that can be organised at the venue depending on your goals and preferences.
Consider the Size of the Venue
When choosing a team building venue, it is important to consider the size and layout of the space. The size of the venue should be large enough to accommodate all of the participants as well as any additional setup that may be required for certain activities. Additionally, it should also provide ample space for participants to move around and complete tasks without feeling cramped.
Lastly, it is important to ensure that the venue has all the necessary amenities such as restrooms and access to food and drinks for participants. These small details can make a big difference in how the team building goes!
Consider the Price of the Venue
When selecting a team building venue, it is important to consider the price of the venue. Depending on your budget and needs, you may be able to find affordable venues that offer all the necessary amenities for your activities. Look for venues that have discounts or deals available so you can maximise value without sacrificing quality. Additionally, if possible, try to negotiate a better rate with the venue to get the most out of your team building.
Best Team Building Venues Singapore
1) FunEmpire HQ
Need somewhere for your next event? Then check out this adaptable venue close to Mattar MRT. Add some team-building activities from FunEmpire and select from over 60 options, like Gel Candle Making or Poolball, to revolutionize your experience! This private venue in Singapore is the ideal location with pool table for improved teamwork without external interference – bid adieu to prying eyes and bask in ultimate privacy during your event.
2) Futsal Arena @ Yishun
Tired of the monotony of office life? Vacate your desk and head over to Futsal Arena @ Yishun — where you can get a breath of fresh air and marvel at the gorgeous views. Not only will this give you an opportunity to sharpen your teamwork, but also participate in enjoyable team-building activities like Laser Tag or Bubble Soccer from FunEmpire. Conquer all opponents for a chance to be crowned victorious! Don't miss out on these "funtastic" games!
3) CharisTurf @ Eunos
Are you planning a team building event in Singapore? CharisTurf @ Eunos is the perfect place for organizations seeking for a huge space. This venue has plenty of room and parking space, so you can engage in events like dodgeball, soccer, or volleyball. Additionally, they offer customized packages to meet your unique needs! With its fame as one of the top spots for corporate events and parties in Singapore, CharisTurf will provide an unforgettable experience that's sure to have everyone talking about it afterwards. Don't wait any longer – choose CharisTurf at Eunos today!
4) The Cage @ Kallang
If you're planning a corporate event, consider Kallang as your ideal venue. You'll have access to plenty of free parking, private pitches with ample seating and good shelter for your guests. Additionally, we have partnered with multiple event specialists who can provide comprehensive assistance regarding your event needs.
5) Wing Fong Building
End your search for the perfect location to host your next team building session! Wing Fong Building located in Singapore's art district offers a spacious atmosphere with convenient parking and non-stop accessibility. It's an ideal site to carry out large events, like dodgeball or capture the flag games – guaranteed fun activities that will suitably engage teams in collaborative tasks and help you reach all objectives. Don't miss this opportunity; make it count today at Wing Fong Building!
6) Hort Park
If you are searching for an inspiring and energising setting to foster team bonding activities Singapore, Hort Park in Singapore is the ideal place. It offers a stunning array of breathtaking landscapes that can uplift everyone's spirits while providing a vast capacity of up to 600 people. Why not try cultivating your own little ecosystem surrounded by nature during your next team building session? You will be able to take away a piece of its lush greenery with you when it's time for you all to leave!
7) Dairy Farm Nature Park
Are you searching for a remarkable outdoor activities for your company? Look no further than Dairy Farm Nature Park! Relish the breathtaking views over 63 hectares of land as you take part in an invigorating hike or an exhilarating bike ride. Fancy something more thrilling? Plan an exciting Amazing Race to explore this natural paradise. If you're planning on hosting any events, the Wallace Education Centre inside the park is readily available – but be aware that groups exceeding 30 people need to secure a permit before they can use the venue.
8) Sentosa Pavilion
Ready for something new? Look no further than the Sentosa Pavilion! Beyond just sandy beaches and Universal Studios Singapore, you'll find this refreshing spot. Whether it's to host ice breaker games or a workshop setting, the Pavilion offers plenty of shelter from the sun-filled heat – perfect for when you need an escape. So make sure to check out this hidden gem on Sentosa Island and see what surprises await!
9) Marina Barrage
Embark on a memorable journey with your team to Marina Barrage, Singapore's first reservoir! Not only will you be enthralled by the majestic view of the city skyline, you can also liven up the atmosphere with fun games and activities such as flying kites. Compete against one another for creative titles like 'the most creative kite', 'longest standing kite' or even 'most team work involved'. Once everyone has mastered their skills in sailing these delightful creations, spread out some picnic mats and bask in this beautiful scenery. Add Marina Barrage to your list of event spaces – it won't disappoint!
10) Sands Expo & Convention Centre
Ready to take your next corporate event up a notch? Transform the Convention Centre into an unforgettable playground and give your colleagues an adventure they won't forget. Located near Bayfront MRT, this venue offers three magnificent floors of meeting rooms and ballrooms for you to pick from! For extra fun, why not set up station games in different spaces? Tell all of your coworkers about our suggestion – we guarantee it will be something special.
11) Suntec Singapore Convention
If you're searching for a perfect locale to host your company's team building activities, look no further than the sprawling Suntec Singapore Convention Centre. Whether you have an agenda in mind or need some inspiration, we'll work together to ensure that your employees are energised and motivated through engaging game-based challenges such as Amazing Race or Poolball! The aim is to create a day of fun and fellowship while nurturing teamwork – what better place to do it than at this premiere venue?
12) Singapore Management University
Make the most of SMU Hall's newest addition, a fantastic space that can fit up to 800 people and is ideal for hosting larger scale presentations or team building sessions. Hire an expert trainer to conduct a personality test which will aid in understanding your peers better, such as recognising each other's strengths and weaknesses so they may cooperate more effectively. This kind of activity can significantly enhance the work atmosphere, rendering SMU Hall one of Singapore's top choices when it comes to event spaces!
13) Gardens by The Bay
Take a journey through the vibrant world of horticulture and garden artistry at Gardens by the Bay. Spanning an impressive 100 hectares, this breathtaking event space is perfect for organizing ultimate team bonding activities in Singapore such as Running Man Race. Experience each of its unique stations scattered throughout the oasis-like surroundings and immerse yourself into this colourful environment full of diverse flora and fauna!
For those not keen on physical activity, there's still plenty to explore with our terrarium workshop which lets you learn more about plant species from around the world – no matter what you choose, one thing's certain; Gardens by The Bay will leave lasting memories that'll stay with your team forever.
14) Karting Arena
Rev up your team's enthusiasm with an adrenaline-filled go-karting experience at the Karting Arena! With a friendly and competitive atmosphere, everyone in attendance can get behind the wheel and have a taste of what it feels like to be an F1 driver. For fans of Drive to Survive, this activity will be sure to bring out loads of excitement – leaving your team screaming with joy!
15) The Mind Café
Searching for a perfect place to energise and strengthen the bond between your team? The Mind Café is here! Book out this exclusive space just for you and select from our fantastic corporate event packages curated specifically to meet all of your requirements. To further enliven the atmosphere, we also offer game emcees with unparalleled excitement.
Treat yourself to delicious food and drinks while bonding with your team through a selection of fun and engaging board games. Whether you're looking for an opportunity to bolster teamwork or just want some time away from the office, these activities are sure to bring out smiles! It's one of the most effective ways to achieve two goals in one session.
16) Zouk
By leasing this multifaceted space, you can easily inject fun into your team gatherings. Orchestrate a rousing dance competition that will not only display amazing moves but also hone the teamwork and coordination of your staff! Looking to be the ultimate cool boss? Book now and let everyone experience an unforgettable night with their coworkers!
17) Level Up
Revisit your past and relive the nostalgia of 80s gaming with classic titles such as Street Fighter, Metal Slug, air hockey, basketball machines and more. To access these games you must purchase tokens from reception or drinks at the bar – but it's worth it! Enjoy this golden era by indulging in its abundance of timeless entertainment; transporting yourself to a simpler time that is sure to give you an unforgettable memory!
18) This Flower Haus
Immerse yourself in a space of unparalleled elegance and stunning beauty at This Flower Haus. Its atmosphere is carefully created to embody the balance between grace and nature, making it an extraordinary destination for any event. With its immense size, up to 120 people can enjoy this remarkable venue together – no matter whether you're hosting a company gathering or entertaining clients; your guests will be spellbound by their experience at This Flower Haus!
19) Absolute Cycle
Spice up your team-building activities with a spin class, the perfect way to break away from extended periods at individual desks. Reserve a private studio and bring together coworkers through an energetic session of music, intense runs, fun choreography, and steady motivation! Each participant will be rewarded for their effort by breaking out into a sweat while having a blast.
20) SuperPark
If you're looking for an extraordinary and stimulating venue, then SuperPark Singapore is the place to be. This vibrant event space consists of three distinct sections, making it a perfect setting for coworkers or friends to have tons of fun! Boasting over five different thrilling activities in each section, players can easily let go of their worries as they bond with one another and create unforgettable memories together.
21) D'resort
When it comes to team building activities, why not opt for a resort in Singapore? With D'resort offering function rooms that are perfect for casual sessions and Art Jamming or Terrarium Making workshops available, you can easily relax and unwind. And if that's not enough to put everyone in the right mindset, there's also the nearby waterpark ready to be explored! There's nothing better than taking some time off under the sun after an intense meeting – make sure your team takes full advantage of this great opportunity!
22) HAPPEN
HAPPEN is an awe-inspiring event venue, created to make your next occasion one that will remain etched in the memories of all who attend. Our cutting-edge amenities and versatile facilities allow you to host any number of events—from business conferences, meetings and workshops to team building activities, award ceremonies or celebrations! No matter what kind of gathering you're planning on throwing at our premium site – we have it all covered for a truly successful experience.
23) Pasarbella
If you're searching for a unique way to end your team-building event with a delicious dinner, Pasarbella at Suntec City is the perfect venue. With its rustic and inviting atmosphere, this remarkable gourmet food hall has everything from exotic flavors to classic dishes that everyone can enjoy together. Its long tables offer plenty of room for seating without sacrificing any sense of camaraderie or closeness. Instead, it will provide your colleagues an opportunity to unwind after the activity while bonding over delectable cuisine!
24) Ginett Restaurant & Wine Bar
Host your next corporate soirée at Ginett Restaurant and Wine Bar! Located in the vibrant heart of Singapore's artistic hub, this cozy French bistro is a convenient destination for any gathering. Plus, you'll enjoy extended hours here – from 7am to late into the night. For an extra spark of fun during your evening bash, bring along some Giant Board Games and sip on tantalizing drinks until dawn breaks. Make Ginett one of your top choices when selecting event venues in Singapore!
25) NERF Action Xperience
Disregard any notion that nerf guns are just for youngsters! At the Nerf Action Xperience arena, you and your team can experience a thrilling adventure with various activity zones and obstacles. Not only will this team-building game help initiate strong connections between peers, but it'll also be an enjoyable time filled with laughter. Join us at Nerf Action Xperience today to strengthen bonds among colleagues in an unforgettable manner!
26) SEA Aquarium
Allow the natural beauty of SEA Aquarium's Ocean Gallery to inspire your colleagues while forging a spirit of teamwork and harmony. Lose yourself in this captivating atmosphere with its calming blue setting, capable of hosting up to 300 people. Add an extra layer of enjoyment by opting for themed activities like Terrarium Making or Candle Making so you can take home a piece of the ocean!
27) HUONE Singapore
At Huone Events Hotel, small businesses can find the perfect place for their meetings and events – all under one roof. We specialize in optimizing meeting returns by providing unique team building activities with creative spaces, event planning services, food & beverage options as well as programming solutions. Moreover, our own online event management system allows you to easily manage your activities hassle-free! With Huone at hand, there's no need to look any further when it comes to finding the ultimate solution for your corporate events!
28) Yi Xing Xuan Tea House
Unleash the bond of your team through an engaging and unique activity in Singapore: a Tea Appreciation session. Together, you'll discover the art of traditional tea making with access to premium teas throughout the experience. Plus, it doesn't hurt that there will be complimentary Dim Sum for everyone's enjoyment! These art workshops sure to create memorable moments as well as bring out teamwork among your group members – sign up now and have a blast!
29) Team Music
Team Music is ecstatic to introduce their newest music-focused team building experience, BANDINC: The Ultimate Corporate Rock Band Program. Perfect for corporate clients of any size, this one-of-a kind program can be tailored from half day to full day retreats so that groups between 10 and 350 people are included! And the best part? No musical background or knowledge is required – our extensive experience has proven that absolutely anyone can take part in the fun!
30) Scentopia
Need an effortless yet effective corporate team building activity that will invigorate the mind, body, and soul of your employees? Aromatherapy is a great choice! By utilizing scents to help relax everyone in the group. Scentopia's essential oils are especially unique since they incorporate native Singaporean Orchid aromas. Utilizing this technique ensures you have an engaging and calming experience for all members of your team!
Unleash your creativity and get to know yourself and colleagues better with a team building perfume workshop. Discover personal traits through the interactive personality test, and then create an unforgettable custom scent that puts you in a team-building mood. To make things even more fun, quiz games and auctions will add another layer of excitement – making it an enjoyable experience for everyone!
Team Building Venues Singapore
Team building activities are an excellent way to increase job satisfaction, motivation and collaboration among team members. With the right venue for your event, you can foster creativity and problem-solving skills in a fun environment that is both accessible and affordable.
By considering factors such as convenient location, type of activity available, size of the venue and price – you will be able to find the perfect team building venue in Singapore for your needs. With these 30 best venues at hand, we hope that you have found one suitable for your next team building session!
Interested in related articles? Do check out the links below!
Frequently Asked Questions (FAQ)
If you have any questions about team building venues in Singapore, you can refer to the frequently asked questions (FAQ) about the Best Team Building Venues in Singapore below:
Additional Useful Articles
If you are looking for other useful guides and articles about Team Building Venues in Singapore, check them out below: