Themed Cafe Singapore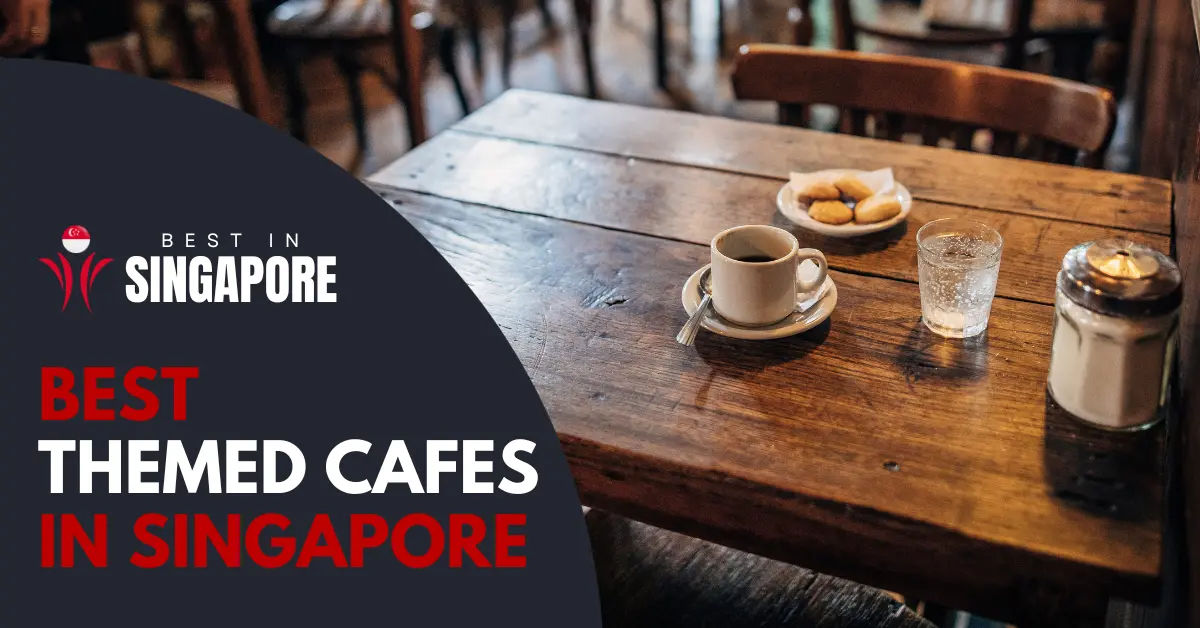 Welcome to the vibrant realm of themed cafes in Singapore where the dining experience goes beyond just tantalizing your taste buds.
The best themed cafes in Singapore are Joji's Diner, Soul Coffee, Tiong Bahru Bakery Safari, Brunches Cafe, Handlebar.
When selecting a cafe, it's important to consider factors such as customer service, location, pricing, reviews, and menu offerings.
Themed cafes offer a one-of-a-kind dining experience, combining captivating aesthetics, diverse cuisines, and creative concepts that elevate ordinary meals to extraordinary encounters.
Let's delve into a sensory journey of the best themed cafes that make eating out in Singapore a truly enchanting experience.
Quick Summary
Best themed cafes in Singapore are Joji's Diner, Soul Coffee, Tiong Bahru Bakery Safari, Brunches Cafe, Handlebar.
When choosing a cafe, make sure to check out the customer service, location, prices, reviews, and menu.
Themed cafes treat diners to a unique experience, blending memorable aesthetics, varied cuisines, and innovative concepts that transform ordinary meals into extraordinary encounters.
Key Consideration Factors
Before going to a cafe, make sure you have checked these important factors:
Customer service: Friendly and attentive customer service is essential in creating a positive dining experience.
Location: Choose a cafe that is conveniently located to avoid any hassle in getting there.
Prices: Set your budget and find cafes that offer value for money.
Reviews: Check online reviews or ask friends for recommendations to get an idea of the overall quality of the cafe.
Menu offerings: Make sure the cafe offers a variety of options that cater to your dietary preferences.
Best Themed Cafe Singapore
1) Old Habits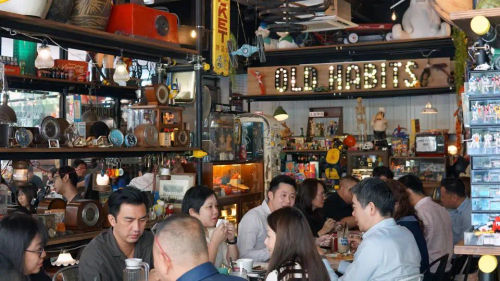 | | |
| --- | --- |
| Key Service | Vintage-inspired cafe |
| Address | 2 Telok Blangah Way, Mt Faber, #01-04, SAFRA, Singapore 098803 |
| Website | https://www.oldhabits.com.sg/ |
| Phone | +65 8864 3343 |
| Operating Hours | 11am–9pm (Tue to Sun) |
Embark on a whimsical journey through time at Old Habits, an enchanting cafe that effortlessly transports you to vintage Singapore.
Prepare to be captivated by meticulously curated details, where every corner unveils a treasure trove of vintage collectibles, eclectic old gadgets, and a nostalgic display of vinyls and cassettes.
Step into this time capsule and immerse yourself in the delightful setup, reminiscent of a classic neighborhood mama shop. Get ready to capture picture-perfect moments and create memories that will last a lifetime.
2) Handlebar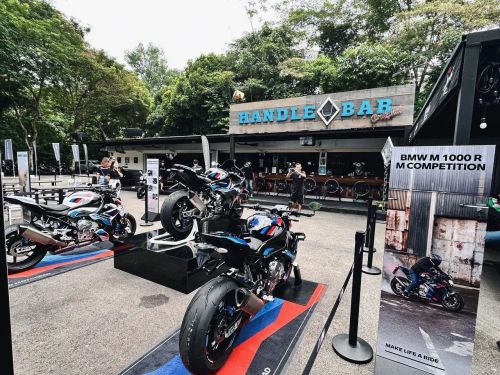 Immerse yourself in the vibrant and electrifying atmosphere of American biker culture at Handlebar, Singapore's exclusive Biker Bar. Step into a world that effortlessly transports you to a charming Southern town in America, complete with warm and nostalgic rustic wooden decor.
As you enter, you'll be greeted by the enticing aroma of mouthwatering barbecue and the joyful sounds of laughter and camaraderie that fill the air. The softly illuminated retail space creates an intimate and cozy ambiance, allowing you to fully indulge in this unique adventure.
3) Hangar66 Cafe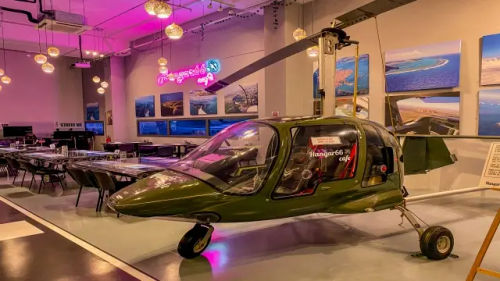 | | |
| --- | --- |
| Key Service | Aviation-themed cafe |
| Address | 66 Seletar Aerospace View WOA Aviation Hangar 66 Level 1, Singapore 797509 |
| Website | https://www.wingsoverasia.com/hangar66-cafe |
| Phone | (+65) 6659 6225 |
| Operating Hours | 11am – 10pm (Mon, Wed to Fri), 9am – 10pm (Sat to Sun) |
Located in a concealed aircraft hangar with a vantage point of the private jet runway in the Seletar Aerospace district, Hangar66 Cafe awaits. This one-of-a-kind aviation-themed café will transport you to a world of awe-inspiring flight. The aviation motif extends beyond mere décor, as the menu itself draws inspiration from the realm of aviation.
Indulge in the delectable offerings of Hangar66 Cafe, including the Full Throttle—an indulgent and satisfying breakfast featuring scrambled eggs, kaya toast, crispy bacon, truffle mushroom, savory sausages, mouthwatering tater tots, and perfectly toasted bread. It's a culinary delight that will tickle your taste buds and invigorate your day.
4) Soul Coffee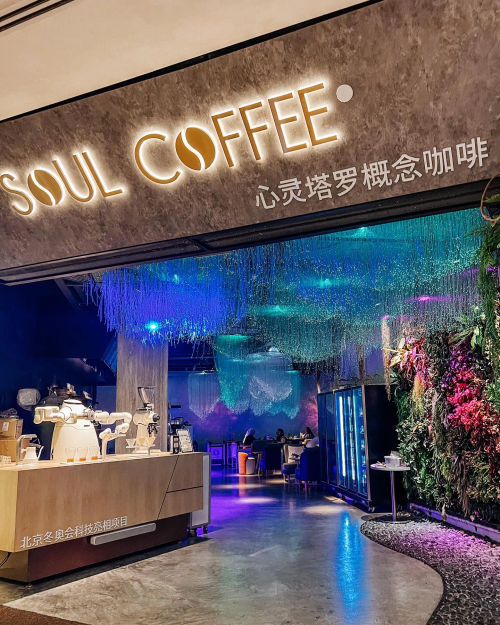 If you're into astrology, crystal aura reading, and tarot, a trip to Soul Coffee is a must. Step into this enchanting café and find yourself transported to a world of magic with a humanoid robot barista.
Picture yourself surrounded by mesmerizing floor-to-ceiling projections of majestic whales gliding gracefully through the deep blue sea, delicate sakura blossoms softly drifting from the trees, and a captivating cafe scene that constantly evolves and transforms every few hours.
5) Platform 1094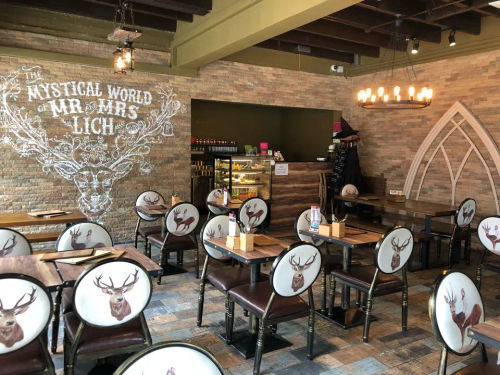 If you grew up with Harry Potter, you might have been let down when your Hogwarts letter didn't come. But fear not, muggles! You can still embark on the long-awaited magical adventure at Platform 1094. When you're immersed in the grand brick walls and the proudly hanging banners of the four houses, it's almost as if you've been whisked away to Hogwarts.
6) Tiong Bahru Bakery Safari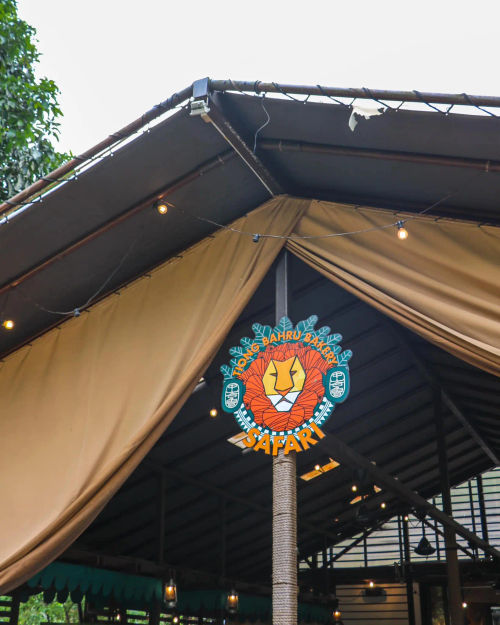 | | |
| --- | --- |
| Key Service | African safari with a charming tent-like structure |
| Address | 130E Minden Rd, Singapore 248819 |
| Website | https://www.tiongbahrubakery.com/ |
| Phone | +65 6877 4876 |
| Operating Hours | 8am – 6pm (Mon to Sun) |
You may be familiar with Tiong Bahru Bakery, a renowned chain, but were you aware of their exceptional branch at Dempsey? Nestled within a delightful tent-like structure, this hidden gem exudes an African safari theme, complete with Kilim rugs, rustic wooden beams, and even taxidermy butterflies adorning the walls.
What sets this outlet apart is its extensive menu, which offers a delightful twist compared to their regular locations.
7) Mosanco Enchanted Cafe The Fairytale Garden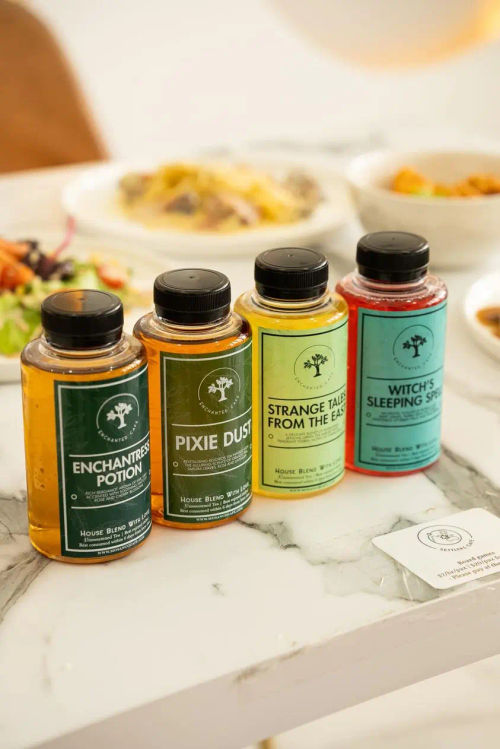 Step into the enchanting world of Mosanco Enchanted Cafe and immerse yourself in a whimsical fairytale. From pictureless frames adorning the walls to a lush greenery, every nook and cranny exudes charm and wonder. Indulge in a truly distinctive dining experience as you unwind in the birdcage seating area.
8) Under der Linden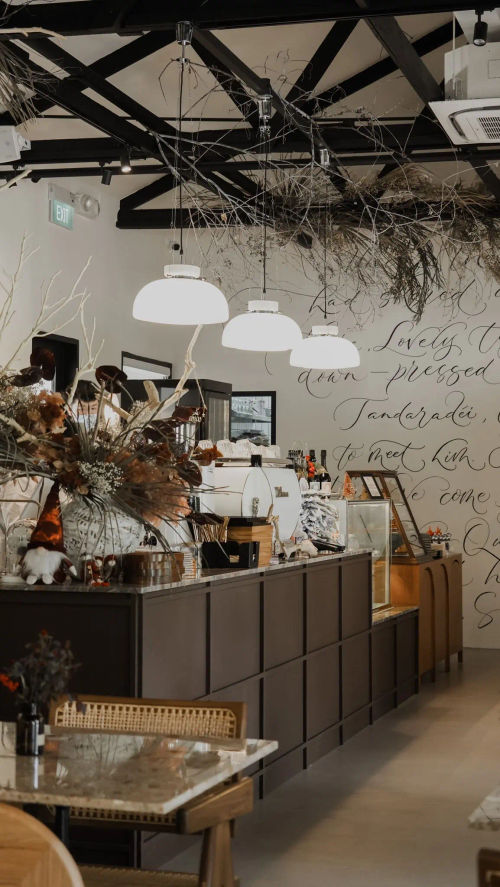 Taking inspiration from a poetic narrative portraying the enchanting encounter of two young lovers amidst breathtaking flowers beneath lime trees, this captivating café with a garden theme distinguishes itself as one of the most exquisite establishments.
Situated in a colonial-style bungalow, Under der Linden showcases an elegant entrance embellished with floral arches lining and a captivating interior adorned with dried flowers.
9) Brunches Cafe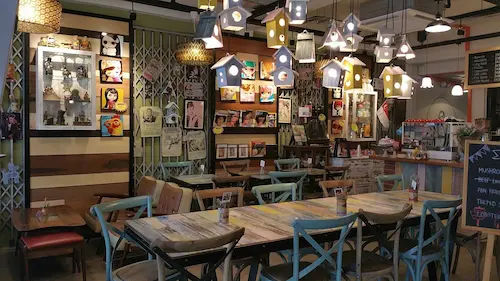 | | |
| --- | --- |
| Key Service | Retro-style cafe |
| Address | 96 Rangoon Rd, Singapore 218381 |
| Website | https://brunches.sg/ |
| Phone | +65 8685 8488 |
| Operating Hours | 11am – 10pm (Mon, Wed to Fri), 10am – 9pm (Sat), 10am – 10pm (Sun) |
Brunches Cafe is a nostalgic sanctuary, adorned with vintage posters adorning the walls and an assortment of quirky knick knacks scattered about. As you immerse yourself in the cozy ambiance, claim a coveted spot on the plush sofa set, ingeniously crafted from a repurposed vintage Mini Cooper, further enhancing the enchanting allure of your dining experience.
10) Cafe Monochrome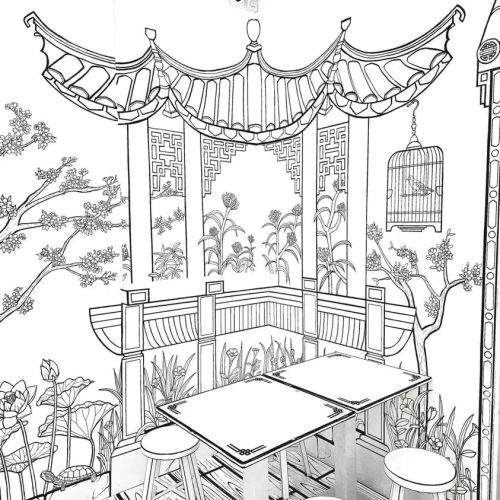 If you've ever been captivated by the realm of comics, you might have pondered what it'd be like to reside in a two-dimensional world. If this concept sparks your curiosity, then Cafe Monochrome is the place to be. This extraordinary cafe fully embraces a unique aesthetic, forsaking colors and instead embracing the artistic enchantment of black and white perspective lines.
11) Joji's Diner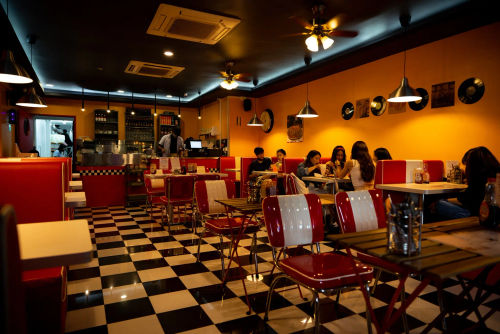 Immerse yourself in the vibrant aesthetic of the 80s, with its dazzling neon lights that have made a comeback in recent years.
From popular shows like Stranger Things to the addictive Riverdale, everyone longs to hang out with their friends at diners like Pop's. But if you're looking for that same vibe, look no further than Joji's Diner.
Located in Serangoon, this café is a hidden gem, adorned with captivating red-white booths, mesmerizing neon signs, and even a classic jukebox.
12) Cafe Kreams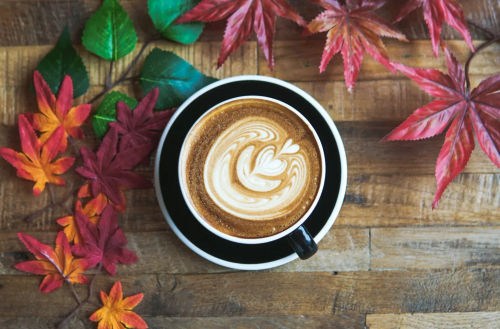 | | |
| --- | --- |
| Key Service | K-drama-inspired cafe |
| Address | 32 Maxwell Rd, #01-07 Maxwell Chambers, Singapore 069115 |
| Website | https://www.kreams.sg/ |
| Phone | +65 9673 2307 |
| Email | admin@mininve.com |
| Operating Hours | 9am–10:30pm (Mon–Sat) |
If you've ever struggled to remember the numerous K-Dramas you've watched, where the main characters stumble upon a romantic encounter amidst the enchanting autumn foliage, then brace yourself for the captivating and magical ambiance. This delightful café is located in the bustling neighborhood of Tanjong Pagar.
Themed Cafe Singapore
In conclusion, Singapore offers a plethora of unique themed cafes, each with its own distinctive ambiance and culinary offerings.
Whether you are a fan of a magical fairyland, a die-hard comic enthusiast, a lover of rustic vintage charm, or an aviation fanatic, there is a cafe in Singapore that will transport you into your desired world. Exploring these cafes not only satiates your taste buds but also provides a feast for your eyes and a delightful escape from reality.
So, why wait? Embark on a gastronomic adventure and let your imaginations run wild with these fascinating themed cafes today!
Frequently Asked Questions (FAQ)
If you have any questions about themed cafes in Singapore, you can refer to the frequently asked questions (FAQ) about the best themed cafes in Singapore below:
What are the best themed cafes in Singapore?
The best options are Joji's Diner, Handlebar, Soul Coffee, Tiong Bahru Bakery Safari, and Brunches Cafe.
Which cafe in Singapore offers an aviation theme?
If you have a passion for aviation, don't miss out on a visit to Hangar66 Cafe. This extraordinary establishment celebrates the world of flight and provides an unforgettable experience for its guests.
Are there any cafes that provide a tranquil setting away from the bustling city?
Absolutely! If you're looking for a tranquil escape from the hustle and bustle of the city, Tiong Bahru Bakery Safari is the perfect choice. Located in a serene setting, this café offers a peaceful atmosphere where you can unwind and enjoy your favorite beverages and delectable treats.
Is there a café near Farrer Park?
Absolutely! In the vicinity of Farrer Park, you'll stumble upon Daizu Cafe, a delightful establishment adorned with themed decor. Situated just a short walk from this bustling neighborhood, it's the perfect spot for food enthusiasts and sweet tooth to indulge in its distinct ambiance and delightful menu.
Are there any cafes that take you down memory lane?
There are indeed cafes that evoke a sense of nostalgia and transport you to another era. Old Habits is one such café, adorned with vintage decorations and mementos, offering a chance to relish cherished memories while enjoying your favorite treats.
Are there any cafes that offer a weekend brunch menu?
Experience a wide range of themed pop-ups and cafes that serve delectable weekend brunch menus. If you're seeking a delightful blend of delicious food and a captivating ambiance, head over to Brunches Cafe. Indulge in a mouthwatering brunch while immersing yourself in the enchanting theme of the café. You can also explore other options such as USD Cafe, Hello Kitty and Little Twin Stars Café, Wonderland Savour, Joya Onsen Cafe, or Kumoya Cafe at Orchard Central. These cafes offer a brunch menu with a little pony-inspired theme.
Is there a café in Singapore that has a swimming pool?
In Singapore, there is a café called Old Habits that stands out for having a swimming pool. This one-of-a-kind place offers delicious food and drinks while giving visitors the opportunity to take a refreshing dip in the pool during its opening hours. It truly provides an unforgettable experience.
Is there a café in Singapore with a comic book theme?
Yes, Cafe Monochrome in Singapore is a unique café that has embraced a comic book theme. This café suspends color and instead celebrates the intriguing world of black and white perspective lines.
Which café can provide a romantic, K-Drama-like ambiance?
Cafe Kreams, located in the bustling neighborhood of Tanjong Pagar, is renowned for creating a romantic atmosphere reminiscent of countless K-Dramas. If you're a fan of these television shows, you'll be instantly captivated by its charming ambiance.
Are there any cafes that features a nostalgic theme?
Brunches Cafe is an ideal choice for those seeking a nostalgic atmosphere. The café's walls are adorned with vintage posters, and an array of unique trinkets is scattered throughout the space. The seating is even centered around a plush sofa set made from a repurposed vintage Mini Cooper, adding to the nostalgic charm.
Additional Useful Articles
If you are looking for other useful guides and articles about themed cafes in Singapore, check them out below: