Vegetarian Restaurant Singapore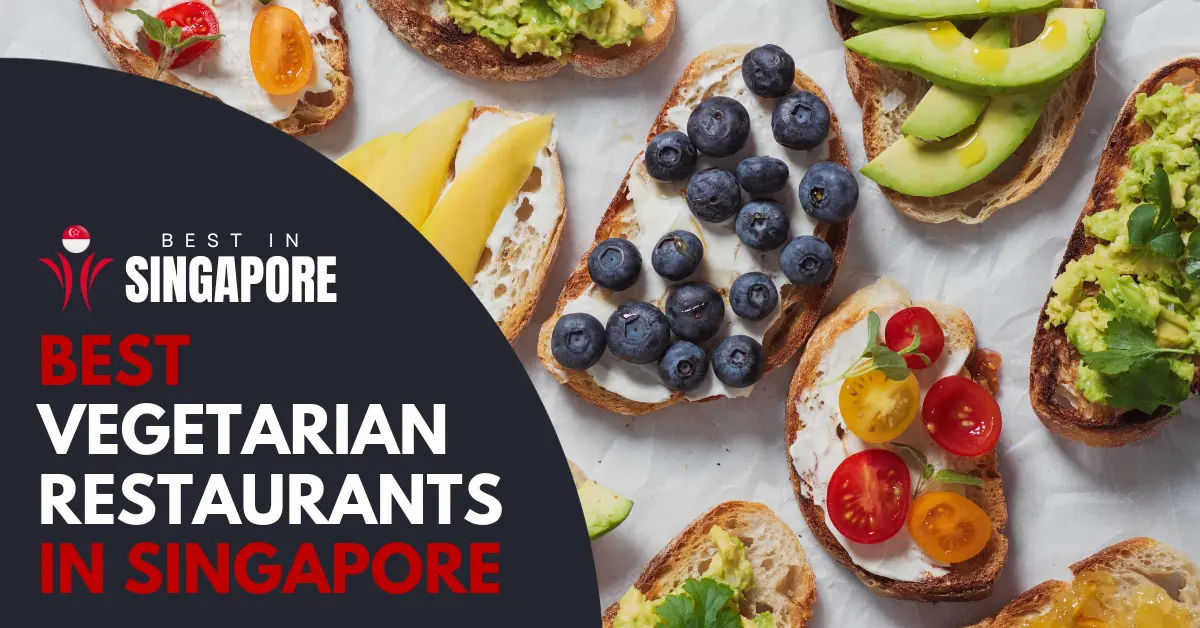 Navigating the culinary landscape as a vegetarian in Singapore is an adventure in itself.
The best vegetarian restaurants in Singapore are Sufood, NomVnom, The Kind Bowl, Afterglow, Joie by Dozo, and Herbivore.
When choosing which restaurant to go to, make sure to check out the customer service, ambiance, menu, location, and prices.
Vegetarian restaurants in Singapore are an ode to plant-based gastronomy, offering a rich tapestry of flavors, ranging from local delicacies to international cuisines, all crafted with fresh ingredients and a commitment to ethical, sustainable dining.
Whether you're a lifelong vegetarian or just exploring meat-free options, this guide brings you the top vegetarian restaurants in Singapore that you must visit.
Key Consideration Factors
Before choosing which restaurant to go to, make sure that you have checked on these important factors:
Customer service: Friendly and attentive customer service can make or break a dining experience. Look for restaurants with staff that are knowledgeable about the menu and ingredients, and who are willing to accommodate any dietary restrictions.
Ambiance: The atmosphere of a restaurant can greatly enhance your dining experience. Look for restaurants with cozy and inviting interiors, as well as outdoor seating options for al fresco dining.
Menu: While all of these restaurants are vegetarian, they may have different specialties and styles of cuisine. Check out their menus beforehand to see if they offer dishes that cater to your preferences.
Location: Consider the location of the restaurant and how easy it is to get there. Some of these restaurants can be found in central areas, while others may require more travel time.
Prices: Dining in Singapore can be expensive, so it's important to consider the prices of the dishes before choosing a restaurant. Look for restaurants that offer value for money without compromising on quality and taste.
Best Vegetarian Restaurant Singapore
1) The Boneless Kitchen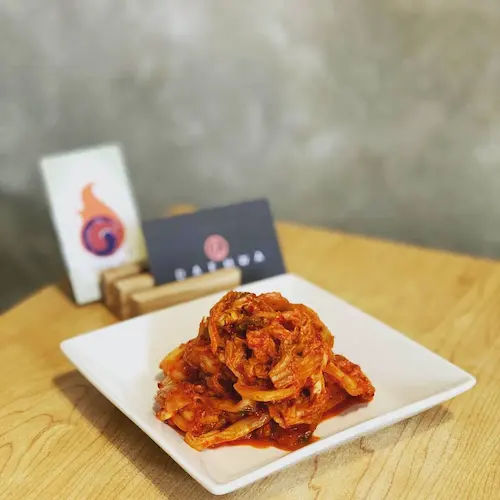 Ever since its inception in 2014, this culinary gem has taken Singapore by storm, captivating taste buds with its exquisite vegetarian and vegan Korean delicacies. Picture this – a raw crispy lasagne that's a work of art, meticulously crafted from scratch using organic ingredients sourced straight from Korea!
But it doesn't stop there. This establishment goes above and beyond, prioritizing your well-being. Say goodbye to alliums like onions, garlic, and shallots, and wave farewell to MSG. Only the healthiest and most mouthwatering food options await you here!
2) Sufood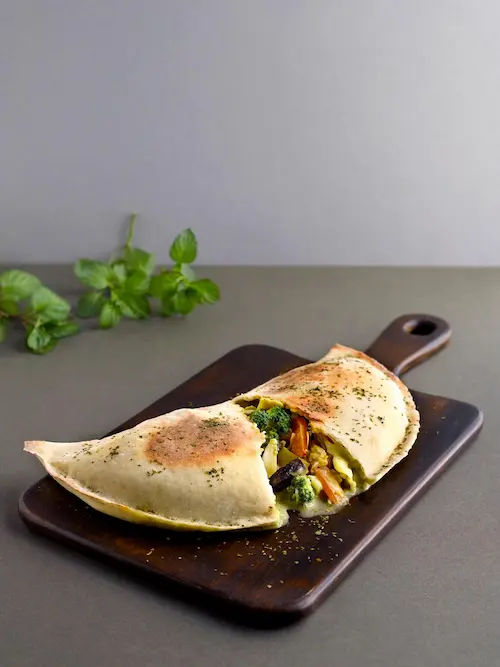 Indulge in a culinary adventure at Sufood, nestled in the vibrant Raffles City Shopping Centre. Prepare to be amazed by their exquisite and nourishing creations, available from 11:30 am to 3:00 pm or 5:30 pm to 10:00 pm.
Whether you opt for the tantalizing 4-course, the indulgent 6-course, or the extravagant 8-course meal, each dish is meticulously crafted to delight your taste buds and nourish your body.
These vegetarian delights are a symphony of flavors, enhanced with the goodness of kale and spinach to provide you with a protein-packed experience. And the best part? You won't have to break the bank, with prices ranging from just $23.80 to $38.80. Treat yourself to a memorable dining experience at Sufood and embark on a culinary journey that will leave you craving for more!
3) Gokul – Raas Vegetarian Restaurant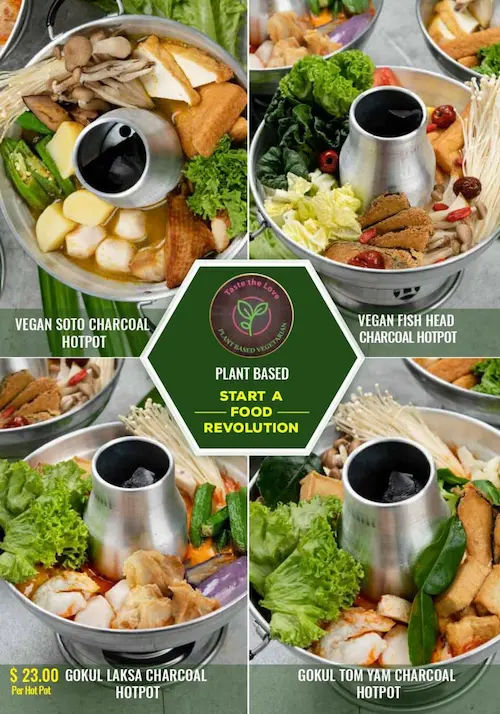 Founded in 2003, Gokul Vegetarian Restaurant is a culinary haven that challenges the notion that vegetarian cuisine is anything less than exquisite.
With a tantalizing fusion of authentic North Indian and South Indian delicacies, complemented by a tempting array of Chinese offerings, they strive to captivate the palates of discerning individuals in search of delectable meat-free meals. Join us on a gastronomic adventure like no other!
4) Project Acai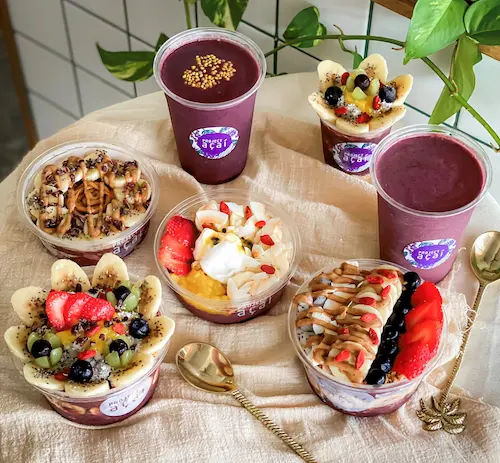 Project Acai has elevated their acai bowls to an entirely new level, curating artisan-style offerings at all 5 of their Singapore locations. For those in search of variety and a refreshing dining experience, Project Acai is a fantastic choice. Each location boasts an exclusive menu, guaranteeing a distinctive culinary journey regardless of which one you choose to visit!
5) The Spice ADDA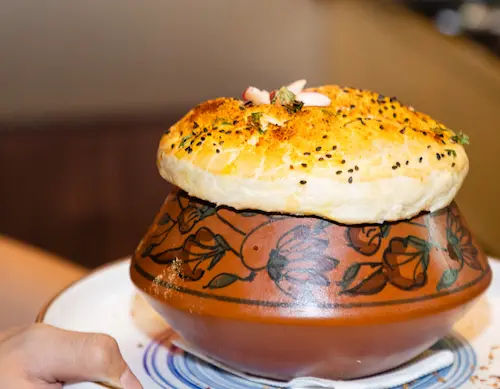 Embark on a culinary adventure at Spice ADDA, a modern Indian vegetarian restaurant in Singapore led by the acclaimed Michelin-starred chef Manjunath Mural.
Discover the fusion of local tastes and traditional Indian cuisine, tantalizing your taste buds and creating an unforgettable dining experience. Their talented mixologists are also available to create delightful beverages that perfectly complement your meal.
6) Whole Earth

Whole Earth, a pioneer in plant-based goodness, sets itself apart from competitors. It not only boasts the esteemed Michelin Bib Gourmand recognition from 2016 to 2022 but also partners with Green Monday and OmniMeat to offer delectable Asian delicacies that cater to vegetarians and vegans alike. Guests can now enjoy traditional dishes worry-free, while still satisfying their taste buds!
7) Genesis Vegan Restaurant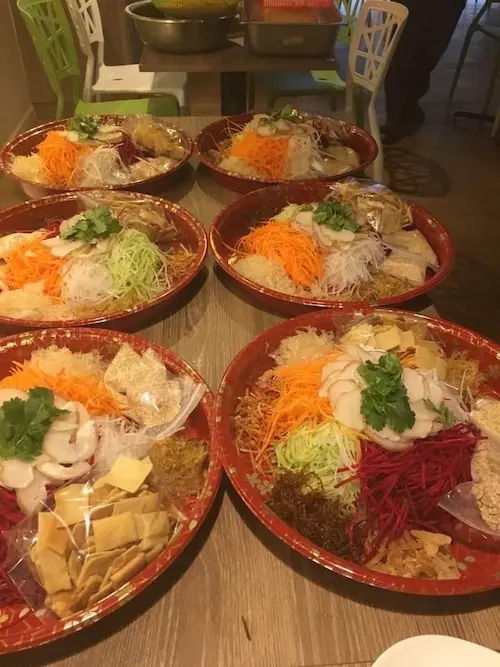 At Genesis Vegan Restaurant, you'll find a wide range of Western and Eastern dishes made from wholesome ingredients. They carefully avoid using salt, sugar, and MSG in their creations. The menu highlights pasta, rice, and noodle dishes served in flavorful sauces or broths.
Not only do they prioritize the well-being of their customers, but they also extend their commitment to the elderly community in Singapore by providing nutritious and delicious lunch boxes free of charge.
8) Herbivore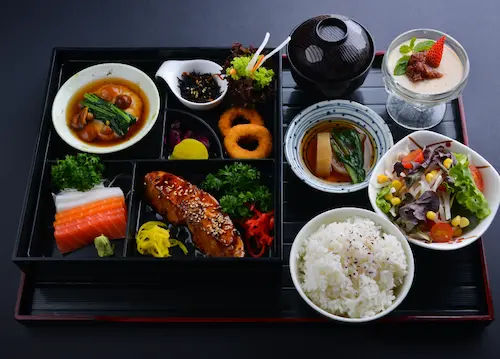 Herbivore, a one-of-a-kind vegetarian restaurant in Singapore, offers a fusion of Japanese and Western cuisines. This vegan haven goes beyond the usual ramen or avocado sushi rolls, serving a wide variety of Japanese dishes.
Make sure not to miss their Chirashi Bowl, featuring delectable mock salmon sashimi, Japanese rice, and delightful side dishes. The chefs have done an incredible job creating mock salmon sashimi that closely resembles the original.
In addition, Herbivore also offers mock tuna sashimi, mock grilled chicken, and mock unagi, all of which are free from eggs, onions, and garlic. When your cravings for Japanese food hit, Herbivore is the place to be!
9) Komala Vilas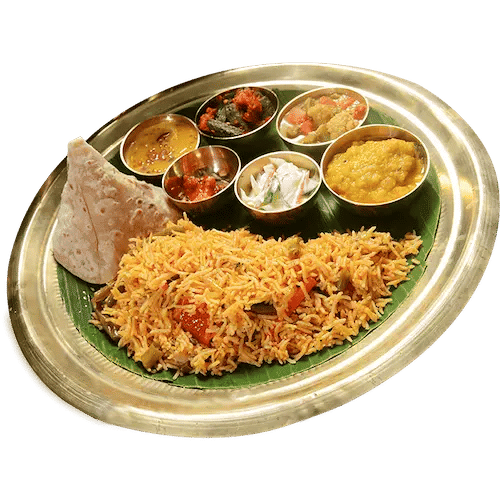 Established in 1947, Komala Vilas is a well-known eatery that presents the genuine essence of traditional Indian vegetarian cuisine hailing from the founder's hometown in Tamil Nadu.
Whether you yearn for the flavors of North or South Indian dishes sans meat, Komala Vilas has you covered. They provide island-wide delivery services, catering options, and an extensive dine-in menu showcasing a diverse selection of vegetarian delights to satisfy your cravings.
10) Cultivate Café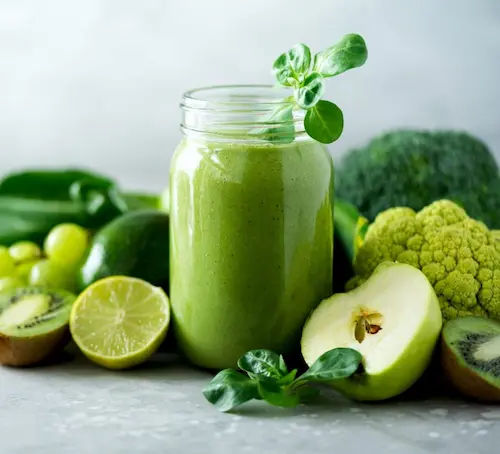 Cultivate Café is a sanctuary for health-conscious individuals in search of a delightful experience. Their menu in Singapore features a range of delicious vegan dishes, prepared with organic ingredients sourced from local farms. These indulgent meals are guaranteed to be free from GMOs and gluten.
Complementing these tantalizing entrées are carefully crafted beverages that enhance the flavors of each and every bite in your dining experience!
11) Joie by Dozo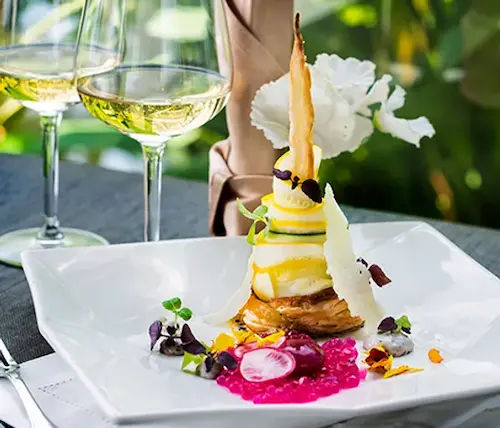 Experience a delectable vegetarian dining journey at Joie, situated on the rooftop of Orchard Central. Joie showcases modern vegetarian cuisine, meticulously crafted with fresh ingredients, artfully presented, and infused with innovative flavors.
From six-course lunches to five or seven-course dinners, their packages are affordably priced, guaranteeing a memorable and gratifying experience.
12) VeganBurg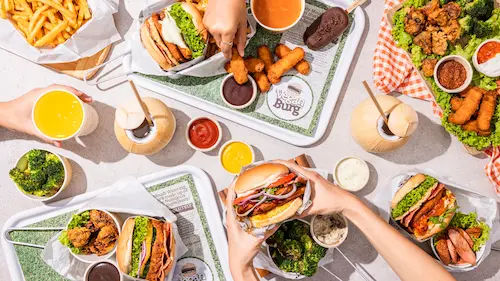 VeganBurg, a well-known vegan fast food chain, is situated in the eastern region of Singapore. It has gained popularity for its delectable vegan burgers that boast unique flavors, guaranteed to satisfy your taste buds.
Drawing inspiration from Singapore's renowned chili crab dish, VeganBurg has ingeniously crafted a chili krab burger. This tantalizing creation features a thick plant-protein patty and a homemade chili crab sauce, all nestled within a soft bun.
The combination is so delightful that you won't even notice the absence of actual crabs. Don't wait any longer, head over to VeganBurg, even if it means venturing to the other side of Singapore.
13) Love Handle Deli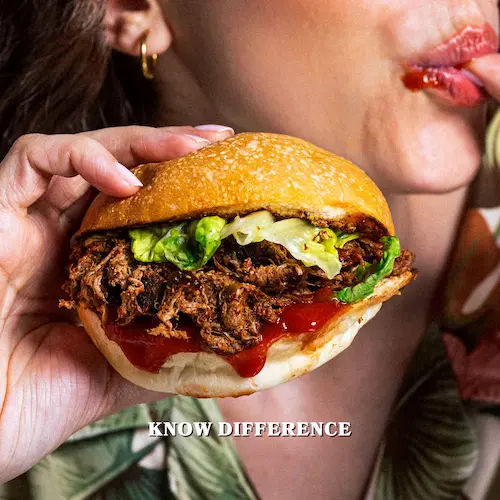 Love Handle is an exceptional butcher shop and deli that provides an extensive selection of meat alternatives! It has gained widespread recognition as one of Singapore's top vegetarian restaurants, offering a diverse array of traditional dishes transformed into delightful vegetarian meals.
With a focus on burgers, Western dishes, and scrumptious sides, their menu is sure to tempt your taste buds as you browse through it!
14) NomVnom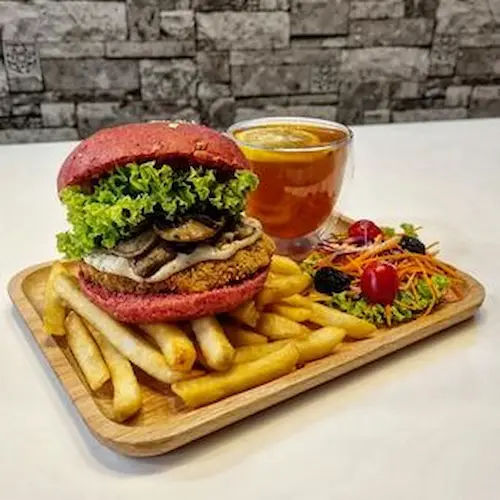 NomVnom is a vegetarian fast food joint that specializes in burgers, but not your average ones. Their burgers are not only visually appealing but also delicious and nutritious. One of their unique offerings is the Vora Flora Burger, which consists of potato croquettes topped with hummus and electric blue pea flowers.
Surprisingly, these pea flowers are edible and may even have potential health benefits like enhancing memory and reducing stress. Unlike KFC or BK, NomVnom provides a menu that is 100% vegan and does not contain garlic and onions.
15) Original Sin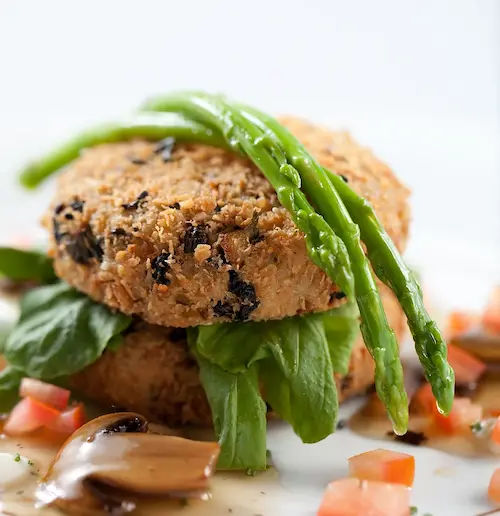 Original Sin, a gluten free restaurant in Singapore, has withstood the test of time as a gluten-free and vegan haven. It offers exceptional Mediterranean vegetarian cuisine on this small island.
This vegetarian restaurant in Singapore presents two dining options: an alfresco setting under the stars or a cozy candlelit interior. The food quality is exceptional and expertly enhanced with just the right blend of spices.
One of the all-time favorite dishes is the Mezze Platter, showcasing hummus, Middle Eastern spiced kebab, fragrant pumpkin and carrot dip, beetroot and almond dip, served with falafel balls, tzatziki, and pita bread. Moreover, vegan and gluten-free options are available upon request. Indulge in a delightful dining experience at Original Sin!
16) Lotus Vegetarian Restaurant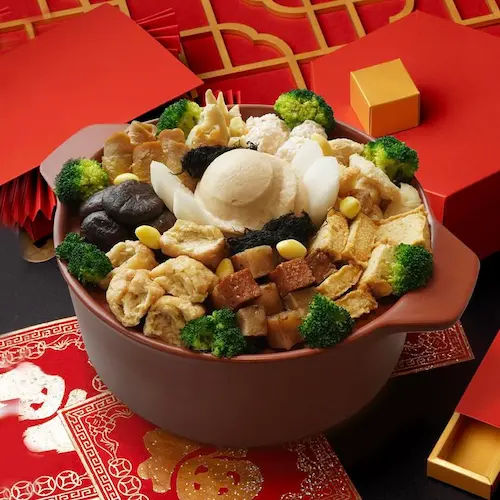 If you find yourself in Singapore and have a hankering for a tasty Asian meal without meat, look no further than Lotus Vegetarian Restaurant! They have an extensive menu of sharing platters, individual meals, dim sum dishes, and more, all available for delivery across the city. Prepare for a delightful culinary experience that will leave your taste buds in pure bliss.
17) Warung Ijo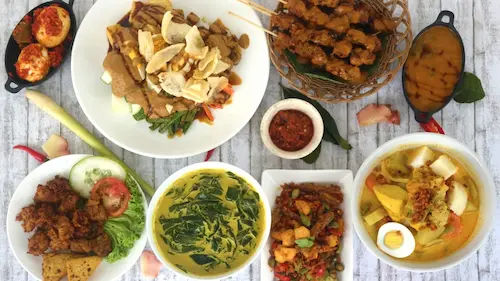 Warung Ijo in Singapore is famous for its unique take on traditional Indonesian cuisine, offering a vegetarian twist. You can customize your preferred level of spiciness while indulging in the authentic flavors of Indonesia.
For non-vegetarian options such as fish, pork, beef, and other proteins, mock meat substitutes are available. Despite its smaller size, Warung Ijo creates a cozy and inviting atmosphere.
Their menu is reasonably priced, with dishes typically around SGD $10. It's worth mentioning that while eggs are used in some dishes, you can request to have them omitted for a fully vegetarian dining experience.
18) Analogue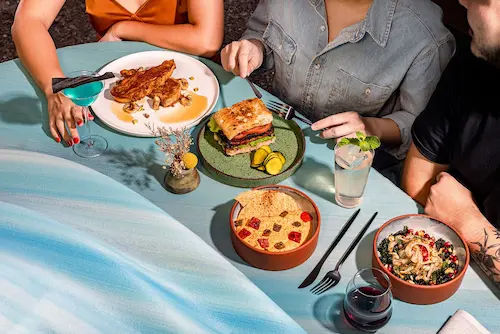 Analogue is more than just an amazing cocktail bar; it also offers a menu packed with delicious plant-based choices. Whether you're in the mood for jackfruit tacos with aromatic rempah spices or velvety pumpkin dumplings resembling mochi, this spot is ideal for enjoying flavorful bites and refreshing drinks with your friends!
19) Afterglow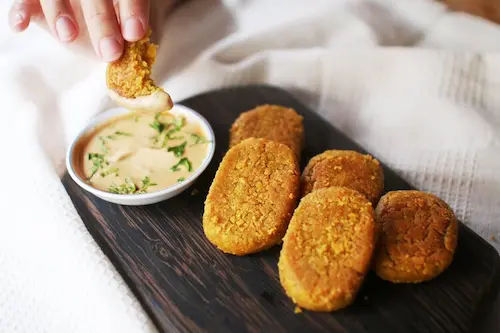 Afterglow lives up to its reputation of adding allure to vegetables. The Raw Masala Pizza combines raw curry, an assortment of vegetables, and a crispy almond butter crust.
The crust is made from finely ground almonds, resulting in a firm yet crunchy texture that breaks easily. The variety of vegetables, including tomatoes, peppers, pea sprouts, cucumbers, and more, is truly impressive.
To enhance the flavor, a hint of creamy raw macadamia 'cheese' is delicately spread over the vegetables, creating a simply perfect taste.
20) The Kind Bowl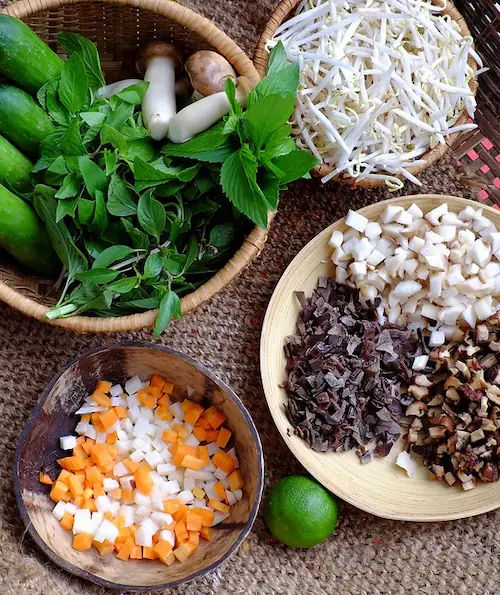 Experience the true essence of Vietnamese cuisine at The Kind Bowl's environmentally-friendly vegetarian restaurant in Singapore! With three easily accessible locations, you can indulge in delicious plant-based meals that are not only ethical but also affordable.
Whether you prefer to dine-in and savor the welcoming atmosphere or opt for island-wide delivery, The Kind Bowl guarantees that you can enjoy their flavorful dishes from the comfort of your own home!
Vegetarian Restaurant Singapore
Singapore, a melting pot of cultures, is a haven for food lovers, including vegetarians and vegans.
The city-state boasts an impressive variety of vegetarian restaurants that cater to different tastes and preferences, from fast food joints offering vegan burgers to restaurants serving traditional Asian cuisine with a vegetarian twist.
Whether you're a lifelong vegetarian, a new convert, or simply looking to incorporate more plant-based options into your diet, Singapore's vibrant vegetarian food scene promises a delightful culinary adventure.
Frequently Asked Questions (FAQ)
If you have any questions about vegetarian restaurants in Singapore, you can refer to the frequently asked questions (FAQ) about the best vegetarian restaurants in Singapore below:
Additional Useful Articles
If you are looking for other useful guides and articles about vegetarian restaurants in Singapore, check them out below: