Virtual Team Bonding Activities Singapore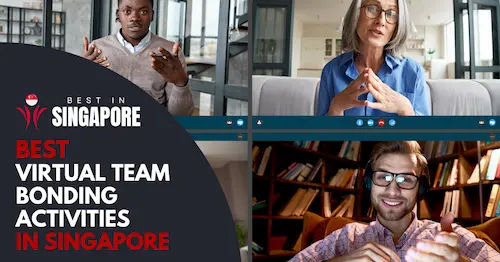 Virtual team building activities are becoming increasingly popular as an effective way for teams to stay connected, build relationships and foster collaboration.
The best Virtual Team Bonding Activities in Singapore are Virtual Amazing Race, Virtual Super Planet, Virtual Squid Escape, Virtual Balloon Sculpting Workshop, and Virtual Stitched Leather Workshop.
When choosing a virtual activity, it is crucial to consider factors such as the type of activity, duration, skill level, and cost.
FunEmpire, an events company, offers the top Virtual Team Bonding Activities in Singapore. With 8,000+ 5-star client reviews and a track record of over 50,000 successful events, they are the go-to choice for team bonding.
From online game nights to virtual creative workshops, there are plenty of fun and engaging virtual team building activities in Singapore that you can do remotely with your team. Here is our list of the best virtual team building activities in Singapore!
Key Consideration Factors
When planning virtual team building activities, there are several key considerations that should be taken into account.
Type of activity: What type of team building activity is best suited for your team's needs and preferences? Are you looking for something fun and light-hearted or something more serious that will encourage collaboration and problem solving?
Length of time: How long does the virtual activity take to complete? Some activities may only take an hour while others can last multiple hours.
Skill level: What skill level does the team need to have in order to complete the activity? Is it something simple that everyone can do or will some remote team members of the team require specific skills or knowledge?
Cost: How much does the team building activity cost and what is included in the package? Are all materials provided by the virtual team building provider like FunEmpire or First and Only Events or do you need to have them on hand?
Why Are Virtual Team Building Important?
Virtual team building activities are important as they help to strengthen relationships between remote team members, build trust, and improve communication. Participating in virtual event that allow for virtual team building in Singapore, helps to break down the physical walls between workers who are working remotely. This can create an atmosphere of camaraderie within the same physical space that would likely not be found if people were not engaging in virtual team activities together.
These team building activities also help to increase engagement, as well as provide an opportunity for teams to celebrate their successes and bond over shared virtual team building experiences. All of these factors are important for a cohesive team that is able to work together effectively and efficiently.
Benefits of Virtual Team Building Activities
Virtual team building activities provide a plethora of benefits for businesses and teams that choose to engage in them.
Increased collaboration: Virtualteam building activities help to increase collaboration among team members by providing an opportunity to engage in tasks together. This helps to create better relationships, trust, and communication between people who would otherwise be separated by physical walls.
Improved morale: Engaging in virtual team building activities can help to improve the morale of employees, as it provides a fun way to connect and bond with each other. The sense of camaraderie that comes from participating in virtual activities together can help to lift spirits and encourage collaboration.
Increased productivity: Virtual team building activities have also been found to increase productivity amongst teams, as they reduce stress levels and help to foster positive team dynamics.
Best Virtual Team Bonding Activities Singapore
Virtual Games
1) Virtual Squid Escape
Embark on an unmatched and unforgettable virtual team building experiences with FunEmpire's Virtual Squid Escape in Singapore! Inspired by the globally popular Squid Game series, this thrilling escape room adventure takes you on a pulse-pounding journey where you must outsmart the virtual games and expose their cruel antics to the authorities.
Get ready to immerse yourself in a world of suspense and intrigue as you navigate through meticulously designed virtual rooms, solving exciting puzzles and uncovering hidden clues. Encounter exotic animals along the way, adding an element of surprise and wonder to your adventure.
But it's not just about the challenge – FunEmpire's Virtual Squid Escape guarantees loads of fun and entertainment for all participants. With engaging gameplay, stunning visuals, and a captivating storyline, this immersive experience will keep you on the edge of your seat from start to finish.
Join forces with your team, test your wits, and see if you have what it takes to conquer the Virtual Squid Escape. Get ready for an adrenaline-pumping adventure like no other, where excitement and enjoyment are guaranteed!
2) Hybrid Amazing Race
FunEmpire offers the perfect way for coworkers to grow closer and have a great time while gaining knowledge: Singapore's Hybrid Amazing Race! This virtual game takes teams on an exhilarating journey through the vibrant streets of Singapore, exploring hidden gems and iconic landmarks. Every team must collaborate together, leveraging their collective skills and problem-solving abilities to decipher clues, solve mind-boggling puzzles, and unlock answers that will lead them to victory.
To participate in this virtual game, each group needs devices such as laptops or smartphones that are connected to reliable internet connections. This team building ensures seamless communication and access to vital information throughout the race. Proactivity is essential here – planning ahead will guarantee that all tasks can be completed on schedule, allowing teams to stay ahead of the competition.
So what're you waiting for? Join us now at FunEmpire's Hybrid Amazing Race and embark on an unforgettable adventure, forming deep bonds and creating lasting memories with your peers! Get ready to experience the thrill of teamwork, the joy of discovery, and the satisfaction of conquering challenges together.
3) Virtual Amazing Race
FunEmpire's virtual Amazing Race in Singapore is not just any team-building activity; it's an extraordinary opportunity for employees to truly connect and learn about each other. This immersive team building experience goes beyond the surface level, allowing participants to delve into their cultures and work together towards a common goal.
With the aid of modern technology, such as laptops or smartphones connected online, teams will embark on a thrilling journey filled with challenges and discoveries. Each task is carefully designed to promote collaboration and improved communication among team members, ensuring that everyone contributes their unique strengths and skills.
By collaborating ahead of time and strategizing effectively, teams will be able to conquer all tasks within the designated timeframe. This race isn't just about winning; it's about fostering a deeper understanding and appreciation for one another's perspectives. Through this captivating team building adventure, your staff will forge stronger connections, enhancing teamwork and camaraderie within your organization.
Don't miss out on this extraordinary opportunity to create unforgettable memories and strengthen the bonds within your team. Join FunEmpire's virtual Amazing Race in Singapore and watch as your employees thrive in a dynamic and engaging team-building experience!
4) Virtual Escape Room
With FunEmpire's engaging and immersive virtual escape room team building activities in Singapore, people from diverse backgrounds can come together to not only solve puzzles and search for clues, but also learn about each other's unique cultures, values, and perspectives.
By collaborating and working as a successful team to overcome challenges, individuals will not only gain valuable insight into their roles within the organization, but also foster a sense of camaraderie and unity.
To ensure the utmost success and productivity, it is crucial for teams to plan ahead meticulously, allocating sufficient time and resources to guarantee that all tasks are completed on schedule.
Additionally, having access to reliable technology, such as computers or phones equipped with seamless internet connections, is imperative for participants to fully immerse themselves in the virtual escape room experience.
With these critical elements in place, virtual teams can maximize their engagement, enjoyment, and overall team building outcomes.
5) Virtual Super Planet
FunEmpire introduces a truly immersive and captivating virtual team building experience – Virtual Super Planet. In this thrilling team building adventure, teammates not only have to work together to solve challenging puzzles and uncover hidden clues, but they also find themselves grappling with the haunting reality that Earth, their once familiar home, has been completely destroyed.
Picture this: Life had been relatively normal until that fateful night when a cryptic lady appeared in your dreams, revealing an astonishing secret about yourself – superpowers! As you awaken to this newfound realization, a sense of responsibility and purpose fills your being. Now, alongside other heroes scattered across galaxies, you embark on a mission to uncover the truth and find a way to restore our beloved planet from the depths of oblivion.
With each step you take, the weight of the world rests on your shoulders. The fate of humanity and the future of Earth itself hang in the balance. Can you and your team rise to the occasion and bring hope back to a shattered world? The journey awaits, and the possibilities are infinite. Let the adventure begin!
6) Virtual Mayday
In Singapore, FunEmpire offers an exciting array of virtual team building activities, all designed to bring colleagues closer together. One of their popular offerings is the "Virtual Mayday" challenge, where virtual teams must collaborate to solve intricate puzzles and search for hidden clues. This immersive team building exercise not only promotes teamwork and problem-solving skills but also allows participants to gain valuable insights into each other's diverse cultures, values, and roles within the group.
In this thrilling scenario, we find Louis, a brilliant botanist, stranded on a remote island with no means of communication. With time ticking away due to an approaching hurricane, Captain Roger and his courageous crew members take on the responsibility of devising a daring plan to rescue Louis and safeguard his priceless research. Will their collective efforts be enough to bring Louis back safely home?
As the suspense builds and the stakes grow higher, join us on this exhilarating adventure filled with unexpected twists and turns. Embark on a journey where camaraderie, intellect, and resourcefulness become the keys to success. Will Captain Roger and his crew members triumph over adversity and ensure that Louis returns unharmed? Only time will tell!
7) Virtual Party Mania
Introducing Virtual Party Mania from FunEmpire Singapore, the ultimate virtual get-together experience that promises non-stop entertainment for everyone involved. Whether you're looking to connect with friends, family, or colleagues, this outstanding team building ensures a memorable and thrilling time.
To join in the fun, all you need are video conferencing platforms and a device connected to the internet and an invitation to our Zoom gathering or Microsoft Teams. Get ready for an exhilarating virtual game night filled with exciting activities and engaging trivia questions suitable for all ages. From interactive challenges to brain-teasing quizzes, there's something for everyone to enjoy.
Forget about the hassle of organizing supplies or worrying about logistics; Virtual Party Mania has got you covered. Just bring your best sense of fun and enthusiasm, and we'll take care of the rest for your future events. Our dedicated team will ensure that each digital party gathering is an unforgettable experience, filled with laughter, friendly competition, and unforgettable memories.
So, why wait? Join us for Virtual Party Mania and embark on a journey of entertainment and camaraderie like never before. Get ready to create lasting connections, share in the excitement, and have an absolute blast at every virtual gathering.
Virtual Workshops
8) Virtual Terrarium Workshop
FunEmpire's Virtual Terrarium Workshop offers a one-of-a-kind opportunity to come together, build something distinctively new and create lasting connections. At this team building session, you'll learn the basics of terrarium making – from selecting the right plants for your composition to designing an eye catching finishing touch. It's never been easier or more enjoyable to cultivate a personal masterpiece!
In this team building workshop, virtual teams will be guided through the creative process of building personalized terrariums. They'll learn about different types of plants and soil, as well as get to choose stones and other decorative elements to create their own unique designs.
As they work with their materials, participants can observe how plant life interacts with its surroundings while honing their making talents. By the end of class everyone will take home a beautiful handcrafted terrarium that was made in collaboration – an eye-catching reminder that art truly does bring people together!
9) Virtual Tote Bag Art Jamming
FunEmpire in Singapore offers a unique virtual team building experience with Virtual Tote Bag Art Jamming! Through this innovative team building program, groups can come together to create meaningful masterpieces on canvas bags.
We will start by introducing the basics of painting like colour blending, brush strokes, and composition for those who are new to artwork. Once everyone is familiarised with what's at their disposal, teams can get creative and brainstorm design ideas that capture their vision perfectly!
Teams will have the opportunity to truly express their creativity, individuality and flair by utilising a range of colours and methods. Once they've finished designing their masterpiece, participants will be guided on how to put it into canvas bags that they can take home with them as keep-sakes!
Not only do collaborative art projects allow individuals to explore new avenues for artistic expression – but also build meaningful connections among each other.
10) Virtual Clay Making Workshop
Looking for a fun, engaging virtual activity to bring your team closer together? Look no further than FunEmpire's Virtual Clay Making Workshop! It is one of our most beloved team building activities that allows participants to flex their creative muscles as they design and mold unique clay creations.
With an introductory lesson on the basics of pottery, you will be equipped with all the necessary knowledge needed to craft something truly special with your teammates.
At FunEmpire, teams can unleash their unique creativity and craft stunning works of art using molds, stamps, and glazes. Our workshop is all-inclusive – we provide everything you need for the activity.
Plus to make virtual meetings fun for everyone involved, once complete your creations can be taken home or delivered directly to your door! A virtual clay workshop offers an opportunity to collaborate with team members while learning new skills in a fun virtual environment.
11) Virtual Balloon Sculpting Workshop
FunEmpire's Virtual Balloon Sculpting Workshop provides an energising virtual team building experiences that will enable you to create one-of-a-kind decorated balloon sculptures.
In this team building workshop, your teams will be thoroughly instructed on the fundamentals of balloon sculpting – including how to safely and accurately handle balloons, safety precautions when crafting them, and methods for formulating unique concepts. Get ready to have some fun!
With this team building workshop, participants will not only be able to showcase their artwork at the end but also develop problem-solving skills as well as bond with each other.
During the session, they'll learn how to correctly choose balloons and tools necessary for creating a beautiful piece of art. Working in teams gives them an opportunity to flex their creative muscles while having fun together!
12) Virtual Non-Stitched Leather Workshop
At FunEmpire in Singapore, we offer an engaging virtual team building experience known as the Virtual Non-Stitched Leather Workshop.
his one and only program teaches participants everything they need to know about handling leather gracefully – from proper techniques to designing their own original creations! Our professional facilitators will guide you every step of the way while you explore this unique craft.
During this hands-on team building class, participants will discover the secrets of leather working and learn to work with various kinds of leather. Through practicing their newly acquired skills, they'll have a chance to craft unique items like never before!
With professional tools such as needles, rivets, and waxed linen thread by your side; you'll be able to create something timeless that you can keep forever at the conclusion of the session. Join us now on an adventure in crafting beautiful leather creations!
13) Virtual Canvas Art Jamming
Unleash your creativity with FunEmpire's Virtual Canvas Art Jamming workshop in Singapore! This engaging team building activity invites participants to come together and collaborate on stunning pieces of art.
You'll get the chance to learn the basics of painting, including colour mixing, brush techniques, and composition while having a blast. So grab your friends or colleagues today for an unforgettable virtual jam session full of fun and inspiration!
Once you've become acquainted with the offered materials and tools, each group will be empowered to conceptualise a unique design for their canvas.
With an array of colours and techniques at your disposal, you'll have the opportunity to display creative expression that embodies your team's identity! It's not only fun but also allows every individual on the team to shine as they collaborate in this exciting team building.
14) Virtual Soy Candle Making Workshop
Take your team building to the next level with FunEmpire's Virtual Soy Candle Making Workshop in Singapore. During this interactive team building, teams have the chance to craft their own custom-scented and coloured soy candles!
Not only that but they will gain insight into different types of waxes, wicks and fragrances used for candle making. Let everyone take part in creating something special together – no matter how near or far you are!
At the workshop, you'll be instructed on how to safely prepare and pour hot wax, choose an appropriate wick size for your candle container of choice, as well as receive helpful tips and tricks throughout the entire process.
Additionally, you can customise your homemade creation with fun accents like dried blooms or vibrant colours! Once complete, take home a personalised souvenir that will last far beyond this memorable experience.
15) Virtual Stitched Leather Workshop
Inspire team spirit and creativity with FunEmpire's Virtual Stitched Leather Workshop! Learn the fundamentals of leather crafting, from proper handling to creating your very own concept. Uncover different aspects of this artistic craft as you create wallets or straps together over a virtual platform.
This stimulating team building workshop is sure to strengthen bonds between colleagues while boosting individual confidence in their newfound skill set.
At the workshop, all team members will be given the opportunity to hone their leather crafting skills using professional tools such as needles, rivets, and waxed linen thread. By coming together and pooling resources they can create fascinating pieces that they can proudly show off once the workshop is complete!
Virtual Team Bonding Activities Singapore
Virtual team building activities are a great way to build relationships, foster collaboration and boost morale within your organization. With so many fun and engaging activities available online in Singapore, there is sure to be something for everyone.
Whether it's an online game night or creative workshop, virtual team building activities can help strengthen the bonds between remote workers and make them feel more connected with each other – even from afar! So why not give one of these best virtual team building Singapore a try today?
Interested in related articles? Do check out the links below!
Frequently Asked Questions (FAQ)
If you have any questions about virtual team bonding activities in Singapore, you can refer to the frequently asked questions (FAQ) about the Best Virtual Team Bonding Activities in Singapore below: