Virtual Team Building Activities Singapore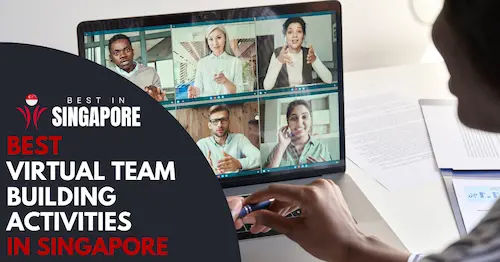 Virtual team building in Singapore provides an engaging way to build relationships, increase collaboration, and promote a sense of community among co-workers.
The best Virtual Team Building Activities in Singapore include Virtual Balloon Sculpting, Virtual Terrarium Workshop, Virtual Escape Room, Virtual Candle Making Workshop, Virtual Leather Workshop, and Virtual Art Jamming.
When planning Virtual Team Building Activities in Singapore, take into account key factors like accessibility, team size, objectives, budget, and any other preferences.
FunEmpire is the leading provider of team building activities in Singapore, boasting an impressive track record of organizing more than 50,000 successful events and garnering over 8,000 5-star reviews.
Whether it is indoor or outdoor activities, there is sure to be something here that everyone will enjoy!
Key Consideration Factors
Before getting into the best virtual team building activities in Singapore, here are some consideration factors to remember:
Number of Participants: When choosing virtual team building activities, make sure to consider the number of participants that can take part in it. Some activities may be more suited for larger groups, while others are better for smaller teams.
Budget: Virtual team building activities have different price points and you will want to decide on an appropriate budget before selecting which activity to engage in.
Time: It is important to consider the amount of time each activity will take and if it fits into your designated timeframe.
Team Goals: Consider what type of goals your team wants to achieve with virtual team building in Singapore. Now that you have an idea of what factors to consider when it comes to virtual team building activities, let's go ahead and take a look at the top 30 virtual team building activities in Singapore.
5 Benefits of a Virtual Team Building Event
A virtual team bonding activity helps to improve communication between co-workers, allowing them to practice clear and constructive conversations in a safe space.
Engaging in a virtual team bonding activity can be an effective way for employees to reduce stress levels by having fun and socializing with their peers.
By participating in a virtual team bonding activity, employees can become more comfortable collaborating with one another while developing their trust and relationship with each other.
A virtual team bonding activity helps to boost morale by giving employees an opportunity to have fun and build relationships in the workplace.
By participating in a virtual team bonding activity, employees will be more likely to stay engaged and motivated with their work, resulting in increased productivity levels.
3 Important Tips For Planning Virtual Team Building Activities Singapore
Choose the right activities
Before selecting virtual team building activities for your team, it is important to assess their interests and needs so that you can choose the best activity for them.
sure to involve every member of your team when planning a virtual team bonding activity as this will ensure that everyone feels included and that their opinions are taken into account.
Setting achievable goals for your virtual team building activities helps to ensure that everyone is on the same page and working towards the same objectives.
Best Virtual Team Building Activities Singapore
Virtual Games
1) Virtual Travel Experience
Take your team on a virtual journey to Singapore and explore the beautiful sights! Let your team members have fun exploring their surroundings with interactive activities such as scavenger hunts, trivia games, and group challenges. Not only will this help build relationships between teammates, but it will also give them an appreciation for the culture of the city.
2) Virtual Escape Room
A virtual escape room is an excellent way to get your team working together. Participants must solve puzzles and complete tasks in order to progress through the game. It helps build communication, collaboration, problem solving, leadership and decision making skills as each member of the team needs to work together to complete the challenge.
3) Virtual Food Quest
Virtual Food Quest is a virtual team bonding activity in Singapore that encourages teams to explore the diverse cuisine of the city. It's an interactive and engaging game, with teams competing against each other to find the best local dishes within their budget. This activity also includes bonus challenges such as rating dishes from around the world and creating unique recipes.
4) Virtual Amazing Race
If your team is up for a challenge, you can organize a virtual Amazing Race! Split into competing teams and take each other on in a race across Singapore (or any place else). Set up challenges that require the teams to locate virtual checkpoints via Google Maps or use augmented reality apps to find objects throughout the city.
5) Hybrid Amazing Race
Go hybrid with this popular team building activity! This virtual version combines physical and virtual components for an engaging experience. Teams will be split into different groups and each group will have to solve clues, complete challenges, scavenge for items — all while competing against one another to finish the race first.
6) Virtual Game Show
What better way to break the ice and get to know your team members better? With this virtual game show, you can create a customisable version of popular game shows like Who Wants To Be A Millionaire or Jeopardy. This is a great way for teams to have some friendly competition with each other and work together to answer questions.
7) Virtual Squid Escape
Bring your team together to solve puzzles in the virtual escape rooms of Squid Escape. This game has two levels of difficulty and it can be played up to eight people at once. The goal is to unlock riddles, find clues, and make your way out before time runs out! It's a great way for teams to come together and problem-solve together. Plus, the host will be able to guide your team through the entire process if needed. This virtual activity is sure to bring out everyone's competitive spirit!
8) Virtual Time Travel
Take your team on a virtual journey back in time! Using a video-conferencing platform, assign each member of the team with a research task related to Singapore's history. Ask them to come prepared with their findings and perspectives on how they think that same historical event could have been handled differently today.
Virtual Workshop
9) Virtual Tote Bag Art Jamming
This virtual team bonding activity allows you to chill, relax, and get creative with your colleagues. Participants can choose from a variety of art supplies provided by the company to create their own masterpieces. The best part? They can even keep their artwork!
10) Virtual Balloon Sculpting Workshop
Balloon sculpting is a great team building activity that allows participants to express their creativity. In this virtual workshop, teams will be given the necessary materials and guidance from professionals on how to create amazing sculptures with balloons. With just a few simple steps, teams will have the opportunity to bond over creating these unique pieces together!
11) Virtual Canvas Art Jamming
De-stress with this art jamming experience, where your team members can unleash their creative side by making a masterpiece together! This virtual canvas art jamming activity is held in real time, allowing each of your participants to collaborate as if they were painting a physical canvas.
12) Virtual Soy Candle Making Workshop
Organize a virtual soy candle making workshop for your team and bring out everyone's creative side. With an experienced teacher leading the course, you can learn how to make unique scented candles that best represent each individual. It is also a great way to break the ice and encourage bonding among teammates while having fun too!
13) Virtual Non-Stitched Leather Workshop
Love the smell of leather and the craftsmanship involved in leatherwork? In this virtual team bonding activity, participants will be taught how to create their very own leather items such as wallets, business card holders, notebooks and even coin purses.
14) Virtual Clay Workshop
Organise a virtual clay workshop and challenge your team's creativity! In this activity, everyone will be given clay to mould into any shape they desire. Once complete, the participants can showcase their creations and explain how their works represent the goals of the team or company.
15) Virtual Leather Workshop
Organizing a virtual leather workshop is an effective team building activity that helps your team learn how to create their own original accessories. Through this workshop, each team member will receive all the materials needed for crafting their own custom leather item.
16) Virtual Terrarium Making
Gather your team virtually and let them create their own terrariums. You can assign different plants and materials to each employee, or allow everyone to customize their own design. Not only is this creative and fun but it's also a great way for employees to work together as a team online.
17) Virtual Art Jamming
Perfect for creative and artistic teams, virtual art jamming is a fun and interactive way to bring your team together. With the help of an online facilitator, participants can draw, sketch or paint their own masterpieces while connecting with each other. This activity will have everyone talking about their team-building experience in no time!
Other Virtual Team Building Activities
18) Guess Whose Workspace
To get to know everyone's workspace better, start off by having team members share a picture of their workstation. After the pictures have been shared, let everyone guess whose workspace is which. This activity helps foster a sense of belonging and encourages team members to be more open with each other.
19) Virtual Lunch Meetings
In this virtual team building activity, groups of employees can join each other for a virtual lunch meeting. This is a great way to connect on a personal level and to get to know each other better. Plus, it's an excellent opportunity to brainstorm ideas or discuss upcoming projects in an informal setting.
20) Virtual Bingo
One of the most fun virtual team building activities in Singapore is Virtual Bingo! It's a great way to get everyone excited and united as they join together to guess what numbers will be called. You can create your own bingo sheets or use pre-made ones to make it easier.
21) Virtual Icebreaker Games
Gather your team virtually and break the ice by playing interactive online games. From classic card games like bridge to quizzes and word jumbles, you can find a game that everyone in your team will enjoy. You might even make it a competition or award prizes for the winner! With virtual icebreaker games, you'll get to know your teammates better, build relationships and increase collaboration.
22) Recipe Swap
Recipe Swap is a fun and creative virtual team building activity for Singaporean teams. In this game, each participant contributes their favourite recipe or food idea to the group. Everyone then takes turns making one of the recipes and sharing it with the rest of the group in a video call. This activity is great for encouraging creativity, collaboration, communication, and culture-sharing in teams. Plus, it's a great way to get everyone excited about cooking and trying new things!
23) Virtual Workout Sessions
Move the team away from their desks and into a virtual workout session! A great way to get both your employees' minds and bodies moving. Get them to break a sweat with an online yoga class, HIIT session or other fun activities that can be experienced virtually.
24) Virtual Coworking
Virtual Coworking is a great way to build teamwork as it allows teams to collaborate in real-time, even when they're not physically together. With virtual coworking sessions, teams can work on tasks and projects while also interacting and engaging with each other in a more meaningful way.
25) Coffee Breaks and Happy Hours
Enjoy an energizing cup of coffee to start your day and a beer or cocktail at the end with virtual team building activities in Singapore! Find ways to connect with colleagues on Zoom, Skype or other platforms by encouraging conversations about topics outside of work. This is a great way for remote employees to get to know each other better, build trust and foster team spirit. For a more interactive experience, organize virtual happy hours with bar trivia, karaoke and even game nights to liven up the mood!
26) Virtual Pub Trivia
Gather your team for a virtual pub quiz and battle it out with trivia questions. This game is the perfect icebreaker to get everyone talking, laughing and bonding! With various levels of difficulty, this fun virtual activity can be tailored to suit different teams' needs.
27) Virtual Movie Night
Watching a movie together sounds like a great way to bond with the team but it's usually not easy to do when everyone is in different places. With Virtual Movie Night, you can all watch the same movie at the same time from the comfort of your own homes! All you need is an online streaming service such as Netflix or a video-conferencing platform, and you're good to go. Don't forget the popcorn!
28) Virtual Dance Party
Get the whole team moving by having them bust out some dance moves! This online team building session will have everyone laughing and having a good time. Set up an online dance room and have each person create their own unique moves, or encourage them to learn a new style of dance!
29) Virtual Happy Hour
Organize a virtual happy hour with your team members! Team members can share stories, show off their latest hacks and tricks, or just have some fun. This activity provides an opportunity to build relationships between team members and bond over shared interests. Each person can bring something special to the session – whether it's homemade cocktails, beers, snacks, or fun games.
30) Online Personality Assessment
An online personality assessment is the perfect virtual team building activity to help your team get to know each other better. It helps team members understand one another's strengths, weaknesses, and preferences so that they can work together more effectively in the future. This activity is perfect for Singapore as it offers a unique experience tailored specifically to people within this diverse country. With the help of an online personality assessment, your team will be able to better collaborate and build relationships with one another in a virtual setting. This activity is sure to bring out the best in everyone as it encourages each individual to share their personal thoughts and perspectives.
Virtual Team Building Activities Singapore
Overall, these virtual team building activities Singapore are sure to provide your remote teams with an enjoyable and effective way of getting to know each other better. By encouraging collaboration, communication, creativity and problem solving skills among the members of your team through engaging online experiences, you can help foster strong relationships that will last long after the activity is over.
With the right approach and attitude towards fostering a positive work environment for all participants involved, these activities will surely be beneficial not only in terms of making working together more efficient but also in providing opportunities for growth within any organization or business setting. So why wait? Start planning today!
Looking for more articles about team building? Check out these recommended articles:
Frequently Asked Questions (FAQs)
If you have any questions about virtual team building activities in Singapore, you can refer to the frequently asked questions (FAQ) about the best virtual team building activities Singapore below:
Additional Useful Articles
If you are looking for other useful guides and articles about the best virtual team building activities in Singapore, check them out below: