Wagyu Buffet Singapore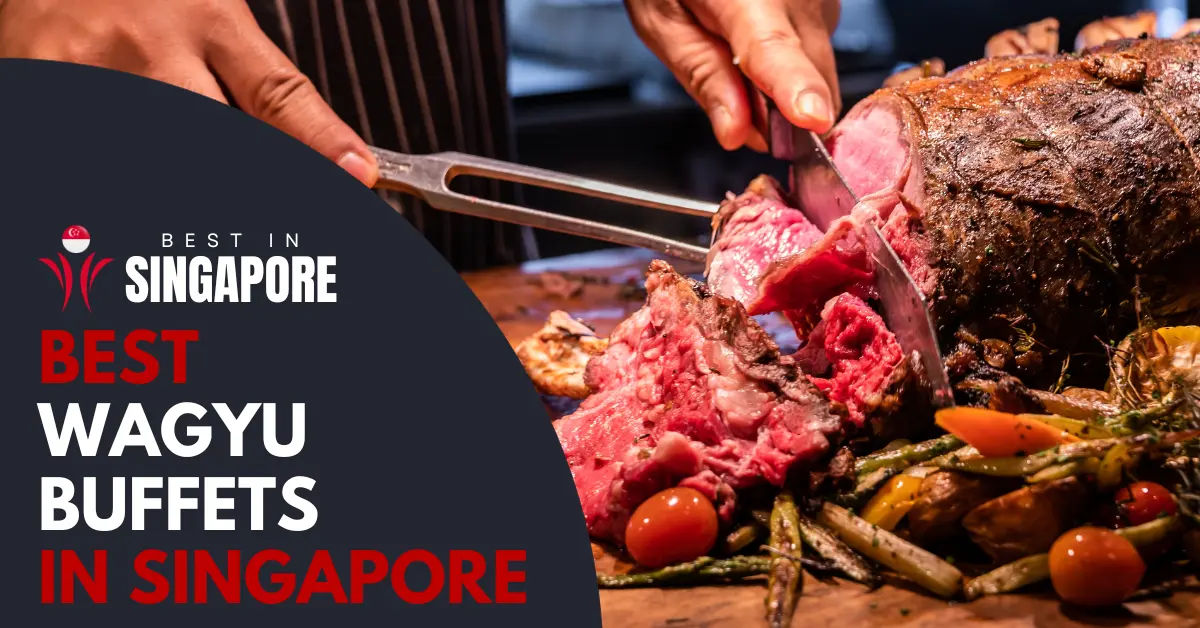 For beef aficionados, nothing quite matches the unparalleled culinary experience of indulging in wagyu, a highly-prized beef variety known for its rich flavor and buttery tenderness.
The best Wagyu Buffets in Singapore are Hitoyoshi Yakiniku, Yakiniku Ohji, Gyu-Kaku, and Suki-ya Kin.
When selecting a buffet, it's important to consider factors such as customer reviews, location, food selection, pricing, and quality of customer service.
Located in the heart of Singapore, Wagyu Buffets provide a complete dining experience. They showcase a wide array of exquisitely marbled cuts that perfectly embody the tender and juicy characteristics of wagyu beef. These buffets are a must-visit for any food enthusiast with a refined taste.
Here, we've curated a list of the best wagyu buffets in the city, where you can indulge in premium quality wagyu to your heart's content.
Quick Summary
Best Wagyu Buffets in Singapore are Hitoyoshi Yakiniku, Yakiniku Ohji, Gyu-Kaku, and Suki-ya Kin.
When choosing a buffet, make sure to check out the customer reviews, location, food variety, price, and customer service.
In the heart of Singapore, Japanese wagyu buffet offers an all-encompassing dining experience, presenting a lavish spread of delectably marbled cuts that exemplify the tender and juicy signature traits of wagyu beef, making it a must-visit for any discerning food lover.
Key Consideration Factors
Before going to a wagyu buffet restaurant, make sure you have checked out these important factors:
Customer reviews: A quick online search will provide you with insights and feedback from previous customers. This can help you determine the overall dining experience, food quality, and customer service.
Location: It's always a good idea to choose a buffet that is conveniently located or easily accessible by public transportation.
Food selection: The variety and quality of wagyu cuts offered at the buffet should be considered. Some buffets may also offer other dishes and sides to complement the wagyu.
Pricing: Buffet prices can vary, so it's important to compare and choose one that fits your budget.
Quality of customer service: A good dining experience also relies on the quality of customer service provided by the restaurant staff.
Best Wagyu Buffet Singapore
1) Rocku Yakiniku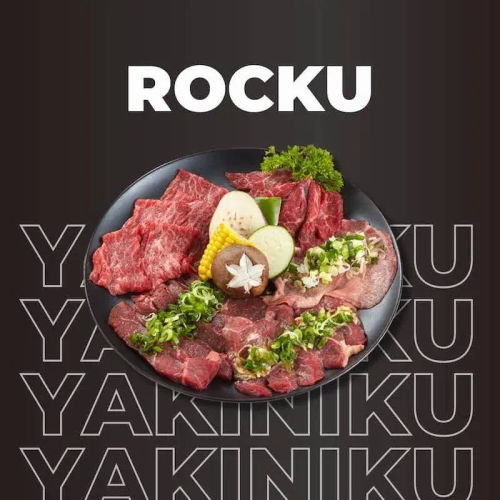 Key Services
Australian and Japanese Wagyu
Address
201 Victoria St, #04-06, Singapore 188067
Website
https://www.rocku.com.sg/
Phone
6634 3313
Email
mail@createries.com
Operating Hours
Sun – Thu: 11.30am – 10pm (Last Order 9:30pm)
Fri – Sat, PH, eve of PH: 11.30am – 10.30pm (Last Order 10pm)
Indulge in a tantalizing 100-minute dine-in experience! For just S$49.90, lunch boasts a delectable spread, while dinner takes it up a notch at S$59.90. But wait, there's more! On Fridays to Sundays, eve of public holidays, and public holidays, there's a S$3 surcharge that adds to the excitement.
Now, here's the juicy part. Sink your teeth into unlimited servings of two succulent Australian wagyu cuts. Picture the sizzle and taste the perfection. But hold on, there's a catch. Only one order of premium Japanese meats per table. It's a mind-blowing deal that'll leave you craving for more!
2) Syohachi Yakiniku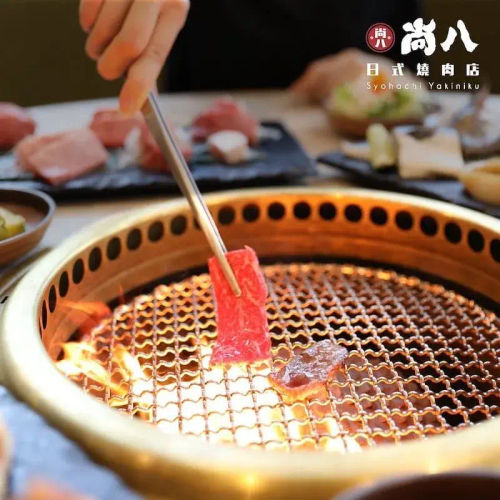 For an extraordinary culinary experience, look no further than Syohachi Yakiniku. This specialty restaurant is renowned for its A5 wagyu and offers carefully curated platters of succulent wagyu cuts, making it perfect for larger groups.
Unlike your typical Yakiniku buffet, Syohachi Yakiniku provides a diverse menu to enjoy within a generous two-hour dining window. Don't miss the early bird price of S$70 when you indulge in the buffet between 5-7pm on weekdays.
3) Hitoyoshi Yakiniku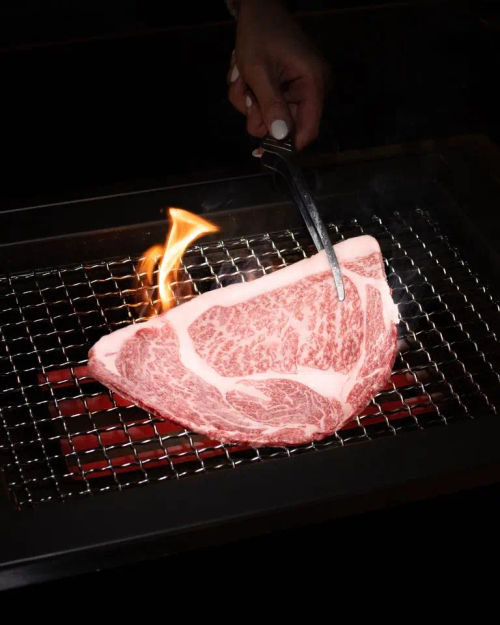 Nestled within The Rail Mall, prepare to indulge at Hitoyoshi Yakiniku, where a tantalizing buffet awaits. Feast your senses on a medley of succulent A5 Miyazaki wagyu cuts, from the VIP karubi to the sizzling garlic butter steak and the exquisite premium steak.
And the delights don't stop there – relish the flavors of US Black Angus beef and the melt-in-your-mouth Iberico pork.
For both lunch and dinner, the Yakiniku buffets beckon at a price of approximately S$98.80 per person, granting you 90 minutes of pure dining pleasure.
While it may be the priciest option on this list, the exceptional quality of the meats promises an unforgettable and unparalleled culinary experience!
4) Gyu-Kaku

Key Services
Australian Wagyu buffet
Address
Multiple locations
Website
https://www.gyu-kaku.com.sg/
Email
sales@gyu-kaku.com.sg
Operating Hours
Monday to Friday:
Lunch 12.00pm – 3.00pm (Last order 2.30pm)
Dinner 5.30pm – 10.00pm (Last order 9.30pm)
Saturday, Sunday & PH:
12.00pm – 10.00pm (Last order 9.30pm)
Searching for an authentic dining experience? Look no further! Gyu-Kaku features ten locations throughout Singapore, offering a renowned wagyu buffet that guarantees exceptional value for your money.
Savor the Australia Wagyu buffet for only S$69.80, which includes four delectable cuts such as Wagyu karubi and brisket, alongside a variety of mouthwatering meats and delightful side dishes.
For an extraordinary treat, you can upgrade to the famous Japanese Wagyu beef and choose from five additional options like steak, tomosankaku, and chuck cuts. With a 90-minute dining time limit, savor every bite and relish the flavors to your heart's delight!
5) Japanese Yakiniku Heijoen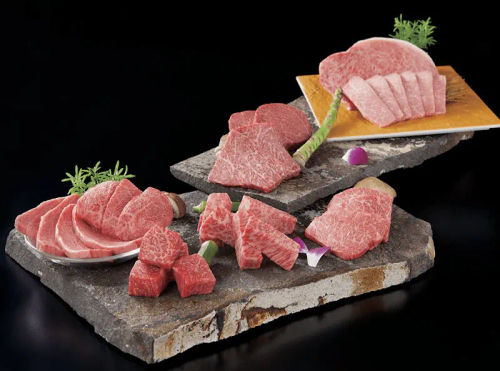 Key Services
Premium A5 Japanese Wagyu beef
Address
100 Tras St, #03 – 11, Singapore 079027
Website
https://www.parcoitadakimasu.com/heijoen
Phone
6538 2981
Operating Hours
11am-3pm, 6-10pm (Mon-Fri)
11am-3pm, 5.30-10pm (Sat&Sun)
If you're craving a wider selection of premium A5 Japanese Wagyu beef, Heijoen at 100 a.m. is the place to be. With direct imports from Japan, they offer an authentic Yakiniku buffet experience.
Starting from 6 pm, treat yourself to their premium buffet option priced at S$90. Indulge in a variety of wagyu and standard meats, along with seafood and other delightful sides for 90 minutes.
Don't miss out on their menu offerings, which include black pork, prawns, and unique dishes like intestine and stomach!
6) Suki-ya Kin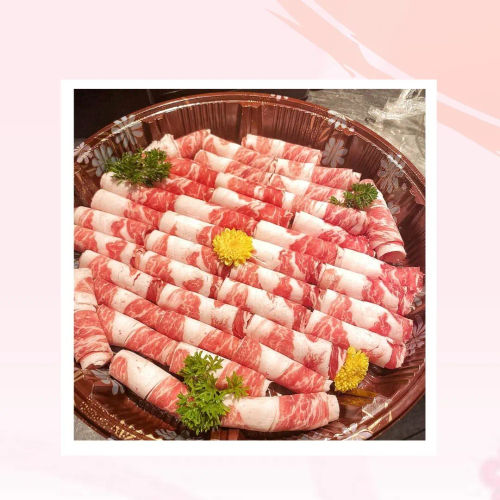 Suki-Ya Kin, an undiscovered treasure nestled in Vivocity, is renowned for its budget-friendly shabu-shabu and sukiyaki buffets. Prepare to be pleasantly amazed as this establishment goes a step further by offering higher-quality options that will tantalize your taste buds like never before.
With six delectable soup bases to choose from, you'll find it challenging to decide while relishing premium Australian wagyu alongside the usual meat selections.
Whether you prefer a lunch with one cut or indulge in a dinner with two cuts, this is an irresistible chance to savor the exquisite flavors of Wagyu at an affordable price. Don't miss out on this extraordinary gastronomic experience!
7) Yakiniku Ohji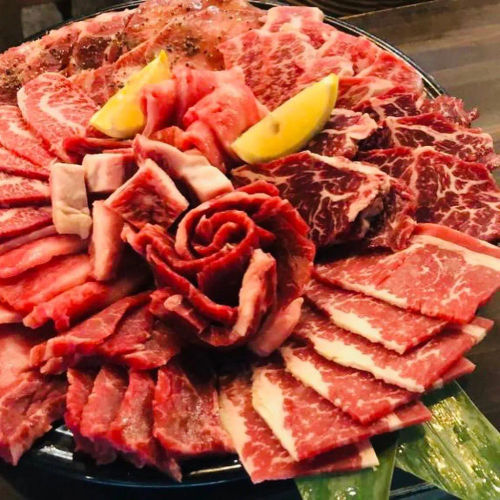 Attention all Westie dog enthusiasts! This one's just for you! Yakiniku Ohji, located at 321 Clementi, offers a variety of mouthwatering sides such as salmon sashimi and takoyaki, alongside unlimited servings of A4 wagyu beef.
You get to choose from six tempting cuts, including sirloin and kalbi, all at buffet prices starting from S$54.80. Don't miss out on this amazing opportunity to indulge in a 90-minute Yakiniku buffet with perfectly marbled meats.
8) Wagyu More
Experience an extraordinary shabu-shabu dining adventure at Wagyu More in Hong Kong! Delight in a diverse range of 10 delightful soup bases, from comforting collagen chicken to fiery mala, to satisfy your Wagyu beef cravings.
Starting at an affordable price of just S$49.80, enjoy unlimited servings of premium Australian wagyu beef, accompanied by mouthwatering seafood dishes like succulent fish and juicy prawns.
For those seeking a touch of luxury, elevate your dining experience with the unlimited premium A5 Japanese Wagyu beef buffet, starting at S$148.80. Please note that both options include a 90-minute time limit for dine-in. Prepare to relish every moment of this sensational dining experience!
Wagyu Buffet Singapore
Indulging in a Wagyu buffet in Singapore is an exquisite culinary journey that you should not miss. Every restaurant mentioned above presents an unforgettable experience that combines the authenticity of Japanese cuisine with the luxury of high-quality wagyu beef.
Whether you crave traditional yakiniku, shabu-shabu, or simply wish to savor the melt-in-your-mouth goodness of premium wagyu, there's a buffet that caters to your palate and budget.
Embark on this gastronomic adventure, and savor the exceptional flavors that these Japanese wagyu buffet restaurants in Singapore have to offer.
Frequently Asked Questions
If you have any questions about the Wagyu buffet in Singapore, you can refer to the frequently asked questions (FAQ) about the best Wagyu buffet in Singapore below:
What are the best Wagyu buffets in Singapore?
The best Wagyu Buffet restaurants in Singapore are Gyu-Kaku, Tenkaichi Yakiniku Restaurant, Suki-ya Kin, Hitoyoshi Yakiniku, and Yakiniku Ohji.
What is yakiniku wagyu?
Yakiniku is a traditional Japanese grilling method that involves cooking meat, with wagyu referring to the specific type of beef used. Yakiniku wagyu typically includes dishes with grilled wagyu beef commonly found in Japanese restaurants. So, if you see yakiniku wagyu on a menu, it means the dish features grilled cuts of wagyu beef.
How much does Wagyu cost in Singapore?
The price of Wagyu beef in Singapore can vary based on the restaurant and the specific buffet or dish. On average, a Wagyu beef buffet in Singapore can cost anywhere from S$50 to S$150 per person.
What is the difference between A4 and A5 Wagyu?
In Japan, the quality of Wagyu beef is determined by grading it using the A4 and A5 standards. A5, which surpasses A4, is regarded as the highest grade. A5 Wagyu is renowned for its remarkable marbling, leading to tender meat that is packed with flavor.
How much is Japanese meat Wagyu?
Prices for Japanese wagyu meat can be quite high, ranging from S$150 to S$400 per kilogram. However, the cost can vary based on the cut and grade.
What sets a premium wagyu buffet apart from other options?
A premium wagyu buffet offers an elevated dining experience with top-quality wagyu steak, wagyu beef sashimi, and other premium cuts of wagyu. These buffets cater to those with discerning palates and a craving for the best wagyu beef.
Is wagyu tataki available at these wagyu buffets?
Yes, many of the featured buffets include wagyu tataki on their menu. This dish showcases thinly sliced wagyu beef seared to perfection, offering a delightful combination of flavors and textures.
Do these buffets offer a premium wagyu buffet course?
Absolutely! Some of the highlighted buffets provide a premium wagyu buffet course that takes your dining experience to the next level. This course typically includes a selection of high-grade wagyu beef cuts and other delectable offerings.
Are there options for Japanese BBQ at these wagyu buffets?
Yes, Japanese BBQ, also known as yakiniku, is a highlight at many of the featured buffets. You can enjoy grilling thickly sliced wagyu and other meats over a charcoal grill, creating a fun and interactive dining experience.
Can I find fresh seafood along with wagyu at these buffets?
Definitely! Some of the recommended buffets also offer a variety of fresh seafood options, including tiger prawns and other seasonal catches. This allows you to indulge in the best of both worlds – premium wagyu and fresh seafood.
Additional Useful Articles
If you are looking for other useful guides and articles about Wagyu Buffets in Singapore, check them out below: