Wedding Gown Rental Singapore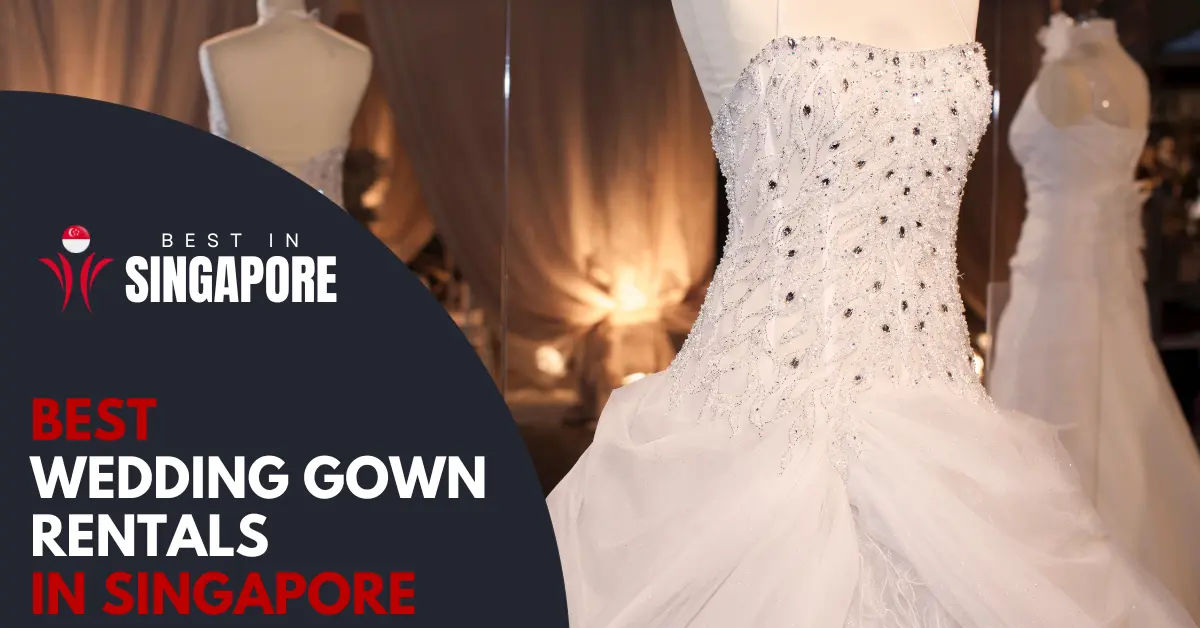 Choosing the perfect wedding gown is a pivotal part of planning for your big day.
The best shops for wedding gown rentals in Singapore include Louvre Bridal, La Belle Couture, The Gown Warehouse, and Digio Bridal.
When selecting a wedding gown rental store in Singapore, take into account elements like budget, style, quality, variety, and customer service.
In Singapore, renting wedding gowns provides a practical and cost-effective alternative for brides who want to find the ideal dress for their special day without the expenses of buying one.
So, why wait? Begin your journey towards finding the perfect wedding gown by exploring the vast selection of rental options available in Singapore today!
Quick Summary
Best shops for wedding gown rentals in Singapore include Louvre Bridal, La Belle Couture, The Gown Warehouse, and Digio Bridal.
When choosing a wedding gown rental shop in Singapore, consider factors such as budget, style, quality, variety, and customer service.
Wedding gown rentals in Singapore offer a practical, budget-friendly solution for brides seeking the perfect dress for their special day without the associated purchase costs.
Key Consideration Factors
When choosing a wedding gown rental in Singapore, make sure to consider these important factors:
Budget: It's essential to have a clear understanding of your budget before beginning your search for the perfect wedding gown rental. This will help narrow down your options and ensure that you don't overspend.
Style: Every bride has their own unique style and it's important to find a wedding gown rental shop that offers a variety of styles to choose from. Whether you prefer a classic, timeless look or a more modern and trendy design, make sure the shop has a style that fits your taste.
Quality: When it comes to wedding gowns, quality is key. Make sure to choose a rental shop that offers well-maintained, high-quality dresses for their customers.
Variety: It's always better to have more options when it comes to choosing your wedding gown. Look for a rental shop that offers a wide range of sizes, styles, and designs to ensure that you find the dress for your body type and preferences.
Customer Service: A good customer service experience can make all the difference in your overall satisfaction with a wedding gown rental shop. Make sure to read reviews and get recommendations from friends or family to find a shop with friendly and helpful staff.
Best Wedding Gown Rental Singapore
1) The Gown Warehouse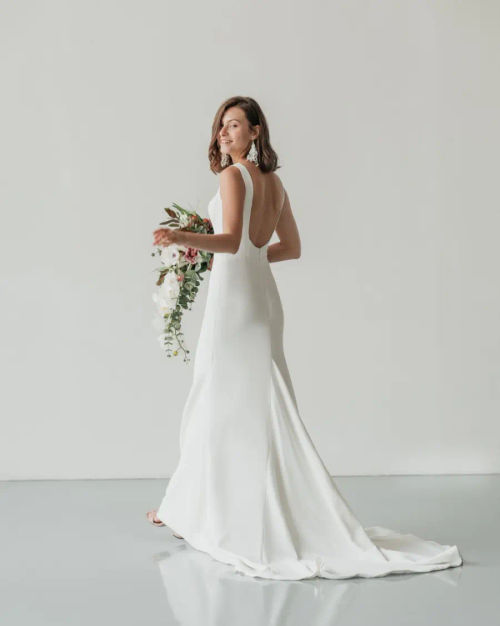 The Gown Warehouse is a boutique that focuses on bridal gowns, providing a unique lifestyle concept for couples in Singapore who are looking for their dream wedding dress.
Staying true to its name, it offers a wide range of wedding gown styles that capture the latest trends, creating a complete and captivating journey for brides as they begin their quest for the ideal attire.s.
It offers a wide range of choices and an enchanting atmosphere for every bride visiting their boutique. Prepare to be captivated by their famous lace and impeccable attention to detail.
2) Fleur D'sign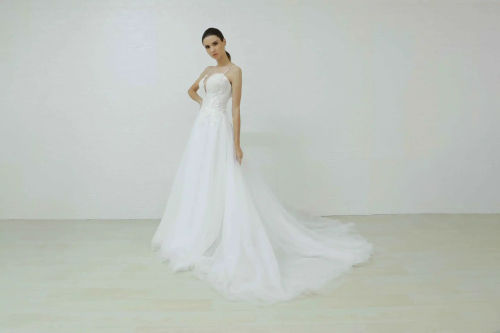 Key Services:
Bridal Boutique, Wedding Florist, Bridal Studio
Website:
https://fleurdsign.com
Address:
371, Upper Paya Lebar Road #01-05
YiKai Court, Singapore 534969
Phone:
+6591698088
Email:
sales@fleurdsign.com
Operating Hours:
Monday – Off
Tuesday to Friday – 11am to 9pm
Saturday & Sunday – 10am to 6pm
Public Holiday – Off
Flourish Designs offers everything you need to make your dream wedding come true. Whether you prefer a traditional or modern style, and whether you choose a ready-made or custom wedding gown, they will help you find the dream dress at an affordable price. Their team of stylists ensures a personalized experience that brings your bridal vision to reality.
Fleur D'signs presents an extensive range of rental gowns, catering to diverse styles and preferences such as modern, antique, and bohemian designs. If the existing dresses don't align with your requirements, they also offer the opportunity to create custom-made gowns.
One of the most appealing aspects is the absence of any hidden charges! Fleur D'sign boutique in Singapore offers wedding packages and stunning floral arrangements to ensure a stunning and hassle-free wedding. Their comprehensive bridal services encompass makeup, photography, and flowers – Fleur D'sign boutique takes care of all your needs.
3) Luna Bianca
| | |
| --- | --- |
| Key Services: | Wedding Gown Rental, Intimate Wedding Packages, Pre-Wedding Photography, Wedding Day Photography |
| Website: | www.LunaBianca.com.sg |
| Address: | 21 Tan Quee Lan Street, Heritage Place #01-02, Singapore 188108 |
| Phone: | 63389839 / 81142888 (Whatsapp) |
| Email: | Hello@LunaBianca.com.sg |
| Operating Hours: | 12pm – 9pm, Daily |
Located in the vibrant Bugis district of Singapore, Luna Bianca Bridal boutique is dedicated to delivering an unparalleled bridal experience that surpasses all expectations. Their ultimate goal is to ensure impeccable service for each wedding couple, crafting enduring and unforgettable memories.
Luna Bianca Bridal offers a diverse selection of exquisite wedding dresses imported from Europe. Every design is carefully crafted to bring each bride's dream to life. Whether you're seeking a breathtaking gown for rent or a captivating pre-wedding photoshoot with our skilled photographer, Luna Bianca Bridal is privileged to be a part of your extraordinary wedding journey.
At Luna Bianca Bridal, they understand that every love story is special and unique. That's why they offer personalized wedding packages and a wide range of customizable options, allowing couples to tailor their wedding experience to their individual desires and preferences.
4) Cang-Ai Wedding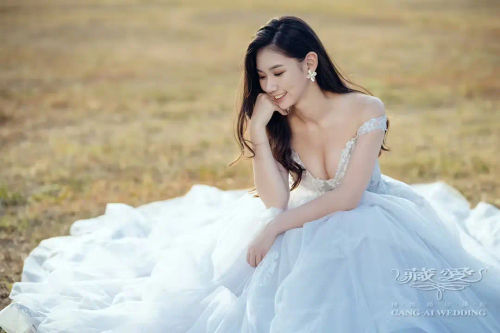 Key Services:
Taiwan-designed gowns
Website:
https://www.cangaisg.com/
Address:
85 Tanjong Pagar Road (088506)
Phone:
+ 65 62208520
Email:
cangai@hotmail.com
Operating Hours:
Monday – Friday: 12:00 – 21:00
Saturday – Sunday: 11:00 – 21:00
Discover the epitome of bridal elegance at Cang-Ai Wedding, where wedding dreams are turned into reality. Immerse yourself in a world of stunning Taiwan-made gowns, meticulously crafted to transform you into the most captivating bride imaginable.
Their boutique offers an unmatched selection of stunning custom gowns, showcasing a captivating array of styles to suit every bride's unique taste and personality. Immerse yourself in the delight of exploring various designs, from intricate lace to elegant satin, until you find the one that truly captures your heart.
Allow their team of expert consultants to accompany you on this enchanting journey, ensuring each moment is filled with awe and happiness.
Create an unforgettable wedding day experience by adorning yourself in a stunning Cang-Ai Wedding gown that will captivate everyone. Embrace the spotlight and become the most radiant bride anyone has ever witnessed. Explore their boutique today and witness your bridal dreams transform into reality.
5) La Belle Couture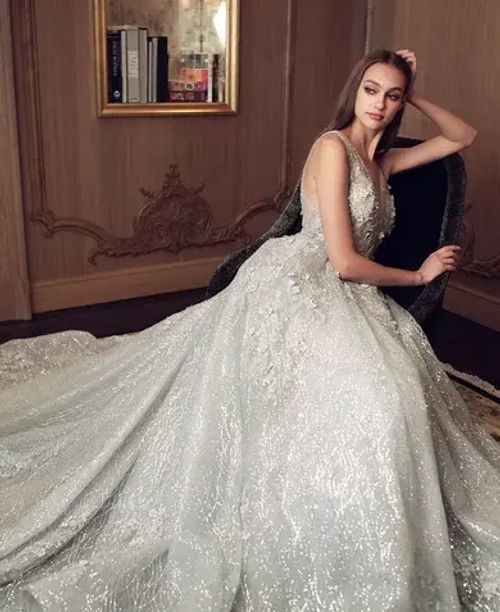 If you're looking for a bridal boutique in Singapore that goes beyond gorgeous wedding dresses, La Belle Couture is the perfect choice. Setting itself apart from other bridal stores in Singapore, it offers a diverse range of wedding-related services, including wedding planning and photography.
La Belle Couture showcases an impressive wedding gown collection of over 250 meticulously crafted wedding dresses by renowned international bridal fashion designers.
Based on feedback from past clients, collaborating with them is effortless. One client specifically praised their team members for their creativity, passion, and exceptional service. Moreover, the exclusive items included in their package captured their attention.
6) Love, Fioyo
| | |
| --- | --- |
| Key Services: | Wedding Dress Rental, Wedding Gown Rental, Intimate Wedding Packages |
| Website: | www.lovefioyo.com/rent-couture |
| Address: | 91 Bencoolen St, #06-06 Sunshine Plaza, Singapore 189652 |
| Phone: | +65 8878 0918 |
| Email: | support@lovefioyo.com |
| Operating Hours: | Open 24 hours |
Love, Fioyo is your ultimate destination for all your bridal fashion needs. We offer a diverse selection of styles, ranging from everyday looks to exquisite couture gowns. With our convenient online rental service, you can effortlessly elevate your outfits with Fioyo's innovative Convertible dresses, especially in today's new normal.
Discover the endless possibilities of "One Design. Multiple Looks" and effortlessly enhance the depth and personality of your wardrobe. With a strong focus on fashion sustainability, our outfits are crafted to be adaptable for weddings and events. Moreover, these exquisite convertible bespoke gowns seamlessly transition into stylish everyday attire!
Love, Fioyo offers a wide selection of wedding dresses that cater to various personal styles. Whether you prefer simplicity, modernity, minimalism, classic elegance, boldness, or adventure, they have the perfect dress for you.
In line with their brand philosophy of "Be your own label," Love, Fioyo aims to empower women and brides to embrace their unique style and personality.
7) Wedding Crafters
The WeddingCrafters wedding gown collection is carefully handcrafted with love and attention in their cozy studio. It embodies a whimsical and romantic style, perfect for the modern bride. The #WCstyle highlights enchanting floral appliques, intricate lace details, and exquisite fabrics.
Starting from tulle to organza, crepe to lace, our creative journey commences with envisioning the endless possibilities that reside within the fabric. Slowly but surely, this notion transforms and matures from a mere concept into a palpable existence. The Wedding Crafters devote themselves to curating fresh designs every 4 months, customized to cater to the unique preferences and wishes of every bride.
8) Louvre Bridal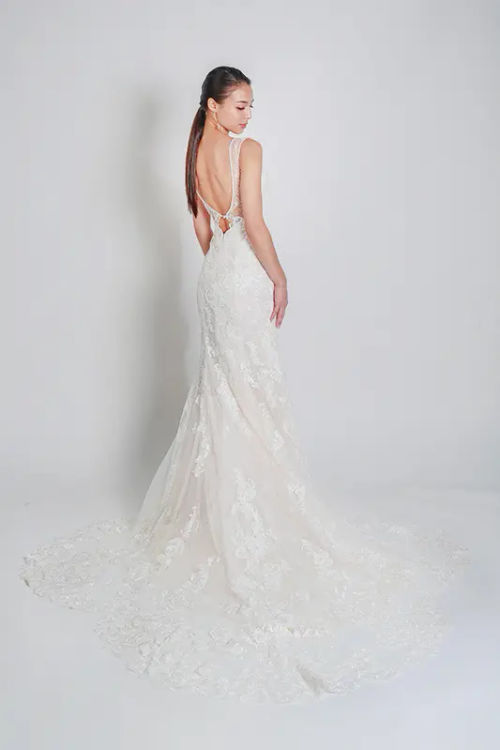 Drawing inspiration from the sophistication and elegance of the Louvre Museum, The Louvre Bridal shop emanates beauty in every detail. With a dedication to honoring uniqueness, they present a distinctive assortment of wedding gowns and bridal attire that embody true artistic craftsmanship.
Soon-to-be brides in Singapore have the opportunity to discover a diverse selection of versatile wedding dresses and evening gowns that enhance their innate beauty.
At the bridal shop, you'll find a diverse collection of one-of-a-kind and stunning bridal gowns. Discover the latest designs from Korean, Japanese, and local designers, all available for rent.
Whether you desire a timeless princess look in a traditional ball gown or a modern and bold mermaid dress, they offer a premium range of bridal dresses and colored evening gowns to cater to your preferences.
9) Yvonne Creative Bridal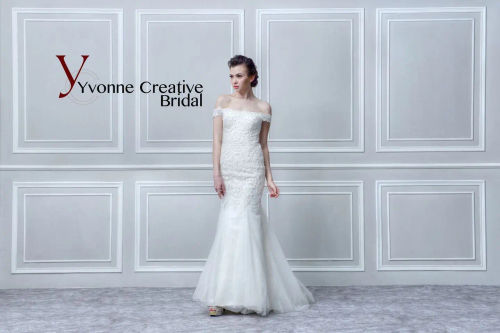 Key Services:
• Wedding and evening gown rental
• Makeup and hairstyling
• Pre-wedding and actual day photography
• Actual day videography
• Bridal bouquet
• Wedding car decoration
Website:
http://yvonnecreative.com.sg/
Address:
3 Ang Mo Kio Street 62, Link @ AMK #03-08, #03-09 (Show Room), #07-09 (Studio), Singapore 569139
Phone:
+65 6292 0342 / +65 6227 8830 (Tel)
Email:
sales@yvonnecreative.com.sg
Operating Hours:
12pm – 9pm (Mon, Wed – Sat), 11am – 8pm (Sun)
Yvonne Creative Bridal is a renowned wedding enterprise known for its dependability, supported by more than 23 years of outstanding expertise and experience. At the helm of this esteemed establishment is Yvonne Tan, the visionary director and creative genius behind the brand.
Yvonne Creative Bridal is committed to providing outstanding quality, with a specialization in creating one-of-a-kind and custom wedding dresses for all bride to be. Each gown is carefully crafted to highlight the uniqueness of the bride, ensuring an unforgettable experience on her wedding day.
Yvonne and her dedicated team pour their passion and dedication into designing a dress that captures the bride's dreams and aspirations. At Yvonne Creative Bridal, brides can expect meticulous attention to detail, impeccable artistry, and a personalized journey that surpasses expectations.
10) Digio Bridal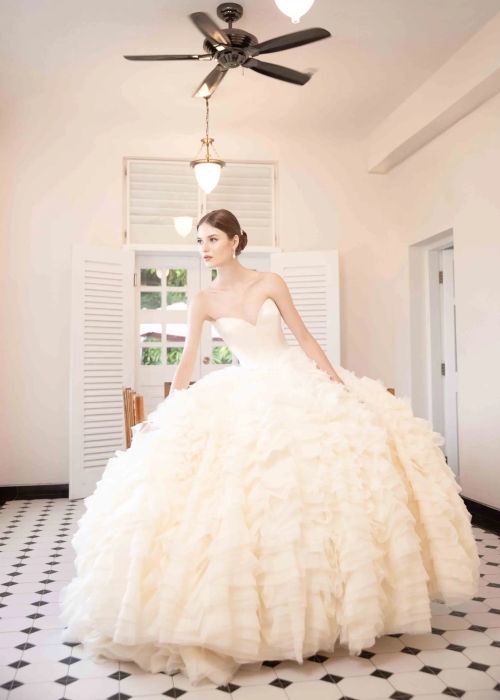 When it comes to finding a rental shop that provides a diverse range of options, Digio Bridal is the go-to place. With their extensive collection of wedding dresses, conveniently categorized by design, color, and length, they undoubtedly claim the top spot as the premier destination for renting wedding gowns in Singapore.
At Digio Bridal, effortlessly browse through their carefully curated collection of wedding gowns to find your dream bridal dress. If you're searching for the perfect wedding gown, Digio Bridal is your ultimate destination.
Wedding Gown Rental Singapore
In conclusion, Singapore harbors a myriad of bridal boutiques, each offering a unique and diverse selection of wedding gowns and bridal services.
From La Belle Couture with its wide range of wedding-related services to Love, Fioyo, which encourages women to embrace their unique style, each boutique is a testament to the richness of bridal fashion in Singapore.
Whether you're seeking a traditional look or a modern twist, there is a boutique ready to cater to your needs and preferences. Indeed, with these top boutiques, finding your dream wedding gown in Singapore has never been easier.
Frequently Asked Questions (FAQ)
If you have any questions about wedding gown rentals in Singapore, you can refer to the frequently asked questions (FAQ) about the best Wedding Gown Rental Shops in Singapore below:
What are the best shops for wedding gown rentals in Singapore?
The best shops for wedding gown rentals in Singapore include La Belle Couture, Louvre Bridal, The Gown Warehouse, and Digio Bridal.
What does it cost to hire a wedding dress?
The cost of renting a bridal dress in Singapore can range from $500 to $2000, depending on the wedding boutique and the specific gown chosen.
What is a good wedding gown budget?
When looking for a wedding gown in Singapore, it is recommended to set a budget between $1000 and $1500. This price range offers a diverse range of gowns from reputable bridal boutiques. Keep in mind that the final cost may vary depending on any additional services or alterations needed. It is advisable to have a conversation with your preferred wedding boutique about pricing and budget beforehand.
How does gown rental work?
Typically, when renting a gown, you would select a wedding dress from the boutique's collection, have it fitted and altered, and then return it after the event. Some boutiques may offer additional services such as gown cleaning and preservation. To ensure a smooth rental experience, it is crucial to have a detailed discussion with the boutique beforehand to clarify all the details.
Can I rent bridal bouquets along with wedding gowns?
Yes, several rental shops in Singapore offer bridal bouquet rental services along with wedding gown rentals. This allows you to complete your wedding look with a beautiful bouquet without having to purchase one.
Do bridal gown rental services include makeup and hairstyling services?
While some bridal gown rental services may offer makeup and hairstyling services as part of their packages, it's not always the case. It's best to check with the specific rental shop or inquire about additional services they may provide.
Are there wedding photography services available at bridal shops?
Many bridal shops in Singapore collaborate with professional wedding photographers to offer comprehensive packages that include both gown rentals and photography services. This ensures that you capture beautiful moments in stunning wedding outfits.
Can I find bridal jumpsuits for rent in Singapore?
Yes, bridal jumpsuits have gained popularity as a contemporary alternative to traditional wedding gowns. Some rental shops in Singapore offer a selection of bridal jumpsuits for those looking for a modern and stylish option.
Are pre-wedding photoshoot services included in gown rental packages?
Some bridal gown rental services include pre-wedding photoshoot services as part of their packages. This allows couples to have their pre-wedding photos taken in a variety of outfits, including rented affordable gowns, capturing memories that will last a lifetime.
Are there affordable gown rental options available with timeless designs?
Yes, there are several bridal shops in Singapore that offer affordable gown rental options with timeless designs. These gowns are carefully curated to provide elegance and style without breaking the bank. Ala carte gown rental and suit rental options are also available for those who prefer a more customized approach.
Additional Useful Articles
If you are looking for other useful guides and articles about wedding gown rentals in Singapore, check them out below: