Western Food Singapore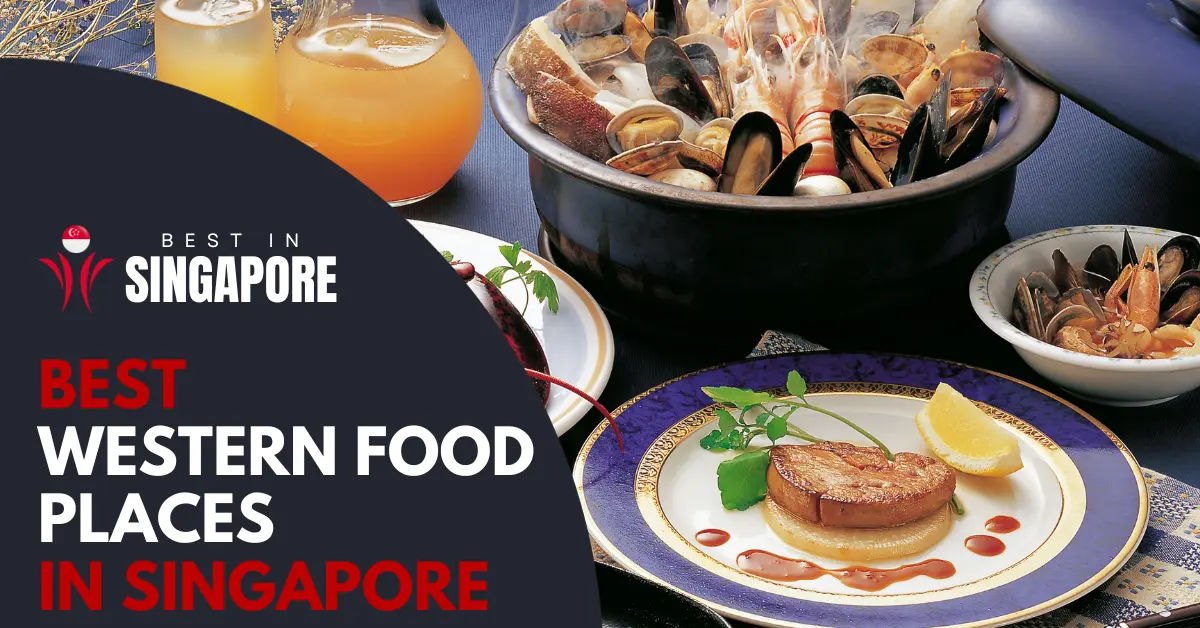 Singapore, often regarded as Asia's melting pot of cultures, is an epicurean paradise with a diverse array of cuisines to try.
The best places for Western food in Singapore include Shake Shack, Rebel Rebel Wine Bar, P.S. Cafe, Western Barbeque, and Nicolas Le Restaurant.
When deciding on a place to eat Western cuisine in Singapore, take into account aspects like the location, pricing, menu options, and quality of customer service.
In Singapore, Western cuisine is a delightful fusion of traditional European dishes infused with local flavors. From satisfying burgers and juicy steaks to artisan pasta and gourmet pizzas, there is a wide variety of delectable options to choose from.
The following list of best Western food places in Singapore is curated to guide food lovers through their gastronomic journey.
Key Consideration Factors
Consider these important factors when choosing a place for western food in Singapore.
Location: Singapore is a small country, but still, consider the location of the restaurant. Look for places that are easily accessible and close to your accommodation or attractions you plan to visit.
Pricing: Western food can be expensive in Singapore, so it's important to set a budget. Keep in mind that some restaurants may have different pricing for lunch and dinner menus.
Menu: Check the menu beforehand to make sure they have food options that appeal to you. Some restaurants may specialize in certain dishes, so it's always good to do some research before heading out.
Customer service: The exceptional service can greatly affect your dining experience. Look for reviews and recommendations from other customers to get an idea of the restaurant's service standards.
Best Western Food Singapore
1) Collin's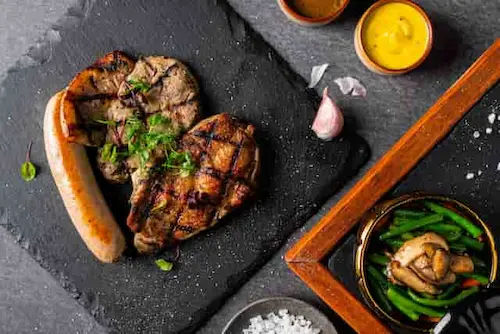 In the culinary world, there are many hidden treasures that often go unnoticed, and Collin's (also known as Collin's Grille Bento) is definitely one of them. This establishment has garnered a loyal following among locals for its exceptional yet affordable Western cuisine that never fails to satisfy.
Leading the way in this culinary haven is Chef Collin Ho, a seasoned professional with an impressive 15-year career in the hotel restaurant industry. His extensive experience and expertise shine through in every meticulously crafted dish.
What sets Collin's apart is not only the exceptional food quality but also its accessibility. With over 18 conveniently located outlets, customers have a wide range of options to choose from. This extensive network of branches ensures convenience and plays a crucial role in maintaining reasonable prices without compromising on the use of premium ingredients.
If you're looking for a hearty and flavorful meal that won't break the bank, Collin's should definitely be at the top of your list. Discover the hidden gem that locals have been raving about and treat yourself to an unforgettable dining experience.
2) Western Barbeque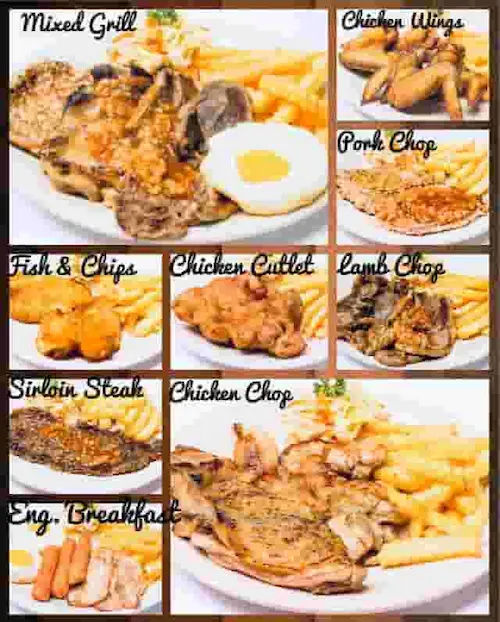 Located in the bustling Old Airport Road Food Centre is Western Barbeque, a well-loved stall that has been delighting customers since it was established in 1974. Despite the inevitable queues, eager patrons flock to indulge in the famous Chicken Chop ($6.50), a culinary masterpiece distinguished by its tantalizing garlic sauce, a departure from the usual brown gravy.
The secret to this exceptional sauce lies in its intricate blend of over 10 distinct ingredients, including a timeless vintage recipe that has stood the test of time for decades. Even after careful cooking, the succulent chicken remains infused with flavors, resulting in a mouthwatering and juicy final dish that leaves taste buds longing for more. A visit to Western Barbeque guarantees an unforgettable dining experience, where rich history and culinary expertise come together to tantalize the senses and satisfy discerning palates.
3) Shake Shack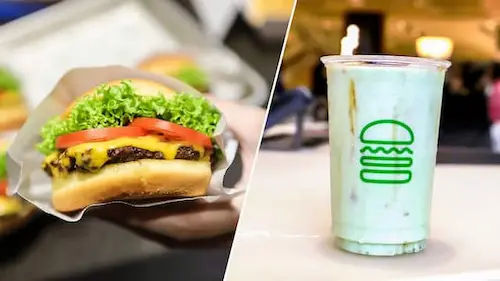 Singaporeans are renowned for their strong enthusiasm towards quick and convenient food options. The excitement is palpable every time a new fast food restaurant opens, and it's disheartening when they eventually shut down, like the well-loved Wendy's.
However, there is one particular establishment that has captivated the imaginations of many – Shake Shack. Despite not fitting into the traditional fast food category, the arrival of Shake Shack onto the scene sparked a frenzy of interest, particularly at the iconic Jewel Changi Airport.
While Shake Shack is widely recognized for its delectable burgers, it's interesting to observe that its origins can be traced back to a humble hot dog stand nestled in the heart of Madison Square Park. This transformation from a simple food vendor to a global sensation exemplifies the remarkable journey that Shake Shack has embarked upon.
4) Fish & Chicks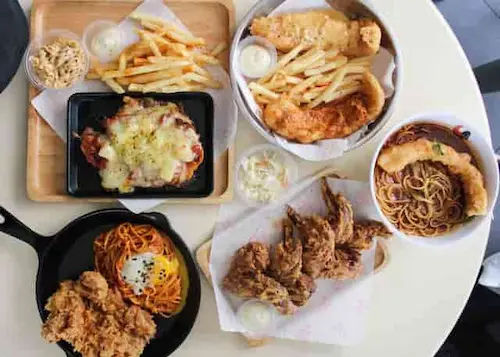 Fish & Chicks, a renowned café chain in Singapore, started its journey in Ang Mo Kio Blocks and has now expanded to more than 10 branches nationwide.
Two enthusiastic young men have dedicated immense effort to ensure delightful food, experimenting with various batters, carefully selecting the finest fries suppliers, and even crafting their own dipping sauces. This level of dedication sets them apart from typical western food stalls in Kopitiams. If you are a fish & chips enthusiast, make sure to visit Fish & Chicks.
They have elevated their offerings with mouthwatering salted egg sauce and chili crab sauce, enhancing the flavors and serving big portions. Not only are their dishes unique, but they also taste absolutely amazing. It is definitely a journey worth taking, and don't forget to try their irresistible fried chicken wing.s!
5) Tuga Restaurant Dempsey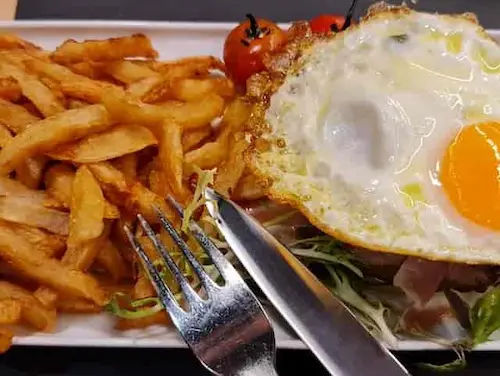 Tuga Dempsey, a Portuguese restaurant born in America, presents a delightful culinary adventure that highlights the authentic flavors of Portuguese cuisine. Immerse yourself in the tempting aromas and exquisite tastes of their meticulously crafted dishes, perfectly complemented by an impressive selection of Portuguese wines.
Begin your gastronomic journey with the delectable garlic tiger shrimps, priced at a reasonable $20. These succulent shrimps are infused with a delightful blend of garlic and spices, leaving you yearning for more. For a lighter option, indulge in their scrambled eggs with asparagus and chorizo, priced at $18. This Mediterranean-inspired dish artfully combines the earthy flavors of asparagus with the savory goodness of chorizo.
For an exceptional dining experience, explore their selection of main courses. The sea scallops, priced at $88, offer a delicate and buttery flavor that literally melts in your mouth. The expertly cooked octopus, priced at $65, provides a tender and flavorful bite. And if you're in search of a dish that combines the richness of pork with the briny taste of clams, the must-try pork meat and clams are priced at $33.
To complement your meal, the highly recommended 2016 Monte Cascas Reserva wine is a smooth and creamy white wine with delightful notes of pineapple, perfectly enhancing the flavors of the cuisine. Priced at $51, it offers a refreshing and fruity taste.
Visit Tuga Dempsey and embark on a culinary journey celebrating the vibrant and diverse flavors of Portuguese cuisine. Experience the warm hospitality of Portugal combined with an unforgettable dining experience that will transport you to the beautiful shores of Portugal.
6) Jack's Place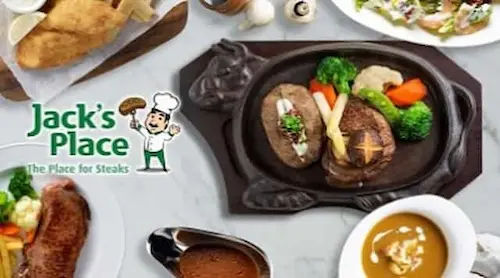 It all began with Mr. Say Lip Hai, a Hainanese cook boy who arrived in Singapore from Sembawang and started working for the British troops. During his time there, he mastered the art of preparing the finest roast beef and Yorkshire pudding.
In 1966, a British housewife suggested that Mr. Say collaborate with her husband, Jack Hunt, to establish a catering company in his pub on Killiney Road called Jack's Place, which he had opened the previous year. Mr. Say agreed, and the venture began in 1968. Although Jack Hunt later sold his share in the business, the culinary legacy of "Jack the Chef" lives on!
Today, Jack's Place is a trusted choice for families and friends to savor delicious well-done or medium-rare steaks, unique dishes, and exquisite cakes, all at an affordable price. They are dedicated to serving high-quality cuisine in a welcoming and cozy atmosphere for our valued guests.
7) P.S. Cafe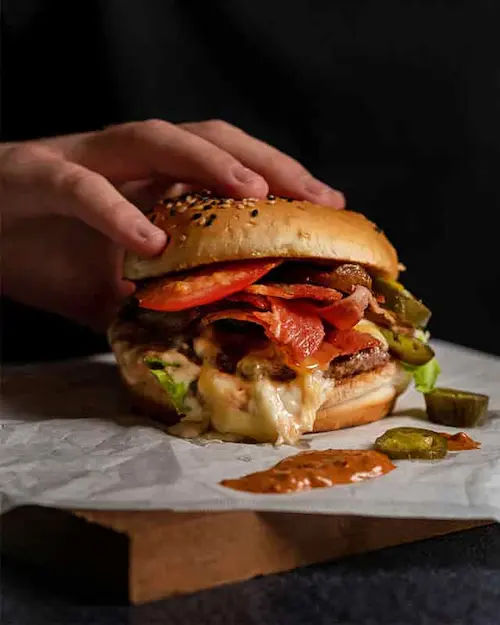 Established in 1999, P.S. Cafe originated as a cozy cafe nestled within the Project shop clothing store. Starting humbly, this charming spot quickly gained a devoted following, thanks to its delectable renditions of beloved cafe classics like truffle-infused shoestring fries and decadent cakes, puddings, and tarts. With meticulous attention to detail, P.S. Cafe has not only become a beloved local brand in Singapore but has also achieved global recognition.
Renowned for its meticulously designed interiors, lush surroundings, and inviting ambiance, P.S. Cafe offers an exceptional dining experience. Whether you crave a legendary brunch, a leisurely afternoon tea, a romantic rendezvous, or simply a delightful gathering in picturesque settings, this local favorite epitomizes perfection.
Step into the world of P.S. Cafe and embark on a gastronomic journey where every morsel is a celebration of flavor and every sip is a moment of pure bliss. Discover the allure of this cherished establishment and let your senses be captivated by its exquisite offerings, generous portions, and unwavering commitment to culinary excellence. Indulge in the magic of P.S. Cafe, where each visit is an unforgettable experience that lingers in your heart and tantalizes your taste buds.
8) Big Fish Small Fish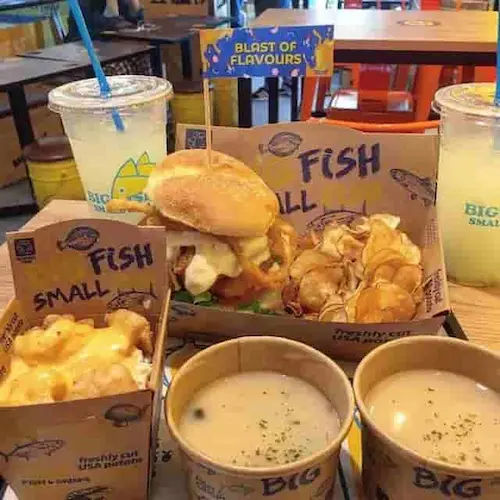 Located along the bustling food strip of Punggol East Container Park, Big Fish Small Fish stands out with its vibrant yellow and blue container setup. This unique eatery not only catches the eye with its colorful appearance, but also offers one of Singapore's most wallet-friendly options for fish and chips.
With a focus on an enticing variety of fish, you can indulge in their delicious Dory ($6.90), Seabass ($11.90), and Salmon ($12.90) fish and chips, all at affordable prices. But the culinary adventure doesn't stop there. For dessert, they offer Fish Fries ($7.90+), XO Shrimps ($7.90+), and even Fried Snickers ($6.90+)!
What sets Big Fish Small Fish apart is their creative twist on the traditional fish and chips concept. Instead of the usual fries, they serve their mouthwatering fish dishes with crispy potato crisps, providing a delightful departure from the norm found in many Western restaurants. So, if you're craving a satisfying meal that won't break the bank, make sure to visit Big Fish Small Fish and indulge in their affordable and scrumptious fish and chips creations.
9) La Scala Ristorante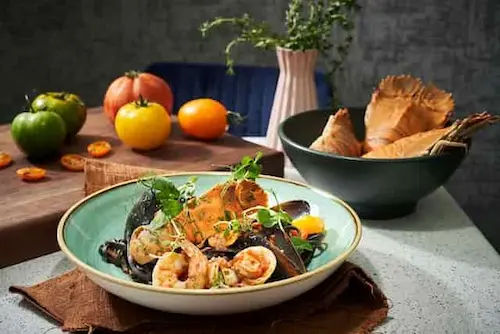 La Scala Ristorante, located in The Arcade at the Capitol Kempinski Hotel, is a newly opened Italian eatery. This area, which is next to Capitol Piazza and Capitol Theatre, is home to a variety of dining establishments.
For a refreshing start to your meal, the Burratina and Pomodorini antipasto (S$18++) is a perennial favorite. It combines creamy burratina, fresh rocket salad, and Datterino tomatoes, making it an ideal appetizer. If you prefer to share, the Antipasto Italiano Misto (S$28++) is an excellent option. It features a delightful combination of burrata, parma ham, salami, and mushrooms on focaccia bread.
The use of high-quality ingredients and freshly made pasta justifies the prices, which range from 20+ dollars. While the Linguini Dero de Mare (S$26++) had a slightly salty taste, we believe it may have been due to residual brine. Aside from that, there is a wide selection of delicious pasta dishes available, including hearty options like Spaghetti Carbonara (S$22++) and delicate ones like Ravioli Delicati (S$20++).
10) Ye Lai Xiang Tasty Barbeque
Maxwell Food Centre, Singapore's oldest Western restaurant, has garnered immense popularity and is widely renowned as the ultimate destination for Western cuisine in the city. With a storied history dating back to 1976, Ye Lai Xiang Tasty Barbeque has been delighting patrons with their generous portions of Hainanese-style Chicken Chop priced at an affordable $7.50. Equally enticing is their Pork Chop, available at the same price.
These delectable dishes are accompanied by a delightful combination of crispy fries and mouthwatering French fries. A visit to The Frying Pan ensures a heartwarming experience with flavorful stews, perfectly charred barbecued meats, and an array of tantalizing side dishes. Get ready for a culinary adventure that will surpass your expectations in every possible way.
11) Chef Hainanese Western Food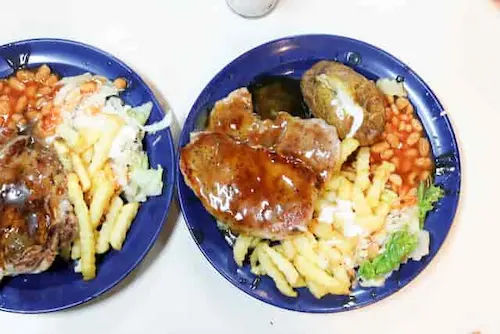 The Tanglin Halt Food Centre is currently facing the risk of closure, creating a unique and urgent chance to relish the delectable cuisine of Chef Hainanese Western Food. With only a two-hour operating window daily, time is of the essence to indulge in their culinary delights. The Lion Head restaurants are renowned for their expertise in Hainanese-style Western cuisine, beloved for its authentic and nostalgic flavors.
To fully savor their gastronomic offerings, I highly recommend trying their signature Mixed Grill priced at $10. This delightful dish combines succulent chicken sausage, flavorful fish fillet, juicy chicken chop, tender pork chop, and a perfectly fried egg. Accompanying this scrumptious ensemble are a variety of delightful sides, including a baked potato.
For those looking for more budget-friendly options, the food centre also provides a range of other meals priced at $5, ensuring there is something to suit every taste and budget. Don't miss out on this memorable dining experience that will transport you to the heart of Hainanese Western cuisine.
12) Broadway American Diner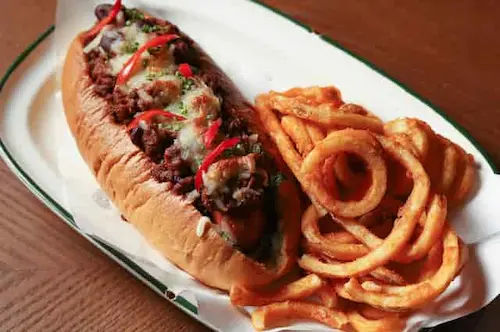 Located in Arcade at The Capitol Kempinski, The Broadway American Diner is a delightful eatery with an American theme. It offers a wide array of delectable dishes, including mouthwatering burgers made with housemade patties and freshly baked buns free from chemicals. Their menu also features hotdogs, milkshakes, ice cream, cakes, and other delightful treats to satisfy any craving.
The hearty flavors that define American cuisine make it immensely popular for family gatherings and social events. As you step into the diner, you'll be greeted by a nostalgic ambiance that takes you back in time. Imagine vinyl booths, checker-patterned floors, tiled walls, vibrant red leather seats, and neon lights illuminating the vintage atmosphere. It truly is a sensory feast.
While their burgers are a must-try, make sure not to miss out on the other dishes from their menu. From flavorful mushroom soup and savory baked beans to irresistible garlic bread and succulent spring chicken, there's something to please every palate. And let's not forget their crispy chicken cutlet and a variety of other fried delights that will leave you craving for more.
Whether you're in the mood for a casual meal or a nostalgic trip down memory lane, The Broadway American Diner is the perfect place to satisfy your American food cravings. Come and experience the charm and flavors of this delightful diner.
13) Rebel Rebel Wine Bar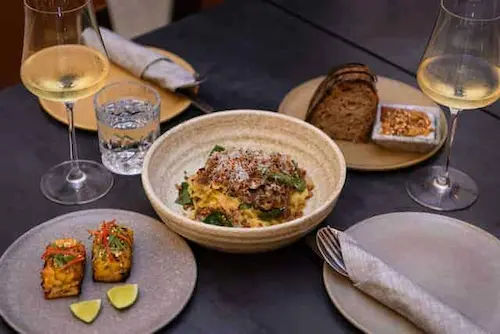 It's not surprising that establishments focused on all-natural wines (although the term is used loosely) are embracing this new trend. Led by individuals in jeans, these wine enthusiasts offer wine lists that may have an impact on your budget.
Their aim is for you to appreciate the goodness in every bottle you order, regardless of its price or Vivino rating. And now, with Rebel Rebel making its entrance, this dream is becoming a reality.
Rebel Rebel, a wine bar, places wines at the forefront of its offerings. You'll uncover gems like the Schloss Lieser Riesling Trocken from Germany, a delightful German riesling priced at $76. And if you're craving something savory, treat yourself to Jesus du Pays Basque's Jamon de Bellota and salted ham, a mouthwatering delicacy that will only set you back $24.
With Rebel Rebel leading the way, this movement is poised to reshape the wine industry, inviting all of us to explore and indulge in the wonders of all-natural wines and their accompanying culinary delights.
14) Wow Wow Wow West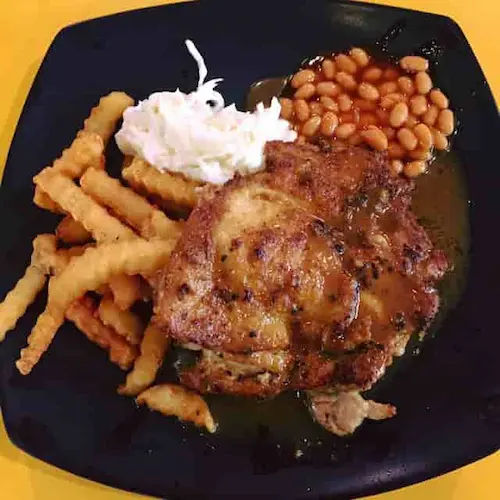 The Kopitiam Western stall has a fascinating backstory. The current owner, who used to be a regular customer, met his now-wife at the stall when she was the previous owner. They got married in 2012, and he has been running the business ever since.
Their Chicken Chop, priced at S$7, is a standout dish and considered their signature dish. It features a beautiful golden-brown color with a delightfully crispy grilled chicken skin. However, the real star of the dish is the flavorful black pepper sauce that perfectly complements it.
For those who are fans of Fish & Chips, priced at S$8, this stall is a must-visit. The fish is moist and flaky with a satisfying crunch from the crispy batter. To enhance the experience, they serve it with a generous dollop of homemade mayonnaise, adding a creamy and tangy touch.
Whether you're craving a delicious Chicken Chop or a scrumptious Fish & Chips, be sure to stop by this Kopitiam Western stall for a delightful and satisfying dining experience.
15) Berthold Delikatessen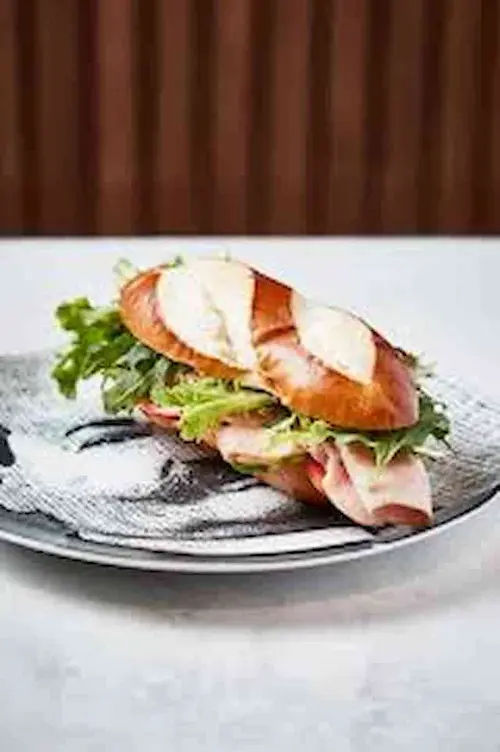 Berthold Delikatessen is a trendy café that emanates a European atmosphere, offering a delightful array of traditional German delicacies. Paying tribute to its founder, Berthold Kempinski, this renowned café is acclaimed for its exceptional cuisine. Don't miss their renowned Berthold home brew or the Andraschko German blend, which perfectly complements a variety of breads, rolls, and pastries.
Finding local bakeries in Germany that serve popular German baked goods like Bretzel, Bauernbrot (farmer's bread), and Hefezopf (priced between $7 to $9) can be challenging. However, at Berthold, these freshly baked treats are available daily, delighting all food enthusiasts.
For a classic flavor combination, savor the Berthold Signature Dark Rye Sourdough with Pastrami Ham. This delightful creation strikes a balance between sweet and savory flavors, with a touch of sourness from the bread and a hint of saltiness from the ham.
If you prefer something lighter, you can choose between the Chicken Salad ($12) or the Smoked Salmon Salad ($14), food served with toasted bread, greens, cucumber, and red onion. Alternatively, you can opt for the Charcoaled Brioche ($14) with your choice of chicken or smoked salmon.
Embark on a European culinary journey at Berthold Delikatessen and treat yourself to an unforgettable dining experience.
16) Nicolas Le Restaurant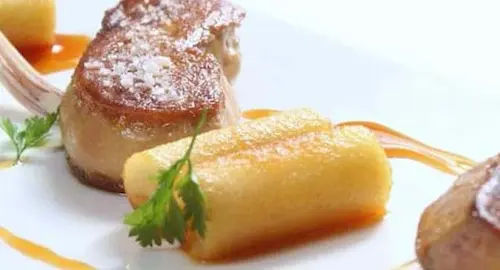 Nicolas Le Restaurant, located on the ground level, offers a cozy and family-friendly atmosphere with a bar. Chef Nicola works in an open-concept kitchen, allowing him to interact with his customers while preparing their meals. The majority of diners are regulars, and Chef Nicola warmly greets each of them.
Instead of a traditional à la carte menu, the restaurant offers a single tasting menu priced at $98++. This gives you the opportunity to enjoy customized dishes tailored to your dietary needs if you inform Chef Nicola in advance. The menu includes five main course options, such as pork, pigeon, beef, rack of lamb, and Atlantic sea cod. With the changing seasons, the menu is refreshed twice a month to showcase the best ingredients available.
17) Gaig Spanish Restaurant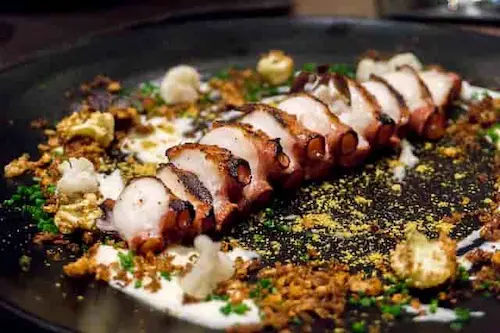 Restaurant Gaig sets itself apart with its unwavering commitment to excellence. As the Singapore branch of its acclaimed Barcelona-based counterpart, which proudly boasts a Michelin star, Gaig maintains the highest standards of gastronomic delight.
The price point is more than justified by the exceptional quality of the food that awaits discerning diners. Indulge in the culinary artistry of Gaig Barcelona with their signature dishes, including the tantalizing Gaig's cannelloni and the exquisite quail escabeche.
These delightful offerings, along with an array of other culinary delights, await those seeking an unforgettable dining experience at Restaurant Gaig.
18) Binomio Spanish Restaurant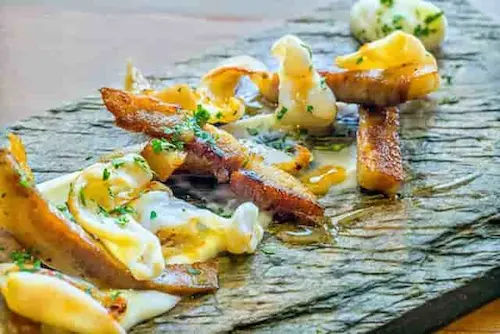 Binomio is a hidden gem, a culinary haven cherished by those in the know. While it may not boast the same trendy reputation as its counterparts, this eatery has garnered a loyal following among discerning food enthusiasts.
Picture a tapas table inviting you to savor a delightful medley of flavors, tantalizing your taste buds with each bite. And just beyond lies the grandeur of the inner sanctum, where a luxurious fine-dining experience awaits, transporting you straight to the heart of Spain.
Immerse yourself in the richness of Spanish cuisine and let Binomio unveil a world of gastronomic delights that will leave you longing for more.
19) Chef's Hats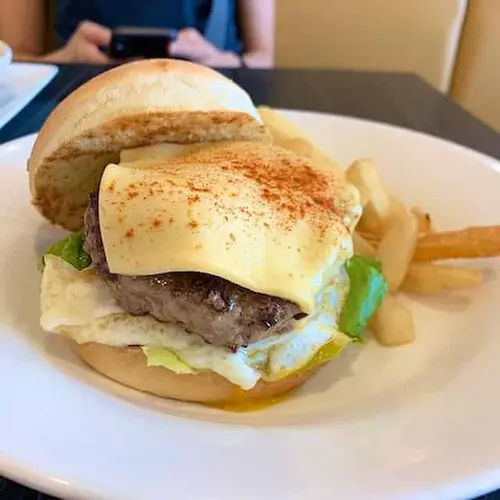 Chef Bernard, renowned for his 16 years of culinary expertise at The Ritz-Carlton Millennium Singapore and Marina Bay Sands Singapore, is dedicated to providing an exceptional gastronomic experience at Chef's Hats. Nestled in a picturesque setting, this venue offers the perfect ambiance for a memorable birthday celebration.
Moreover, it is an ideal choice for hosting various events, from intimate family gatherings and joyful get-togethers with friends to grand company parties like lavish family dinners, elegant annual dinners, productive conferences, festive holiday parties, and nostalgic university reunions.
With impeccable service and delectable cuisine, Chef's Hats embodies excellence, ensuring unforgettable moments and delightful memories for every occasion.
20) Wine Connection Bistro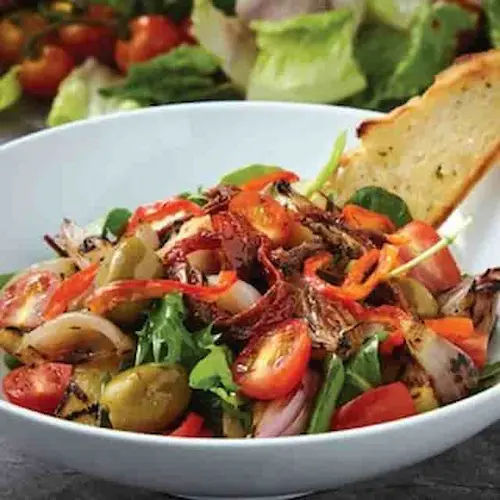 Over 40 aged farm cheeses are air-flown from Europe every week, providing a delectable culinary experience for guests. The menu showcases a variety of hearty salads, open sandwiches known as 'tartines,' and the signature dish, "Raclette," which serves as a fantastic party snack and a great icebreaker. With a delicious taste to match, guests are left craving more.
The Value Set Lunch, priced at $14.90 plus tax and delivery, includes highlighted dishes such as salmon fillet, duck leg confit, grilled lamb cutlet, homemade foie gras, meat platter, cheese platter, chicken breast Basquiat, and burgers. Guests can choose between takeout and dine-in options to relish these culinary delights.
21) El Carbon Grill House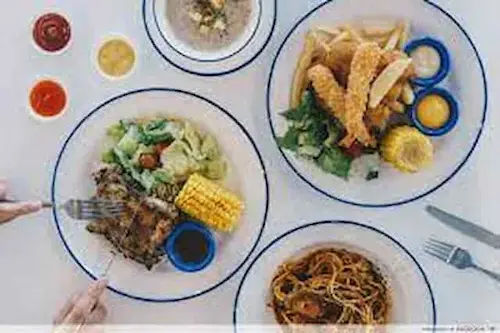 El Carbón® goes beyond being a regular charcoal grill concept – it's an extraordinary culinary adventure, dedicated to providing the finest HALAL Western food stall experience. With a focus on sourcing the highest quality ingredients from top suppliers across the archipelago, El Carbón® ensures that each dish is a masterpiece.
Step into El Carbón® and immerse yourself in a warm and inviting atmosphere that celebrates the joy of food and the pleasures of life. Indulge in their exceptional cuisine, meticulously crafted by their talented chef, who occasionally surprises with unique dishes exclusively available for a limited time.
At El Carbón®, they believe that good food should be accessible to all, offering exceptional prices without compromising on quality. If you're looking for an unforgettable dining experience that tantalizes your taste buds and leaves you craving for more, be sure to visit El Carbón® and embark on a gastronomic journey like no other.
Western Food Singapore
In conclusion, Singapore offers a rich tapestry of Western culinary experiences, each unique in its character and appeal. From the affordable to the extravagant, these restaurants exhibit a commitment to quality and creativity, ensuring that each meal is a memorable one.
So whether you're a local foodie or an adventurous traveler, Singapore's Western food scene is a feast waiting to be discovered.
Frequently Asked Questions (FAQ)
If you have any questions about Western Food in Singapore, you can refer to the frequently asked questions (FAQ) about the best Western Food in Singapore below:
Additional Useful Articles
If you are looking for other useful guides and articles about Western Food in Singapore, check them out below: